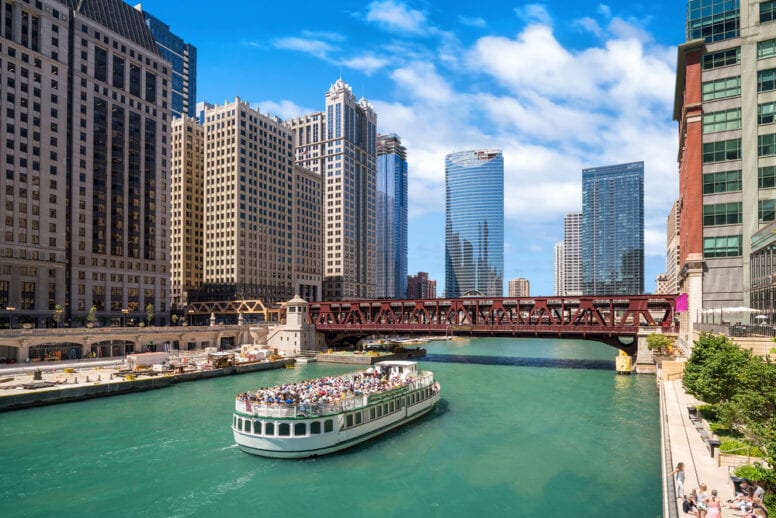 Best Cheap Hotels in Chicago, Illinois
Hotel Name
Rating
Top Features
Recommended For
Location
Hyatt Place Chicago River North
★★★
Central location, spacious rooms, on-site dining, in-room dining options
Visitors seeking proximity to top city attractions

Chicago

,

River North

Millennium Knickerbocker Chicago
★★★★
Historic property, variety of rooms, on-site dining and bar, fitness center
Guests preferring a blend of affordability and luxury

Chicago

Chicago Getaway Hostel
★★★
Private rooms or shared dorms, proximity to Lincoln Park Zoo and other attractions
Budget travelers and groups

Chicago

The St. Clair Hotel – Magnificent Mile
★★★
Smoke-free rooms, pet-friendly, amenities like mini-refrigerator, complimentary wifi
Pet owners, downtown explorers

Magnificent Mile, Chicago

Holiday Inn Chicago Mart Plaza River North
★★★★
Spacious rooms, indoor swimming pool, fitness center, bar with skyline views
Families and business travelers

Chicago Mart Plaza River North

Aloft Chicago Mag Mile
★★★
Modern rooms, fitness center, on-site dining and bar, billiard table
Modern travelers seeking vibrant neighborhood stay

Magnificent Mile, Chicago

Hotel Versey Days Inn by Wyndham Chicago
★★★
Art-inspired rooms, proximity to Lincoln Park and cultural attractions, family-friendly
Art enthusiasts, families

Chicago, near Lincoln Park

Found Hotel Chicago River North
★★★
Variety of room options, affordability, on-site facilities including a bar and restaurant
Solo travelers, budget-conscious visitors

Chicago River North

The Whitehall Hotel
★★★★
Vintage charm, modern luxury, premium amenities, pet-friendly
Guests seeking a luxurious yet quaint experience

Chicago

Hotel Chicago Downtown, Autograph Collection
★★★★
Modern and well-furnished rooms, ideal for business travel with spacious meeting rooms
Business travelers

Downtown Chicago
When it comes to cheap hotels in Chicago, Hyatt Place Chicago River North is certainly an interesting option to consider.
Conveniently located in central Chicago, this property is a good solution for anyone who wants to be near the city's top attractions.
The best things to do in Chicago such as the Millennium Park, Willis Tower, and Art Institute of Chicago are located less than a mile away from this hotel.
Hyatt Place Chicago River North is home to 212 spacious rooms equipped with all the necessary amenities.
The on-site restaurant, Ema is a perfect spot for a delicious meal and it is open for lunch and dinner and also for brunch during the weekend.
In-room dining is also available for those of you who prefer to eat in the privacy of their own room.
Another great hotel that offers affordable but at the same time high-quality accommodation is the Millennium Knickerbocker Chicago.
This classy 4-star property dates back to 1927 and offers a broad selection of rooms.
When you stay at Millennium Knickerbocker Chicago you'll have a chance to explore the fascinating dining options available in close proximity.
At the same time, you'll be able to eat on-site since the hotel features a restaurant and a bar as well.
Check out the Library Tea Room at Martini Bar if you want to enjoy a unique high tea experience.
Other facilities available include meeting and events facilities, a fitness center, and parking.
One of the best cheap hotels in Chicago is the 3-star Chicago Getaway Hostel.
Depending on your needs and budget you can choose between private rooms or a bed in a shared dorm.
If you're traveling with friends or with family you might want to consider their private quads with a private bathroom.
These rooms can accommodate up to four people and feature one big bed and two bunk beds.
Private double rooms are also available but they come with a shared bathroom.
Regarding the dorms, you can decide between mixed and female-only dorms.
Important points of interest located in close proximity to this hostel are Lincoln Park Conservatory, Lincoln Park Zoo, and Peggy Notebaert Nature Museum just to name a few.
The St. Clair Hotel – Magnificent Mile is a 3-star property located in downtown Chicago.
It offers 100% smoke-free rooms where you can recharge before your next sightseeing adventure.
Depending on the room type you'll find some of the following amenities: a microwave, mini-refrigerator, hairdryer, in-room safe, large flat-screen TV, and a work desk.
The guests can also enjoy complimentary wifi and a snack shop.
We have good news for all of you who love traveling with their pets in tow.
The St. Clair Hotel – Magnificent Mile is a pet-friendly hotel and accepts one pet up to 45 lbs.
Take in the unique atmosphere of downtown Chicago by booking a room at the 4-star Holiday Inn Chicago Mart Plaza River North.
Featuring 521 spacious guest rooms and suites, this hotel will make your trip to Chicago even more pleasant.
Take advantage of the hotel's indoor swimming pool and a well-equipped fitness center.
Visit the on-site Cityscape Bar for a combination of delicious cocktails and stunning views of the skyline.
River North is one of the most fashionable neighborhoods in the city and provides a multitude of shopping, dining, and entertainment opportunities.
Located in the vibrant neighborhood of Magnificent Mile lies the 3-star Aloft Chicago Mag Mile.
Take a look at their modern and well-furnished guest rooms that come with a wide range of amenities.
Aloft Chicago Mag Mile is home to many fantastic facilities that are required by every modern traveler.
The Re:charge fitness center will help you keep in shape during your trip to Chicago Illinois.
For a nice dinner on-site, reserve a table at the Re:Fuel restaurant while head to W XYZ ® Bar for drinks and small bites.
The facilities at Aloft Chicago Mag Mile don't end here. The hotel is also home to a billiard table and the guests can enjoy a fun game completely free of charge.
Hotel Versey Days Inn by Wyndham Chicago is a 3-star hotel located close to Lincoln Park.
It provides art-inspired rooms with free wifi, air-conditioning, and daily housekeeping.
Their standard rooms with two double beds will work out perfectly for a family of four and they're reasonably priced.
Chicago O'Hare International Airport is located 15 miles away and can be easily reached by taxi or with public transportation.
Make sure to explore the surrounding area which is filled with many wonderful and interesting spots.
Some of the top attractions located in the vicinity are the Briar Street Theatre, Peggy Notebaert Nature Museum, and Lincoln Park Conservatory.
Anyone looking for cheap hotels in Chicago should take a look at the Found Hotel Chicago River North.
The accommodation options include private rooms with one bed, twin rooms with one queen bed, and one twin upper bunk or two bunk twin rooms.
Shared rooms are also available where you can book just one bunk bed in a room that sleeps a maximum of four guests.
This is definitely one of the cheapest choices and it usually costs around 40 $ a night.
The on-site facilities at the Found Hotel Chicago River North include a bar, restaurant, and private parking.
Located in the heart of the city there is the Whitehall Hotel – a perfect combination of "vintage charm & modern luxury".
The guest rooms are equipped with amenities such as premium Egyptian cotton linens, cashmere mattresses, flat-screen TV, ironing facilities, a desk, and a mini-bar.
As for food and drinks, the hotel is home to Fornetto Mei – a charming restaurant serving Italian cuisine while Whitehall Place Lounge is ideal for after-dinner drinks.
Small pets (max 30 lbs) are welcome at an additional fee.
Stay fit and active thanks to the 24/7 fitness center and take advantage of the 24-hour business center if you need to get some work done.
Hotel Chicago Downtown, Autograph Collection offers modern and well-furnished rooms ideal for a pleasant and comfortable stay in the city.
Those of you traveling to Chicago on business may take advantage of the spacious meeting rooms with 36-foot video walls and other useful equipment.
With Chicago Riverwalk located minutes away, you'll have easy access to an array of bars, restaurants, and cafes.
If, on the other hand, you want to enjoy a fun night out without ever leaving the hotel just go to Chicagoan Lobby Bar.
Millennium Park with the iconic bean and Art Institute of Chicago is situated within a walking distance from this hotel, that can easily be considered one of the best hotels in Chicago.
Another fantastic 4-star property is the Hotel Julian Chicago located on North Michigan Avenue.
Explore the elegant and well-appointed accommodation with complimentary wifi.
The guests can enjoy a wide range of first-class amenities and services such as a fitness center, luggage storage, and a hand-held steamer.
If you stay at Hotel Julian Chicago you should definitely check out the on-site About Last Knife Restaurant.
24-hour front desk service is a plus while the staff is friendly and helpful.
Whether traveling for business or leisure, Hotel Julian Chicago is certainly one of the best options to consider.
Enter the world of hospitality by booking a room at the 3-star Fairfield Inn and Suites Chicago Downtown/ Magnificent Mile.
Enjoy free high-speed internet and complimentary breakfast together with all of the other amenities and facilities.
The large rooms will make a perfect oasis amidst the chaos and provide a tranquil and relaxing environment.
Oak Street Beach is less than a mile away from Fairfield Inn and Suites and is a must-see place to visit, especially in the summertime.
Given the central location of the hotel, there is no shortage of attractions and fun things to do.
Let's take a look at the 4-star AC Hotel Chicago Downtown that comes with a wide choice of guest rooms.
Find the accommodation you're looking for between the classic king rooms, classic double, superior king, superior double rooms, and a premier suite.
Some of the rooms can fit up to six guests so consider them if you're traveling with family or with friends.
A small fitness center is open 24 hours, 7 days a week which means you can maintain your fitness routine.
A highlight of AC Hotel Chicago Downtown is definitely a large indoor pool.
Hyatt Place Chicago Medical/University District is a pet-friendly hotel with non-smoking rooms, located in the proximity of the United Center.
We highly recommend exploring the neighborhood for a unique culinary experience.
In fact, the area is filled with many amazing restaurants and cafes and vibrant Little Italy is located only a short walk away.
Rush University Medical Center and the University of Illinois College of Medicine are also situated nearby.
Modern meeting facilities are available for those of your traveling on business.
Other facilities at the guests' disposal include a fitness center, business services, a pool table, a bar, and a food market.
The Willows Hotel is a charming 3-star property located by the famous Lincoln Park.
Some of the nearby attractions include the Briar Street Theatre, Peggy Notebaert Nature Museum, and Lincoln Park Conservatory.
DePaul University and Saint Joseph Hospital are also located in the vicinity.
Each room at the Willows Hotel is equipped with a flat-screen TV, mini-bar, air-conditioning, ironing facilities, and a desk.
The guests at this hotel can enjoy complimentary high-speed Wi-Fi, 24-hour front desk assistance, and a fitness center.
Make sure to always check the official website for the best deals and latest offers.
The centrally located Club Quarters Hotel, Central Loop is another great property on our list of the best cheap hotels in Chicago.
It offers a wide choice of rooms and suites in a contemporary style and many modern facilities.
If you're planning an extended stay in Chicago you should have a look at the hotel's apartments that come with a full kitchen and a practical workstation.
Thanks to the on-site fitness center, restaurant, and room service your stay will be as pleasant and as comfortable as possible.
Choose this hotel if you're planning to explore the city and enjoy sightseeing.
Club Quarters Hotel, Central Loop is adjacent to a great many important landmarks.
Located in the Lakeview East neighborhood there is the 3-star Best Western Plus Hawthorne Terrace Hotel.
This delightful structure features cozy and well-furnished rooms with a full range of amenities.
Depending on your needs you'll get to choose between classic deluxe rooms, king rooms, and larger suites.
When it comes to food and drinks, Best Western Plus Hawthorne Terrace Hotel provides complimentary breakfast.
Of course, make sure to explore the neighborhood which is home to a large selection of amazing restaurants.
Other facilities available at the hotel are parking and a fitness center.
Acme Hotel Company Chicago is a 4-star boutique hotel located right in the heart of Chicago.
Check out the trendy and well-appointed guest rooms that come with free morning Joe® coffee delivery.
Other amenities you'll find are Egyptian cotton beds, in-room safe, LED TV & Bowers & Wilkins sound systems for streaming, air-conditioning, desk, iron, and much more.
Acme Hotel Company Chicago is also home to a few interesting dining options.
There is the Berkshire Room perfect for evening drinks and open from 5 pm.
Another on-site bar is Bodega – a lobby bar in a retro style.
West Town Bakery, on the other hand, serves amazing pastries and sandwiches and is open every day from 6 am to 6 pm.
Budget Hotels in Chicago
The article discusses various cheap hotel options in Chicago, highlighting their locations, amenities, and prices. The hotels range from budget-friendly options like the Chicago Getaway Hostel to more upscale options like the Marriott and Wyndham Downtown. Additionally, many hotels offer perks like free parking, breakfast, and WiFi, making them even more attractive to budget-conscious travelers. Whether you're looking to stay in the Magnificent Mile or in the South Loop near Millennium Park, there are plenty of affordable hotel options available in Chicago.