Every time I visit Bangkok I'm always tempted to go back to one of my favorite hotels like Aetas or Grande Centre Point Terminal 21 but then most of the time I take a "risk" and discover another amazing and wonderful hotel.
And this was exactly what happened with the Eastin Grand Hotel Sathorn Bangkok Hotel.
Eastin Grand Hotel Sathorn Bangkok Location
One of the aspects that convinced me to book this hotel was definitely its fantastic location, the Eastin is in fact connected to Surasak BTS Skytrain Station via the hotel's Sky Bridge – so practical and convenient.
It is really easy and fast to reach the city's main attractions from there and you can basically manage to go around Bangkok without taking a taxi or a tuk-tuk once.
Close to the hotel, you are going to find many 7-Eleven stores, the famous Blue Elephant Restaurant, as well as few interesting shopping options but I never got to hang around there for too long as I preferred to explore other parts of this incredible city.
This is the exact address of the Eastin Hotel:
33/1 South Sathorn Road, Yannawa, Sathorn,
Bangkok 10120 Thailand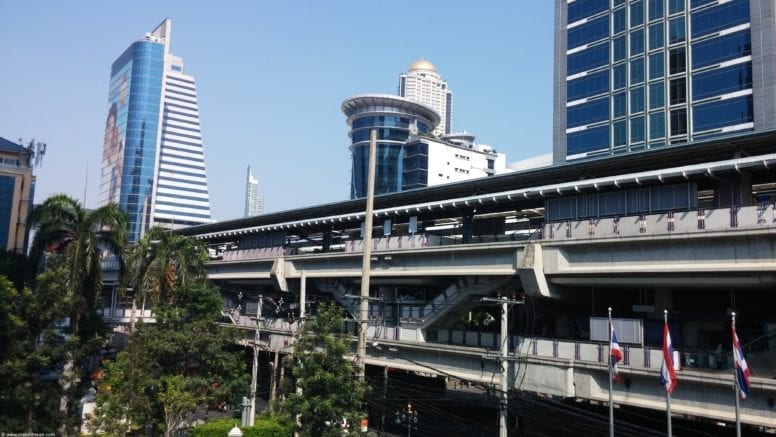 Eastin Grand Hotel Sathorn Bangkok Room Review
Eastin Grand Hotel offers 390 guestrooms and suites and you can choose between:
superior room
superior sky
executive superior sky
executive deluxe
premium deluxe
junior suite
I opted for the superior sky room and was definitely satisfied with my choice.
The room is decorated in a modern and luxurious style but still feels cozy and homey maybe because it's very silent and comfortable.
Our king size bed was large and comfy and perfect also for really tall people (my boyfriend is 6 feet 2 inches tall and he was happy with it).
Other useful room's facilities include a mini bar, an iron, a safe and a flat-screen TV.
There is also a well-working air conditioning – absolutely necessary and appreciated in a city such as Bangkok where the heat can be really hard to handle for people who are not used to it.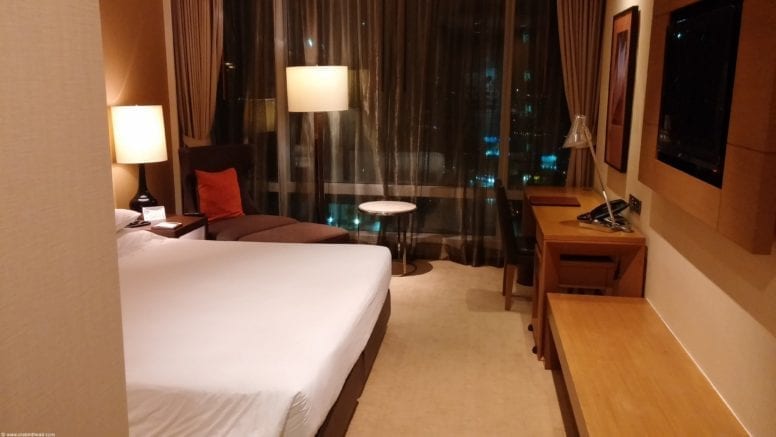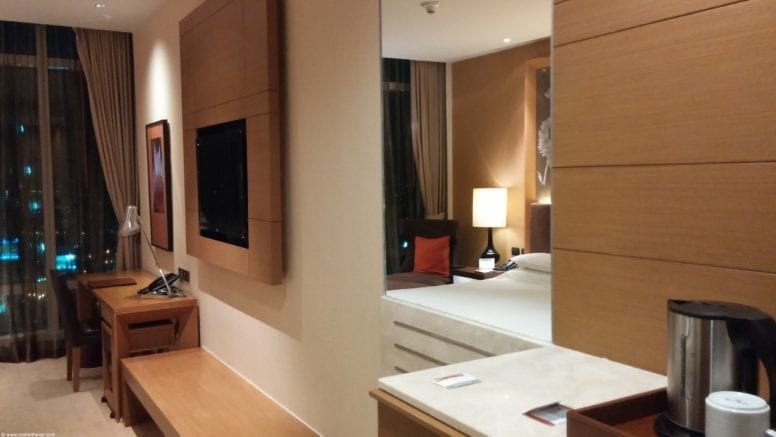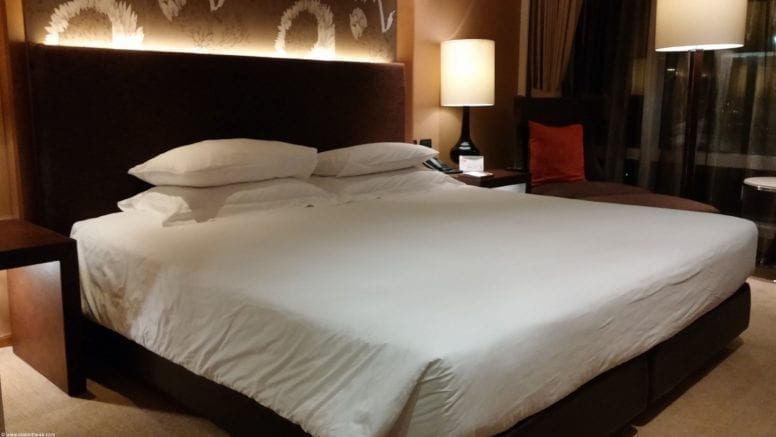 The free wi-fi works perfectly and fast and I managed to do some computer work without any problems.
The view from our room on one of the high floors was absolutely wonderful and you can see it on the pictures that come next.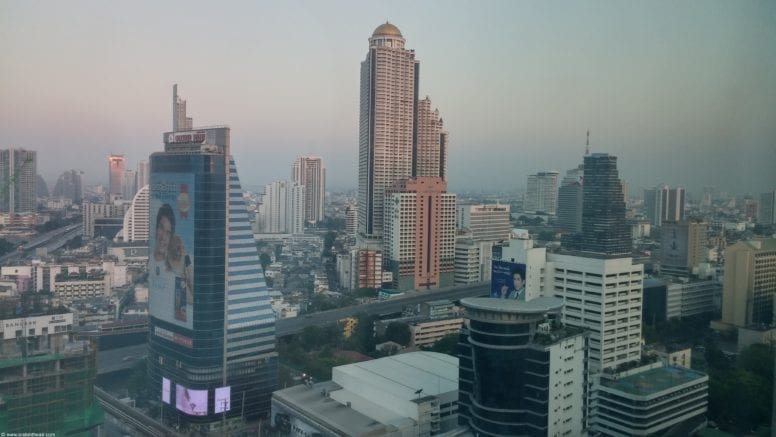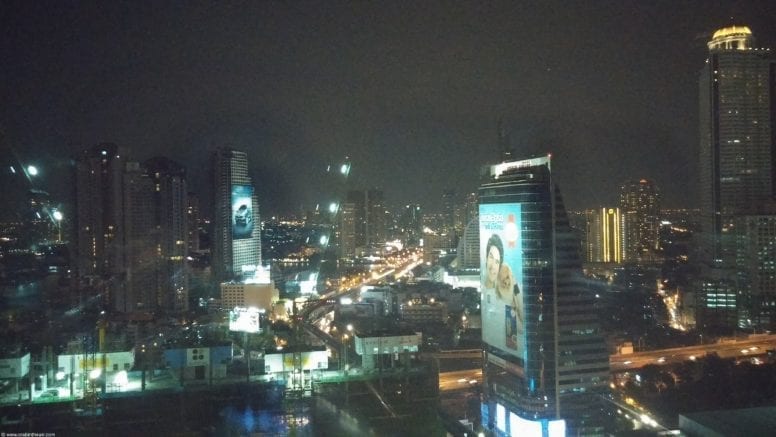 The bathroom is also really nice and comes in a modern and stylish decor.
Ours didn't have a bathtub but it had an amazing big shower and a huge mirror over the sinks – two things I loved the most about it.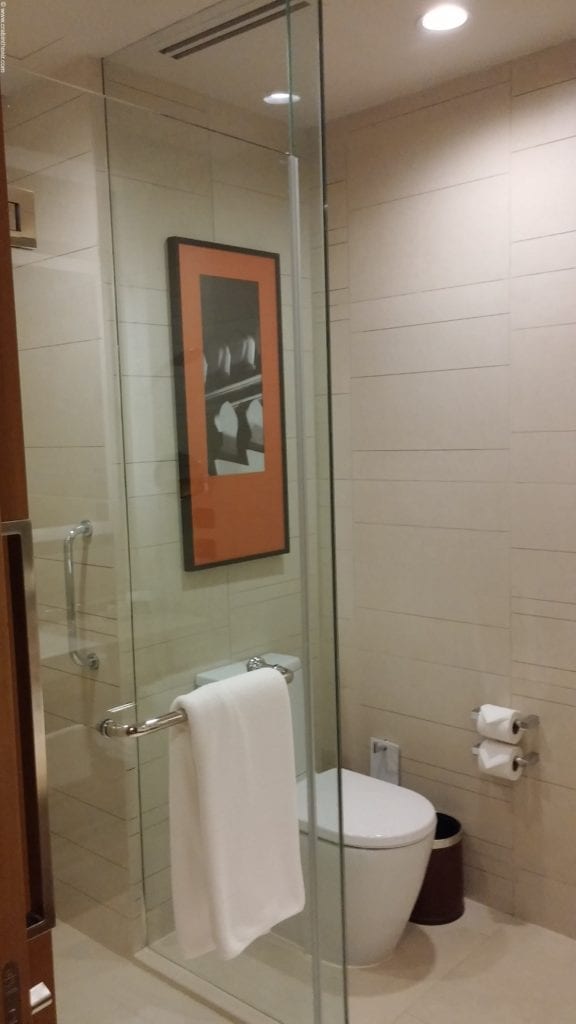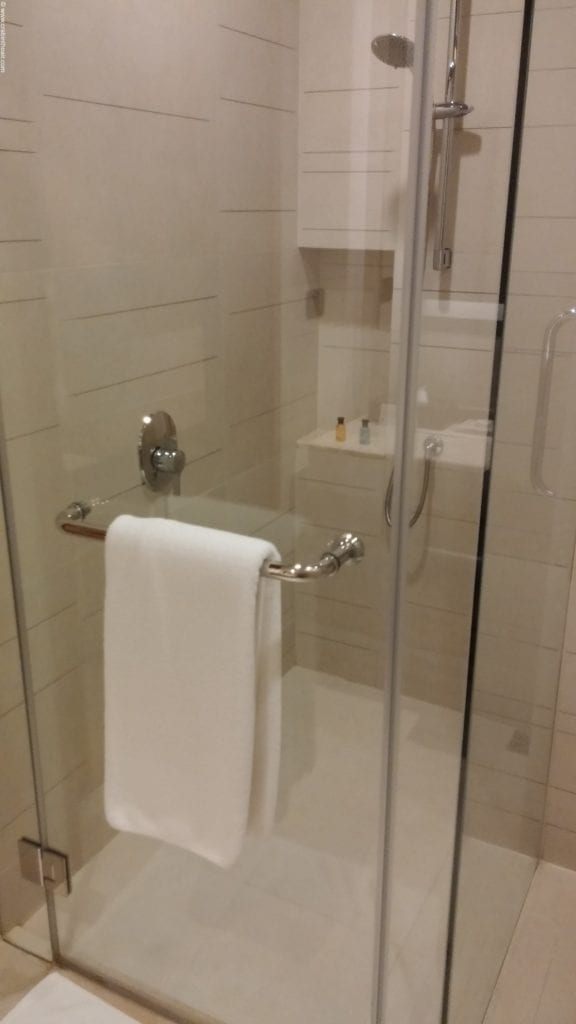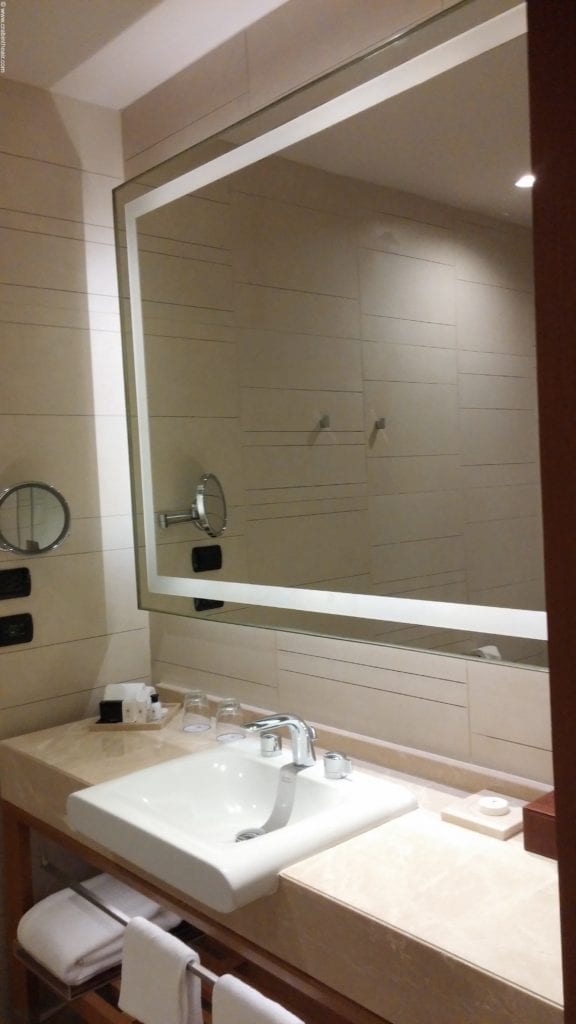 I also want to add that I was highly satisfied with the cleanliness of the room, thanks to the great housekeeping service our room was always perfectly clean and tidy.
Eastin Grand Hotel Sathorn Bangkok Swimming Pool and Gym Review
Both the swimming pool and the gym are located on the 14th floor and you really should try out these facilities at least once during your stay at Eastin.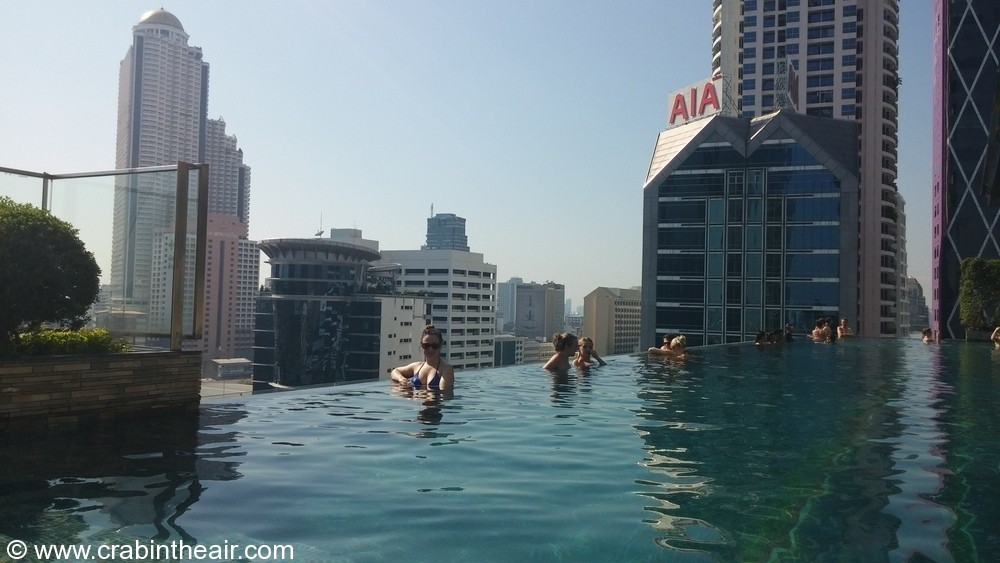 The infinity swimming pool is really wonderful and we spent a couple of pleasant afternoons there enjoying a swim and a stunning view of the city.
There is also a bar near the pool and your food (which by the way was delicious) and drinks will be delivered to your lounger.
I recommend in particular all their fruit shakes/smoothies and their tasty pizza.
As I mentioned before the view is really amazing, I enjoyed admiring and taking photos of Bangkok from there, especially during the sunset or in the early hours of the morning.
Also working out at the hotel's gym is an absolute pleasure which just like the swimming pool offers a panoramic view of the city and is well equipped too.
It is a medium size fitness center but has all the necessary training equipment for both strength and cardio workouts.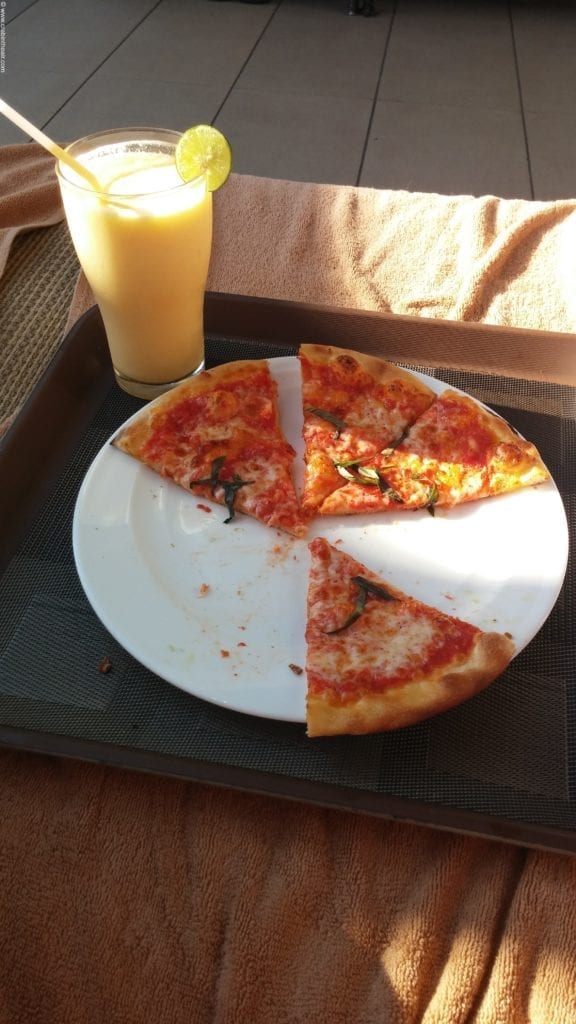 Eastin Grand Hotel Sathorn Bangkok Breakfast Review
The breakfast was served in The Glass House on the 5th floor and it was one of the best I've ever had at a hotel.
The choice is incredibly wide, you will be able to select within a wide range of options, from all kinds of bread, cereals, nuts, pancakes, eggs to sushi, noodles and different type of pastries and much more.
I loved how much fresh tropical fruit was available at breakfast time as well.
And it's not only about the quantity of the food but most of all about its quality – the breakfast was delicious and I'm pretty sure even the pickiest of guests would be happy with it.
Apart from that the atmosphere and the surroundings of The Glass House were extremely nice and relaxing and the staff managed to keep everything clean and organized even during the busiest times of the breakfast.
Eastin Grand Hotel Sathorn Bangkok Service
The staff at the Eastin Grand Hotel Sathorn Bangkok was always very kind, friendly and efficient.
From the time of our arrival to the check out we were treated with kindness and respect and assisted with anything we needed.
I was particularly happy with the housekeeping service and with all the lovely people working at the swimming pool.