Our stay in Redang Island is sadly over and after one week of living in a real paradise on earth, we had to say goodbye to this beautiful place. We have however many pictures and memories that we are going to cherish for years to come and we are certainly going to go back there one day.
During our one week holiday on this exotic Island we stayed at The Taaras Beach & Spa Resort (also known as Berjaya Redang Resort) and today I would like to share our thoughts and opinions about it with you here on the blog.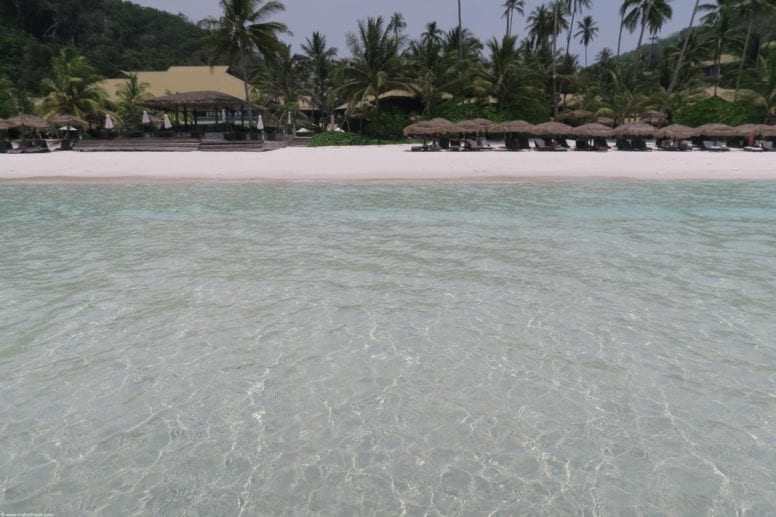 How to get to Redang Island
The Taaras Beach and Spa Resort in Redang Island is located off the coast of Terengganu and there are a few ways to get there.
If you are traveling from Kuala Lumpur there are many express coaches available at different times of the day and the trip should take around six hours.
You can obviously go by car as well but we didn't really consider this option given out poor knowledge of Malaysian streets, roads and of the country in general.
Another way to go to Redang Island (and the one we decided to go for) is to take a plane.
We booked our flight with Air Asia a few weeks earlier and after a short one hour trip, we landed at the Sultan Mahmud Airport in Kuala Terengganu.
Redang Island Airport
There is also a tiny airport right at the Island but the staff at Taaras told us it was only used for private flights (please share in the comments if you have any additional information regarding this).
The Taaras Airport Guest Lounge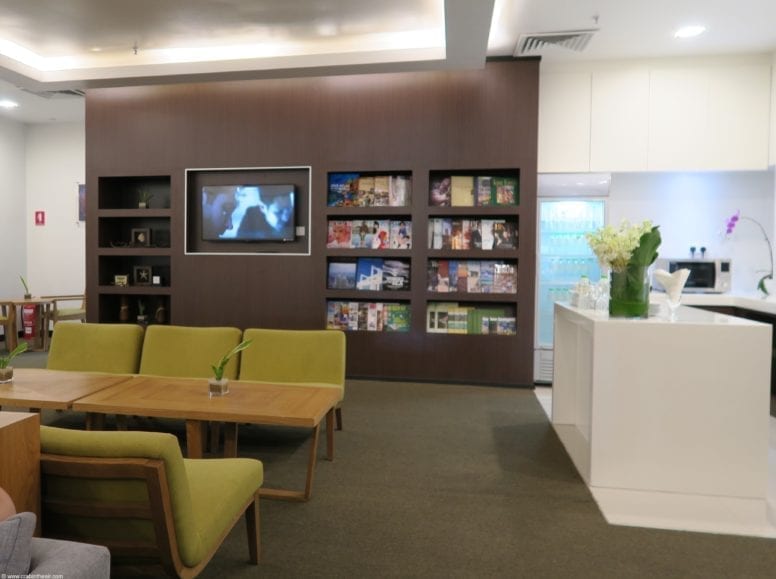 After arriving at Kuala Terengganu we got our luggage and proceeded to the Taaras Airport Guest Lounge located at the arrival hall (all arranged at the moment of booking of our stay).
While we waited for the next part of the trip we enjoyed complimentary snacks, tea and coffee there.
From Kuala Terengganu to Merang Jetty, to Redang Island
After around 30 min we were already on a shuttle taking us to the Merang Jetty (a trip which lasted around 45 min).
From there we just had to face one last part of this journey and that is a boat transfer.
The Resort's boat we took was quite small and the whole trip lasted about an hour or so but the total length of it can change depending on the sea conditions.
I know there are also public ferries available if you feel more comfortable travelling on bigger boats or if you travel with small children.
Once you get to the Island you will need to take one last very short shuttle trip to the Resort and you can finally start enjoying your holiday.
All in all we were satisfied with the transportation from Kuala Terengganu Airport to Redang Island organized by the Taaras Resort, everything worked out in a very fast and efficient way and every single person we met was always ready to help and assist us.
We found it was so much easier for us to have everything arranged by them rather than having to think about all the transportation by ourselves.
Upon arrival, we were welcomed by friendly reception desk staff and refreshing cocktails and we immediately felt relaxed and so happy to be there.
Just when we thought it couldn't get any better than this we got our room upgraded to the Garden Suite – it was the cherry on the cake!
The Taaras Resort – Map & Facilities
After all the formalities we were taken to our room but not before a short trip around the resort where we were introduced to all the main facilities and restaurants.
On the next photo, you can actually see the map of the resort.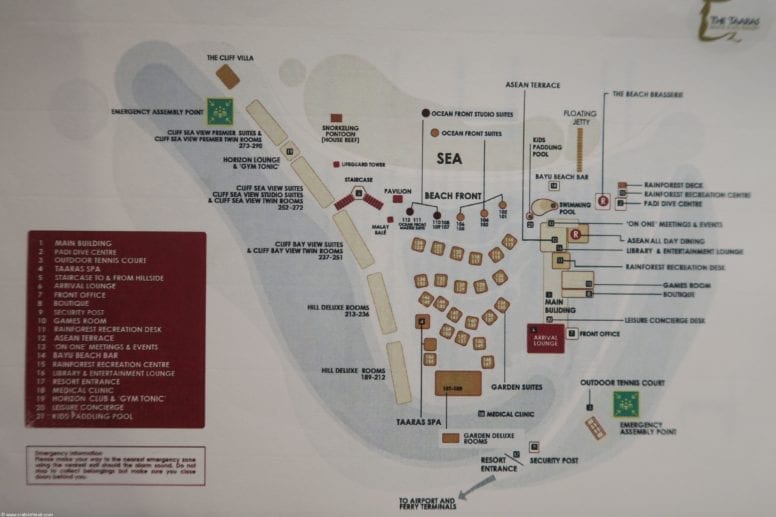 The Taaras Beach and Spa Resort Garden Suite Room Review
I have to say our Garden Suite Room was absolutely wonderful and I couldn't wish for better.
It is located on the upper level and as soon as I came in I fell in love with its beautiful and unique Malaysian style.
When you open the door you come into a separate living area of the Suite which has a TV, a small sofa, a fridge, a desk and coffee and tea making facilities – it is spacious and perfect for relaxing after dinner.
Garden Suite Bedroom
The bedroom is as big and as beautiful, the bed is large and very comfortable and there is a TV in there as well.
There is a perfectly working air conditioning in the whole Suite – something we used a lot.
Garden Suite Bathroom
My favorite part of our Garden Suite was the bathroom – I loved the style of it and how spacious it was.
There was obviously a huge rain shower and a lovely modern bathtub which I wish I can have at my own home one day.
There are two bathroom sinks and two mirrors as well so there was plenty of space for the two of us.
We were also pleasantly surprised by the presence of the bidet – not a common sight in Asian hotels/resorts.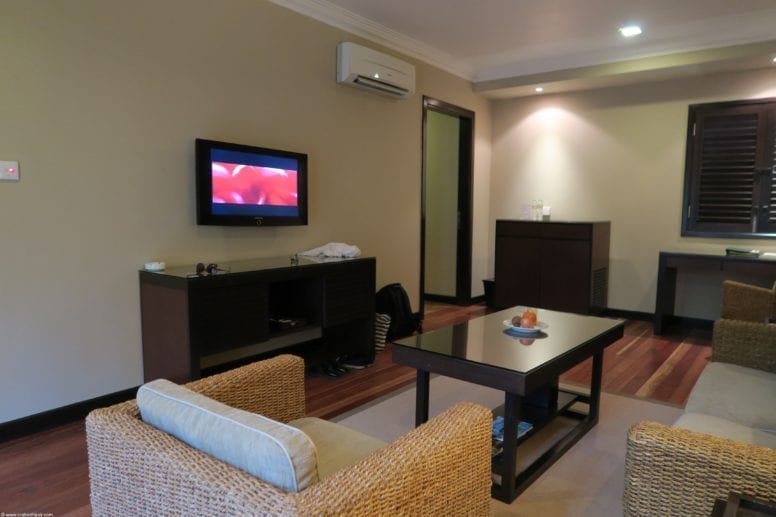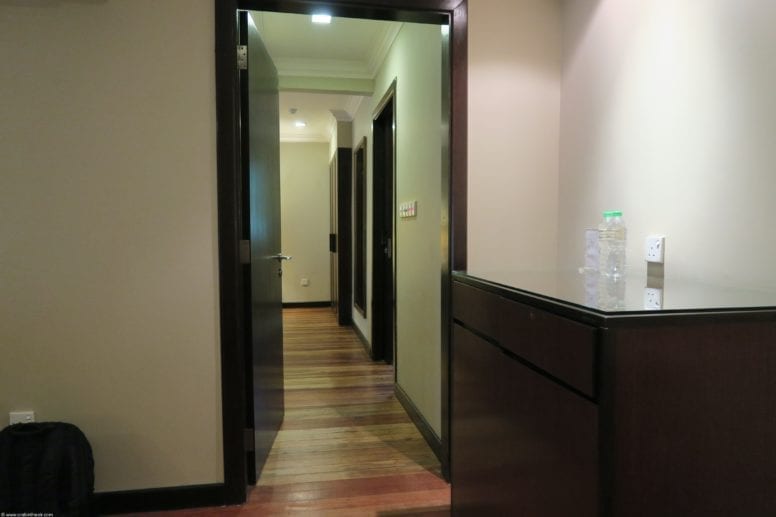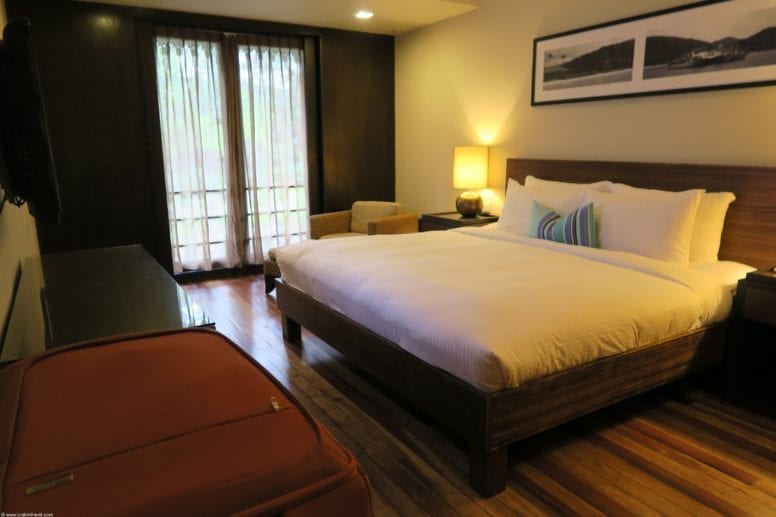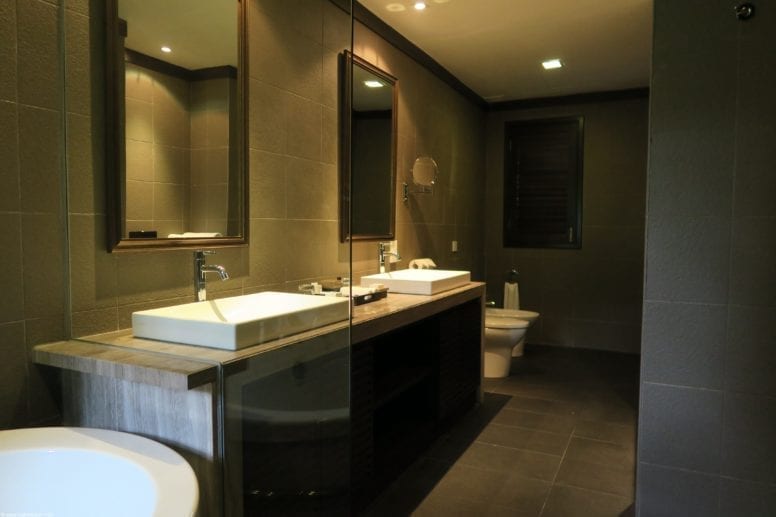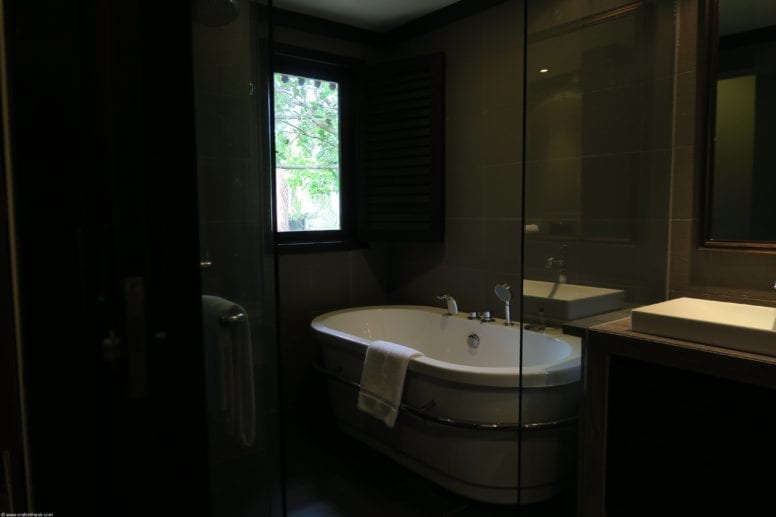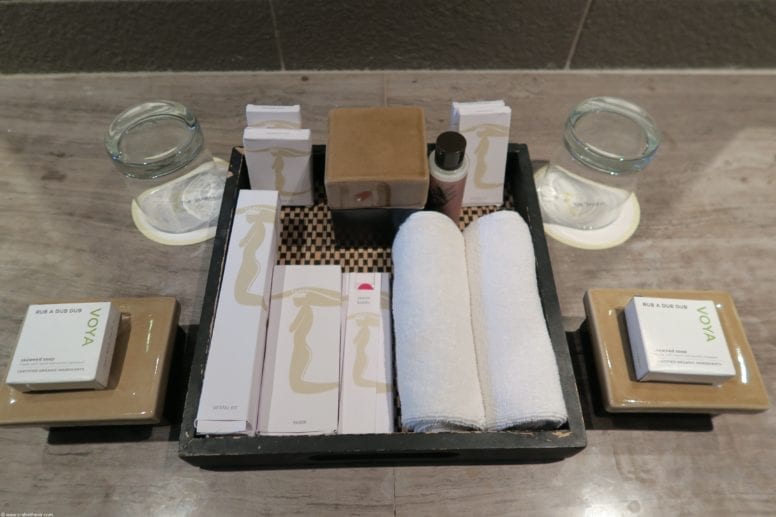 The Taaras Beach and Spa Resort includes 183 rooms and apart from our Garden Suite these are other available options:
Check Room Prices of The Taaras on Booking.com
Hill Deluxe – Room size is 46sqm and has a private balcony
Cliff Bay View – Room size is 92sqm and it has a walk-through closet, a huge bathroom with a lovely bathtub
Garden Deluxe – Room size is 30sqm and it has a private veranda
Cliff Bay View Twin – Room Size is 46sqm and a private balcony
Cliff Sea View – Suite size is 92sqm and it has wall glass windows
Cliff Sea View Premier Suite – Suite size is 100sqm and each room of this suite has a private balcony and spacious living, dining and rest aeras
Ocean Front Suite – Suite size is 80sqm and its location is absolutely breathtaking
Ocean Front Studio – Suite size is 80sqm and it has a private veranda
Ocean Front Master Suite – Suite size is 140sqm and has separate lounge and dining areas as well as private butler pantry and fridge full of delicious snacks
The Taaras Villa – The villa size is over 3000sqm and it is a wonderful solution especially for long term stays, the private infinity swimming pool is a dream come true as well as well as home gym and personal butler and Chef service.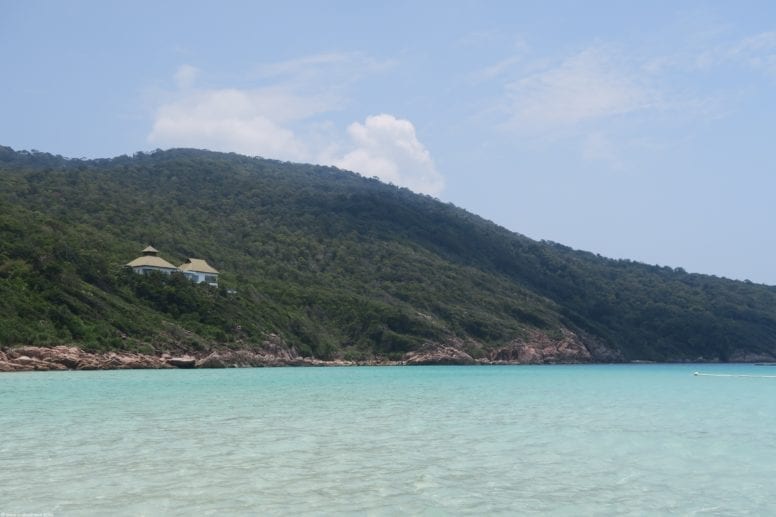 Video Review of the Taaras Redang
The Taaras Beach & Spa Resort Restaurants and Food
While staying at the Taaras Resort you can choose between four different bars/restaurants. To be honest there is another restaurant near the resort as well but I never got a chance to go there so can't really say much about it apart from the fact that it looked very nice and colorful from the outside.
My favorite dining option and the one I opted for most of the nights of my stay there was The Asean Restaurant.
The outside deck of this place overlooks the swimming pool and I loved how romantic it felt to have dinner there.
The staff is absolutely wonderful and will happily accommodate any requests you might have, the service is very fast and efficient and we hardly ever had to wait more than 15 min for our food to arrive.
The waiters are really kind and polite and most of all always smiley.
There is also live music during dinner time and a lovely girl with beautiful voice will sing any song you request (apart from many famous songs in English and in Malay obviously she also sings in Chinese, Italian, Spanish and Korean so go ahead and ask for songs in your own language).
When it comes to the food the menu includes both traditional Malaysian options as well as many international meals.
The food at The Asean Restaurant was good but not outstanding and not what you would expect from a 5-star Resort.
The desserts and cocktails were delicious but the mains like pasta, noodles or hamburgers were a little disappointing and could be improved.
The Asean Restaurant Menu at The Taaras Beach and Spa Resort
Here is the menu of The Asean Restaurant
Salads
Mixed Salad 22
Greek Salad 28
Caesar Salad 28
Thai Beef Salad 35
Appetizers
Traditional Malay Satay 21
BBQ Buffalo Wings 22
Fresh Vietnamese Spring Rolls 22
Vegetable Spring Rolls 15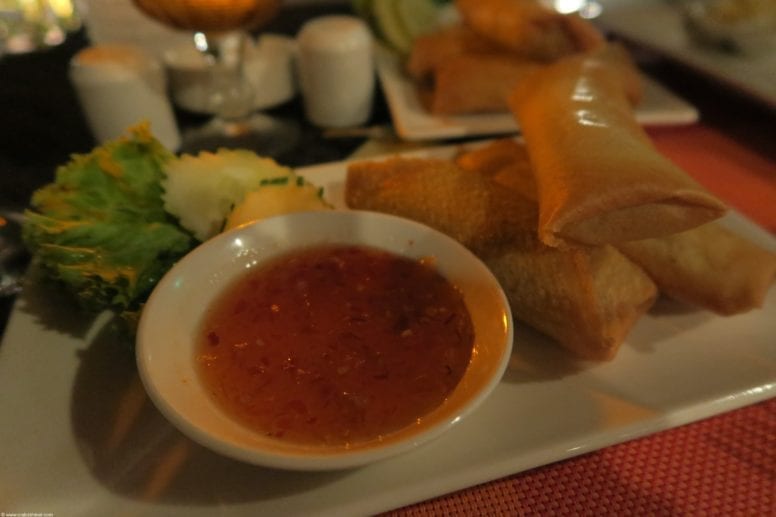 Noodles
Mee Goreng Mamak Style 26
Fried Kway Teow 26
Cantonese Kway Teow 26
Curry Noodles 26
Tom Yam Noodles Soup 28
Rice
Yong Chow Fried Rice 26
Nasi Goreng Istimewa 30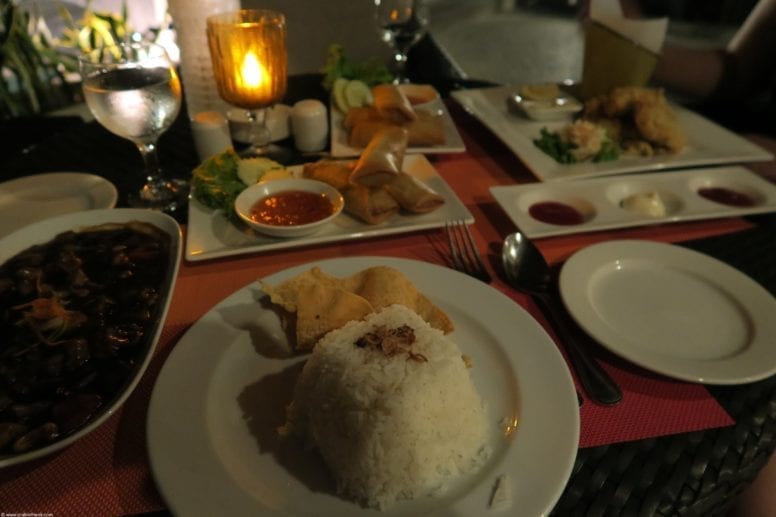 Western
Penne Arrabbiata 30
Spaghetti or Fettuccine 28
Fish and Chips 38
Grilled Rib Eye 52
Sandwiches
Tuna Sandwich 22
Chicken Panini 25
Steak Sandwich 32
Taaras Cheese Burger 33
Hot and Spicy
Island Chicken Curry 30
Sambal Tumis Udang 33
Fish Curry 38
Lamb Shank with Briyani Spiced Rice 45
From The Wok
Kung Po Prawns 33
Wok Fried Beef with Ginger 35
Desserts
Ice Cream Selection 10
Ice Kacang 18
Selection of Tropical Fruits 19
Cake of the day 19
Mango Sticky Rice 26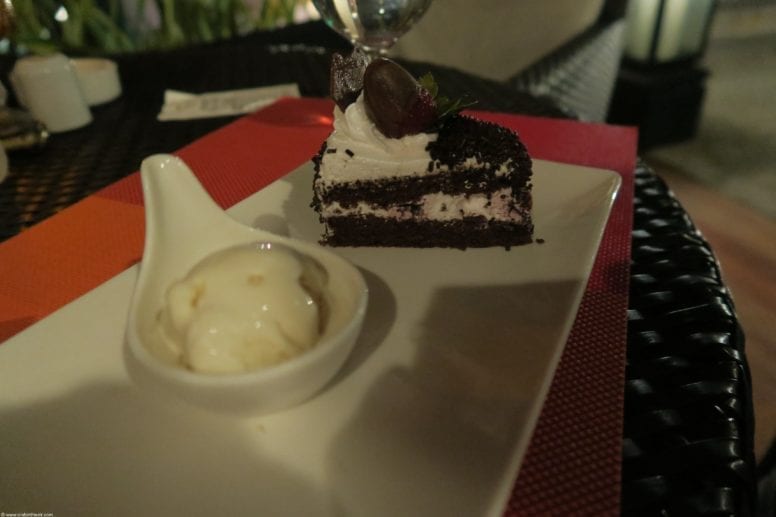 Bayu Bar
Another place we really liked to eat at especially during lunch or for a mid-afternoon snack was the Bayu Bar right at the beach with the stunning view of the ocean.
The pizza, french fries and cocktails were our favourite options there and you have to try their famous mango shake as well – so delicious and refreshing.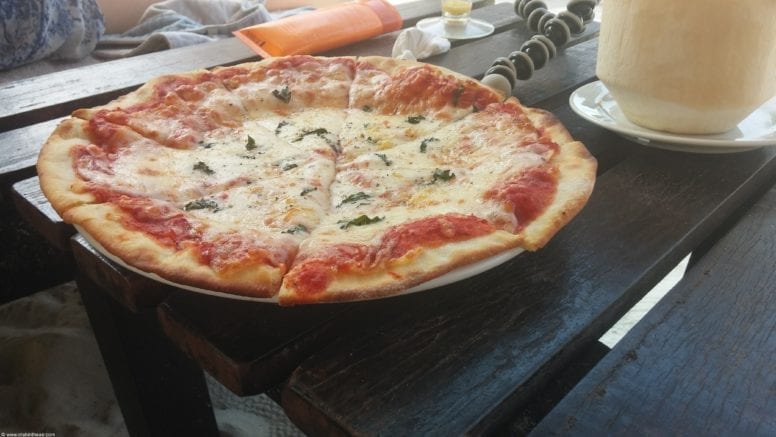 Beach Brasserie
The Beach Brasserie offers Western, Japanese and Indian cuisine, we never tried it so all I can say about is that it looked really nice from the outside and the location was obviously wonderful.
The Taaras Beach and Spa Resort Breakfast Review
The breakfast at The Taaras Resort was good but again not up to 5 star standards.
I was especially disappointed by the small amount of fresh tropical fruits and juices, something I thought I could take for granted in any hotel or resort in Malaysia let alone on a tropical island. The selection of bread wasn't that big neither and the same happens when it comes to cereal.
You should be quite happy however if you enjoy eggs, noodles or donuts for breakfast.
As I said before the breakfast wasn't bad but it wasn't extraordinary neither.
The Gym @ The Taaras Resort
The gym at The Taaras is just adorable, yes I think that's the right word to describe it.
It is small and quite basic but I fell in love with it from the first sight.
You can enjoy a run at a treadmill and admire a stunning view of the entire beach at the same time – if only I could always work out in a location like that.
There is a very kind person working at the gym and he is always willing to help and assist you, you also get a towel when you get there so you don't need to bring anything with you.
The only thing you have to keep in mind is that having an appropriate workout clothes and shoes is a must so don't try to go to the gym wearing your swimming costume and flip-flops.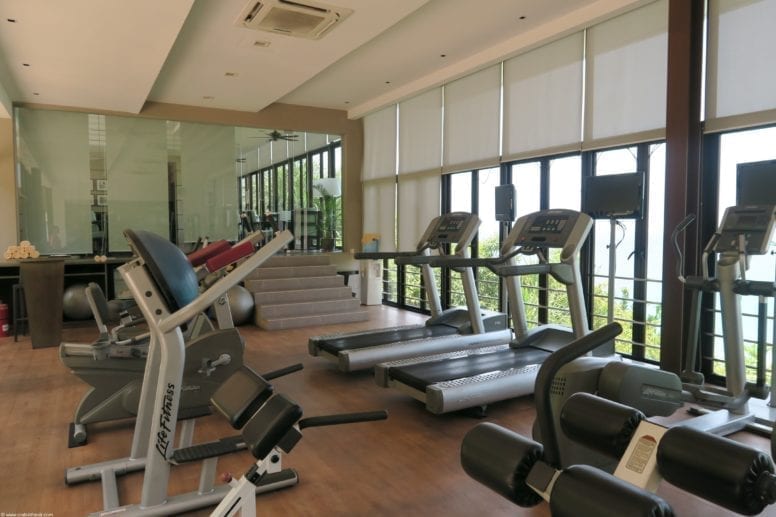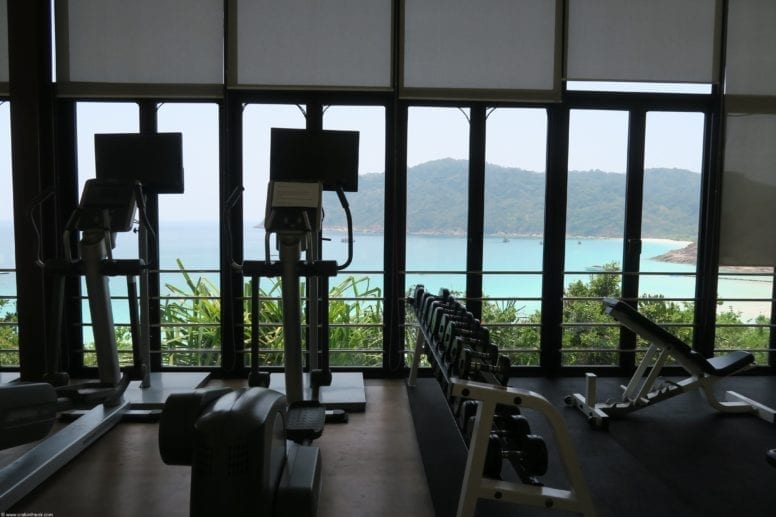 Wi-Fi and Internet Access at The Taaras
When it comes to the Wi-Fi you are going to receive a password and a username at the arrival and the Internet connection works really good and is pretty fast most of the time.
It works smoothly also from the beach!
The Taaras Beach and Spa Resort Swimming Pool Review
The swimming pool is located in the heart of the resort and not far from the beach and I have to say I loved relaxing and spending my time there.
There is a separate area for the children and a bigger and deeper one for adults and it never felt too loud or overcrowded.
It is also very clean since the staff at the Taaras kept cleaning and checking it very often.
The Taaras Spa Review
If you want to experience a moment of a total relax and serenity you should try the Taaras Spa.
The Spa treatments include:
Massages
Body Scrubs
Body Wraps
Anti-aging/cleansing/cooling/nourishing facial
Manicure
Pedicure
I personally have tried The Taaras Signature Massage – ideal for soothing sore muscles – and enjoyed it really a lot.
There are also Spa Packages available (to choose between relaxing, energizing, revitalizing and detox plus the Taaras Signature Packages).
The Taaras Beach & Spa Resort Staff Review
I must say the staff at the Taaras Beach & Spa Resort was absolutely wonderful, kind and helpful from the first to the last day of our stay.
Every single person working at this resort was always smiling and friendly and it was a pleasure to be around people with such a positive attitude.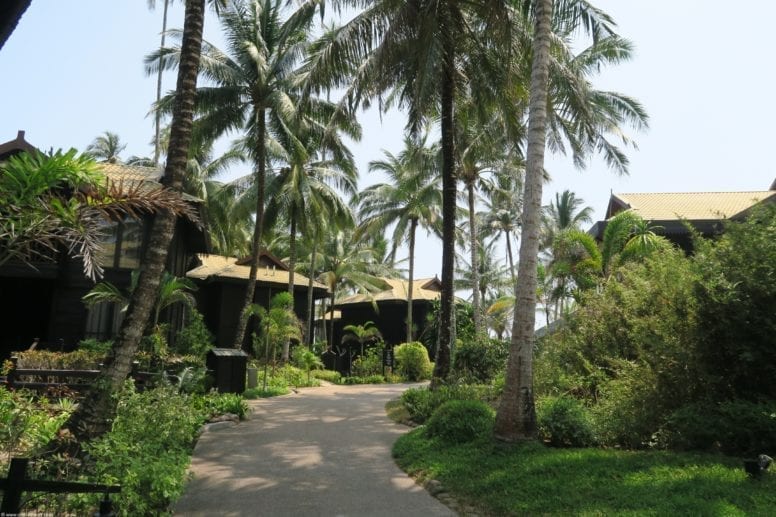 I also have to mention that all the staff at The Taaras speaks very good English – something I really admire and appreciate.
The check in and check out formalities were really fast and efficient and the staff was qualified and very well organised.
The Taaras Beach Review
The beach and the sea at the Taaras Resort are absolutely stunning and almost too beautiful to describe with words.
The water is crystal clear and the sand so white, you might never want to leave this place.
The shoreline and the beach are cleaned twice a day so there is no garbage around and everything stays clean and perfect.
If you feel like relaxing from the sun for a little while you can just lay down on one of the shady comfortable loungers.
After taking a swim I would usually read a book, drink a cocktail and enjoy a wonderful view of the sea from there.
You can also order something to eat at The Beach Brasserie and ask the staff to deliver your food to the beach, we did that a few times and it was fantastic.
I think the location of The Taaras Beach and Spa Resort is so romantic and special it would make a perfect honeymoon destination or why not even a wedding venue.
If you like snorkeling Redang Island is a perfect place to do that given the turquoise water, abundance of marine life and incredible snorkeling spots.
It is also possible to do Diving Excursions, in fact The Taaras Resort has many interesting packages and on request will organize everything for you (including all the necessary equipment).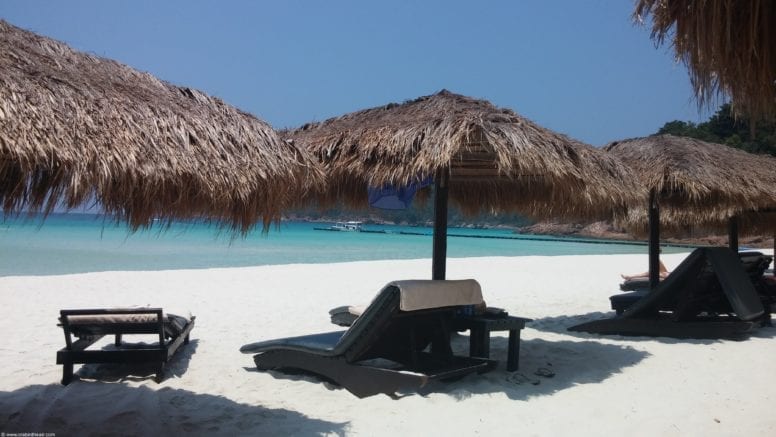 To sum up, I can say our holiday at The Taaras Beach & Spa Resort was simply perfect and it was probably one of the best if not the best resort I have ever had a chance to stay at.
While the food could be improved, the friendly staff, wonderful beach, sea, hotel facilities, beautiful rooms and amazing Spa are something I am going to remember forever.
The hospitality and kindness of Malaysian people will always have a special place in my heart.
Check The Taaras Redang Room Prices and Availability
---
Hotel reviewed: The Taaras Beach & Spa Resort
Address: Peti Surat 126, Main Post Office, 20928 Kuala Terengganu, Terengganu, Malaysia
Overall rating: 4/5
Reviewed by: Barbara