Kuala Lumpur in Malaysia is a city where tradition meets modernity and where ancient temples and historical buildings sit proudly right next to the twenty-first-century skyscrapers and air-conditioned shopping centers.
What started as a small and modest mining city in the middle of the 19th century has now become a modern and fast-growing metropolis. KL is now one of the most important centers in the South East Asia region.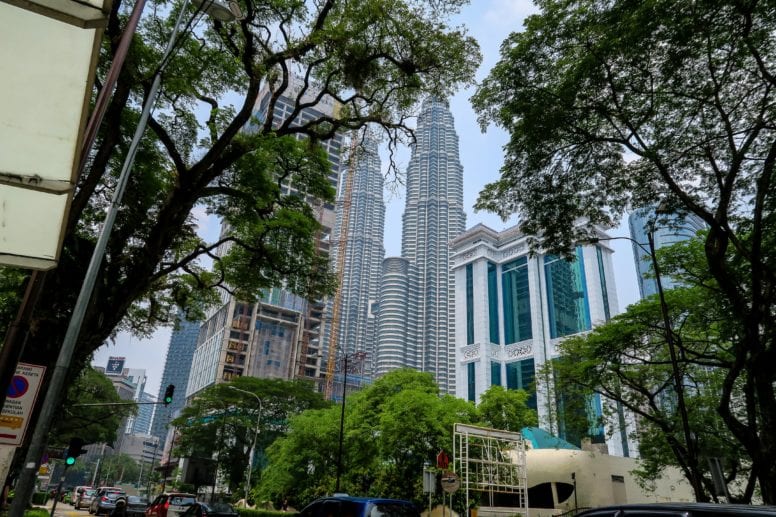 If you're planning a trip to Kuala Lumpur you should know many exciting activities are waiting for you.
What you can expect is a long list of fun attractions, trying delicious local dishes, relaxing at the local parks and even indulging in some shopping.
Thanks to the modern and affordable public transport getting around KL is easy and you're not going to be wasting too much time when traveling from one point of interest to another.
Kuala Lumpur Hotels – Booking Tips and The Best Places to Stay
---
---
---
---
Places to Visit in Kuala Lumpur
Book your flight, pack a suitcase, remember to bring your camera and get ready for an adventure!
We hope that our extensive list of the best things to do in Kuala Lumpur will help you make the most of your time in this fascinating city.
Discover the Petronas Towers
The first thing to do on your first day in Kuala Lumpur is obviously visiting the iconic Petronas Towers – the highest twin towers in the world (each of them over 451 meters tall) and the city's most famous landmark.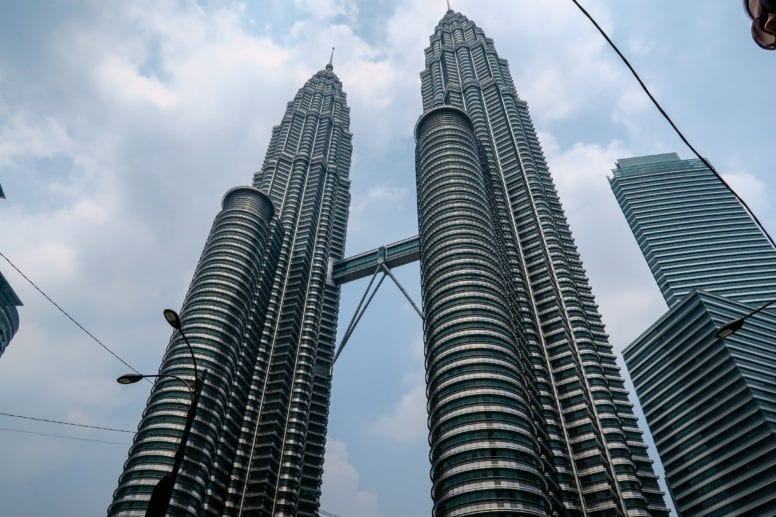 Completed in 1996, the Petronas Towers are now home to offices, to Suria KLCC – a shopping mall with a wide choice of stores and restaurants and are surrounded by the beautiful KLCC Park.
The best thing regarding this famous building, however, must be the sky bridge which connects the two towers and guarantees breathtaking views of the city from the 41st floor.
The sky bridge is a pretty popular tourist attraction so book your tickets in advance and remember that the place is always closed on Monday.
Take as many photos as possible before heading to your next destination – after all, it's not every day you get a chance to visit one of the tallest skyscrapers in the world.
Address: Concourse Level, Petronas Twin Tower, Lower Ground, 50088, Wilayah Persekutuan Kuala Lumpur
Opening Hours: daily: 9am – 9pm, Friday: 9am – 1pm, 2:30 – 9pm, Monday: closed
Visit Sultan Abdul Samad Building
One of the most important things to do while exploring the capital of Malaysia is to visit the Sultan Abdul Samad Building – the government's administrative building during the British era. Nowadays it's the headquarters of the Ministry of Communications and Multimedia and the Ministry of Tourism and Culture of Malaysia.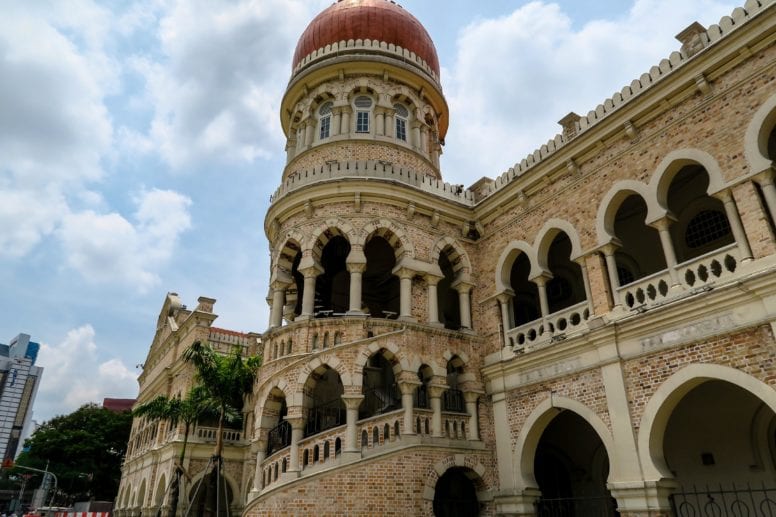 Completed in 1897, the structure features an elaborate facade that remained unchanged over the years although the city around it underwent a constant evolution and modernization.
Located on the notable Merdeka Square it also has a 95-meter flagpole and a 43.6-meter high clock tower with a great dome, which is one of its most famous characteristics.
In the evening and late afternoon, the place becomes even more charming and romantic and most importantly also less crowded.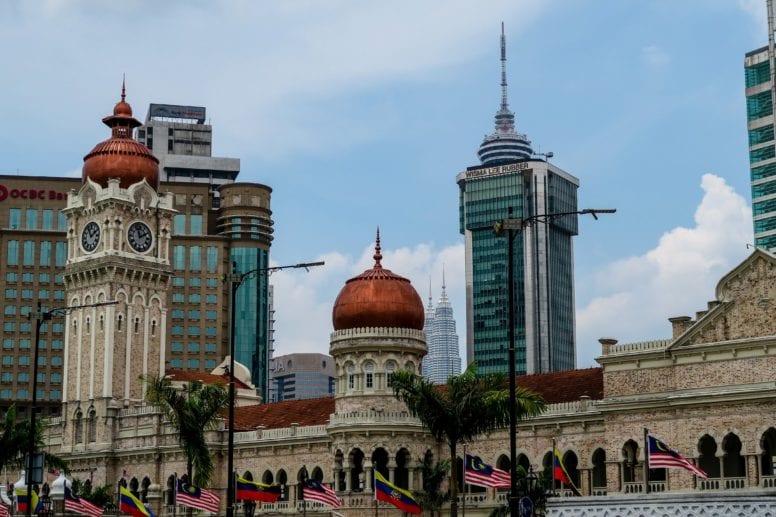 The Sultan Abdul Samad Building is one of the most architecturally and historically significant sites in Kuala Lumpur and a top point of interest on your travel itinerary.
Address: Jalan Raja, City Centre
Soak in the history of Merdeka Square
The Sultan Abdul Samad Building is located right in front of the Merdeka Square so it's only logical to explore it while you're there.
Merdeka Square which means Independence Square is one of the most important attractions in Kuala Lumpur as it holds lots of history and is home to many significant buildings.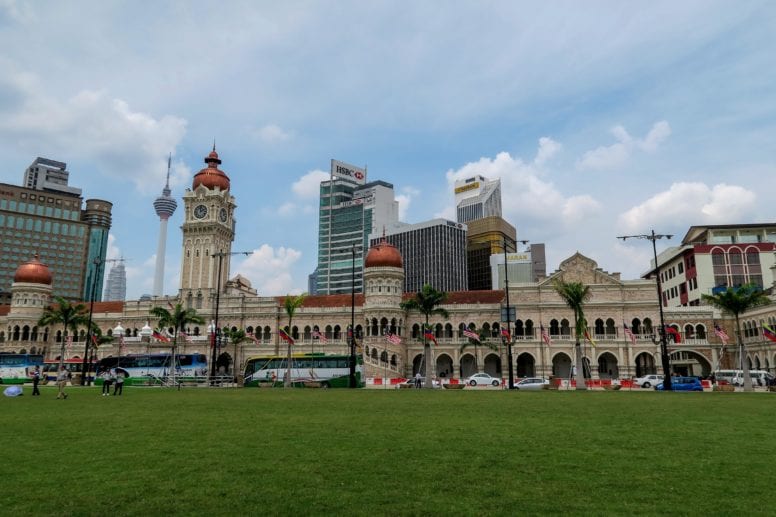 In fact, Merdeka Square is where Malaysia proclaimed its independence from the British Empire in 1957.
As soon as you get there you'll notice the 95-meter flagpole and apart from the Sultan Abdul Samad Building mentioned before you'll also have a chance to admire the Cop's Fountain from 1897, St. Mary's Anglican Cathedral, the Royal Selangor Club, the former National History Museum and the Kuala Lumpur City Gallery.
There is no better place in the city than this to admire the stunning architecture and learn more about Malaysia's colonial past.
You can finish your trip to Merdeka Square with a quick meal at one of the vibrant food stalls located nearby.
Admire the city from above at Menara Kuala Lumpur Tower
Menara Kuala Lumpur Tower is probably the best place to admire the breathtaking views of the city from above.
Standing at 421 meters high this communication tower offers a wide array of attractions and activities to visitors from all over the world.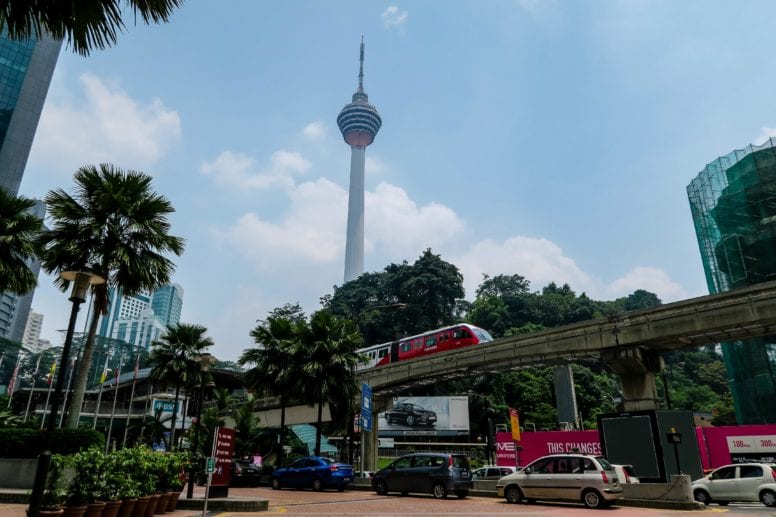 If you want to enjoy a spectacular panorama of Kuala Lumpur and take photos of it from hundreds of meters in the air then visiting the observation deck at 276m is a must.
While, if you wish to go even higher and get your adrenaline pumping, there is the incredible sky deck at 300m available as well.
Other attractions at KL Menara Tower include a Mini Zoo, Upside Down House, Blue Coral Aquarium and KL Forest Eco-Park.
For anyone looking for a nice place to have a romantic dinner with a spectacular view, check out the Atmosphere 360 Restaurant located at the KL Tower.
Address: No. 2 Jalan Punchak, Off, Jalan P Ramlee
Opening Hours: Daily 9am – 10pm
Ticket Price: Observation Deck Adults RM49.00 and Children RM29.00
Sky Deck Adults RM99.00 and Children RM52.00
Take a Day Trip to Batu Caves
Around 15 km north from Kuala Lumpur lies one of the most important landmarks in Malaysia – Batu Caves.
Batu Caves are a complex of limestone caves and an important place of pilgrimage for those who practice Hinduism.
Although officially discovered only in 1878, Batu Caves are believed to have been around for centuries.
It is dedicated to Lord Murugan – the Hindu god of war – his towering 43m high golden statue welcomes all the people who came to visit this unique place.
You'll need to climb the many stairs (272) to reach the Temple Cave but you can take a rest and stop by the Dark Cave which you'll meet on your way up.
You'll reach it after around 204 steps but keep in mind that the Dark Cave can only be visited with an official tour guide.
On your way back you can take some time to visit the Cave Villa located at the foot of the limestone hill which includes a gallery and a museum.
Getting to Batu Caves from Kuala Lumpur is pretty simple and you can choose between taking a taxi, a bus or catching a train – all of the options are affordable and easy to organize.
Address: Gombak, 68100 Batu Caves, Selangor
Have Fun at the Berjaya Times Square Theme Park
Another Kuala Lumpur point of interest filled to the brim with games and activities is Berjaya Times Square Theme Park.
If you're traveling with children they are going to have the time of their lives in this indoor theme park but many adults love this place as well.
The attraction list is pretty long and some of them include merry-go-rounds for smaller kids, crazy rides, fantasy trails and car chasing just to name a few.
There is also a selection of arcade games and cosmic games available where you can win some prizes.
The adult-oriented attractions include roller coasters, spinning orbits, and some spinning machines.
As you can imagine having a great time in Berjaya Times Square Theme Park is easy and you and your family are going to make unforgettable memories there.
Address: LOT 01-26, 01-28 & 01-30 1ST FLR, Berjaya Times Square, Jalan Imbi, Bukit Bintang
Opening Hours: Daily 10am – 10pm
Ticket Price: Adult RM 70.00, Children RM 65.00
Shop at Central Market
One the best places to visit in Kuala Lumpur is the Central Market.
Dating back to 1888 and located at Jalan Tun Tan Cheng Lock, Central Market Kuala Lumpur is a perfect spot to spend a day shopping in the heart of the city.
This busy place offers a unique shopping experience with a wide array of shops available.
I was especially drawn to the artisanal handicrafts made by locals which make a perfect souvenir to bring back home.
Central Market isn't only about shopping however as it offers an interesting selection of experiences and activities as well.
If you're traveling with children you can visit the Illusion 3D Art Museum, you can enjoy a relaxing massage, leave your pin at the gigantic Central Market Kuala Lumpur drop a pin or discover the ancient art of henna just to name a few.
And, if you feel hungry at some point, just head to one of the many dining options available at the Central Market.
Address: Jalan Hang Kasturi, City Centre
Opening Hours: Daily 10am – 9.30pm
Visit the National Mosque of Malaysia
National Mosque of Malaysia is one of the most important points of interest in Kuala Lumpur and a must-see on our list of places to visit.
It was completed in 1965 and has quickly become the most significant religious site for the Muslims in Malaysia.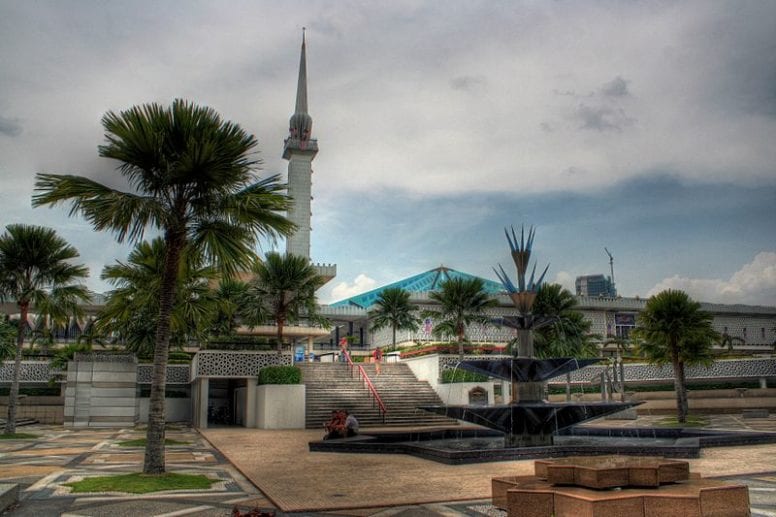 The architecture aspect of this structure is particularly interesting, it comes in a modern style and features a 73-meter-high minaret while the light blue roof looks like an open umbrella from above.
Before visiting the National Mosque of Malaysia make sure to check the opening hours for non- muslim and remember to wear an appropriate outfit.
Address: Jalan Perdana, Tasik Perdana
Surround yourself with Nature in Perdana Botanical Gardens
Looking forward to spending some time surrounded by nature and lush greenery and forget about all the hustle and bustle of the big city life?
Head to Perdana Botanical Gardens and you won't be disappointed! There is no better place in the entire KL to relax, read a book and just enjoy a moment in a peaceful scenery.
Depending on how much time you have you could spend just a couple of hours there or even a whole day.
You can learn all about the trees, plants, herbs, and spices and see some of the most unique specimens.
There is also a beautiful orchid garden and hibiscus garden which are a real treat for all the flowers lovers out there.
If you're coming to visit Kuala Lumpur from the western part of the world you'll be amazed by the stunning exotic species collection which features century-old trees such as a brazil nut tree, a mahogany tree, and a tembusu tree.
Address: Jalan Kebun Bunga, Tasik Perdana
Opening Hours: Daily 7am – 6pm
Have fun in Bukit Bintang District
Soak up the buzzing atmosphere of Bukit Bintang, Kuala Lumpur's most exciting entertainment and shopping district and a fun tourist attraction.
This vibrant area will welcome you with its crowded sidewalks, heavy traffic, neon lights and huge display screens.
Bukit Bintang is also where you'll find the ultra modern and air-conditioned shopping malls filled with luxury stores and electronic gadgets of all kinds.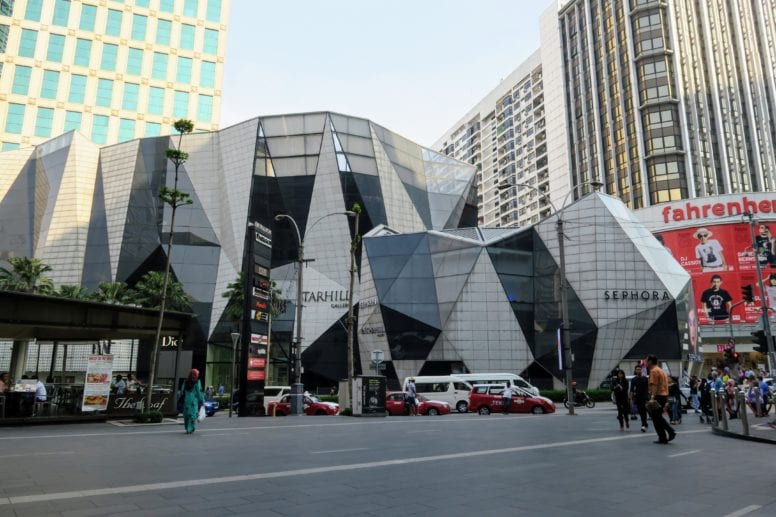 Some of the shopping malls in Bukit Bintang include Pavilion Kuala Lumpur, Lot 10, Berjaya Times Square and Fahrenheit 88 just to name a few.
The district also overflows with interesting dining options offering delicious cuisine from all over the world.
Make sure to check out the Chinese hawker stalls along the vibrant Alor Street – you'll find many yummy options in a picturesque setting.
Discover Thean Hou Temple
Our list of Kuala Lumpur points of interest must include the beautiful Thean Hou Temple.
This Chinese place of worship which was completed in 1987 comes as a real treat for all the architecture lovers.
Both interiors and exteriors of the structure are incredibly colorful, with amazing detailing and perfect design.
The atmosphere inside is peaceful and spiritual and gives you an opportunity to soak in a different culture and learn more about other religion.
You can also make a small donation and burn some joss sticks (aka incense) and spend some time meditating or simply admiring the unique surroundings.
It's not easy to find such a calm and pleasant oasis in the heart of the city so visiting the Thean Hou Temple comes highly recommended when traveling to Kuala Lumpur.
Address: 65, Persiaran Endah, Taman Persiaran Desa
Opening Hours: Daily 8am – 9pm
Try the Typical Malaysian Food
If you're traveling to Kuala Lumpur you have to explore the local Malaysian cuisine and try as many typical dishes as possible.
You can have dinner at a fancy restaurant or enjoy your food at one of the popular hawker stalls – it's totally up to you – whatever you decide to do, the choice is endless.
One of the most popular dishes in Malaysia is nasi lemak – a delicious rice-based dish with anchovies, peanuts, and a boiled egg.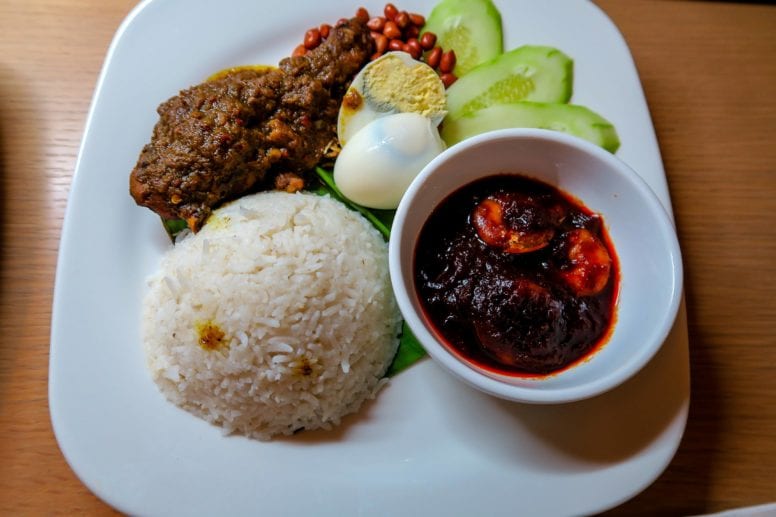 Another yummy lunch option must be the mie goreng – fried noodles with a mix of vegetables, prawn, chicken or beef.
If you get anywhere near the street food stalls in Kuala Lumpur you'll very likely come across the famous apam balik which is a type of pancake with cream corn and peanuts and you'll also see roti john – a mouthwatering omelet sandwich.
There are so many delicious dishes you can try when traveling to Kuala Lumpur, make sure to taste as many as possible of them, explore different flavors and spices and enjoy this unforgettable culinary experience.
Have Fun at Sunway Lagoon Theme Park
If you're traveling with children a visit to the Sunway Lagoon Theme Park is a must.
This place is filled with entertainment and fun attractions that might keep you busy for an entire day.
On really hot days you can take advantage of the Water Park section where you can go on the twisty and extra long water slides, play in the interactive water playground or even gain new scuba diving skills.
Other attractions in this theme park include a Sunway Lagoon Wildlife Park, a scary Scream Park, a Nickelodeon Theme Park, and a Sunway Lagoon Extreme Park for all the adrenaline junkies.
Sunway Lagoon Theme Park is loaded with fun carousels, games, slides, waterfalls and much more.
If you get hungry there are many dining options available right at the park where you can take a break and have a quick snack, a meal or a refreshing drink.
Address: 3, Jalan PJS 11/20, Bandar Sunway, 47500 Petaling Jaya, Selangor, Malaysia
Opening Hours: Daily 10am – 6pm
Ticket Price: Adults RM190, Children RM160
Soak in the vibrant atmosphere of Chinatown
One of the most vibrant areas of the capital city of Malaysia is certainly Chinatown – a place that can't be missed on your list of things to see in KL.
Always filled with people, market stalls and street food, Chinatown is a fun location to discover.
Walk along the bustling Petaling Street which is home to the famous market with a huge array of goods to buy.
Continue your shopping adventure in the Central Market and then in the picturesque Kasturi Walk located nearby.
If you get hungry between one shopping session and another you can choose between a wide selection of coffee shops, little restaurants and of course street food stalls that offer a true taste of local specialties.
Chinatown is also home to some of the most beautiful and interesting temples in Kuala Lumpur.
There is the Chan See Shu Yuen Temple – one of the oldest surviving Buddhist temples in Malaysia and also the Chinese temple – Guan Di Temple.
Make sure to visit the Sri Maha Mariamman Temple as well – it's a beautiful Hindu place of worship from 1873.
Learn about Malaysian History in the National Museum of Malaysia
If you want to learn more about Malaysian history and culture you should pay a visit to the National Museum of Malaysia in Kuala Lumpur.
The museum dates back to 1963 and offers a wide selection of art pieces and objects that let you have a glimpse into local traditions and culture of Malay people.
In fact, you'll have a chance to see what a traditional Malay wedding looks like or admire historic instruments of local music.
You'll also see an array of daily objects used in the past such as spoons, kettles, candlesticks and much more.
If you love history you can very well spend an entire day in this museum but a couple of hours should be enough time there.
Address: Jabatan Muzium Malaysia, Jalan Damansara, Tasik Perdana
Opening Hours: Daily 9am – 6pm
Ticket Price: Adults RM5, Children RM2
Catch some sun in the KLCC Park
KLCC Park is the most popular park in Kuala Lumpur and a perfect place to relax, soak in some sun and enjoy some time in nature.
Located in the heart of the city, very near the Petronas Towers, KLCC Park is a green and peaceful oasis loved by locals and tourists alike.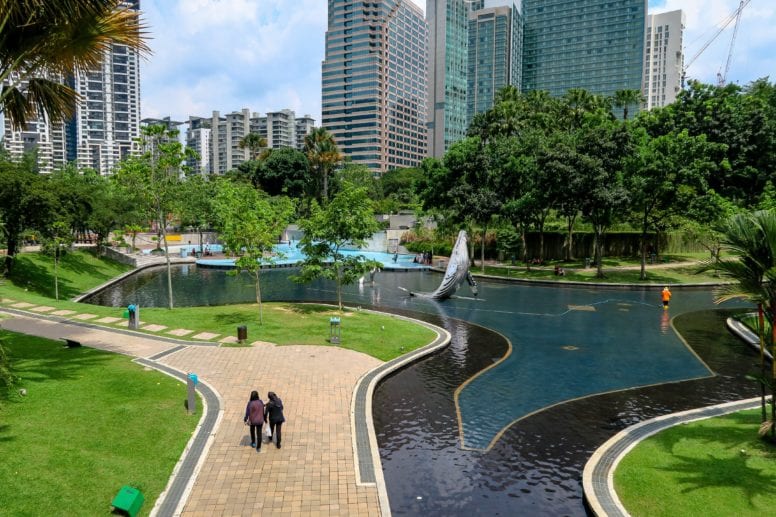 The man-made lake with water fountains inside the park provides a much-needed refreshment in the hot and tropical climate.
KLCC Park, although very visited, offers plenty of quiet places to relax and unwind with a book.
If you enjoy jogging there is a dedicated track available which makes the experience way more pleasant and also a lot safer.
There is also a large children's playground and children's swimming pool available at the KLCC Park which should be a must-see if you're visiting Kuala Lumpur with your little ones.
Enjoy the Evening light and water show in front of the Petronas Towers
One of the most enjoyable and unique things to do in Kuala Lumpur is watching the evening light and water show right in front of the Petronas Towers.
The show, which is a free event, takes place every evening at 8 PM, 9 PM and 10 PM.
The fountain water fills up with a myriad of colors and lights and following the movement of music creates a magical and spectacular show.
Witnessing the water dancing to the beautiful music with the highest twin towers in the world above you is a truly unforgettable experience that I would recommend to anyone visiting Kuala Lumpur.
Visit Kuala Lumpur Butterfly Park
Kuala Lumpur Butterfly Park is a delightful place and you don't have to be a lepidopterologist to truly appreciate its beauty and charm.
Home to thousands of butterflies, plants, and insects this park comes highly recommended on our list of the best places to visit in Kuala Lumpur.
Set in lush greenery, Butterfly Park offers a pleasant experience for both children and adults.
You'll have a great time watching so many butterflies flying around, admiring their colors and sizes.
Address: Taman Tasik Perdana, Jalan Cenderasari
Opening Hours: Daily 9am – 6pm
Ticket Price: Adults RM25, Children RM14
Go and See the Jamek Mosque
The National Mosque of Malaysia I mentioned before isn't the only important Muslim sanctuary in Kuala Lumpur, in fact, Jamek Mosque is as interesting and as significant.
Jamek Mosque, which has been around since 1909 and is characterized by white domes makes a wonderful photo opportunity for all the non muslims tourists from around the world.
In the evening, with all the illuminations turned on the place is even more beautiful and picturesque.
James Mosque is a real cultural, historical and architectural gem in the middle of a busy and modern city.
Address: Jalan Tun Perak, City Centre
Kuala Lumpur Hotels – Where To Stay in Kuala Lumpur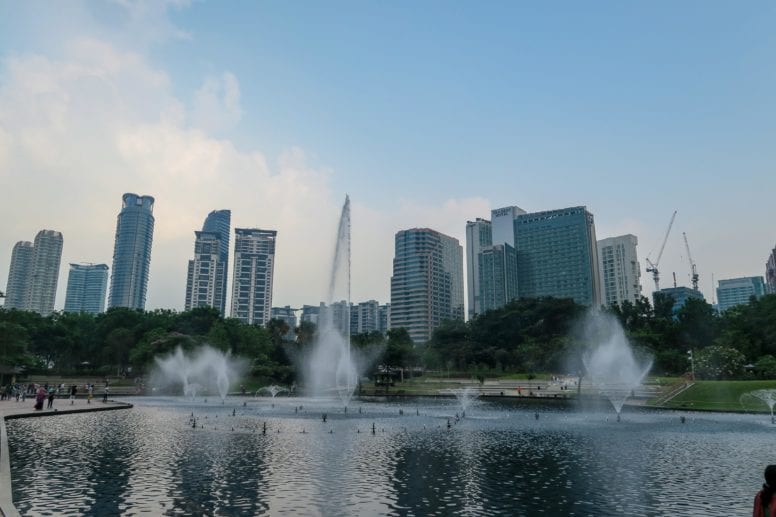 If you're looking for a nice hotel in Kuala Lumpur check out our recommendations below.
The Face Suites
The Face Suites is an excellent accommodation in the heart of Kuala Lumpur, conveniently located near all of the important points of interest.
This hotel offers modern apartments with a kitchen and a small office area as well and is perfect for both short and longer stays in Kuala Lumpur.
At the Face Suites you'll find an incredible rooftop infinity pool with a breathtaking view of the city skyline and of the Petronas Twin Towers.
If you want to learn more about this accommodation check out my blog post: The Face Suites Review with a detailed review, plenty of photos and a video too.
Fraser Residence Kuala Lumpur
The Fraser Residence Kuala Lumpur is a 5-star solution located in central Kuala Lumpur.
It offers modern and comfortable rooms, a fitness center and a lovely outdoor swimming pool.
There is also a free shuttle to KLCC and Bukit Bintang available for the hotel's guests.
Another way to reach the Petronas Towers is to either catch a taxi (there is always one in front of the hotel) or to take a pleasant 15 minutes walk.
Read my review of Fraser Residence if you'd like to see more photos and get more in-depth information about it.
The Majestic Hotel Kuala Lumpur, Autograph Collection
The Majestic Hotel Kuala Lumpur, Autograph Collection is an elegant hotel in a colonial style with amazing rooms.
It is located near the famous Merdeka Square and a short drive away from all the other important points of interest.
You can choose between a wide choice of room types: the classic deluxe rooms, junior suite, straits room with club access, grand suite, colonial suite, governor suite and finally premier suite.
When staying at this hotel you should take advantage of the fitness center and also enjoy a massage at the hotel's spa.
Grand Hyatt Kuala Lumpur
If you want to stay right in the heart of the city, next to the KLCC and a short walk from the Petronas Towers check out the Grand Hyatt Kuala Lumpur.
This ultra-modern 5-star hotel offers fantastic accommodation with stunning views of the city from the rooms.
A swimming pool, spa, and fitness center is available for all the guests to enjoy.
If you're staying at the Grand Hyatt you must also try their well-known restaurant – THIRTY8 – a synonym of delicious food and excellent service.
Ibis Kuala Lumpur City Centre
Ibis Kuala Lumpur City Centre is a 4-star hotel in a contemporary style located in the middle of the city.
It offers a lovely outdoor swimming pool with a view of the Petronas Towers, a small fitness center and an on-site restaurant.
Suria KLCC, Petronas Philharmonic Hall KLCC, KLCC Park and the Twin Towers are all within walking distance.
The staff at this hotel is very friendly and willing to help with arranging transfers or tours around the city.
Kuala Lumpur Restaurants – Where To Eat in Kuala Lumpur
Songket Restaurant
Songket Restaurant is a wonderful place to have dinner after a long day of sightseeing around Kuala Lumpur.
This restaurant located in the heart of the city and surrounded by high skyscrapers will give you a touch of traditional Malay cuisine and culture.
In the Songket Restaurant, you'll get a chance to taste the typical Malay dishes and at the same time watch a live show of talented dancers.
I would especially recommend this place for families and large groups.
Address: No. 29 Jalan Yap Kwan Seng
Opening Hours: Monday-Friday from 12 pm to 3 pm and from 6 pm to 11 pm, Weekends from 5pm to 11pm
Strato at Troika Sky Dining
If you feel like having some Italian food in Kuala Lumpur you should go to Strato Restaurant.
The location is really nice and if you get seated by the window you'll enjoy a stunning view of the city from above.
The food is very good and the menu includes a choice of pasta, pizza and soups together with a good wine list as well.
The ambiance is tranquil and romantic and perfect for a nice dinner for couples.
Address: Jalan Binjai | Wilayah Persekutuan, The Troika
Opening Hours: Daily from 12pm to 3pm and from 6pm to 11pm
Sri Nirwana Maju Restaurant
Sri Nirwana Maju Restaurant is another fantastic restaurant in Kuala Lumpur worth trying and it serves mostly Indian cuisine.
The ambiance is simple and easy-going and you'll be eating your food from a banana leaf instead of plates.
The curry comes highly recommended in this place but there are many other delicious fish, meat and vegetarian dishes available as well.
Sri Nirwana Maju Restaurant is usually quite busy so might have to wait to be seated but it's totally worth it.
Address: Jalan Telawi 3 | Bangsar Baru
Opening Hours: Daily from 7am to 11pm