From the moment you arrive in Singapore, you'll understand that you're somewhere different.
And, according to many experienced travelers, "different" in Singapore often means "better".
For starters, the Singapore Changi Airport is one of the best in the world.
Offering travelers an outdoor nature trail and even a swimming pool, you'll find yourself wishing you had more time to explore.
For children, there are fun play areas and, for adults, you'll find your share of reflexology centers, sleeping areas, and some of the best massage chairs in the world.
Singapore Hotels – Booking Tips and The Best Places to Stay
---
---
---
---
Once you free yourself from the allure of the airport, you'll be greeted with such outstanding public service that you will begin to wonder why the rest of the world can't operate a bit more like Singapore.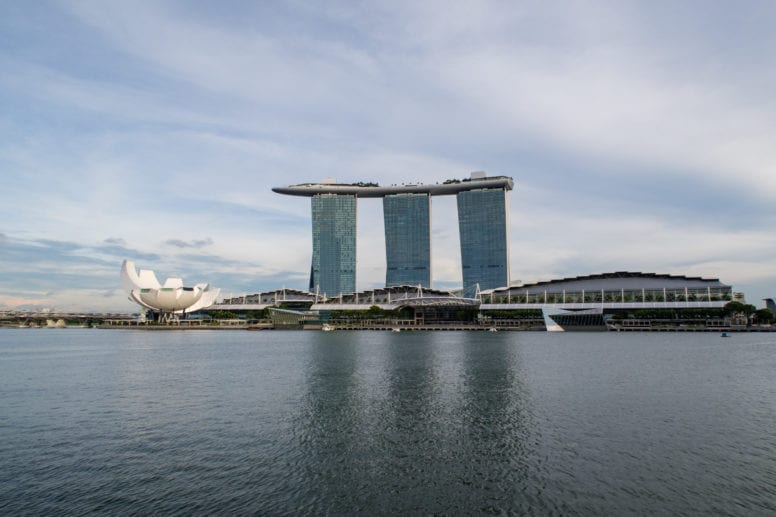 Everything is always on time, which means you rarely (if ever) have to wait.
And, because Singapore is so compact, you can get where you need to go quickly too (often under 15 minutes).
If you do get caught on the freeway, however, you won't find yourself complaining much – even the freeways are painstakingly manicured with flowers and blossoming trees.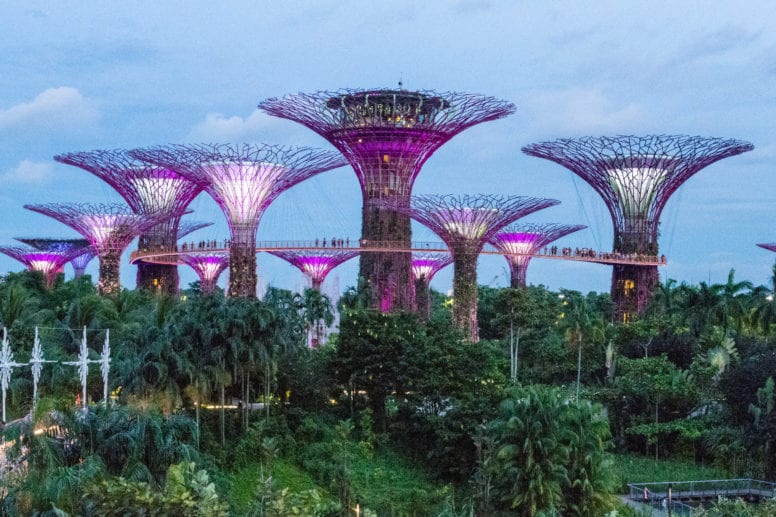 Another thing to love about Singapore?
The amazing phenomenon of "Singlish", a type of colloquial slang that blends English with the native languages (like Bahasa Melayu, Tamil, Hokkien, Cantonese and Bengali) will leave you curious to hear more (and maybe even try out a few phrases for yourself!).
And, if you're familiar with the hit Crazy Rich Asians, then you'll already know one of Singapore's most used "Singlish" words: "lah".
Want to experience Singapore in a glass? Look no further than the Singapore Sling, a fabulously pink drink that, over the last century, has become the national drink.
Crated from gin, cherry brandy, and lime juice, the Singapore Sling is perfect any time of day, but pre-dinner and late into the night just feel especially right.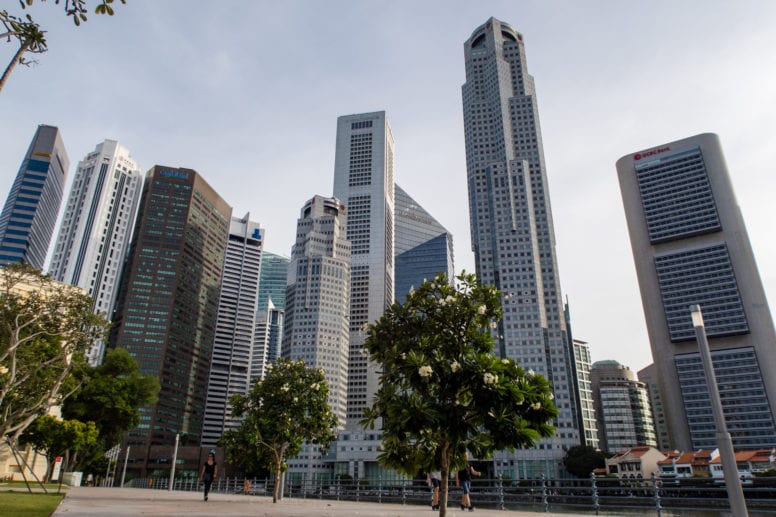 Beautiful year-round (the temperature rarely drops below 74 F), Singapore is the perfect escape any month of the year.
One of the safest places in the world, you'll feel comfortable exploring everything Singapore has to offer – by yourself or with kids in tow.
While there is no "wrong" place to go in Singapore, below are all of our must-sees and dos.
Sentosa Island
Comprised of sandy beaches and five-star hotels, Sentosa Island is one of the most popular points of interest in Singapore.
Whether you come for the beach, the yacht clubs, or the adventure parks, there's always more to discover. To get there, just take the bridge off mainland Singapore.
And, if you're looking for a night to remember, be sure not to miss the island's Tanjong Beach Club, which owns the title of one of the best beach bars in the world.
Energetic DJs keep the club dancing all night and, since the dance floor is sand, no uncomfortable shoes are required.
Universal Studios Singapore
Once you're on Sentosa Island you'll quickly discover one of Singapore's top attractions – Southeast Asia's first and only Universal Studios theme park.
Featuring two dozen rides and plenty of shows and attractions to keep the entire family entertained, you can explore all seven of the themed zones (or pick your favorite and stay put).
The park recently opened its Universal After Hours attraction, which allows you to stay after sunset, enjoying the Hollywood Dreams Light-Up Parade, local bands, fireworks, and all of your favorite rides.
Address: 8 Sentosa Gateway, Singapore
Opening Hours: 10.00 am – 7.00 pm
Ticket Price: between $40 and $79
Marina Bay Sands
One of the world's most expensive buildings (it ranks in the top three), Marina Bay Sands is a high-rise that is often described as looking like a "stranded surfboard".
Featuring casinos and a family-friendly ArtScience museum, the main attraction for this place is the rooftop pool, which is the world's highest and largest.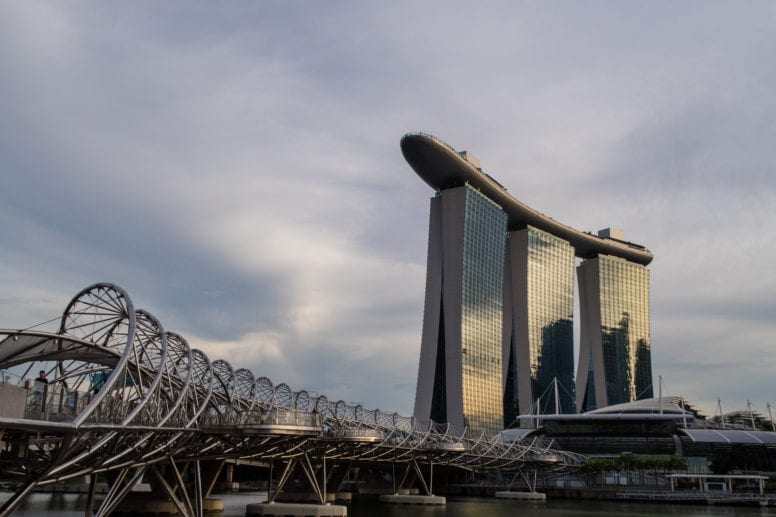 Marina Bay Sands is also home to a luxury hotel that is an excellent base for exploring Singapore.
This 5-star structure offers stylish rooms and suites, amazing dining options and of course the breathtaking infinity pool we mentioned before.
Marina Bay Sands is one of the most photogenic attractions in the city and visiting it comes highly recommended on our list of things to do in Singapore.
Also, don't miss the wonderful Light & Water Show which takes place every evening in front of Marina Bay Sands!
This 15 minutes long show is a perfect combination of music, laser light effects, and colors and it comes completely free of charge too.
Address: 10 Bayfront Ave, Singapore
Gardens by the Bay
Although the weather is more than tolerable year-round, the humidity can get intense for some, making Gardens by the Bay the perfect indoor-outdoor escape.
As the world's largest column-less greenhouse (250 acres to be exact), Gardens by the Bay is home to thousands of exotic plant species, including fifty-meter-tall solar-powered supertrees that are part of an impressive light show each night.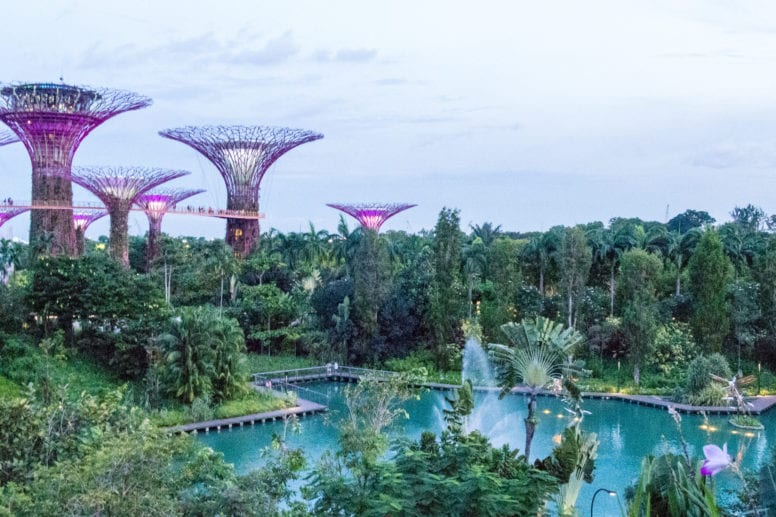 Step next door and you'll discover the Cloud Forest, another favorite attraction in Singapore thanks to its lush 115-foot-tall hill and the world's tallest indoor waterfall.
Make sure to also take a walk along the OCBC Skyway and enjoy a panoramic view of the Gardens and of Marina Bay skyline.
Address: 18 Marina Gardens Drive, Singapore
Opening Hours and Ticket Price: (check Gardens by the Bay official website for the opening hours of specific attractions)
Chinatown
If you're wanting to enjoy your meal or drinks outdoors, Chinatown is the place to go, especially since many other cities in Singapore close their restaurants at night once summer passes.
For the perfect view, stop by The Rooftop Garden for a drink after exploring Chinatown Food Street, which is filled with restaurants serving up traditional favorites like Hainanese chicken rice and satay.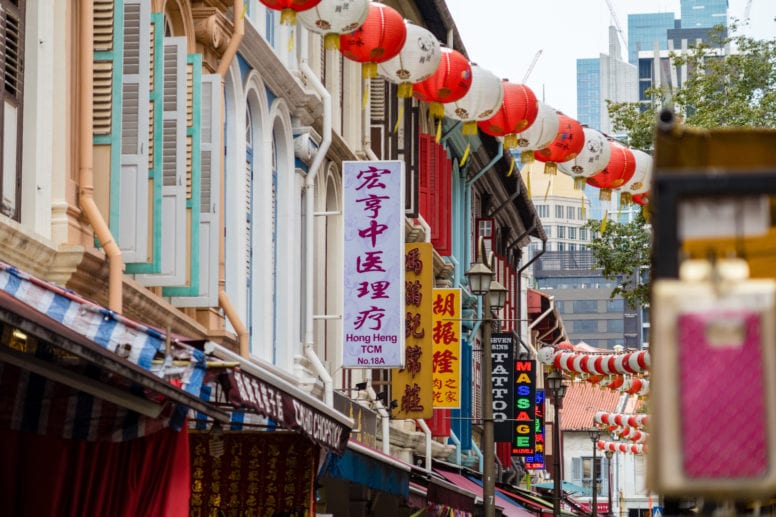 And, if you're looking for wine, be sure to visit Chinatown Club Street, which is packed with some of Singapore's trendiest wine bars.
Chinatown is also an important cultural and historical location that is home to many significant points of interests.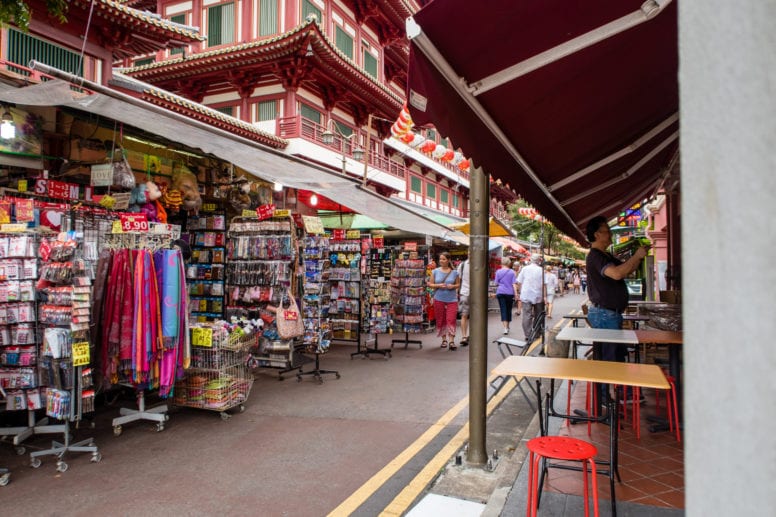 One of the must-see places is certainly the Chinatown Heritage Centre – ideal to learn more about the lives of Chinatown's first residents, their struggles, work and their way of living in general.
Other important sites in the area include Wak Hai Cheng Bio Temple, Masjid Jamae Mosque, Buddha Tooth Relic Temple and Al-Abrar Mosque.
Singapore's oldest Hindu temple – Sri Mariamman Temple is also located in this district and should definitely make it to your list of places to see in Chinatown.
Orchard Road
Home to world famous shopping, Orchard Road is lined with stunning shopping malls, designer boutiques, and tempting restaurants.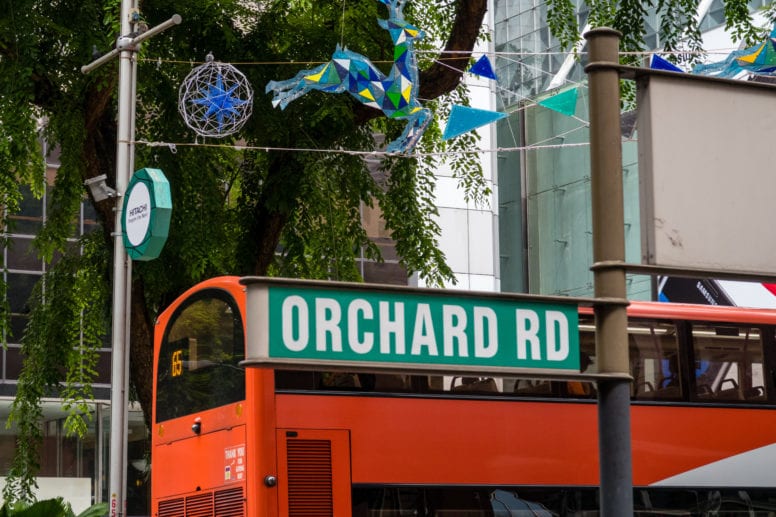 One of the most in-demand places to live in Singapore, just off the road you'll discover neighborhoods so picturesque you'll be hard pressed in the moment to think of anywhere better to live.
Everything you need to live comfortably in Singapore is within walking distance to Orchard Road, which means it's a great area to stay when you visit, too.
Night Safari
Proud to be the world's first nocturnal safari park, Singapore's Night Safari has more than 2,500 animals to observe in their natural habitats.
And, unlike most zoos (which often show animals doing more sleeping than playing), kids and adults will love how much action takes place here.
While exploring the place on a guided tram ride you'll meet animals such as elephants, fishing cats, leopards, tigers, hippos and many others.
There are also shows and performances available and if you're visiting with children, they are welcome to participate.
Address: 80 Mandai Lake Rd, Singapore 729826
Opening Hours: 7.30 pm – 12.00 am
Ticket Price: between $20 and $47
Clarke Quay
Lined with bars and restaurants, Clarke Quay is a riverside development that is begging for your attention.
If the music from the nightclubs doesn't get your attention, then the picture-perfect shops and sensational smells from the restaurants will.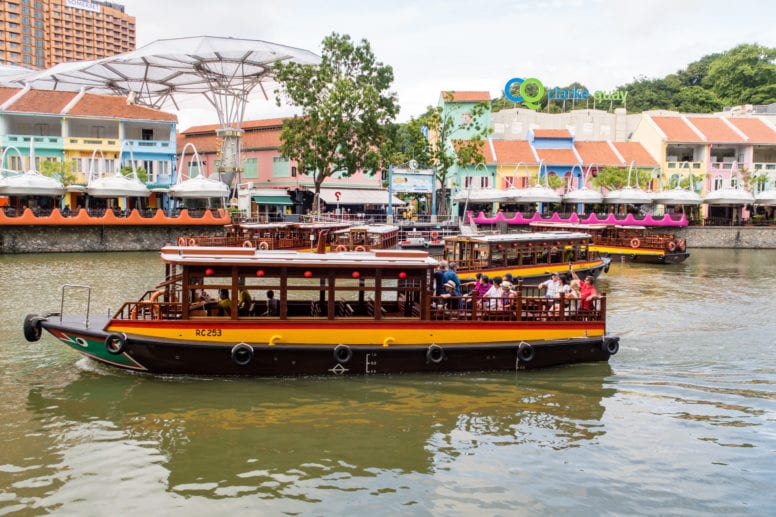 For the perfect evening, start with some shopping before enjoying an alfresco dinner on the water. And, if you're more of a night owl, add a bar crawl and a few dance floors for the perfect end of your night (and start of your morning).
Clarke Quay is one of the three quays in Singapore so remember to visit the other two as well.
There is the Boat Quay – once a center of Singapore's trade and Robertson Quay – perfect for a pleasant dinner in the city.
Singapore Botanic Gardens
Singapore Botanic Gardens is one of the most beautiful places in the city and it ranks high on our list of the best things to do in Singapore.
After all, it's not every day that you get to visit a garden which is actually a UNESCO World Heritage Site.
Singapore Botanic Gardens were established during the British Colonial Era and are home to a wide selection of trees, plants and flowers.
One of the spots you can't miss while visiting this unique place is certainly the National Orchid Garden which features an incredible collection of beautiful orchids.
Other top attractions include a small tropical rainforest, a Ginger Garden and Jacob Ballas Children's Garden.
You will also come across three lakes and many stunning sculptures created by international artists.
Two hours are enough to walk through the whole place but you could easily spend a whole day just strolling and soaking in all of the beauty and scents around you.
TIP: Keep in mind that although visiting the Singapore Botanic Gardens is free of charge there is a small fee ($5) for entering the National Orchid Gardens
Address: 1 Cluny Road, Singapore
Opening Hours: Daily from 5.00 am to 12.00 am
Merlion
One of the most important things to do in Singapore is seeing the iconic Merlion statue.
Because it is located in the heart of the city and very near other top attractions adding it to your itinerary will be very easy.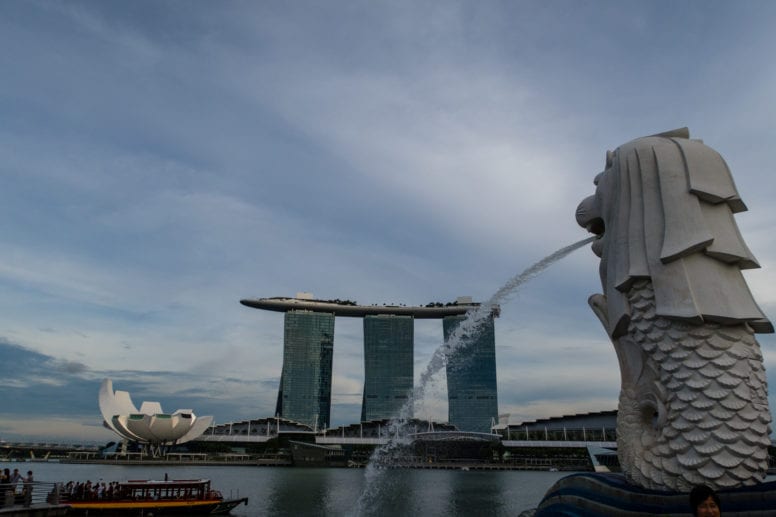 Since 1972, Merlion has been a symbol of Singapore and one of the most photographed spots in the country.
The statue which has a lion's head and the body of a fish weighs 70 tons and is about 8.6 meters high.
And when you explore Singapore, watch out! Other five mini-merlions can be found around the island.
Little India Singapore
Little India Singapore is one of the most vibrant districts in the country and a place always buzzing with activity and excitement.
Visiting Little India means entering the world of the Indian community, trying their delicious cuisine and taking a tour of the beautiful Hindu temples.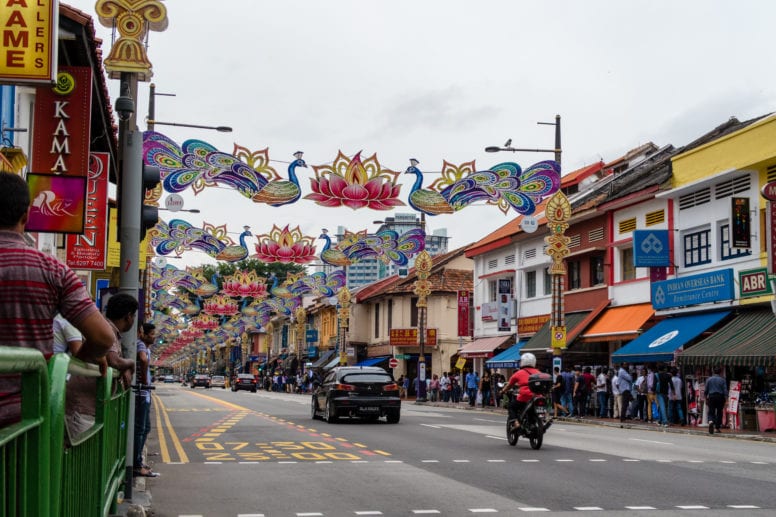 It is also one of the best areas in Singapore for shopping, with a wide selection of traditional markets stalls and modern shopping malls open 24/7.
The iconic Mustafa Center, Tekka Centre, and City Square Mall are only a few of a long list of shopping options available in Little India in Singapore.
Some of the country's most important temples are located in this district as well.
You can't miss the Sri Veeramakaliamman Temple – a colorful Hindu temple from the 19th century, Masjid Abdul Gaffoor Mosque and Sri Srinivasa Perumal Temple but you could spend a whole day discovering all of the beautiful shrines and temples available.
Before leaving Little India, make sure to dine at one of the local restaurants – there's no better place in entire Singapore to try the traditional Indian curry.
Singapore Flyer
Another top attraction to add to our list of things to do in Singapore is certainly the Singapore Flyer.
If you want to admire the city from 165 meters above the sea then you should definitely put this place on your sightseeing itinerary.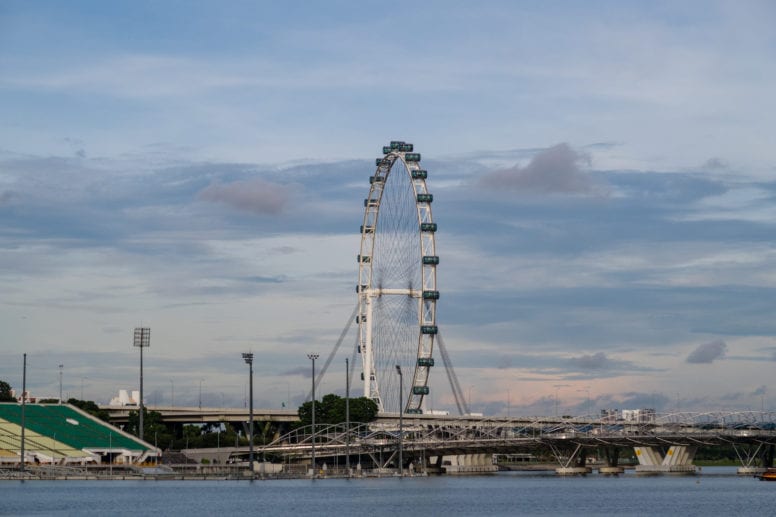 Getting on Singapore Flyer means enjoying the stunning panoramic views but also taking an enriching history lesson.
In fact, thanks to the guided in-capsule tour you'll learn many interesting facts about all the iconic landmarks around you.
The Flyer is one of the most fun attractions in Singapore and a perfect location for taking some incredible photos as well.
Address: 30 Raffles Avenue, Singapore
Opening Hours: Daily from 8.30 am to 10.30 pm
Ticket Price: $33
ArtScience Museum
Located in one of the most unique buildings in Singapore, the ArtScience Museum is a place that will inspire your creativity.
Home to uncommon exhibitions that will either take you back in time or on the contrary transfer you straight to the future.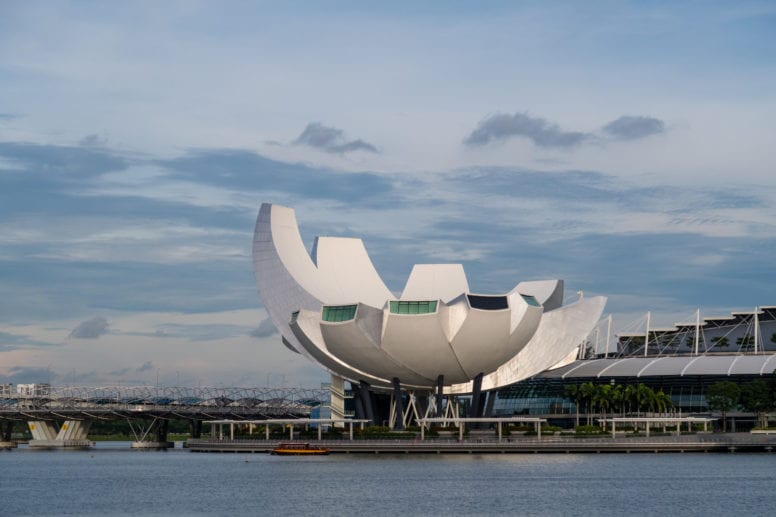 Most of the exhibitions are temporary so you'll have to check the official website to stay updated with the program and the dates.
Since ArtScience Museum is located only a few steps away from Marina Bay Sands, it's pretty easy to add it to your sightseeing tour around Singapore.
Address: 10 Bayfront Avenue Marina Bay Sands, Singapore
Opening Hours: Daily from 10.00 am to 7.00 pm
Ticket Price: between $11and $69 depending on age and number of exhibitions you want to see
Jurong Bird Park
Visiting Jurong Bird Park is one of the must-dos on our list of things to do in Singapore – after all, it's not every day you happen to come upon the world's largest bird park.
In fact, Jurong Bird Park is home to over 500 species of birds which means you'll get to meet some of the most beautiful feathered friends in the world.
This unique bird sanctuary spreads across 49 acres so you could easily spend a whole day exploring it.
If you have limited time however there are some parts that simply can't be missed.
One of these is certainly the Flamingo Lake where you'll meet the stunning bright pink feathered residents.
Make sure to go and see the penguins, the diving pelicans, and the colorful parrots as well.
Jurong Bird Park offers a wide choice of shows and activities as well and they are especially interesting if you're traveling with children.
Address: 2 Jurong Hill Jurong Bird Park, Singapore
Opening Hours: Daily from 8.30 am to 6 pm
Ticket Price: Adult – $35, Child – $23
National Museum of Singapore
If you want to learn more about Singapore's culture and history you should pay a visit to the National Museum of Singapore.
Dating back to 1849, this museum offers an in-depth insight and understanding of the country's past.
The History Gallery is especially interesting and it will take you for a journey through all the stages of Singapore's bygone days.
Starting from the 13th century, via the colonial era and World War II and until present times.
National Museum of Singapore offers a wide choice of permanent exhibitions but is often home to temporary displays as well.
Visiting this museum comes highly recommended on our list of Singapore top attractions and you should schedule at least a few hours to take everything in.
Address: 93 Stamford Road, Singapore
Opening Hours: 10.00 am – 7.00 pm
Ticket Price: between $10 and $26
Singapore Hotels – Where to Stay in Singapore
If you're planning your holiday and wondering where to stay in Singapore check out our recommendations below – we hope you'll find your perfect hotel there!
Parkroyal on Pickering
One of the best hotels in Singapore is certainly Parkroyal on Pickering.
Starting from a perfect location, in the heart of the city to comfortable rooms and an amazing breakfast – this hotel will largely contribute to making your holiday a pleasant one.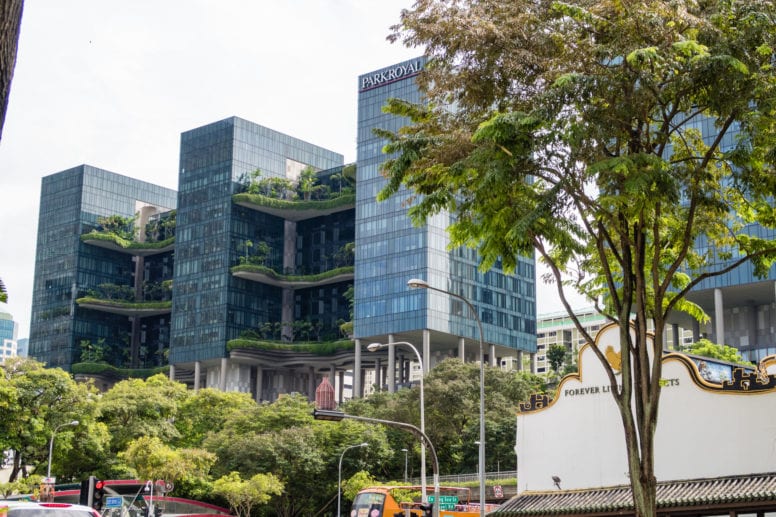 Parkroyal on Pickering features a unique design with lovely lush gardens and many eco-friendly elements.
Because it is situated in the vibrant district of Chinatown, you'll have some of Singapore's best restaurants and shopping opportunities located only a short distance away.
Other attractions that can be reached by foot from Parkroyal on Pickering are Marina Bay Sands, Singapore Flyer and Singapore Art Museum just to name a few.
If you're looking for a 5-star hotel in the middle of the city you should definitely take this hotel into consideration.
If you want to learn more about it read our Parkroyal on Pickering review that includes lots of photos as well.
Pan Pacific Singapore
Pan Pacific is a 5-star hotel, ideal for those of you who look for luxury accommodation in central Singapore.
This hotel will make a perfect base for those of you who plan to include lots of sightseeing into their stay in Singapore.
In fact, some of the most important points of interest are located only a few minutes away from this hotel.
It also features a wonderful swimming pool, a well-equipped fitness center and a wide choice of restaurants to enjoy on-site.
The views from the rooms are simply stunning, with a breathtaking panorama of Singapore unfolding in front of your eyes.
Mandarin Orchard Singapore
Another interesting hotel to consider when looking for a place to stay in Singapore is Mandarin Orchard Singapore.
Located in the most famous shopping street in the city, this hotel offers elegant rooms and world-class facilities.
If you stay at Mandarin Orchard Singapore you'll have access to an outdoor swimming pool, a fitness center, a tennis court and to a fantastic restaurant as well.
It goes without saying that given its location, endless stores and shopping malls are located next door to this hotel.
In fact, Mandarin Gallery which is a huge shopping complex is directly linked to Mandarin Orchard Hotel.
Quincy Hotel by Far East Hospitality
If you're looking for luxury and elegant hotel in the heart of Singapore you should check out Quincy Hotel by Far East Hospitality.
This hotel offers wonderful rooms and facilities that will make your stay pleasant and comfortable.
The swimming-pool located on the 12th floor is ideal for relaxing after a long day of sightseeing and so is the sauna and steam rooms.
The well-equipped gym will help you stick with your fitness program even during the vacation period.
Make sure to start your day with a fantastic breakfast and take advantage of the complimentary all-day light refreshments available.
Quincy Hotel by Far East Hospitality is one of the best hotels in Singapore and a fantastic base to explore the city.
Carlton City Hotel Singapore
Carlton City Hotel Singapore offers high-class accommodation in the vibrant district of Chinatown.
Some of the modern facilities in this hotel include a swimming pool, a fitness center, a bar, and a restaurant.
The central position of Carlton City Hotel Singapore makes exploring the city very easy and many important points of interest are located only a short walk away.
Make sure to also go for a drink at the Graffiti Sky Bar available at this hotel which offers a breathtaking view of the city skyline.
All of the rooms at Carlton City Hotel Singapore come in a contemporary style and feature first-rate amenities but check their suites if you're looking for the ultimate luxury experience.