When you finally book your tickets after you have decided to travel to someplace new, everyone always wishes they could have the inside scoop.
So if you're planning a trip to Singapore, one of the first questions that come to your mind is certainly: where to stay in Singapore?
This insider look at hotels and places to stay in Singapore will transform the trip you are about to take.
Whether you are searching for budget-friendly options (hostels are still a thing in Singapore!) or ready to spend a pretty penny in complete luxury, Singapore will not disappoint.
If you and your family have chosen to take a visit to the city-state of Singapore, one of the most modern countries in Southeast Asia that plays host to more than 15.5 million tourists each year, here is a comprehensive list of the best places to stay while you are there.
If you are someone who has been traveling throughout the region, once you arrive in Singapore, be prepared to experience a sticker shock. Accommodations won't be as affordable as you might like to think.
If you traveled through Malaysia, you may be expecting the same affordable guesthouses in Singapore. If you backpacked through Bangkok or Saigon and you became accustomed to the backpacker areas, the closest thing you will find in Singapore is the hostel dorms.
If you are searching for the most affordable rates, chances are your hotel search should begin beyond the central area of the city-state. Finding a hotel that is near a metro station, though, means getting in and out of central Singapore area, shouldn't ever be an issue. You can save some money while you sleep, but you won't miss out on getting to any of the fun during the day.
For your first time visit to Singapore, we recommend staying in the historic central area. But, certainly, depending on where you might want to stay may depend on what you're hoping to do and where you're hoping to explore.
If you have purchased your tickets and booked your flights to Singapore and now you're wondering just where you should stay, consider this guide about where to stay in Singapore your go-to comprehensive resource.
First off, which neighborhoods should you check out and endeavor to explore?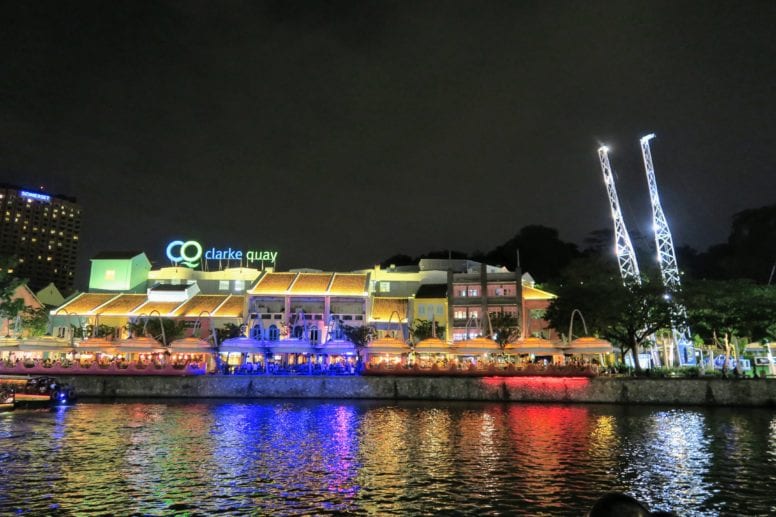 Where To Stay in Singapore: Clarke Quay
You won't want to miss walking by the water. There are several strings of bars and restaurants right along the river. This part of town is lively and is always a bit of fun. If you are eager to hit the town, but you aren't quite sure where you should begin, start your night here. Robertson Quay is the most inland, so it's easy for tourists and first-time visitors to begin there.
There are all sorts of eateries here and a great dive bar called Skinny's Lounge. Skinny's Lounge is a mecca of younger locals and also a place where the expats hang out and vibe together.
As you start making your way down the river, you will arrive at Clarke Quay. This area is a bit more touristy, but a perfect place to stop for a bite of chili crab (a popular local Singapore dish) and relax.
Classic Singapore fun like karaoke, boat tours, clubs, and simply sitting on the steps near the river are all popular activities you might entertain doing on your first day in Singapore, on your last day in Singapore or something you do every day while you're in Singapore.
Clarke Quay Hotel Recommendations
Swissotel Merchant Court Singapore
Swissotel Merchant Court Singapore is a 5-star hotel that offers chic rooms and balcony-access rooms that overlook the Singapore River and Clark Quay.
This hotel is only a short nine-minute walk to Singapore's Chinatown.
Holiday Inn Express Singapore Clarke Quay
This 4-star solution offers good breakfast, a dreamy swimming pool and a fantastic location with the MRT only minutes away.
Park Regis Singapore
A few steps from all the Clarke Quay's main attractions this hotel has an amazing pool, great fitness center and lovely rooms.
It's also possible to rent bikes which lets you discover the neighborhood in a fun and active way.
Where To Stay in Singapore: Marina Bay
The most popular and most scenic vistas downtown are the views of Marina Bay. Most tourists or first-time visitors will take in the sights down by Marina Bay and settle into the city.
Renting bikes and scooters is one way to see the water and the scenery, especially since walking during the daytime in such high heat can feel overwhelming.
Of course, at night, when the weather cools off, there is more of an atmosphere for strolling, meandering, and taking your time.
Marina Bay Hotel Recommendations
Marina Bay Sands
Standing as the tallest hotel in Singapore, Marina Bay Sands Hotel is a sight.
Most noticeably, this hotel, which was built on reclaimed land, has a giant swimming pool suspended across three towers with views that overlook the bay.
Obviously, this is certainly a rooftop swimming pool that any tourist would be itching to jump right into.
Ce La Vi is a club near the top of the Marina Bay Sands hotel that is also certain to impress.
This hotel arrangement falls on the more expensive side of the spending spectrum, but there are luxuries, restaurants, and views galore.
The Ritz-Carlton, Millenia Singapore
The Ritz-Carlton Millenia Singapore is another lodging arrangement that received status as the best-rated hotel that offering the best views of the Singapore skyline. Luxury hotel rooms. Unparalleled service. (It is the Ritz-Carlton.)
This hotel also includes 32 panoramic views of the city and a 4,200-piece museum-quality art collection you can enjoy as your passing through on your daily adventures and when you're heading back out for a taste of the Singapore nightlife.
Mandarin Oriental, Singapore
The Mandarin Oriental Hotel offers a breathtaking view of Singapore and is directly linked to Marina Square Shopping Center.
There are many amazing facilities included which will all make your stay unforgettable: tennis courts, swimming pools, fitness center and much more.
You can also enjoy the authentic Italian cuisine as one of the best Italian restaurants in the city – Dolce Vita is situated there.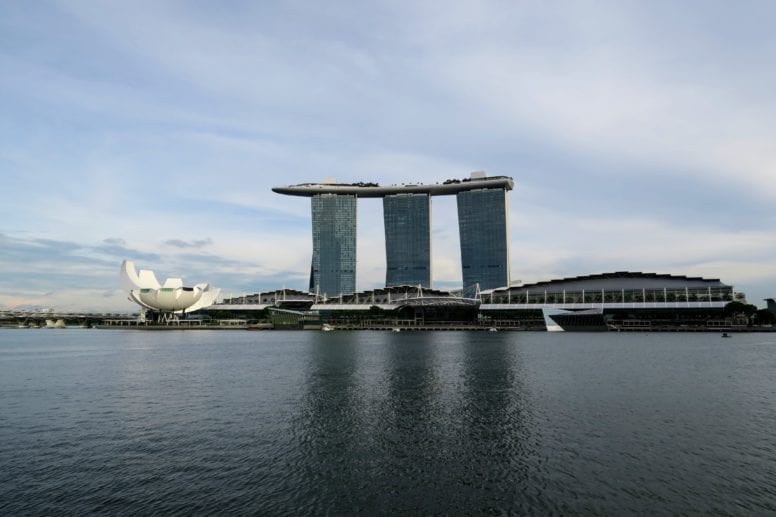 Where To Stay in Singapore: Orchard Road
Along Orchard Road, the premier shopping street of Singapore, visitors can find a wide range of hotels, a few high-end options sprinkled among mid-range hotels.
Orchard Road Hotel Recommendations
Jen Orchardgateway Singapore
For a mid-range option, explore Hotel Jen Orchardgateway Singapore – a great place conveniently located near all the shopping malls and boutiques.
Mandarin Orchard Singapore
For more of luxurious options, visit Mandarin Orchard Singapore – a perfect option for all the shopping lovers.
This hotel offers well-furnished rooms fitted with all the necessary facilities to make your stay as comfortable as possible.
Free wi-fi and free parking are available as well.
Shangri-La Hotel
Just beyond Orchard Road in Orange Grove Road, there's the Shangri-La Hotel – certainly another one of the most iconic hotels in the city.
Surrounded by green gardens this hotel has fantastic rooms, free wi-fi, private parking, an outdoor pool, a well-equipped fitness center and a wonderful spa.
Where To Stay in Singapore: Chinatown
Chinatown is one of the most characteristic areas of Singapore and a must-see for every visitor.
This vibrant neighborhood is filled to the brim with shops, restaurants, bars, shopping markets and street food stalls.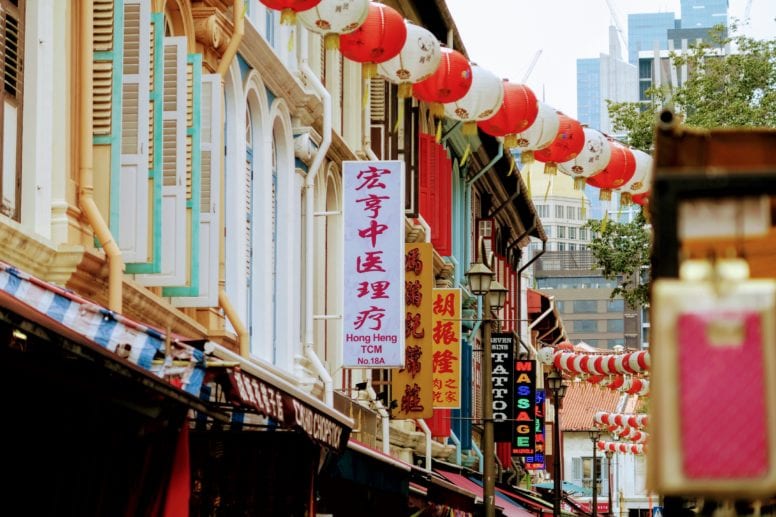 In fact, as soon you get there you'll be welcomed by the fragrant smells of the traditional Chinese cuisine – a real feast for every traveler who enjoys dipping into local delicacies.
Chinatown is also home to many historical temples such as the Buddha Tooth Relic Temple Read or the Sri Mariamman Temple and to many interesting museums and art galleries.
If you're planning to stay in this area here are some of the best hotels available in Chinatown.
Chinatown Hotel Recommendations
Parkroyal on Pickering
Parkroyal on Pickering
is located only a short walk away from the Chinatown MRT Station.
This hotel is surrounded by trees and gardens and has many eco-friendly features which are a huge plus.
The breakfast there is EXCELLENT, with a large selection of Asian and Western cuisine – all of which absolutely delicious.
The hotel offers a nice outdoor pool, a gym and a couple of good restaurants.
Oasia Hotel Downtown, Singapore by Far East Hospitality
Oasia Hotel Downtown, Singapore by Far East Hospitality is another great option to consider in the Chinatown neighborhood.
The rooms of this hotel feature a flat-screen TV, sitting area, air conditioning, ironing facilities, safe and a well-equipped private bathroom.
The swimming pool and the fitness center are lovely and will help you relax after a long day of sightseeing and shopping.
The Scarlet Singapore
This charming boutique hotel is a real gem and a perfect starting point to discover the Chinatown and entire Singapore.
Apart from the luxurious rooms, the Scarlet Hotel offers also two Italian restaurants, a gym and a jacuzzi.
It's really hard not to fall in love with this unique place.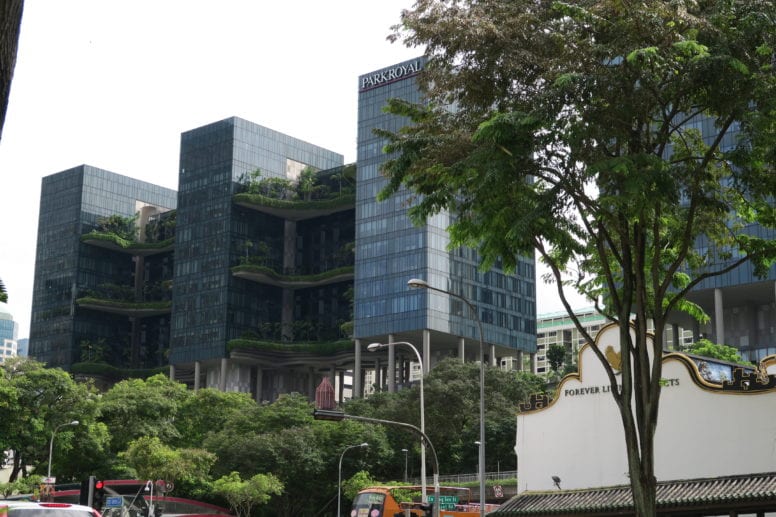 Where To Stay in Singapore on a Budget: Little India
Little India is without a doubt the most colorful neighborhood in Singapore.
Choosing a hotel in Little India in Singapore will give you a glimpse of the hustle and bustle of this vibrant area, an opportunity to try the authentic Indian cuisine and a chance to visit some of the unique temples of the city.
Little India is also home to many shopping malls where you can literally shop til' you drop.
If you're looking for a unique souvenir to bring back home with you, head to Jalan Besar – an area filled with little shops that sell handmade goods.
When it comes to accommodation Little India is one of the best areas for tourists traveling to Singapore on a budget.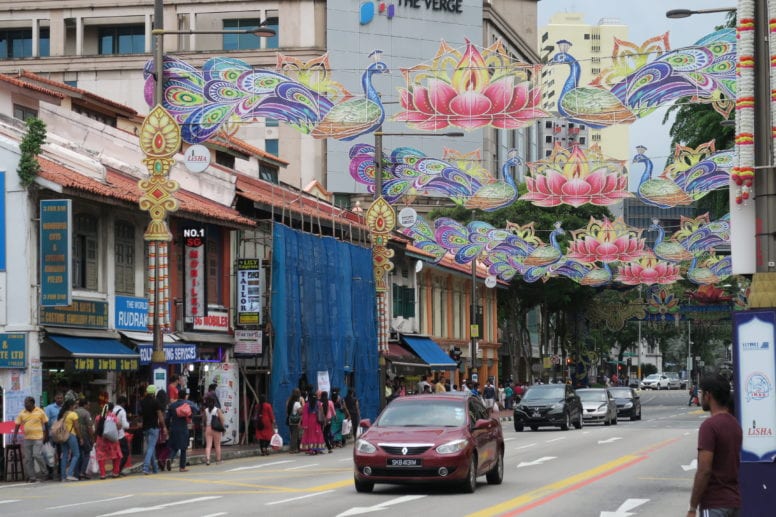 Little India Hotel Recommendations
Wanderlust
Wanderlust is probably one of the most quirky and fun hotels in Singapore.
In fact, this place offers uniquely designed rooms and each room features a different theme such as Bling, ASCII, Space, Tree and Typewriter.
Staying in this hotel is already an experience on its own and a place that won't be forgotten easily.
Where to stay in Singapore on a budget? Budget Accommodation in Little India
If you're traveling on a budget Little India is a neighborhood with many interesting options.
There is the Bunc Hostel, Hotel 81 Dickson and Santa Grand Hotel Little India – all these come are located in the heart of Little India and are available at a convenient price.
Where To Stay in Singapore: Sentosa Island – The best area to stay in Singapore with family
Sentosa Island is a popular destination for tourists and locals alike and is home to many fun attractions and activities.
If you're traveling with kids and you'll definitely want to visit the Universal Studios where you can share many exciting adventures as a family.
Another must-see spot in Sentosa Island is the Tiger Sky Tower – an observation tower of 110 meters.
The Merlion, the Fort Siloso and the Marine Life Park should also be on your bucket list of things to do in Sentosa Island.
Of course, while there you'll want to take advantage of the long sandy beach as well.
Sentosa Island Hotel Recommendations
Capella Singapore
Capella Singapore is a 5-star hotel located in Sentosa Island and only a few minutes away from the beach.
It's an elegant resort with outdoor pools, beautifully furnished rooms, fitness centre and tennis courts.
Free bicycles are available to use for going around the Island as well.
The Club Residences by Capella Singapore
The Club Residences by Capella Singapore is a perfect solution especially for those of you who travel with pets since this is a pet-friendly hotel.
Resorts World Sentosa - Hotel Michael
Another amazing luxury
accommodation in Sentosa Island
is the Resorts World Sentosa – Hotel Michael.
The facilities in this hotel include a spa, fitness center, swimming pools and free wi-fi.
Shangri-La's Rasa Sentosa Resort & Spa
Shangri-La's Rasa Sentosa Resort & Spa located near the beach offers a lovely outdoor swimming pool, fantastic on-site restaurants and stylish rooms.
If you're traveling with children, there are many facilities available for them such as children's water slides and splash pad.
Depending on which area you might like to stay – Chinatown, Little India, Clarke Quay/Boat Quay, Colonial/Civic District, Downtown, or Orchard Road—there are hotels that are meant to fit any variety of budgets.
Check out which budget hotels, hostel options, mid-range hotels, and the more luxurious experiences speak to what you're looking for.
Whether you are escaping to Singapore for a quick getaway or you are looking to stay for an extended trip, consider this guide your go-to resource for discovering just where to stay.