When we started planning our honeymoon in Bali we knew from the beginning we wanted to spend some time in the beautiful and conveniently nearby located Singapore – a place I have heard so much about and was really excited to see with my own eyes finally.
After some research and looking at a wide range of places where to stay in Singapore, we opted for a 5-night stay in the Parkroyal on Pickering Hotel – a 5-star hotel which was rather expensive but seemed to have all the things we were looking for.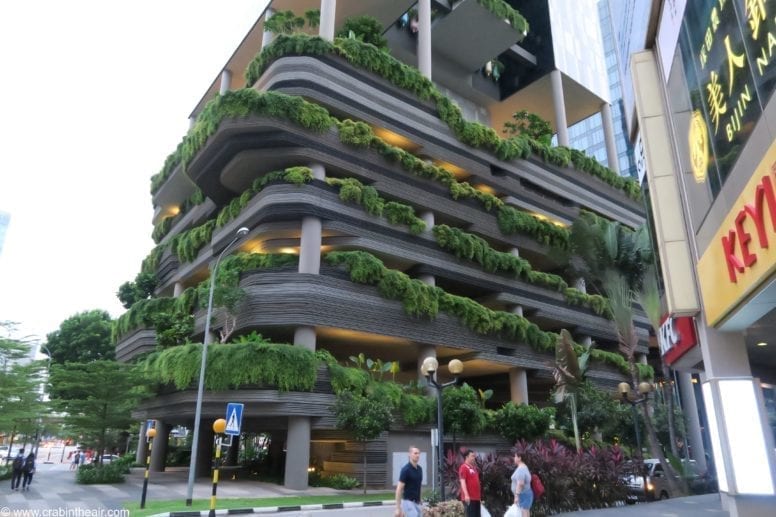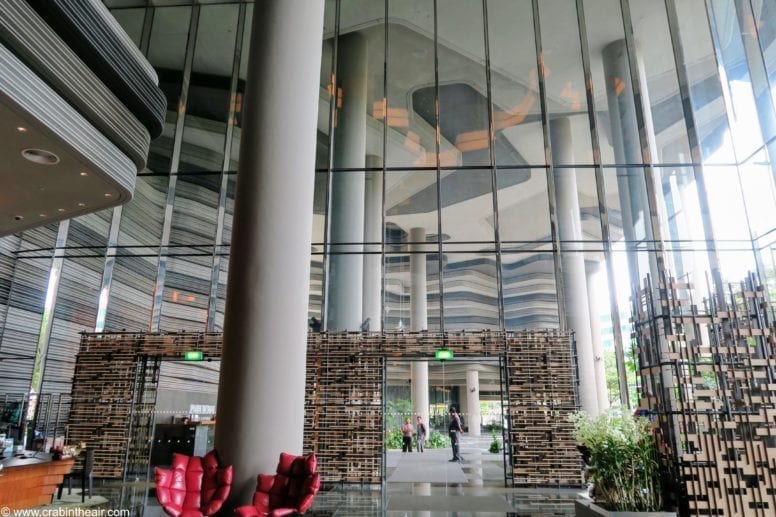 Check in at the Parkroyal on Pickering
After a long international flight we arrived in Singapore and after a quick 30 min taxi ride (the Parkroyal doesn't provide a free shuttle to or from the Changi Airport) we arrived at our destination.
The check-in process was a little bit lengthy and slightly disorganized but, as soon as it was our turn, we were welcomed by a refreshing drink and a polite staff.
During the check-in process, we were asked if we were interested in a paid "upgrade" –  something that has never happened to us in the past and left us feeling a little bit uncomfortable and also confused (especially because we didn't ask for a free upgrade).
So after declining politely this new to us offer we made our way to the modern and spacious elevator which took us to the 10th floor.
To reach our room we had to walk along a beautiful outdoor balcony featuring hotel room doors.
Parkroyal on Pickering Hotel in Singapore Room Review
The room we opted for was quite small but had all the necessary facilities which include a safety deposit box, a minibar, a flat-screen TV, a hairdryer, a bathrobe and slippers as well.
Bedroom description
We had some problems with the electrical plug in the bathroom while using the hairdryer as well as with the leaking iron but both of these issues were addressed efficiently soon after the hotel's staff was informed.
The deposit box is really nice and spacious and we even managed to fit our laptops in there.
The bed is large and comfortable and perfect even for really tall people like my husband.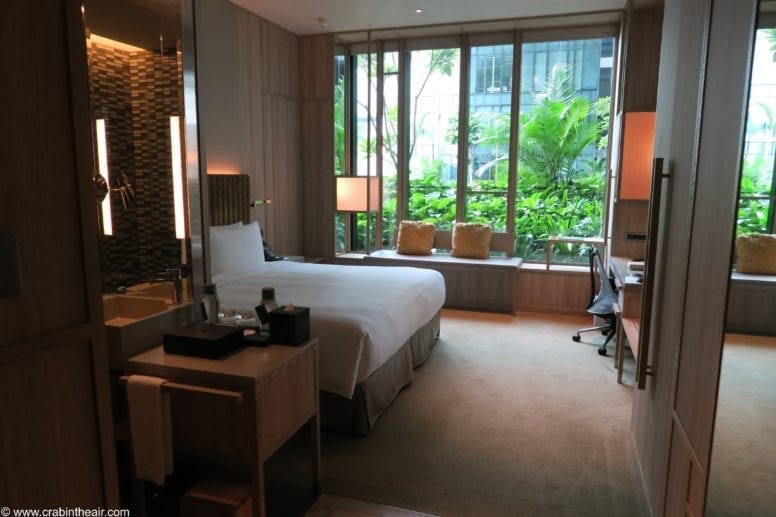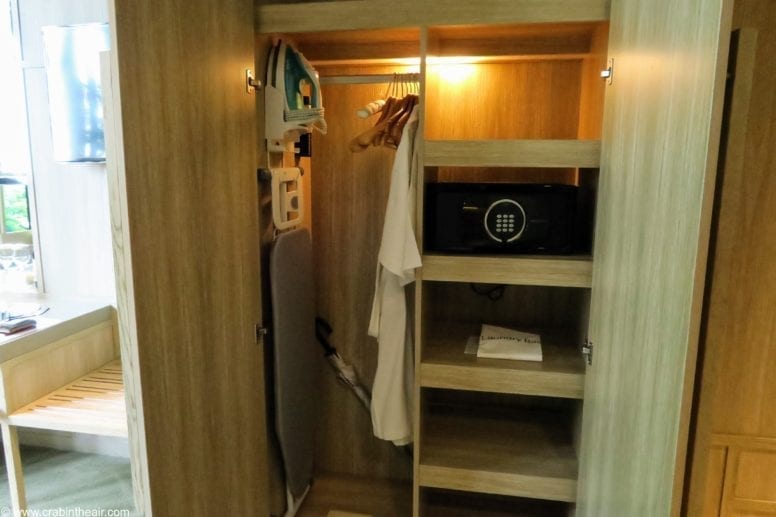 We also found a bottle of wine and some biscuits in the room on our arrival and a card with congratulations on our wedding – such a nice and appreciated gesture.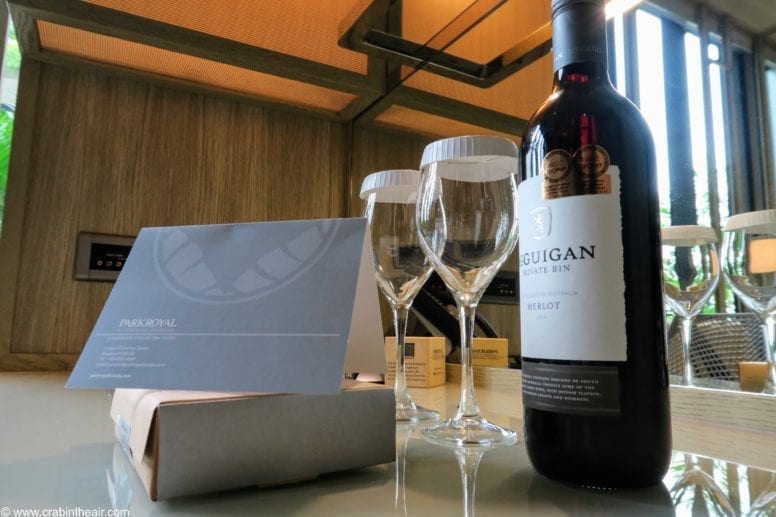 Bathroom description and amenities
The bathroom is also quite small (there is a shower but not a bathtub) but very nice at the same time.
All the bathroom amenities like shower gel, shampoo, body lotion, shaving and dental kits, comb and vanity kit are included.
Also most importantly both the room and the bathroom were very clean and overall we were satisfied with housekeeping in this hotel while the turndown service is available upon request.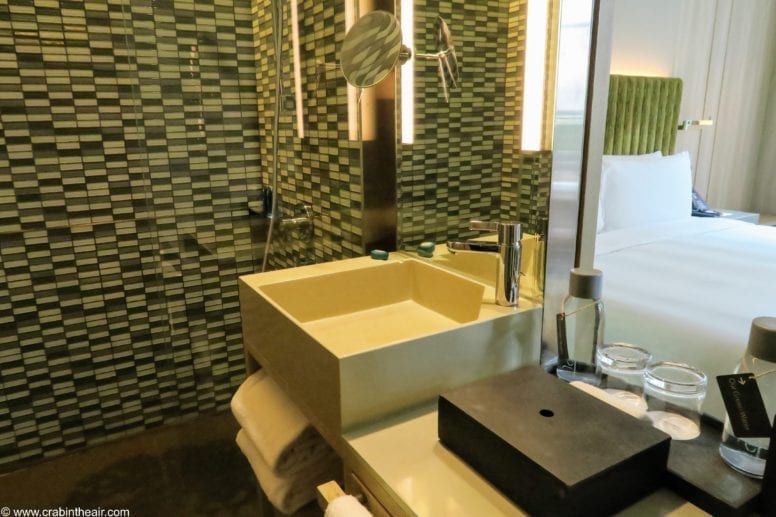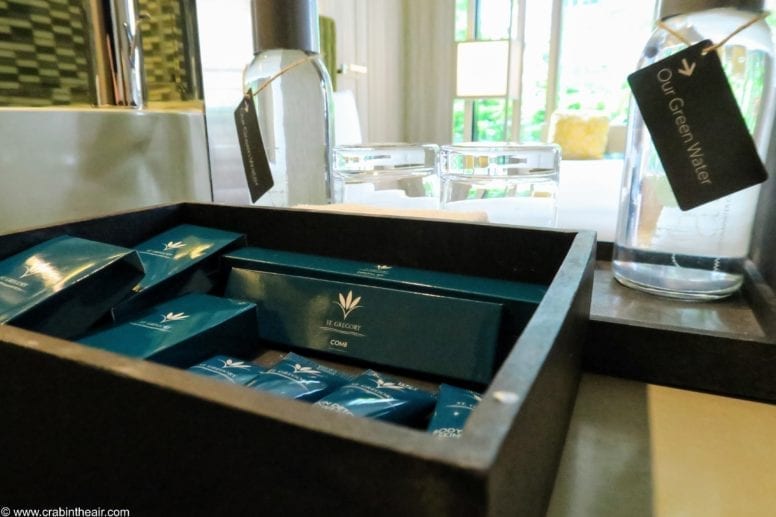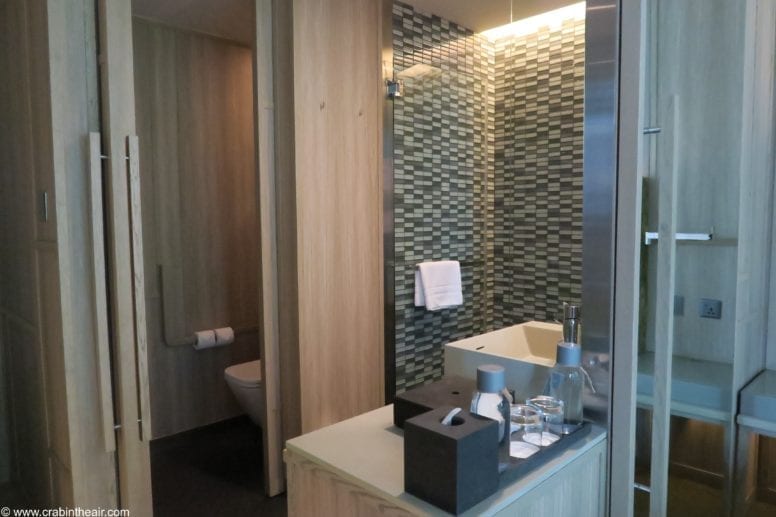 Wifi and Internet Connection
There is a complimentary internet connection available and I can confirm it is quite fast and easy to work with.
A Very Ecofriendly Hotel in Singapore
Something I really liked about our room and about the Parkroyal Hotel on Pickering in general is their green policy and a range of innovative sustainability features.
This beautifully designed hotel with gorgeous green gardens provides the drinking water which is bottled in-house using their special purification system.
This eco-friendly initiative helps eliminate the waste and carbon footprint from the manufacture, transportation and disposal of plastic bottles.
The water flow rate of the shower taps has been calibrated to comply with the water efficiency requirements of a Green Mark certified building.
The greenery around the hotel helps to reduce heat within the building while the windows which are not tinted allow maximum daylight into guest rooms.
In order to reduce the energy consumption the default room temperature is 22 while the bedding and linen are changed on alternate days.
I really love all the eco-friendly policies present in the Parkroyal Hotel and hope many other hotels will follow their footsteps and introduce similar features in the near future.
Also, the design and architecture of the hotel are quite unconventional with trees and foliage sprouting from the walls and hallways which make the place unique and definitely more fun to stay at.
Parkroyal On Pickering Hotel in Singapore Location
The Parkroyal Hotel on Pickering is conveniently located beside Chinatown MRT Station and it is very easy to reach all the important points of Singapore from there, Little India included.
To be honest we found that walking was the easiest and the most pleasant way of exploring Singapore but if you need to go somewhere distant or simply don't enjoy walking there is a fast and efficient public transport system available.
Here is a map with the exact location of the Parkroyal Hotel on Pickering:
If you need to buy anything there are many great options near the hotel which include a fantastic shopping mall – The Central and obviously the vibrant and colorful shophouses and open-air markets in Chinatown.
Parkroyal on Pickering Hotel Breakfast Review
The breakfast in the Parkroyal on Pickering Hotel is definitely the best breakfast I have ever had a chance to eat at a hotel.
Lime Restaurant Buffet: Breakfast
Prepared inside the Lime Restaurant, the buffet was absolutely delicious and also the best and perfect way to start my days in Singapore.
Parkroyal on Pickering Hotel takes its breakfast really seriously and you can expect a wide choice of food and drinks which includes a selection of tea, coffee and my personal favorite – freshly squeezed juices.
There is the English breakfast buffet, incredible fresh pastries, pancakes, all kinds of fruits, a selection of cheese and obviously some wonderful Asian flavors such as fried rice,  noodles, fish, chicken and much much more.
Also I have to add that the staff at the breakfast restaurant was absolutely wonderful, very kind, friendly and extremely helpful and the place was kept very clean and organized at all times.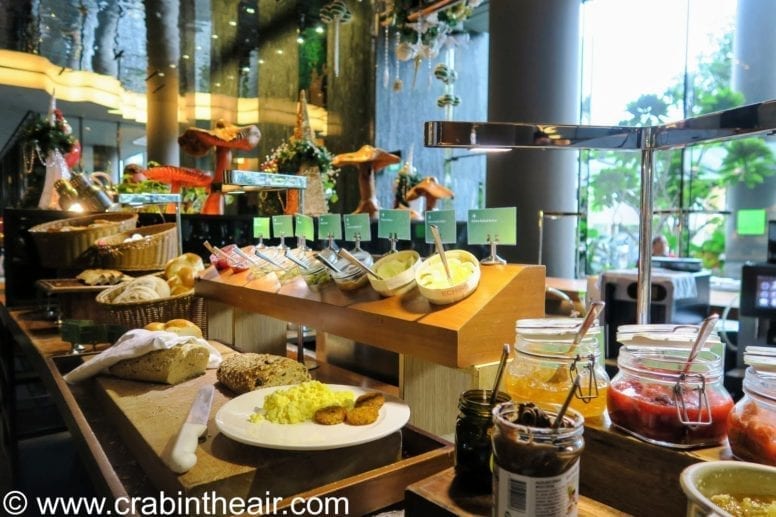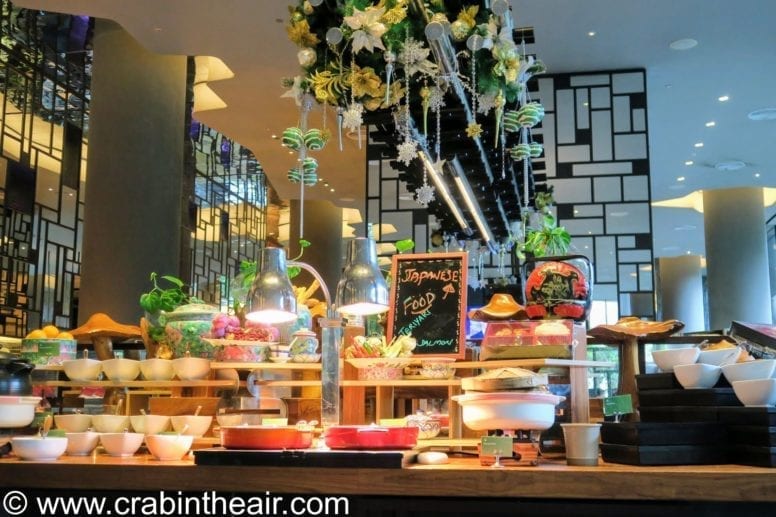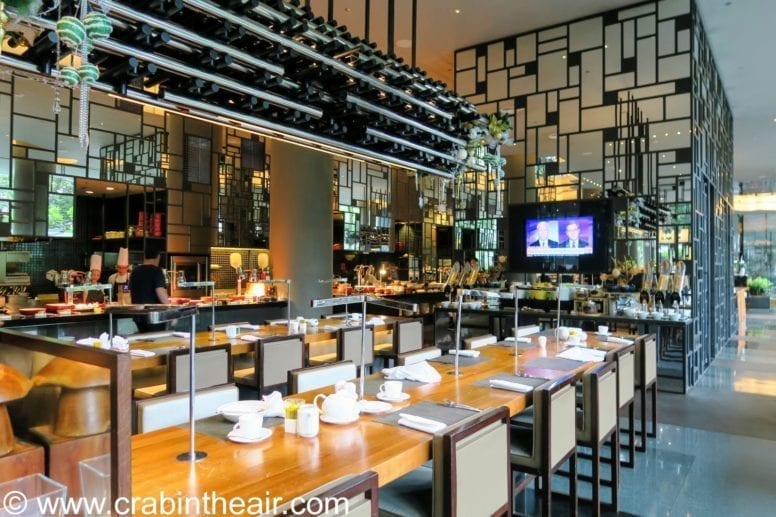 Book now your stay at the Parkroyal on Pickering in Singapore!
Swimming Pool and Gym
There are two infinity swimming pools available at the hotel – a smaller one with a jacuzzi and a bigger one right next to it.
We spent a couple of nice afternoons there, enjoying the view of the city and a nice cocktail.
There are nice and comfy pool side loungers available and also round tents with cushions providing a space to relax.
The gym which is located on the same floor of the pool is heavily stocked with machines and you can admire the Singapore skyline while working out.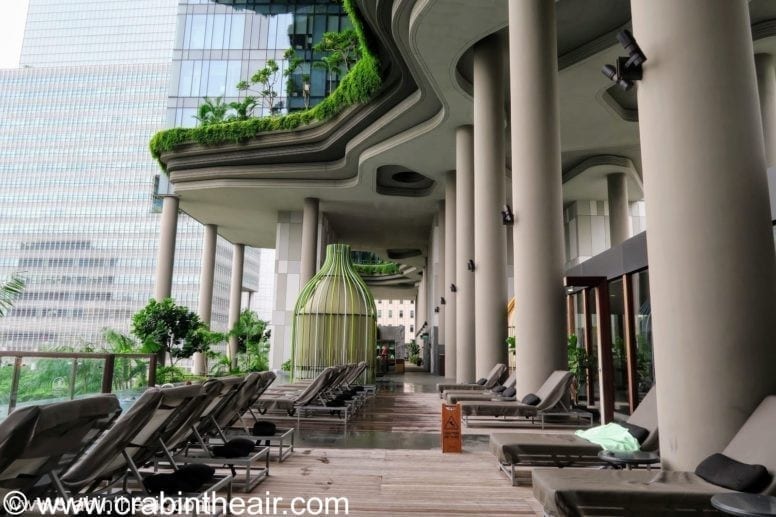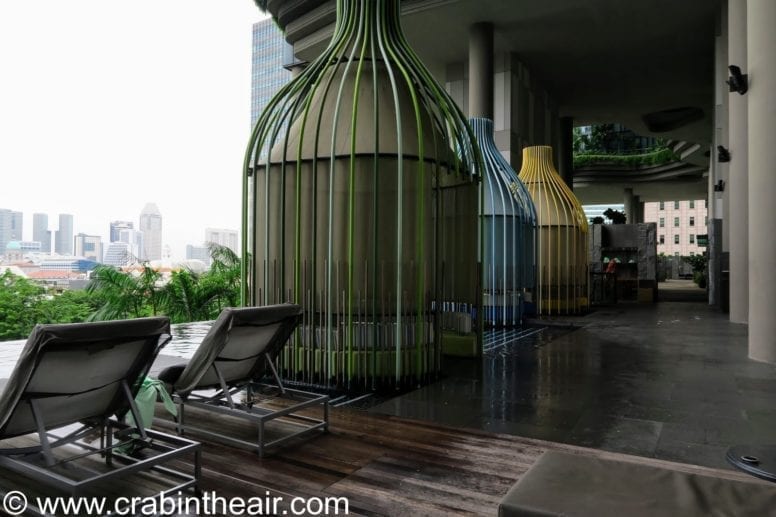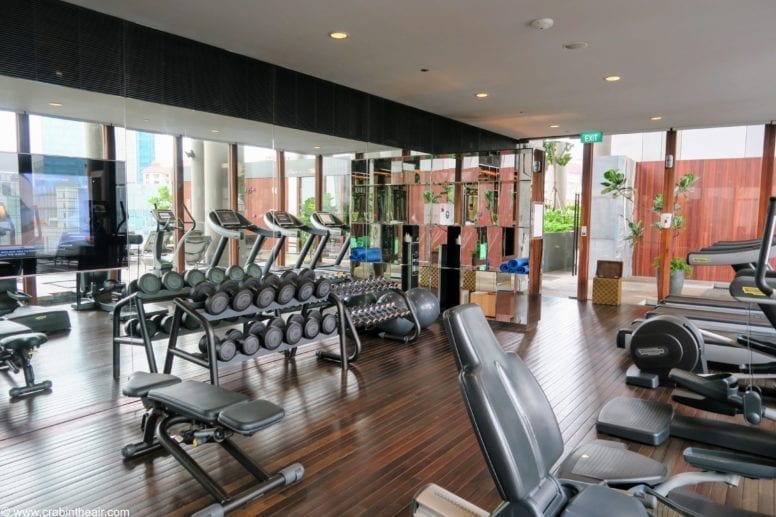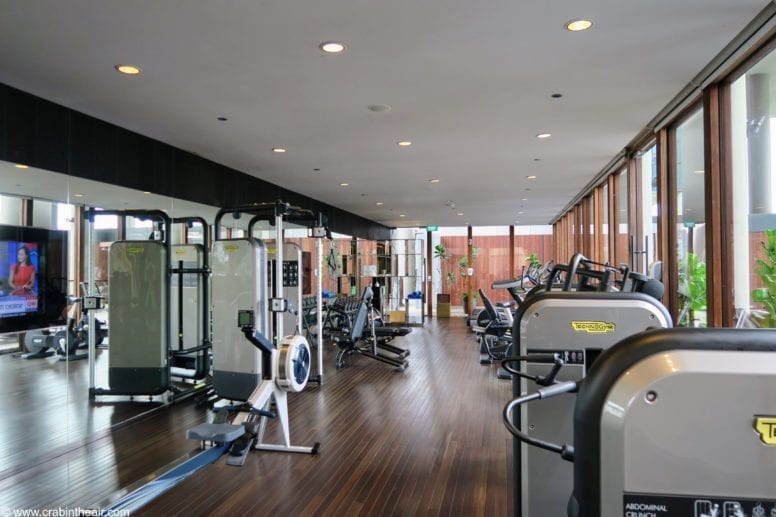 Parkroyal On Pickering In-room dining
The in-room dining is available as well and served from 11am-11pm, we ordered it a couple of times and were quite satisfied.
Below you can find the menu with all the options available.
APPETISERS AND SALADS
Turkish Bread 17
Arabic Mezze Platter Served Cold 22
Pop-Tay 18
A taste of Singapore 19
Salt and Szechuan Pepper Calamari 19
Crisp Fried Peking Duck Spring Rolls 17
Traditional Caesar Salad 14
SANDWICHES, BURGERS AND WRAPS
Grilled New Delhi Chicken Wrap 21
Pickering Club Sandwich 23
Triple Decker Grilled Ham, Cheese and Tomato Sandwich 21
Chargrilled Australian Sirloin Steak Sandwich 25
Australian Black Angus Beef Burger 29
Free-Range Chicken Burger 22
Grilled Portobello Mushroom Burger 25
MAINS
Australian Fish and Chips 25
Chicken Parmigiana 24
Crisp Skin Lemon Smeared Norwegian Salmon And Crystal Bay Sweet Prawn 37
Chargrilled Homemade Bratwurst Sausages 25
ASIAN FLAVOURS
Chef Haridharan's Family Recipe Butter Chicken 29
Paneer Butter Masala 27
Bak Kut Teh 21
Hokkien Prawn Noodle Soup 26
Singapore Luxe-Sa With Maine Lobster 29
Nasi Goreng Kampung 25
Char Kway Teow 25
Hainanese Chicken Rice 25
GOURMET PIZZA
Parkroyal Premium 25
Tandoori Chicken 25
Homestyle Gourmet Margarita 25
Hand Rolled 25
PASTA AND RISOTTO
Whole Wheat Spaghetti Or Penne Pasta 24
Angel Hair Pasta With Chilli And Garlic Smeared King Prawn And Crab Meat 26
Wild Mushroom And Truffle Risotto 26
GRILL
Australian Wagyu Sirloin 59
Australian Black Angus Sirloin 46
Australian Tenderloin 53
200GM Norwegian Salmon 35
Free-Range Chicken Breast 31
SIDES
Chunky Fries With Aioli 9
Freshly Steamed Jasmine Rice 3
Buttered Vegetables 9
Cheesy Truffled Macaroni 9
House Salad With House Dressing 9
Slow-Cooked Marinated Portobello Mushroom 9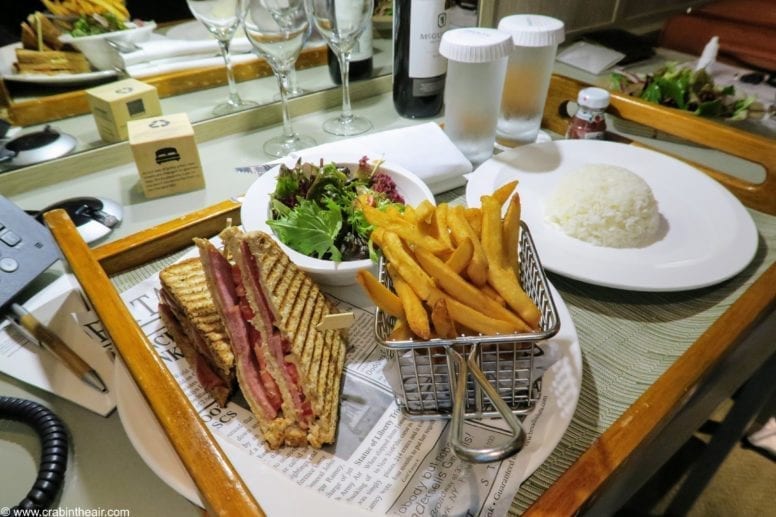 DESSERTS
The Humble Meringue 17
Gianduja Chocolate Marquise 17
Berry and Mascarpone Cream Macaron 17
Creme Catalana Tart 16
The Black Bomb 19
KID'S MENU
Grilled Or Battered Fish 15
Pasta Bolognaise 15
Grilled Or Crumbed Chicken Tenderloin 15
Ham and Cheese Toasted Sandwich 15
Chicken Sandwich 15
Kid's Sausage 15
Mini Cheese Beef Burger 15To sum up, the
To sum up, the Parkroyal on Pickering is a very good hotel but there is still room for improvement.
The breakfast, location, swimming pool and gym are excellent and I also appreciate their efforts to make the place as "green" as possible.
The staff is helpful and polite (especially during breakfast).
Few things that could be improved include the check-in process, the in-room amenities (e.g. iron and electrical plug) and also the turndown service should be a standard in a 5-star hotel and not something to do on a request.
I also think the hotels in such high price range should provide the complimentary transportation from and to the airport for the guests.
Overall staying at this hotel was a positive experience and I would recommend it to a friend.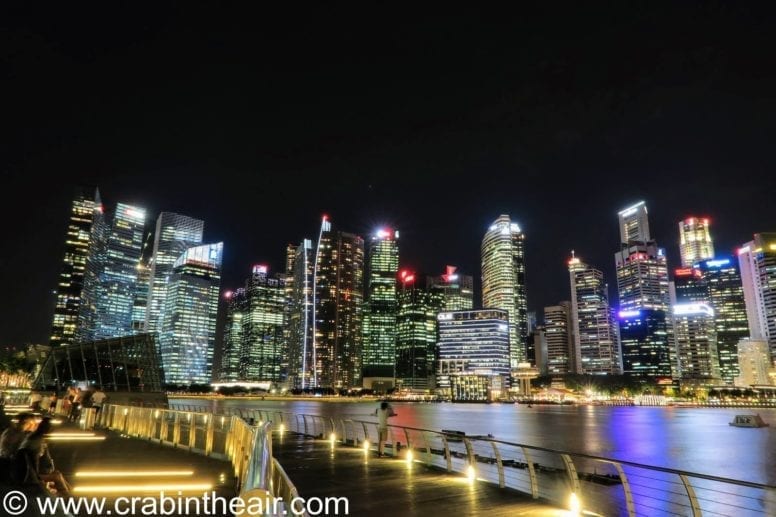 If you're interested in visiting Singapore don't miss out my guide with the Top Things To Do In Singapore, together with the Things To Do In Little India.
Parkroyal on Pickering: Final Rating
| Parkroyal on Pickering | Our Rating (1-5) |
| --- | --- |
| Staff | 4 / 5 |
| Location | 5 / 5 |
| Room | 4 / 5 |
| Food & Dining | 5 / 5 |
| Overall | 4 / 5 |
Hotel reviewed: Parkroyal on Pickering
Address: 3 Upper Pickering St, Singapore
Phone number: +65 6809 8888
Overall rating: 4/5
Reviewed by: Barbara