Check Prices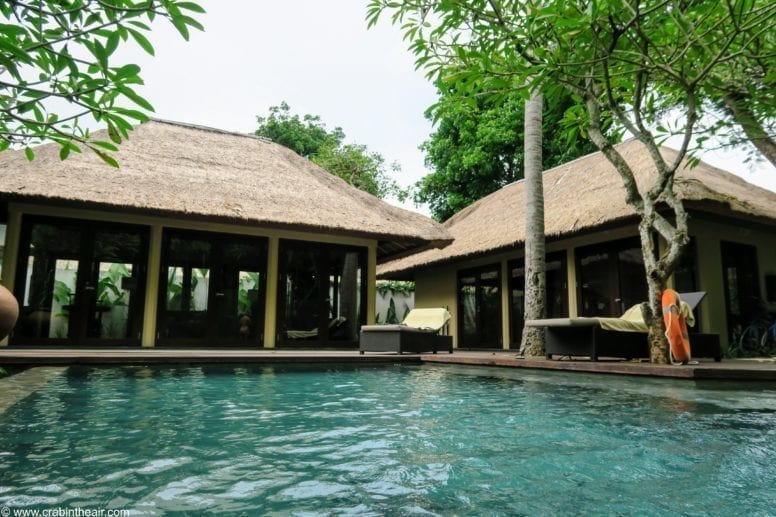 While planning our honeymoon we knew we wanted to choose an amazing and unforgettable place where we could fully relax and really spoil ourselves – after all, we only get to start our new life together once.
So after a 5-day stay at the Parkroyal on Pickering in a busy and vibrant Singapore, we thought it was best to head to Bali – the Indonesian paradise Island.
Honeymoon in Bali at the Kayumanis Nusa Dua
We booked an 8-night stay at the Kayumanis Nusa Dua Private Villa & Spa and we were looking forward to soaking up all the sun, food and rich culture of this postcard-like Island.
Our adventure started shortly after we landed at the Bali airport where we were immediately greeted by a friendly driver who was going to take us to the resort.
Airport Transfer to Nusa Dua
We loved the free airport transport option and felt so welcomed and pampered from the first moment.
The driver kindly helped us with our luggage and we were offered refreshing drinks and snacks while in the car, he also told us some interesting facts about Bali and the most important places to visit.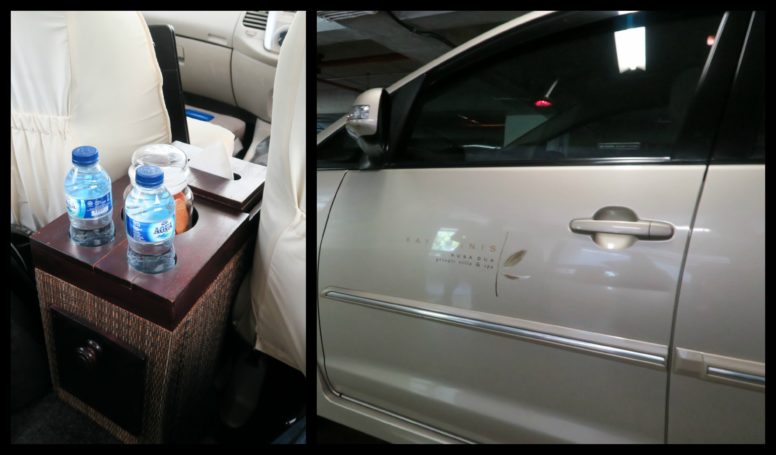 After a quick and safe 20-min trip we arrived at our destination – Kayumanis Nusa Dua Private Villa & Spa.
Resort Location and Private Butler
The resort is located in Nusa Dua, on the southeast side of the peninsula which is characterized by beautiful sandy beaches and a calm setting, also it hosts many 5-star luxury hotels.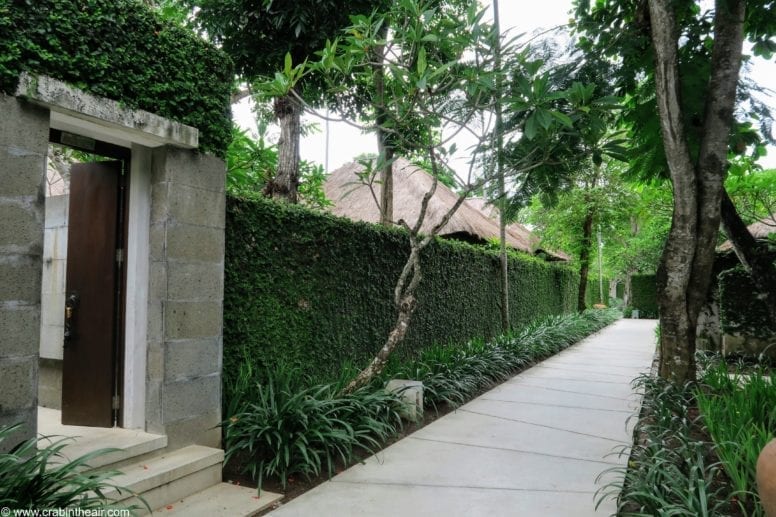 We were immediately welcomed by our butler who took us to our private villa and proceeded with a very detailed and helpful explanation on how everything worked.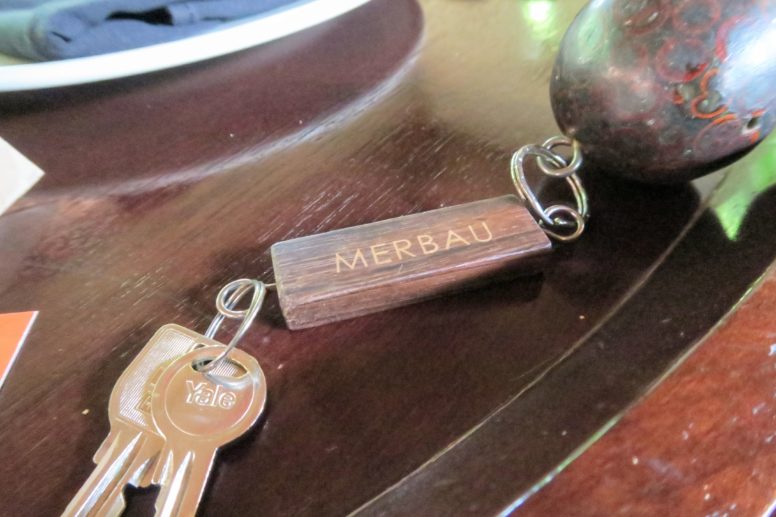 While the refreshing drinks were served we were also explained that the Kayumanis staff will refer to us as Bapak for Mr and Ibu for Mrs.
I also would like to add that almost every member of the staff knew our names by the end of our first day there.
Best Private Villas in Bali: Kayumanis Nusa Dua
Let me start by saying that our private villa was simply amazing and we couldn't imagine a better accommodation for our honeymoon: we were looking for the best private villas in Bali and definitely found it!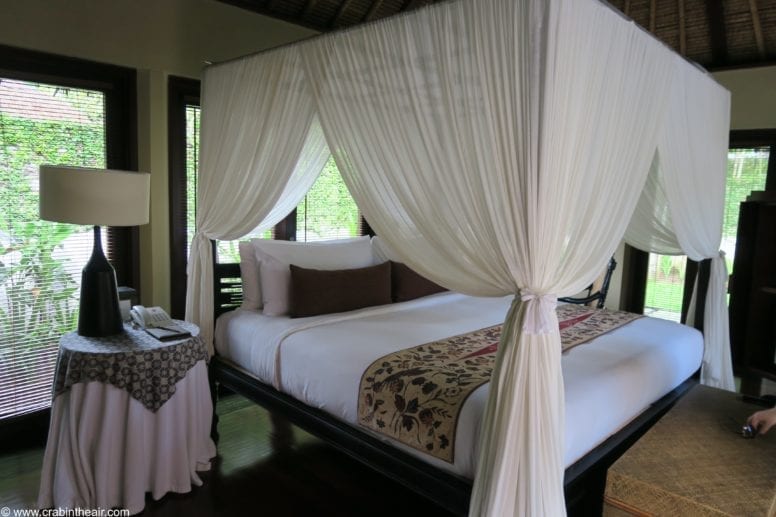 Private Villa and Swimming Pool Review
It consisted of one bedroom, one bathroom and – the best part – of one separate living room located on the other side of the private swimming pool.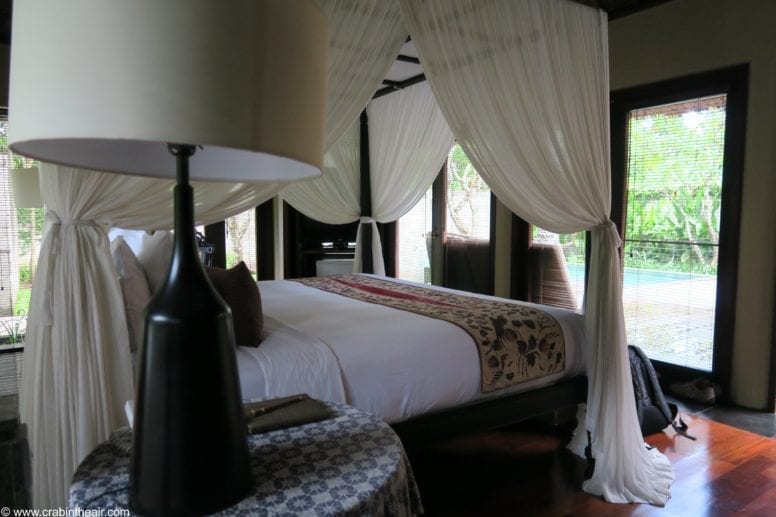 The villa is really spacious (300 m²) and comes in a traditional Indonesian design which we simply loved.
It is also incredibly bright thanks to the many glass doors and windows.
The bed is huge and really comfortable and it comes with a baldachin which makes the entire room even more special and romantic.
Another great aspect of the Kayumanis Private Villa is the free mini bar that gets stocked up daily.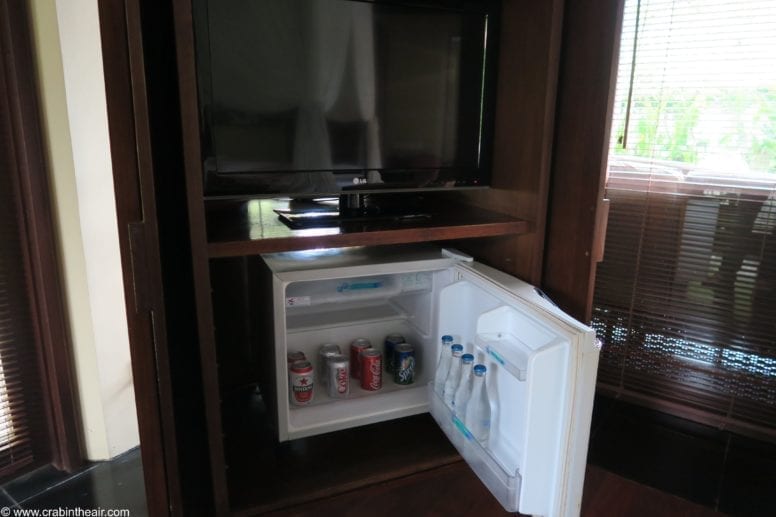 There is a selection of soft drinks, beers and most importantly water available as well as a jar of salty snacks and biscuits.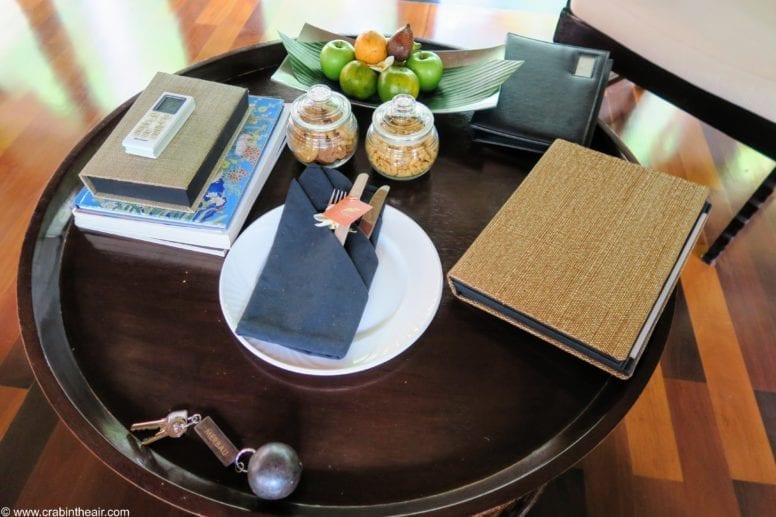 If you need to do some work there is a wonderful massive desk in the bedroom as well.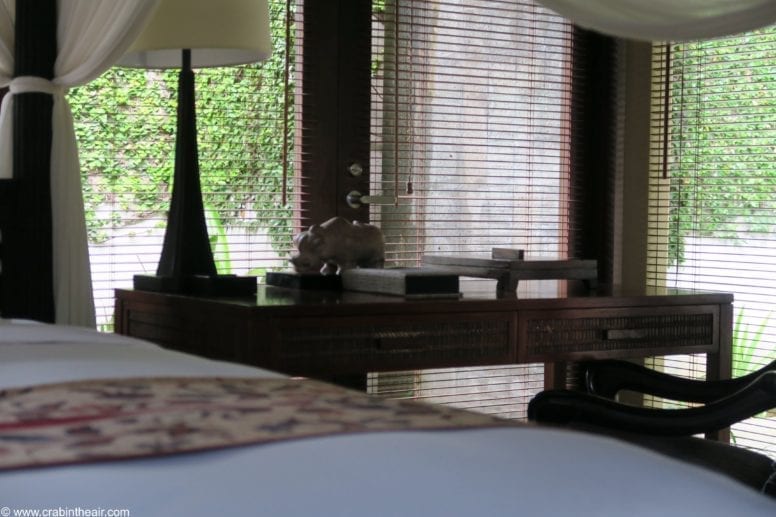 Probably the only aspect I can think of which could be improved is the size of the closet – slightly too small for two people, especially if you are staying for more than a couple of nights.
The outdoor bathroom is something I was really curious about as it was going to be a totally new experience for me.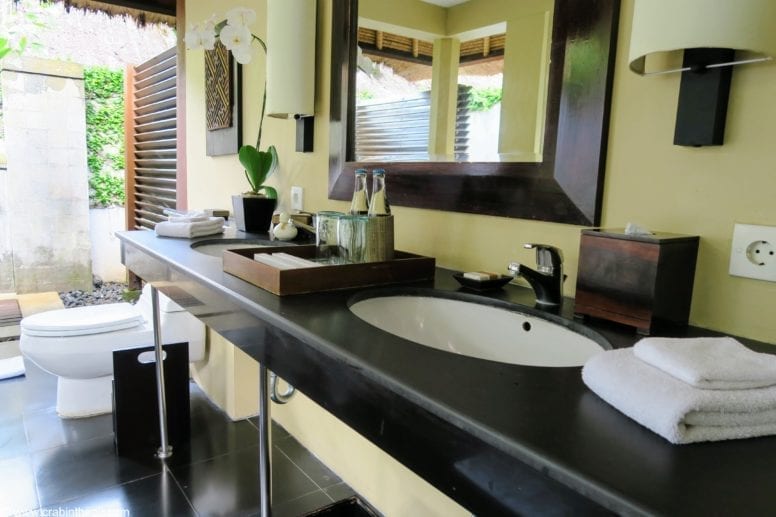 The bathroom is spacious and it has both a shower and a lovely luxurious bathtub as well as two separate washing basins.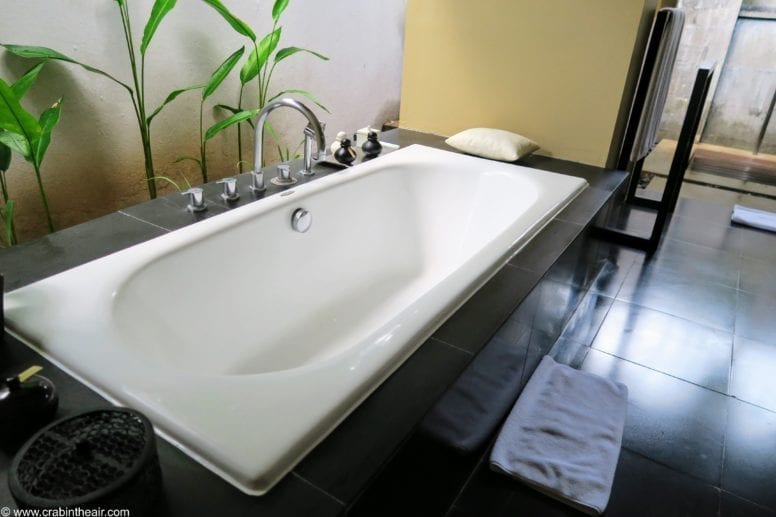 Bathroom Amenities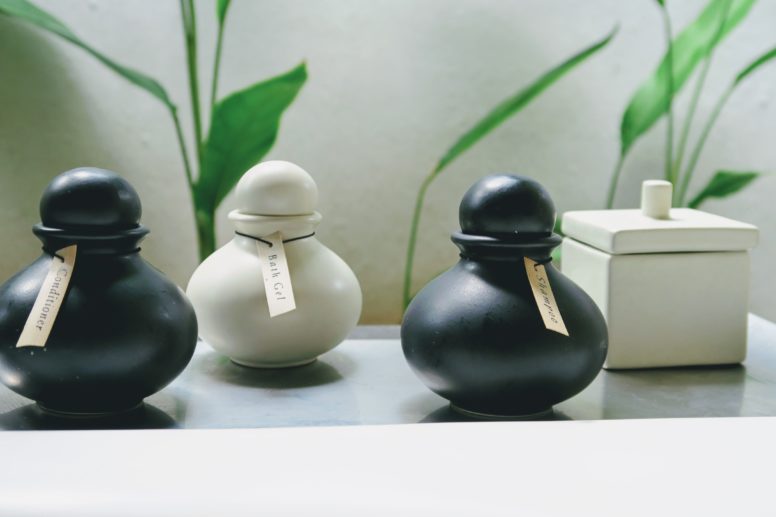 The daily replaced amenities include dental kits, shaving kits, hand soap, shampoo, bath salts and really just anything you might need during your stay.
There was also a comfy non-slip bath pillow included for the ultimate bath time experience.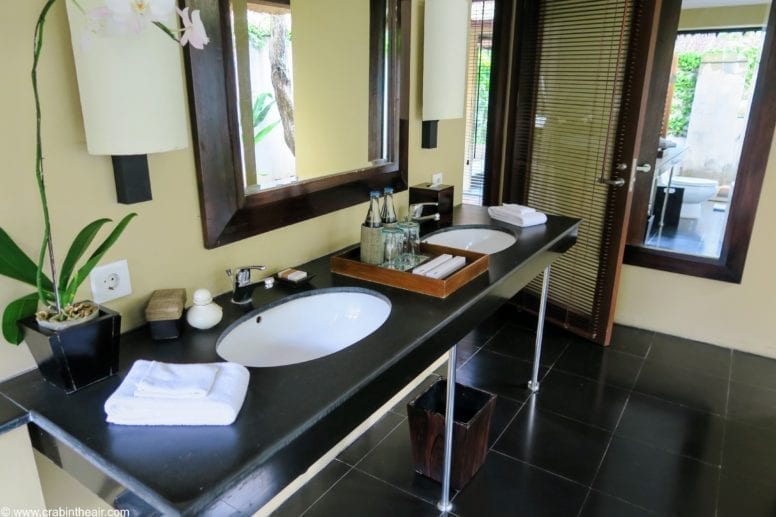 Every evening I loved enjoying a relaxing outdoor bath while listening to the peaceful sounds of the nature around me.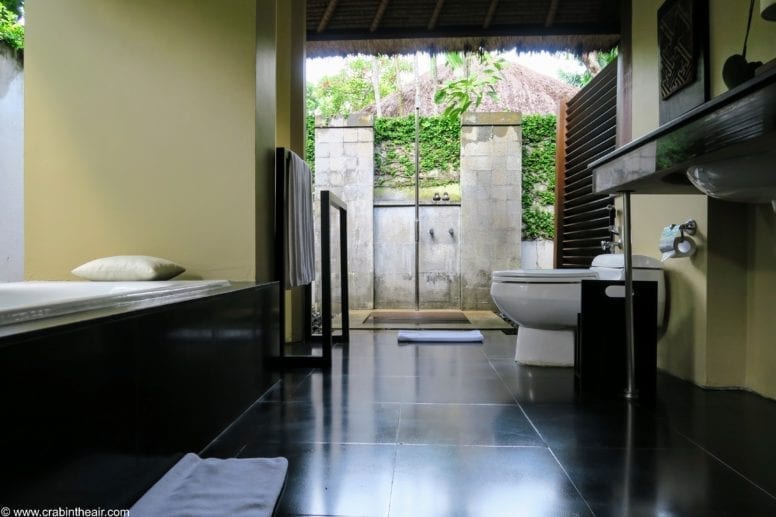 Living Room
The living room area was probably my favorite part of the villa, I liked to relax or read a book on a comfortable sofa there or enjoy a fresh basket of fruits in the afternoon.
There was also a kitchen area and a TV available but I never watched anything since I preferred to spend my time in the swimming pool or on the beach rather than watching TV shows.
Private Swimming Pool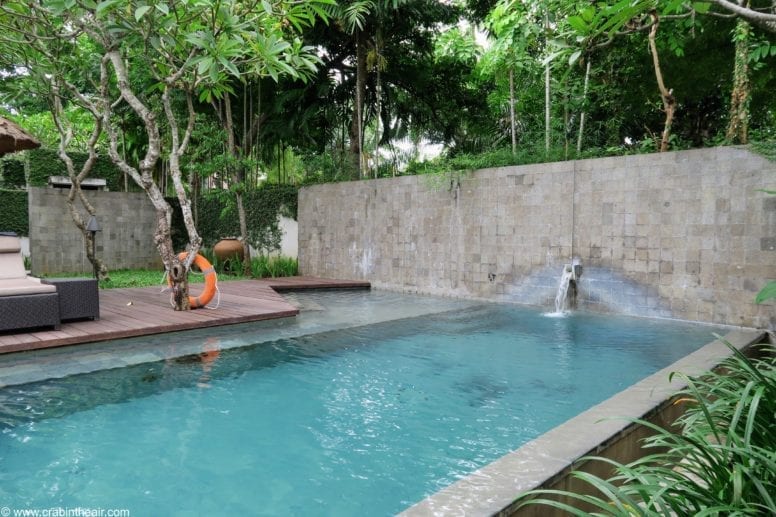 The swimming pool was simply wonderful and I honestly didn't expect it to be so big.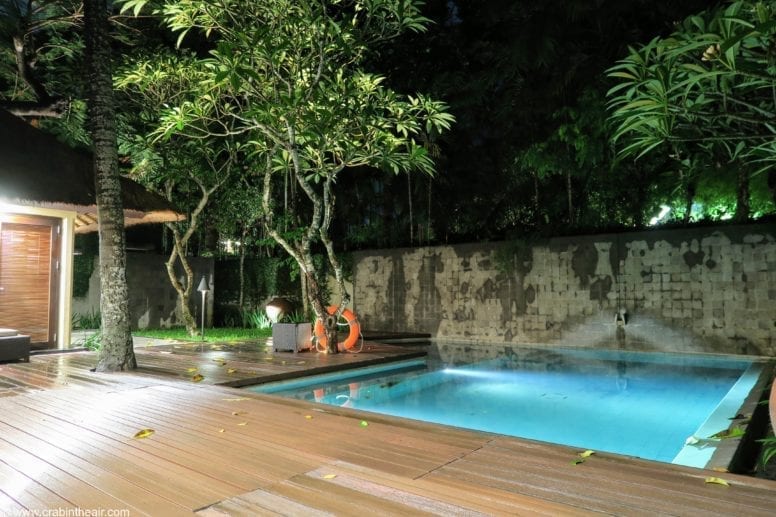 We spent many hours of our holiday swimming or relaxing on comfortable loungers around the pool.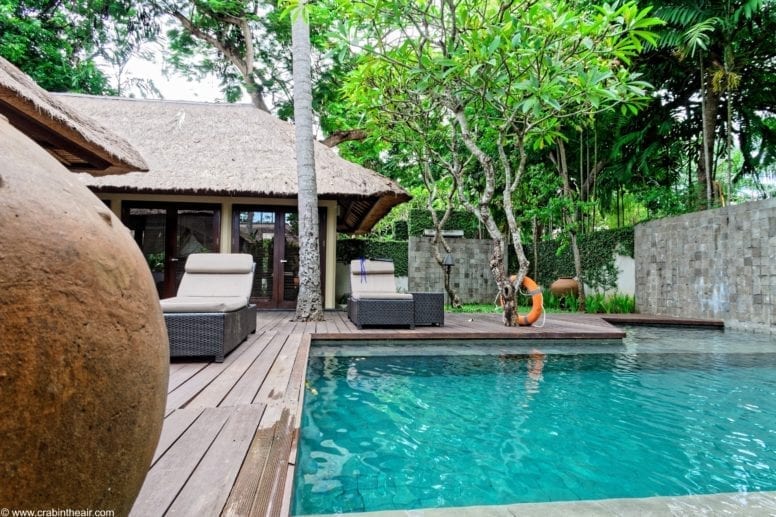 The pool was always in perfect conditions as it was cleaned daily and you could also request an additional cleaning after the rain if necessary.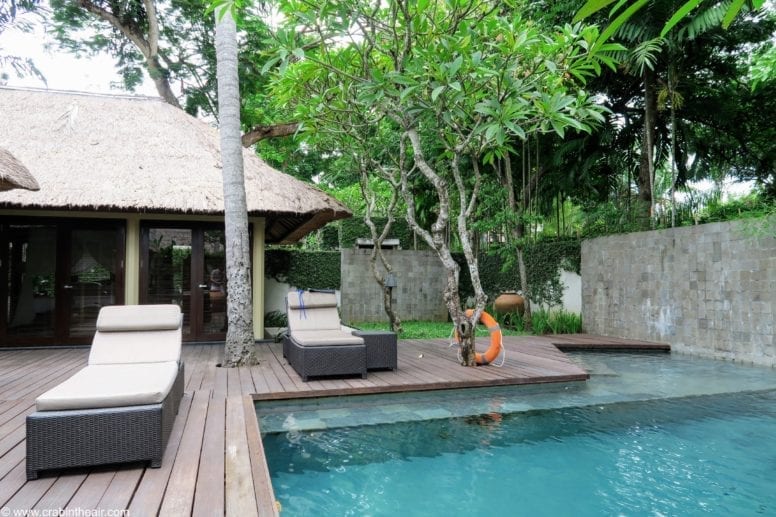 Housekeeping
Each morning, when returning to the villa after breakfast we would find the entire villa perfectly clean and organized, I really can't stress enough how happy we were with the housekeeping services at Kayumanis Nusa Dua.
Turndown Service
The turndown service was another lovely touch to our stay – each evening our bedroom would be set up for the night, the bathroom dried up and cleaned and the towels replaced.
They would also leave a good night note on a freshly made bed.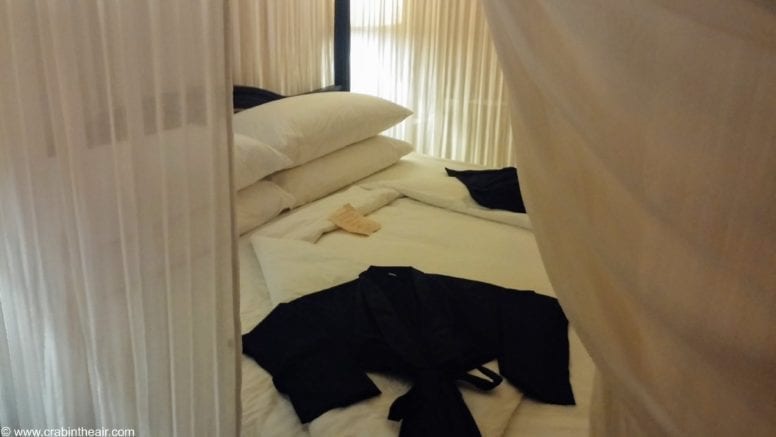 One of the things we really appreciated about our private villa was the fact that we could truly enjoy our privacy.
There were no annoying noises or loud people and our entire stay was characterized by tranquility, silence and serenity and we couldn't be more grateful for it.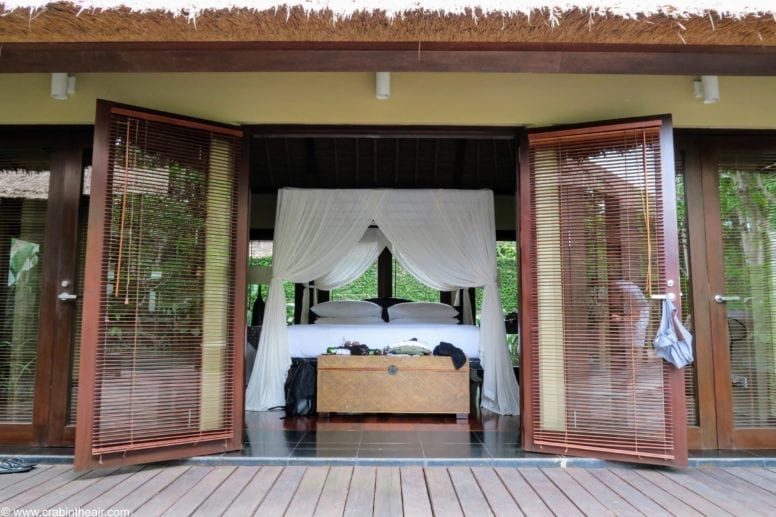 Wifi connection
When it comes to the internet service we were given the username and password at the arrival and everything was working perfectly at all times.
If you need it, there is also a laptop available upon request for a maximum of one hour use – very helpful in case of an emergency.
Kayumanis Nusa Dua Private Villa & Spa Food
The food at Kayumanis Nusa Dua Private Villa & Spa is excellent and certainly reflects the high 5-star standard of this resort.
Breakfast
Breakfast was my favorite part of the day and I was looking forward to eating all the delicious meals every morning.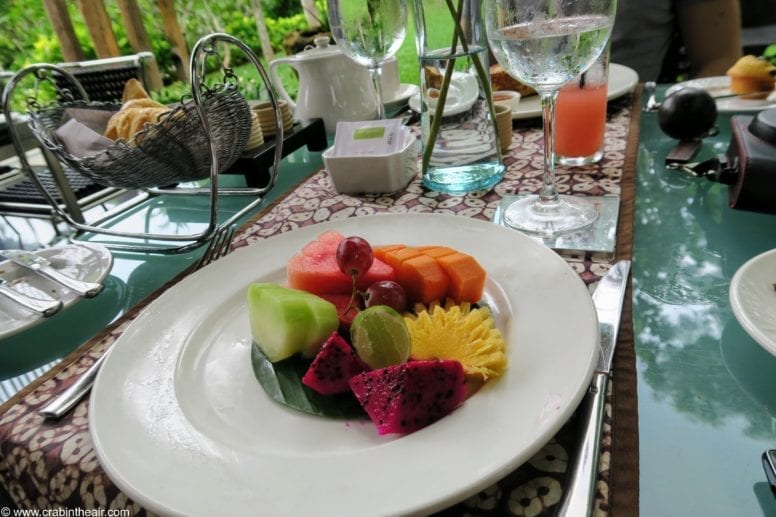 It was served at the Tetaring Restaurant by the wonderfully helpful and kind staff (there was a waiter named Yuda who was just lovely) or you could simply have it in your villa.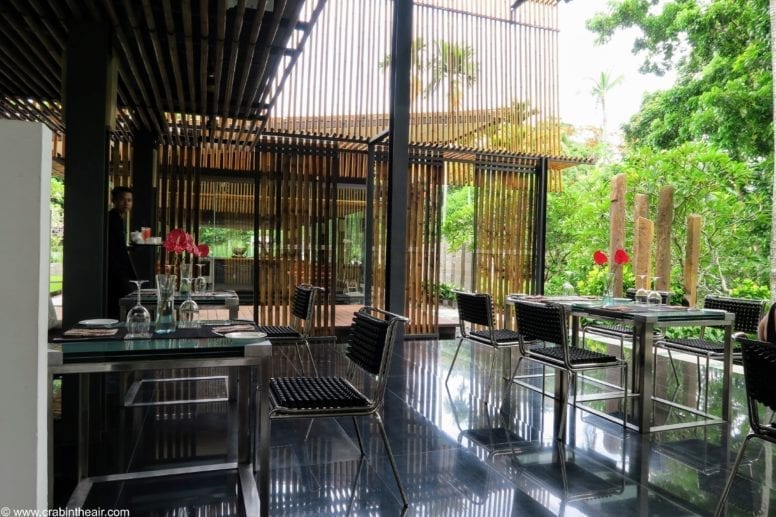 The best part about it was the fact that breakfast was served all day long which meant you could have it even in the afternoon if you wished.
The Kayumanis Villa and Spa Resort also gives you an option to experience your breakfast on the beach whilst watching the sunrise.
A lavish picnic-style feast will be set up for you by the staff while you admire the dawn of a brand new day.
If you are planning a trip around Bali and are leaving early in the morning you can request a takeaway breakfast as well – so nice and thoughtful.
Below you can see my favorite options from the breakfast menu (I loved the Kayumanis Toast while my husband preferred the Truffle Eggs).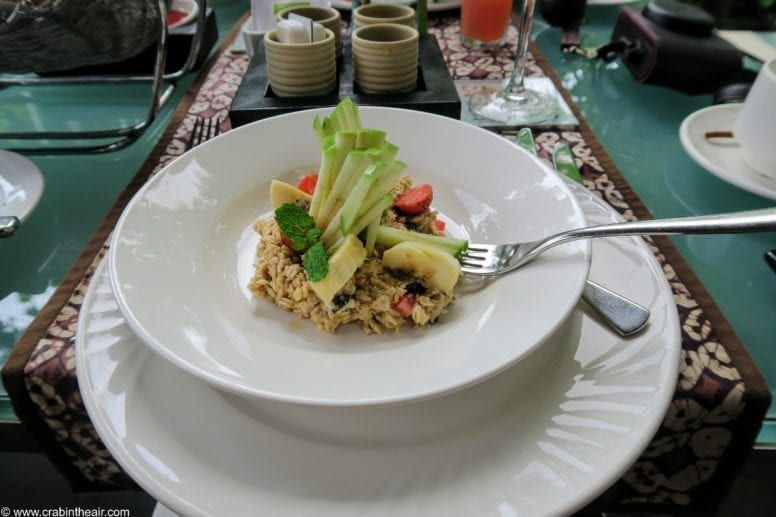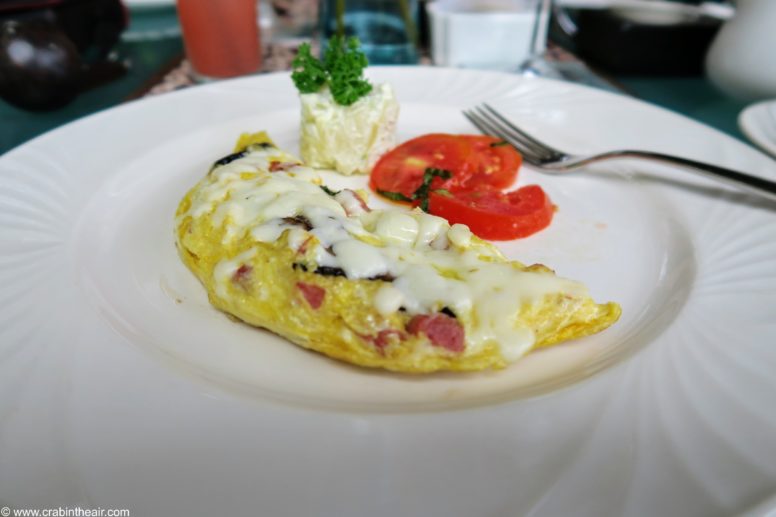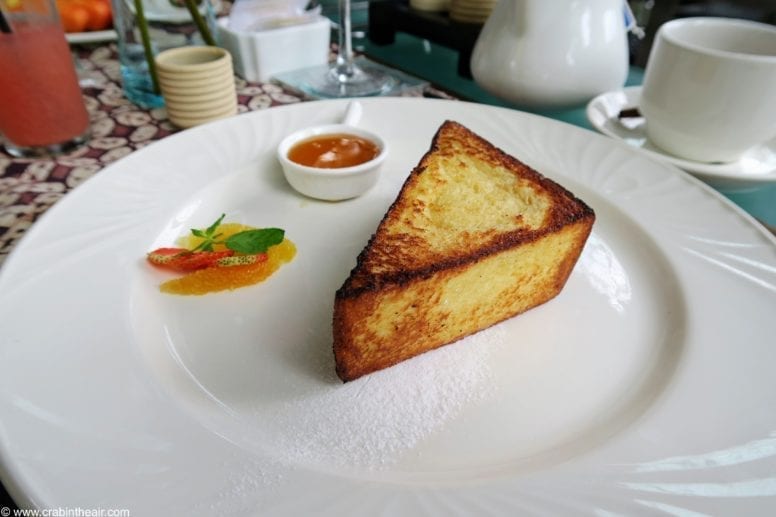 High Tea at the Kayumanis
Kayumanis Nusa Dua provides a complimentary afternoon high tea as well.
It became a pleasant part of every afternoon for us and we really enjoyed yummy sandwiches and traditional Balinese desserts.
Just like with your breakfast you can enjoy the high tea in the private surrounding of the villa or have it at the restaurant from 2:30 pm to 5:30 pm.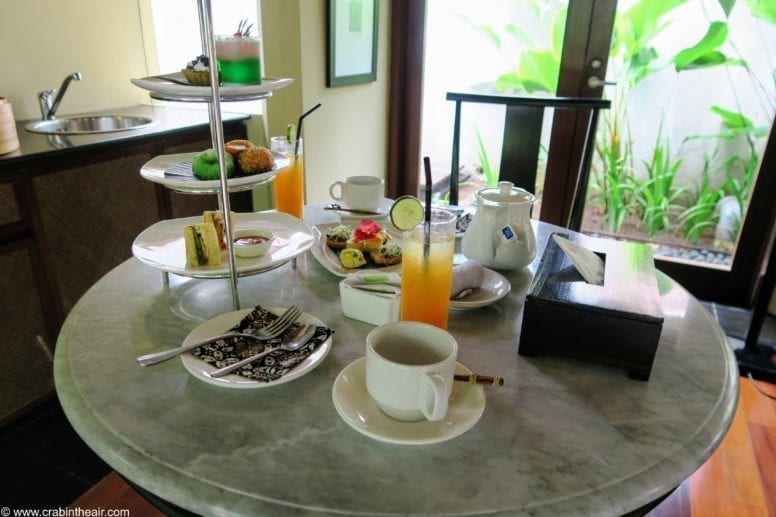 In-Room Dining
We loved our Villa so much that we ended up having most of our dinners in the dedicated area of the living room using the in-room dining service organized by our butler.
The staff would bring our dinner, set up the table and describe the dishes we ordered.
They would take care of every little detail and the service was simply impeccable.
The In-room dining includes a wide selection of exquisite dishes and I particularly enjoyed trying out the traditional Indonesian and Balinese flavors.
What follows are some photos taken during the In-Room Dining to give you an idea of the available options we've taken.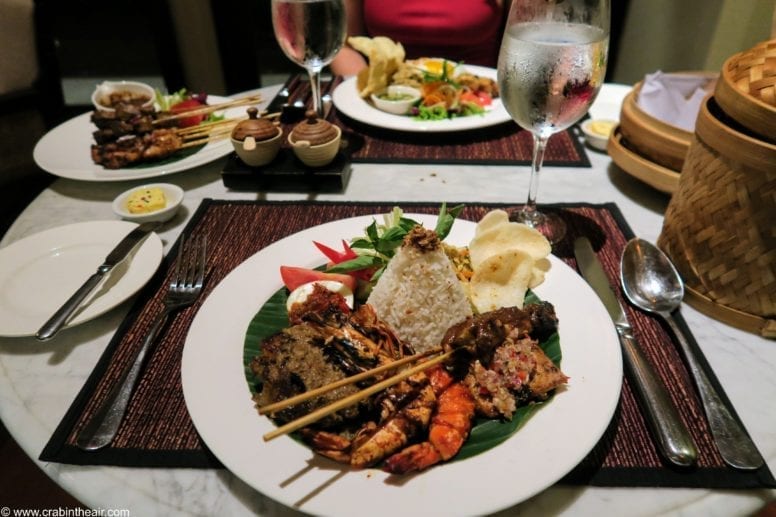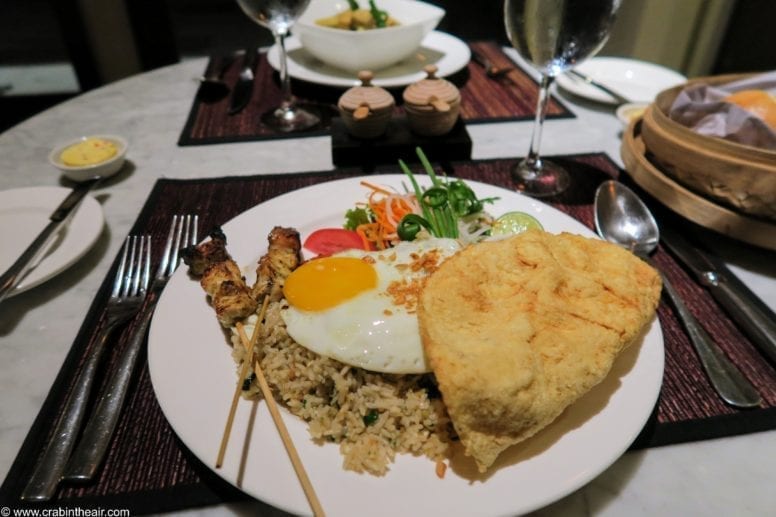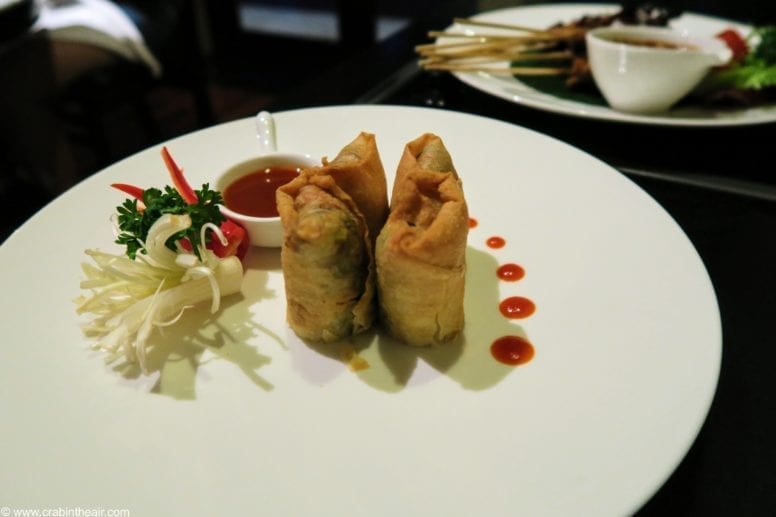 Kayumanis Nusa Dua Restaurants
There are two Restaurants available at the Kayumanis Nusa Dua Private Villa and Spa.
Italian Piasan Restaurant
Tetaring Restaurant Nusa Dua
The first one is the Italian Piasan Restaurant characterized by a modern look and a rich menu.
I loved the food there and I think it makes a perfect place for a nice romantic dinner for two.
Another one is the Tetaring Nusa Dua – the same one where we had breakfast – and it proposes mostly Indonesian cuisine.
It is open for breakfast, lunch and dinner and offers cigars as well as a selection of international fine wines.
I must say that the food at the Tetaring Nusa Dua Restaurant is absolutely delicious and it was a perfect place to discover some new to us flavors.
The staff at both restaurants is incredibly polite, friendly and efficient.
Dinner by the beach
You can also ask the staff to organize a romantic dinner by the beach, they will set up an elegant table for you and you will be served by a personal Butler throughout the evening.
It is priced at IDR 5.663.000 per couple and is inclusive of a chilled bottle of Sparkling Shiraz.
Another possible option is a candlelight dinner set up in the private environment of your Villa at IDR 3.461.000 per couple.
Kayumanis Facilities
Free Shuttle
Bicycles
Beach Club
Free Shuttle
There is a free shuttle service available within the Nusa Dua and Jimbaran areas from 7 am to 11 pm.
It is a very convenient and practical option if you wish to admire a sunset in Jimbaran. All you need to do is inform the Butler 30 minutes prior to your departure and they will take you there.
Bicycles
We loved the fact that there were bicycles available for complimentary use.
It was a great way not only to go around Nusa Dua and get to the beach but also to burn some extra calories.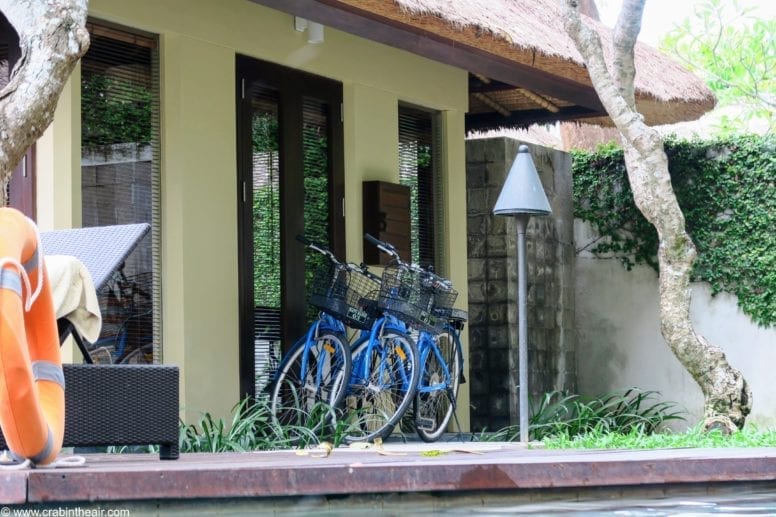 Beach Club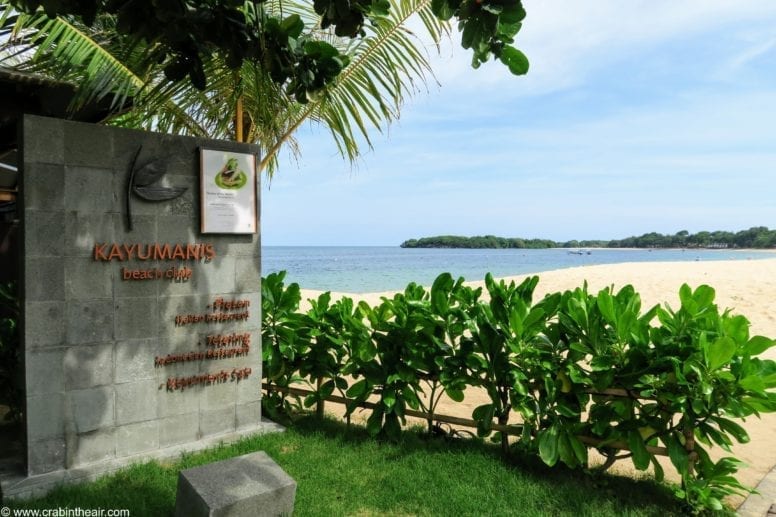 There is a private beach available for the Kayumanis' guests and it is located within a 10 minutes walk (or a quick bike ride) from the resort.
As soon as you get there you will be welcomed by a friendly staff member who will rapidly prepare a lounger and a clean beach towel for you and will make sure you are happy all the time.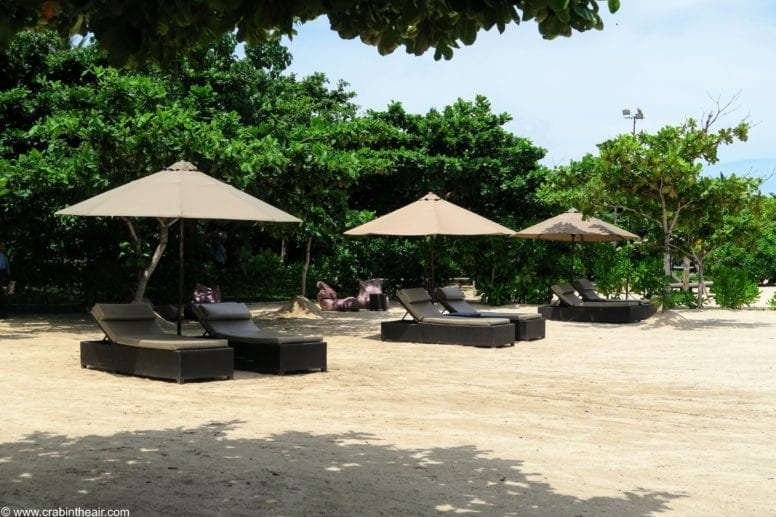 We enjoyed a little snack and some delicious cocktails on the beach so I recommend you try out their menu.
The beach is a little piece of heaven on earth and we had a fantastic time relaxing and swimming.
The entire beach area is just as elegant, luxurious and peaceful as every other part of the resort.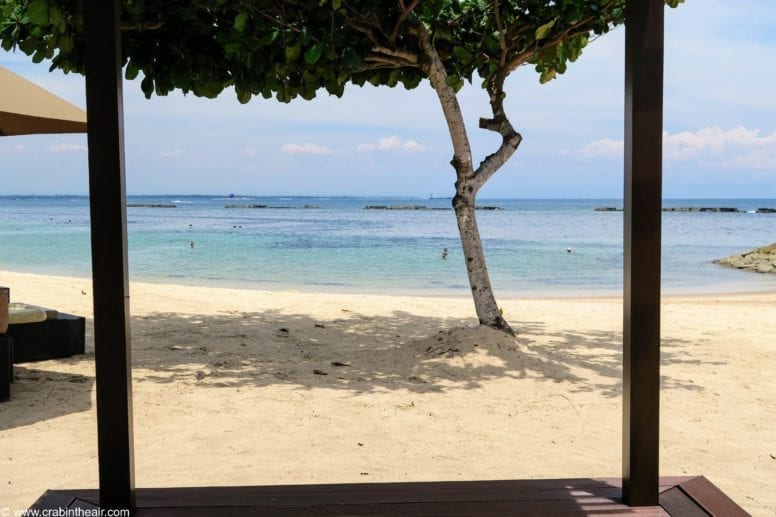 Best Private Villa in Bali: SPA Review
The SPA at Kayumanis is a perfect place to relax and forget all the stress of life at least for a little while.
It is open daily from 9 AM to 9 PM and you can receive your treatments either in the SPA facility or directly in your private villa.
I enjoyed a shoulder massage at my villa and it was a wonderful experience that I recommend to anyone.
Immediately after I felt so much better, had more energy and both my body and my mind felt calm and relaxed.
There are many different massages you can choose from, depending on your needs and preferences.
You can also enjoy a body treatment where only natural products such as sea salt and herbs are used.
Kayumanis Staff
All the people working at the Kayumanis Nusa Dua Private Villa & Spa in Bali really made an effort to make our stay unforgettable.
They were genuinely kind, helpful and always ready to welcome you with a smile and a happy attitude.
They even surprised me with a beautiful cake on my birthday accompanied by candles and a happy birthday song.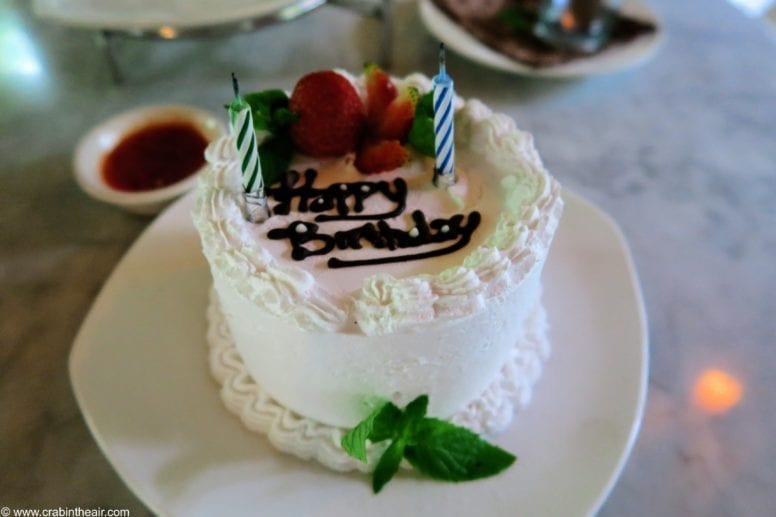 The resort, food and all the 5-star facilities made our stay luxurious, relaxing and comfortable but it's the lovely staff that contributed to making it one of the best holidays of our lives.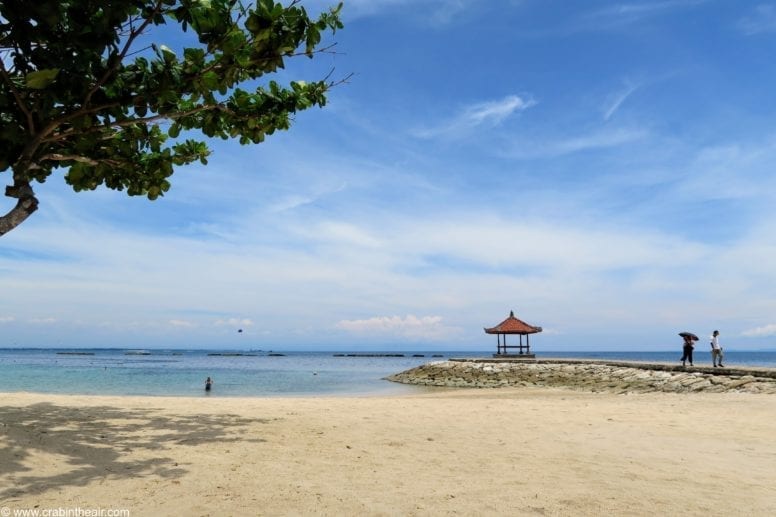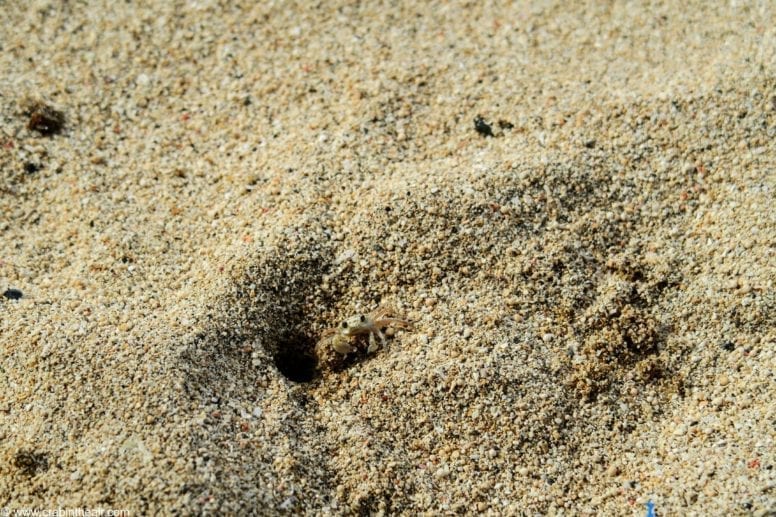 Kayumanis Nusa Dua Prices and Reservations
View prices and rooms details for the Kayumanis Nusa Dua in Bali.
Kayumanis Nusa Dua: Final Rating
| Kayumanis Nusa Dua Private Villa and SPA | Our Rating (1-5) |
| --- | --- |
| Staff | 5 / 5 |
| Location | 5 / 5 |
| Private Villa with Pool | 5 / 5 |
| Food & Dining | 5 / 5 |
| Overall | 5 / 5 |
Hotel reviewed: Kayumanis Nusa Dua Private Villa & SPA
Address: Nusa Dua, Benoa, Kuta Sel., Kabupaten Badung, Bali 80363, Indonesia
Phone number: +62 361 770777
Overall rating: 5/5
Reviewed by: Barbara