If you're looking for an extensive list of things to in Phuket, Thailand you're in the right place.
Phuket is one of the most popular destinations in the Southeast Asia region and welcomes millions of tourists from all over the world every year.
It's so hard not to fall in love with this beautiful location that brims with postcard-like sites and is every traveler's dream.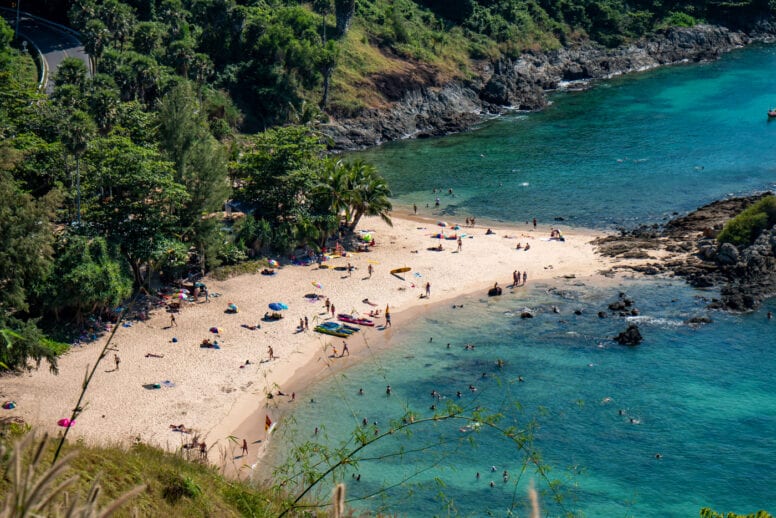 Phuket is best known for the long white beaches and dazzling orange sunsets but these are not the only attractions available there.
The island often called "the Pearl of the Andaman Sea" is a hive of activity.
From yoga and massages to partying, shopping and Buddhist temples, the list of things to do in Phuket is infinite.
When you travel to Phuket make sure to tick off these 20 fantastic attractions – they will make your holiday unforgettable.
Patong & Patong Beach
If you're visiting Phuket for the first time it might be a good idea to start off from its most famous seaside town – Patong.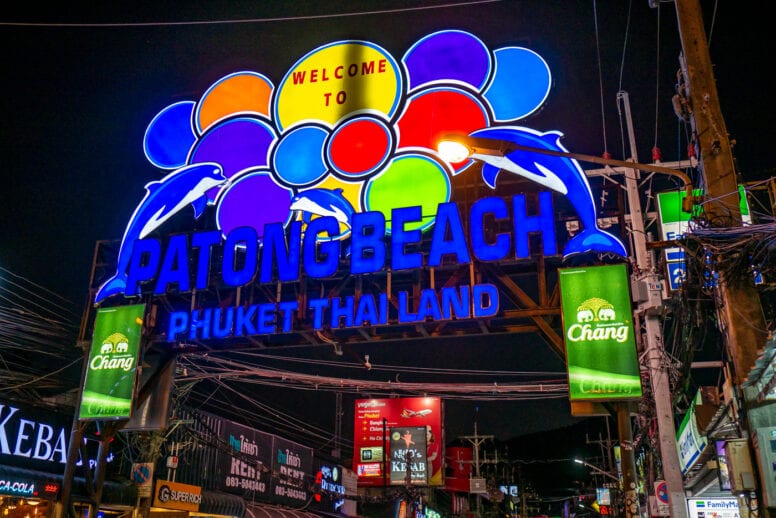 Patong is well-known for the crazy nightlife, busy streets, shopping stalls, go-go bars and clubs filled with tourists from all over the world.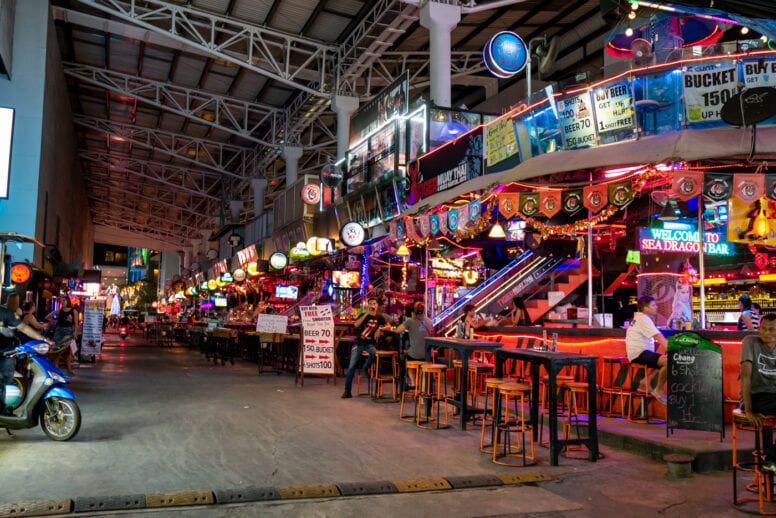 It is also where many travelers choose as their base to explore the island since there are so many hotels, resorts and budget accommodations available there together with a wide range of restaurants.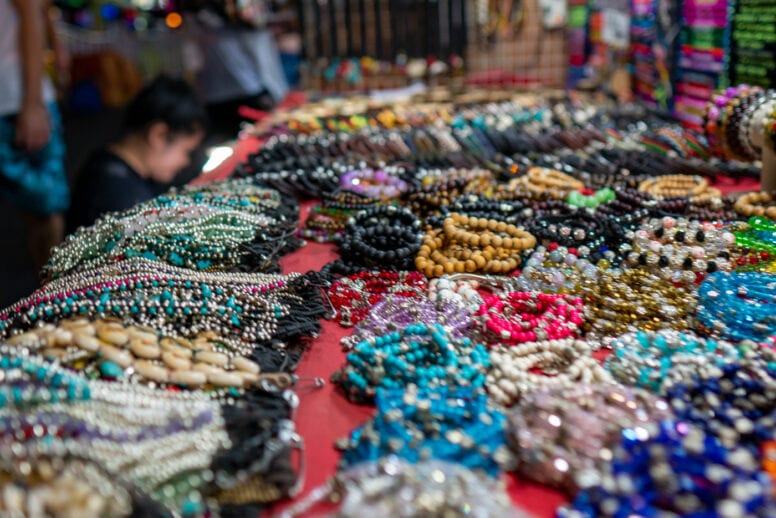 The main street of Patong – Bangla Road bustles with people and activity and guarantees entertainment at every time of day and night.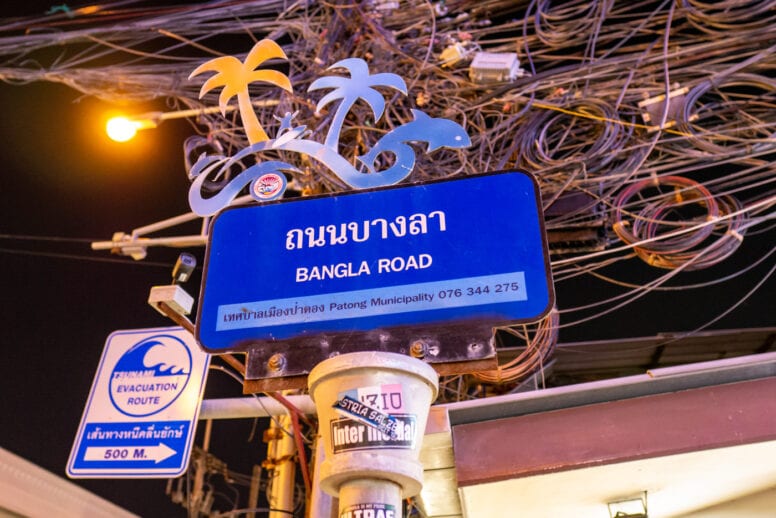 But apart from all the nightlife and shopping, there is a relaxing side to this location as well.
Some of the most beautiful beaches in Phuket, including the famous Patong Beach, are located in the area and offer a perfect setting for just sitting back and recharging on the Vitamin Sea.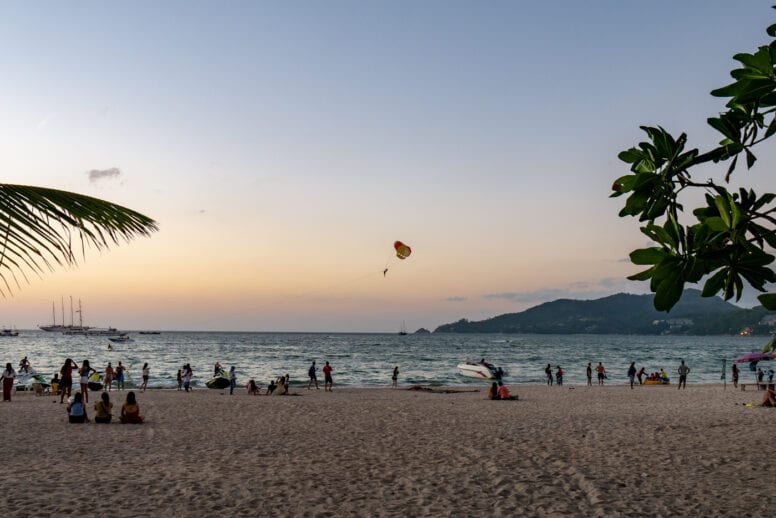 You can also enjoy a relaxing massage or a regenerating body treatment in one of the many spas available in Patong.
To get the most of both worlds simply rest by lying under the sun during the day and go partying at night – whatever you decide to do, we're sure you're going to have an amazing time in Patong.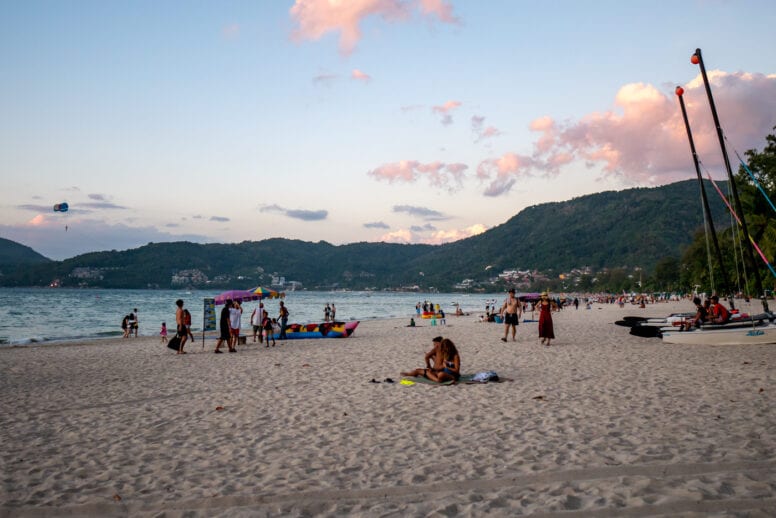 Kata & Karon Beaches
Kata and Karon are two beautiful beaches located in the south-west of Phuket.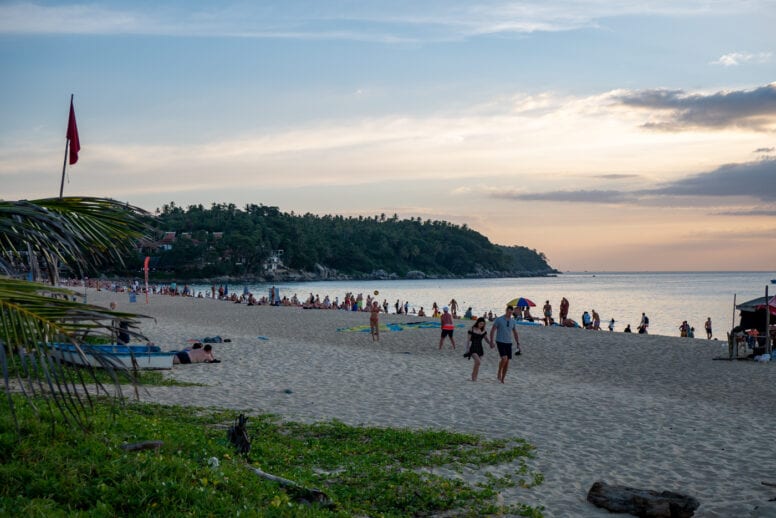 These two locations are also pretty busy with a huge number of locals and tourists going there every day from many different parts of the island.
Since these two beaches are separated only by a small hill you can easily visit both on the same day.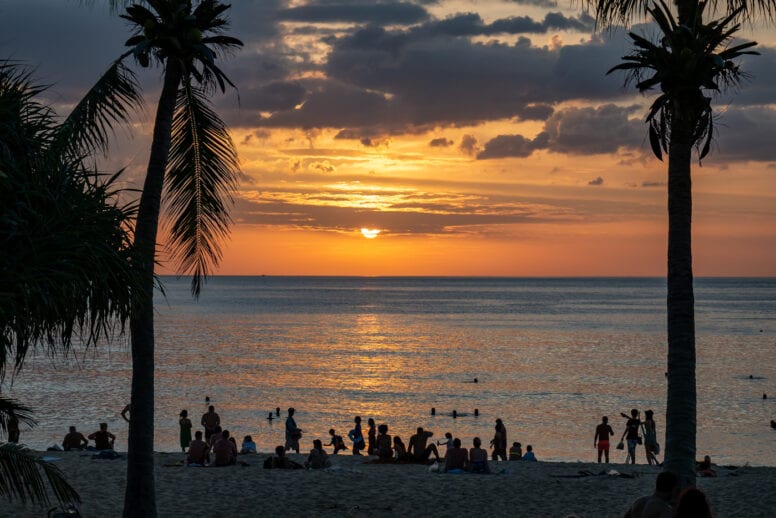 Make sure to also stop by the famous Karon Viewpoint for amazing vistas and great photo opportunities.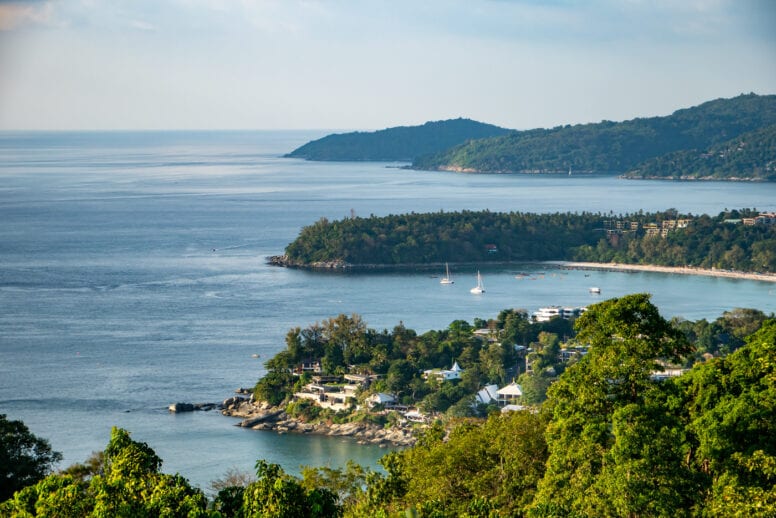 After relaxing at Kata and Karon beaches you may end your day with a lovely meal at one of the local restaurants located nearby.
Big Buddha Phuket
If there is one must-see sight that no visit to Phuket would be complete without, it's certainly the iconic Big Buddha.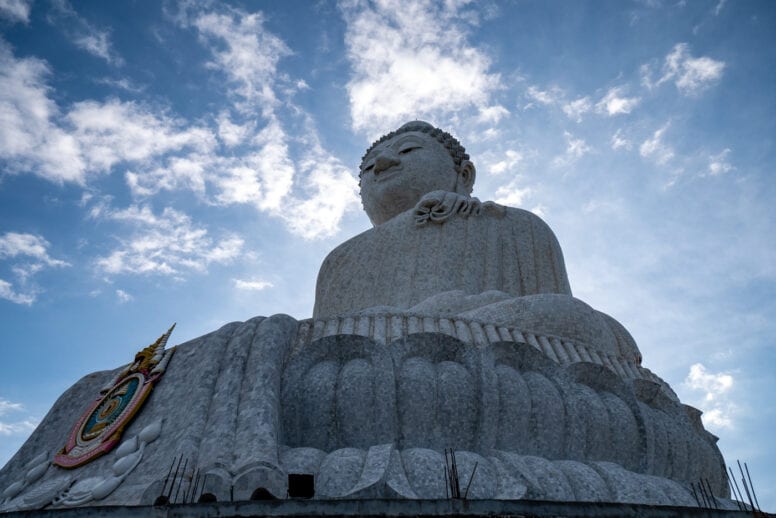 This 45 meters tall statue totally made of white marble is an essential stop on our list of things to do in Phuket.
In fact, because of its height and its strategic location on a mountain top in Ao Chalong, Big Buddha can be easily seen from many spots on the Island.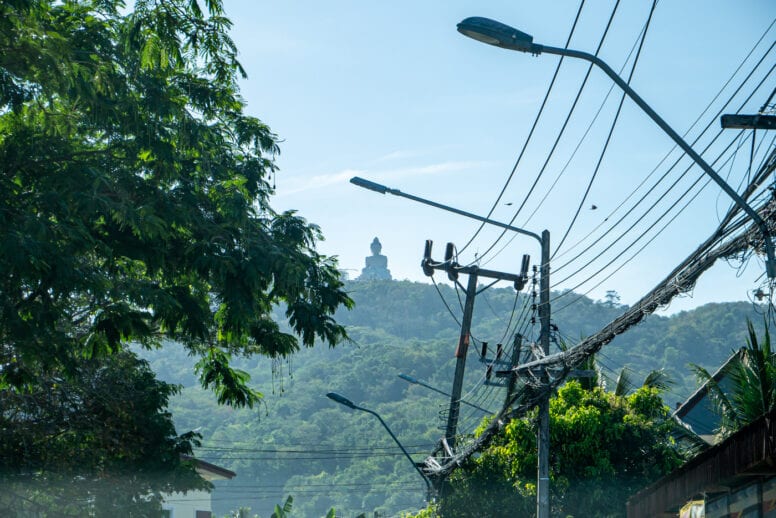 The Big Buddha statue has been around since 2004 and its construction was possible mainly due to a huge amount of donations from both, Thais and foreigners.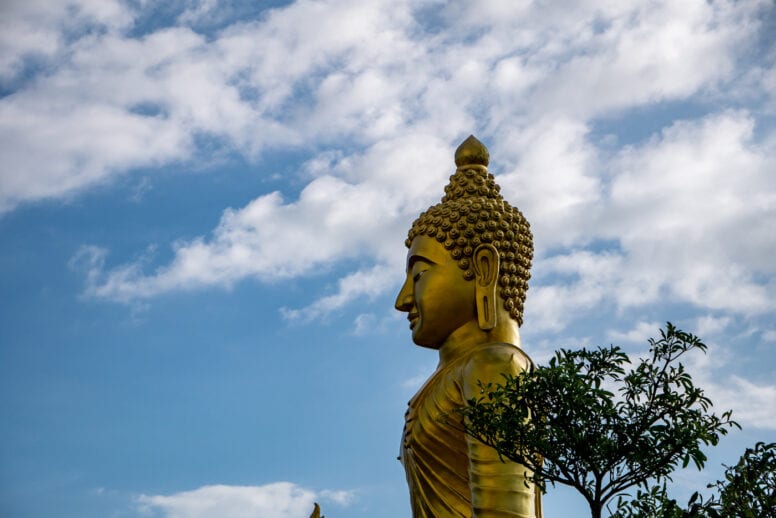 Although a popular tourist attraction, the statue is, in fact, an important Buddhist place of worship which means an appropriate outfit and respectful behavior are expected.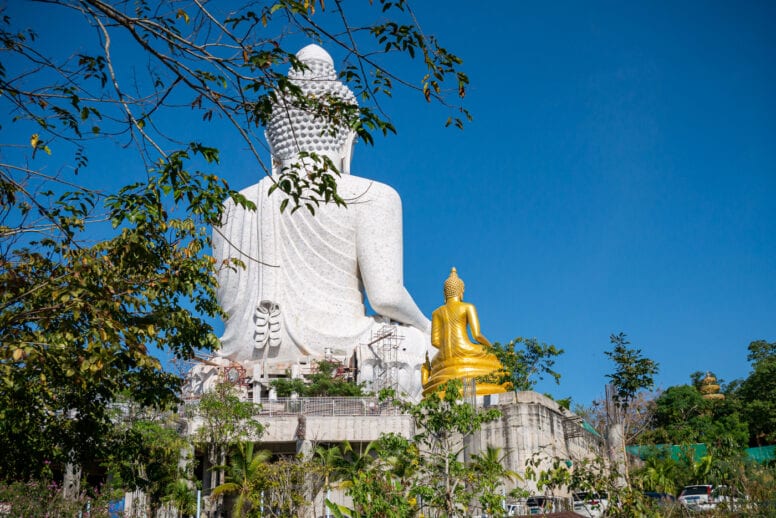 Apart from admiring the statue and soaking in the mystic atmosphere of the place, a visit to the Big Buddha offers a breathtaking view of the whole Phuket from above as well.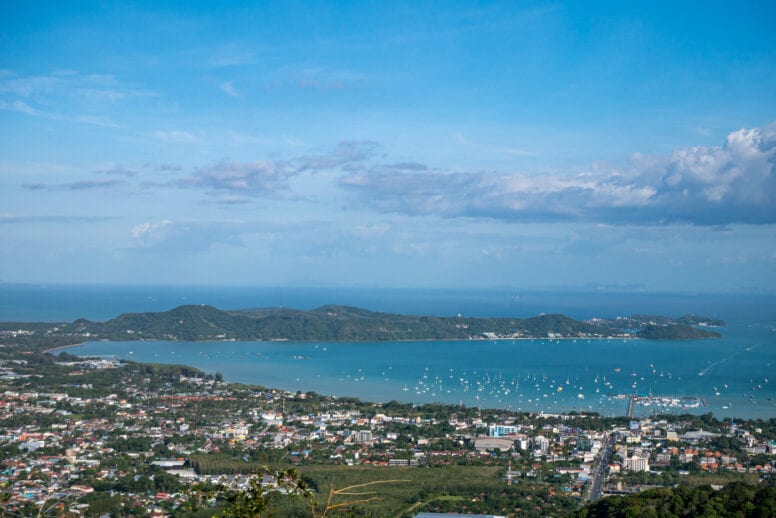 If you're looking for a unique viewpoint with many wonderful photo opportunities you simply can't miss this location.
Address: Soi Yot Sane 1, Chaofa West Road, Chalong, Phuket, Thailand
Opening Hours: daily from 8.00 am to 7.30 pm
Ticket Price: free of charge
Wat Chalong
One of the most important things to do in Phuket is visiting Wat Chalong – the most significant Buddhist temple of the island.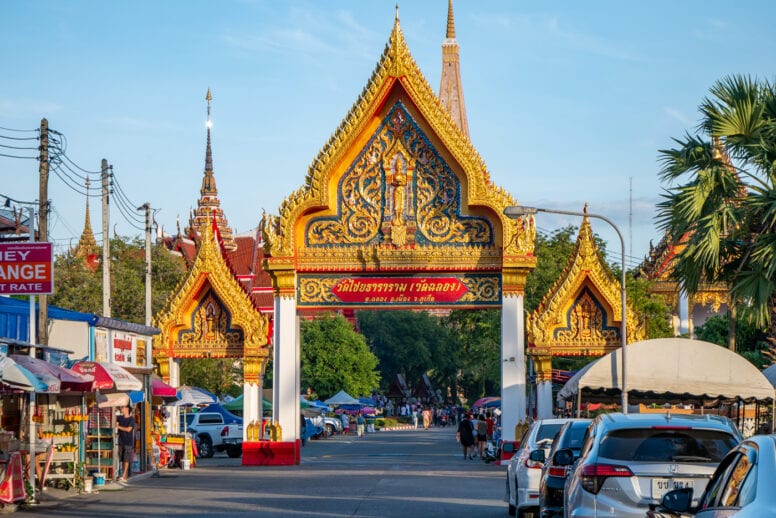 Wat Chalong dates back to the 19th century which means it is one of the oldest temples you'll find in Phuket.
When visiting Wat Chalong take your time to admire in the beautiful architecture of this place and its decorations.
Once inside, soak in the tranquil and mystical atmosphere of the temple while admiring many golden Buddha statues at the same time.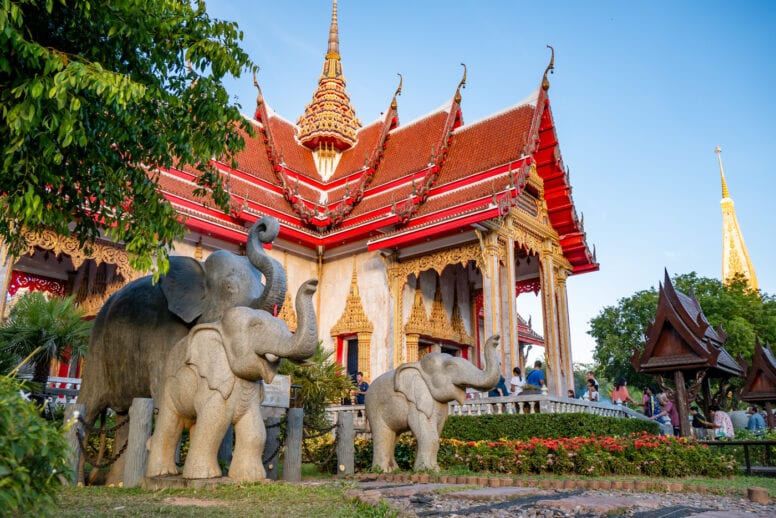 Wat Chalong Temple is set in the middle of a beautiful and well-kept garden. It is surrounded by many ponds and trees which offer a pleasant relief from the oppressive tropical heat.
TIP: If you want to learn more about other important temples in Thailand read my guide to things to do in Bangkok where I included the ancient Buddhist temples and all the other top attractions you can't miss.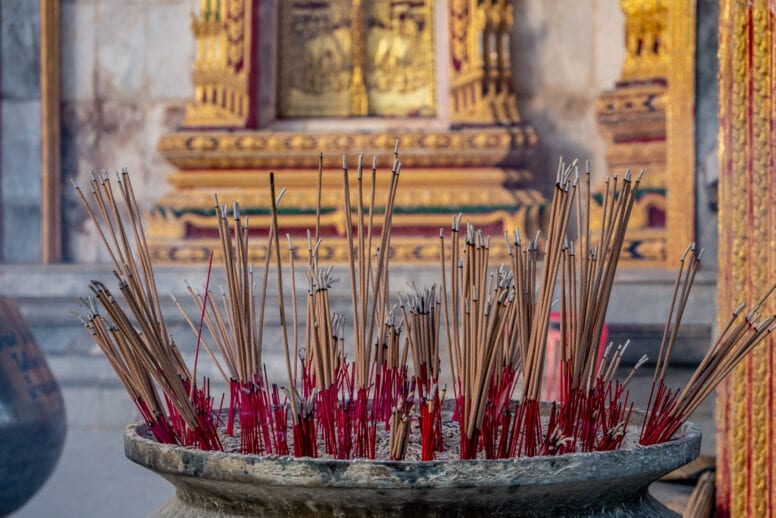 Address: 70 Moo 6 Chao Fah Tawan Tok Road, Chalong, Phuket, Thailand
Opening Hours: daily from 7.00 am to 5.00 pm
Ticket Price: free of charge
Kamala Beach
A holiday in Phuket means spending a lot of time at the beautiful tropical local beaches.
One of them is certainly the charming Kamala Beach located about 6 miles north from Patong.
Kamala Beach is a romantic and quiet corner, ideal for a relaxing time far away from all the hustle and bustle.
There are some lovely beachfront restaurants available there so you can have a delicious Pad Thai while enjoying a spectacular view at the same time.
Those of you who fall in love with Kamala Beach may also decide to spend their entire holiday there and book a room at one of the hotels located nearby such as Sunprime, Layalina Hotel or Swissotel Suites.
Phuket Simon Cabaret
When it comes to fun things to do in Phuket one of the attractions you can't miss is definitely the Phuket Simon Cabaret.
"Thailand's most famous ladyboy show" will welcome you with an incredible blend of music, theater, and colors.
During the one hour show, you'll be able to see talented performers dancing and singing and also admire their unique outfits and makeup.
Keep in mind that this cabaret is totally family-friendly so feel free to bring your children with you as well.
Phuket Simon Cabaret takes place every night at 6.00 pm, 7.30 pm and at 9.00 pm and it's always best to book your tickets a couple of days in advance.
Address: 8 Sirirach Road, Patong Beach, Kathu, Phuket, Thailand
Opening Hours: there are three shows available at 6.00, 7.30 and at 9.00 pm
Ticket Price: 1000 THB
Soi Dog Foundation
Soi Dog Foundation is a non-profit organization that's been helping stray cats and dogs in Phuket since 2003.
A holiday in Thailand is an excellent occasion to support them in the amazing job they're doing for the local animals.
There are many ways to help Soi Dog Foundation, you can donate money and supplies, do some volunteering or even adopt a cat or a dog.
Even when your stay in Phuket comes to an end you can keep helping by sponsoring a dog with a monthly donation.
Check out the official website of the Soi Dog Foundation for more information regarding their mission and other ways to support them.
Address: Soi Dog Foundation, 167/9 Moo 4, Soi Mai Khao 10, Tambon Mai Khao, Amphur Thalang, Phuket, Thailand
Phuket Seashell Museum
If you're looking for fun things to do in Phuket when it rains we recommend visiting the Phuket Seashell Museum.
This unique museum is filled with collections of beautiful and rare seashells coming from both Thailand and from the rest of the world as well.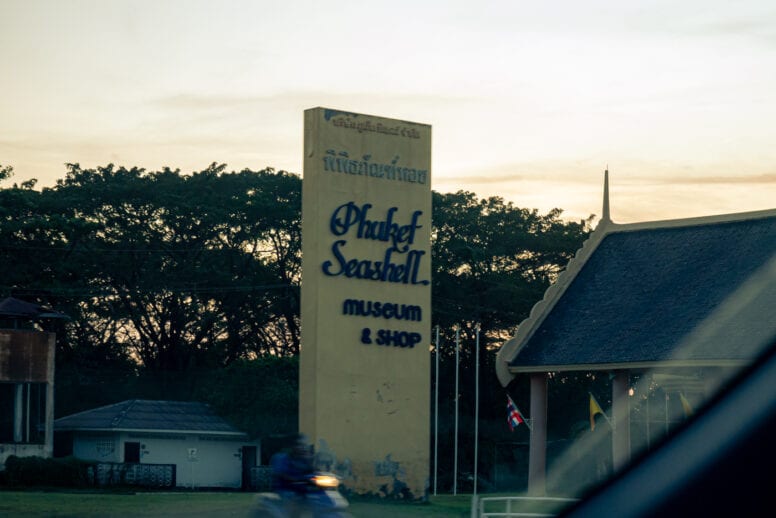 There are seashells of all shapes, sizes, and colors available and you'll get a chance to learn many interesting and fun facts about them.
Phuket Seashell Museum is a great place to visit for both adults and children and it comes highly recommended on our list of things to do in Phuket.
When your visit to the museum is completed you can buy some seashells related souvenirs in the shop located on the upper floor.
Address: 12/2 Moo 2, Viset Road, Rawai, Phuket, Thailand
Opening Hours: daily from 9.00 am to 5.30 pm
Ticket Price: 200 THB
Travel Tip: Thailand is one of the most beautiful countries in the world and it is filled with many amazing islands and fascinating cities. If, once your holiday in Phuket is over, you're planning to explore it further make sure to read our guides regarding
things to do in Koh Chang
and
things to do in Ao Nang
.
Promthep Cape Viewpoint
There is no better spot on the whole island to admire a sunset than from the Promthep Cape Viewpoint.
It is located on the southern tip of Phuket and a short distance away from Yanui Beach and from Nai Harn Beach.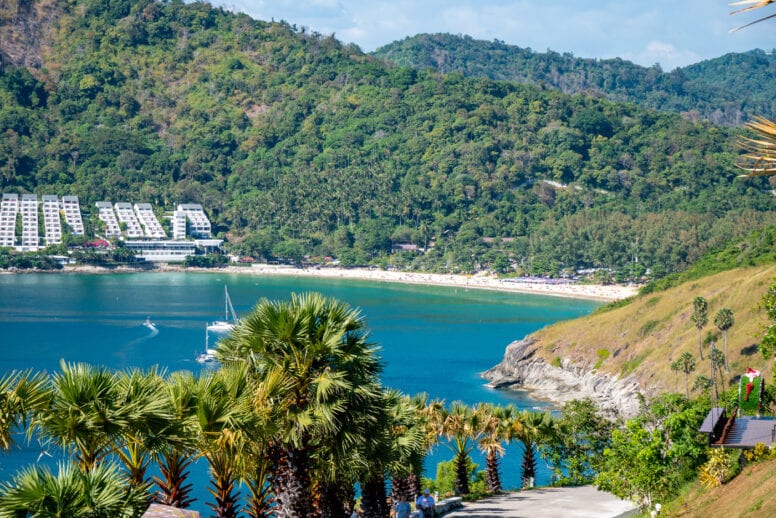 Although understandably, it is most frequently visited in the evening, Promthep Cape Viewpoint offers amazing vistas at any time.
On a clear day, you may also spot the famous Thai islands such as Koh Phi Phi in the distance and take pretty unique photos as well.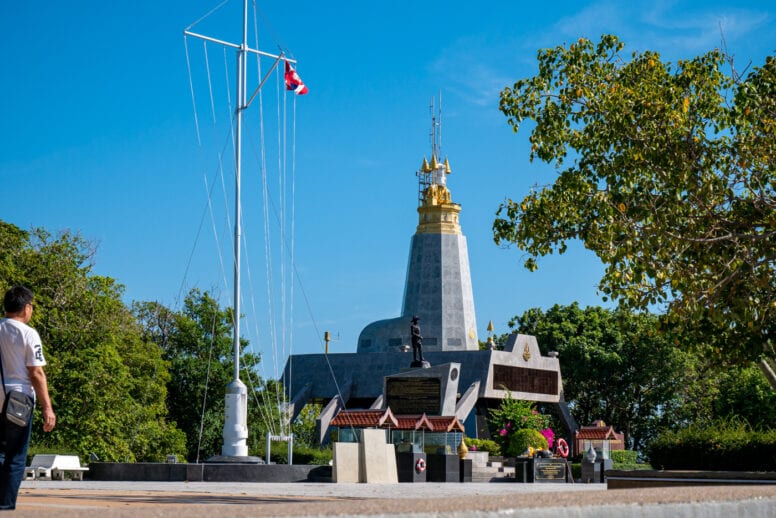 Also, if you're wondering where to eat in Phuket and looking for the best restaurants you might want to check out the Promthep Cape restaurant that serves delicious Thai cuisine and comes with a one-of-kind view.
Old Phuket Town
When it comes to things to do in Phuket one of the places you definitely shouldn't miss is Old Phuket Town.
This historic district is an interesting location to visit and gives you a glimpse into Phuket's past times.
What started as a tin-mining center has become, with the growth of tourism one of the main tourist attractions of the island.
The best way to explore Old Phuket Town is on foot and even better without a plan and a specific itinerary.
After all, this is a pretty small area and you'll find all there is to see here simply by walking around.
In Old Phuket Town you'll come across many beautiful examples of the Sino-Portuguese architecture, brought to Phuket by the Western settlers back in the 16th century.
TIP: Many great examples of this architecture style are present in Chinatown in Singapore as well. Read my post about things to do in Singapore to see the pictures and learn more about it.
Some of the significant points of interest in Old Phuket Town are Thai Hua Museum, the Chinese Jui Tui Shrine, and the Baan Chinpracha Mansion.
This district is also well-known for being home to some of the best restaurants in Phuket so stopping by for dinner is a must.
Nai Harn Beach
Situated in the southwest of Phuket, Nai Harn is one of the most beautiful beaches available on the island.
Nai Harn is a long sandy beach, ideal for sunbathing and for taking relaxing walks along the seashore.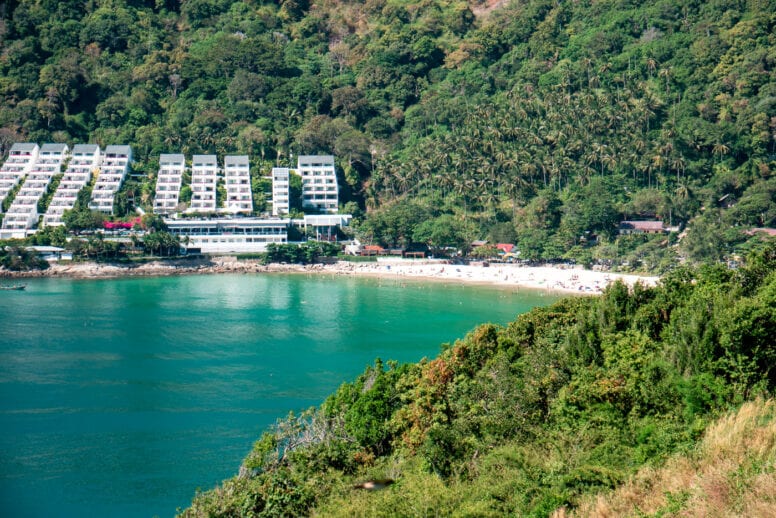 It is possible to rent beach chairs and umbrellas there or you can take advantage of the free beach if you prefer.
Usually, there are some small vendors selling water, coconut and fruits at Nai Harn but other than that there aren't any restaurants available right at the beach.
Because it is pretty big Nai Harn Beach, although pretty popular with both tourists and locals hardly ever feels overcrowded.
Nai Harn Beach is often a go-to spot for families and couples because it offers a tranquil and relaxing setting, far away from all the hustle and bustle of the busier areas in Phuket.
Phuket Sunday Night Market
Your holiday in Phuket can't be considered complete without a visit to the Phuket Sunday Night Market.
Every Sunday crowds of tourists and residents come to Phuket town to shop, bargain, eat or simply to walk around and enjoy the unique atmosphere.
Just like in most of Thailand's markets, expect endless shopping stalls filled with all kinds of goods.
From clothes, bags, and souvenirs to exotic fruit and delicious food – all of that and much more at convenient prices.
Knowns also as Phuket Walking Street, this market is a fun place to visit and an ideal location to get some gifts for family and friends back home.
Make sure to grab something to eat at the food stalls available or stop by for dinner at one of the local restaurants located nearby the market.
Phuket Elephant Jungle Sanctuary
In Paklok, in the northeastern part of the island lies Phuket Elephant Jungle Sanctuary.
This sanctuary is a wonderful place that saves elephants who were used to work in the tourism industry.
If you love animals and elephants, in particular, this is a place we recommend visiting rather than engaging in activities that use them for trekking or for shows.
In the Phuket Jungle Sanctuary, these beautiful animals can finally enjoy freedom right in their natural habitat where they belong and spend time surrounded by other elephants.
In order to respect the elephants, during your visit you'll be only able to admire them from a distance and take part in the feeding process.
You should book your visit to the sanctuary in advance and the whole thing will take around three and a half hours.
If you want to support Phuket Jungle Sanctuary you can apply for their volunteer program or make a donation.
For more information on how to help check out their official website at www.phuketelephantsanctuary.org.
Address: Phuket Elephant Sanctuary 100, Moo 2, Paklok, Phuket, Thailand
Similan Islands
Around 52 miles north-west of Phuket lie the beautiful Similan Islands – a postcard-like place with dazzling beaches and emerald waters.
If you love admiring marine life, this is probably one of the best locations available to do so in Thailand, together with other islands such as Koh Rok and Koh Lanta.
It's important to remember that Similan Islands can only be visited from mid-October to mid-May and they're closed to the public during the rainy season.
In order to protect the environment, the number of daily visitors allowed to enter the Similan Islands is limited so make sure to plan and book your trip well in advance.
Sirinat National Park
Another great location on our list of things to do in Phuket is Sirinat National Park.
If you want to explore more beautiful beaches and get a chance to admire some impressive underwater life you should definitely add this place to your travel itinerary.
Sirinat National Park is located about 20 miles north of Phuket town and depending on the traffic it should take less than an hour to reach by car.
Apart from the stunning beaches, this National Park is home to an incredible selection of trees and plants and also to many beautiful animals.
In fact, if you're lucky you might even spot a sea turtle, a rare bird or a cat-eyed snake.
Depending on what you enjoy doing, you can take long walks, practice snorkeling, swimming or simply lie in the sun with a good book.
Keep in mind that Sirinat National Park is located in proximity to the airport so inevitably there will be some noise every now and then.
Address: 89/1, Moo 1, Nai Yang, Sakhu, Phuket, Thailand
Ticket Price: 200 THB
Kathu Waterfall
Waterfalls are an important part of Thailand's tropical scenery and offer a perfect opportunity to "get to know" and spend some time in the jungle as well.
Although quite small in size, Kathu Waterfall is one of the places definitely worth visiting while holidaying in Phuket.
A pretty difficult hike, including some steep steps, is required to reach this waterfall so make sure to wear comfortable footwear and bring some water.
During the climb you'll be surrounded by amazing nature, jungle sounds and scents which are an assault on all senses.
As mentioned before, Kathu Waterfall is a small but definitely charming cascade set in the picturesque scenery.
Keep in mind that the appearance of Kathu Waterfall changes depending on the season and if you want to see it its best, it is recommended to plan your trip for the rainy season.
Island Hopping
A holiday in Phuket is an excellent opportunity to explore smaller islands located nearby.
A quick long-tail boat ride is all it takes to reach some awe-inspiring and secluded locations such as Coral Island, Koh Bon or Banana Beach.
Especially if you're staying in the Rawai area, these three beautiful islands are easy and fast to reach with many long-tail boats available daily.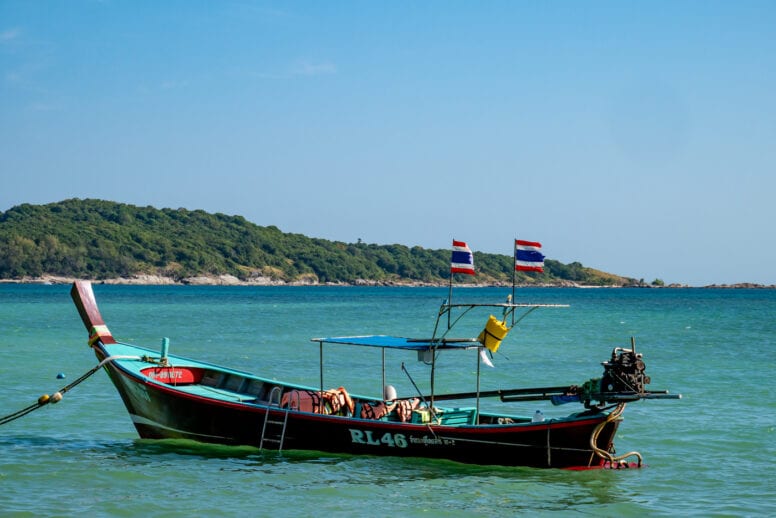 It is also possible to travel to more distant islands such as Koh Phi Phi, Koh Rok or Koh Lanta but in this case, it is necessary to arrange transport via speedboat.
If you enjoy traveling and constantly discovering new places, you should definitely add island hopping to your list of things to do in Phuket.
Wat Phra Thong
In addition to Wat Chalong, another important temple to see in Phuket is certainly Wat Phra Thong.
The most significant part of this ancient temple is the half-buried golden Buddha which attracts a large number of worshipers every day.
Because of its small size, you're not going to spend much time inside the Wat Phra Thong and 15 minutes will be enough to see everything.
Once there you can also visit the adjacent museum that features a large collection of interesting and historical items.
Address: 172/2​ Nanai Road, Thalang District, Phuket, Thailand
Opening Hours: daily from 8.00 am to 5.30 pm
Surin Beach
Surin Beach, located about 7 miles north of Patong is another great spot to remember when planning a relaxing beach day in Phuket.
This sandy and palm tree-lined beach offers an ideal setting for an unforgettable time filled with sun, swimming and fresh coconuts.
Surin Beach is cleaner and calmer compared to other famous beaches in Phuket and is also a popular destination among the locals.
You can buy your lunch and fresh fruits at the small eateries available nearby and enjoy it right at the beach.
If you fall in love with this area you might want to consider Surin Beach Resort for your accommodation in Phuket.
Thai Hua Museum
Situated in the beautiful classical building there is the Phuket Thaihua Museum.
What started as a school for Chinese residents many years ago has now become an interesting museum with many fascinating items.
At Thai Hua Museum you will get a chance to learn more about Phuket's history and particularly about the past of the Chinese community.
If you want to take a short break from the beaches or you're looking for interesting things to do in Phuket when it rains you should definitely consider visiting the Thai Hua Museum.
Address: 28 Krabi Road, Amphoe Mueang Phuket, Chang Wat Phuket, Thailand
Opening Hours: daily from 9.00 am to 5.00 pm
Ticket Price: 200 THB