Koh Lanta, Thailand – perfect honeymoon and holiday destination filled with palm trees, crystalline water, sandy beaches and romantic sunsets.
This dreamy island, located off the Andaman Coast is a peaceful and relaxing place but at the same time offers a long list of things to check off your to-dos.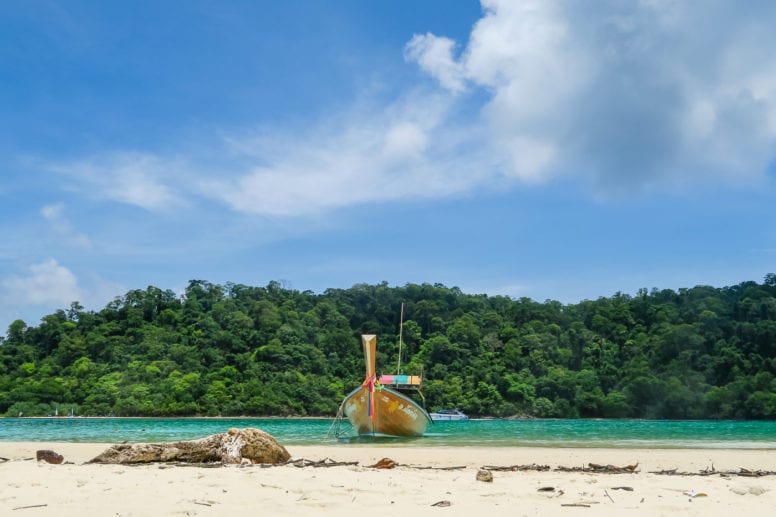 Make the most of your time in Koh Lanta, enjoy the extraordinary surroundings while soaking in the unique Thai culture, trying delicious local dishes, visiting the nearby islands and unwinding your body and mind.
And don't forget to bring our list of the best things to do in Koh Lanta along – we've got all the best attractions and points of interest covered for you.
Explore Mu Koh Lanta National Park
Mu Koh Lanta National Park is one of the most important National Parks in Thailand and a must-see on our list of things to do in Koh Lanta.
It consists of many beautiful islands and beaches and offers a myriad of wonderful adventures, views, and photo-opportunities for curious explorers from around the world.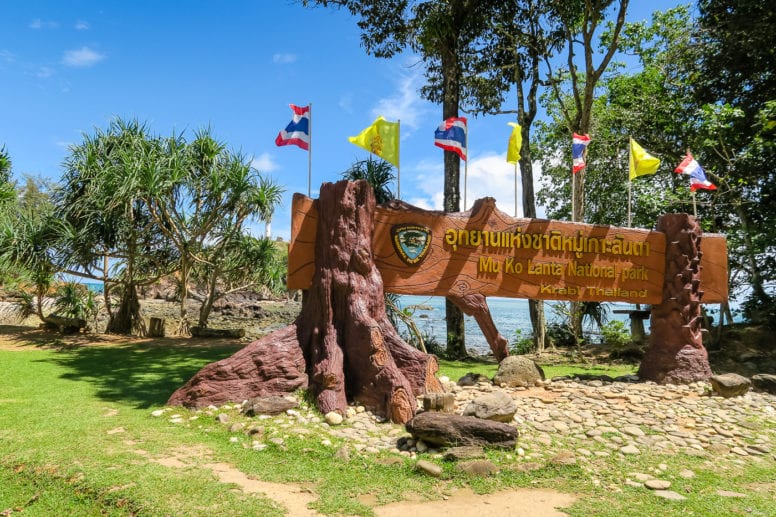 It's also very likely to come across a family of monkeys in this wildlife-rich marine park so watch out! Those little cheeky friends are always willing and ready to rummage in your bag searching for snacks!
The headquarters of the National Park is located at the southern tip of Koh Lanta and you can reach them either with a taxi or by scooter.
Mu Ko Lanta National Park Entrance Fee
You will need to pay an entrance fee which is 200 THB for foreigners and 40 THB for Thai plus 20 THB for a motorbike and 30 THB for a car.
The facilities there include a parking lot, an eatery, a camping ground, and some toilets too.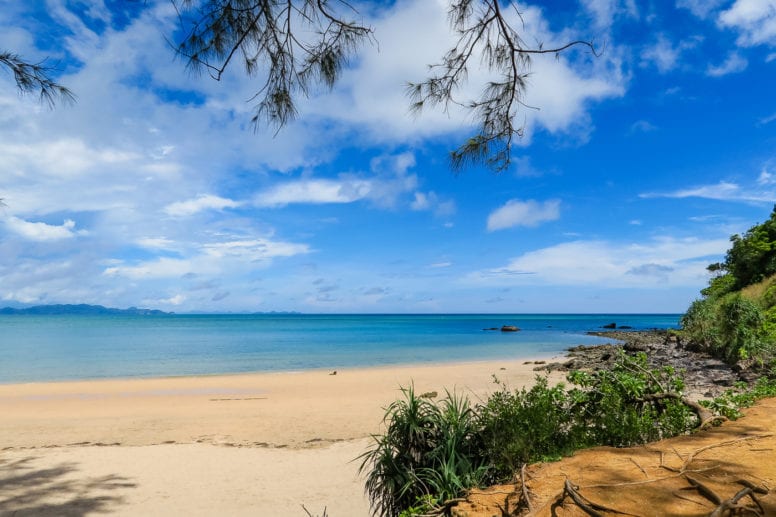 Once there you'll have a chance to enjoy one of the most beautiful beaches on the entire island – a quiet spot with clear blue water and soft sand.
You'll also notice a picturesque lighthouse on a cliff overlooking the beach – you can walk up there or simply enjoy the view from below.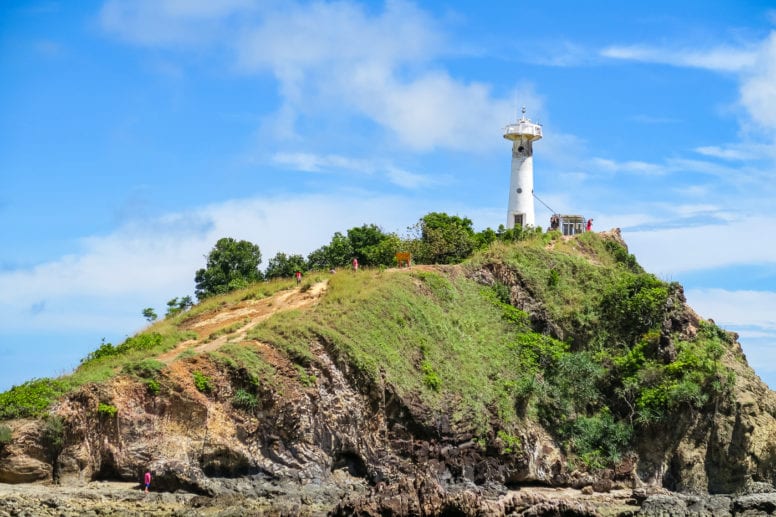 You can spend just a couple of hours or an entire day at Mu Koh Lanta National Park – time passes by real quick when you're in such a beautiful location surrounded by nature.
Address: Moo 5, Ko Lanta, Thailand
Take a Cooking Class in Koh Lanta
When you travel to Koh Lanta you'll be introduced to a wonderful (and let me add delicious) world of Thailand's culinary tradition.
Thai cuisine is one of the most flavourful in the world and there's a long list of dishes you can't miss while holidaying in the Land of Smiles.
Thai cuisine is one of the most flavourful in the world.
Barbara, Crab In The Air
The best thing is that apart from eating the food you can also take a cooking class and learn how to make it all by yourself.
Cooking with Mon
One of the cooking schools in Koh Lanta you might want to take into consideration is called Cooking with Mon.
During the course, you'll learn how to prepare the traditional Thai dishes such as Pad Thai or Sticky Rice with Mango with the constant support from Mon.
The classes take place outside and the atmosphere is fun and relaxing which makes the learning process a lot easier and more pleasant.
Address: 23/4 Moo 1, Koh Lanta Yai, Koh Lanta, Krabi 81150, Thailand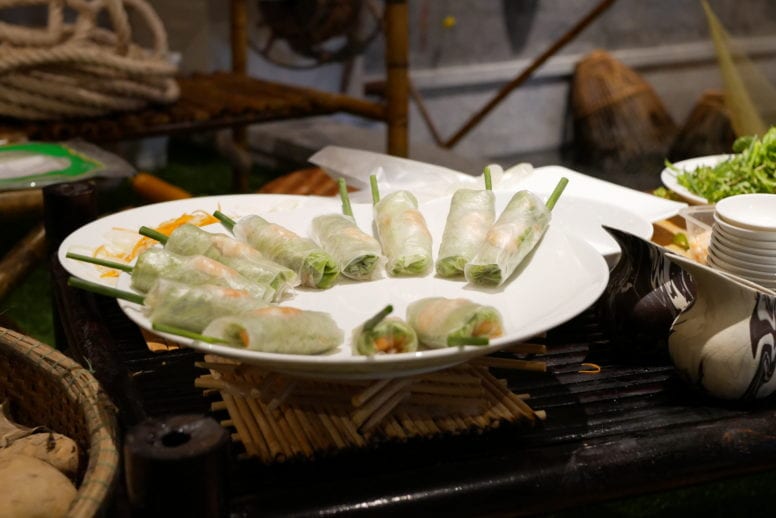 Lanta Thai Cookery School
Another great cooking class in Koh Lanta is Lanta Thai Cookery School where you'll meet friendly teachers and you'll receive a book with all the amazing Thai recipes.
Address: Sala Dan, Ko Lanta District, Krabi 81150, Thailand
Time For Lime Cooking School
For the ultra-creative experience check out the Time For Lime Cooking School where the welcoming chefs will give you many useful tips regarding cooking and making fantastic cocktails.
Address: 72/2 Moo 3, Saladan, Koh Lanta, Krabi 81150, Thailand
Joining a cooking class in Koh Lanta is a fun and enriching experience during which you'll discover new spices, flavors and textures.
You'll also meet wonderful local teachers and other travelers from all over the world who share your same passion for Thai food and culture.
This time, after your holiday, is over, you're not only bringing souvenirs and photos back home with you but also a brand new skill and lovely memories of time well spent.
Visit Koh Lanta Old Town
Koh Lanta Old Town is one of the most picturesque and interesting areas on the entire island.
This small village, located on the east coast used to be an important center of life in Koh Lanta, serving as a port as well.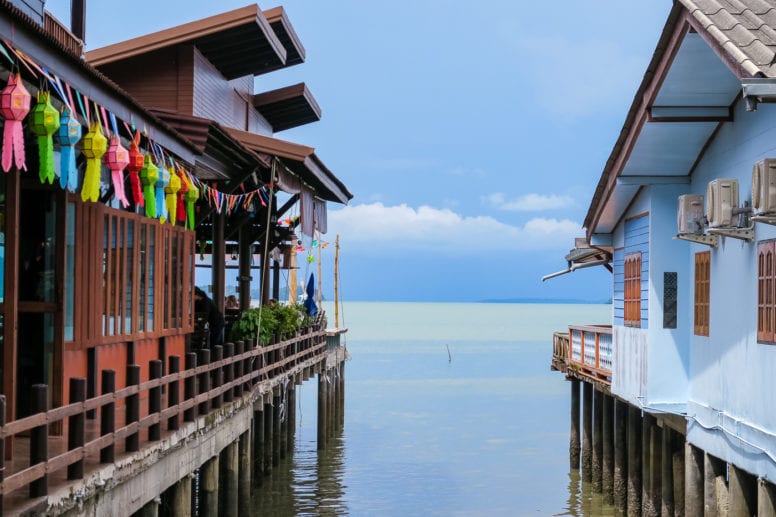 Nowadays Old Town is a cute place and a reminder of traditional Thai culture and old-time ways of living.
Daily life in Old Town revolves around the main street and this is also where all the beautiful colorful houses, restaurants, bars, souvenir stands, shops, juiceries and also a pharmacy are located.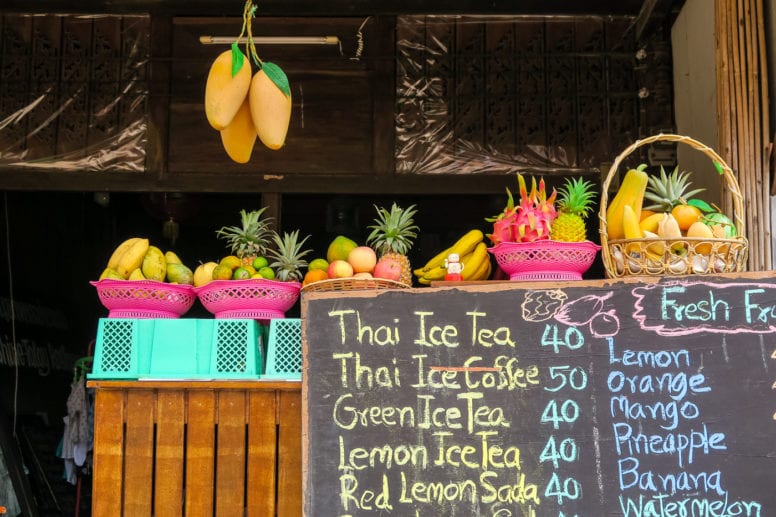 It is highly recommended to stop by for a meal in one of the local eateries which are mostly family-run, easy going and unpretentious places.
You'll also come across a small temple which is a reminder of Chinese influence and a tribute to their community.
If you want to get a meaningful gift for a friend or family member back at home support the local community and head to one of the craft souvenir shops located along the street.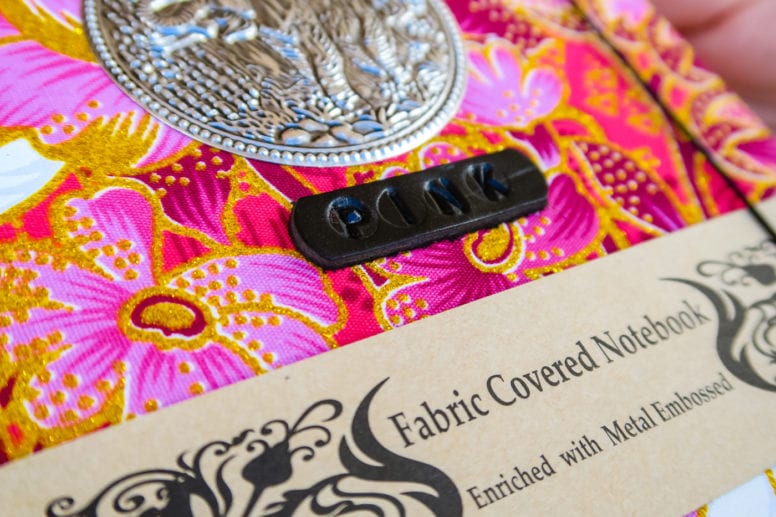 Make sure to walk to the pier as well where you can take some amazing photos of the ocean and of the colorful fishing boats too.
If you happen to visit Koh Lanta in March you'll have an opportunity to join the Laanta Lanta Festival which is held in Old Town. It lasts a couple of days and the narrow streets of Koh Lanta Old Town fill up with music, dancers, lanterns, and people who come together to celebrate the cultural diversity of the island.
If you want to take the most of Old Town and soak into the fullest its laid back atmosphere book a room in one of the guest houses available and stay there overnight.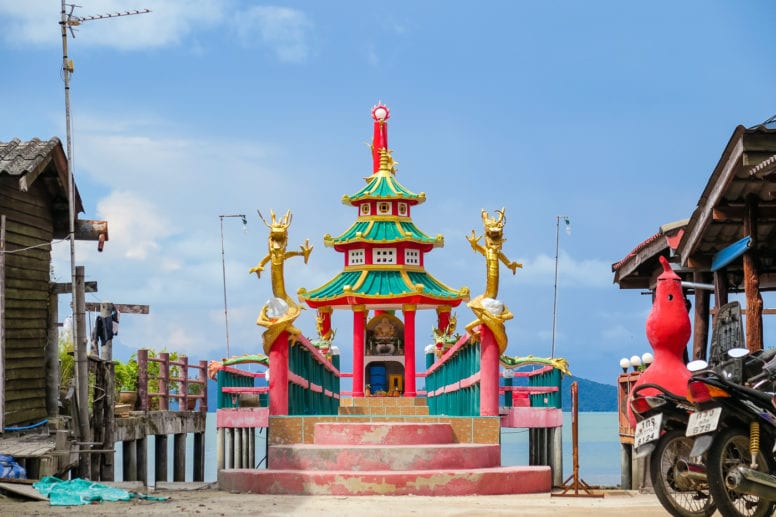 Whatever you decide to do I'm sure you'll live unforgettable moments and make amazing memories in this charming village.
Address: Sri Raya Road, Ko Lanta, Thailand
Support Lanta Animal Welfare
Lanta Animal Welfare is a non-profit organization and its primary goal is to care for homeless and abused animals in Koh Lanta.
Lanta Animal Welfare has been supporting animals since 2005 with the continuous campaigns of treatment and sterilization.
They also recognize the importance of education on these issues and spend time teaching the new generations about love and respect for animals.
If you want to see the amazing job this organization is doing you should dedicate at least a few hours of your holiday in Koh Lanta and pay them a visit.
You can take a guided tour around the Kitty City which is home to more than 30 furry friends since 2007 or, if you feel confident enough, exercise a rescue dog.
Another way to support Lanta Animal Welfare is helping them with all the daily tasks around animals such as playing, feeding, grooming, etc.
This organization is always in need of donations in order to provide medical supplies, food and all the other essentials to their animals.
If you feel called to contribute you may do so directly at their headquarters in Koh Lanta or through the official website: www.lantaanimalwelfare.com.
There is also a possibility to adopt a dog or a cat and take them to your home country with you.
Consider this option if you feel that you have enough space in your house and most importantly in your heart – a forever home is the best thing that can happen to those cute beings.
Address: 629 Moo. 2, Ko Lanta, Thailand
Opening Hours: Daily from 9 am to 5 pm
Take a Day Trip To Koh Rok Island
If you're looking for a postcard-like island with clear water and beautiful white beaches you should take a day trip to Koh Rok.
Organizing a trip to Koh Rok is easy, you can ask the staff at your hotel to make all the arrangements or head to one of the travel agencies in Koh Lanta.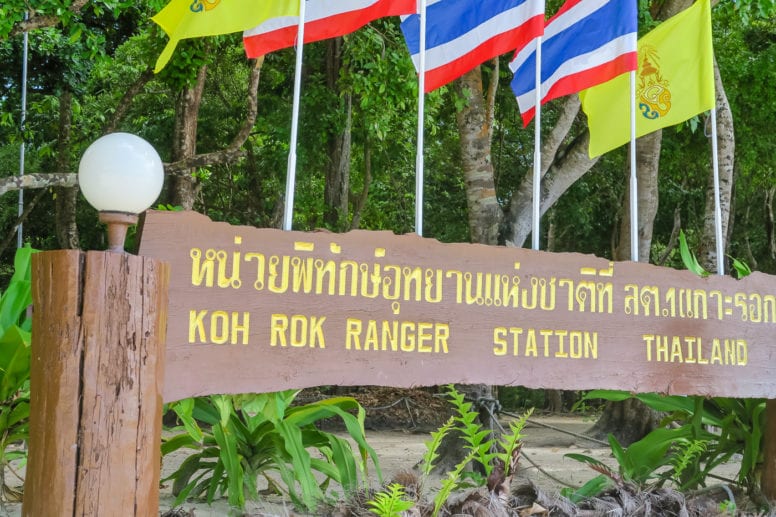 Getting to the island will take around one hour by a speed boat and if you leave early in the morning you'll enjoy a few hours of quiet and a deserted beach only for yourself.
Koh Rok Island is a part of Mu Koh Lanta National Park so it's still pretty much wild and untouched which also means there aren't many facilities there.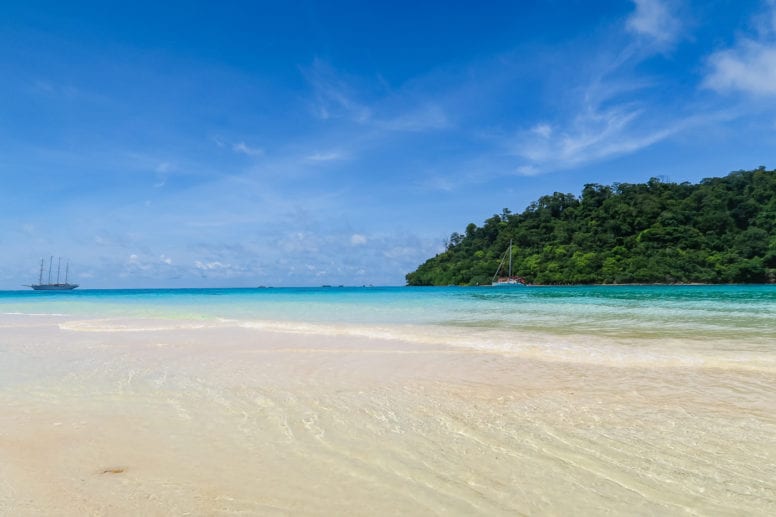 Remember to bring your own lunch and lots of water as you won't be able to buy any directly on the island and it gets really hot.
Snorkeling enthusiasts love Koh Rok because it's one of the best locations in Thailand to admire the underwater life.
Make sure to bring your mask, fins and snorkels and enjoy your time watching the beautiful and colorful fishes swimming around you.
If you have a GoPro or other underwater camera you'll have a chance to take stunning photos too.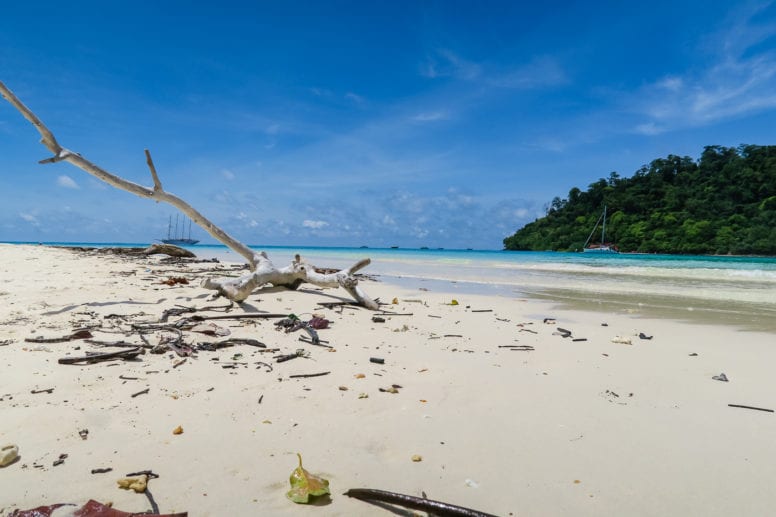 Spending a day in Koh Rok is all about swimming, lying in the sun, relaxing and simply forgetting about the entire world.
When it gets too hot you can take a break from the sun and sit under a palm tree with a good book.
And last but not least, remember to respect the environment and be a responsible tourist. Don't leave any trash behind, don't throw anything in the water and make sure to bring all the plastic back with you.
Relax on Phra Ae Beach (Long Beach)
Phra Ae Beach known also as Long Beach, located in the north-east is one of the most popular beaches in Koh Lanta.
As the name implies, this beach offers plenty of space which guarantees tranquility and privacy to all the visitors.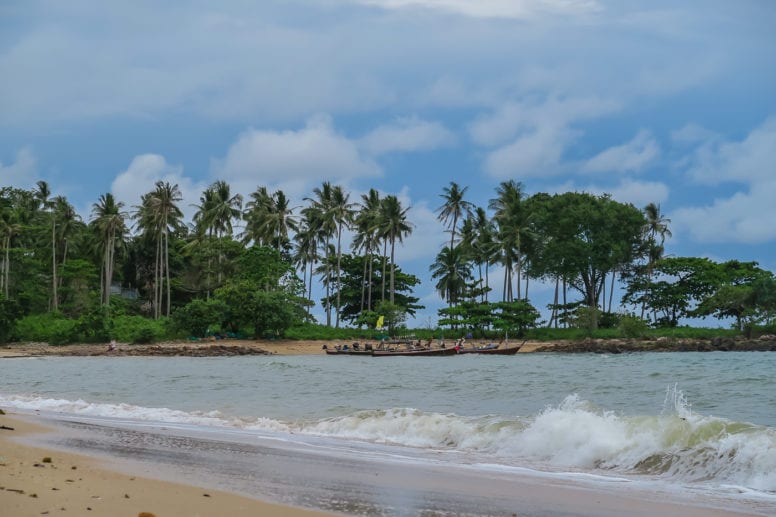 Along the Phra Ae Beach, there are some resorts, hostels, and bungalows as well as a choice of picturesque small restaurants serving delicious local cuisine.
This area is especially loved by backpackers who choose it as their base to explore Koh Lanta.
If you love long walks by the sea, this beach is just perfect as it stretches for over 5 km.
If you plan to spend a day at the Long Beach you have to stop by one of the local eateries where you can try the authentic Thai dishes and enjoy the amazing view of the sea at the same time.
Those who stay there till the evening can have a drink and enjoy some music at one of the bars located nearby and admire the stunning sunset that will sweep you off your feet.
…and on other beautiful beaches in Koh Lanta
As you may expect Koh Lanta is a real paradise when it comes to beautiful and tropical beaches.
Apart from Phra Ae Beach, there is a wide choice of lovely places where you can relax and lie in the sun all day long.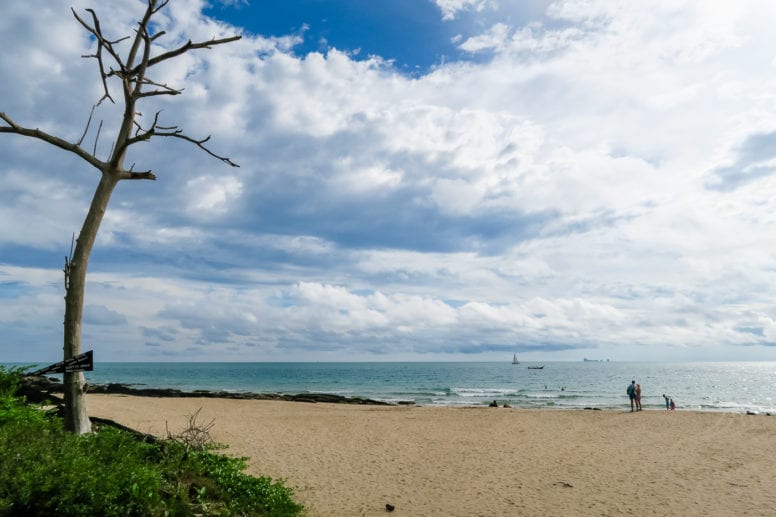 There is the Klong Nin Beach which offers affordable accommodation and is especially loved by backpackers.
Another fantastic beach in Koh Lanta you should visit is Klong Khong – if you look for a perfect location to admire a picturesque sunset this is your go-to spot.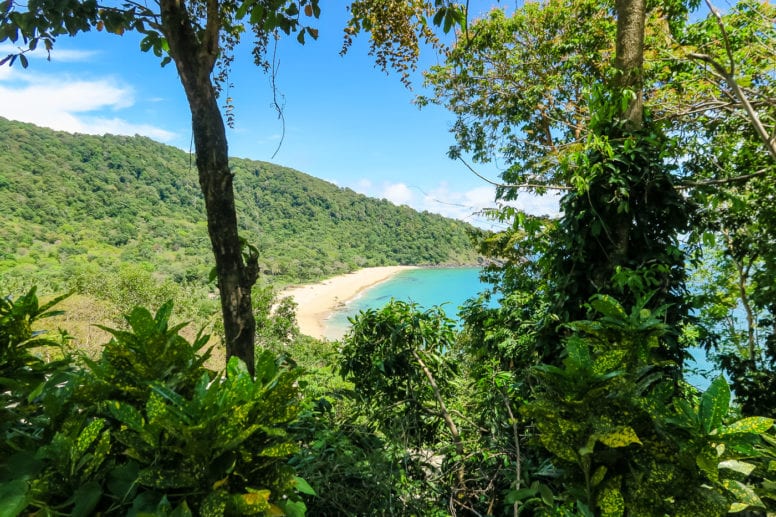 If you like smaller and bay-like beaches you'll fall in love with the postcard-like Bamboo Beach, located towards the southern tip of the west coast and not too far from Mu Ko Lanta National Park.
Nui Beach is even smaller than Bamboo Beach and is an ideal location for a quiet day far away from all the crowd.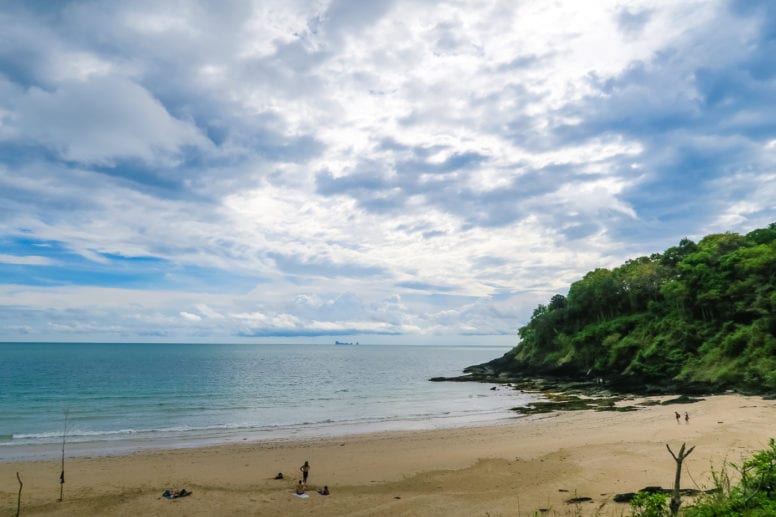 Of course, there are many other amazing spots on the island and if you want to learn more about them read our guide to the beaches in Koh Lanta.
Admire the beauty of Khlong Chak Waterfall
If you want to take a break from lying in the sun and spend some time in the middle of the jungle, surrounded by the sounds of nature you should go and explore the Khlong Chak Waterfall.
Khlong Chak Waterfall, just like Koh Rok mentioned above is also a part of Mu Koh Lanta National Park and one of the top things to do in Koh Lanta, Thailand.
You can visit the waterfall independently or you can go with an experienced tour guide who will share interesting facts and information about all the plants and animals you'll meet on your way.
To reach the Khlong Chak Waterfall you'll need hike for about 30-40 minutes (it might take a bit longer or shorter, depending on your fitness level) which comes highly recommended over elephant riding.
The walk to the waterfall is pleasant and engaging as you'll come across a dam and you'll be constantly surrounded by water and lush greenery.
Once you reach your destination you'll find a beautiful, although not a very big waterfall where you can rest, refresh and simply enjoy the view in front of you.
On your way back make sure to stop by the Khlong Chak Cave which is truly an enchanting and photogenic spot.
Keep in mind that in the dry season the waterfall might be dry but we believe the hike there is still an interesting and scenic experience worth living and so is visiting the cave.
Address: Ko Lanta Yai, Ko Lanta District, Krabi 81150, Thailand
Enjoy Kayaking in Koh Talabeng
About 40 minutes from Koh Lanta lies Koh Talabeng – a stunning rock island ideal for kayaking.
You'll be exploring the emerald green waters and admiring the breathtaking view of two limestone cliffs right from your kayak.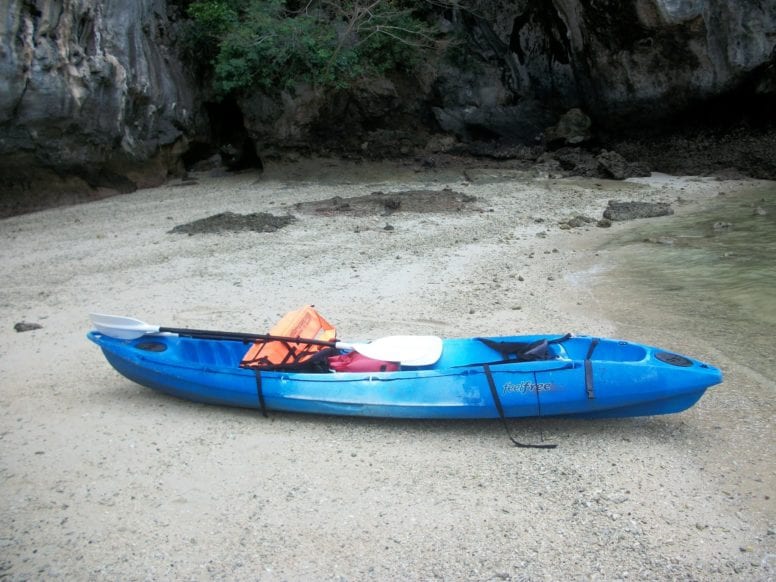 A day trip to Koh Talabeng will normally include some rock climbing and meeting a bunch of cheeky monkeys as well.
Anyone who loves kayaking should have this island on their list of things to do while in Koh Lanta as it is probably the best possible location for this activity.
You'll have a chance to soak in the unique scenery of this place, spend time in nature and enjoy the peaceful surroundings.
When you book this tour try to avoid the busiest times of the day. Koh Talabeng is much more beautiful and enjoyable when it isn't taken by storm by hundreds of tourists.
Pay a Visit to the picturesque Saladan Pier in Koh Lanta
At the northern tip of Koh Lanta Island lies another fascinating point of interest you simply can't miss – the Saladan Pier.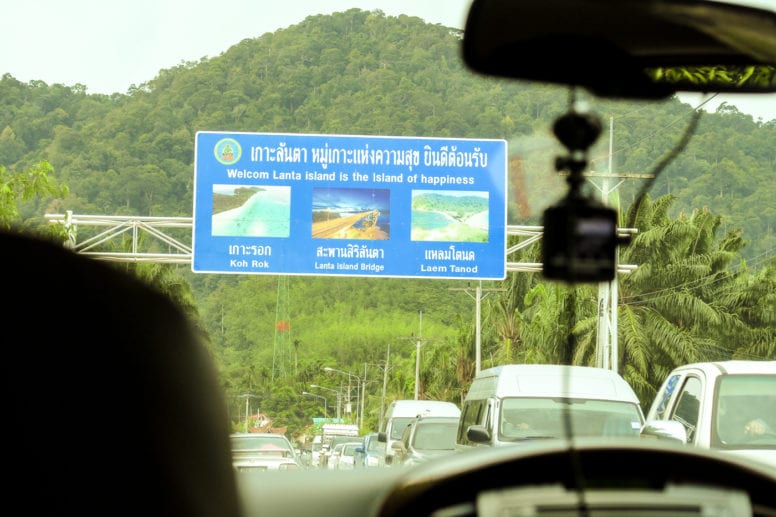 Saladan Pier is where all the ferries and boats come and go to places such as Koh Samui, Phuket, Krabi, Ao Nang and Koh Phangan just to name a few.
If you are planning to continue your travels through Thailand you'll be very likely departing from here.
But even if you're not going anywhere you should still come and explore this charming village, take some photos, do a bit of shopping and have something to eat.
In fact, there are some really nice seafood restaurants located at Saladan Pier and especially in the evenings, the place fills up with tourists and locals alike.
After dinner, you can take a pleasant stroll between shopping stalls that overflow with clothes, bags, souvenirs and handmade goods.
Those of you who travel on a budget might want to check out the affordable waterfront guest houses available in Saladan Pier where you can save some money and enjoy the authentic Thai atmosphere at the same time.
All in all Saladan Pier is a fun and scenic place and a must-see on our list of things to do in Koh Lanta.
Address: Sala Dan, Krabi 81150, Koh Lanta, Thailand
Discover the Marine Life while Snorkelling and Diving
Koh Lanta is a real paradise for all the snorkeling and diving enthusiasts out there.
The island is filled with many spots that are just perfect for admiring the underwater life with its shallow and clear water.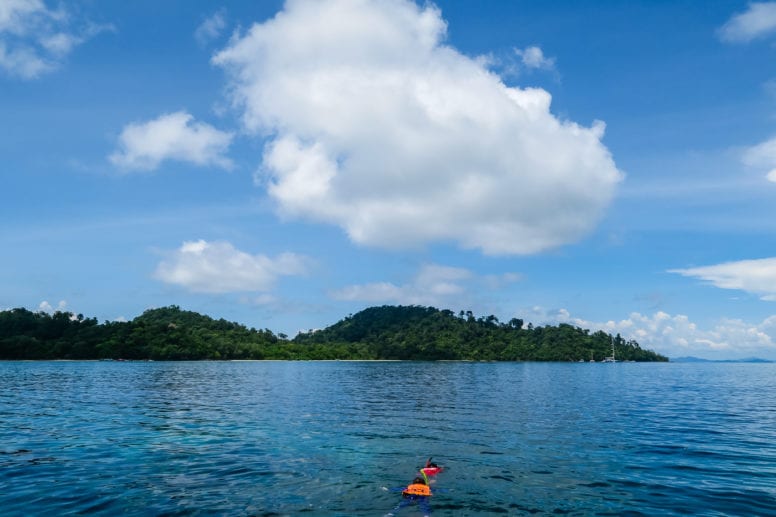 Snorkeling in Koh Lanta
When you visit Koh Lanta you should know that one of Thailand's best snorkeling destination – Koh Rok Island is located nearby.
The islands of Koh Chueak, Koh Mook, Koh Kradan and Koh Ngai are also lovely for anyone who enjoys this activity.
Because of the fact that no special training is required, and the equipment needed to do it is minimal snorkeling can be a perfect family activity and even small children can enjoy it with some supervision from their parents.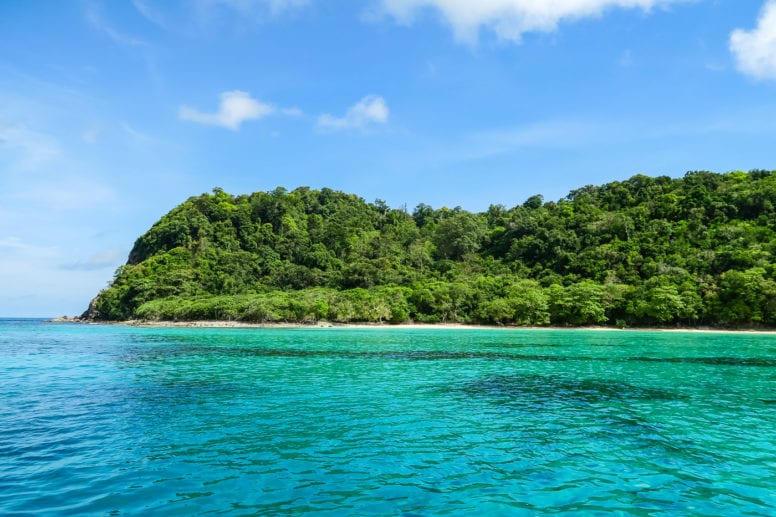 Scuba Diving in Koh Lanta
When it comes to scuba diving some of the best spots in Koh Lanta area include Koh Haa, Bida Nok/Bida Nai, King Cruiser Wreck, Hin Daeng and Koh Rok again.
Of course, with diving, things are a bit more complicated and you need skills, equipment and experience to enjoy it.
You may also head to one of the diving centers on the island where you can take diving lessons or join organized diving trips.
Feed Your Soul and Join Yoga Classes in Koh Lanta
It's been known for a long time that yoga can provide multiple physical and mental health benefits.
It helps to reduce stress, increases flexibility, improves your cardio health and clears your mind just to name a few.
When you travel to Koh Lanta for a holiday and want to achieve total relaxation we suggest you try this ancient practice.
There are so many wonderful places in Koh Lanta where you can practice yoga surrounded by nature and by the sound of the ocean.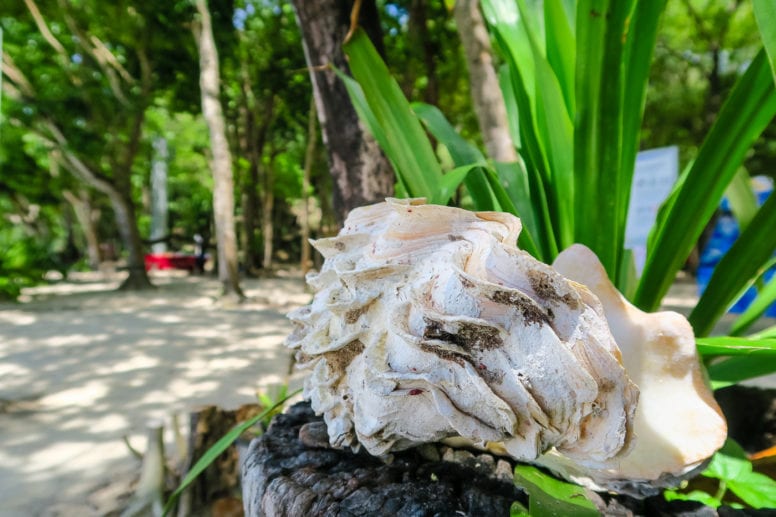 There is the Oasis Yoga (located in 20 Moo 3, Khlong Dao Beach, Saladan) that offers classes for all levels and is set in a lovely garden not too far from the sea.
It's really easy to relax and start your day well in such a quiet and serene environment.
Another great yoga school in Koh Lanta is called Sri Yoga (111, Moo 6 Klongnin Beach).
Sri Yoga offers daily 90-minute classes every day at 8 am and you'll be assisted by passionate and professional teachers.
Lanta Yoga (in 557 Moo 2) offers yoga classes surrounded by trees in such a calming and relaxing ambiance.
The last place we'd like to recommend is Yoga at Sanctuary which is especially convenient for those of you staying at the Phra Ae Beach since it's located at the south end of Long Beach.
You couldn't imagine a better setting for your morning yoga session with a wonderful view of the beach and with the calming sound of waves hitting the shore.
As you can see there is no shortage of yoga classes in Koh Lanta and we hope you'll have an amazing time while feeding your soul and your body at the same time.
Discover Mai Kaew Cave
One of the most adventurous things to do in Koh Lanta is definitely exploring the spooky Mai Kaew Cave.
Located in the central part of the island, Mai Kaew Cave offers a thrilling and fun experience to remember for a long time.
In order to visit this place, you'll have to get a tour guide as individual trips are not allowed.
After a 30 minute walk through the jungle (which is pretty demanding and includes plenty of climbing too) you'll reach the cave.
Now, this is when the fun part starts because you'll need to go through a very small entrance to actually enter the Mai Kaew Cave.
Once inside, you'll be exploring the cave, at times even crawling in narrow spaces and still doing lots of climbing.
You'll also come across many sleeping bats, spiders and other unidentified living creatures (…only half joking).
In order to take the most of this unique experience make sure to wear an appropriate outfit and most importantly comfortable shoes – flip flops are a big no here.
You'll come out wet, sweaty and extremely dirty so don't wear your favorite clothes for this adventure!
At the beginning of the tour, your guide will provide a headlight so remember to keep it on all the time as it is essential inside the dark cave.
Anyone who is an adventure-seeker and isn't afraid of small and confined places is certainly going to love this cave and have a fantastic time exploring it.
Insider Tip: it is usually quite hot in the Mai Kaew Cave so it's a good idea to bring a couple of bottles of water in your backpack just in case.
Address: Moo 6, Koh Lanta
Watch a Sunset from The Reggae Bar
No trip to Koh Lanta can be considered complete without marveling at the beauty of a sunset.
One of the best places to do so is the Reggae Bar located in the north where you can just sit back, enjoy a cocktail and admire the sun disappearing over the horizon.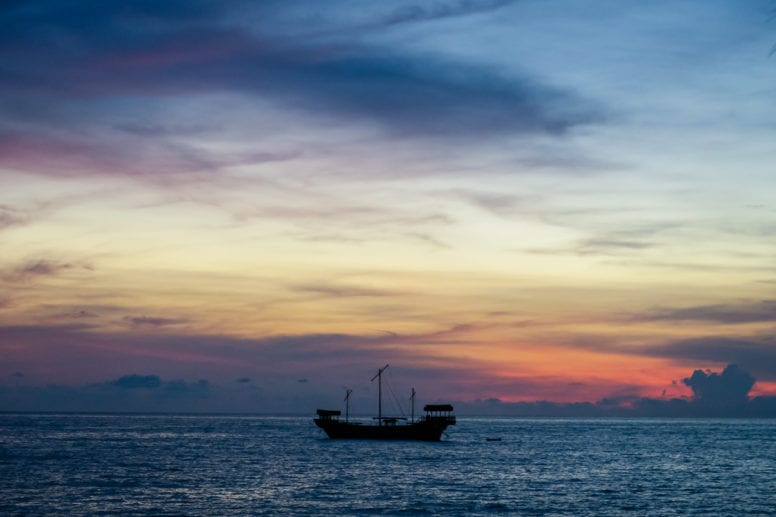 If you're an avid photographer make sure to bring your camera along as this a wonderful photo opportunity as well.
You'll be overwhelmed by the sun casting its golden rays down upon the dark sea and creating a unique visual effect.
When this incredible wonder of nature is over you can continue the evening at the Reggae Bar, have dinner there and enjoy some music.
Enjoy Island Hopping during the 4 Islands Day Trip
One of the best things to do in Koh Lanta and one of the most fun day trips available is the 4 Islands Day Tour.
Treat yourself to an exciting day filled with amazing beaches, snorkeling and transparent water in not one but four different locations.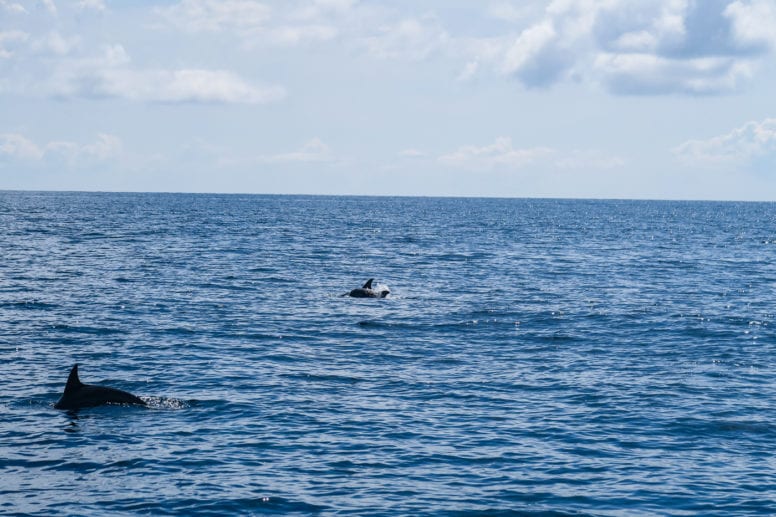 The islands in this tour include:
Koh Chueak
Koh Mook
Koh Kradan
Koh Ngai
You'll be departing from Koh Lanta early in the morning and coming back at approximately 5 pm.
If you book your 4 Islands Day Trip in one of the local travel agencies the price should normally include all the entrance fees, snorkel equipment, and lunch and light snacks throughout the day.
As a part of your trip to Koh Mook island, you'll also get a chance to explore the beautiful Emerald Cave. After an 80m swim through it, you'll reach a stunning secluded lagoon where you'll feel as though you've walked straight into a postcard.
This 4 islands day trip is all about doing plenty of snorkeling, admiring the beautiful marine life, swimming and soaking in the breathtaking views around you.
Make the most of your time there, create amazing memories and take hundreds of photos along the way.
Travel tip: If you're planning to continue your travels around Thailand we recommend reading our guides regarding the best
things to do in Bangkok
and
things to do in Koh Chang
as well. They include many useful tips that will help you make the most of your holiday.
How To Get To Koh Lanta
Koh Lanta by plane
If you're coming in by flight, the nearest airport to Koh Lanta is Krabi International Airport.
From there it will take around 3 hours to reach the island.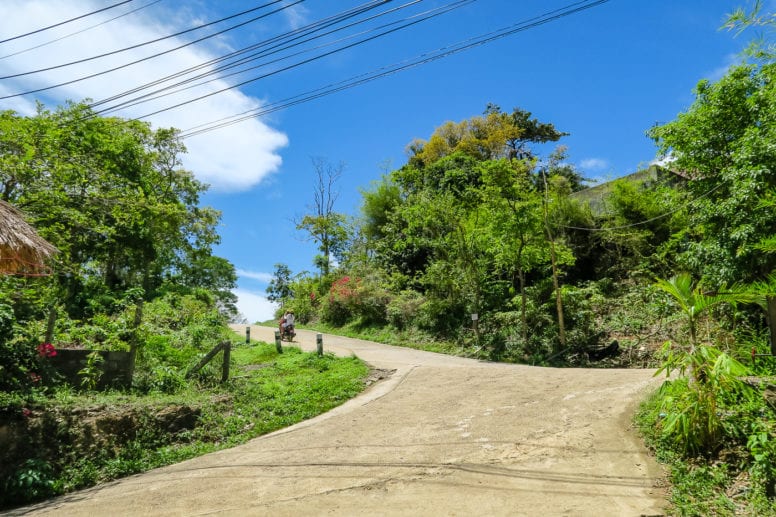 Koh Lanta from Krabi
A tip for those departing from Krabi: Klong Jilad Pier is Krabi's most important pier, check it out for prices and time table.
Koh Lanta from Phuket
If you're already in Phuket, Ao Nang or Phi Phi Islands you might want to consider taking a ferry or a combination of taxi and ferry.
This is one of the most affordable options available and can be interesting for anyone traveling to Thailand on a budget.
Koh Lanta from Bangkok
For those of you who want to reach Koh Lanta from Bangkok, we suggest taking a flight to Krabi but you can check the Phuket and Trang Airport as well. Of course, don't forget to check out our Bangkok itinerary if you're planning to visit the capital of Thailand as well.
There are also buses available between Bangkok and Koh Lanta but we wouldn't recommend this option unless absolutely necessary because the journey lasts about 19 hours.
Best Time To Visit Koh Lanta
The tropical climate in Koh Lanta guarantees high temperatures throughout the year that go between 25 and 30 degrees.
Koh Lanta is characterized by two seasons: the rainy season which runs from May to October and the dry season that runs from December to March.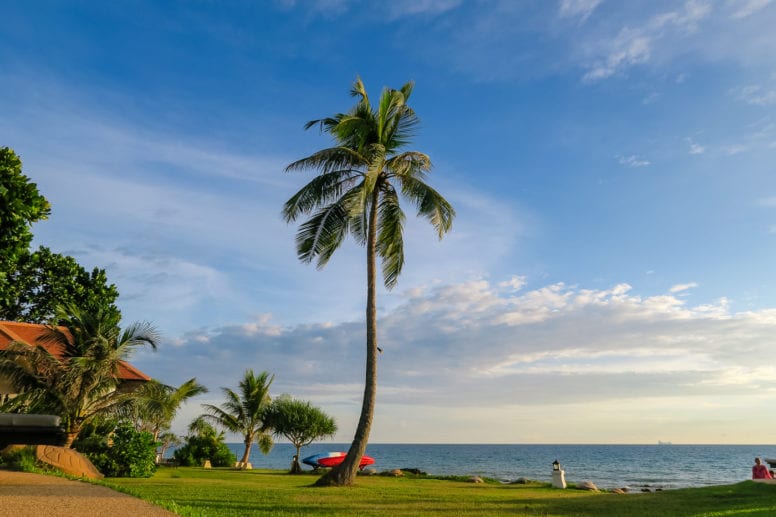 What is the best time to visit Koh Lanta?
Of course, the best moment to visit Koh Lanta is during the dry season, and especially during the month of January.
In the dry season, the climate is pleasant and the weather is hot and sunny with sporadic rain.
Two months with the highest level of rain are September and October and it is often impossible to reach the island during this time because of the difficult sea condition.
Koh Lanta Hotels – Where To Stay in Koh Lanta
In order to make the most of your holidays in Koh Lanta, you'll need to choose a hotel that meets your needs and your budget as well.
Below we prepared a list of the best hotels for those of you who look for high-end solutions and also for those traveling on a budget. We hope it includes your perfect accomodation!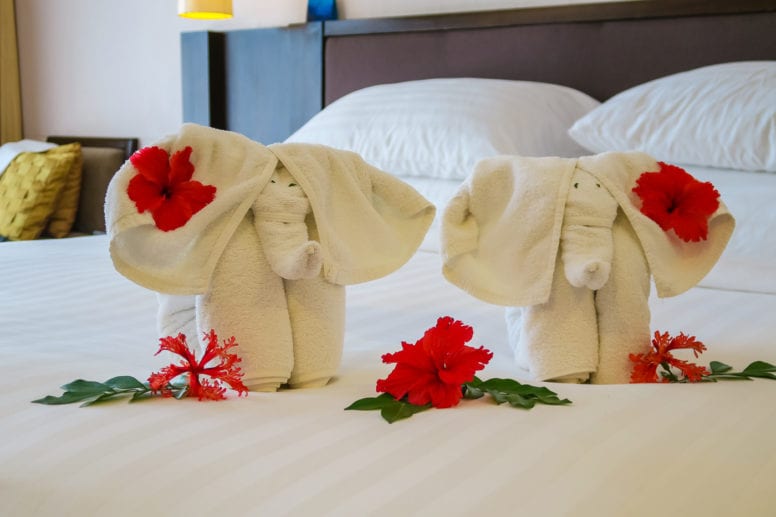 Best High and Medium-Range Hotels in Koh Lanta
Pimalai Resort & Spa
Pimalai Resort & Spa is a 5-star resort with luxury accommodation and excellent service.
It is located in a tropical forest but provides a private beach area nearby available as well.
Some of the facilities in this resort include a fitness center, a library, a bar and a restaurant.
There is also a beautiful outdoor swimming pool with comfy loungers for the guests.
If you're staying at Pimalai you should take advantage of their wonderful SPA services.
There is no better way to reach a total relaxation than through enjoying a deep massage or other therapeutic body treatments.
If you want to include some physical activity into your stay you can use the complimentary bikes as well as a selection of water sports facilities.
Rawi Warin Resort & Spa
Rawi Warin Resort and Spa is one of the best resorts available in Koh Lanta. It offers high-quality accommodation in a tropical setting, with plenty of trees and green areas.
It is situated just in front of the beach which means you can take a quick dip in the ocean any time you want.
There are also lovely swimming pools available, where you can lie all day long, sipping on your cocktail and enjoying a good book.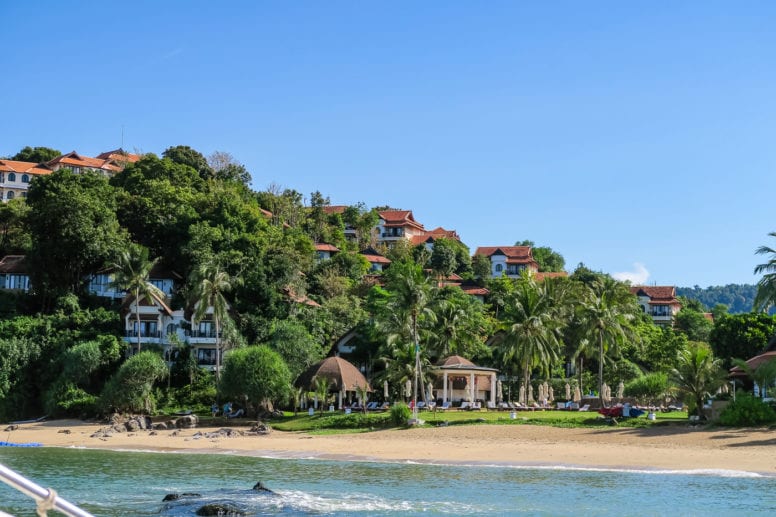 This resort has a fantastic on-site restaurant as well, where you can try the delicious Thai dishes served by friendly staff.
If you want to see more pictures and videos, check out our Rawi Warin Resort and Spa Review.
Twin Lotus Resort and Spa
Twin Lotus is an adult-only resort that guarantees a relaxing and peaceful stay in a picturesque setting, near the Klong Dao Beach.
The rooms at this resort come in a contemporary style and feature all the necessary equipment.
If you want to enjoy the maximum privacy you can go for the Private Suite that has its own swimming pool you won't have to share with other guests.
The staff at this resort is very friendly and helpful and happy to assist with arranging day trips or tours around Koh Lanta.
Best Budget Hotels in Koh Lanta
Morakot Lanta Resort
When it comes to budget accommodation, Morakot Lanta Resort is one of the best options available in Koh Lanta.
It is situated in the Long Beach area which means there is a wide choice of bars and eateries located nearby.
The rooms at Morakot Lanta Resort are simple but at the same time clean and comfortable.
There is also an outdoor pool available and a small on-site restaurant.
The staff at this resort is very kind and go out of their ways to make your stay there as pleasant as possible.
Fill – Feel @ Long Beach Resort
Fill – Feel @ Long Beach Resort is another fantastic option that offers nice accommodation in Thai style bungalows.
Set in a green garden and only a short walk away from the beach this resort is a little jewel of the Phra Ae Beach area.
Each bungalow has a lovely terrace with a hammock where you can unwind and rest after a day of sightseeing in Koh Lanta.
Lanta Residence Boutique
Lanta Residence Boutique is a 3-star solution located in the northern part of Koh Lanta and close to Saladan Village.
It offers affordable rooms or beds in the dormitory section and there is an outdoor pool available for the guests as well.
If you are traveling with children check out the Family Suite with multiple beds and a small kitchen area too.
There is also a tour desk at Lanta Residence Boutique where they will help you plan island hopping tours and organize trips to other fun attractions in Koh Lanta.
Koh Lanta Restaurants – Where To Eat in Koh Lanta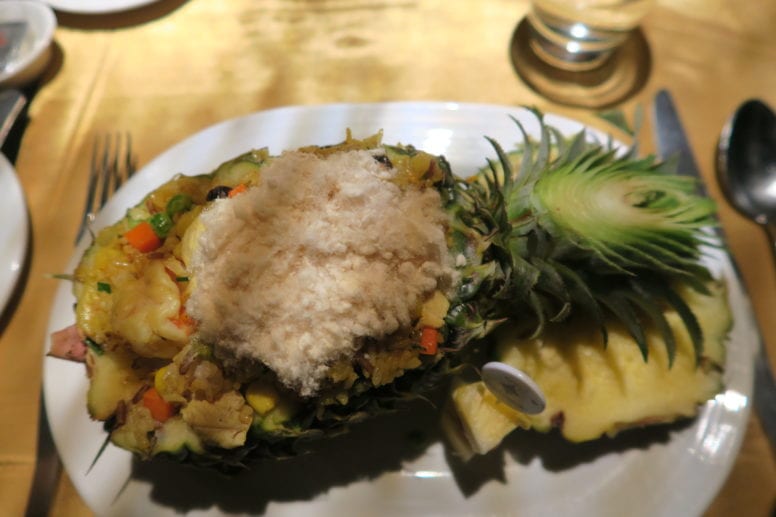 Malina's Kitchen
If you're looking forward to trying the typical local Thai dishes Malina's Kitchen should be on your list of places to visit.
This small and easy-going restaurant offers mouthwatering dishes at convenient prices.
Some of the options included on the menu are Pad Thai, noodles, fried rice, curry and much much more.
The decor of this place is very simple, with wooden chairs and tables and with colorful lanterns in the evening.
Apart from lunch and dinner, Malina's Kitchen is open for breakfast as well, serving delicious Asian and European options.
And last but not least, the staff in this restaurant is very kind and always willing to accommodate your culinary needs.
Yang Garden Restaurant
If you're starting to miss European cuisine while holidaying in Koh Lanta check out the Yang Garden Restaurant.
As you can expect, you're not going to find the classical fried rice or noodles on the menu but rather a choice of Italian gnocchi, meat and fish dishes, cheese and roasted veggies.
There are also a few vegan and vegetable options included and you can eat, both inside and outside.
The ambiance is nice with a lot of attention to details and in the evening it becomes pretty romantic.
If you're not a fan of Thai cuisine or if you simply need a change then this restaurant comes highly recommended.
Happy Veggie
If you're following a vegan or vegetarian diet or simply like to eat healthily and see lots of vegetables on your plate you should have a meal at Happy Veggie.
The menu is absolutely amazing and includes gems such as raw pad thai, raw pesto, vegan spring rolls or veggie burgers just to name a few.
Having a glass of raw and organic juice with your meal is a must in a place like this.
All of the dishes come at pretty convenient prices and are filled with vitamins and nutrients.
Happy Veggie is a rather small restaurant with some tables inside and a few tables located outdoor as well.
If you're staying in the Long Beach area this restaurant is a must-visit but it's definitely worth a trip even for those located further away.
Kunda Vegan Vegetarian Lanta
Kunda Vegan Vegetarian Lanta is a lovely restaurant situated in Klong Khong Beach which offers many delicious and healthy dishes.
This restaurant is a quirky place in a hippie style that features colorful decor, low tables and comfy Thai mattresses to sit on.
Take advantage of all the mouthwatering vegan options available and soak in the calm atmosphere of this place.
Keep in mind that there is no wifi available here because as they put it "this is a place for talking, reading and drinking coffee, leave your laptop in your bag and say hi to your neighbor…"
If you keep traveling through Thailand and want to continue your culinary adventures, check out our guide to the best restaurants in Phuket.
Recommended Koh Lanta Travel Guides
Here are a couple of good guides that can help you find more information regarding Koh Lanta: