What to do in Koh Chang?
If you're wondering what to do in Koh Chang, here I've created an extensive guide where I'm going to answer exactly that question with my list of the top things to do in Koh Chang, Thailand.
Koh Chang – the third largest island in Thailand is a dreamy vacation destination filled with beaches, waterfalls, rainforests and…elephants.
Thanks to the bountiful sun all year long, Koh Chang boasts an incredible wealth of plants and is a real nature-lovers paradise.
And while touring the island and going from one place to another, watch out! You might actually come across an elephant or two, simply crossing the road or taking a dip in the ocean.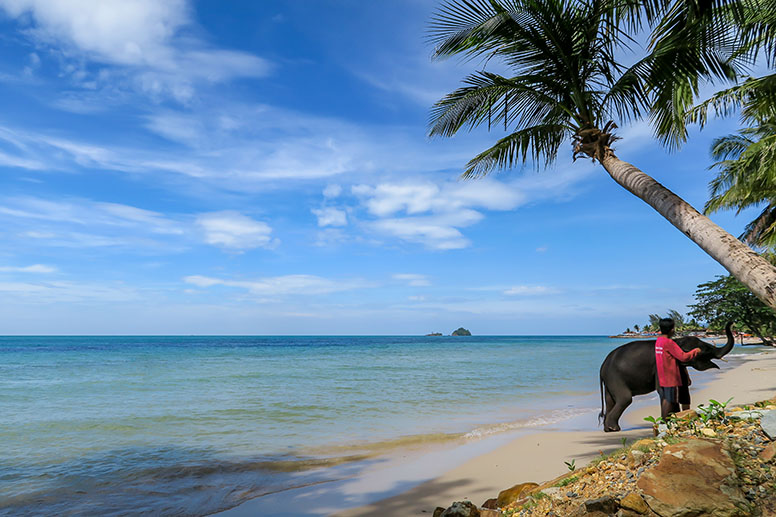 Let's discover together how to get from Bangkok to Koh Chang and what to do on this beautiful island.
How To Get To Koh Chang from Bangkok?
Koh Chang is located in the Gulf of Siam in the central-eastern region of the country and very near to the Cambodian border. It is also one of the closest islands to Bangkok.
Tip: if you're visiting the capital of Thailand make sure to check my 2 day Bangkok itinerary with the best things to do and useful tips or my article about the best things to do in Bangkok for an in-depth guide with lots of information and amazing pictures as well.
By air
There is no airport directly in Koh Chang and you'll need to book your flights to Trat Airport which is owned and operated only by Bangkok Airways.
From there you'll have to get a taxi to the Koh Chang ferry that will take you directly to the island.
By bus
There are many buses operating between Bangkok and Koh Chang and the journey lasts around 7 hours.
They normally depart from Suvarnabhumi Airport and the price is around 600 THB.
You'll save some money if you book a round-trip ticket.
By car
You can also rent a private car with a driver and have it entirely for yourself or for your family.
Of course, this option is much more costly compared to traveling by bus.
Koh Chang Ferry
There is a ferry service that operates between Ao Thammachat Pier and Koh Chang Island. A ferry departs every 45 minutes and the journey should take around 30-50 minutes.
Make sure to be at the pier well in advance because the line to get on is usually quite long and the places are limited.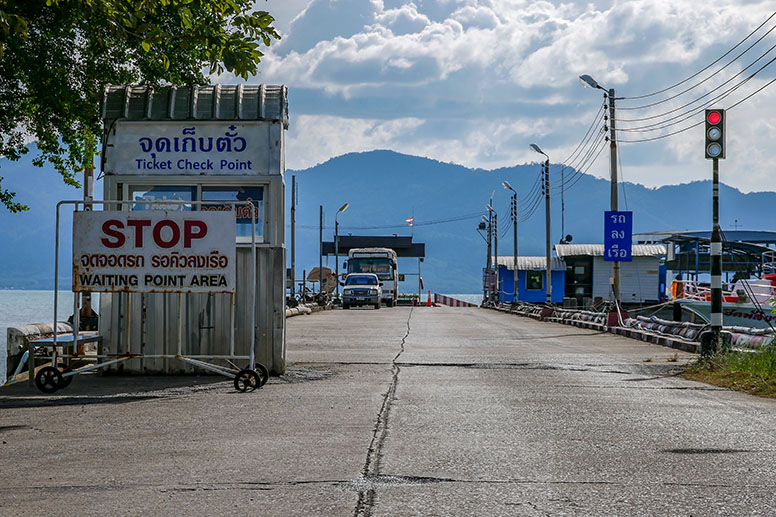 Once you reach Koh Chang you can get a shared taxi that will take you to your hotel (the price will be shared among all the passengers).
Top Things To Do in Koh Chang
Koh Chang offers an array of fun activities and attractions to its visitors coming from all over the world. Let's go and explore together the best things to do in Koh Chang.
1. Admire the Sunset at the Mu Koh Chang National Park Viewpoint
Located on a promontory above Kae Bae Beach, the Mu Koh Chang National Park Viewpoint is one of the most scenic spots on the entire island.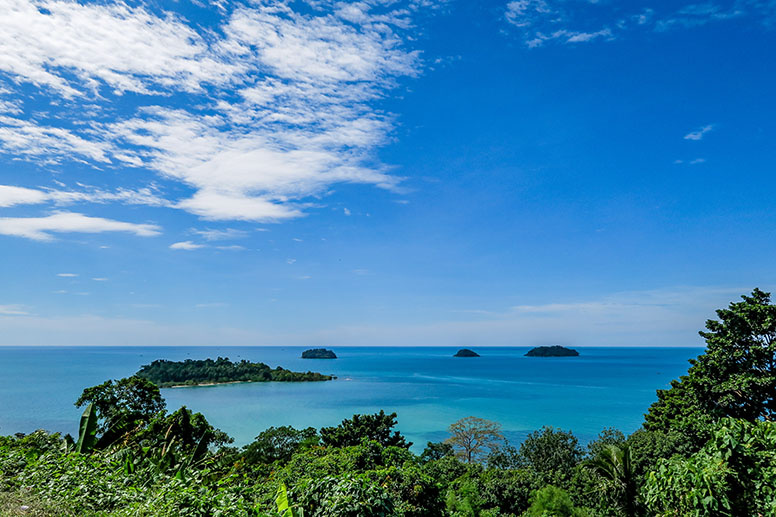 You will get to admire a stunning panorama at any time of the day but if you come here at sunset the vista will likely take your breath away.
The sun going down, a romantic atmosphere and the sea merging with the sky – all of these make for a special moment to remember.
Also, if you love taking photos and looking for an Instagram-worthy location, the Mu Koh Chang National Park Viewpoint won't disappoint.
2. Go and See the Khlong Phlu Waterfall
There are quite a few waterfalls in Koh Chang but Khlong Phlu Waterfall is one of those you don't want to miss.
It is located on the west coast and you don't have to be an experienced hiker to reach it.
As long as you wear comfy shoes you'll be able to enjoy a nice 20-30 minute walk through the jungle, surrounded by lush vegetation and by a symphony of birds around you.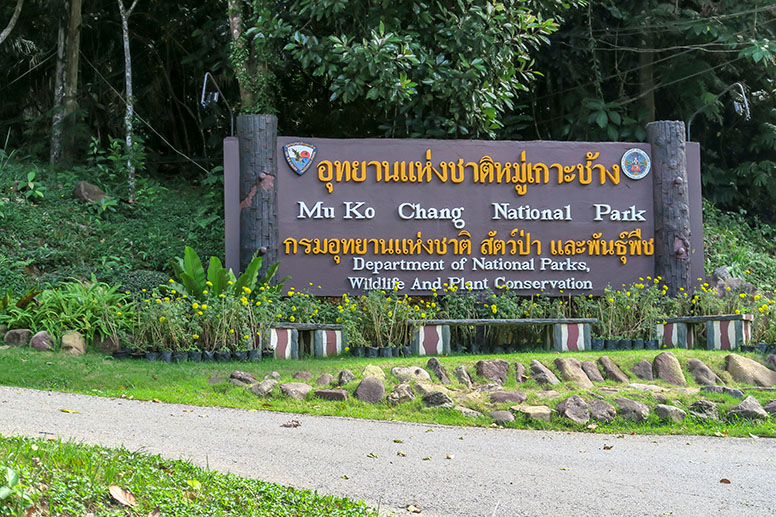 The entrance fee is 200 THB for adults and 100 THB for children and there's a free parking available for your scooter.
Once there, you can cool off in the cascade or relax and lie in the sun with streams of water flowing right next to you.
3. Enjoy Snorkeling and Diving
The shallow and crystal-clear waters in Koh Chang are simply begging to put your snorkeling mask on and observe the beautiful underwater life.
If you're traveling with children this is a perfect activity to try as a family – it's fun, safe and doesn't cost anything.
If you practice scuba diving there are some interesting dive sites and there are many centers on the island that organize professional diving tours.
Make sure to only go with the centers that own a Thai tourist operation license in order to enjoy the safest and most professional experience possible.
4. Treat yourself to a traditional Thai massage
There's no better way to start your vacation in Koh Chang than treating yourself to a traditional Thai massage.
The stress and coping with everyday life problems pile up during the year, creating muscle tension and sore shoulders that may prevent from a total relaxation.
No oil is involved in this kind of massage as you'll be gently moved into yoga-like positions by the therapist.
If you try the traditional Thai massage not only will you notice a significant pain relief but your mental well-being will be improved as well.
I suggest a 2-hour long session so that there's enough time to release a negative energy and dissolve all the tensions in your body.
So, if you're wondering what to do in Koh Chang when it's raining, go for a relaxing Thai massage!
5. Take a Thai Cookery Lesson
Who said you can't learn a new skill while on vacation? And if you can't stop thinking about all those amazing foods you keep having, why not to give it a try and learn how to make them all by yourself?
While in Koh Chang you can have a private cooking class or join a shared class and experiment with new flavors and spices.
Thanks to the hands-on class, you will learn how to make the traditional Thai dishes in a fun and relaxing environment surrounded by people who share your passion for food.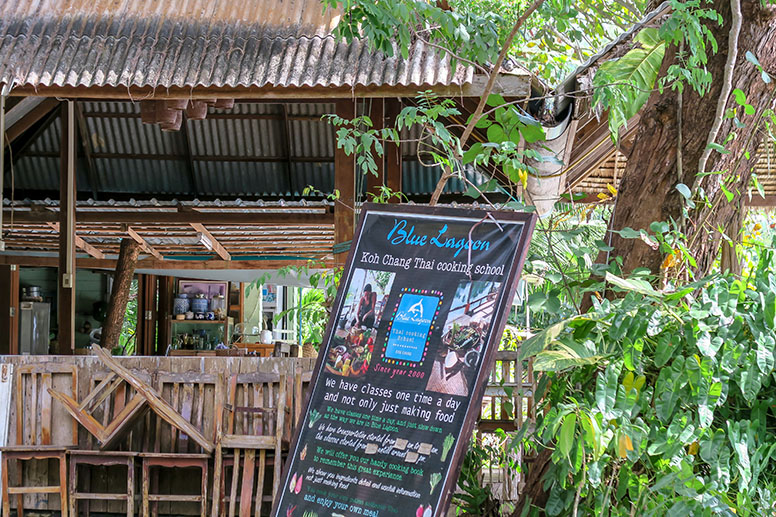 One of the most famous cooking schools in Koh Chang is the Blue Lagoon Cooking School located in a beautiful lagoon (yes!) on Klong Prao Beach.
6. Visit Wat Salak Phet Temple
In the south of Koh Chang, towards the central part of the island lies a colorful Buddhist temple – Wat Salak Phet.
Although rather small in size, this temple is a charming location for tourists and the most important worship place for the locals.
When you're done visiting the temple don't forget to pay a visit to the Wat Salak Phet Museum as well, located on the other side of the road.
There's a small entrance fee, about 20 THB which contribute to the maintenance projects.
7. Go To See Bangbao Fishing Village
If you want to see a traditional old-style Thai fishing village set in a picturesque scenery you must visit Bangbao Village in Koh Chang.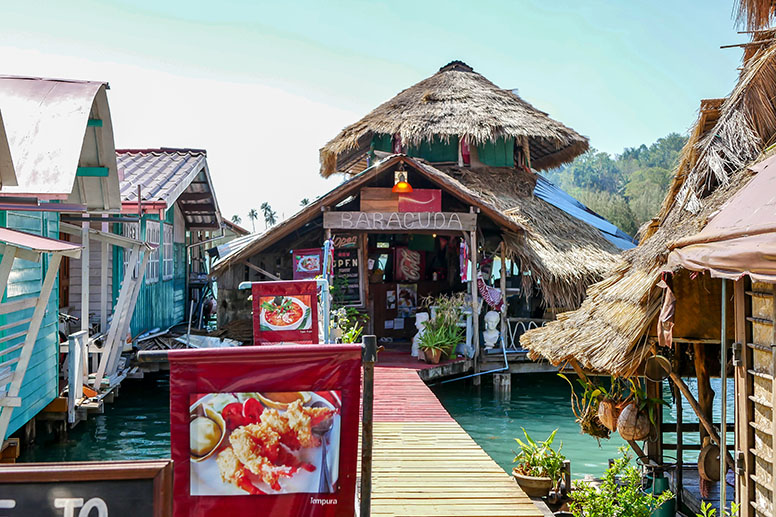 Located in the southern tip of the island, Bangbao Fishing Village features traditional wooden houses, a wide choice of the seafood restaurant and an array of souvenir shops.
The most authentic part of the Village awaits you at the end of the pier though, there you'll be welcomed by incredible views and a calmer atmosphere.
If you visit during the day, the ambiance is much more tranquil and relaxing while in the evening the place fills up with tourists and loud music.
If you get there in the wee hours of the morning you might spot boats coming in from their night's fishing and unloading of their catches.
8. Enjoy a Beach Day
If you're staying in Koh Chang for more than 48 hours you'll have a chance to enjoy many relaxing beach days.
And is there anything better in the world than feeling the warm sand under your feet and hearing gentle music of the waves? I don't think so.
Koh Chang Beaches
You can start exploring Koh Chang beaches from the White Sand Beach, located in the north-west.
It is a long beach, perfect not only for swimming and lying in the sun but also for walks and for admiring sunsets.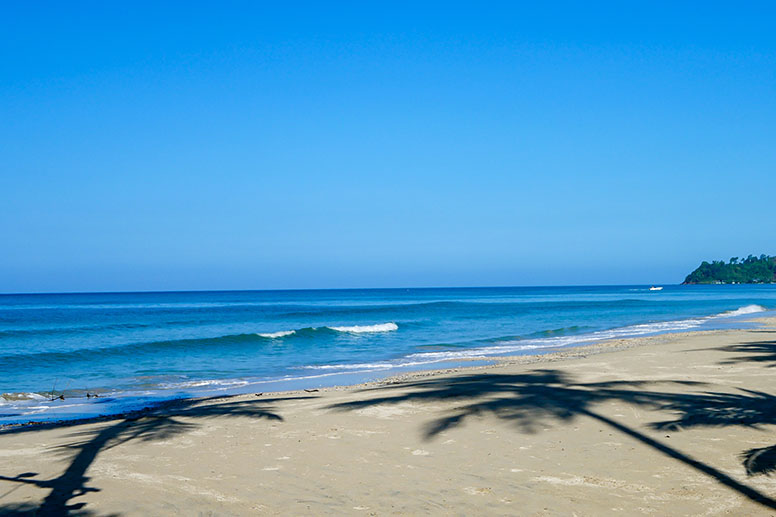 Going towards the south of the island you'll come across the Pearl Beach, Klong Prao and Kai Bae Beach.
Other beautiful beaches in Koh Chang include the Lonely Beach, Bailan Beach and Kong Koi Beach.
On the East coast, at the southern tip of Koh Chang Island lies the Long Beach – very beautiful and secluded but not easy to reach.
If you're not staying in one of the hotels nearby it's best to get there in a taxi or ask your resort to arrange a mode of transport.
Safety Tip: Depending on where you're staying keep in mind that the roads in Koh Chang are incredibly steep, and getting everywhere with a scooter isn't always the safest and most recommendable option – especially when it rains.
9. Day Trip to One of the Nearby Islands
One of the top things to do during your vacation in Koh Chang is taking a day trip to one of the amazing and dreamy islands located nearby.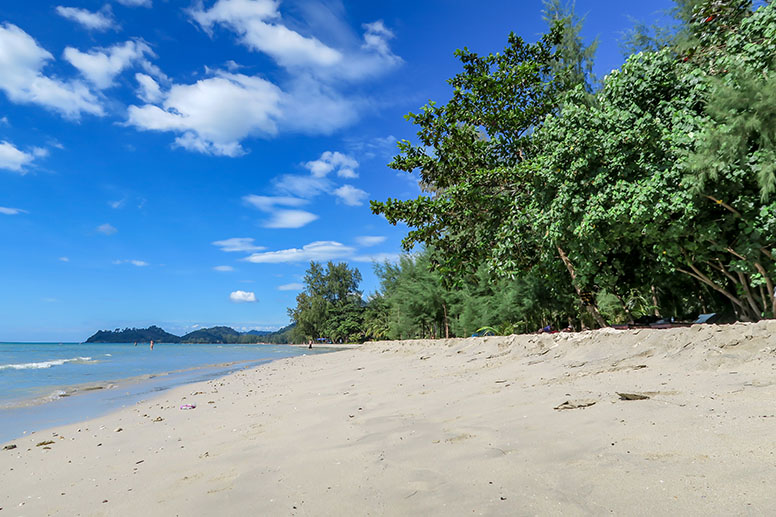 There is the charming Koh Mak Island with picture-postcard beaches and crystal-clear waters.
Another wonderful island to visit is Koh Kood – a relaxing place, ideal to unwind and forget about all your problems.
Both of these islands have quite a wide array of bars, restaurants, and resorts so you can stop by for lunch or even stay overnight if you wish to.
Other small islands near Koh Chang are Koh Wai, Koh Ngam, and Koh Lao Ya.
Many travel agents arrange trips to these islands on a daily basis and depending on your needs they might also include snorkeling or kayaking activities for your day tours.
Koh Chang – Best Time To Visit
The climate of Koh Chang is tropical, with high temperatures all year round. It has a rainy season, from May to October, with heavy rainfalls and high levels of humidity, and a drier season, from December to April, with a slightly lower humidity level.
The best time to visit Koh Chang is probably from December to February.
During these months, the weather is usually very nice, with the clear and sunny sky for most of the time, temperatures that are around 30 degrees and the humidity level is acceptable.
In March and April, the weather is still nice but the temperatures start to increase, and the rains that anticipate the monsoon begin to be more frequent.
Where To Stay in Koh Chang
Koh Chang Hotels – Booking Tips and The Best Places to Stay
---
---
---
The Santhiya Tree Koh Chang is definitely one of the best resorts in Koh Chang and a wonderful place to relax. In this small resort, you'll get to enjoy an amazing swimming pool, a romantic restaurant, and a lovely beach.
The staff working here is very friendly and helpful (especially the restaurant staff). A very detailed review of Santhiya Tree Resort is soon going to go live so stay tuned!
The Centara Koh Chang Tropicana is a 4-star resort that comes in a traditional Thai style and is surrounded by nature and greenery.
It has two lovely and large swimming pools with comfortable sunbeds but you can take advantage of the hotel's beach as well.
If you're traveling with children, they'll love the big slide in one of the pools and all the games and toys available in the kids' area.
The Dewa is another 4-star resort that you should take into condìsideration when choosing a place to stay in Koh Chang.
The hotel has a beautiful entrance and the Dewa Koh Chang is a modern resort with a swimming pool and an on-site restaurant directly on the beach.
The staff is friendly and helpful and they can also assist you in organizing day trips and excursions.
The KC Grande Resort & Spa is a large beachfront resort with four swimming pools (check out the rooftop pool!) a fitness center and a sauna.
If you want to relax and revitalize make sure the try the SPA, where you can enjoy the traditional Thai massage and other body treatments.
When it comes to the accommodation there are many types of rooms available but you must check the Paradise Beachfront Villa for the ultimate experience and the most amazing views.