Ao Nang in Thailand is a place filled with clear blue water, white sandy beaches, and beautiful cliff views.
Nearly everyone who travels to Ao Nang does so for relaxation. They desire to sit along the sandy beaches, spend a day (or two) in one of the spas, and dine at the local restaurants.
However, because it is not completely developed, there's also an adventurous side to Ao Nang that can please even the most wanderlust.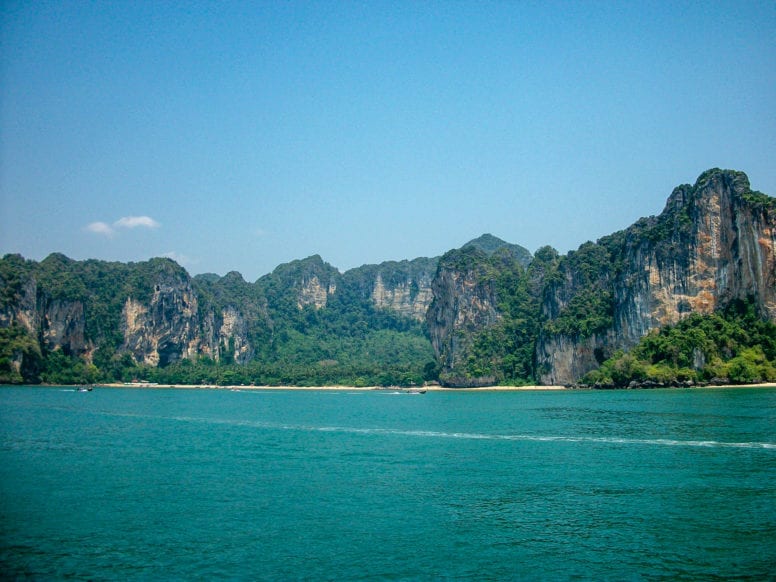 How to Get to Ao Nang, Thailand
Getting to Ao Nang in the province of Krabi is not overly complicated.
Krabi International Airport is the nearest airport to Ao Nang, Thailand and is roughly 25 km away.
Once you land at Krabi International airport you can hire a car or minibus to shuttle you to Ao Nang. It's really that simple!
There are also ferries and speedboats available that run frequently between Ao Nang and other important locations in Thailand.
In fact, a trip from Phuket to Ao Nang with a ferry takes around 2 to 3 hours depending on the sea condition, Koh Lanta can be reached in about 2 hours and a half, while Phi Phi Islands are located about 2 hours away.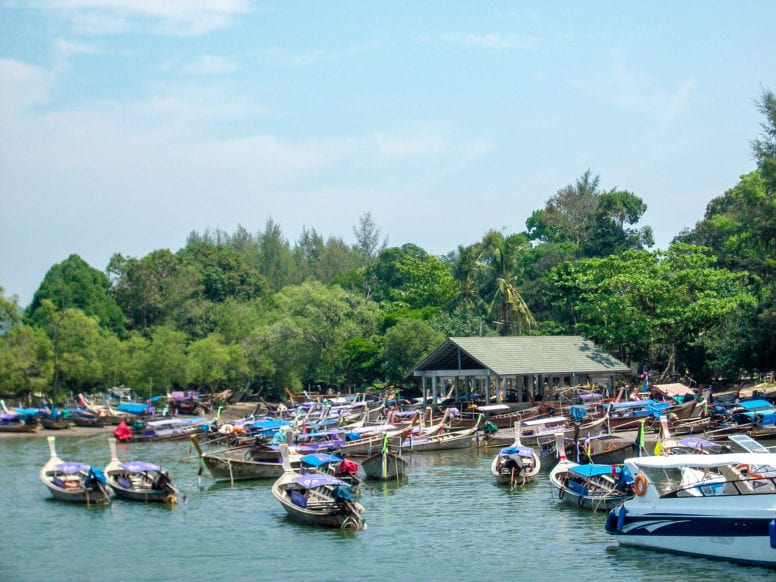 Upon arrival at your hotel or beach resort, you won't want to waste a minute before you begin to explore the scenery or settle into total relaxation. So, here is our list of things to do in Ao Nang, Thailand while you are there.
Travel tip: For those of you who plan to spend more time traveling around Thailand we prepared some in-depth guides with useful information and lots of photos. Make sure to read our guides to the best
things to do in Bangkok
, learn all about the beautiful islands such as 
Koh Rok
and
Koh Chang
.
If you're a foodie traveler take advantage of our list of the
best restaurants in Phuket
.
Best Things To Do in Ao Nang, Thailand
Take a Trip to the Nearby Islands
Not far from the shores of Ao Nang is Ko Kai Island, more popularly known as Chicken Island.
Don't worry though, if you take a day to travel to Chicken Island you're not going to find beaches full of feathered friends.
The island was named for a large rock formation that resembles a chicken.
At Ao Nang, you can hop on a long tail boat that will take you directly to Chicken Island.
Once you are there, you can roam the beaches and swim in the crystal clear waters for only a small entrance fee.
Those who have been to Chicken Island before recommend packing a snorkel in your bag as the water is perfect for viewing the wildlife swimming underneath.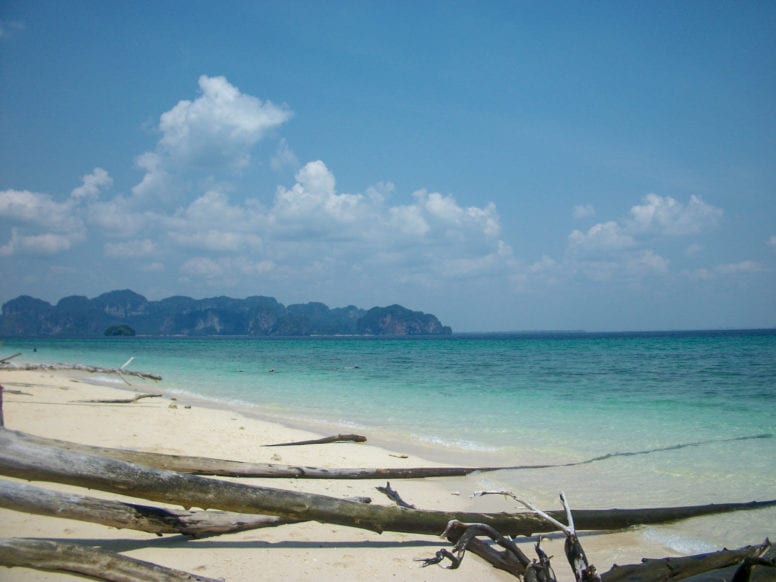 Chicken Island is also unique because during the low-tide you can walk a sandbar to the neighboring Koh Poda Island.
Much like Chicken Island, the waters at Koh Poda are beautiful and the views are serene. So whether you book an excursion through a company or travel to the islands on your own they are most definitely worth a day on your itinerary.
Spend a Day at Railay Beach
Railay Beach is one of the most picturesque spots in Ao Nang because it is strategically quarantined from cars, motorbikes, buses or anything that might pollute the atmosphere.
In order to get to Railay Beach, you will need to hop a longboat with a few of your closest friends (or strangers if you are traveling alone).
A place where you'll never run out of things to do in Ao Nang, Railay offers beaches, restaurants, excursions and even opportunities for nightlife. So, spend an entire day or just take a ride over for dinner. Either way, you will completely enjoy your time.
Explore the Ocean by Kayak
There are numerous different ways to explore the beautiful waters and limestone cliffs of the Andaman Sea near Ao Nang, but undoubtedly one of the best is by kayak.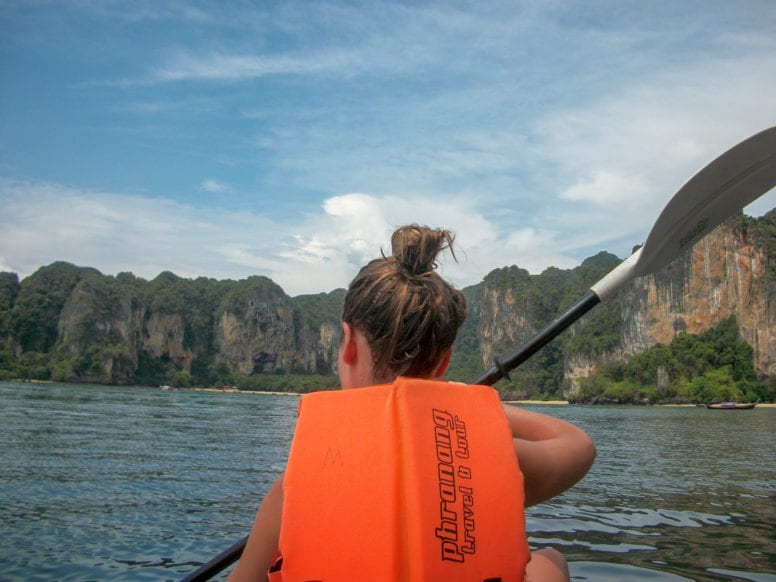 The waters are so calm that even first-timers are able to enjoy themselves safely.
While kayaking around Ao Nang there are unlimited opportunities to pull your boat ashore, lay on the beach for a while, or even enjoy a picnic lunch!
You can rent kayaks from a number of rental services or book an excursion through a local tourist company.
Dive Into a Snorkeling Adventure
Any of the islands surrounding Ao Nang, Thailand are the perfect location for snorkeling.
The abundance of coral and sandbars mean there is plenty of fish to be seen.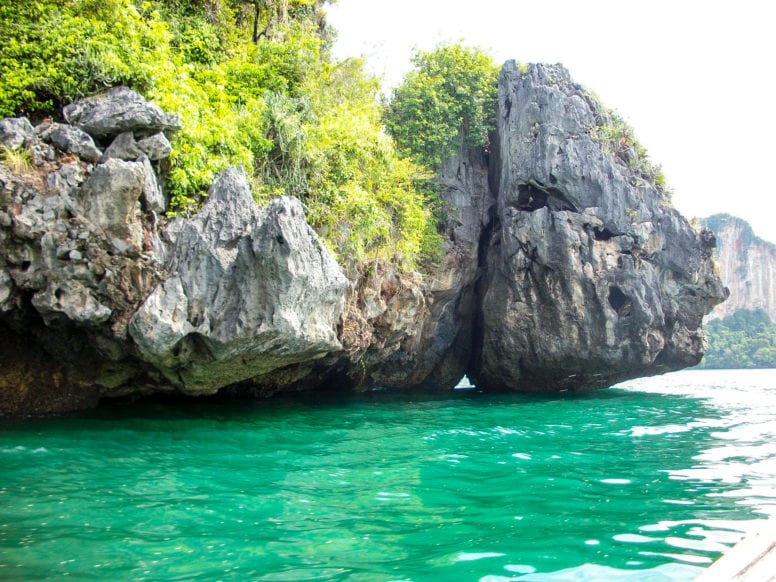 Most tourists who visit Ao Nang opt to go on an island hopping tour where their guide will point out the best places to get off the boat and take a swim.
However, if you don't want to snorkel with a whole herd of other people you can always pack your own gear and swim off of nearly any beach you happen to be visiting.
And, if you've never snorkeled before, Ao Nang is the perfect place to give it a try! The water is clear, warm and calm—there's not much more you can ask for!
Take to the Heights and Go Rock Climbing
If you are an experienced rock climber, you don't want to miss the opportunity to scale the limestone cliffs that line the beaches of Ao Nang, Thailand.
The views of the ocean are impeccable and worth the work to see. If you are not an experienced rock climber, Ao Nang might not be the best place to give it a go.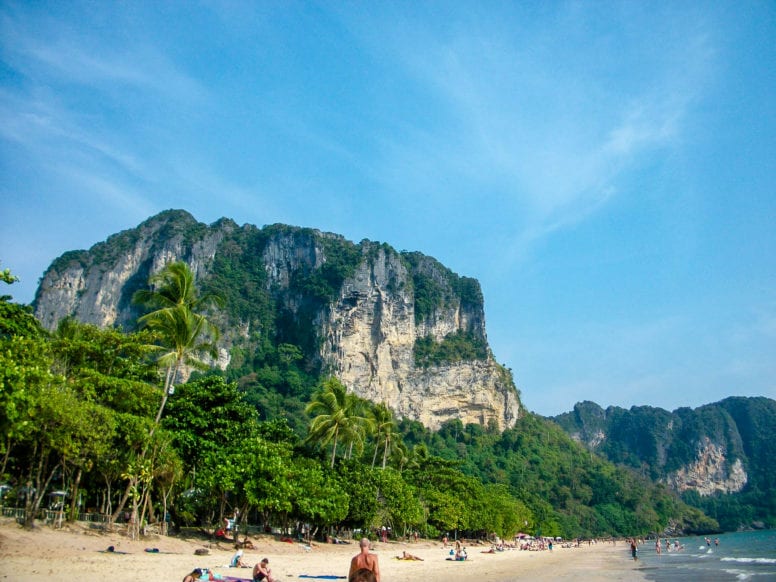 There are plenty of trails, however, that you can and are encouraged to explore by foot that are just as enjoyable!
Rent a Scooter
If you're staying in Ao Nang for a few days you might want to rent a scooter and explore other adjacent areas.
You can, for example, drive to the charming town of Krabi, located around 15 km away or go and look for secluded beaches if you want to spend a relaxing afternoon, far away from all the hustle and bustle of the touristic spots.
Renting a motorbike in Ao Nang is incredibly affordable and simple, just remember to wear a helmet and have very good health insurance (just in case).
Visit Krabi Town
One of the things to do in Ao Nang is definitely taking some time to visit the lovely small city of Krabi.
Many tourists fly into Krabi and then without stopping by continue their journey to the nearby locations such as Koh Lanta or Koh Phi Phi but we think it's totally worth it to dedicate at least a few hours to discover this city.
Unlike many other places in Thailand, Krabi, despite becoming more and more popular every year, still very much owns the traditional Thai feel.
While there, you will get an opportunity to try the delicious regional cuisine, get to know friendly local people and see a more traditional Thai way of life.
Krabi is also an excellent place to get that super relaxing massage I've mentioned before so if you have a spare hour, do it – you won't regret it!
One of the main attractions in Krabi is Wat Kaew Temple – a beautiful white temple located in the center of the city.
The impressive golden dragon stairs will lead you to the white complex with a golden Buddha statue inside, where you can soak in the mystical and peaceful atmosphere of this location.
On the other side of the road, there is another interesting point of interest – the Krabi Contemporary Art Museum – a perfect place to learn more about local and Southeast Asian art.
As you can see, Krabi is a fascinating city with plenty to offer to its visitors and no matter if you're staying for just a few hours of for a couple of days, you'll surely have a pleasant time there.
Shop at Ao Nang Night Market
Every city and island in Thailand, no matter how big or small has its very own charming local market.
Ao Nang is certainly no exception here and it features a lovely, vibrant and exciting night market that simply can't be missed during your stay there.
As soon as the sun goes down, the narrow streets of Ao Nang fill up with colorful market stalls, chatty sellers and a scent of mouth-watering street food made right in front of your eyes.
You can practice your bargaining tactics and negotiate the best price, stock your bags with all kinds of purchases or simply walk around, taking it all in and enjoying the unique surroundings.
Shopping at the Night Market is one of the most popular activities to do in Ao Nang at night.
Who needs a modern shopping center when you can buy all you need on a walking street and enjoy a special experience like this?
Take a Day Trip to Phi Phi Islands
Phi Phi Islands are probably the most famous islands in Thailand and have become extremely popular around 20 years ago when they served as a movie set for The Beach with Leonardo Dicaprio.
The Phi Phi Islands are a real natural paradise with spectacular cliffs overlooking an emerald green sea, white beaches with soft sand and with tropical palms providing shade during the hottest hours of the day.
There are speedboats and ferries departing from Nopparat Thara Pier and it takes about 2 hours to reach the Phi Phi from Ao Nang.
If you want to you can also stay overnight as there are quite a few hostels and hotels available.
Try the delicious Thai Mango Sticky Rice
Mango sticky rice or Khao Neeo Mamuang in Thai is probably one of the most popular and also the most delicious Thai desserts ever invented.
It is made of just a few crucial ingredients such as rice, coconut milk and of course mango (even better if you visit when mango is in season).
This flavourful dessert is definitely a win since not only it helps to satisfy your sweet tooth but
comes with some extra nutritional punch as well.
Even if you wouldn't define yourself a typical foodie person, make sure to put mango sticky rice on your bucket list of things to do and try while in Ao Nang. I promise you won't regret!
Spend an Afternoon at Ko Klang Island
Not far from the town of Krabi lies one of the most charming and adorable places I've ever seen – Ko Klang.
This tiny island isn't all about crystal clear waters and beautiful beaches but a perfect representation of what a traditional Thai fishing village is like.
If you go there, you'll get a chance to watch colorful birds, grazing animals, and rice fields and you'll meet friendly locals leading their busy daily lives.
You can either go around with a scooter, taxi or simply walk around and admire the amazing views.
If you've already rented a scooter in Ao Nang, it is possible to bring it along and transport to Ko Klang.
This way you'll be more independent and you'll get to visit the entire island on your own terms.
Visiting Ko Klang felt like taking a step back in time and a lovely experience I'd recommend to anyone.
Explore the Phra Nang Cave Beach
One of the most beautiful beaches in Ao Nang is the Phra Nang Cave Beach, located a short walk away from Railay West.
This beach owns its name to the huge limestone cliff with a cave towering over the beautiful sandy coast.
The earlier you manage to get there in the morning the better since that's when the sea condition is the best and when the place is still relatively calm (it fills up with tourists and boats very quickly).
One of the main points of interest there is the Princess Cave – a quaint and original place where people with fertility issues come to pray for the conception of a child.
If you fall in love with this beach to the point to want to stay overnight, you must check out the luxury Rayavadee Resort – one of the best hotels you'll ever see in Thailand.
I included more info about it in the Where To Stay section of this blog post.
Spend a Morning at Nopparat Thara Beach
When creating your list of the best things to do in Ao Nang you mustn't forget about including a morning at the stunning Nopparat Thara Beach.
This long and sandy beach offers a peaceful environment ideal for lengthy walks, relaxing swims and lying in the sun.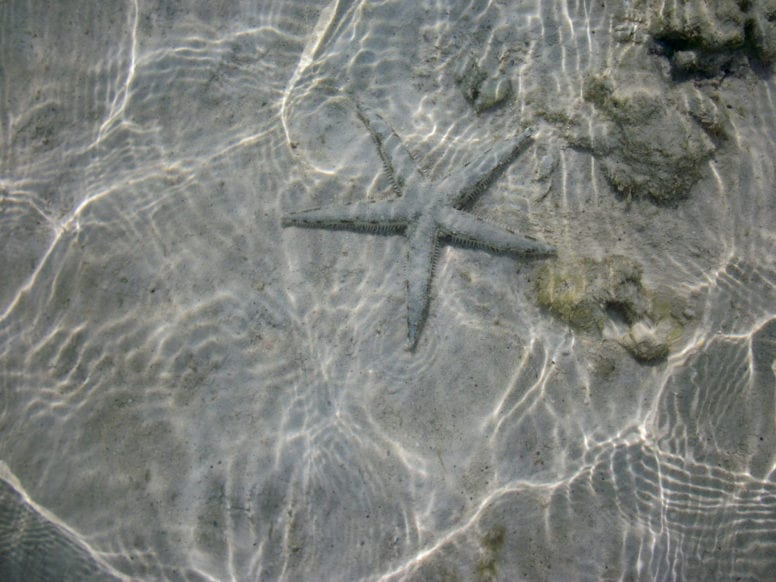 Being so long, the Nopparat Thara Beach is hardly ever overcrowded so it's a perfect spot for someone who wants to take a break from all the hustle and bustle of more touristic locations.
It takes around 15 minutes to reach this beach from Ao Nang with a local tuk-tuk and if you bring your own food you can also enjoy a nice picnic there.
Just remember to respect the environment and never leave any trash behind.
Pay a Visit to Tiger Cave Temple
Wat Tham Suea often called the Tiger Cave Temple is another fascinating point of interest, definitely worth visiting during your stay in Ao Nang.
This Buddhist temple is located around 21 km away from Ao Nang and you'll have to take 1,237 steps in order to reach the top and see the golden Buddha statue.
The climb to the summit isn't easy so make sure to bring some water with you and wear comfortable shoes.
Your effort is, however, worth the trouble as you'll be rewarded with breathtaking views and a mystical and peaceful atmosphere.
It goes without saying that just like in any other religious temple an appropriate outfit is required so make sure to cover your shoulders and knees.
Explore the Khao Khanab Nam Mountains
No trip to Ao Nang can be regarded as complete without seeing these prehistoric limestone cliffs – Khao Khanab Nam.
Considered Krabi's most distinctive location, Khao Khanab Nam is a stunning natural wonder and a place that begs to be admired and photographed.
The best way to get there is by a longtail-boat that will normally cost a few hundred baths an hour but it's always good to try and bargain in order to get the best possible price.
When you get there you'll have a chance to visit a few caves with some drawings, statues, stalactites, and stalagmites inside.
If you have more time you might also want to add the picturesque fishing village to your itinerary.
Things to Do in Ao Nang when it Rains
Join a Cooking Class
It doesn't rain a lot in Ao Nang, especially in the dry season which is the best moment to visit this area and runs from December to April.
But even when it actually happens that the weather isn't perfect you can still find something interesting and fun to do.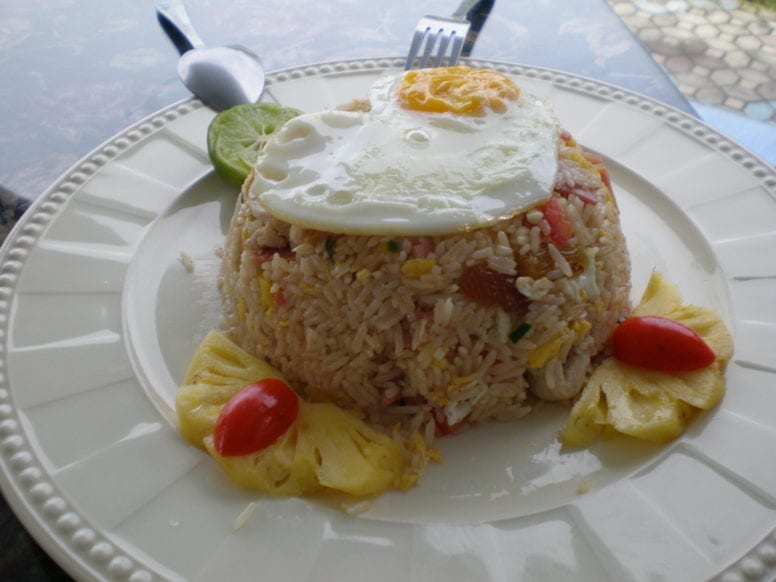 One of them is certainly taking a cooking class and learning how to prepare authentic Thai dishes with an expert chef.
You'll get to cook some of your favorite recipes from scratch and you'll discover many different flavors, scents and spices.
Joining a cooking class is a perfect activity to do on a rainy day and it should definitely end up on your list of things to do in Ao Nang.
Book a Relaxing Massage
If there is one amenity Ao Nang, Thailand does not lack it is lovely spas. Nearly every corner offers a place to sit back, relax and be pampered.
So, if you are spending a couple of days in Ao Nang, one of the things you should definitely do is book a massage.
Of course, if you want to experience total relaxation you can go for the entire package. Many spas also offer the opportunity to reserve a full day packed with facials, body scrubs, and time in the sauna.
Oh, and don't forget, because of the currency rate a massage in Thailand is much more affordable than a massage in the United States!
Take a stroll around Vogue shopping center in Krabi
One of the best things to do in Ao Nang when it rains is, of course, enjoying some shopping.
There aren't any shopping malls right in Ao Nang but you can take a taxi and find one in the nearby city of Krabi.
The Vogue Shopping Center in Krabi has enough stores to keep you busy for an entire morning or at least until the weather outside clears out.
There is a wide choice of different types of shops, selling clothes, shoes, electronic gadgets, books and much more.
You can also stop for lunch or a quick snack in one of the many places available in the food court.
Address: 76/1 Maharat Road, Krabi
Opening Hours: Every Day from 11.00 AM to 09.00 PM
Ao Nang Hotels – Where To Stay in Ao Nang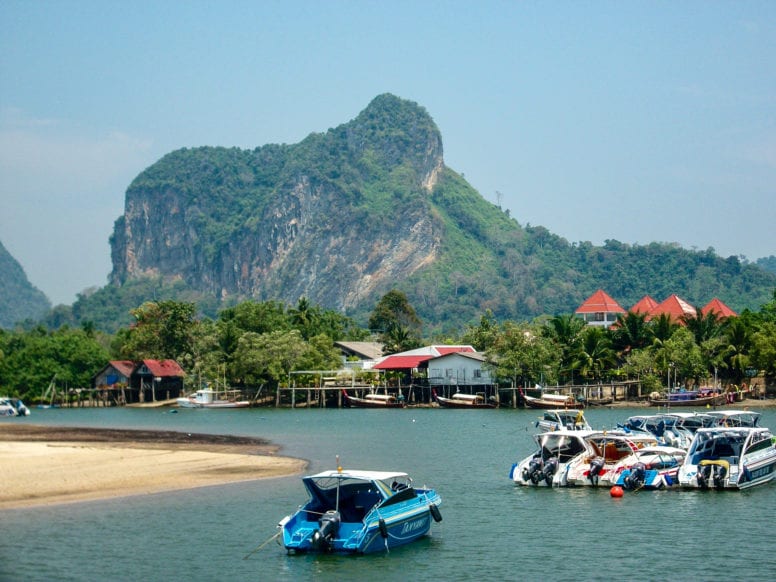 Budget Hotels in Ao Nang
iCheck inn Ao Nang Krabi
iCheck inn Ao Nang Krabi is 3-star accommodation conveniently located near all the main attractions.
The rooms are big and clean and have all the necessary equipment such as a safety box and an electric kettle.
There is also a free WiFi available, as well as a small outdoor swimming pool and a small area for the children.
Golden Moon Aonang
Golden Moon Aonang is a simple yet comfortable hotel located in the heart of Ao Nang town.
It offers nice rooms with a TV, deposit box and a minibar and a bathroom with free toiletries included.
Given the strategic location, this hotel makes a perfect base for discovering the entire area.
During the day you'll be able to reach the beach quickly while in the evening you can walk to dinner without worrying about catching a taxi.
Green View Village Resort
Green View Village Resort is another fantastic solution for anyone looking for budget accommodation in Ao Nang.
Depending on your needs and the number of people you're traveling with you'll get a chance to choose between different room types.
In fact, there is the standard double room but also a triple room, a family room, a bungalow and also a single room if you're a solo traveler.
The hotel features a swimming pool and also an on-site restaurant if you don't feel like going out every night.
Medium and High Range Hotel in Ao Nang
Rayavadee
Rayavadee – is a 5-star hotel and one of the most luxurious options you'll find in Ao Nang area.
Located on a picturesque Railay Beach, Rayavadee resort is surrounded by lush greenery and it's not unlikely to meet a monkey or an exotic bird during your stay there.
The rooms are absolutely fabulous, they are furnished in a traditional Thai style and each of them comes with a terrace.
There are also beachfront villas available that offer a private pool for those of you who look for the maximum solitude and peace.
The staff will go out of their way to make you feel comfortable and meet all your needs and special requests.
Poonsiri Resort Aonang
Poonsiri Resort Aonang – a beautiful resort set in a dreamy location, surrounded by limestone cliffs and perfect for a relaxing holiday.
Poonsiri Resort features a large swimming pool, a fitness center, a restaurant, and a free airport shuttle.
The resort provides free kayaks for the guests as well so you can explore the area and enjoy some time on the water.
Dinners at the on-site restaurant are particularly romantic and especially recommended for couples and newlyweds
Peace Laguna Resort & Spa
Peace Laguna Resort & Spa is one of the best hotels available in Ao Nang.
It is surrounded by water and it has its own beautiful beach where you can relax and lie in the sun all day long.
It features three swimming pools, a spa center, a fitness center, a restaurant, a business center, and a library. 
It's conveniently located near Ao Nang town so all the restaurants, bars, night market, and other attractions are only a short walk away.
You can also dine directly at the resort as it has two lovely restaurants.
There is the Lagoon Restaurant with both, Asian and international dishes available and the Rice and Spice Restaurant with the international buffet.
Ao Nang Restaurants – Where To Eat in Ao Nang
When you decide to travel to Ao Nang you'll want to take advantage of the amazing Thai cuisine that's waiting for you there.
You'll have to know all the best places and restaurants in order to make the most of your holiday in Ao Nang.
That's why we are here to give you a list of all the amazing restaurants that stole our hearts and…bellies.
Enjoy!
Kodam Kitchen
Kodam Kitchen is one of the best Thai restaurants you'll find in Ao Nang.
The place itself, hidden away at the end of a narrow street is very simple and homely with no much decoration or additional comforts.
It is definitely the food that plays the main role here and I'd say very rightly so.
The authentic Thai dishes served at Kodam Kitchen are as delicious as it gets and you'll fall in love with their mouthwatering menu.
The place is usually packed full so you might need to wait for a table a little while but you'll be rewarded with a fantastic dinner so it's totally worth it.
Also, it is recommended to book a table in advance on their official website.
Address: 155/7 Khlong Hang Road, Ao Nang
Opening Hours: Every Day from 12 AM to 10 PM
Banana House
Banana House is a charming little restaurant with just a few tables that offers mainly local cuisine and some international options.
I personally recommend the typical Thai dishes since I think they are the experts at making them such as khao pad sapparod, Thai curry, fried rice or tempura.
All the dishes come at pretty affordable prices while the staff working there is really nice and friendly.
All in all, Banana House is a place worth trying while visiting Ao Nang.
Address: 45/2 Moo 2, Ao Nang
Opening Hours: Sunday to Saturday from 10 AM to 10 PM
Thanya Kitchen
Thanya Kitchen located in the heart of Ao Nang, right on the main road is a lovely place to spend an evening and enjoy a delicious dinner.
The owner and all the staff are incredibly friendly and professional and will go out of their way to make sure you are totally satisfied with everything.
Thanya Kitchen is very clean and the food they serve is fresh and with high-quality ingredients.
I tried their papaya salad, fried rice and pad thai and always ended my dinner with the iconic mango sticky rice.
If you're visiting Ao Nang make sure to put Thanya Kitchen on your restaurant bucket list – you'll love it.
Address: 291 Moo 2, Ao Nang
Opening Hours: Sunday to Saturday from 12 PM to 10 PM
Ton Ma Yom Thai Food Restaurant
Ton Ma Yom Thai Food Restaurant is another cozy restaurant with a wide choice of flavorful local dishes.
The quality of the food is amazing there and the staff is efficient and friendly.
This place is pretty jam-packed during the typical lunch and dinner hours so I suggest going a bit earlier in order to avoid the crowd.
The prices are really good and it's an awesome place to try if you're traveling on a budget but don't want to give up on high-quality and amazing taste.
Definitely a must-try!
Address: 262/ 7 Soi 11 Leelavalley, Aonang Beach
Opening Hours: Tuesday to Sunday 8:00 AM – 2:00 PM and 5:00 PM – 9:30 PM
BUZZ Organic Food & Drink
If you're looking for a nice place with some healthy options and ideal for a fulfilling breakfast or lunch then BUZZ Organic Food & Drink is the right spot to try.
It has also some very interesting vegan options on the menu and an impressive selection of raw cold-pressed juices and yummy smoothies.
I fell in love with their green smoothie bowl with kale, spinach and with other high-quality and vitamin-rich ingredients.
If you have gluten intolerance make sure to check their gluten-free options as well – they're appetizing, filling and most of all good for you.
BUZZ Organic Food & Drink is a small place so you might need to wait for a table but it's definitely worth it.
Address: 873/5 Moo 2, Ao Nang.
Opening Hours: Every Day from 9 AM to 5 PM
Now that you know what are the best things to do in Ao Nang, Thailand it's time to get planning! A trip to Thailand is one you will never forget and worth every hour spent getting there by plane. So, take our word for it and enjoy!