Getting ready to pack your bags and head to Bangkok for the first time? Well, you're most certainly in for a treat! The largest city in Thailand and also the country's capital, Bangkok is a hub of vibrant life.
As you walk beneath the breathtaking skyscrapers along the Chao Phraya River you will be in complete awe of the unique culture surrounding you. But, in a city SO big with SO much to do, it can be difficult to know where to start.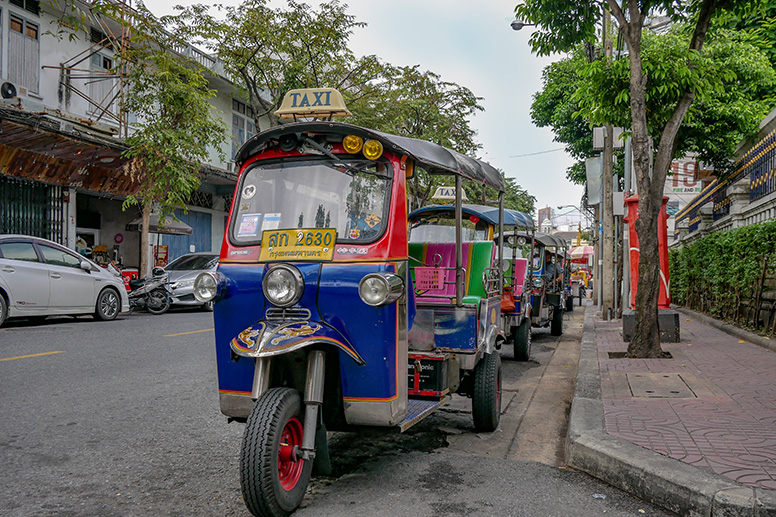 That's why we have prepared a Bangkok itinerary to help you navigate your way through all of the intriguing destinations and make sure you don't miss a thing!
---
Tips for first-time visitors in Bangkok
Before we get into the day-to-day activities and must-see attractions of Bangkok, there are a few tips we need to share so you are prepared.
Dress Appropriately
One thing you should know before you head to Bangkok is that Bangkok is HOT. The high temps and high humidity along the river mean that you are definitely going to be sweating during your trip there. However, you should know that when visiting most sites (especially religious) in Bangkok there is a dress code! Expect to wear shirts with sleeves, and long pants/ long skirts during most outings.
In case you forget to bring any of these type of clothing you can easily rent some directly at the entrance of the most important monuments and historical sites.
Be Prepared to Bargain
In Bangkok, they can spot a tourist from a mile away. So, before you hail a cab or catch the local Tuk Tuk, be sure to ask them if they use the meter and agree on a price. Although you want to get to your destination, you certainly don't want to be taken for a ride. Consider also using the very efficient BTS Skytrain which lets you avoid all the traffic and can bring you from the Chao Phraya to the Siam shopping malls in just a few minutes.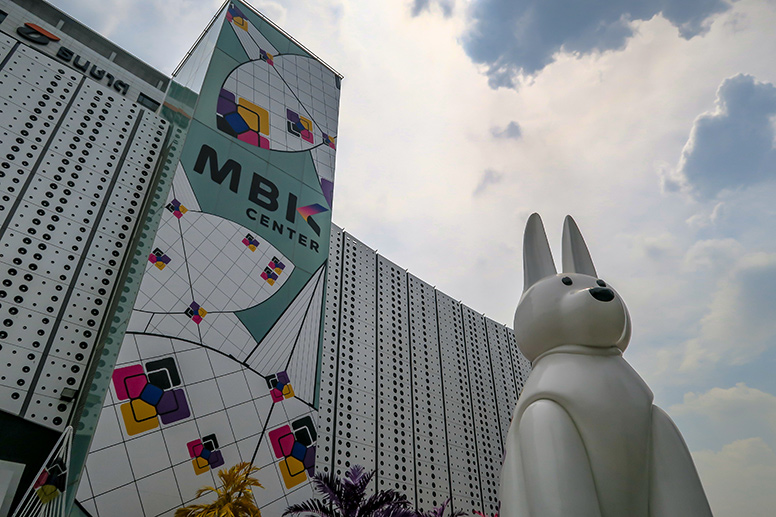 Carry Directions Back To Your Hotel
As you travel through Thailand, there are plenty of opportunities to get turned around or end up on the wrong bus. If you carry your hotel address and phone number with you (preferably in Thai), you will always be able to find your way home (or find someone who can help you)!
Get a Map
Before you leave the airport upon arrival, be sure to grab one of the free maps that are offered. As you venture out, it will help you navigate your way to all of the destinations you don't want to miss!
---
Bangkok Itinerary – Day 1
The first thing you should do when you get into Bangkok is head towards the river because that's where you will find most of the famous destinations, great food, and the best hotels. And, near the river is where you will find the first stop on your list, Wat Arun.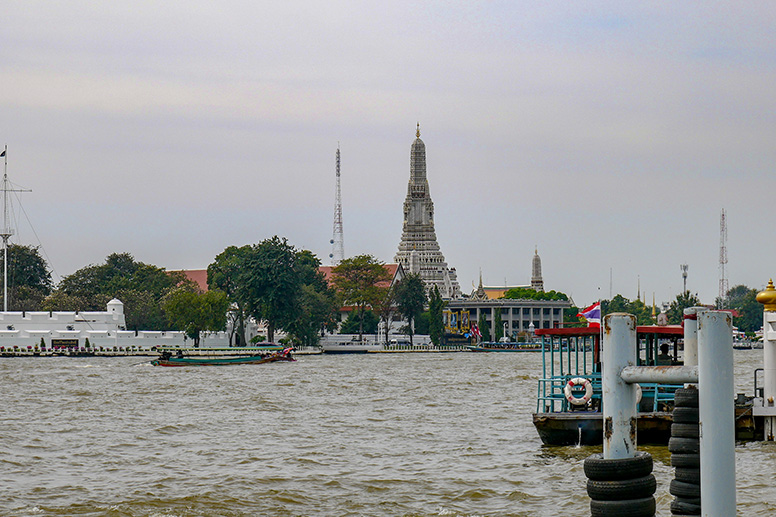 Start your historical tour from the unique Wat Arun
Standing tall and proud beside the river, Wat Arun is one of the most famous tourist destinations in Bangkok. As one of Thailand's most highly regarded religious sites, it is a great place to begin your journey and gain an understanding of Bangkok's rich culture. However, before you enter be mindful that a respectful attitude is expected and that you will be climbing a lot of stairs.
Learning about Buddhism at the Wat Benchamabophit & Wat Pho
Since Wat Arun will have you fully enthralled with Thailand's rich history of Buddhism, it only makes sense that the next stop on your first day in Bangkok would be Wat Benchamabophit. A short walk down the street from Wat Arun, this Buddhist Temple is covered in gold and marble and is truly a site that everyone should see.
To make your temple tour truly complete, head to Wat Pho, on the opposite side of the river – one of the oldest temples in Bangkok and home to the famous Reclining Buddha which is 15 m high and 46 m long.
Taste delicious Thai food in Chinatown
After touring all these breathtaking Buddhist temples your stomach is certainly going to be growling – and you might want a break from being quiet. So, we suggest that you hop on a bus and head over to the biggest Chinatown in the world. Also known as Yaowarat Rd, it is bursting at the seams with delicious food, great shopping, and plenty of entertainment. One tip: watch for the longest lines, because that is where you will find the best food!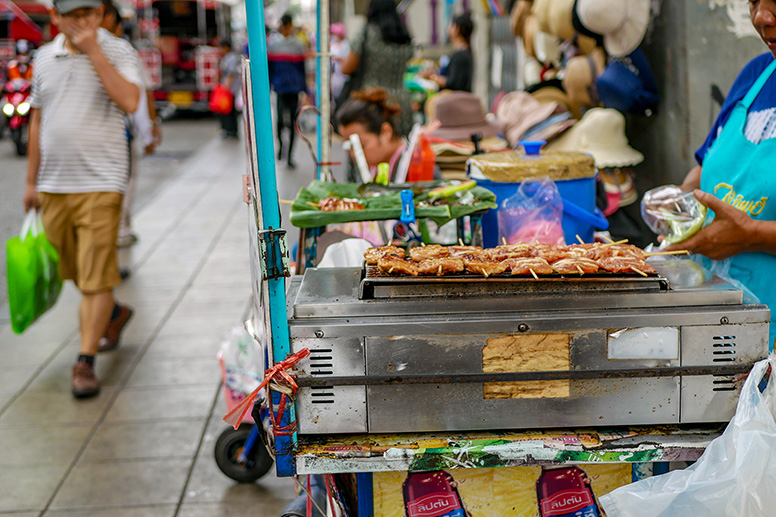 Admire Bangkok's Sunset from the Top
You certainly could spend an entire day on Yaowarat Road, but unfortunately, your schedule won't allow it. So, after you get your fill of delicious food and souvenirs it's time to tackle one more location. And, for that one location, we highly recommend the Sky Bar – Lebua at State Tower. 63 floors high, this bar is the perfect location to catch a Bangkok sunset over the Chao Phraya and enjoy a delicious drink.
---
Bangkok Itinerary – Day 2
Hopefully, after your busy first day, you got a chance to rest your head at one of the best hotels in Bangkok. From the Le Meridien to the Pathumwan Princess Hotel, there are many luxury hotels you can choose from at very affordable prices.
Navigate the Chao Phraya River
Number one on the agenda for day two in Bangkok is a Chao Phraya River Cruise. We know we've talked about the Chao Phraya a lot, but taking a moment to get away from all the morning hustle and bustle in the middle of the city is totally worth it. From one of the many canal cruisers, you will be able to see the city from a different view and travel to your next destination without having to sit in the smog.
Explore the famous Khao San Road
If you navigate it correctly, your river cruise can drop you off near Khao San Road, the place we recommend you head next. Your Bangkok itinerary can't be considered complete without a stop here!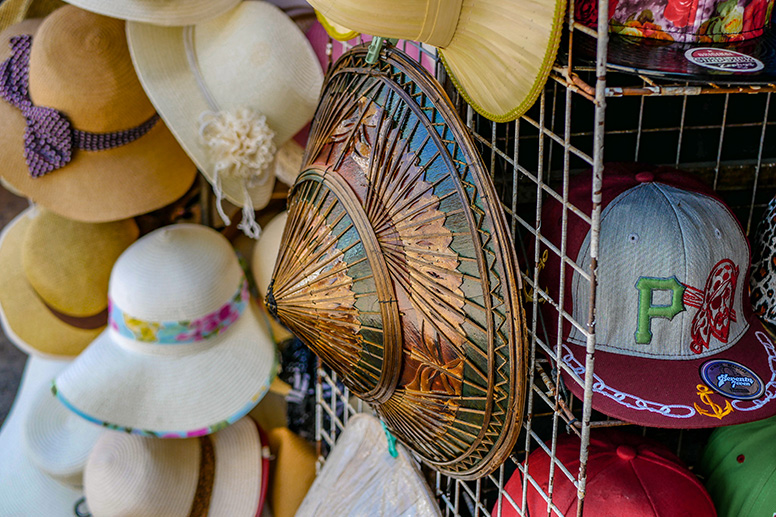 Local Thai food will satisfy your hunger and you will be able to spend most of your morning and early afternoon weaving in and out of shops and bars enjoying yourself and taking in all of the cultures Bangkok has to offer.
Khao San Road is filled with backpackers and travelers which makes it an excellent location to meet fellow globe-trotters from all over the world.
If you want to get gifts for your friends and family back at home – this is a perfect place since
the colorful market stalls burst with fun and affordable souvenirs.
You will also find an endless choice of fashion accessories and clothes available there, as well as fashionable swimsuit and beach accessories – especially useful if you're going to Phuket, Koh Lanta or Koh Samui next.
After an intense shopping session, try out one of the local restaurants, highly recommended by frequent Bangkok travelers are Deri's and Buddy Beer Wine Bar and Restaurant. Neither will disappoint.
Relax and regenerate in Lumpini Park
Once you've had your fill of delicious Thai food, it's time to relax a bit in Lumpini Park.
Located directly in the center of the city, Lumpini Park is one of the locales favorite places to regenerate and spend some time relaxing, running and admiring Bangkok's skyline. You'll probably also spot quite a few monitor lizards (some actually quite big!) which are one of the typical animals living in the park.
Comparable to New York's Central Park, Lumpini is one place you can definitely find some greenery in the city! And, a little afternoon relaxation and fresh air will do you good before your night on the town!
Finally, for your last night in Bangkok, you should once again head to the top of the city at Above 11. Towering high over the city in the open air, you will enjoy a delicious, icy cocktail as you reflect on your once-in-a-lifetime trip to one of the best cities in the world.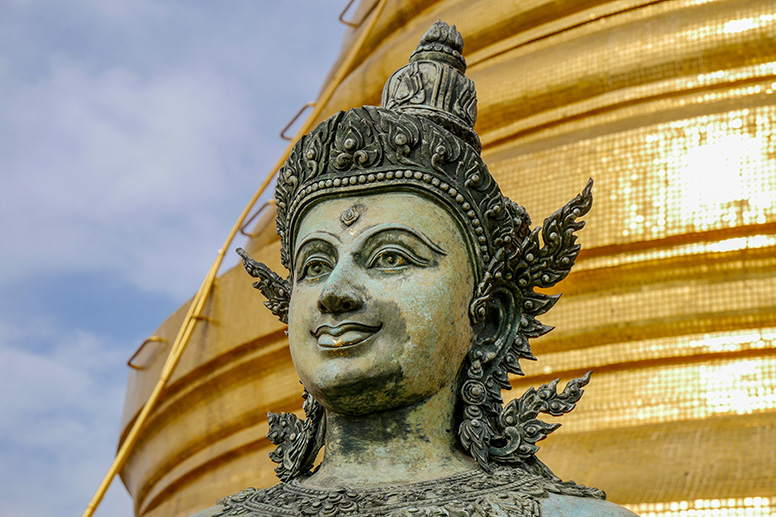 We hope you enjoyed this 2 day Bangkok itinerary and that you'll make the most out of your trip. If you have any questions feel free to add a comment below!
If you loved this guide, don't miss out also my other travel tips and itineraries: