Hanoi, Vietnam is a hodgepodge of old and new. A mix of beautifully constructed, ancient architecture and busy city lights.
Everywhere you look there are people, cars, and buildings. However, if you take time to stop and look around there is a lot of rich history to be uncovered and so many sites to explore.
For that reason, we have given you a basic breakdown on what we recommend for you to see and do on a two day stay in Hanoi.
We hope you'll enjoy this 2 Day Hanoi Itinerary we've prepared for you.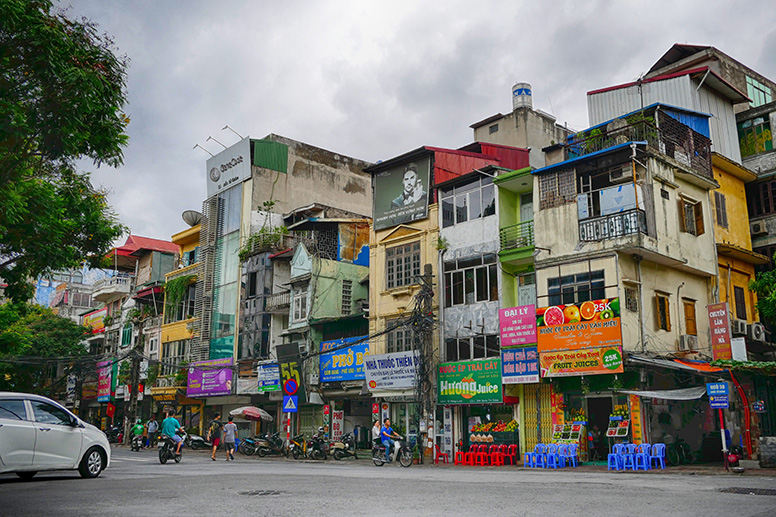 Hanoi Itinerary – Day 1
If you only have two days to spend in Hanoi, Vietnam you should expect them to be packed with a lot of walking, a lot of eating, and a lot of excitement.
Here is how we suggest you spend the first day.
Tai Chi at Hoan Kiem Lake
While visiting Hanoi, you will want to designate at least one morning to wake up before the sun to enjoy Tai Chi at Hoan Kiem Lake.
Hoan Kiem Lake is the heartbeat of early morning Hanoi. Walkers, joggers, morning meditation groups, and tai chi enthusiasts make their way to the water to start their day; and it certainly is a sight to see.
As a tourist, visiting Hoan Kiem Lake in the morning isn't the first suggestion you will receive from a local person, however, because it is mainly locals there in the wee hours, you will be able to experience Hanoi the way it was intended to be experienced.
So, bring along your stamina and join in the centuries-old tradition of Tai Chi, or just watch from a park bench on the sidelines. Either way, you will not be disappointed.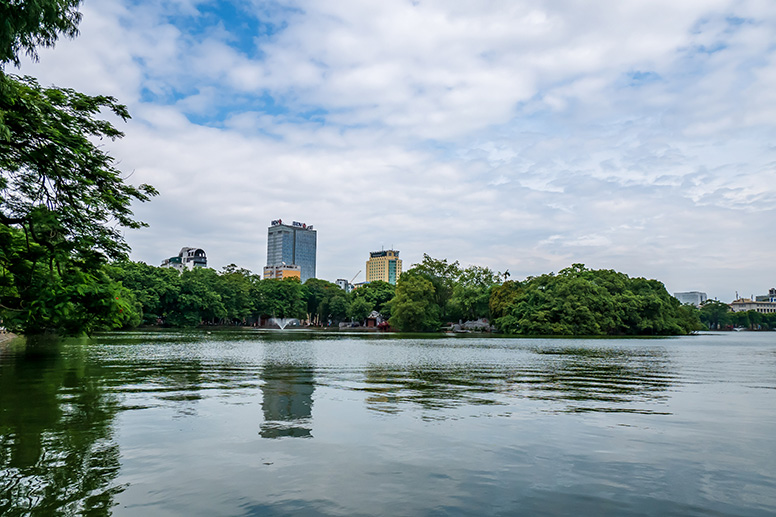 Hike to Temple of the Jade Mountain
Since you are already spending your morning at Hoan Kiem Lake, you won't want to miss the opportunity to take a hike up to Temple of the Jade Mountain.
The temple is open at 8:00 a.m. and if you plan on getting there right on time you will be able to enjoy a walk across the Welcome Morning Sunlight Bridge.
Every aspect of the Temple of the Jade Mountain is exquisite and no matter where you are, you will experience the peace and tranquility intended by its design.
Although it does not take a great deal of time to walk through the Temple of the Jade Mountain, you won't want to rush yourself. Pay attention to every small detail, and keep your eyes peeled for the endangered soft-shell turtles swimming in the lake below.
Explore Hoa Lo Prison
A camp for prisoners of the Vietnam War, Hoa Lo Prison is sobering, but a very educational experience for all who get to go and an interesting part of your Hanoi itinerary. The old walls of the prison are now home to a museum that tells the story of those who stayed there, their captors, and the war that was the reason for it all.
Spend just an hour of your day here and walk away with a lifetime of knowledge.
Treat Yourself to Dinner at JW Cafe
After a day of exploring museums, lakes, and temples you are going to want to treat yourself to a night out in downtown Hanoi. And, the perfect place to do just that is JW Cafe. An upbeat and trendy restaurant in the heart of Hanoi, JW Cafe offers exceptional Vietnamese cuisine and an atmosphere that will make you feel like absolute royalty.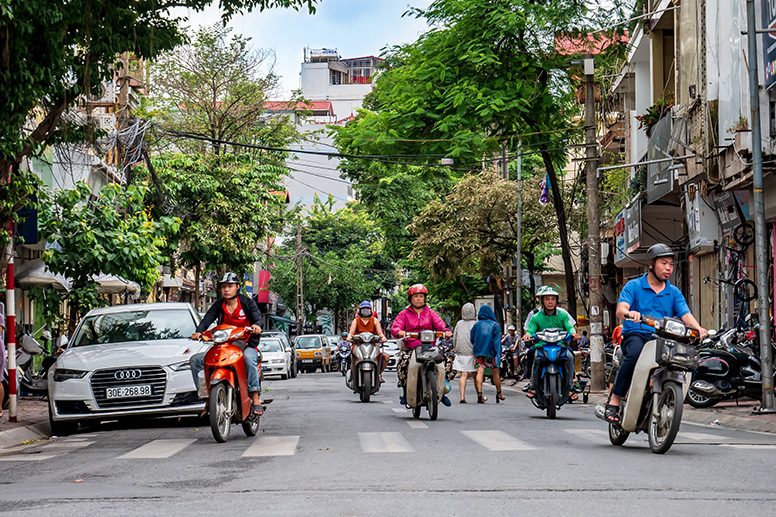 Hanoi Itinerary – Day 2
After your busy first day in Hanoi, you might be tempted to slow down a little on the second. However, we highly recommend keeping up your momentum as there is plenty more you will want to see!
Shop at Long Bien Market
A favorite stop for the locals, Long Bien Market is bustling with life at all times of day, but especially in the morning hours. Fresh produce, street food, and handmade goods line the streets and come pouring out of tents for all to enjoy.
As you sift your way through the crowd at Long Bien Market, you will bump elbows with local shop owners, restaurant chefs, and home cooks gathering their ingredients for the day's meals. If you are wise, you will follow their lead and gather up a few small samples of all the delicious offerings and beautiful goods!
Chow Down on Bun Bo Nam Bo: Hanoi Street Food
While you are visiting Hanoi if you do not make the time to enjoy classic street food, you have not really experienced the city and your Hanoi itinerary is not complete.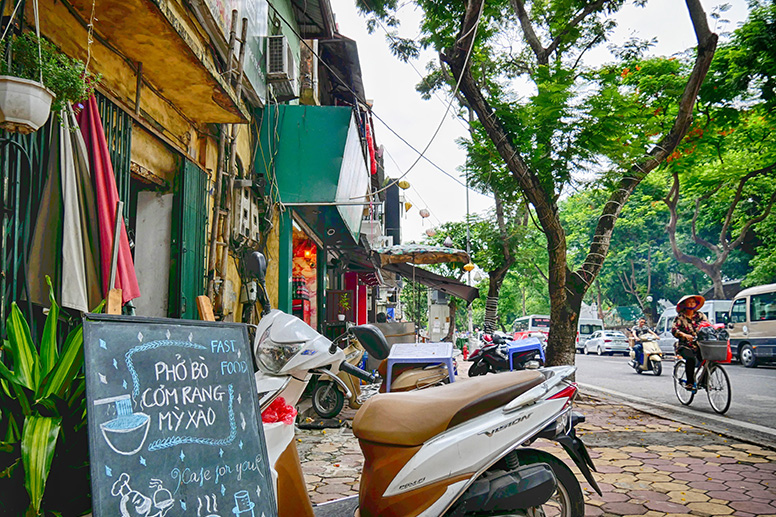 So, if you want to take your trip the right way we suggest finding a great spot to enjoy Bun Bo Nam Bo – arguably the best street food in Hanoi.
Bun Bo Nam Bo is a beef and rice noodle dish that is prepared with broth, nuts, coriander, and other ingredients that together make for a delightful, filling, unique street food experience.
Shop at Vincom Mega Mall
After spending the morning walking through the streets, it will be time to step inside and experience modern-day Hanoi at it's finest – enjoying Vincom Mega Mall. The plethora of stores, eateries, and vendor stands will take your breath away and attempt to take your pocketbook along with it.
Watch a fashion show, take in a movie, or grab a great deal. However, you spend your afternoon at Vincom you will surely enjoy it.
End the Night at Bia Hoi Junction
To really experience the nightlife in Hanoi, you are going to want to stop off at Bia Hoi Junction before heading to your hotel for the evening.
Bars and places to grab a quick bite line the streets and outside seating offers you a chance to get off your feet and take in everything around you. Grab a nightcap or stay out for dancing with friends and the local crowd for a great way to end your trip.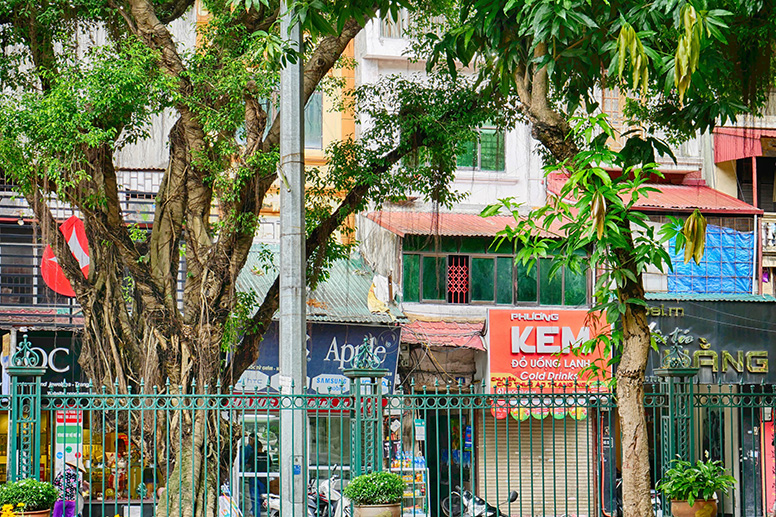 Where to Stay in Hanoi?
Once you are there, you will need a place to stay, and for that, we recommend choosing a hotel in the heart of Hanoi.
That way you'll be near all the main attractions, you'll be able to walk almost everywhere and therefore save some money on a taxi.
Best Hanoi Hotels
Here are some of the hotels we recommend for staying in Hanoi:
O'Gallery Premier Hotel & Spa
O'Gallery Premier Hotel & Spa is located in the historic old town this 4-star hotel is an excellent option to consider. Some of the popular attractions located nearby include Ngoc Son Temple and St. Joseph Cathedral.
Eco Luxury Hotel Hanoi
Eco Luxury Hotel Hanoi is one of the best options in Hanoi at affordable prices.
Dong Xuan Market is located only a few minutes away so you can soak in as much shopping and street food as possible while staying in this hotel.
Oriental Suites Hotel & Spa
Oriental Suites Hotel & Spa is another great hotel in the heart of Hanoi with Hoan Kiem Lake, Ngoc Son Temple, and St. Joseph Cathedral located only minutes away.
You can also take advantage of the on-site restaurant and relax in their spa center.
Hanoi Pearl Hotel
Hanoi Pearl Hotel is a 4-star hotel offers nice rooms with all the necessary amenities and a delicious breakfast.
The tourist attractions nearby include St. Joseph's Cathedral, Ngoc Son Temple and Thang Long Water Puppet Theatre.
How to Get to Hanoi?
Making your way to Hanoi is fairly easy as the largest airport in Vietnam is located there.
So, when you are booking your flight choose Noi Bai International Airport as your destination and you will be on your way in no time.
From other cities in Southeast Asia to Hanoi: Hanoi is very well connected with other cities in Southeast Asia. If you're in Bangkok, Singapore or in Kuala Lumpur there are flights to Hanoi departing every hour and you'll be able to reach the city in a matter of a couple of hours.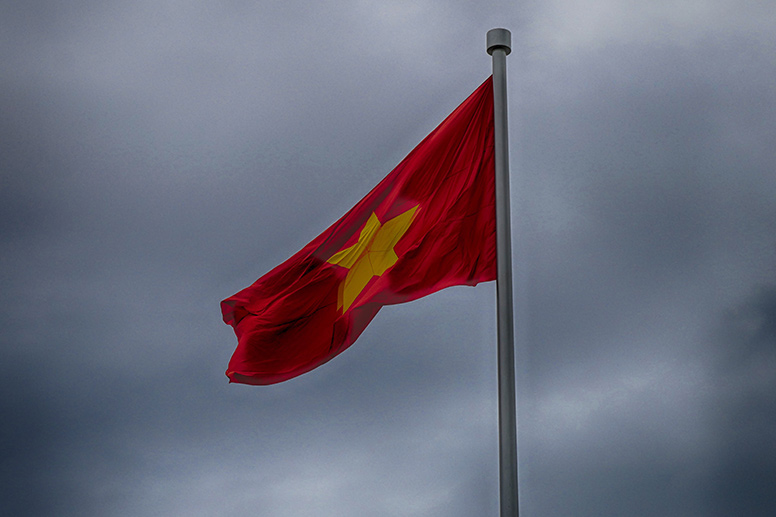 From Ho Chi Minh, Nha Trang and Hoi An to Hanoi: if you're already in Vietnam, airlines such as VietJet Air, Vietnam Airlines, and Jetstar offer tickets from Ho Chi Minh and from Nha Trang at affordable prices.
When visiting Hoi An first, you'll have to fly to Hanoi from Da Nang International Airport.
The overnight trains are an interesting and time-efficient option as well but make sure to book your tickets well in advance because they sell out really quickly.
Once you reach Noi Bai International Airport it takes about 30 minutes to reach the city with a taxi.
Make sure to only use the licensed and metered taxis (such as Mai Linh Taxi) or agree about the price beforehand in order to avoid overcharging.
Where to Go Next?
Now that you've planned to enjoy two days in Hanoi, Vietnam, it's time to choose your next stop.
You can keep exploring Vietnam and visit other amazing cities such as Hoi An, Hue or Ho Chi Minh City.
Hanoi is also the best starting point for exploring the famous Halong Bay.
From Hanoi to Halong Bay
Halong Bay is located about 180 km away from the capital city of Vietnam and can be reached by one of the many buses available.
The bus tickets come at very affordable prices and the entire journey should take around 5 hours.
You can also keep traveling through Asia, and, for that, you can easily hop on a flight to Bangkok, Thailand or Hong Kong, China. The choice is up to you!
Share this 2 day Hanoi itinerary on Pinterest!