In central Vietnam sits Hue, an imperial city that feels as though it was lost in time. Outside of the city, stone temples sit tall along calm rivers and the ancient tombs emit a feeling of authority and deep history – as if they have stories to tell.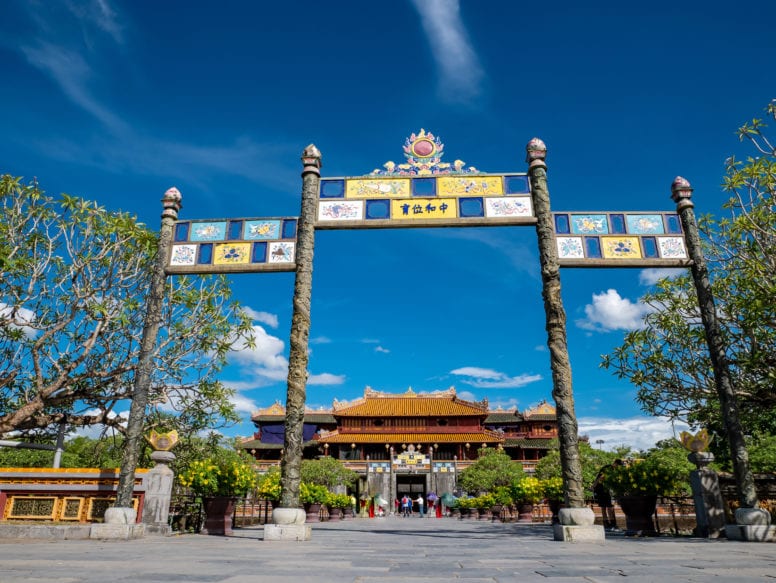 Closer to the city center, markets still bustle with daily activity as locals go there searching for the goods they need to make the next meal or a special treat.
If you have a chance to visit the city of Hue – the ancient capital city of Vietnam, it is highly recommended you do so. There are many things to do in Hue and it is almost guaranteed that whatever you choose will not disappoint.
By the way, as mentioned in my guide of the best things to do in Hoi An, the city of Hue is located very close to it – so don't miss it out if you're in this area!
1. Imperial City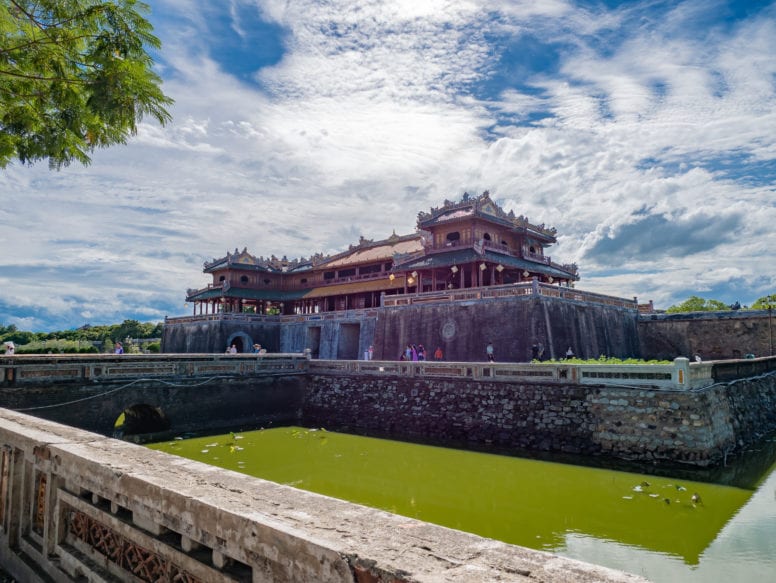 The Imperial City is a walled city that is one of the most popular things to do in Hue, Vietnam. This historical location was the home of the original capital and boasts a number of gardens, tombs, and statues nodding toward the location's iconic past.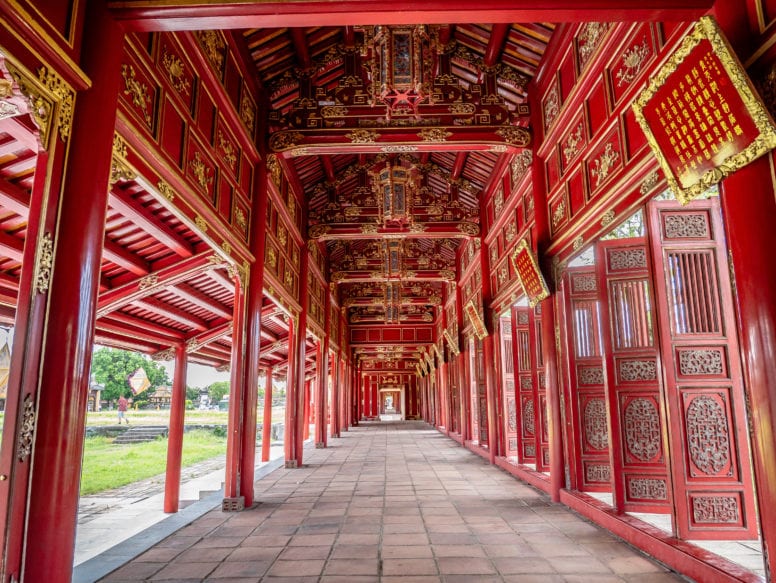 The most popular place to visit within the walled city is the stone flag tower. This large building is a traditional Vietnamese structure that makes for the perfect photo opportunity.
Pay attention to the beautiful Thai Hoa Palace and then take some time to explore the Halls of the Mandarins located nearby.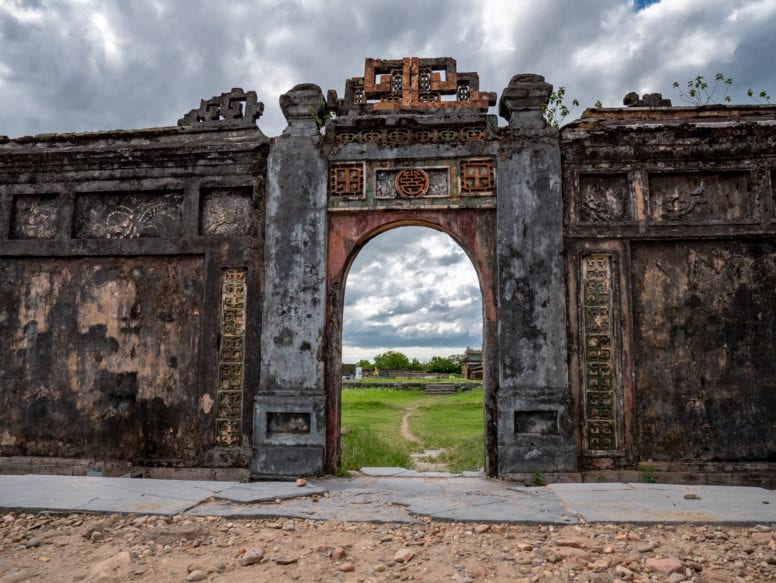 Another significant point of interest inside the Citadel includes Truong San Residence, Emperor's Reading Room, Forbidden Purple City and To Mieu Temple Complex.
You could spend just a short time or a few hours at the Imperial City depending on what you want to see. And, if you should choose, you can also take a guided tour of the city.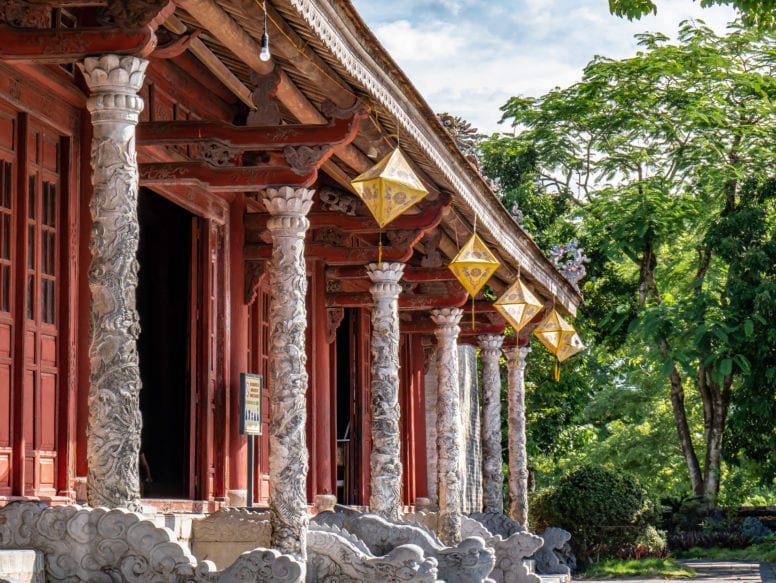 2. Pagoda of Celestial Lady
Seven stories tall, Pagoda of Celestial Lady is a historic location and one of the many things we recommend to do in Hue, Vietnam. A traditional Vietnamese temple, Pagoda of Celestial Lady is recognized by people near and far because of its popularity and meaning to the ancient Imperial City.
If you are visiting the Pagoda of Celestial Lady, you will find that it will only take a small portion of your day. Typically, people walk around the outside of the structure taking pictures and admiring the intricate architecture of the past. However, if you have more time to spare, there are a number of other shrines that line the banks of the river you are sure to enjoy.
The only thing we have to mention is don't forget your camera – this is an opportunity you never want to forget.
3. Tomb of Khai Dinh
Khai Dinh was the 12th emperor of the Nguyen Dynasty in Vietnam. Because of his importance, his tomb was elaborate in nature and is an interesting thing to do in Hue, Vietnam. The tomb is particularly interesting because it was built from 1920-1931. Taking 11 years total, this tomb is a nod towards traditional Vietnamese architecture with a little Western twist. Every visitor who stops by notes its individuality.
When visiting Tomb of Khai Dinh you will likely be taking a walking tour, so pack good shoes and be ready to walk a few steps as there are many leading to the front doors of the tomb.
4. Tomb of Tu Duc
Another notable tomb in Hue, Vietnam is the Tomb of Tu Duc. Tu Duc ruled the Nguyen Dynasty in the mid-1800s and boasts the longest reign of that dynasty in history. Therefore, he has one of the most elaborate tombs in the area of Hue. The tomb itself is surrounded by statues and a serene koi pond that allows all who visit a moment of relaxation.
If you are looking for a particularly unique experience when visiting Hue, Vietnam you can take a dragon boat to visit Tomb of Tu Duc. The ride itself is worth the time and is one of the best ways to get around the ancient city.
5. Shopping at Dong Ba Market
Looking for things to do on a rainy day in Hue, Vietnam, then shopping at Dong Ba Market should be at the top of your list. As one of the best ways to experience local culture, the Dong Ba Market is a thriving atmosphere filled with fresh foods, beautiful goods, and many interesting people.
If you are hungry while visiting Dong Ba Market, don't worry. There is a station with seating for over 200 people near the multiple foods stands on-site. For that reason, it is nearly impossible to deny that the Dong Ba Market is one of the best things to do in Hue.
6. Perfume River Cruise
Perfume River runs through the center of Hue, Vietnam and is one of the most beautiful locations in all of the city. As you travel up and down it's winding bends you will see temples, traditional Vietnamese homes, and plenty of local people enjoying their life in the sleepy city.
The boat you will ride in on your Perfume River Cruise is just as unique as the experience itself. A true photo opportunity to boost your Instagram or save to put in a frame for later.
7. Trying the authentic Hue Food
We can't get through the best things to do in Hue, Vietnam list without mentioning the wonderful food that can be found all across the city. Some of the best dishes in Hue are the Bun Bo Hue, Com Hen, and Bun Thit Nuong. These dishes contain many different styles of noodles, a variety of delicious meats, and a few servings of fresh vegetables and herbs-each offering its own unique taste.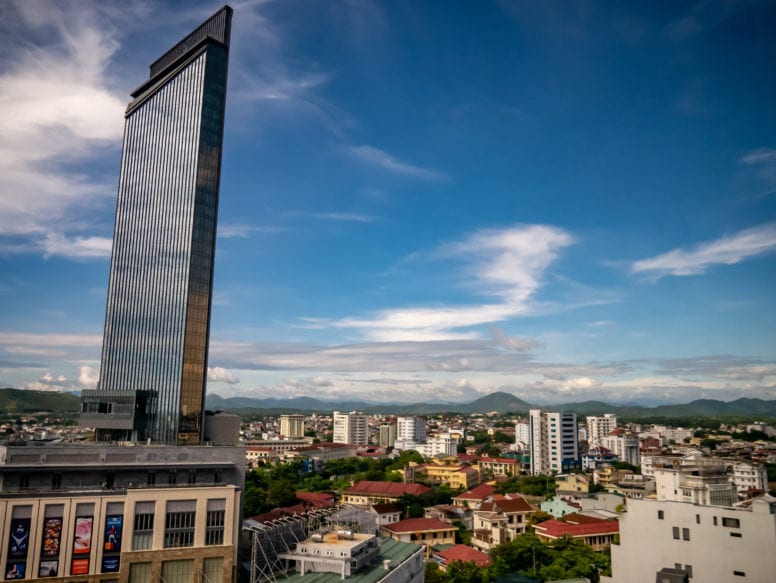 You can find some of the best authentic Hue food at the Dong Ba Market or any other market in Vietnam. Delicious and unique you don't want to miss trying these dishes.
8. The Mieu
Another great alternative for things to do in Hue when it is raining, The Mieu temple is a home to shrines for each of the emperors of the Nguyen Dynasty.
The large building is breathtaking and features a large courtyard leading to the front doors. If you visit The Mieu you will find that it is packed with an interesting history and many stories you would have never known if you didn't visit Hue.
9. Hue Museum of Royal Fine Arts
If you're looking for interesting things to do in Hue make sure to go and see the Hue Museum of Royal Fine Arts.
This museum displays hundreds of antiquities such as objects made of gold, porcelain, pottery, and royal costumes of the Nguyen dynasty that will help you learn all about the daily life of royal families.
There is a section dedicated to the Art of Champa as well where you can discover some interesting fact about this ancient civilization.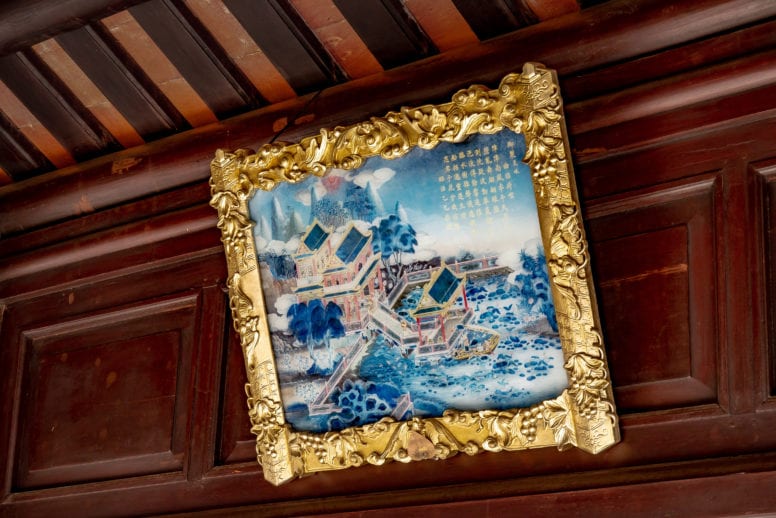 10. Bao Quoc Temple
Among many Buddhist temples present in Hue, Vietnam there is the Bao Quoc Pagoda – a small and quiet corner of the city, definitely worth visiting.
Loved by locals and tourists alike this lovely temple is a truly magical place with a rich history.
The picturesque location on a small hill makes the atmosphere even more pleasant and peaceful.
How To Get To Hue, Vietnam
Hue is located in central Vietnam and there are a few ways to reach it.
If you're in Ho Chi Minh City or in Hanoi you can fly into the Phu Bai International Airport – a very small airport located about 10 miles away from the city center.
The airlines such as VietJet Air and Jetstar have multiple flights a day to Hue at convenient prices.
You can also take a train from all the main cities in Vietnam such as Hanoi, Ho Chi Minh, Da Nang or Nha Trang.
If you're traveling from Hoi An you can take a bus or a private car and you'll reach Hue in around 3 hours.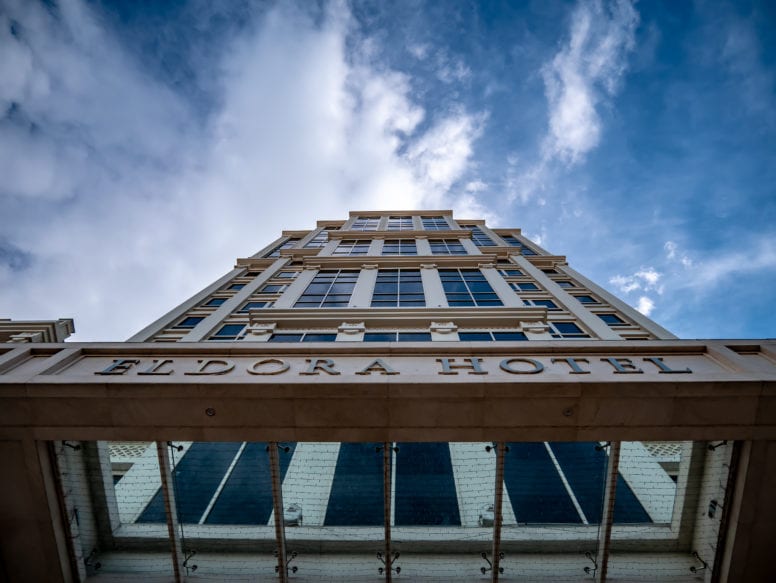 I hope you enjoyed this list and if you're heading to the capital of Vietnam, don't forget to check my 2 days Hanoi Itinerary!