Koh Lanta is one of the most beautiful islands I've ever seen and a real paradise for those who look for perfect sandy beaches.
Koh Lanta Beaches – Best Beaches in Koh Lanta – Video Travel Guide
I was mesmerized by the charm of these places and loved soaking my toes in the incredibly warm and white sand.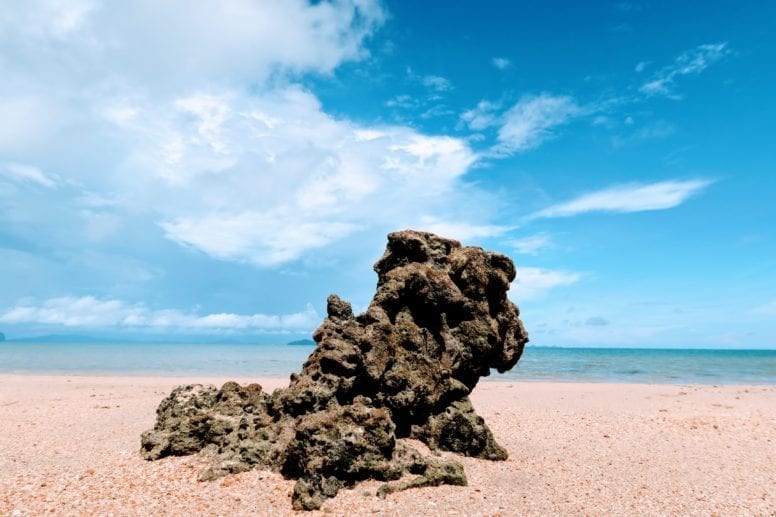 I have heard so much about the beaches in Koh Lanta that as soon as I arrived I started planning my daily trips.
I also read somewhere that Koh Lanta was once named Pulao Satak which means long beach island so I was really looking forward to discovering all these heavenly locations.
In this post you will find a guide to the best beaches in Koh Lanta in Thailand, I am going to start from the south of the west coast because that's where my favorite ones were located.
Koh Lanta Beaches – The Ultimate Beach Guide
Like it? Pin it!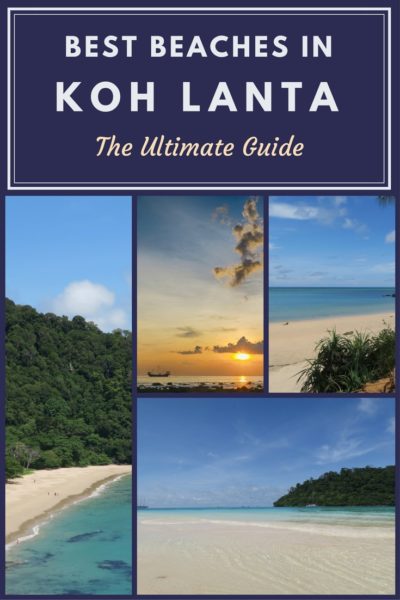 Koh Lanta Map: Your Free Koh Lanta Beaches Map
Before getting started, we've crafted a free gift for all of you: a manually curated Google Maps with all the best beaches in Koh Lanta pinned! This way you can easily follow along and navigate. 🙂
1. Mu Ko Lanta National Park Beach
Mu Ko Lanta National Park was on my bucket list for a very long time and I will write a separate detailed blog post about all the attractions and things to do there.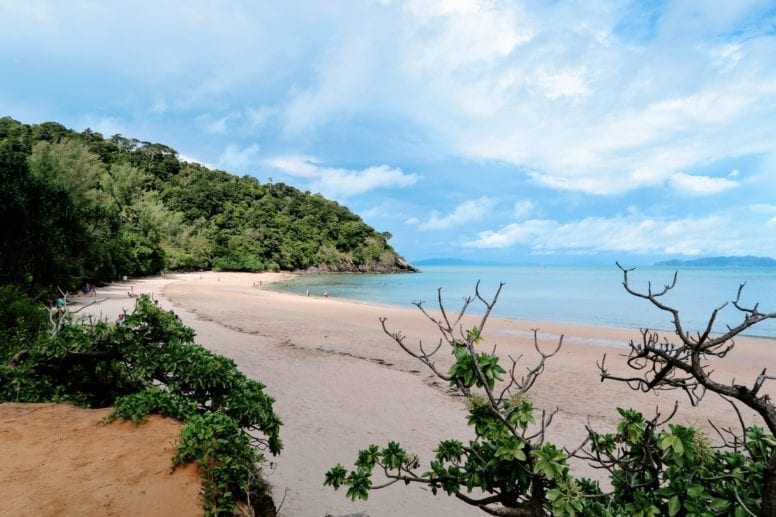 Today I'm going to focus on a breathtaking beach which is a part of this amazing Park.
The beach we found at the Koh Lanta National Park was not only the first one we've seen but also one of the most beautiful.
The soft sands and crystal clear water, combined with a tranquil setting, are a guarantee of a perfect and blissful day.
I loved how calm and peaceful this beach was. There were only a few people there with us so we weren't bothered by too much noise or movement.
I wonder if this has anything to do with the fact that there is an entrance fee – 200 THB for foreigners and 40 THB for Thai or we were just lucky.
If you enjoy photography, a picturesque lighthouse can be seen from the beach as well. It makes a fantastic background for some wonderful pictures.
Right at the beach, there are no facilities but toilets and a bar can be found within a 5-minute walk, inside the National Park.
2. Bamboo Bay Beach – Ao Mai Phai
If you are a solitude and nature lover this small beach will be perfect for you.
This postcard-like place is truly wonderful, it seems like it hasn't been discovered by tourists yet and for me personally, that's a big pro.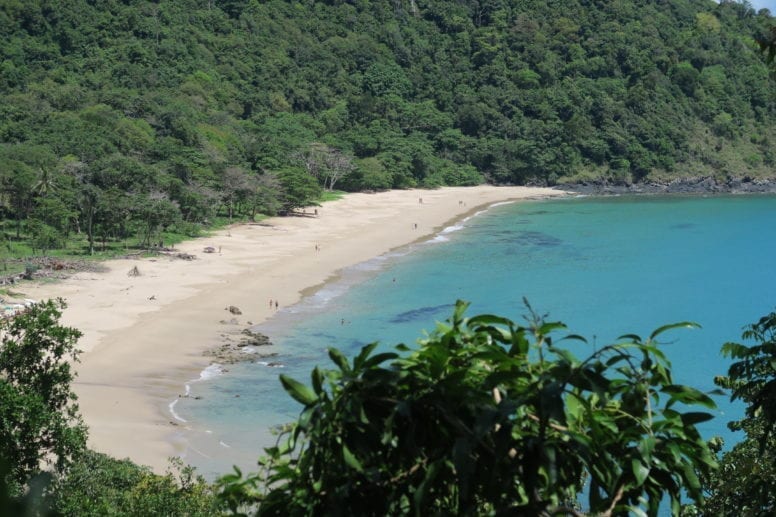 There is also a cute local bar/restaurant nearby where you can get something to eat or a refreshing drink.
If you are looking for a place to stay you can check out the LaLaanta Hideaway Resort. It is located close-by and it also has a private beachfront and some amazing swimming pools.
3. Klong Jark Beach
Klong Jark Beach is yet another amazing location in Koh Lanta.
The beach is long and sandy and quite peaceful most of the time, with a small number of tourists.
After a relaxing swim in the warm water, you can also play volleyball as a net is available on the Klong Jark Beach.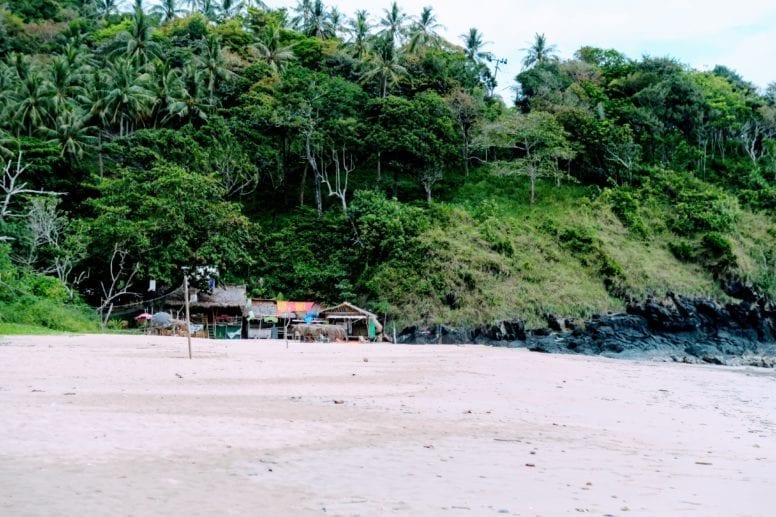 There is a nice Take It Easy Bar as well where you can enjoy a refreshing cocktail or a snack.
It has a sort of bohemian hippie style, cool music, and reasonable prices.
One of the main attractions of the area is a small waterfall which requires a 30-minute walk.
Just make sure to visit during the rainy season or you might be disappointed as there is barely any water during the dry months.
The resorts near the Klong Jark Beach include the Anda Lanta Resort, Klong Jark Bungalow, and Last Beach Resort.
4. Ao Nui Bay
Ao Nui is a tiny but stunning bay and is a real hidden gem of Koh Lanta.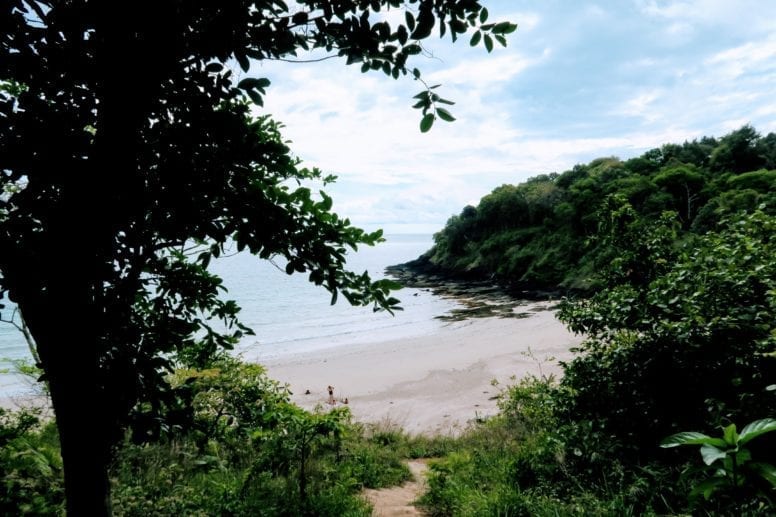 The facilities are non-existent but with such incredible views and surroundings, I couldn't care less.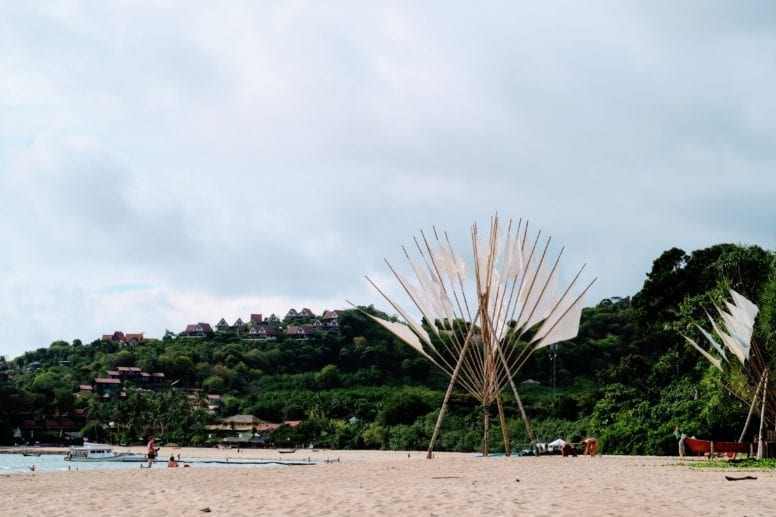 Bring some water, fresh fruit, and a book with you and enjoy a magical day in the middle of a paradise.
5. Kantiang Bay
Kantiang Beach is a wonderful place and I especially enjoyed taking my evening walks there.
Just like most of the beaches in Koh Lanta Island also this one isn't particularly busy so it is perfect for a relaxing and calm day.
Pimalai Resort & Spa – one of the most famous resorts of the Island is located nearby and also Phuchawee Lanta that offers Thai-style bungalows with sea view.
When it comes to dining some of my favorite places to eat there include Why Not Bar and Kantiang Restaurant for the best authentic Thai cuisine.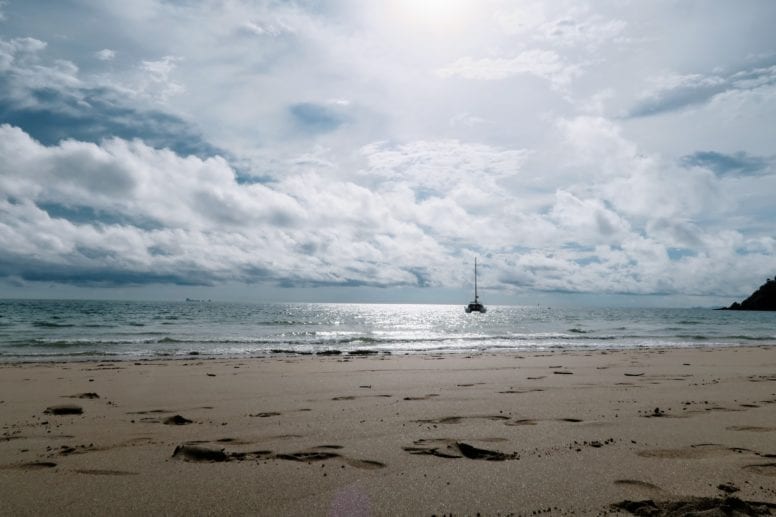 If you love diving you might want to check out the Scubafish and Go Dive Lanta. They are both located in the Kantiang Bay area and provide scuba diving and snorkeling trips.
6. Klong Hin
Right after Kantiang Bay, there is another beautiful dreamy beach – Klong Hin.
It is definitely one of the longest beaches of Koh Lanta and also perfect for an evening walk.
If you are looking for a place to stay in that area there is The Dream Team Beach Resort located on the south of Klong Hin Beach.
It also offers the Coconut beachfront restaurant where you can enjoy a delicious meal combined with breathtaking views.
7. Nui Beach
Nui Beach is a little hidden corner of paradise and a great spot for those who search for sugar sand and amazing palms.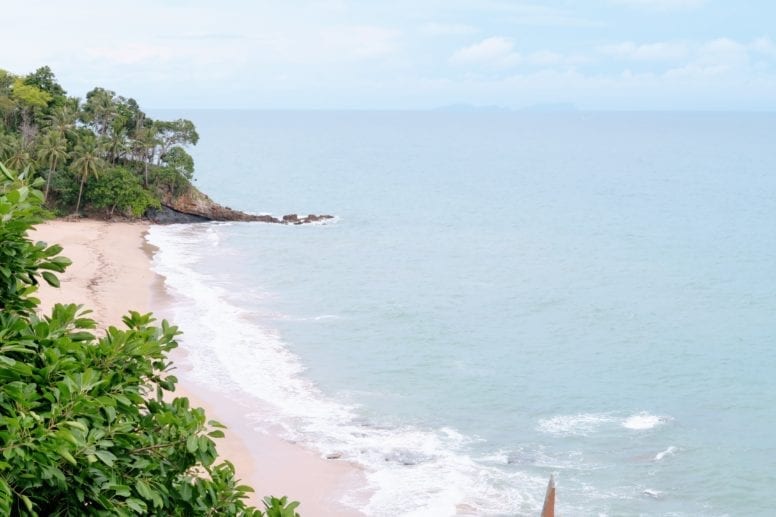 While there you have to check out the Diamond Cliff Beach Restaurant, view of the beach and the sea from there is spectacular.
It is a perfect spot to take some fantastic pictures too.
8. Klong Nin Beach
If you decide to stay near the Klong Nin Beach you will never have to worry about getting bored.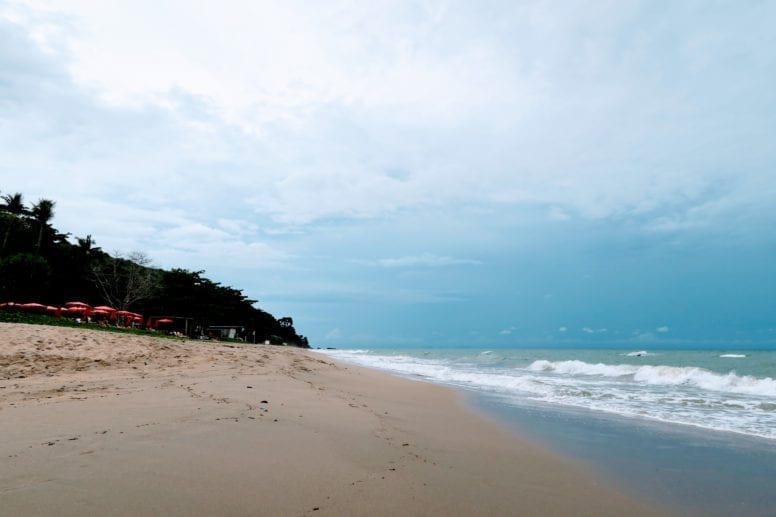 There are many well-known resorts, bars, and restaurants nearby as well as diving and snorkeling centers.
There is the charming SriLanta boutique resort, lovely Horizon Beach Bungalows or cozy Jai Dee Home.
When it comes to bars and restaurants you can't miss the Rasta Baby Bar combined with a shop that sells handmade jewelry and unique clothes.
9. Klong Toab
Klong Toab is a small but very charming bay with beautiful turquoise water ideal for swimming and for snorkeling.
Also my favorite resort in Koh Lanta, the Rawi Warin Resort & Spa is located nearby, just 5-minute walk from the beach.
10. Klong Khong
This is an excellent location with many interesting resorts and restaurants and is certainly more developed and therefore busy compared to other beaches in Koh Lanta. It is however very large too so at the same time it never feels overcrowded.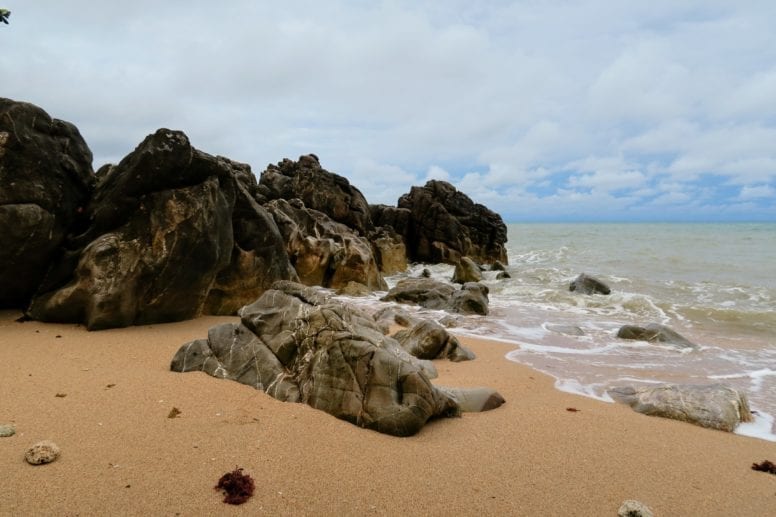 The collection of available resorts includes Coco Lanta Resort, Lanta Casa Blanca, Lanta Fa Rung Bungalows and many others.
11. Relax Beach
Can you imagine a better place to relax than on a tropical Relax Beach in Koh Lanta?
There are chairs and beach umbrellas provided too so you can hide from the sun and read a book during the hottest hours of the day.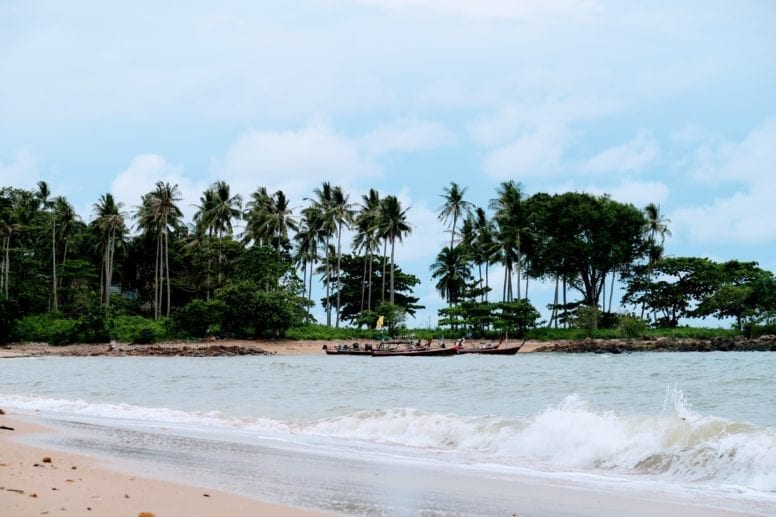 Relax Bay Resort is located nearby as well as Lanta Sport Resort.
If you want to improve your cooking skills there is the Lanta Thai Cookery School not far from the beach. While if you want to do some fun outdoor activity check out Lanta Paintball as well.
12. Long Beach Koh Lanta – Phra Ae
The Long Beach in Koh Lanta is truly a magical place and ideal for long walks and for admiring sunsets.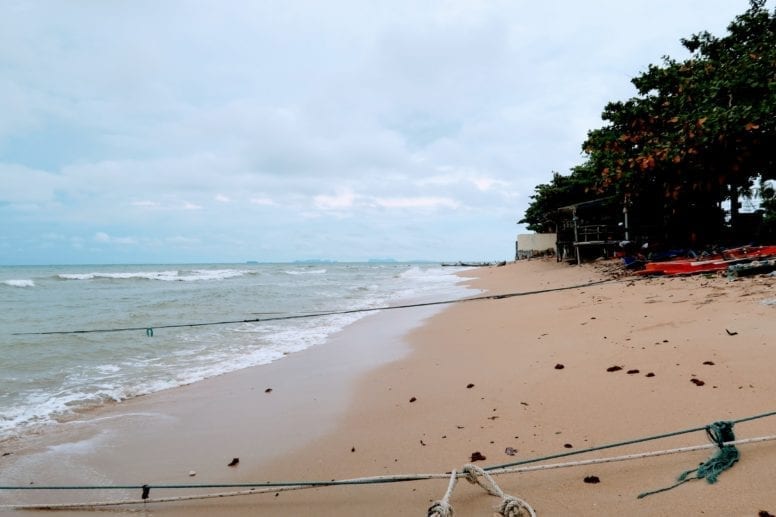 Given how long this beach is, it obviously never got too crowded. There was plenty of space for everyone there.
Behind the beach, there is a busy high street with a wide selection of bars and restaurants. Here you can get something to drink and to eat within a 5-minute walk.
When it comes to accommodation there is the Long Beach Chalet, Sayang Beach Resort, and Lanta Sand Resort & Spa just to name a few.
13. Khlong Dao
Located in the northwest part of Koh Lanta Island the Khlong Dao beach is one of these places you simply can't miss.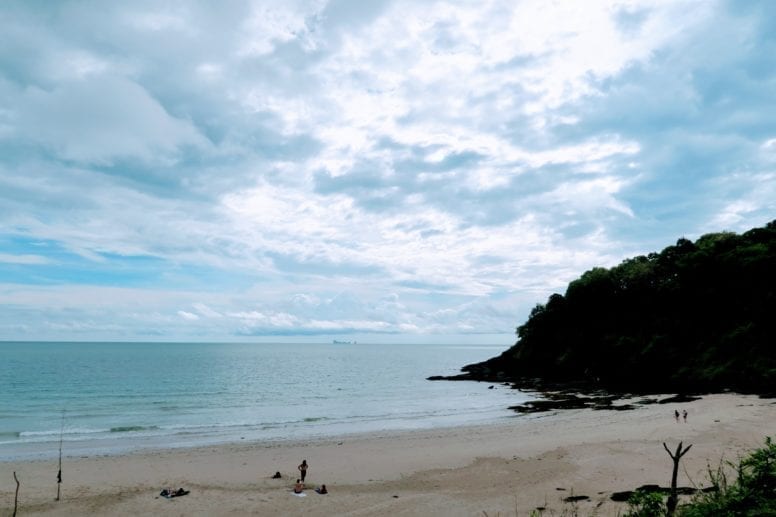 It is still very unspoiled and clean and the sunset there is one of the most spectacular I've ever seen.
If you decide to spend more than a day in this area, there are plenty of resorts and bungalows available.
I would recommend the luxury Crown Lanta Resort & Spa, the Thai-style Costa Lanta or the exotic Coco Cape Lanta Resort.
What is your best beach in Koh Lanta? Do you prefer the southern beach at Mu Koh Lanta National Park, the famous Koh Lanta Long Beach or the more exotic Bamboo Bay Beach?
If you're looking for more details about this beautiful island, don't miss my quick guide with the Top Things To Do in Koh Lanta.
Here are a few other Thailand travel guides that I'm sure you'll enjoy: