Without any doubt one of the most important travel gadgets is our mobile phone, it is the main communication device adopted by most people, whether it is for keeping in touch with your family and friends or for sharing anything on social media.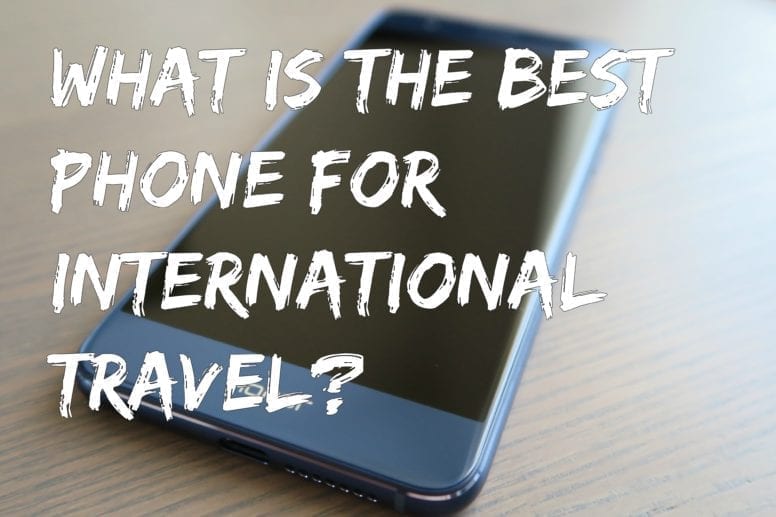 What is the best phone for traveling?
My most recent phone is the Huawei Honor 8 and I have a great opinion of it thanks to its performance, quality and versatility – this is why I currently consider it the best phone for traveling internationally.

Which features does the best travel phone need to have?
What are the key aspects that you need to take in consideration when choosing a mobile phone that is ideal for traveling?
Let's see how the Honor 8 behaves in these 8 essential points!
Battery Life for a traveling phone
Battery life is a primary aspect to consider for any mobile phone, but even more when we consider a phone for traveling – in simple words, it needs to be adequate and reliable to survive at least 1 full day.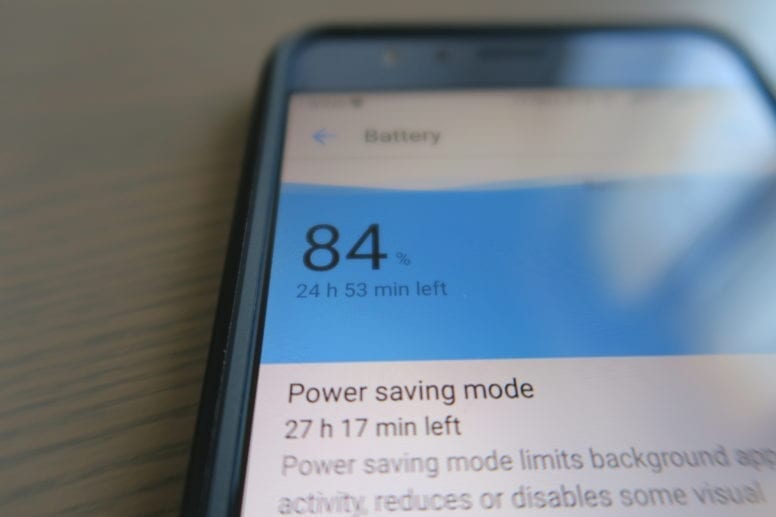 Honor 8 Battery Life
The Honor 8 from Huawei has an impressive battery life, especially given the powerful phone it is. It allows you to easily reach the end of the day with the phone still working. In my case, it lasts almost 2 full days with a moderate use (email, YouTube, camera, Facebook, Instagram and Bluetooth always on for Fitbit).
Honor 8 Battery Saving Modes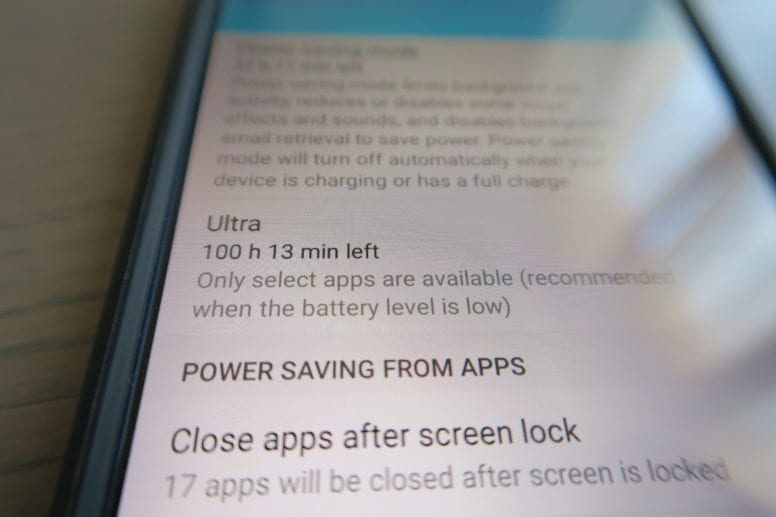 Besides this, the Honor 8 has two additional battery saving modes:
Power saving mode
Ultra mode
Power saving mode limits background app activity, disables email auto-sync, disables system sounds and reduces visual effects. It gives approximately a 10% boost in your battery life.
The ultra mode allows you to select which apps you want to keep active and can even double your remaining battery life – impressive!
In addition, the Honor 8 tells you which app is consuming too much power (also in the background) so you can close it quickly to start saving battery life right away.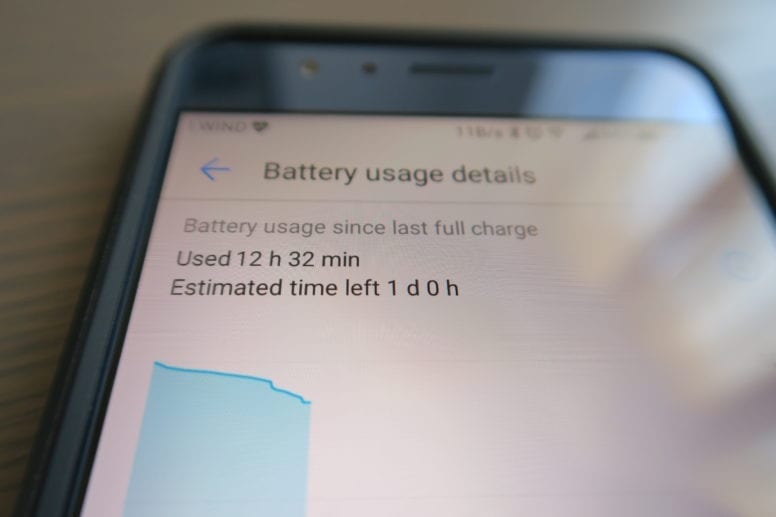 Charging Time for a Traveling Phone
Charging time is often overlooked, but when traveling it becomes essential to be able to charge your phone in a short amount of time. Often I find myself charging my phone at the last minute right before heading out for dinner…and even a few minutes of charge are critical to making it survive the full evening.
From this point of view, the Honor 8 is great as well – thanks to the quick charge adapter in just 10 minutes it easily charges in order to last over 6 more hours! It's important to remind that this can be achieved only by using the power adapter given with the phone (since it's a 9V 2A charger)
Honor 8 Camera Quality – Photos and Videos
The majority of my photos and video recording are usually taken with a "real" camera – I'm currently using the Canon G7X (which is an awesome camera by the way!). It's also true that sometimes you just have your phone in your pocket and want to take that quick shot either for Instagram, Facebook or even just for capturing that unique moment.
In this case, the Honor 8 camera is perfect – it has a dual lens sensor on the rear to ensure a higher quality picture is captured with a crisp and detailed image. More specifically it has a dual 12MP (monochrome + color) as the front camera and an 8MP on the front.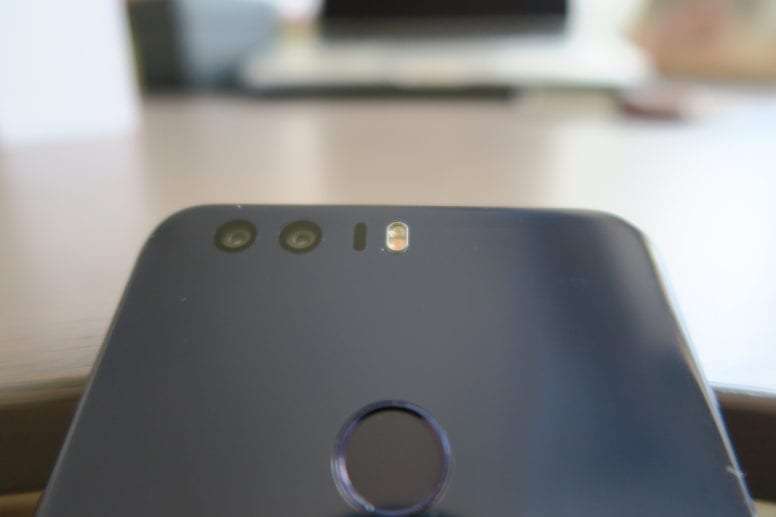 I also love the wide aperture that allows you to easily and efficiently blur out backgrounds giving that typical DSLR bokeh effect.
On the other side, capturing videos without holding the phone stable might result in quite some shaking given the absence of an OIS (optical image stabilization) system.
GPS Speed and Reliability
When traveling internationally and visiting new countries, one of the most valuable features a travel smartphone can have is the GPS. Why? Well, the GPS gives you your exact position so you can check using, for example, Google Maps where you're located and how far your destination is.
Obviously, the quicker and the more reliable the GPS is, the better your experience becomes – you don't want to continuously lose signal or waste minutes standing in one place to find your position.
I've used the Honor 8 in quite a few scenarios and the precision is great, the speed is impressive and also the reliability is fantastic – it just worked perfectly and I never had to worry about it!
Dual Sim: a must have phone feature for international travels
I'm not sure why, but not many high-end phones offer a dual SIM capability. This is a very important aspect knowing how much roaming costs when traveling internationally – it is a must have feature for any traveler.
What is a dual SIM? How does a dual SIM phone work?
It's actually a simple concept, it allows you to insert 2 mobile SIMs in your phone.
For example, you can keep your home SIM inserted in one slot and add the local SIM to the second slot.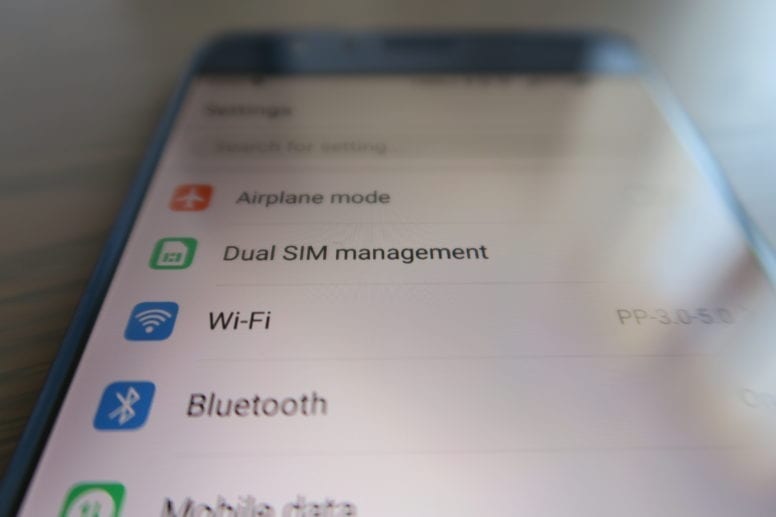 This will allow you to choose which SIM does what – usually I keep my home SIM for emergencies and in order to be always able to receive calls on the main number, while I use the second slot with the local SIM for enabling data access without roaming (so I can always navigate at the local cheaper cost).
Here are a couple of screenshots that show how to enable the dual sim on the Honor 8 and the options available.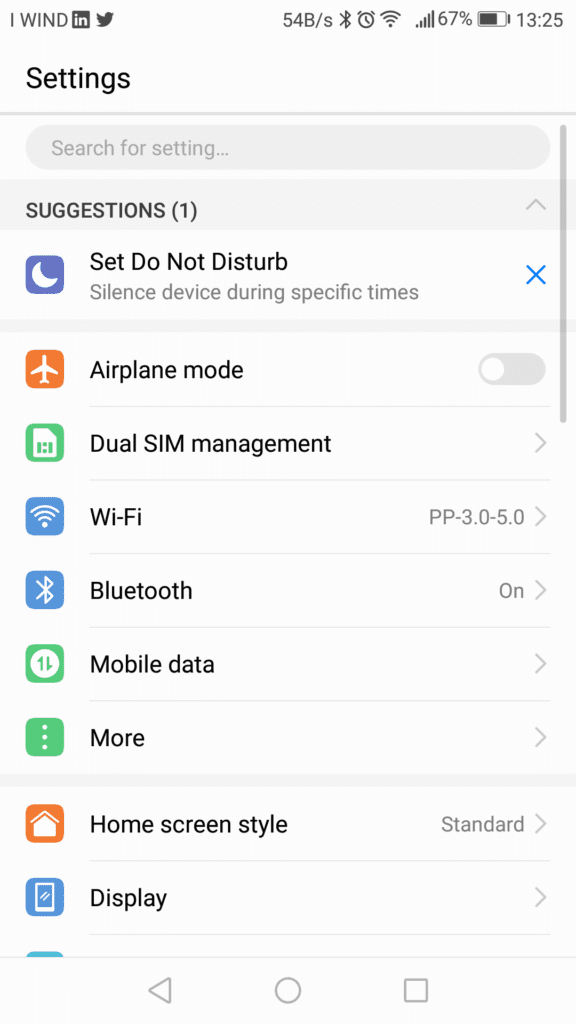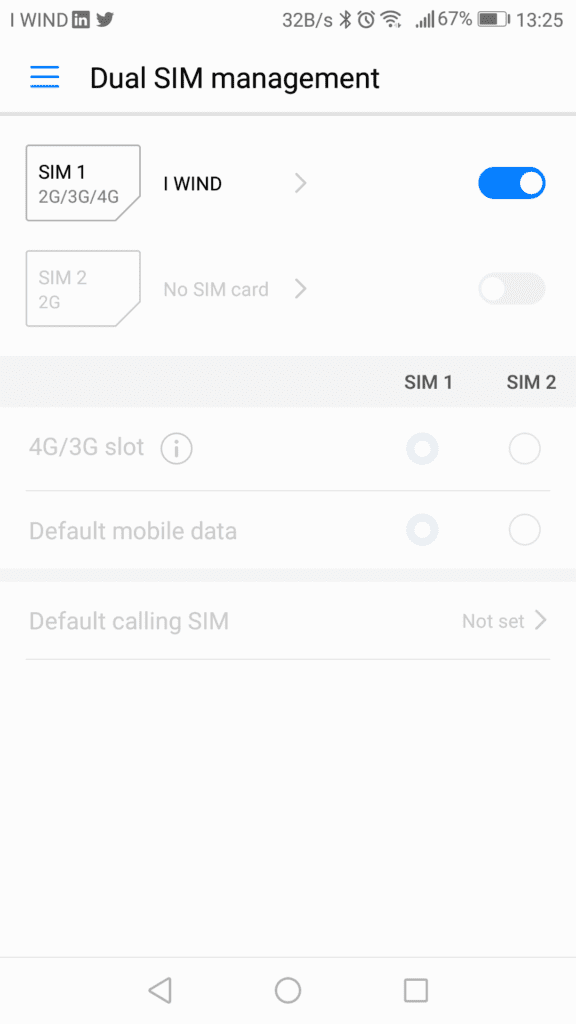 Expandable Memory
For one reason or another, you'll sooner or later find yourself with no more memory (storage) on your phone. Everyone has experienced this at least once.
Having a mobile phone that allows you to expand the memory is a huge advantage if you want to avoid going through all the apps, photos, videos and so on to free up some space.
Does the Huawei Honor 8 have an expandable memory?
Yes, it has an additional slot for inserting a microSD card to further increase its storage size.
One quick note here, the slot is the same used for the second SIM – so you can either use the microSD or the dual SIM functionality.
By the way, the Huawei Honor 8 comes with 32GB – which is a perfect choice if you don't take all your photos and videos only with your mobile phone. Otherwise, I would recommend the 64GB version, which is the Huawei Honor 8 Premium.
I have the 32GB version which works just fine since anyway I store my pictures and videos on Google Photos. This allows me to free up all the local memory from photos/videos: which is a huge amount!
Travel Phone Portability: Dimensions and Weight
We usually tend to prefer bigger phones with bigger screens but, if you're looking for the best phone for international travel you want to find the right compromise between usability and portability.
In my case, I wouldn't choose a mobile phone with a display of over 5" – 5.2". Why? Well, first of all, it becomes too big to keep it in your pocket, you would need two hands for typing and it would become also heavier to carry.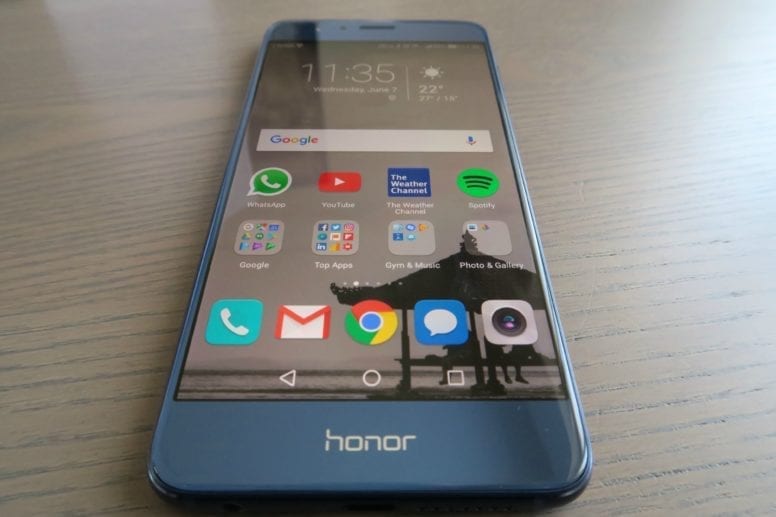 The Honor 8 is the maximum size I would buy with a display of 5.2" and also the weight at 153g is perfect for any pocket (I tried it even with those light linen summer pants!).
Jet Lag Friendliness
When traveling one of the most difficult aspects to overcome is jet lag. This happens because our body needs time to adapt to the new time zone and during this period it becomes difficult to sleep at night and/or stay awake during the day.
Honor 8 Eye-care Mode
An honorable mention, in this case, goes to the Honor 8 which incorporates a native eye-care mode that can dim the screen and reduce the blue light emission at certain hours of the day (night).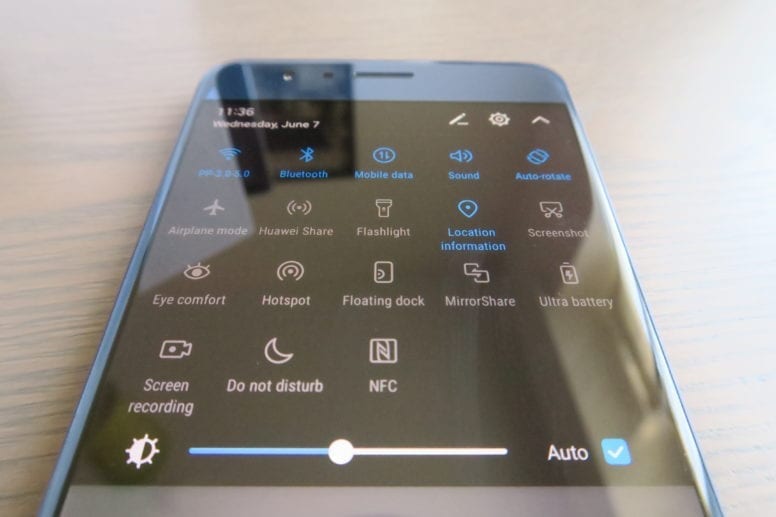 This can have a very positive impact on your circadian rhythm, helping you fall asleep easier if you use your mobile phone during the evening or night. Being very sensitive to blue light, this is a fantastic native feature that I would always look for on a new phone.
Is the Honor 8 the best phone for traveling?
Personally, I think the Honor 8 is a great phone, not only for an everyday use but, as we saw, also for traveling given that it possesses all those fundamental characteristics that a travel phone needs to have.
Comparison Table and Prices: Honor 8 32GB vs Honor 8 64GB
| | Honor 8 32GB | Honor 8 64GB |
| --- | --- | --- |
| | | |
| Memory | 32GB | 64GB |
| Price | [amazon_link asins='B01FM7IB92′ template='PriceLink' store='crbthrapi-20′ marketplace='US' link_id='3295e613-fc5a-11e7-bbd7-abde76970b87′] | [amazon_link asins='B01M9BEW2V' template='PriceLink' store='crbthrapi-20′ marketplace='US' link_id='b5c3a243-fc5b-11e7-8c6c-2908034aa6f4′] |
Do you have a preferred mobile phone for traveling? What is your experience?
Share your comments below!