Jim Thompson House & Museum Location
Jim Thompson House & Museum is located on the 6 Soi Kaseman 2, Rama 1 Road in central Bangkok.
The easiest way to get there is to take the BTS Skytrain Silom Line and get off at the National Stadium Station.
From there it's just a short walk and you arrive at your destination.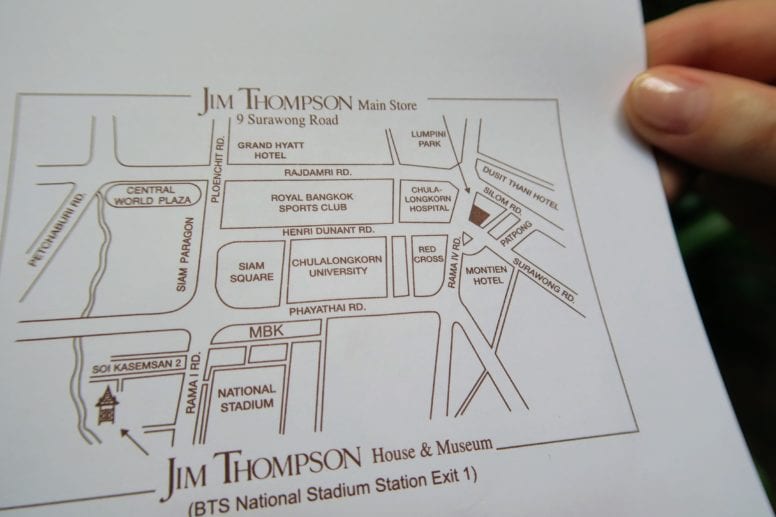 Of course, you can also catch a taxi or a typical Thai tuk-tuk but both of these options will take much longer given the heavy traffic in Bangkok at any time of the day and night.
The MBK Shopping Mall and Central World Plaza are located nearby, as well as Royal Bangkok Sports Club.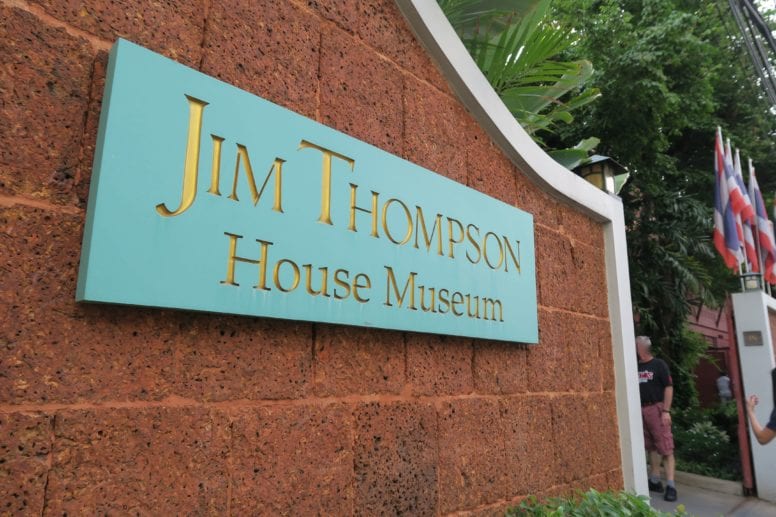 It was actually hard to believe that such a beautiful and peaceful spot can be found in the midst of a busy and crowded city like Bangkok. As soon as I got there I realized that visiting Jim Thompson House was going to be an incredible experience, very different from all the typical museums I had a chance to see in the past.
It is situated in the middle of a beautiful garden and apart from the main house, there are also other bungalows where you can admire some amazing art and silk.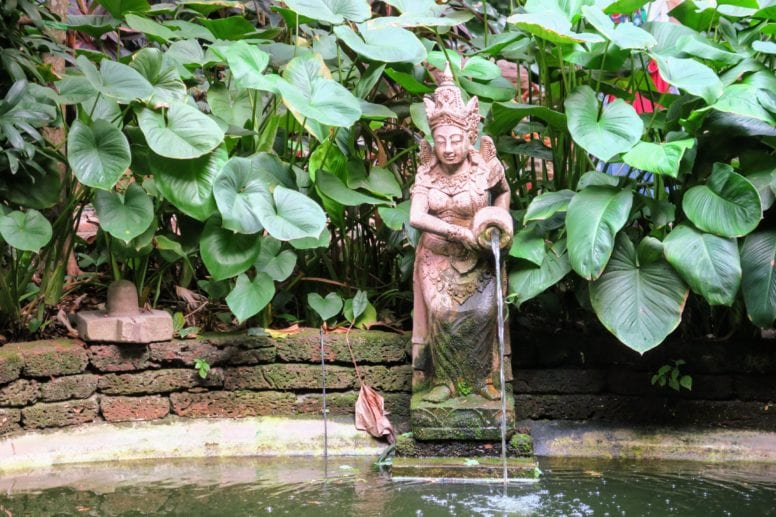 Jim Thompson House & Museum Ticket Prices
Jim Thompson House Entrance Fee
There is an entrance fee which is 150 THB for adults and 100 THB for everyone under 22 years old (you will be asked to show your ID).
This price includes a guided tour which is available in English, Thai, French, Chinese and Japanese and takes around 30 minutes.
Jim Thompson House Guide
After a short wait, we were introduced to our guide who was very professional, spoke perfect English and had an in-depth knowledge of the site and its history.
She shared Jim Thompson's story with us in an engaging and funny way and it never got boring or uninteresting during the tour.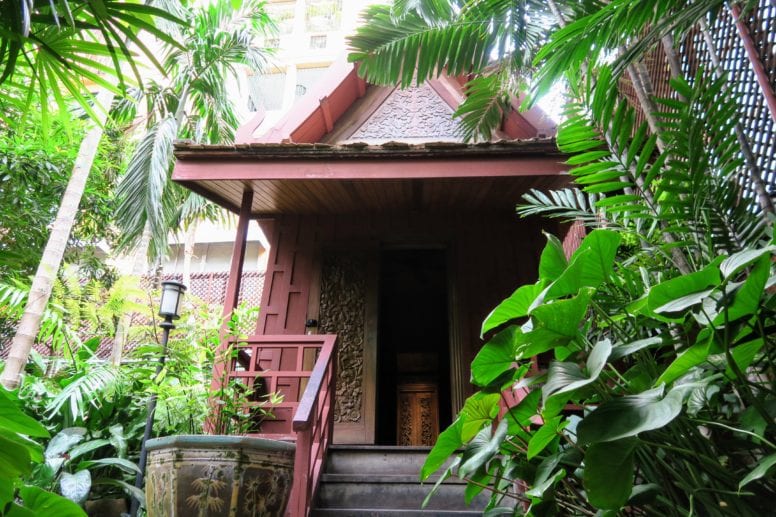 Also, you will be asked to take your shoes off and leave all your personal belongings in a secured storage area. It is not allowed to use your camera in the house but you can take some photos in the garden.
Jim Thompson Story and Disappearance
Jim Thompson was an American architect born in Delaware in 1906.
During the World War II, he joined the U.S. Army and was later sent to Bangkok as a military officer.
This was the moment when he fell in love with Thailand, its people and amazing culture and decided to move there permanently.
After his arrival to Bangkok, he was immediately interested in the Thai silk industry and devoted himself to reviving the craft.
He soon became its key contributor and his commitment led to the industry's success on the international scene.
In March 1967 Jim Thompson traveled to the Cameron Highlights in Malaysia and never made a return.
Even though an intense search was conducted, he was never found and his disappearance remains unsolved to this day.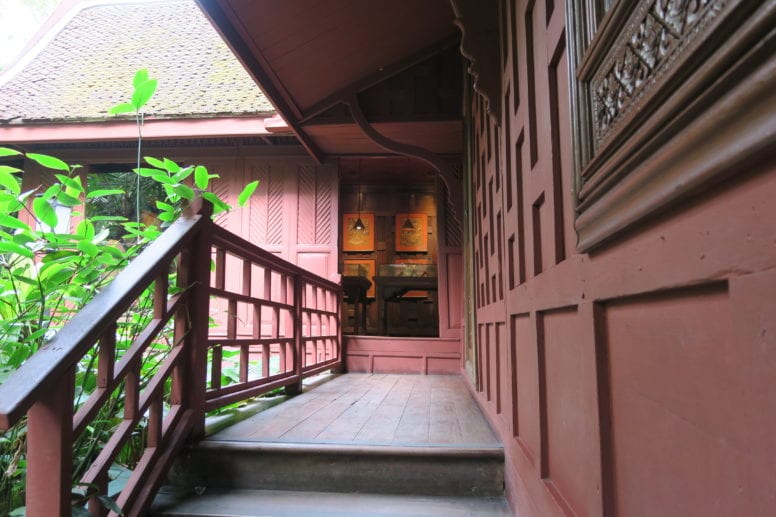 Apart from the silk business, Jim Thompson was very passionate about Southeast Asian art as well so in 1958 he decided to build a house, a place where he could live permanently but also showcase his art collection.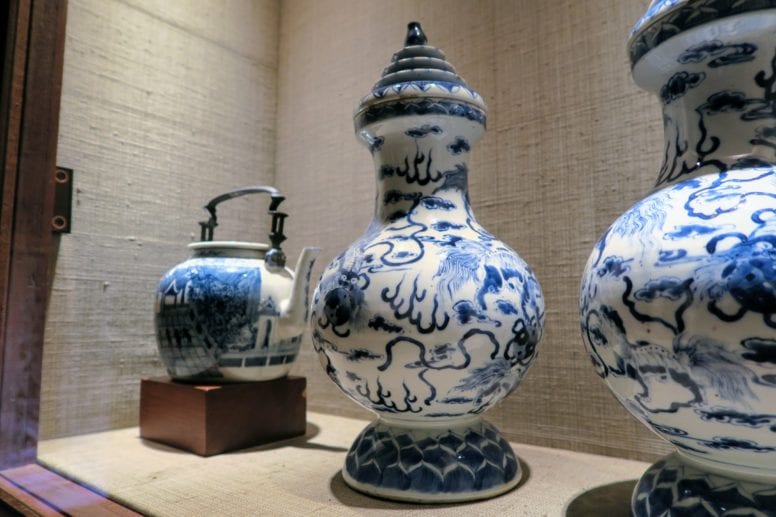 The house quickly became a point of interest and many influential and prominent people including politicians, diplomats, and writers from Thailand and from abroad came to visit Jim Thompson over the years.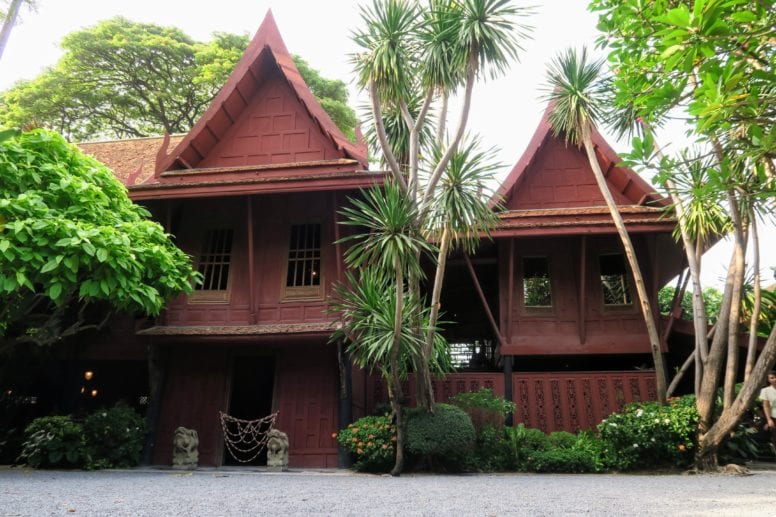 The house built by Jim Thompson includes six teak buildings and comes in a traditional Thai style and after around one year of work, Jim Thompson was able to move into his new residence.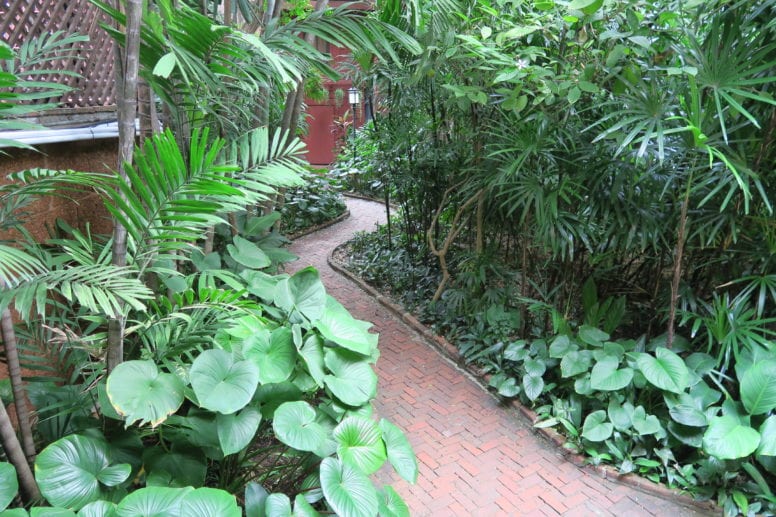 During our tour, the first part of the house we discovered was the spacious living room with beautiful pieces of art, paintings and antique pieces everywhere.
We moved on to the dining room where we learned all about the important guests who had dinners there decades ago.
Jim Thompson's bedroom comes next and the view of the jungle he enjoyed from his own bed is absolutely breathtaking.
An interesting fact about the house was that all the thresholds were raised, our guide explained it was meant to prevent evil spirits from entering the house at night.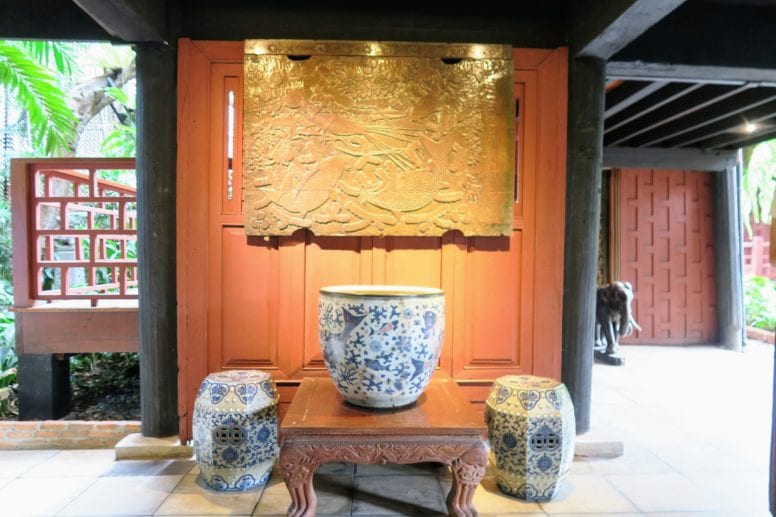 The James H.W. Thompson Foundation
The James H.W. Thompson Foundation is a non-profit organization which controls the Jim Thompson House since his disappearance in 1967.
The Foundation's main mission is to preserve the artistic and cultural legacy of the American architect.
In 2003 the Art Centre was established and since then committed to organizing art exhibitions and to creating workshops and seminars.
Jim Thompson House Restaurant and Shop
If you are looking for a nice place to relax and have something to drink or to eat after the visit there is the Jim Thompson Restaurant and Wine Bar available.
Outdoor tables are available as well which is lovely given the exceptional ambiance.
The menu includes both traditional Thai dishes as well as some western options and there is a vast choice of wine and drinks available.
I had a refreshing mango shake and coconut ice cream and it was delicious.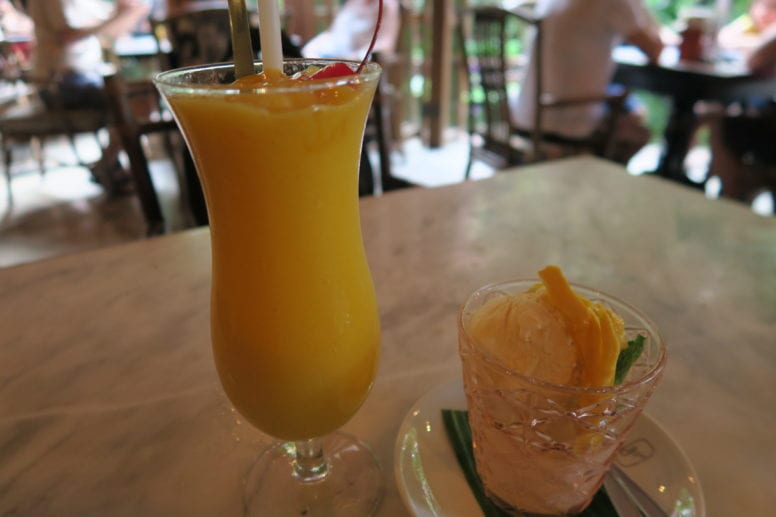 There is also a gift shop where and they sell silk products, bags, clothes, and souvenirs.
All in all, I had a great time at the Jim Thompson House Museum. It was relaxing but at the same very interesting and I enjoyed learning a bit more about Thai architecture and about life in Bangkok in the 60s.
If you are visiting this vibrant city I would certainly recommend keeping some time for this special place.
For the best place to stay while in Bangkok check out my blog post about Grande Centre Point Ploenchit Hotel.