I had a pleasure to stay at the Grande Centre Point Hotel Terminal 21 already so felt really excited to check out another hotel of this group and opted for the Grande Centre Point Ploenchit this time.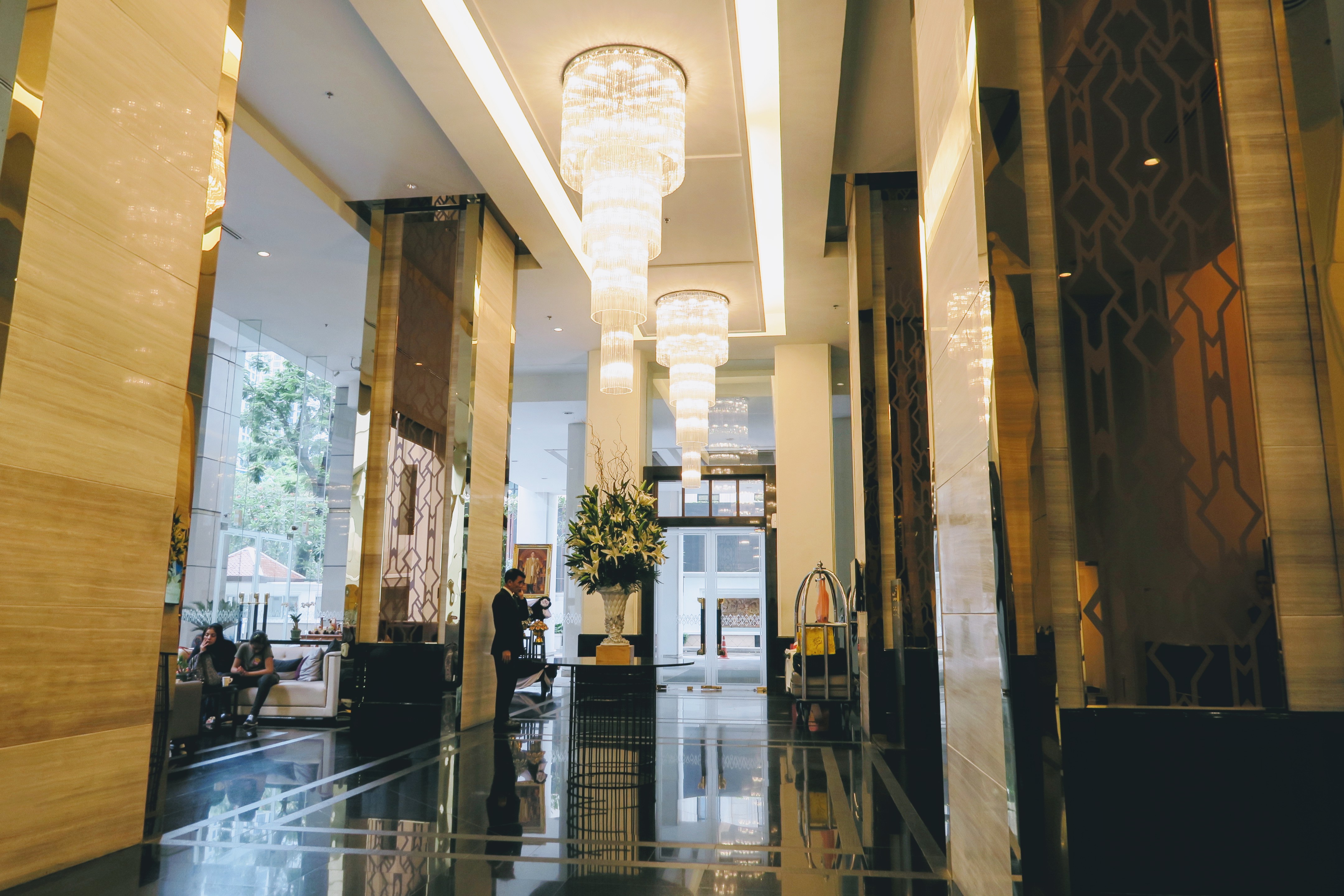 Grande Centre Point Ploenchit Hotel Location
Grande Centre Point Ploenchit Hotel is located in central Bangkok right by the Ploenchit BTS Skytrain Station.
It is surrounded by embassies (US, Japan, Switzerland, Great Britain) and office buildings and it has easy access to Bangkok's major shopping malls.
In fact, the Central Embassy shopping center is located only 5 minutes away while Four Face Buddha and Lumpini Park are within a short walking distance as well.
Other places situated near the hotel include a 7 Eleven, a coffee shop Dean and Deluca and Park Ventures building.
It takes around 40 minutes by taxi to get to Suvarnabhumi Airport from the hotel.
Overall the location is convenient and it is very easy to visit all the main Bangkok points of interest from there.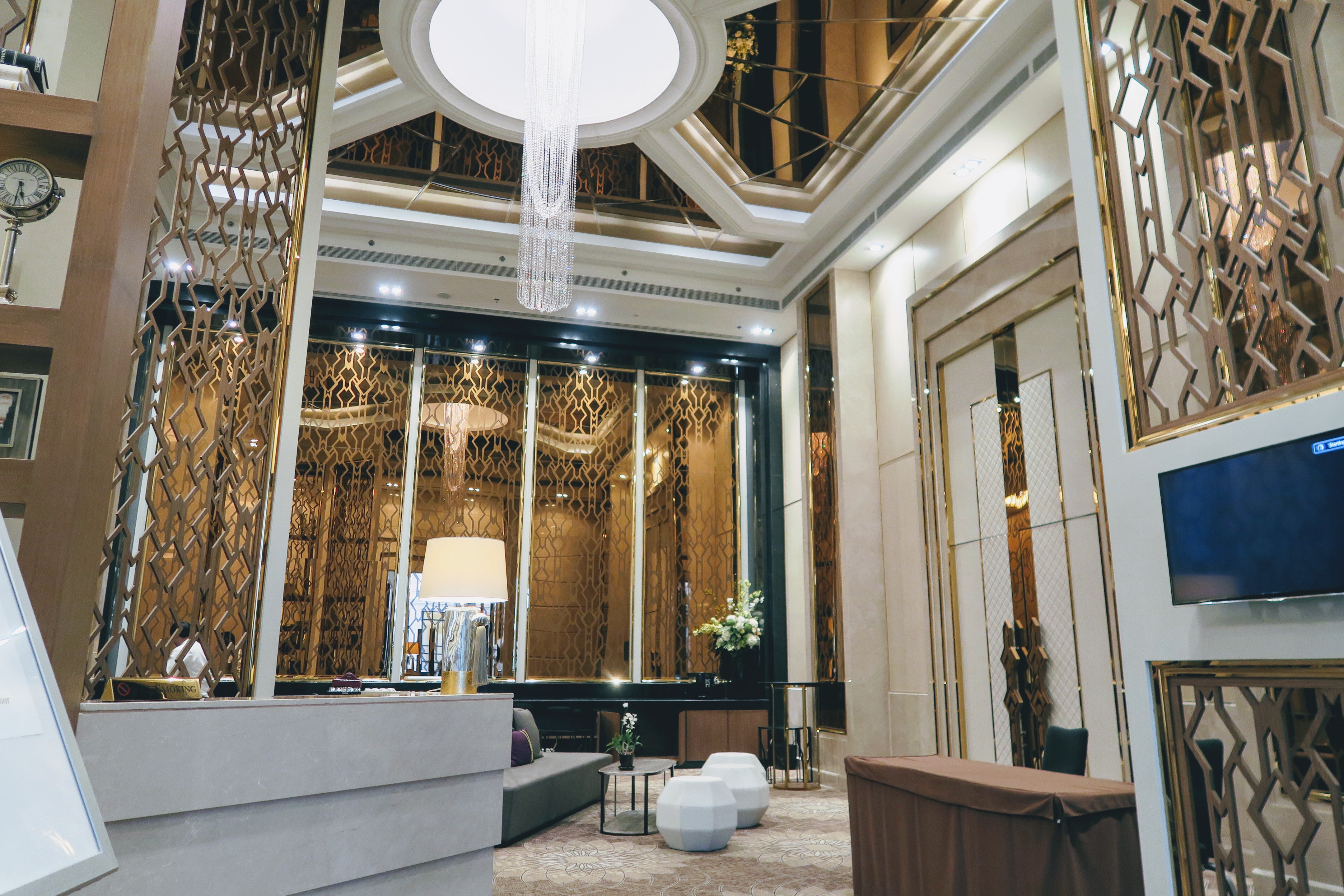 After a long international flight I arrived at the hotel well in advance of the official check-in time and as you can imagine I felt completely exhausted.
The good thing was I was welcomed by a very friendly staff who allowed an early check-in without any additional cost.
It was really appreciated and I can't stress enough how helpful, kind and welcoming the staff of this hotel was during my entire stay at Grande Centre Point Ploenchit.
They were always smiling and ready to assist me with just anything.
Once again my positive opinion about Thai people was confirmed – they are truly wonderful and incredibly patient and we have a lot to learn from them.
Grande Centre Point Ploenchit Rooms Review
I opted for the deluxe room and it turned out to be just a perfect solution.
I asked for a king size bed and was a bit perplexed to discover that it comes in the form of two beds combined together.

However after trying it out, I can confirm it worked out perfectly, the bed was incredibly comfortable and resulted in good and profound nights of sleep.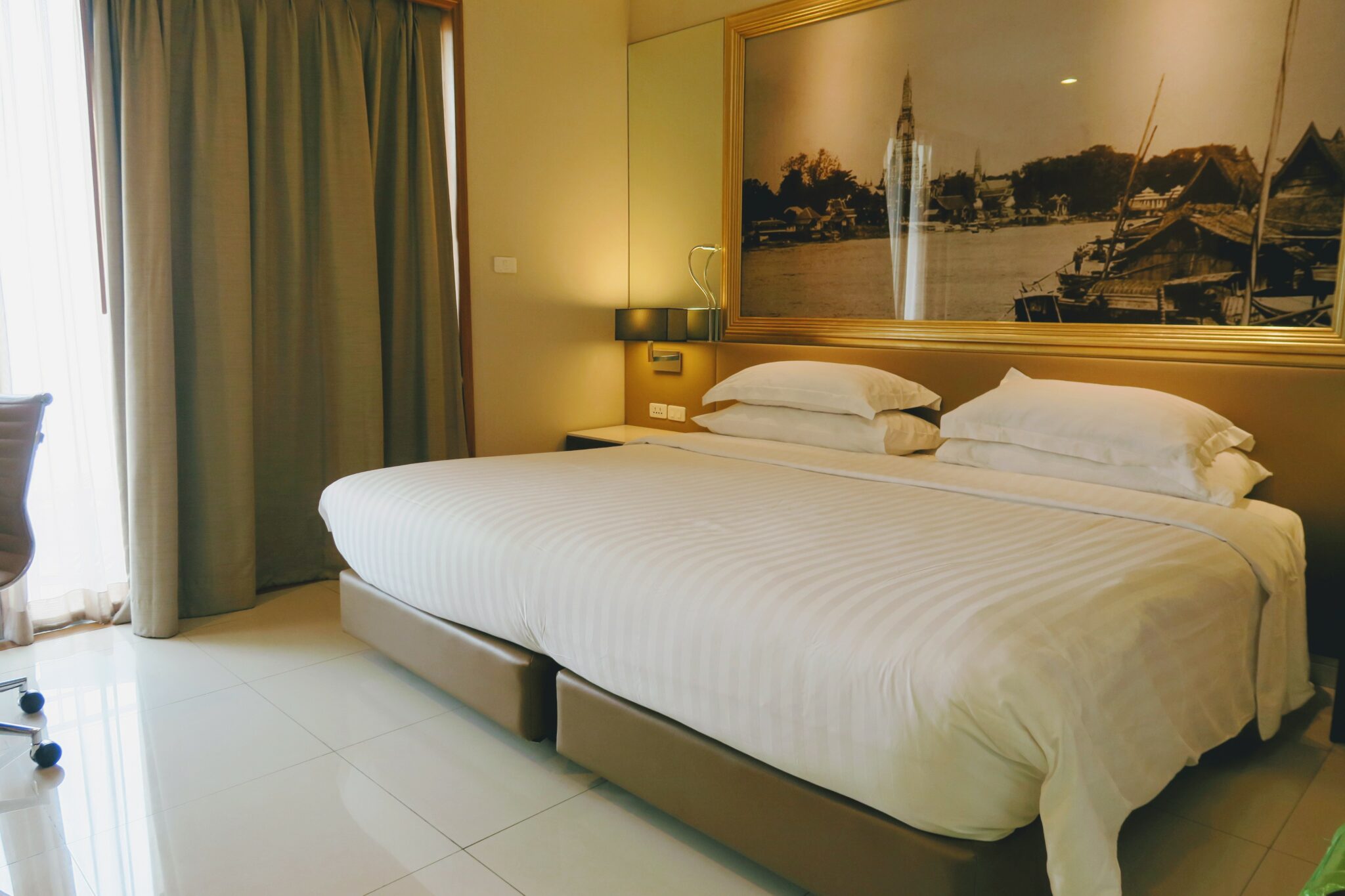 Apart from the bed, my room featured a TV, safety box, tea and coffee facilities and also a well functioning Wi-Fi.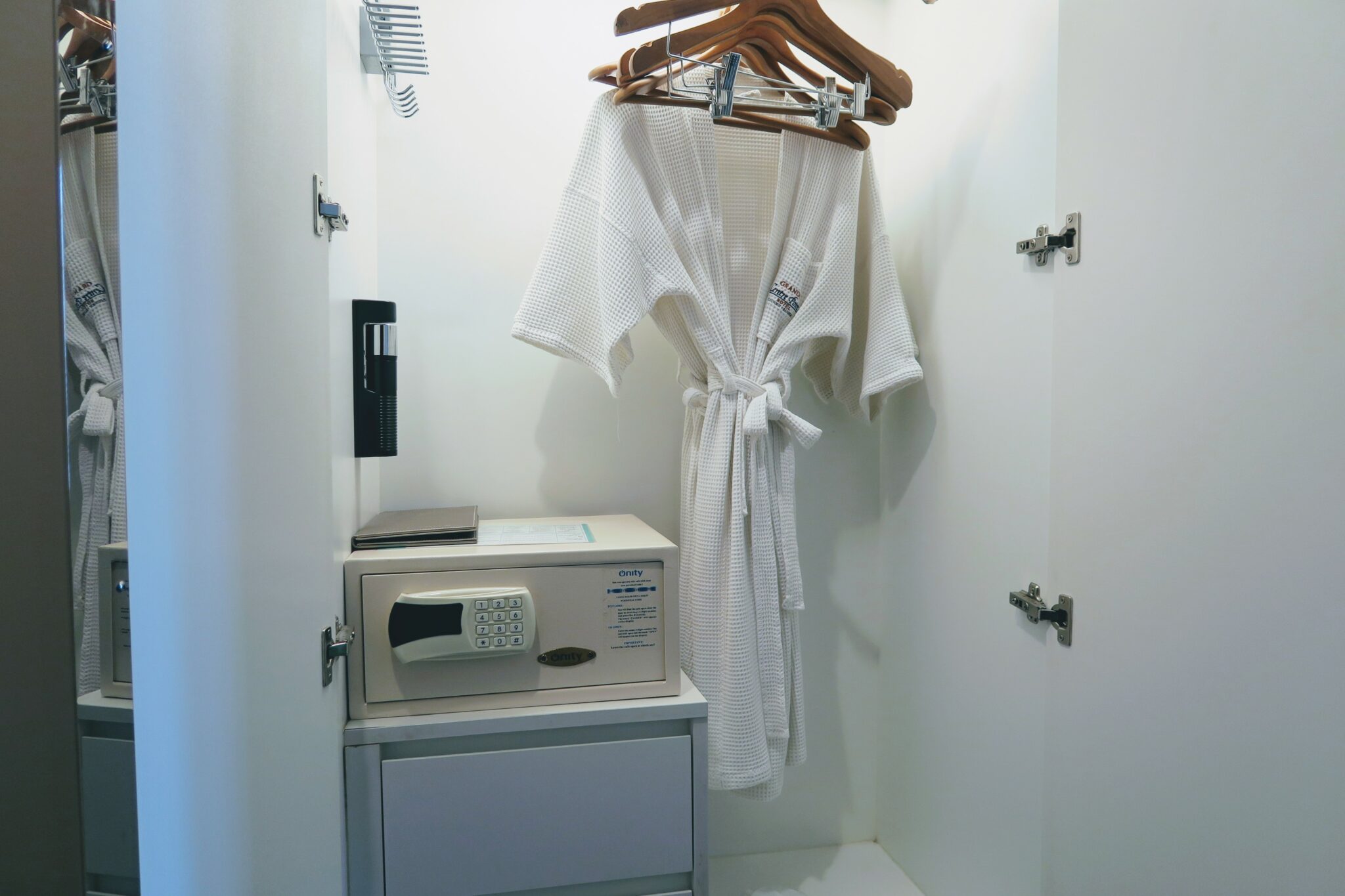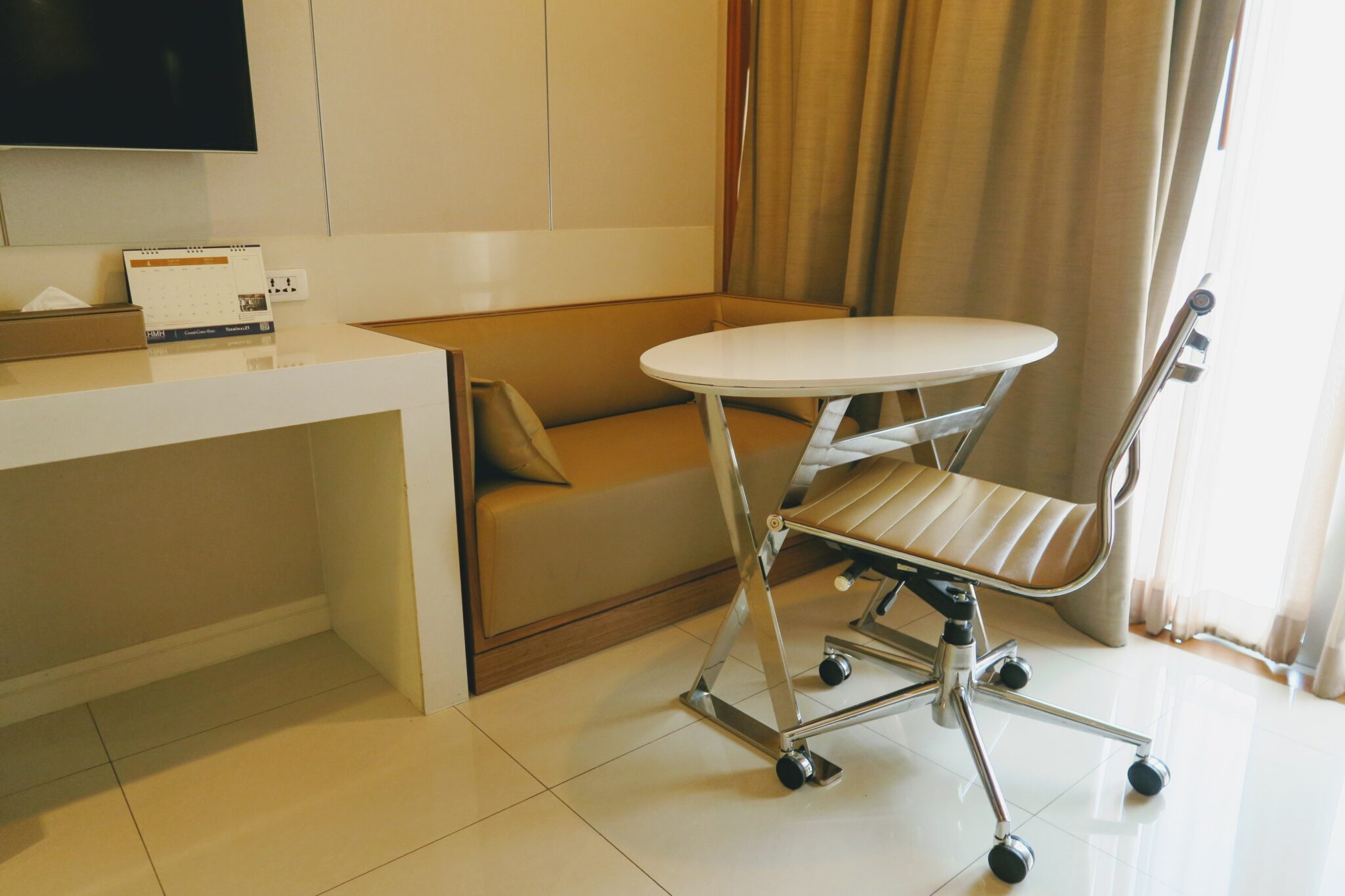 The best part of the room was a private balcony with a breathtaking view of the city, especially amazing in the evenings or at night.
I liked the bathroom a lot as well, it comes with a spacious shower and a lovely bathtub – ideal for relaxing moments after a busy day.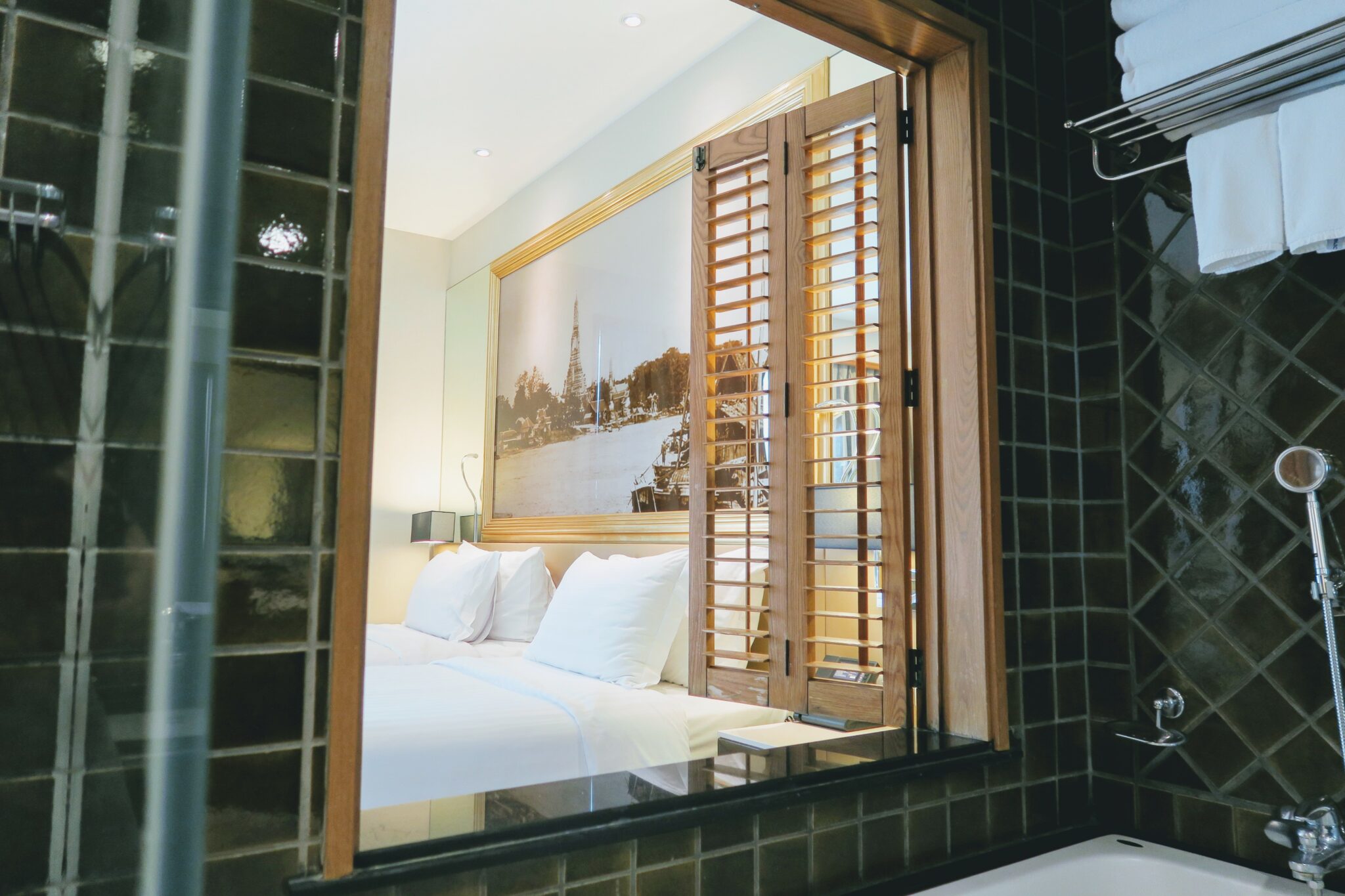 Also, all the bathroom amenities were included and I was happy with the cleanliness of the entire place.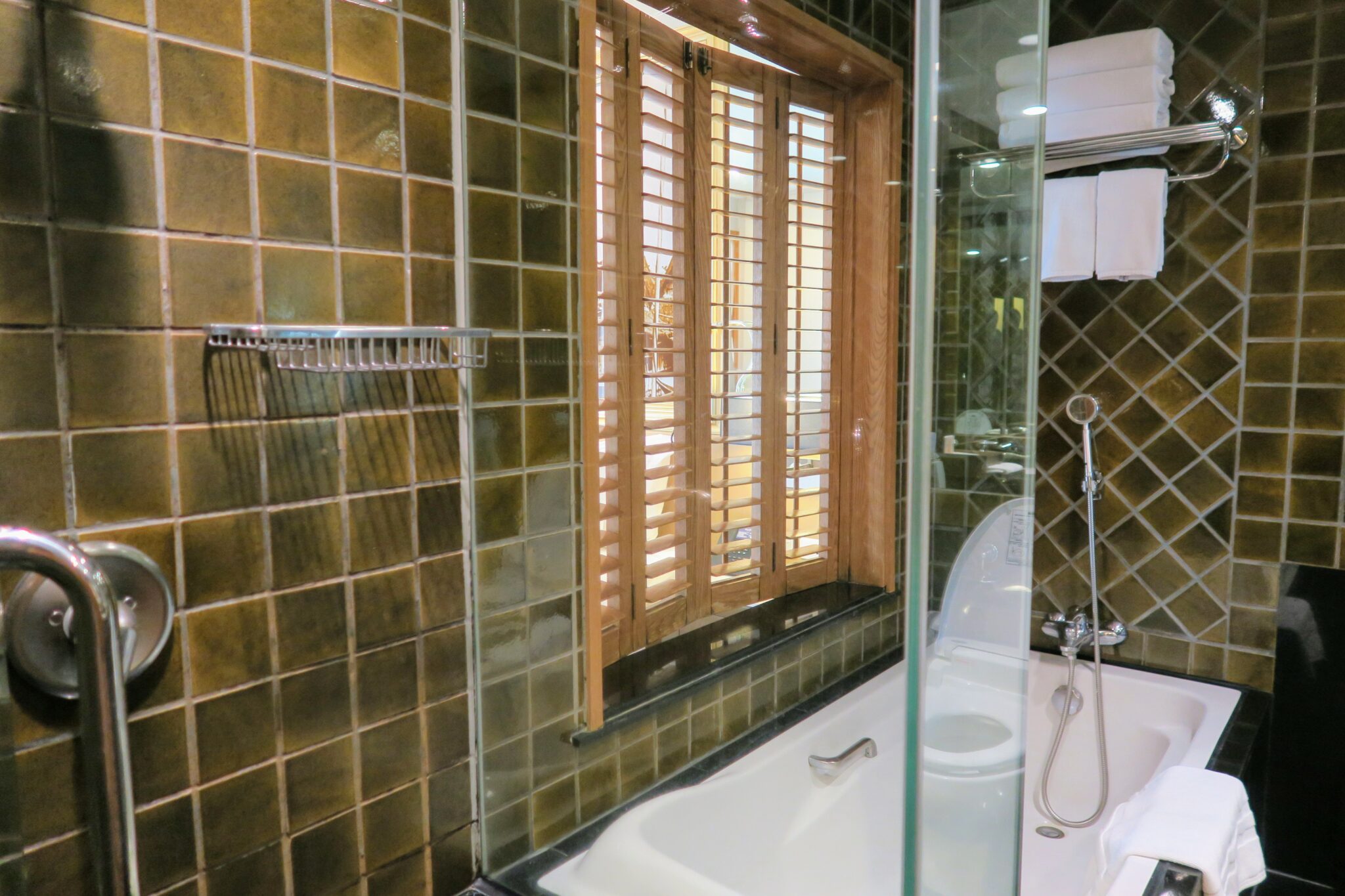 Other rooms available at the Grande Centre Point Ploenchit Hotel include
One Bedroom Suite
Two Bedroom Suite
Three Bedroom Suite
Penthouse
There are also five meeting and conference rooms available, the largest can seat up to 120 delegates.
The lobby is spacious and comes in a beautiful contemporary style. There is also a self-service coffee corner, where you can enjoy a cup of tea, coffee or water.
You can also relax on comfy armchairs and sofas while waiting for a taxi or someone in the lobby.
Grande Centre Point Ploenchit Restaurants and Breakfast Review
The breakfast at the hotel was very good, I especially enjoyed their fresh fruit selection and some of the Asian options.
The choice of food is not huge but it was more than enough for me personally.
The breakfast is served at the Piu Restaurant and you can also have lunch and dinner there.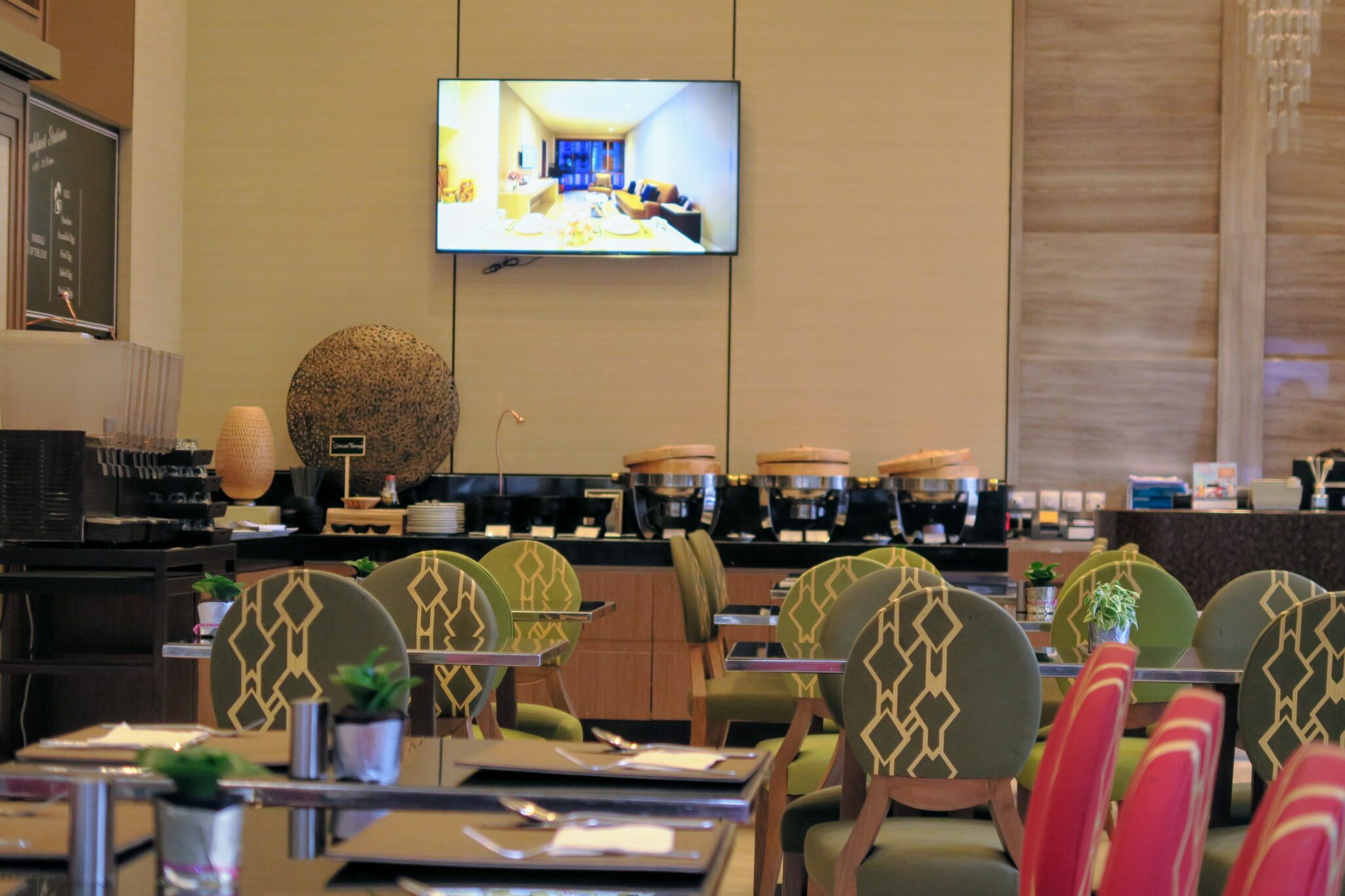 There are outdoor tables available as well and the menu offers both Thai and western dishes but I always preferred to order their typical local options.
The staff at the restaurant was very friendly, efficient and always welcoming.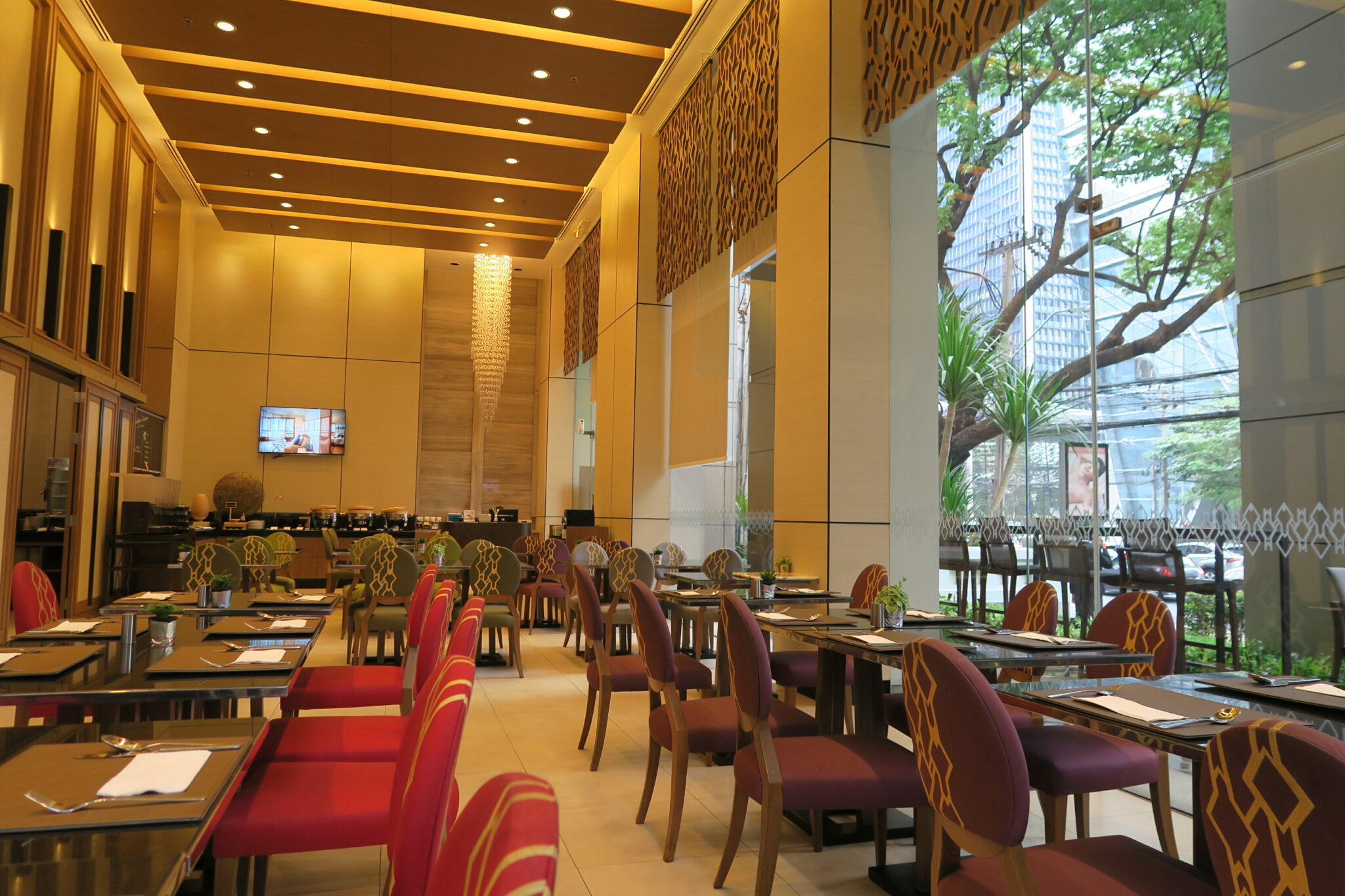 Grande Centre Point Ploenchit Hotel Bangkok Swimming Pool and Fitness Centre
There is a spacious outdoor pool available which combined with comfy loungers makes a perfectly relaxing afternoon.
The towels are available as well so you don't need to worry about bringing your own.
A smaller jacuzzi pool is located next to the main one and there is also some space for kids.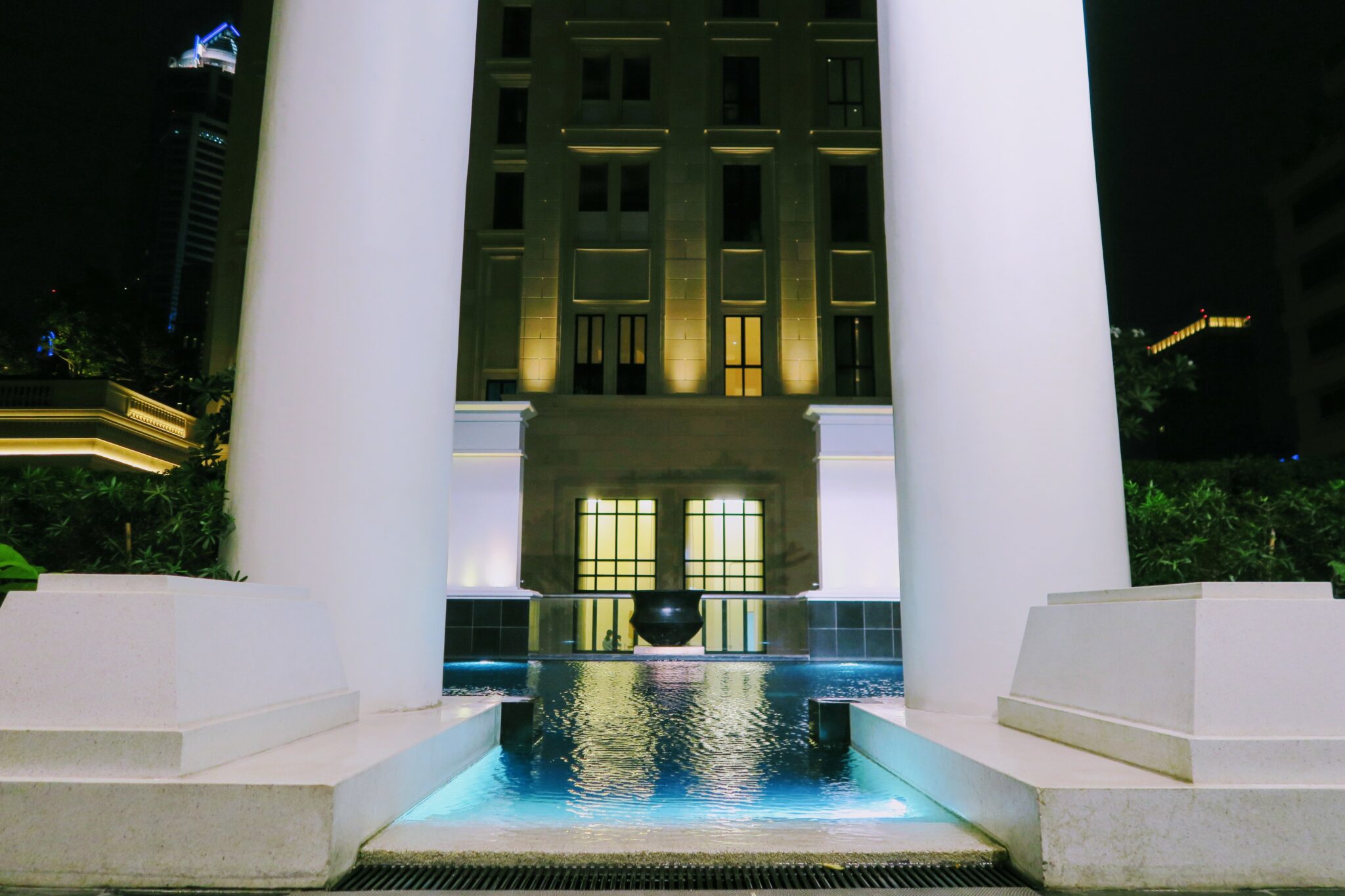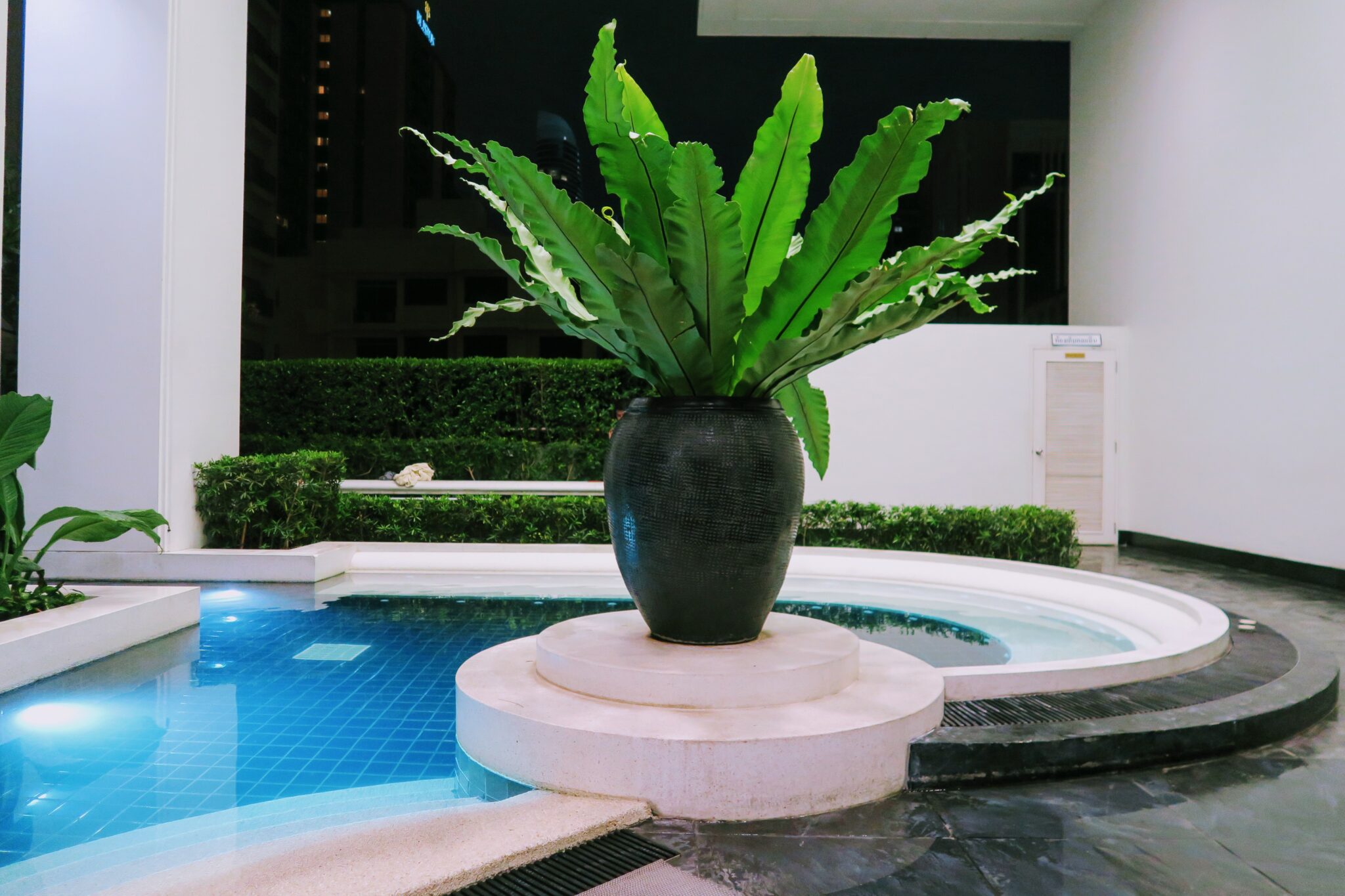 The fitness center is located on the same floor as the swimming pool and is divided into two rooms.
In one of the rooms, there is all the cardio equipment while in the other you are going to find all that you need for a great weight training.
All in all, it is a fantastic place for a workout with its high-quality equipment.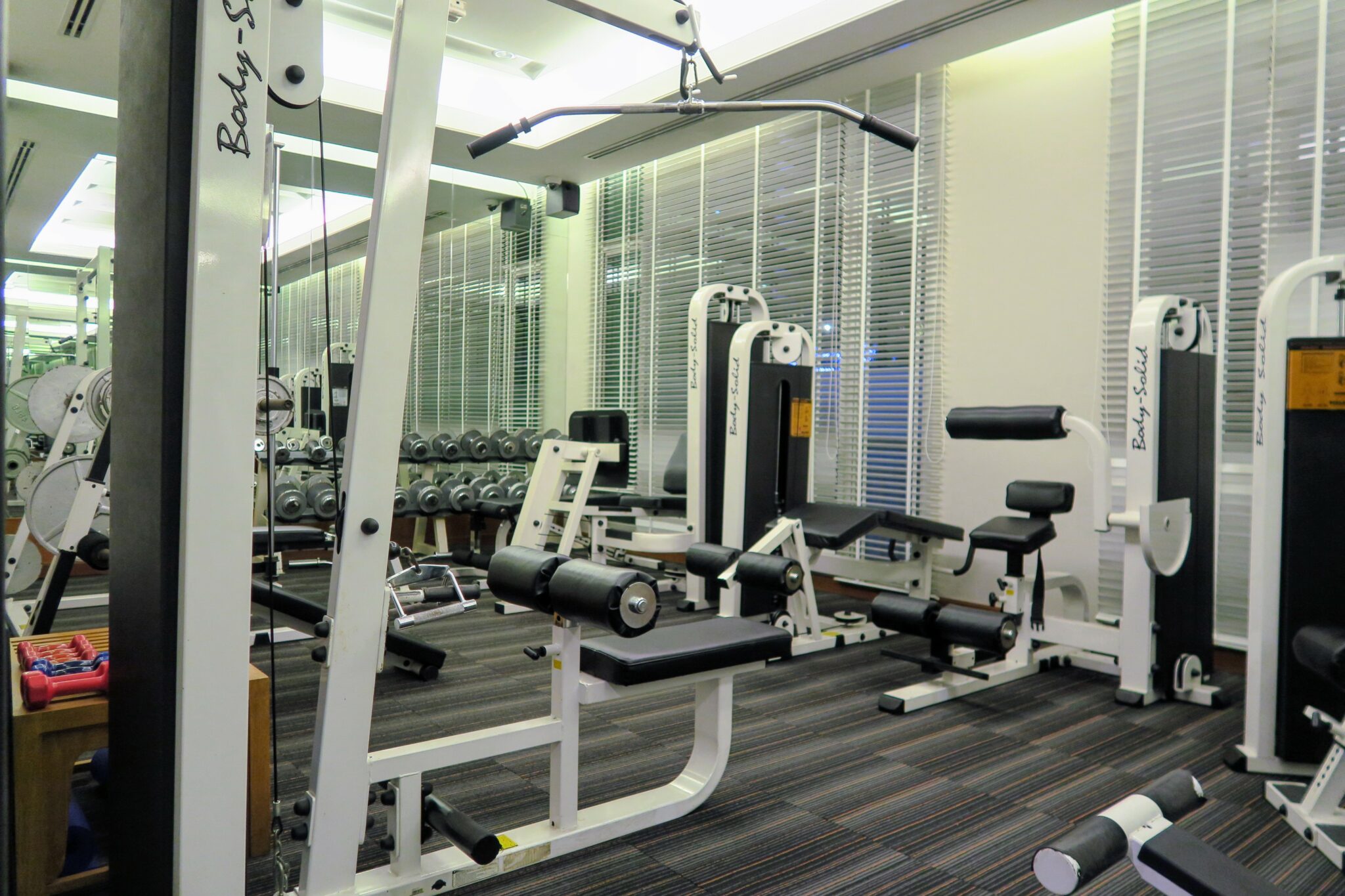 Grande Centre Point Ploenchit In-room Dining Review
You can order the in-room dining at any time of the day or night and there were many delicious options available.
There is a wide selection of European meals as well as of Asian and Thai menu.
Some of my favorite options include crispy spring rolls, stir-fried rice noodles and of course pad thai.
All prices are subject to 10% service charge and 7% VAT.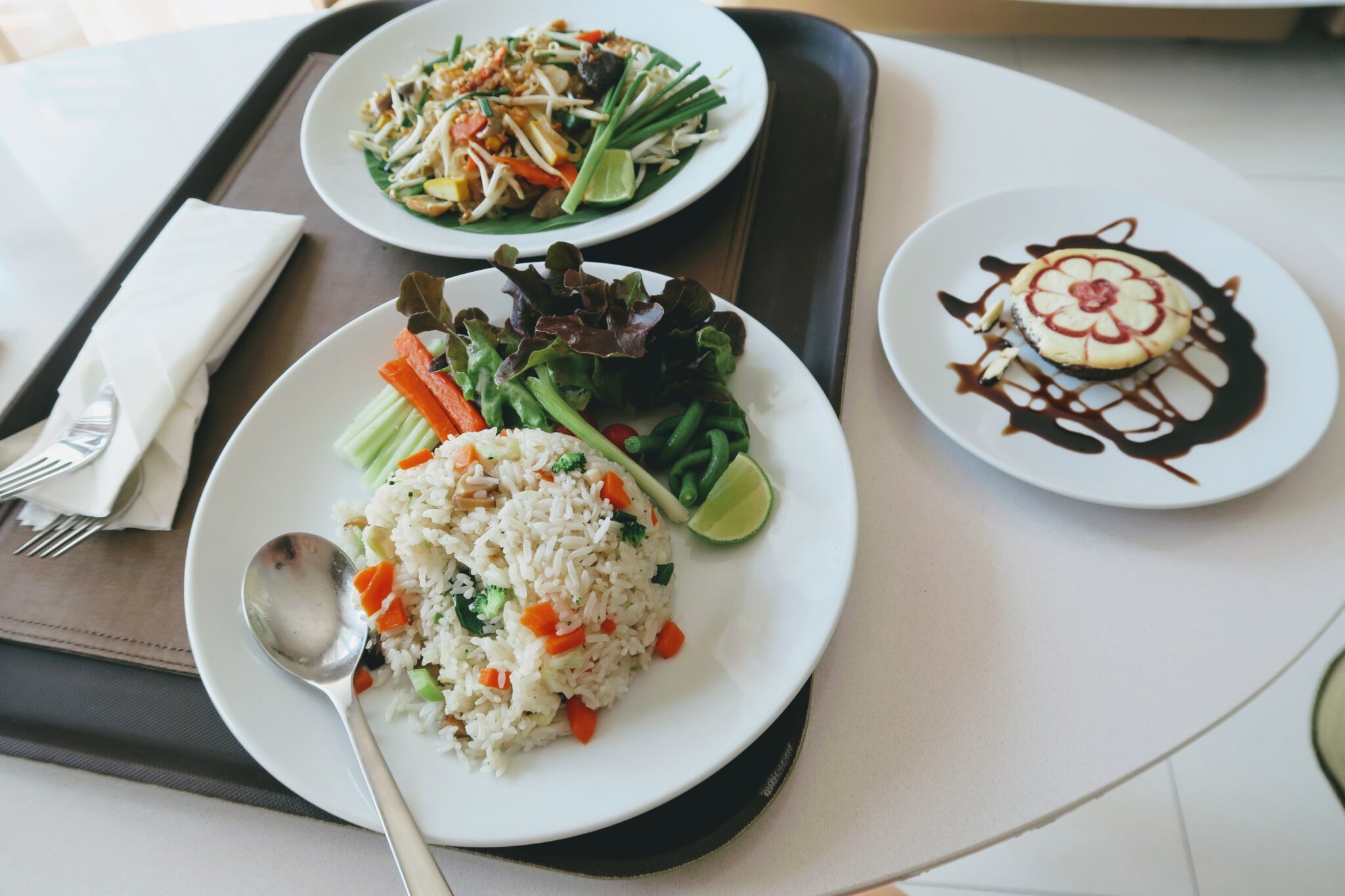 Grande Centre Point Ploenchit Spa
During your stay at the Grande Centre Point Ploenchit Hotel, you just have to try out their award-winning Let's Relax Spa.
It comes in a modern style and offers over 20 treatment rooms and also a whirlpool with chromotherapy.
You can choose between a wide range of massages and treatments that will leave you feeling relaxed and rested.
Summing up the Grande Centre Point Ploenchit Hotel is certainly a fantastic place to stay while visiting Bangkok, no matter if you are traveling for business or for leisure.
I particularly appreciated their wonderful staff, the lovely rooms, and swimming pool and all the other facilities that definitely reflect the 5-star standards.
If you ever travel to the capital of Thailand this hotel is surely a valid option and worth taking into consideration.
Grande Centre Point Ploenchit Room Reservation and Prices
How much does it cost? Well, you can check out here the most convenient prices and book directly.
Let me know about your experience!