Dog-Friendly Hotels in New York City
Hotel 50 Bowery
One of the best pet-friendly hotels in New York City is the 4-star Hotel 50 Bowery.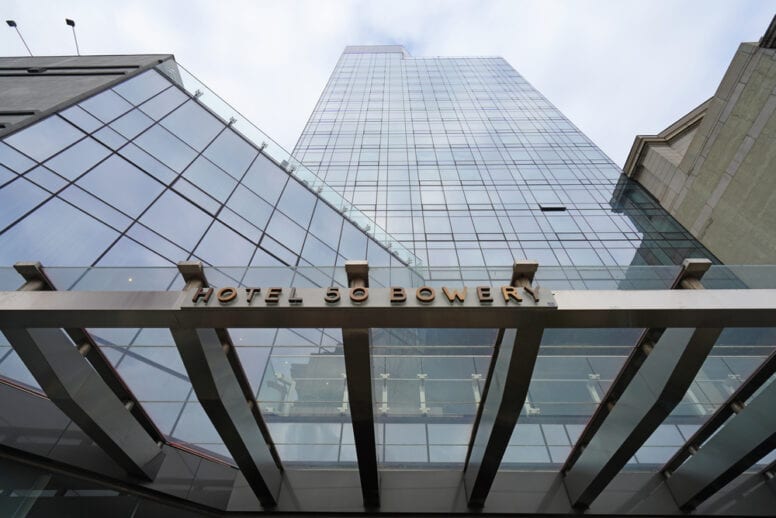 Located in Lower Manhattan, this structure offers stylish accommodations with first-class amenities and even an on-site art exhibit.

Depending on your needs and budget you may choose between a wide selection of modern rooms and suites.

All of them feature complimentary wifi, an in-room safe, a mini-refrigerator, ironing facilities, and much more.

Hotel 50 Bowery is also home to a well-equipped 24-hour fitness center and to a rooftop bar situated on the 21st floor.

The in-room dining and breakfast on-site is also available for the guests.

If you're traveling with kids in tow take a look at the hotel's double rooms with double beds that can accommodate up to four guests.
The Mark New York
The Mark New York is an excellent, 5-star hotel located right by Central Park.

The guest rooms at this hotel come in a contemporary style and feature luxurious furnishings and amenities.

The marble bathrooms include a bathtub and a shower and fine Italian toiletries.

If you don't feel like going out you can reserve a table at the beautiful on-site Mark Restaurant by Jean-Georges and later enjoy a drink at the Mark Bar.

The hotel's facilities don't end here, in fact, there is a whole array of experiences available for the guests to enjoy.

The Mark New York is home to a fitness center, to a hair salon, and also to pedicabs.

This structure is a real pets' paradise and upon arrival, they receive their own signature water bowls, a dog bed, a doggy-collar, a leash, and waste bags.

Believe it or not there is even a special in-room dining menu available, created specifically for dogs.

The Mark New York is definitely one of the best hotels in Manhattan and an ideal solution for anyone traveling with pets.
Renaissance New York Times Square Hotel
Another interesting option to consider when looking for a pet-friendly hotel in New York City is the Renaissance New York Times Square Hotel.

This 4-star structure offers cozy and comfortable rooms with a wide choice of facilities such as air conditioning, an iron, a desk, a TV, a refrigerator, a tea and coffee maker, a radio, and much more.

Those of you who want to enjoy a truly upscale experience should take a look at the Renaissance Suite which comes with a bedroom, living room, a spacious bathroom, and stunning views of 7th Avenue in Times Square.

When it comes to dining there is a buffet breakfast available for the guests to enjoy and also the R Lounge at Two Times Square where you can have a drink and some small bites.

Other facilities at the Renaissance New York Times Square Hotel are a fitness center and a parking.
Park Terrace Hotel on Bryant Park
Featuring a wonderful location in Midtown Manhattan and very near to Bryant Park, Park Terrace Hotel is a 4-star property with amazing accommodations.

The rooms are bright and filled with natural light and come in many different sizes and with different views.

Make sure to also check the Terrazzo rooftop bar which serves fantastic cocktails and locally sourced tapas in a one-of-a-kind ambiance.

Park Terrace Hotel on Bryant Park partners with a wide choice of local restaurants which means you can enjoy many delicious options delivered right to your hotel room.

Staying fit and relaxed at this hotel is easy since it comes with a fitness center, a sauna, and with a yoga mat and resistance bands in every room.

If you're traveling with a pet make sure to contact the hotel in advance to discuss the policy and additional fees.
Aloft Harlem
Aloft Harlem is a 4-star hotel situated in Upper Manhattan in the famed neighborhood of Harlem.

Many of the most important things to do in NYC are located nearby or can be easily reached by subway or taxi.

Aloft Harlem Hotel offers modern and spacious guest rooms ideal for a relaxing and comfortable stay in New York City.

All of the rooms are non-smoking and feature a flat-screen TV, air conditioning, a refrigerator, a safe, and a coffee machine.

Complimentary wifi is available as well together with a fitness center, on-site breakfast, and a café.

Four-legged friends are welcome at Aloft Harlem and it is best to contact the hotel for major information.
Freehand New York
Anyone who is looking for a pet-friendly hotel in New York City should check out Freehand New York.

This 4-star hotel is a truly wonderful property with a unique artistic vibe that will inspire your creativity.

In fact, it is often home to fun cultural events where you can enjoy yourself, learn something new, and meet interesting people.

Freehand New York offers a wide choice of well-furnished rooms and suites and some of them can accommodate up to six people.

It is also home to many interesting dining opportunities, from drinks, coffee, and small bites on-the-go to amazing lunches and dinners made of high-quality ingredients.

Freehand New York accepts pets at a rate of $50 for the entire stay.
Times Square EDITION New York
A 5-star Times Square EDITION New York is a luxury hotel featuring an excellent location right by the famed Times Square.

The guest rooms in contemporary style come with all the necessary facilities and fantastic views and are a perfect and tranquil oasis in the heart of New York City.

With as many as 452 rooms available you can certainly find a solution that works best for you and your little furry friend.

The hotel's guests can also enjoy the on-site dining options such as 701West, The Terrace Restaurant, the Lobby Bar, and the Paradise Club.

Stick with your fitness program at the on-site gym and enjoy an outdoor wraparound wellness deck.

Times Square EDITION New York allows one pet per room (maximum weight 50 pounds) at a cost of USD 250 per stay.
Dream Downtown
Located right next to Chelsea Market, Dream Downtown is a boutique hotel that will fascinate you with the loft-style rooms decor and its nautical style.

Guests are allowed to bring small pets (max 25 pounds) at a $99 one-time fee.

The rooms range from the Bronze Queen with 225 sq. ft. and a queen bed, to the Platinum King that is 500 sq. ft. has a chrome bathtub and 10 porthole windows providing a unique skyline view.

While, if you're looking for something more luxurious, you can book the suites. These accommodations provide up to 1,600 sq. ft. space and can include a private terrace with a hot tub.

The Dream Downtown offers also a great dining and nightlife experience with the main on-site venues.

The PHD Rooftop Lounge is open from Thursday to Saturday 5 pm-11 pm and provides breathtaking views of NYC while enjoying the party atmosphere.

At the opposite, beneath the hotel, you can find The Electric Room, with a gothic atmosphere and wooden decor is a perfect spot for after-dinner drinks while listening to rock or underground music.

Regarding the dining experience The Dream Downtown will satisfy your senses, with the multiple choices – Bodega Negra, Dream Beach, Natura Cafe, and Philippe Downtown all provide excellent selections of dishes and beverages to enjoy during the stay.
The Benjamin Hotel
Another wonderful pet-friendly hotel in New York City is the 5-star Benjamin Hotel.

This luxurious structure housed in a Neo-Romanesque edifice offers world-class accommodation in Midtown Manhattan.

From the comfortable standard rooms and one-bedroom suites, through balcony and terrace suites with great views to the upscale Benjamin suite – the choices are endless.

When it comes to dining The Benjamin Hotel is home to a lovely modern bistro, The National, while in-room dining is also available the whole day, until midnight.

Your pets are welcome at this structure for a rate of $60 per stay and a $10 donation per pet stay will be donated to Animal League – definitely another great reason to stay in one of the best hotels in NYC.
Shelburne Hotel & Suites by Affinia
The Shelburne Hotel & Suites by Affinia is a pet-friendly hotel that besides allowing you to bring your pet, provides a "VIPaws program" that at a $150 fee will offer multiple amenities and comforts for your beloved pet.

Located on 303 Lexington Avenue, the Shelburne Hotel & Suites is only a few blocks away from Grand Central Terminal and close to main attractions like the Empire State Building.

This 4-star high-end hotel offers a wide range of accommodations to satisfy all guests' needs: rooms, studio apartments, and suites.

While staying there, don't forget to check out the fully-equipped fitness center together with the MIRROR – an exclusive virtual and interactive workout experience.
The Westin New York at Times Square
Located in Midtown Manhattan right next to Times Square and Broadway, the Westin New York at Times Square is a pet-friendly hotel.

To be more specific, only dogs are allowed, with a maximum weight of 40 lb.

As part of the on-site amenities, you can enjoy the 24/7 open fitness center and the New American cuisine at the Foundry Bar to savor a delicious dinner while relaxing.

Multiple accommodation options are available, from the Traditional Double Guest Room to the Renewal Suite that, with 900 sq.ft., boasts a wonderful view on Times Square, modern furnishings, and a fully-accessorized bathroom for a chic stay.
The Standard East Village
A charming and cozy atmosphere pervades The Standard East Village which is a pet-friendly hotel located on Cooper Square New York.
Right from the entrance, you'll be amazed by the internal and external decor, together with the stunning views of Manhattan from the high-floors.
All rooms offer a stylish and modern style, mostly with floor to ceiling windows that provide ample light and are equipped with high-quality amenities such as bluetooth audio speakers and large TVs.
Multiple dining and nightlife options are available: the Café Standard located right on the street, the Garden with a silent and relaxing ambiance, and No Bar with an inclusive and neon-like feeling.
Baccarat Hotel and Residences New York
Enter the world of high-end hotels by booking a stay at Baccarat Hotel and Residences New York.

This 5-star structure is conveniently located in Manhattan and within a walking distance from many important NYC points of interest.

In fact, Times Square, Empire State Building, Grand Central Station, and Central Park are only some of the attractions available in the vicinity.

Your dog will certainly love exploring and running around the wonderful Central Park which offers so much fun to our furry friends.

Keep in mind that while dogs are allowed at Baccarat Hotel and Residences New York, they mustn't weigh more than 20 lbs and there is a one-time charge of $250.

The spacious rooms and suites are characterized by attention to details and come with twice-daily housekeeping service and a dedicated team of hosts.

The marble surfaces, Baccarat crystals, and red lacquer box are only a few of a long list of amazing amenities designed to make your stay simply unforgettable.

The guests at Baccarat Hotel and Residences New York can also enjoy a sophisticated afternoon tea while we recommend The Grand Salon for a unique and elegant dining experience.

Other facilities available at this structure include a fitness center, an indoor pool, and also a wonderful spa.
Is the Plaza Hotel NYC pet-friendly?
Yes, the Plaza NYC accepts dogs less than 25 lbs. The cost to bring your pet is $250.
Are there any hotels that allow dogs?
Yes, there's a wide choice of hotels in NYC that allow dogs. Some of them are: the Mark, Renaissance, and Baccarat.
What are the cheapest pet-friendly hotels in NYC?
Among the cheapest pet-friendly hotels in NYC there is the Pod Times Square, Hilton Garden Inn Central Park South, and Citadines Connect Fifth Avenue.