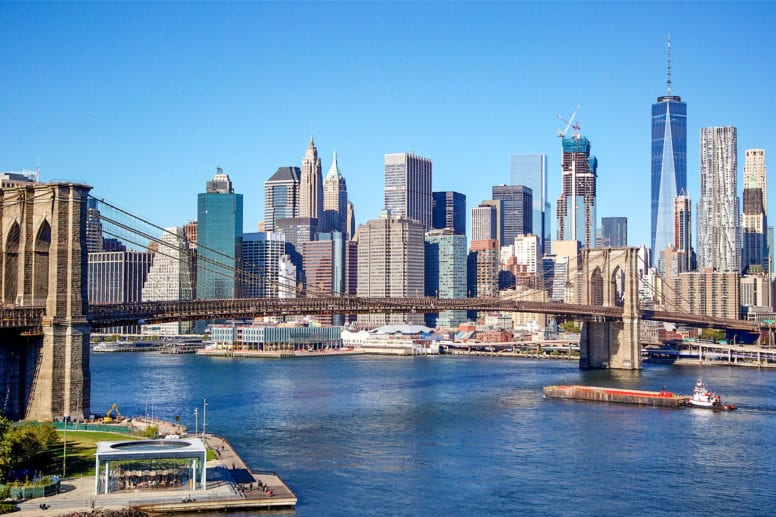 Finding fun things to do in NYC is a top request from the millions of tourists that visit this city every year and also from the many residents. New York City offers countless attractions – museums, events, and many other options are available in this city. Let's see them together with our list of the best places to visit and the top points of interest to explore this wonderful place.
1 – Attend a show at Madison Square Garden
Madison Square Garden is one of the most iconic venues for concerts and sports events. Renown as the "world's most famous arena", this venue hosts professional sports, concerts & other international events.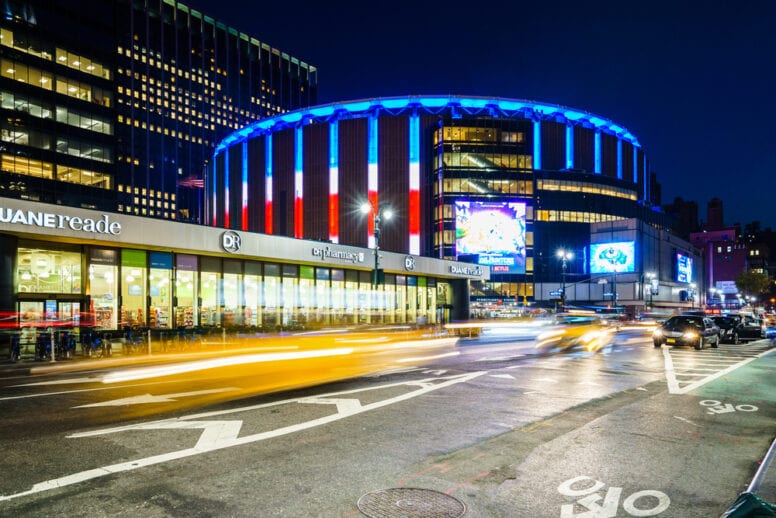 Getting to Madison Square Garden is quite easy. It is located on 4 Pennsylvania Plaza on 7th Avenue between 31st Street and 33rd Street.
Many top artists perform here together with worldwide events, just to name a few: Michael Buble, Elton John, New York Knicks, NY Rangers, Fleetwood Mac, Billy Joel, KISS, Pentatonix, Ariana Grande and Hugh Jackman.
2 – Catch a train at Grand Central Terminal
Grand Central Terminal is arguably the most famous station in the USA. An architectural landmark and a top place to visit in NYC that serves as a transit hub visited by over 750,000 people.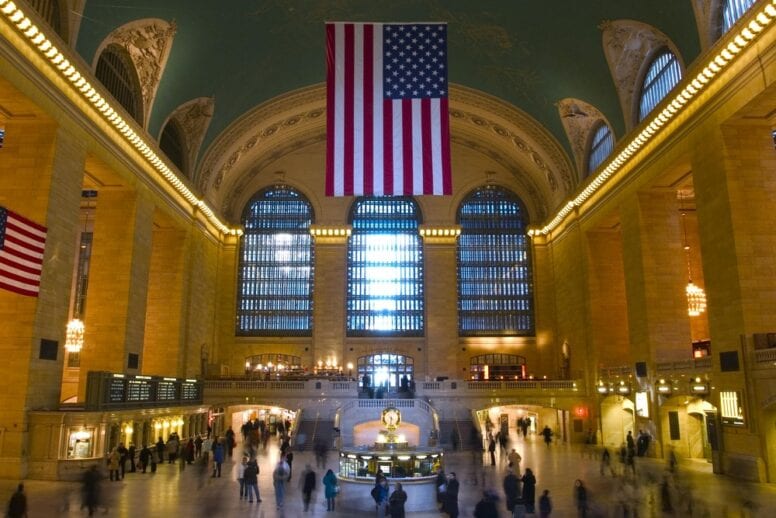 There are many reasons to visit it, so it's better to plan your visit ahead of time. If you're interested from the historical point of view, make sure to observe the Main Concourse Ceiling with a marvelous zodiac painting.
While there, you'll also be able to admire the famous opal clock (valued at $20 million dollars!) that has the time set by the atomic clock in the U.S. Naval Observatory in Maryland.
Don't forget to check out also the Tiffany Clock located at the front entrance of Grand Central Terminal: it's the largest example of Tiffany glass in the world. Finally, before leaving, take a sip at The Campbell Bar – a majestic example of the intense history of Grand Central Terminal.
Some of the best hotels in NYC are located close by.
3 – Admire one of the oldest landmarks: The Flatiron Building
Designated as a National Historical Landmark in 1989, the Flatiron Building is a triangular 22-story architecture masterpiece designed by Daniel Burnham in 1902.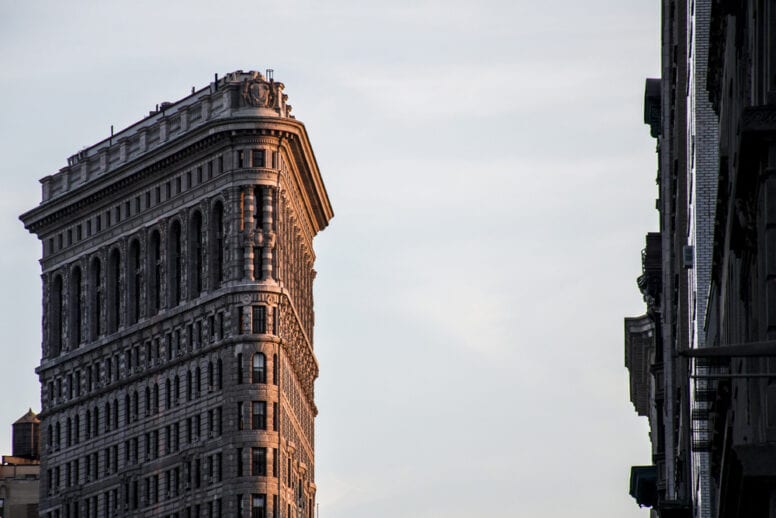 Inspired by the Renaissance period and enriched with Beaux-Arts styling, the Flatiron Building has been and still is one of the tallest buildings in NYC at 307 ft. As we all know, the most peculiar aspect of the building is its unique shape resembling a clothes irons.
Located between Fifth Avenue, Broadway, and East 22nd Street, it's easily reachable taking the subway N/Q/R/W trains and stopping at 23rd Street Station.
4 – Fly back in time at The Met Cloisters
If you love history, and even more Medieval art, then you need to visit The Met Cloisters. A rebuilt monastery, branch of the Metropolitan Museum of Art, The Met Cloisters showcases medieval art in a French monastery with a view over the Hudson.
It's open seven days a week from 10 am to 4:45 pm (or 5:15 pm March-October) and the entry is free for NY, NJ, and Connecticut residents – while the general admission for other visitors is $25 for adults, $17 for seniors and $12 students.
Good to know: the ticket includes access for 3 consecutive days also at The Met Fifth Avenue and The Met Breuer, so make sure to add it to your itinerary of the best places to visit in New York City.
5 – Admire the perfectly shaped Chrysler Building
The Chrysler Building is one of the most famous skyscrapers in NYC and probably in the World. Often confused by many first-time visitors with the Empire State Building, the Chrysler Building is a 1930 art deco skyscraper with a unique design.
Characterized by its distinctive crown and spire, this construction has been the world's tallest building in 1930 before being overtaken by the Empire State Building just 1 year later. Besides the marvelous external architecture, the Chrysler Building has a dreamy interior with a publicly accessible lobby wonderfully enriched with Art-Deco elements.
Located in East Side Midtown Manhattan at 405 Lexington Avenue, make sure to add this landmark in your list of the top things to do in NYC.
6 – Unwind and wait for sunset at Battery Park
Battery Park is probably the second most famous park in NYC only after Central Park, but it might be considered the most important from a historical perspective. Located at the southern tip of Manhattan, Battery Park is a historic waterfront park with amazing harbor views of Ellis Island and of the Statue of Liberty.
Multiple ferries connect Battery Park directly with these popular tourist destinations. One of the top things to do while visiting this park is to head to the Castle Garden – America's first official immigration center.
This amazing place has seen over 11 million people pass by until 1892 when the U.S. Office of Immigration replaced it with Ellis Island. Battery Park is with no doubt one of the top points of interest in New York City.
7 – Spend a summer day on the beach at Coney Island
Coney Island is home to NYC's most famous amusement parks – Luna Park and Deno's Wonder Wheel Amusement Park. Many rides are available in both parks, but we highly recommend you at least the following two: the Wonder Wheel and The Cyclone.
The first one is a ferris wheel, opened in 1920 and still one of the top symbols of Coney Island. While the Cyclone is a fantastic wooden roller coaster – one of the oldest still operating in the USA, a must-try for all thrill enthusiasts and defined as "The Mother of American Roller Coasters".
Besides the amusement parks, Coney Island is home to a lively boardwalk (Riegelmann Boardwalk) and a relaxation beach for locals and tourists.
8 – Admire Manhattan's skyline from the observation deck at the Empire State Building
The famous Empire State Building has been the world's tallest building for 40 years. From it's 86th and 102nd-floor observatories you can admire all Manhattan directly from the heart of the city.
The view is simply breathtaking, making it probably the best place to visit in NYC, and allows you to span at 360-degrees for over 80 miles away. It's open every day of the year from 8 am till 2 am – so you can enjoy the view both during the day and at night.
Tickets are available directly on the Empire State Building's official website and start from $38 for adults – many options are available also for admiring the sunrise (highly recommended) or for VIP priority access.
9 – Stroll through Chelsea Market and stop by the many eateries
Chelsea Market in NYC is home to shops, eateries and many more indoor facilities. At the renown indoor market, you'll be able to purchase a wide variety of fishes, vegetables and taste delicious food.
Located on 9th Avenue and 15th Street in the heart of Chelsea, the building is the former factory where the Oreo cookie was invented!
10 – Take a wonderful and scenic selfie of the Brooklyn Bridge
The Brooklyn Bridge is another world-famous landmark and a must place to visit in NYC. Built in the 19th century, this bridge still represents a crucial connection between Manhattan and Brooklyn.
Thousands of cars and pedestrians cross the bridge each day, together with a multitude of tourists taking pictures from all angles.
You can take scenographic pictures by heading right to the Brooklyn Bridge Park coming from Manhattan. The short walk will fully be repaid by wonderful views.
11 – Soak in the art and architecture at the Solomon R. Guggenheim Museum
The Guggenheim is a modern art museum with a peculiar design ideated by Frank Lloyd Wright. Besides its extravagant architectural importance, this museum is home to magnificent paintings from Kandinksy, Gauguin, Cézanne, Klint and many more.
Good to know: the entrance is free (pay what you wish) on Saturday evening between 5:00 pm – 8:00 pm.
12 – Discover one of the largest zoos in the US: the Bronx Zoo
With over 2 million visitors each year, the Bronx Zoo is one of the most visited places in New York City and among the top point of interest. Located in the Bronx, it houses over 4,000 animals recreating their natural habitat and ecosystem.
Among the many things to do at the Bronx Zoo, kids can visit the Children's Zoo where they can pet goats, donkeys and sheeps – or head to the Congo Gorilla Forest to admire gorillas, mandrills and okapis.
Based on the season, there's also a Butterfly Garden with beautiful Monarch Butterflies flapping through the greenhouses. Open everyday from e10:00 am to 4:30 pm during winter, while from 10:00 am to 5:00 pm (5:30 pm on weekends and holidays) starting April 6 until November 2.
13 – Visit the magnificent Neo-Gothic-style Roman Catholic St. Patrick's Cathedral
The iconic St. Patrick's Cathedral, located in the center of Manhattan right in front of Rockefeller Center, is another important landmark and place to visit in NYC. Built in 1879, this church showcases a Neo-Gothic style that will be a delight to see for all architecture enthusiasts.
A wonderful way to explore this religious marvel is by scheduling a tour. No prior reservations are required for individuals or small groups.
All tours of St. Patrick's Cathedral start at 10:00 AM and are free of charge – but a donation is well accepted.
14 – Cycle over the majestic Manhattan Bridge
Spend some time cycling, running or even just walking on the Manhattan Bridge.
It has stunning views of Manhattan and you can also admire Brooklyn Bridge. It is way less crowded than this one, so you can easily take photos without all the tourists around.
15 – Immerse yourself in one of the most comprehensive art collections in the world at The Museum of Modern Art (MoMA)
The MoMA is one of the most famous museums in the world with an extensive high-quality collection of sculptures, art & design. Over 26,000 artists have been exhibited at The Museum of Modern Art in NYC, with collections from Van Gogh to Warhol, from Dalì to Chagall, from Cezanne to Matisse and many more.
There's also a wonderful sculpture garden on Floor 1 that you can enjoy especially during the nice sunny days. While two cafes and The Modern restaurant will help you recharge your energies to continue exploring this great museum.
You can purchase your admission tickets of the Museum of Modern Art directly online on MoMA's website – this is highly recommended so you can skip the long lines.
The MoMA is located in NYC on 11 West 53 Street and is open every day from 10:30 am to 5:30 pm (until 8:00 pm on Friday).
16 – Watch the Rockettes dancing at the beautiful Radio City Music Hall
Radio City Music Hall is the symbol of music in New York – a legendary theater right next to Rockefeller Center, home of the famous Rockettes. Built in 1932 in art deco style, this theater hosts many concerts throughout the year, culminating with the magical Rockettes for Christmas Spectacular.
Absolutely one of the most fun things to do in NYC! Don't forget to book your tickets well in advance, since Radio City Music Hall is a popular destination for both tourists and New Yorkers.
17 – Show-off your NBA basketball skills at Prospect Park or simply have a nice picnic
If you happen to be in Brooklyn, make sure to take some time to relax in Prospect Park. It's an extensive green space with basketball/netball courts, a zoo, a carousel and many other athletic facilities.
The park is open every day from 5:00 am to 1:00 am, while the attractions have different hours that we recommend checking directly from the official website.
While at Prospect Park, we recommend visiting the Audubon Center – where you can learn about all the nature diversity available in the park besides participating in events like birdwatching.
18 – Enjoy the Pondlife multimedia exhibition at the Brooklyn Botanic Garden
Right next to Prospect Park sits the Brooklyn Botanic Garden – a wonderful green paradise. It's a true delight for families with kids thanks to the many options available. One highly recommended is the kid-friendly annual Cherry Blossom Festival that happens in March every year!
The admission is free, so don't miss out on this magical and colorful event. Another great event is the Pondlife multimedia exhibition by Sally Warring. It's a unique creation the merges art with biology allowing to explore the ponds and waterways of the Botanic Garden.
The Brooklyn Botanic Garden follows generally these opening hours: Winter (December – February) from Tuesday to Sunday 10:00 am – 4:30 pm, while Summer (March – October) from Tuesday to Friday 8:00 am – 6:00 pm, Saturday/Sunday 10:00 am – 6:00 pm. For up to date details please check the Brooklyn Botanic Garden official website.
19 – Spend Sunday in Central Park, the green oasis of NYC
Central Park is without any doubt the most famous park in NYC and it's also the most visited in the United States with over 40 million people accessing it each year.
There are so many things to do in Central Park that compiling an exhaustive list would be almost impossible. Here are the top spots that we recommend checking out: Alice in Wonderland (Mid-Park), Central Park Zoo (South End), the statue of Balto (South End), the Great Lawn (Mid-Park), Belvedere Castle (Mid-Park), Wollman Rink (South End), Conservatory Water (Mid-Park).
Central Park changes face throughout the year, from a winter wonderland when the temperatures are freezing in January to a great refreshing spot in the summertime where the multiple fountains become a perfect playground for all kids.
20 – Take a picture of the Fearless Girl statue in front of the Charging Bull
Almost everyone is aware of the iconic Charging Bull located in the proximity of Wall Street representing NYC's financial industry. But not all tourists are aware that a smaller sculpture, named the Fearless Girl, has been placed right in front of it.
While in downtown Manhattan, don't forget to pass by and take a picture of this symbolic small but definitely fearless girl placed right in front of the much bigger charging bull. A great opportunity for playing with multiple perspectives with your own camera.
21 – Explore the largest collection of dinosaur fossils in the world at the American Museum of Natural History
Travel back in time at the American Museum of Natural History with the largest collection of dinosaur fossils in the world including the skeleton of the Tyrannosaurus Rex.
Another great attraction inside the museum is the Hayden Planetarium, with shows that allow adults and kids to explore the history of the Universe thanks to a 429-seat Space Theatre.
22 – Savor a hot chocolate at Bryant Park
Relax and enjoy a nice hot chocolate in one of the most well-maintained parks in NYC. Bryant Park is easily reachable, located in midtown Manhattan right next to Times Square, Grand Central Terminal and directly behind NY Public Library.
23 – Take a tour of Rockefeller Center at Top of the Rock
Rockefeller Center, besides being famous all around the world for it's beautiful Christmas Tree, is home to a multitude of businesses, attractions and eating places.
A highly recommended fun thing to do is to take a tour at Top of the Rock which allows you to enjoy an amazing view of NYC while understanding the history of this historical landmark.
24 – Watch the Aladdin show at the New Amsterdam Theatre (Broadway) in Times Square
Probably one of the most famous places in NYC, Times Square could be thought as the heart of Manhattan. Broadway theaters with plenty of shows, dining places and a multitude of shopping options allow you to have great fun in this district.
Currently, the amazing musical show Aladdin is playing at the New Amsterdam Theatre.
If you're planning to visit NYC and stay in Times Square make sure to check our extensive list of the best hotels near Times Square.
25 – Enjoy a peaceful afternoon at Roosevelt Island
Roosevelt Island isn't a typical tourist destination and therefore the atmosphere here is much calmer compared to Manhattan. This allows you to enjoy this island by relaxing at the parks or eat at one of the great restaurants while viewing the city from a different perspective.
Roosevelt Island is easily reachable since it's linked to Manhattan via an aerial tramway using your MTA card.
26 – Visit the crown of the Statue of Liberty
The Statue of Liberty is one of the most important National Monuments, donated by France in 1886. Make sure to book your tickets in advance so you can visit the crown.
From that height, you'll enjoy a unique view of NYC. The Statue of Liberty offers also guided tours and a museum.
27 – Explore the largest art museum in the United States: The Metropolitan Museum of Art
You can spend days inside The Metropolitan Museum of Art, also known as the Met. It's one of the most visited museums in the world and contains great art collections from multiple ancient and contemporary cultures.
Online tickets for the Met cost $25 for adults, $15 for seniors (age 65+) and $12 for students. Children (age 12 or under) have free admission as well as NY residents and NY/NJ/CT students.
If you're planning to visit the Met 5th avenue in the upcoming period don't miss the following exhibitions: Apollo's Muse and Celebrating the Year of the Pig.
28 – Attend an open-air performance at the High Line
The High Line is one of the most characteristic parks in NYC. Built right into an old elevated rail line, this green renovated area attracts 5 million visitors each year.
Many open-air live events take place in here, from singers to dancers, there's a wide variety of activities.
The opening hours vary by season, so make sure to check the official website at www.thehighline.org.
29 – Join the Bronx Green-Up Program at the New York Botanical Garden
The New York Botanical Garden has an outreach program called Bronx Green-Up that provides education, training and assistance for many greening projects.
You can participate in a wide variety of workshops including beekeeping, planting, fruit tree care, garden planning and many more.
If you happen to be around until April 2019, don't miss the Putting Down Roots event – celebrating the 30 years of the Bronx Green-Up program.
30 – Enter a Submarine at the Intrepid Sea, Air & Space Museum
The Intrepid Sea, Air & Space Museum located on Pier 86, W 46th Street is a fantastic place for both adults and kids.
Besides seeing a great collection of airplanes, you can also enter an actual submarine, visit the Intrepid aircraft carrier, walk in the Space Shuttle and even take a picture in front of the Concorde – all in one place!
31 – Listen to local Jazz at Washington Square Park
Washington Square Park in NYC is a wonderful place to listen to some local jazz, enjoy good food at the eateries while people watching and have a chess game with the many enthusiast players.
This park is both developed on concrete and green and holds a grand arch celebrating George Washington.