Best NYC Hotels with Pools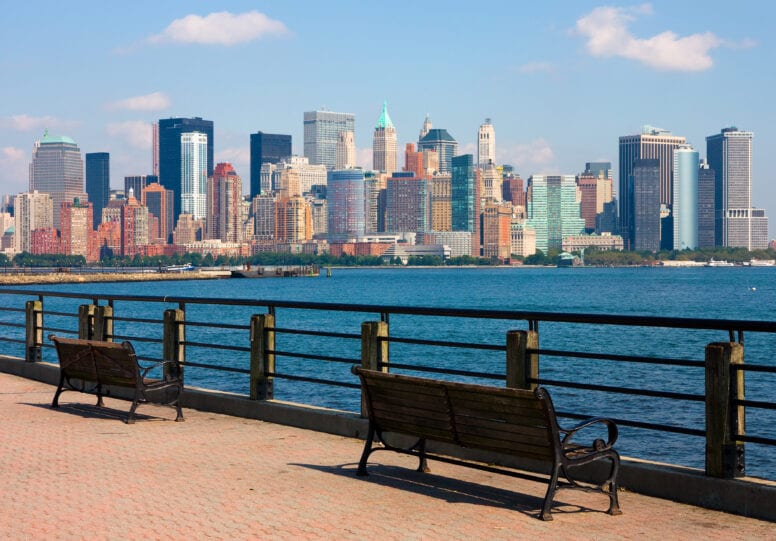 Gansevoort Meatpacking
When it comes to the best New York City hotels with a pool, the Gansevoort Meatpacking is certainly one of the most interesting options available.
Conveniently located in Manhattan, in Greenwich Village, this 4-star structure offers fantastic accommodation no matter if you're traveling for leisure or for business.
Gansevoort Meatpacking features 186 newly renovated guest rooms designed to satisfy even the most demanding customers.
The choice of accommodation includes superior rooms, accessible superior rooms, deluxe rooms, suites, and a penthouse.
All of the options come in a contemporary style and feature complimentary wi-fi, a fully-stocked mini-bar, a safe, a desk, ironing facilities, flat-screen TV, a bluetooth sound system by Marshalls, and even a Google Nest Hub.
Gansevoort Meatpacking is home to The Chester bar and bistro where you can enjoy a pleasant lunch or dinner in an R-going setting.
The highlight of the hotel is without a doubt the year-round heated rooftop pool which is an amazing place for relaxing after a long day of sightseeing and exploring New York City.
Right next to the pool there is a rooftop bar where you can order a cocktail and take in the amazing views of the city at the same time.
Keeping in good shape while staying at Gansevoort Meatpacking is easy since it offers an on-site fitness center and also the fitness MIRROR for in-room workouts.
If you're traveling with a little four-legged friend we have good news for you!
Gansevoort Meatpacking is one of the best pet-friendly hotels in New York City and we're sure that both, you and your dog will have an amazing time there.
West Side YMCA – Hostel
West Side YMCA is a 3-star hostel in New York City near Central Park.
It is a good solution if you're traveling with family or with a group of friends because it offers rooms with bunk beds.
Some of the rooms can accommodate up to four people.
It is also possible to rent a small single room but keep in mind that they don't have private bathrooms.
In fact, all of the guest rooms come with a shared or semi-private bathroom and feature air conditioning, a safe, flat-screen TV, and a desk.
West Side YMCA comes with not one but two large indoor swimming pools and is also home to a large fitness center.
Thanks to its central location, West Side YMCA Hostel is a great accommodation for those of you who want to explore the city on foot.
Many of the fun things to do in NYC such as Times Square, Lincoln Center, and Rockefeller Center are situated within a walking distance.
The Chatwal New York, a Luxury Collection Hotel
One of the most luxurious hotels in the Big Apple is the 5-star Chatwal New York.
Located in Midtown Manhattan, this hotel serves as a pleasant and tranquil refuge in the middle of a busy and hectic city.
Dating back to 1905, the Chatwal New York offers elegant and upscale guest rooms and suites with first-class facilities.
All of the rooms are completed with luxurious amenities, butler service, and complimentary wifi.
Apart from the stunning rooms and suites, the hotel is also home to the so-called Chatwal Crowns which includes a collection of absolutely unique and charming suites.
Take your travel experience to the next level by booking a stay at one of them and live a unique experience surrounded by beauty and luxury.
The guests at the Chatwal New York can also enjoy a 24-hour fitness center, a spa, a concierge service, complimentary bicycles, and a Jacuzzi plunge pool.
Families love staying at this hotel because it offers a wide choice of family-friendly amenities and babysitting services as well.
Those of you traveling with pets may also reserve a room here since this 5-star hotel is definitely pet-friendly.
In fact, your dog will be spoiled with a pet bed, doggie treats menu printed as a playbill, and many other pet-friendly amenities for a truly enjoyable stay.
When it comes to dining, the Chatwal New York features Lambs Club – the award-winning restaurant by Chef Geoffrey Zakarian which serves American cuisine in a one-of-a-kind setting.
Room Mate Grace Boutique Hotel
Another interesting property to consider when looking for the best New York City hotels with a pool is the 3-star Room Mate Grace Boutique Hotel.
This structure is located in the heart of Manhattan, neighboring with many NYC top attractions and fun places to see.
Depending on your needs and budget there is a wide choice of rooms available, from the standard rooms, through queen and king to the spacious luxury suites.
Apart from the classic rooms for two, there are also options that can accommodate three or four people.
The in-room facilities include a desk, flat-screen TV, a safe, air-conditioning, a minibar, and much more.
On top of that, the guests can enjoy a continental breakfast and free wifi as well.
Having a good time at Room Mate Grace Hotel is easy since among other things it features a sauna and a fitness center.
The fabulous indoor swimming pool and pool bar are the cherry on the cake.
The Greenwich Hotel
The Greenwich Hotel is a charming structure with world-class accommodation and high-quality services.
Situated in Downtown Manhattan, in the vibrant neighborhood of Tribeca, this 5-star hotel offers 88 beautifully-furnished rooms and suites.
For a truly luxurious experience, take a look at the hotel's penthouses.
Our favorite is the Tribeca Penthouse that comes with three bedrooms, two and a half bathrooms, a kitchen, a living room, and a drawing-room.
The highlights of this penthouse are certainly the two terraces with wisteria canopy and multiple seating areas.
If you book a room at the Greenwich Hotel make sure to try the on-site Shibui Spa which offers a selection of relaxing treatments.
Other facilities include a lovely indoor swimming pool, a fitness center and it is also possible to arrange private yoga or pilates sessions.
When it comes to dining, the Greenwich Hotel is home to Locanda Verde that offers a quintessential Italian menu and warm and homey ambiance
Four Seasons Hotel New York Downtown
The world-renowned Four Season Hotel is a wonderful option to consider when looking for a 5-star hotel with a pool in the heart of New York City.
It offers a wide selection of spacious rooms and suites featuring first-class facilities such as hypoallergenic and orthopedic bedding (on request), Bose stereo system, Bodum tea kettle, lighted make-up/shaving mirror, and much more.
Every room boasts an incredible view of New York City as well.
If you feel like splurging on your vacation in NYC you should check out the Four Seasons Suites that come with all the necessary facilities for an unforgettable stay.
They can comfortably accommodate up to four guests (apart from the Empire Suite that can fit two adults and one child) and some come with a private terrace.
The guests at Four Seasons Hotel New York Downtown can also take care of their body and mind at the on-site luxury spa.
Healing massages, manicure, pedicure, and meditation are only some of a long list of services available.
Don't forget to bring your swimsuit since there is a lovely indoor swimming pool where you can reduce stress and relax after exploring the city.
When it comes to dining, Four Seasons Hotel New York Downtown offers ongoing in-room dining with many delicious options.
There is also the CUT restaurant by Wolfgang Puck, open for breakfast, lunch, and dinner.
Renaissance New York Chelsea Hotel
Renaissance New York Chelsea Hotel is a 4-star property with a rooftop outdoor swimming pool.
Who would have thought you can enjoy such a serene and garden-like spot right in the center of the city that never sleeps.
This stunning heated pool comes with comfortable loungers and a bar which means you can easily spend an entire day there, slow down, read a book, and enjoy a flavorful cocktail.
When it comes to the guest rooms, the Renaissance New York Chelsea Hotel offers a choice of modern and well-furnished rooms and suites.
There is also a one-bedroom conference room suite which is ideal for those of you traveling on business and need an elegant meeting space.
All of the rooms feature ceiling to floor windows which means they are filled with lots of natural light and come with amazing views of New York City.
The room amenities include a desk, a TV, a beverage station, ironing facilities, a radio, and of course a private, well-equipped bathroom with free toiletries.
Make sure to bring your gym bag along as there is an on-site fitness center open 24/7 where you can keep in shape during your vacation in NYC.
If you're traveling for work and need a meeting venue, Renaissance New York Chelsea Hotel is home to three event rooms.
Make sure to contact the hotel well in advance in order to verify availability and discuss additional costs.