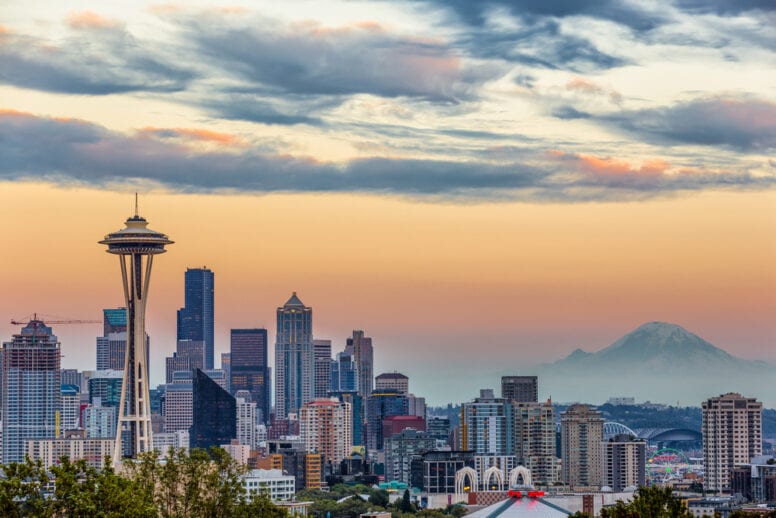 When it comes to cheap hotels in Seattle one of the best options available is The Mediterranean Inn.
This 3-star structure offers a wide range of well-furnished rooms with private bathrooms and all the necessary amenities.
All of the guest rooms feature a small kitchen area with a microwave and a refrigerator.
The guests can enjoy complimentary wifi, a business center, a fitness center, and garage parking (on additional charge).
The Mediterranean Inn is located on Queen Anne Avenue North which means many of the best things to do in Seattle are situated in the vicinity.
The important landmarks nearby include the Museum of Pop Culture, Space Needle, Port of Seattle, and the Pike Place Market.
In fact, if you head to the hotel's rooftop you'll get to admire incredible views of downtown Seattle and take some amazing photos as well.
The area is also home to a wide choice of dining and shopping and entertainment opportunities.
Another interesting structure to consider when looking for a cheap hotel in Seattle is the Belltown Inn.
The guest rooms come with a long list of amenities such as air-conditioning, a safe, a tea and coffee maker, ironing facilities, a radio, a flat-screen TV, a desk, a microwave and much more.
Belltown Inn is a smoke-free, pet-friendly property and offers free wifi in all areas.
The highlight of this hotel is without a doubt the wonderful sundeck where you can relax, read a book, and enjoy a fantastic view of the city at the same time.
Although Belltown Inn doesn't feature an on-site restaurant the guests don't have to worry about finding great dining options.
The neighborhood is filled with many amazing restaurants and cafes where you can enjoy good food and a unique atmosphere.
The Original Starbuck from 1971 situated at Pike Place Market in downtown Seattle is just a short walk away from the hotel.
Featuring a one-of-a-kind location on Pike Street, right by the iconic Pike Place Market there is the Green Tortoise Hostel Seattle.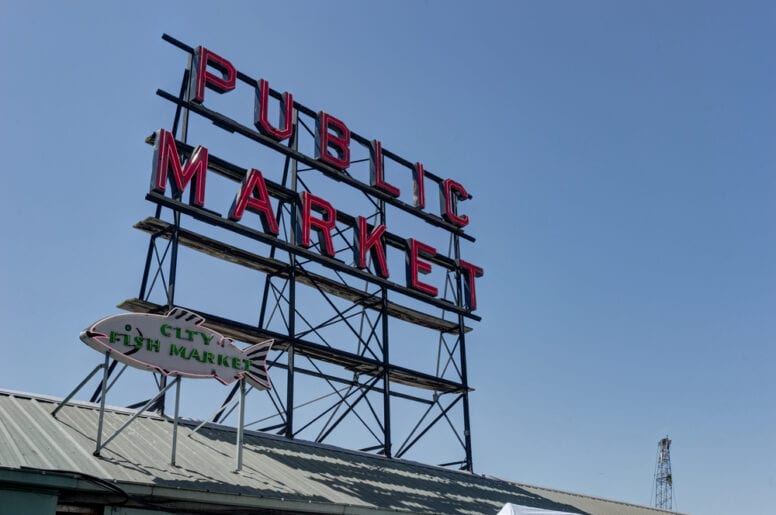 A great solution for a large group of friends traveling together, Green Tortoise Hostel Seattle offers simple rooms with bunk beds and shared bathrooms.
The structure comes with a communal kitchen, free wifi, a smoking lounge, and safe deposit boxes.
Depending on your needs you can choose between male and female and female-only dorms.
Because of its central location, this hostel is a perfect solution for those of you who plan to explore the city and do a lot of sightseeing.
Pike Place Market comes with countless shopping and dining opportunities while landmarks such as the Seattle Art Museum, Seattle Aquarium, and the iconic Gum Wall are literally steps away.
If you're looking for cheap and easy-going accommodation in central Seattle, Green Tortoise Hostel Seattle is definitely worth considering.
College Inn offers cozy and affordable guest rooms on the campus of the University of Washington.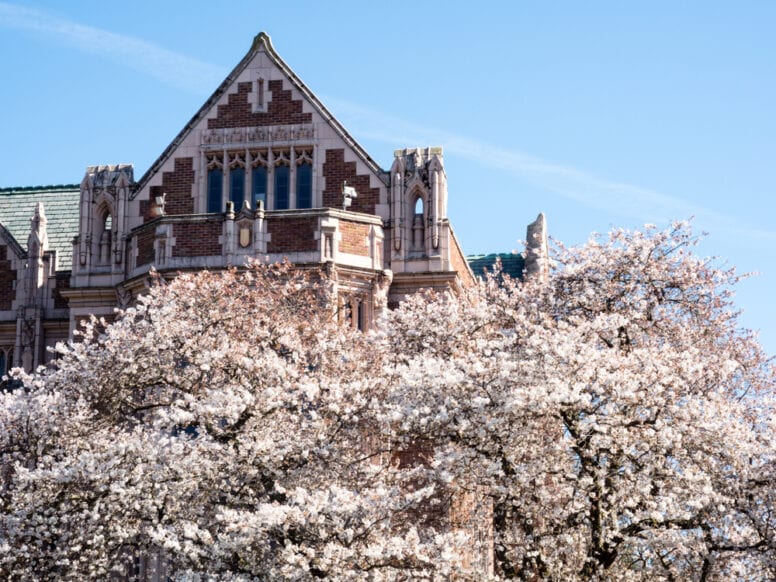 You can choose between rooms with a private or shared bathroom while all of the rooms feature an iron, a desk, and free toiletries.
College Inn is located in the University District which is a fascinating area to explore.
Make sure to visit the Theodor Jacobsen Observatory from 1895 and take a walk around the beautiful Grieg Garden.
Those of you who love art can't miss the Henry Art Gallery featuring an array of thought-provoking exhibitions.
Downtown Seattle is located about 4 miles from College Inn and can be easily reached by bus or by monorail – this is certainly a great option when you're looking for hotels in Seattle.
Graduate Seattle is a 4-star hotel with spacious and beautifully furnished rooms in a unique style.
Feeling home away from home is easy while staying at this hotel. The guest rooms feature complimentary wifi, ironing facilities, a safe, a TV, and a docking station.
Opt for a room with a view if you want to admire a stunning panorama of Seattle at any time of day and night.
When it comes to dining, the Graduate Seattle is home to Poindexter, ideal for an aromatic midday coffee or a tasty breakfast.
The guests can also dine at the on-site restaurant, Mountaineering Club, located on the 16th floor and offering a perfect combination of amazing food and stunning views.
Other facilities available at the Graduate Seattle include a fitness center and private parking.
Located close to the UW Seattle campus, this hotel is a great solution for visiting the university but also for discovering all the top attractions of the city.
Another good option on our list of the best cheap hotels in Seattle is the SpringHill Suites Seattle Downtown.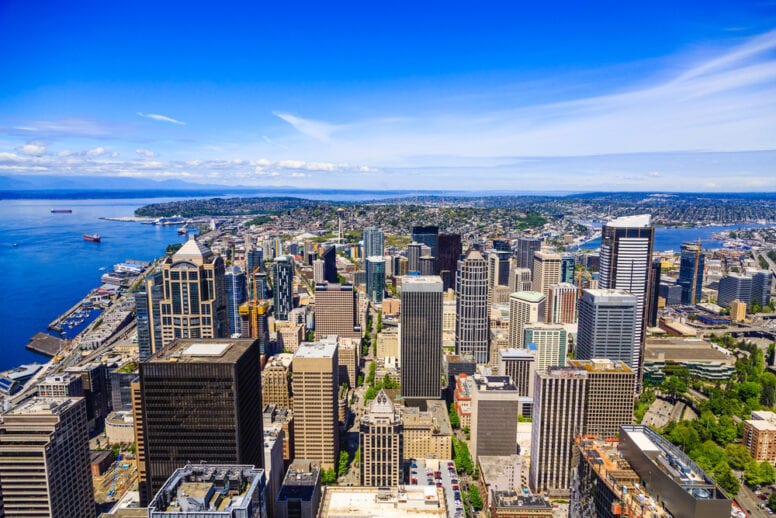 This structure features spacious suites (some can accommodate up to four people) with a private bathroom, a kitchenette and a separate living area.
If you're planning a longer stay in Seattle, these suites seem like an interesting solution to consider.
All of the guest rooms are non-smoking and come with air-conditioning, a desk, a refrigerator, a TV, a microwave, ironing facilities and more.
If you're traveling with children check out the lovely corner suite and double queen suites that will work out perfectly for a family of four.
Start your day with a delicious and complimentary breakfast while for dinner we recommend booking a table at the on-site restaurant Bistro on Yale.
Other facilities at SpringHill Suites Seattle Downtown include a fitness center, a bar, and private parking.
The city's most important attractions such as the Space Needle or Museum of Pop Culture are located less than a mile away from this hotel.
Featuring modern and well-furnished guest rooms there is the 3-star Holiday Inn Express Hotel & Suites North Seattle – Shoreline.
The in-room amenities such as black-out shades, heating and A/C controls, flat-screen TV or iPod docking station will help you rest after a long and tiring day of sightseeing in the city.
There is no better way to relax than taking a pleasant swim at the hotel's heated indoor pool.
Rejuvenate your body at the on-site jacuzzi and enjoy a workout at the well-equipped fitness center.
The guests can take advantage of the free parking and complimentary breakfast is available as well.
Sea-Tac Airport is located about 20 miles away.
The ART INN Seattle is an inspiring hotel offering great accommodation in a creative style.
It is situated in the eclectic neighborhood of Capitol Hill which means a wide range of entertainment is available literally next door.
The guest rooms offer a pleasant environment for relaxing and taking a break right in the middle of a busy city.
If you're traveling with family make sure to check out the studio room which can fit four people and is equipped with a kitchenette, private bathroom, and two beds.
The family room, on the other hand, will be ideal for a family of three and is located on the ground floor.
The guests can also enjoy free wifi and a parking.
Among the best cheap hotels in central Seattle is the 3-star Executive Inn by the Space Needle.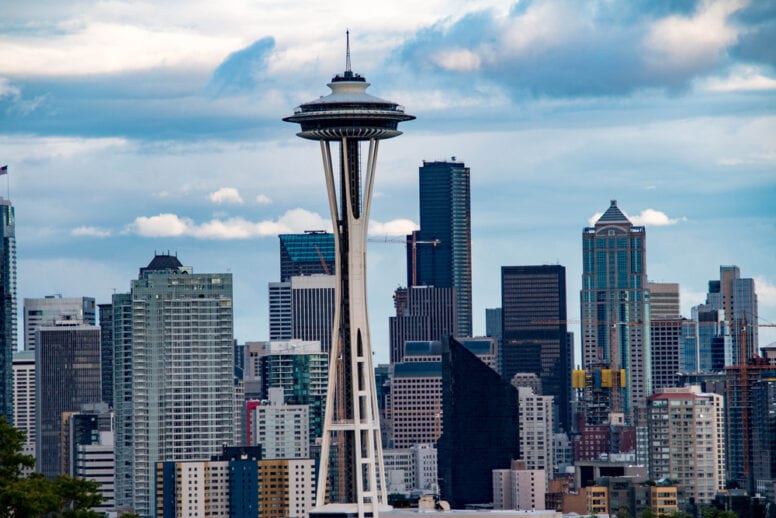 Take a look at their cozy and tranquil rooms completed with all the necessary amenities.
Enjoy the high-speed internet, comfortable bed, and beautiful views of the city.
Executive Inn Hotel is also home to a fitness center and to a business center and parking is available as well.
Thanks to its central position, this hotel is ideal for first-time travelers who want to see as much as possible and plan to explore Seattle on foot.
In fact, attractions such as the Space Needle, Museum of Pop Culture, or the Seattle Children's Museum are located just a yard away.
MarQueen Hotel is a 4-star property and a wonderful combination of history, hospitality, and style.
Over 100 years old, this hotel offers charming accommodation and fantastic facilities for a truly pleasant and comfortable stay.
The guest rooms come with old-fashioned furnishings and amenities such as a flat-screen TV, complimentary wifi, a pillow top mattress, a fridge, a microwave, a coffee maker, and much more.
Enjoy a fun evening at the Tin Lizzie Lounge that features a cocktail bar, live music, and a mouth-watering menu.
If, on the other hand, you prefer having a quiet night and staying in you can order in-room dining which offers a wide range of delicious things to eat and drink.
For a truly relaxing experience make sure to book a massage or a treatment at the on-site spa.