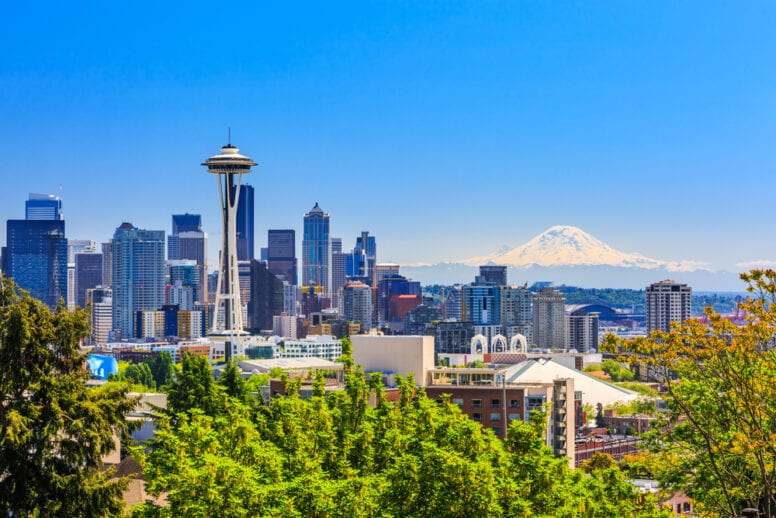 Space Needle
When it comes to the best things to do in Seattle, Washington we obviously have to start from the iconic Space Needle.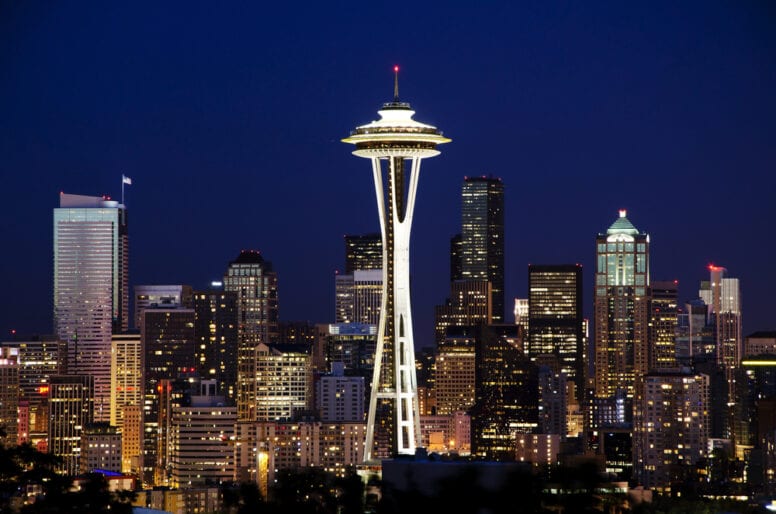 Featuring a futuristic design, this landmark has been around for over 60 years and is a quintessential element of Seattle skyline.
Space Needle offers amazing 360-degree views and there is no better place than this to admire the city from a bird's-eye view.
The place attracts thousands of visitors every day so we recommend reserving the tickets in advance in order to reduce wait time.
The admission fee is $35 for adults and $26 for children.
Pike Place Market
No trip to Seattle can be considered complete without visiting the Pike Place Market.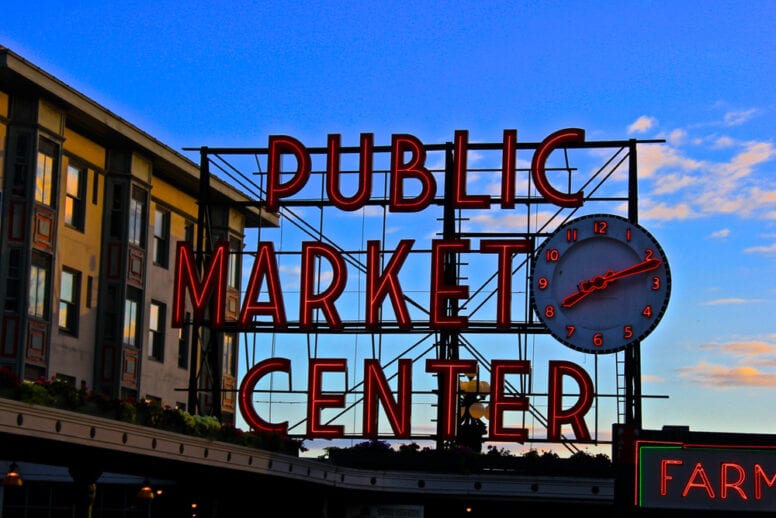 It first opened in 1907 which means it is a great example of a traditional American farmers' market.
Pike Place Market comes with countless shopping opportunities that include hundreds of handicraft shops, food stalls with fresh meat, fish, and dairy, a wide choice of local fruit and vegetables, and much more.
This famous market is also an excellent location for anyone looking for a unique culinary experience.
In fact, Pike Place Market in Seattle is home to a wide range of bakeries, bars and restaurants serving both, local and international cuisine. Many of the best hotels in Seattle are also located nearby.
No matter if you want to go on a shopping spree, enjoy a delicious meal in a one-of-a-kind setting or simply stroll around and enjoy the unique atmosphere, Pike Place Market is a great site to add to your sightseeing itinerary.
Museum of Pop Culture
Without doubt one of the most fun things to do in Seattle, Washington is paying a visit to the Museum of Pop Culture.
Housed in a rather unconventional edifice, this museum was founded by Paul Gardner Allen, best known for co-founding Microsoft with Bill Gates.
For the last 20 years, the Museum of Pop Culture has been a constant source of knowledge and creative inspiration for many.
The highlight of this site is certainly the Science Fiction Museum and Fantasy Hall of Fame featuring numerous artifacts from renowned sci-fi movies.
The Museum of Pop Culture is also home to interesting exhibits such as those regarding the Minecraft video game, tattoos and guitar gallery, just to name a few.
The admission fee for adults is $30 and for children $21 (children from 0-4 free of charge).
Chihuly Garden and Glass
Chihuly Garden and Glass is a charming location and a must-see on our list of things to do in Seattle, Washington.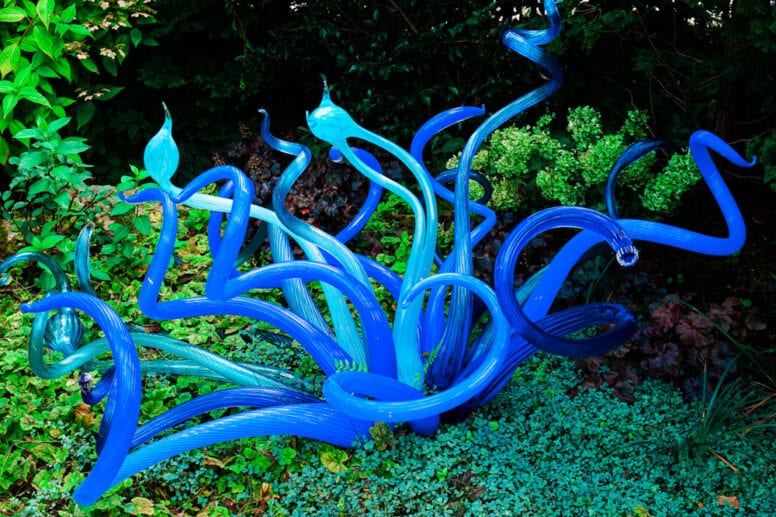 The place is named after its creator – Dale Chihuly, an American glass sculptor, and author of a great many works and architectural installations.
Chihuly Garden and Glass was established in 2012 and is now home to eight galleries and three Drawing Walls, a 40-foot tall glasshouse, a garden filled
with sculptures, plants, and installations and also to The Theater.
Chihuly Garden and Glass is a truly magical place and the photos could never do justice to its beauty and singularity.
This site is open daily and it's best to buy the tickets beforehand. The ticket price is $32 for adults and $19 for children.
Seattle Art Museum
Since its foundation in 2007, the Seattle Art Museum has been displaying amazing art collections of artifacts from all over the world.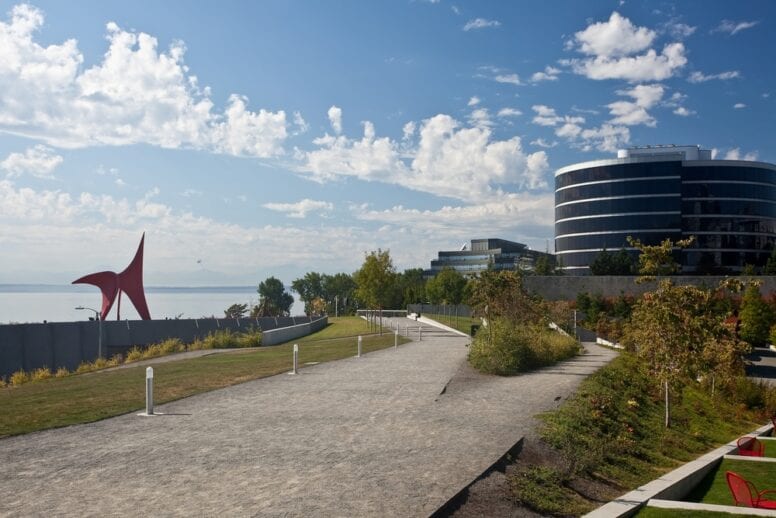 In fact, you'll have a chance to admire a selection of African, American, Asian, European, Islamic, Nativ American, Oceanic or Ancient Mediterranean art.
This is one of those museums where you could lose days without ever without running out of artifacts to ponder.
Seattle Art Museum includes several other institutions that are also worth visiting.
There is the Seattle Asian Art Museum, located in the Volunteer Park and featuring a permanent collection of Chinese, Korean, Japanese, Indian, Himalayan, and Southeast Asian art.
You wouldn't want to miss the Olympic Sculpture Park as well which is basically an outdoor sculpture museum situated by Elliott Bay.
Seattle Art Museum is also home to two libraries: Dorothy Stimson Bullitt Library and McCaw Foundation Library of Asian Art.
Apart from special collections and exhibitions, the admission fee for the SAM is suggested.
Seattle Aquarium
Those who are fascinated by marine life might want to have a look at Seattle Aquarium.
It features many exhibits where you come face to face with various marine species.
Explore tropical fish from the Pacific Ocean coral reef, meet charming otters and seals and make friends with a giant pacific octopus.
Enter the Underwater Dome for a 360º view of underwater life, learn all about salmons and sea life of Puget Sound tide pools.
One of the exhibits is also dedicated to shorebirds such as long-billed curlew, pigeon guillemot, and black oystercatcher just to name a few.
The admission fee for Seattle Aquarium is $32.95 for adults and $22.95 for children.
The Gum Wall
One of the most unusual things to do in Seattle, Washington is going to see the Gum Wall.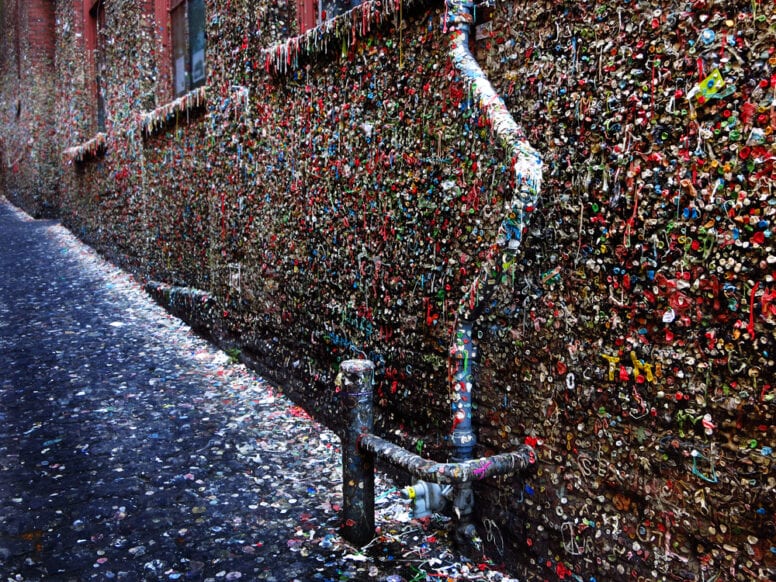 Since 1993, the place has caused much controversy, being a fascinating and entertaining site for some while disgusting and uninspiring for others.
We definitely belong to the first group and find the Seattle Gum Wall a fun attraction and also one of the most Instagrammable spots in the city.
Since its creation, almost 20 years ago, the Seattle Gum Wall has been cleaned only once, in 2015.
Woodland Park Zoo
Home to over 900 animals and 250 species, the Woodland Park Zoo is another important attraction in Seattle.
Explore the animals of the savanna such as lions, giraffes, hippopotamus, patas monkeys and zebras.
Learn all about Peruvian Humboldt penguins and flora and fauna in the temperate forests.
Enter the fascinating and colorful world of butterflies at the Molbak's Butterfly Garden and Microsoft Pollinator Patio.
Come face to face with beautiful animals from Australasia such as emu, wallaroo, kookaburra or snow leopard.
The Woodland Park Zoo is open daily (except Wednesdays) from 9:30 a.m. to 4:00 p.m. and the ticket price is $15.50 for adults and $10.50 for children.
The Seattle Great Wheel
Another integral part of every sightseeing tour in Seattle is the Seattle Great Wheel.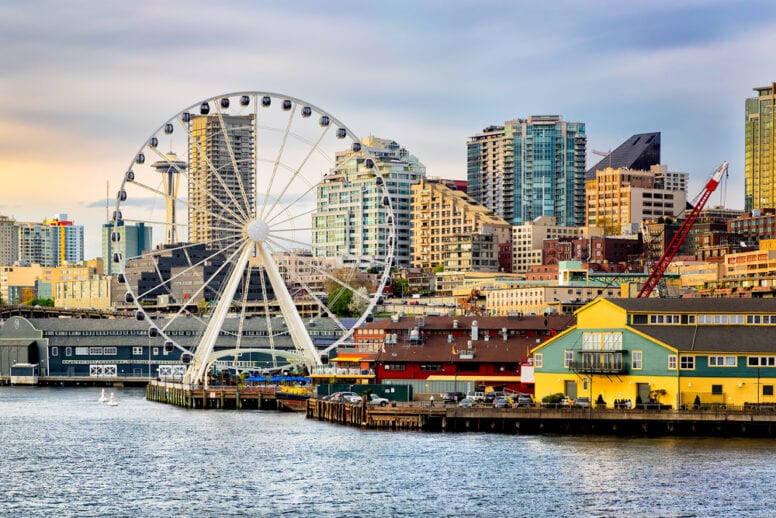 It was opened in 2012 and offers an excellent opportunity to enjoy fantastic views.
You'll get to enjoy a romantic ride with a loved one or have a fun experience with friends or family.
Every Friday, Saturday, and Sunday evening, the visitors can also admire the Seattle Great Wheel Light Shows.
The admission fee varies depending on the age and goes from $10 to $15 and a photo booth service is also available at additional cost.
Pacific Science Center
Anyone who wants to learn more about science and explore intriguing exhibits should visit the Pacific Science Center.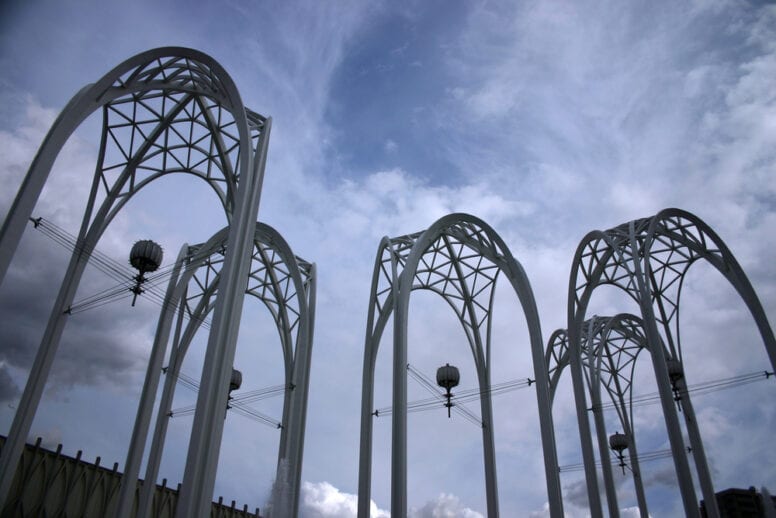 It features two IMAX theaters where you can enjoy 2D and 3D showings and interesting documentaries that provide a valuable science lesson.
Another great attraction available at the Pacific Science Center is Laser Show Performance held in the largest and longest-running Laser Dome in the world.
Of course, no visit to the Pacific Science Center can be considered complete without seeing the Willard Smith Planetarium.
This site is loved by families because it offers a wide range of programs and activities for children and teens.
Kerry Park
Take a break from all the hustle and bustle and enjoy a relaxing walk through Kerry Park.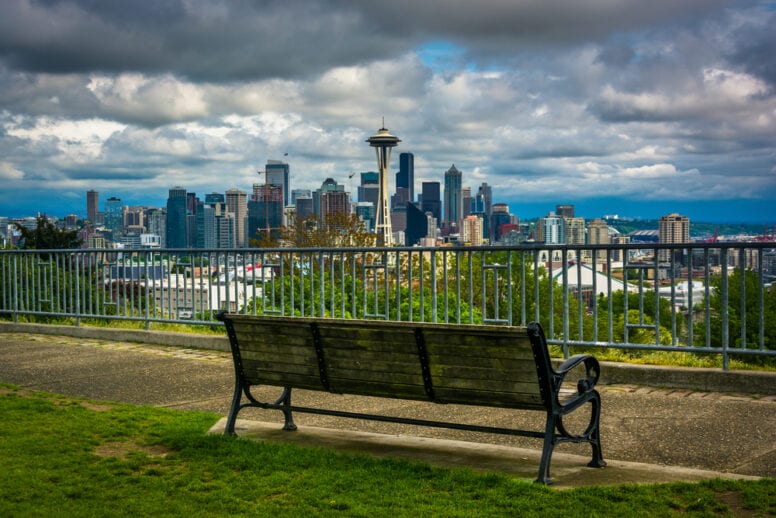 Head to the view-point and take in the stunning views of the city skyline. If you love photography, this is one of the best locations available to take amazing photos of the city.
Stop by the Changing Form – a steel sculpture from 1971 and then stroll around the park and enjoy a tranquil atmosphere.
For those of you traveling with children, there is also a small playground available inside Kerry Park.
The Museum of Flight
Explore the absorbing universe of aircraft and spacecraft at the Museum of Flight in Seattle.
It comes with many interesting collections and galleries such as the Vietnam Veterans Memorial Park, Aviation Pavilion, and Charles Simonyi Space Gallery just to name a few.
The numerous exhibits offer a wonderful learning experience for children and for adults alike.
The youngest visitors will love "flying" aircraft in the Kid's Flight Zone, climbing-aboard cockpits, and learning all about the air traffic controllers' job.
Other compelling exhibits include Apollo with a display of the F-1 rocket engines, 737 Airliner Theater, Inspiring Rockets regarding model rocketry, and much more.
Alki Beach
Our list of things to do in Seattle couldn't be complete without another famous location and we're talking about Alki Beach.
Depending on your mood, this 2-mile long beach offers numerous entertainment and relaxation opportunities.
You can enjoy a long, pleasant walk, have a fun picnic with your family or play volleyball right on the beach.
During warm, summer days, Alki Beach is usually filled with locals and tourists catching up on Vitamin D.
For the rest of the year, this site makes a wonderful and tranquil spot for taking a break from the city, strolling around, and just relaxing.
Sky View Observatory
Another fantastic place to admire the city from above is the Sky View Observatory – Columbia Center.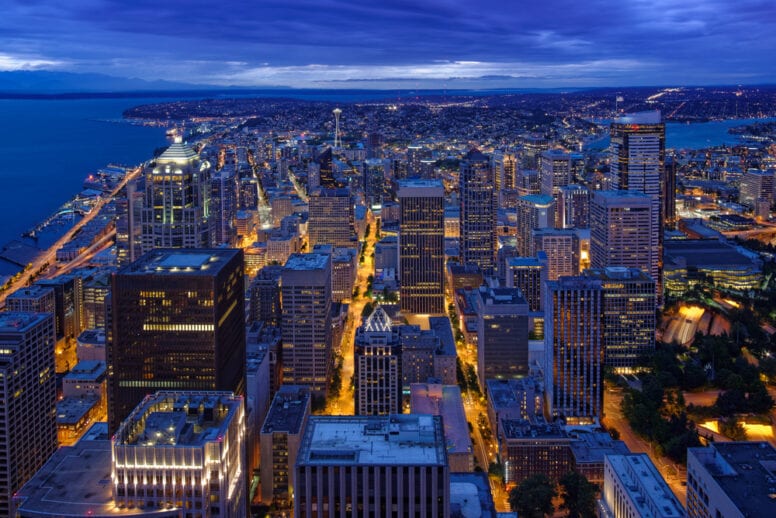 Situated on the 73rd floor of Columbia Center, the observatory offers sweeping views of Downtown Seattle and unique photo opportunities.
After taking in the breathtaking panorama you may want to head to the Sky View Café & Bar where you can enjoy a quick snack and something to drink.
If you want to enjoy this experience only with a loved one or with a small group of friends it is also possible to organize one hour long private views.
It's best to check the official website for prices and details.