Bagan in Myanmar – there is no other place like this in the world. Mystical, tranquil, ancient, and magnificent are the words that describe it best.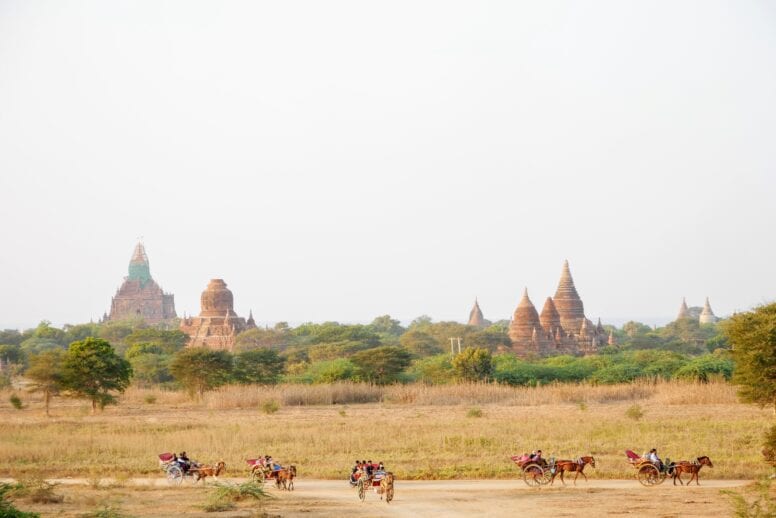 The most famous city in the country, Bagan, comes with an endless selection of temples and pagodas that will charm even the most experienced traveler.
To help you make the most of your experience in this magical location, we've prepared a quick list of the best things to do in Bagan for you. We hope you're going to have the time of your life!
TIP: Don't forget to also read our post regarding the best attractions and things to do in Ngapali Beach – it's an amazing location!
1. Ananda Temple
One of the most important things to do in Bagan is certainly visiting the famous Ananda Temple.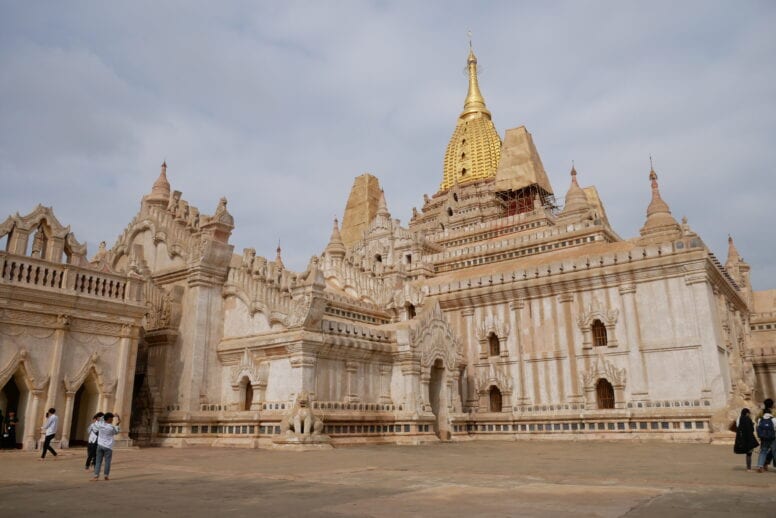 Dating back to the 12th century, Ananda Temple is a real masterpiece and a fascinating place to explore, both from the historical and architectural point of view.

In fact, it represents a perfect blend of Mon and Indian architectural styles and is home to a wide selection of stunning Buddha statues.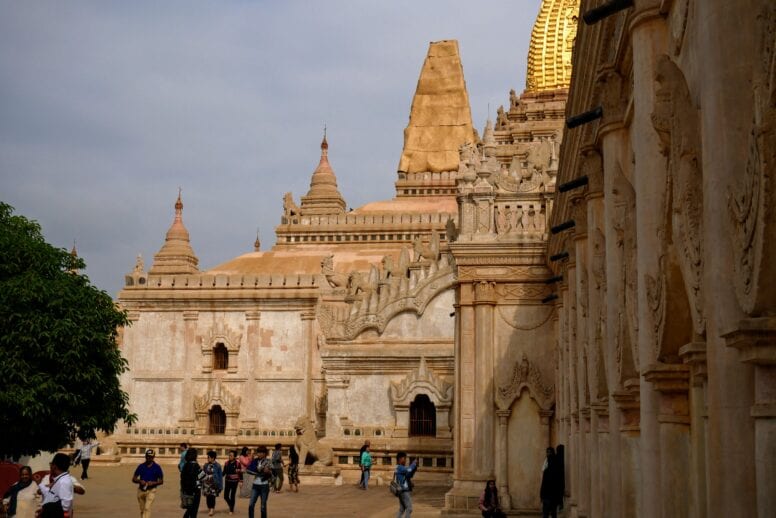 Being one of the most popular temples in the whole Bagan, Ananda Temple is usually very busy but don't let the crowd deter you.

Taking a walk around its ancient grounds and soaking in the mystical atmosphere inside is a truly memorable experience.

TIP: bring some wet wipes along! You will have to take your shoes and socks off so your feet will be dirty at the end of the tour.
2. Shwezigon Pagoda
Shwezigon Pagoda is an important point of interest located in Bagan. This impressive golden temple is one of the most frequented sites in the city.

Located outside the Old Bagan in a little town called Nyaung-U, it can be reached fast and easily with an electric bike.

Shwezigon Pagoda went through many changes since its foundation in the 12th century.

In fact, it underwent multiple renovations and restorations, mainly due to earthquakes.

From a purely architectural point of view, Shwezigon Pagoda resembles a lot the famous Shwedagon Pagoda in Yangon.

TIP: By the way, if you're planning to continue traveling through Myanmar, make sure to read our guide to things to do in Yangon.
Apart from the main pagoda, you'll also have a chance to admire a wide selection of shrines, pillars, and halls.

One of the halls is home to the 37 nats statues which are believed to be spirits in Buddhism.
3. Dhammayangyi Temple
No trip to Bagan can be considered complete without paying a visit to Dhammayangyi Temple.

Apart from being the largest temple in Bagan, Dhammayangyi Temple is a fascinating place, filled with charm and a unique atmosphere.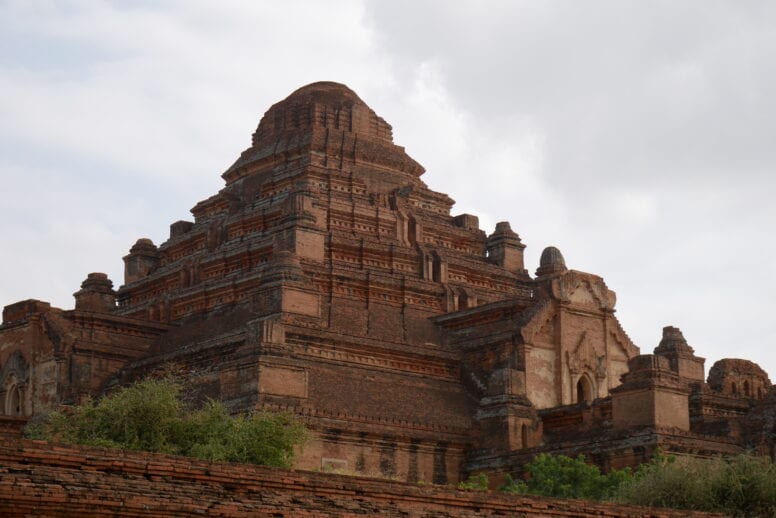 Dating back to the 12th century, this brick temple has a pretty intriguing history which includes intricate family relations, death, and redemption.

Because it is so big, Dhammayangyi Temple really stands out among other smaller temples and is usually pretty busy with tourists.

The interior is filled with mystical passages and hidden stairways while small windows create an incredible combination of lights and shadows.

While inside, expect to come across other "visitors" such as birds and bats who like to fly around the high ceilings of the temple.

Dhammayangyi Temple is also a great location for admiring the sunrise.
If you wake up really early you'll get to enjoy stunning views in a one-of-a-kind location.
4. Shwesandaw Pagoda
Shwesandaw Pagoda is probably the most famous temple in Bagan or at least the "most instagrammable" one.

This ancient pagoda from the 11th century is a photogenic spot and a must-see on our list of things to do in Bagan.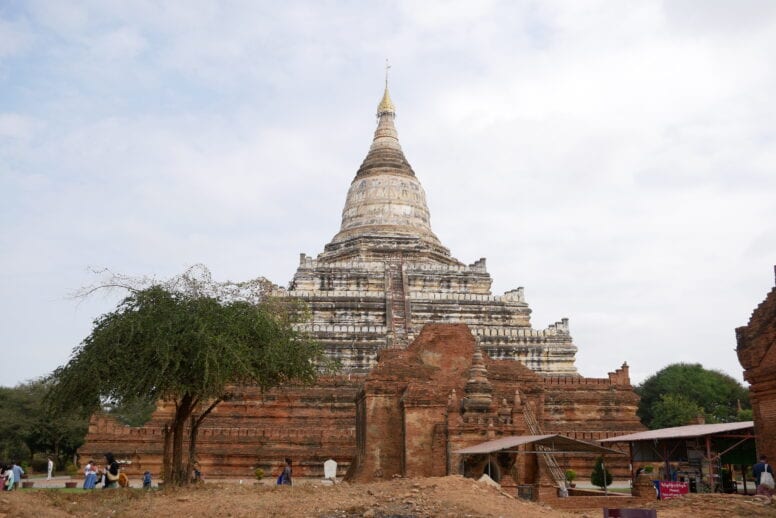 Situated in Old Bagan and easily reachable with an e-bike, Shwesandaw Pagoda features a long and steep staircase that leads to the square terraces.

Recently, due to a large number of visitors, access to the staircase was forbidden in order to protect the temple from decay and damage.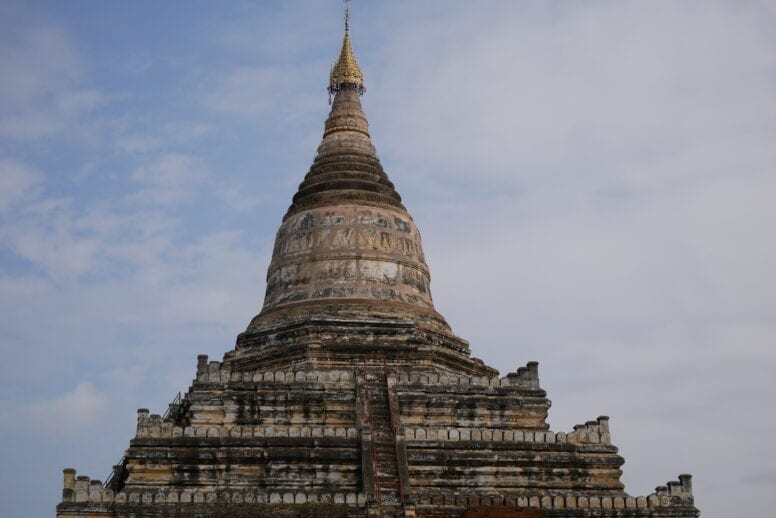 There are quite a few people by the entrance of this pagoda, selling clothes, accessories, and souvenirs.

If you want to support the local community you may buy something small from them or simply enjoy a pleasant conversation.
5. Hot Air Balloon Ride
One of the most fun things to do in Bagan is enjoying a hot air balloon ride. This is an incredible way to admire the stunning views of Bagan plains from above.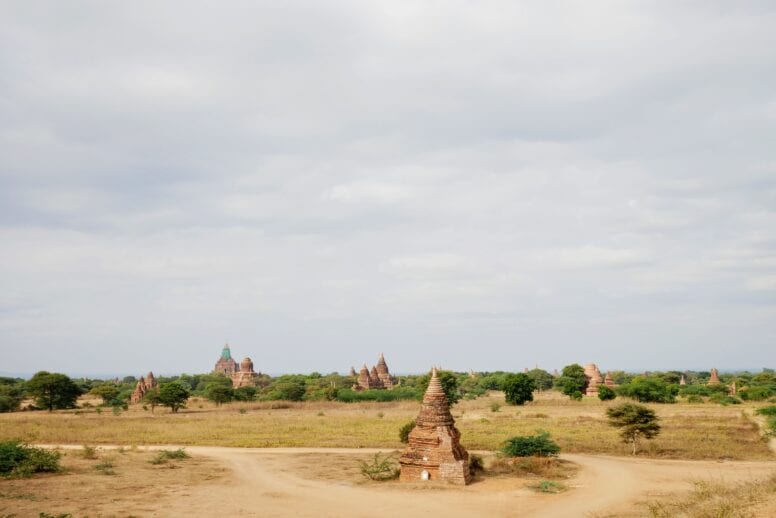 The balloon rides usually take place early in the morning, just in time to enjoy the breathtaking sunrise over the ancient temples.

This unforgettable experience is somewhat on the expensive side (around 400 USD a person) and the hotel pickup and drop-off are normally included.

Many people who have no head for heights or travel on a budget go to the city's viewpoints to watch the dozens of hot air balloons filling up the morning sky.
6. Thatbyinnyu Temple
Dating back to the 12th century, Thatbyinnyu Temple is another stunning temple on our selection of the best things to do in Bagan.

This large temple covered in white stucco is much taller than other structures in Bagan and it can be spotted from many locations in the city.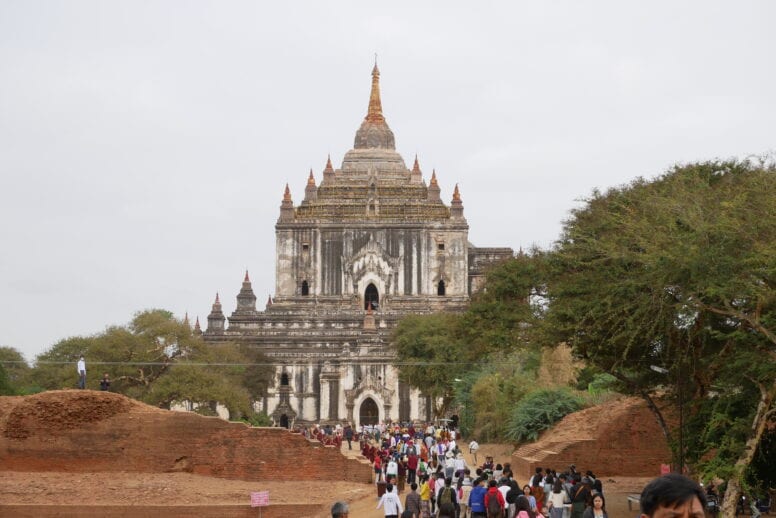 Thatbyinnyu Temple is normally pretty jammed so it's recommended to visit early in the morning if you want to avoid the crowd and enjoy the place while it is still quiet and relaxing.

Another special moment for visiting Thatbyinnyu Temple is at sunset when although much busier, the temple looks so magical while the atmosphere feels extraordinary and mystical.
7. Htilominlo Temple
Htilominlo Temple is yet another beautiful point of interest located in the ancient city of Bagan.

Built back in the 13th century, this temple is simply stunning and attracts many visitors from all over the world every day.

Made of red brick, Htilominlo Temple towers over Bagan plains and never ceases to inspire and mesmerize people with its timeless beauty.

The interior is equally fascinating with numerous Buddha images, frescoes, and sandstone decorations.

Since it is a popular tourist spot expect to meet a number of vendors here.

In fact, there is even a small market within the walls of Htilominlo Temple where you can buy all kinds of goods including clothes and souvenirs.
8. Sulamani Temple
Sulamani Temple from the 12th century is a beautiful spot to add to our list of the best things to do in Bagan.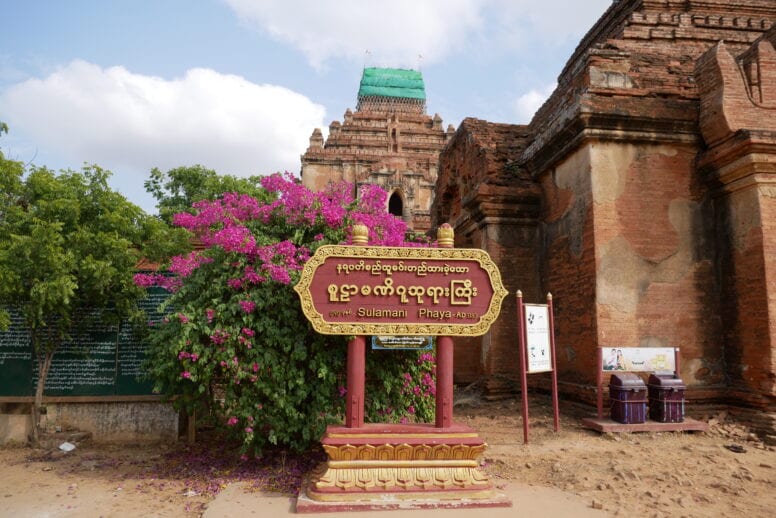 Surrounded by trees and wild nature, this red brick structure features unique and beautiful ancient Buddhist frescoes.

Although it was damaged during the earthquake that took place in 2016, Sulamani Temple is still as charming and as fascinating as ever.

Especially stunning at sunset, this temple can be visited at any time of the day and is completely free of charge.
9. Bupaya Pagoda
Claimed to be the oldest pagoda in the ancient city, Bupaya Pagoda definitely deserves a place on our selection of things to do in Bagan.

This simple, yet fascinating golden monument is situated by the Irrawaddy River which guarantees stunning views and endless photo opportunities.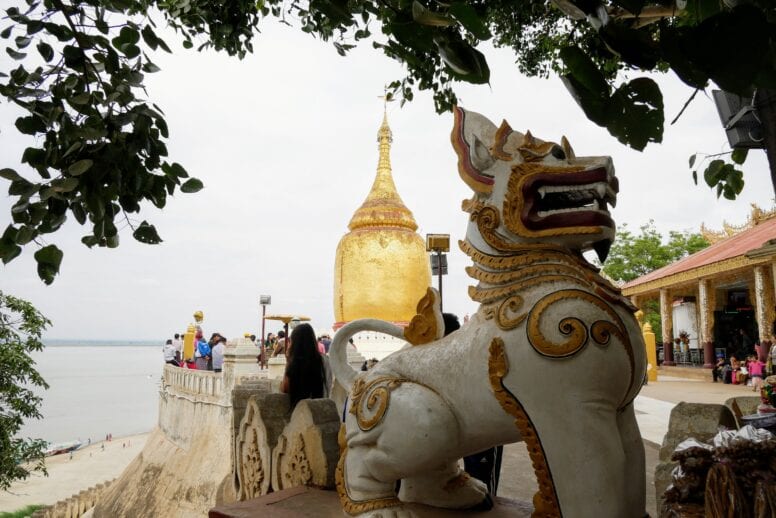 It can be reached by bike or with a boat, as a part of a boat tour.

There is a busy local market located by the Bupaya Pagoda and it is filled with all kinds of items and local specialties.

In fact, we've noticed that many people, both locals, and tourists, stop by for a quick snack or a meal at one of the nearby food stalls.

If you're looking for a fantastic spot to admire the sunset in Bagan, this is one of the best locations there is.
10. Manuha Temple
One of the most unique Buddha images you'll see in Bagan is located inside the Manuha Temple.

This pagoda is almost one thousand years old and is home not to only one but actually to four images of the Buddha.

The biggest of them is the famous reclining Buddha located at the back of the temple.

If you love history and architecture you should definitely add Manuha Temple to your sightseeing itinerary.
11. Bagan Archaeological Museum
Anyone who wants to deepen their knowledge regarding the culture and history of the ancient city of Bagan should visit Bagan Archaeological Museum.

Active since 1998, this place is filled with interesting artifacts that will give you a bigger picture of Bagan's past.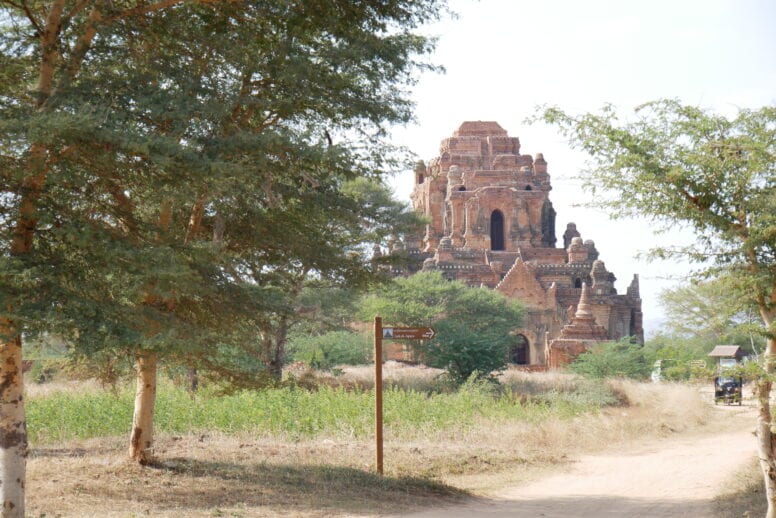 You can easily spend hours admiring the fascinating exhibits regarding the pagodas and the Buddhism religion.

Since it is one of the best indoor activities available, the museum is a perfect place to visit when it rains.

Keep in mind that Bagan Archaeological Museum is closed on Mondays so make sure to plan your visit accordingly.
12. Mount Popa
Not far from the ancient city of Bagan lies Mount Popa – an important attraction, worth visiting.

Mount Popa is an extinct volcano with a picturesque monastery located at the top of it.

You will have to climb almost 800 steps (barefoot) to reach the top but you'll be rewarded with a magnificent view.

If you're looking for a nice accommodation in the area, there is the Popa Mountain Resort situated right in front of the Mount Popa.

The structure is surrounded by lush greenery and comes with a one-of-a-kind view.
13. Bagan View Points
One of the best things to do in Bagan is admiring sunset and sunrise from one of the amazing viewpoints available.

One of them is the Nann Myint Tower – a 61 meters high viewing tower where you can admire stunning panoramas for a small fee.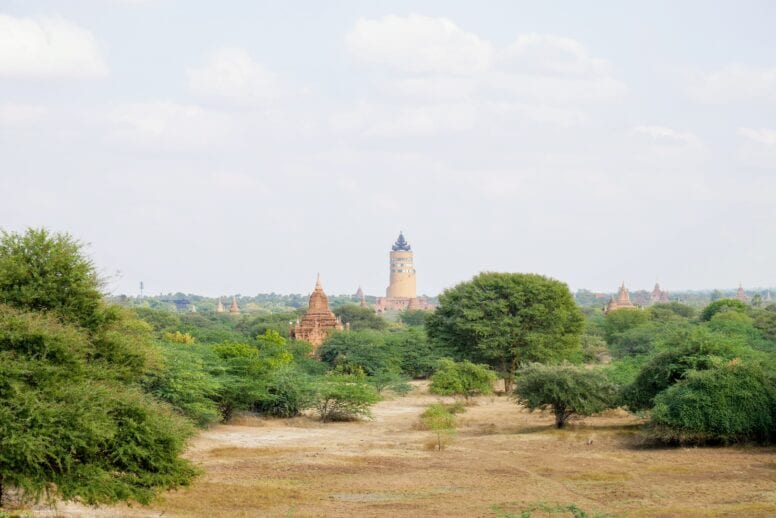 The structure itself is not very beautiful (especially when compared to the ancient pagodas) but the views are definitely amazing.
Another great spot for watching sunset is the Nyaung Lat Phet Viewing Mound – great for taking pictures and free of charge.
When it comes to watching sunrise one of the best places available in Bagan is certainly the Sulamani Hill View Point.
In the past it was possible to climb the beautiful high temples and enjoy the view of Bagan from there but this option has been greatly limited by the authorities recently.
Bagan Hotels – Where To Stay in Bagan
Amazing Bagan Resort
One of the best hotels available in Bagan is certainly the 4-star Amazing Bagan Resort.

It comes with large, comfortable and well-furnished rooms where you can relax after long days of sightseeing and of exploring the ancient pagodas.

Amazing Bagan Resort comes with a lovely outdoor swimming-pool and with an on-site restaurant.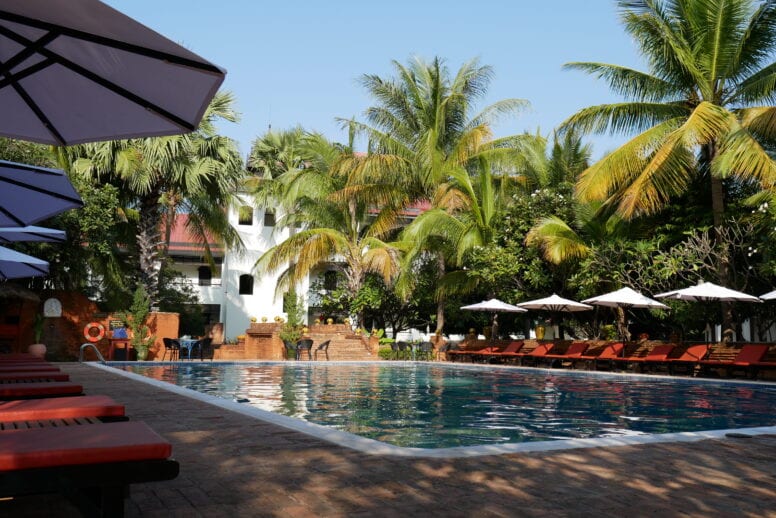 The breakfast at this hotel is very good with a wide choice of local and international options.

You can also rent an e-bike right at the hotel which is pretty convenient if you're planning to explore Bagan this way.
The Hotel @ Tharabar Gate
Another interesting option to consider is The Hotel @ Tharabar Gate located in the heart of Old Bagan.

This hotel comes in a traditional style, features many wooden elements, and is surrounded by lush greenery.

Some of the most important temples are located within a walking distance from The Hotel @ Tharabar Gate which makes it a perfect base for exploring and discovering Bagan.

If you want to take a break from sightseeing you can spend a day relaxing at the hotel's spa and swimming pool.
Bagan Thiripyitsaya Sanctuary Resort
Anyone looking for a high-end hotel in Bagan should check Bagan Thiripyitsaya Sanctuary Resort.

This 4-star structure is situated just by the Irrawaddy River which means amazing views and unique atmosphere are guaranteed.

The rooms are a perfect combination of style and comfort and range from deluxe rooms to river view suites.

Bagan Archaeological Museum and a wide selection of temples and pagodas are located very near this resort.

Bagan Thiripyitsaya Sanctuary Resort comes with its own spa where you can enjoy relaxing massages and regenerating body treatments.
Heritage Bagan Hotel
A 4-star structure, Heritage Bagan Hotel is another interesting solution to consider when looking for accommodation in Bagan.

This stunning resort is a perfect place for a relaxing holiday in this amazing ancient city.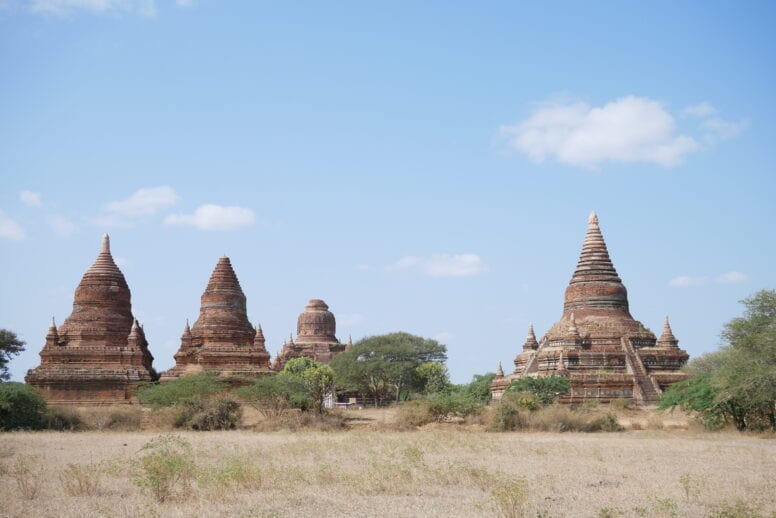 It comes with a swimming pool, a fitness center and spacious, elegant rooms with all the necessary amenities.

The guests can also take advantage of the hotel's spa and enjoy a drink or something to eat at the on-site bar.