Are you wondering what are the top things to do in Yangon? The biggest city of Myanmar is a place with many fun attractions and interesting spots to visit.
After all, in a city that is home to over 7 million people, it's pretty impossible to get bored.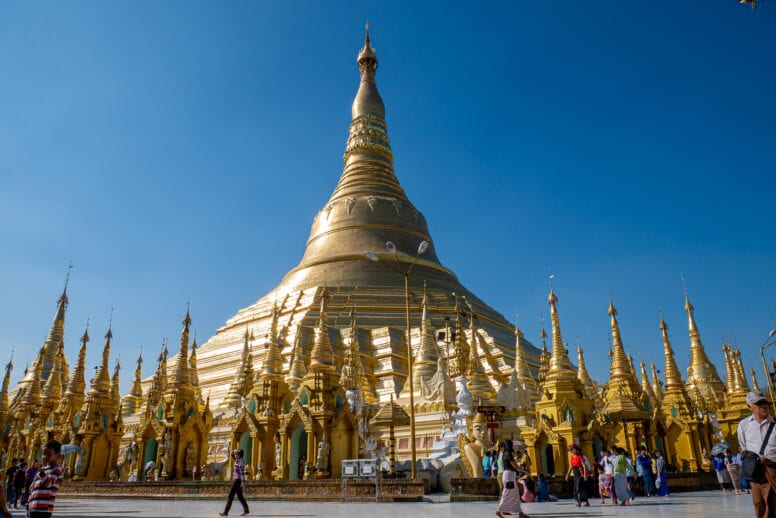 Pagodas, parks, and museums are only some of the attractions you'll find there so keep reading to discover all of the incredible things to do in Yangon.
Those of you who are traveling around Myanmar might be interested in reading our article regarding the beautiful and peaceful 
Ngapali Beach
!  There is no better place in entire Myanmar for a relaxing holiday. If you want to learn more about Myanmar's past read our guide about the ancient city of
Bagan
.
Shwedagon Pagoda
The number one point of interest on our list of things to do in Yangon is, of course, the iconic Shwedagon Pagoda.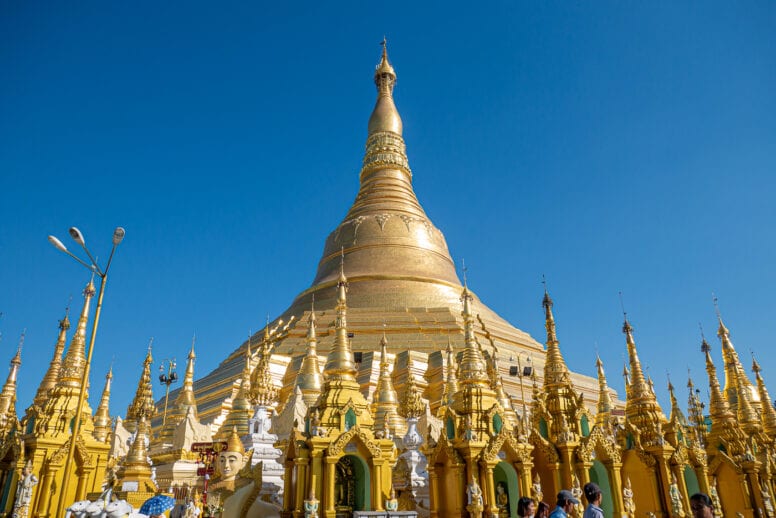 Dating back to the 6th century, this 326-foot-tall pagoda is the most important place not only in the city but in entire Myanmar as well.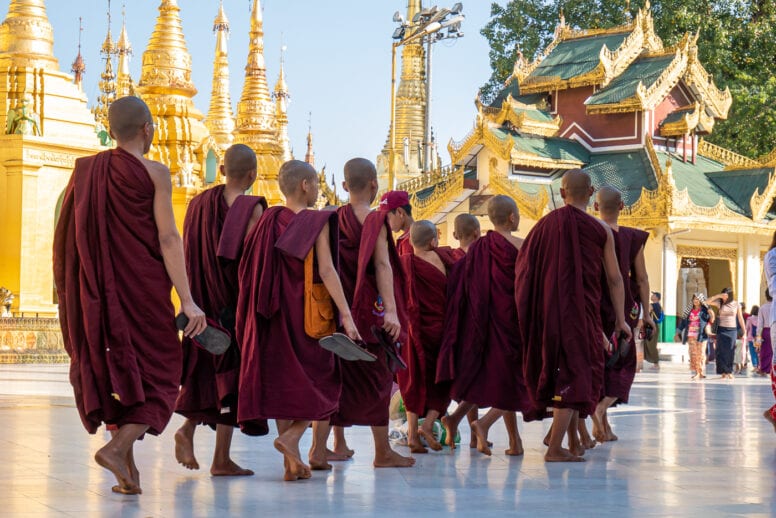 Home to the relics of the four Buddhas, Shwedagon Pagoda is a place of an incalculable historical and cultural value.
Plan at least 3 hours for the visit so that you can soak in the atmosphere and see all there is to see. And believe me, there is A LOT to see!
The Shwedagon Pagoda is surrounded by a myriad of Buddha statues, showrooms, and replicas.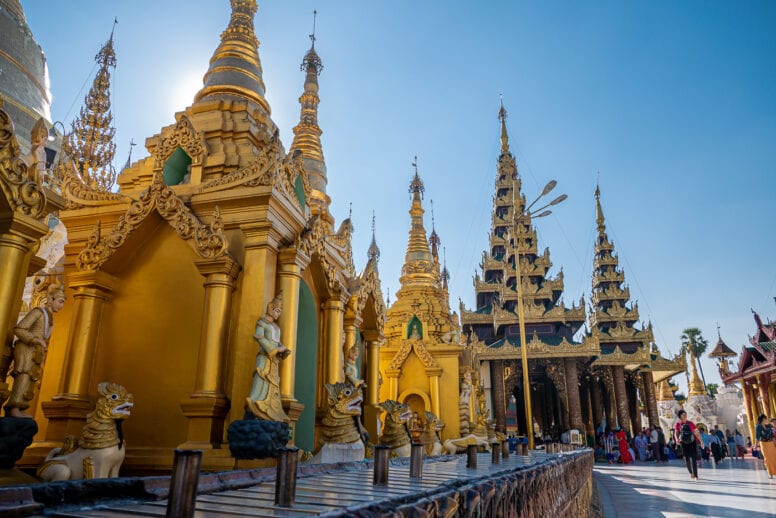 To make things even more beautiful there is also a charming little pond with a garden.
Covered in gold, Shwedagon Pagoda is especially stunning and magical at sunset.
The appropriate outfit is a must when visiting Shwedagon Pagoda. Shorts, low-necked shirts and tight clothes are not allowed.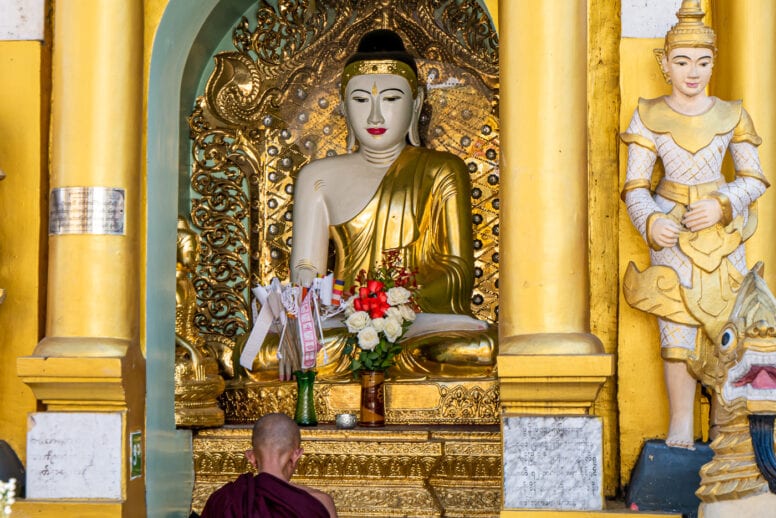 There is a possibility to rent the traditional Myanmar longyi at the entrance if you don't meet those requirements and this is also where you'll leave your shoes and socks.
Address: On Sanguttara Hill, Ar Zar Ni, Road Pha Yar Gyi Ward
Opening Hours: 4 am to 10 pm
Ticket Price: K 8,000
Sule Pagoda
Another important pagoda we can't forget when talking about the best things to do in Yangon is Sule Pagoda.
Situated right in the heart of the city, Sule Pagoda is over 2000 years old and is a sight to behold.
The location itself is pretty impressive as Sule Pagoda is literally located in the middle of the main road, surrounded by buildings, traffic and by people going about their business.
Sule Pagoda is surrounded by small shops where you can stop by on the way out and buy some souvenirs or simply to look around.
Address: Junction of Sule Pagoda Road
Opening Hours: 6 am to 10 pm
Ticket Price: K 5.000
Bogyoke Aung San Market
No trip to Yangon can be considered complete without paying a visit to its most famous market.
Bogyoke Aung San Market is a place where you can shop until you drop and at the same time enjoy that authentic Burmese atmosphere.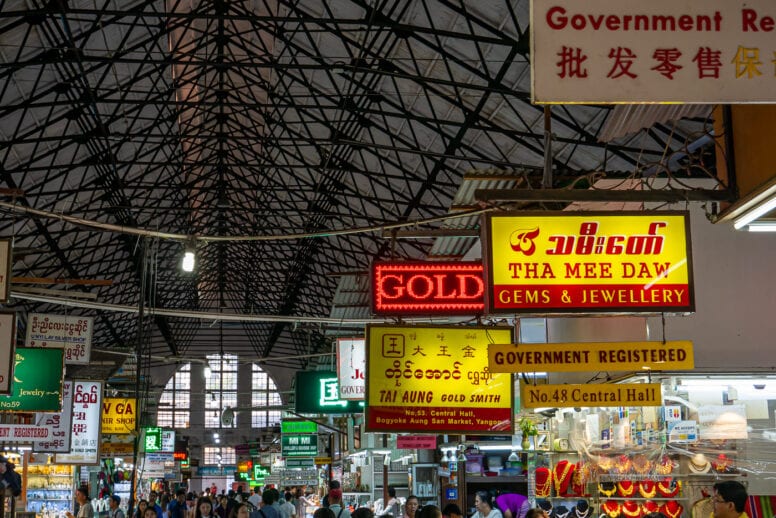 Bogyoke Market is almost 100 years old and is located in a beautiful colonial-style building.
Once inside you'll be mesmerized by the myriad of shops and stores that sell just about anything you can think of.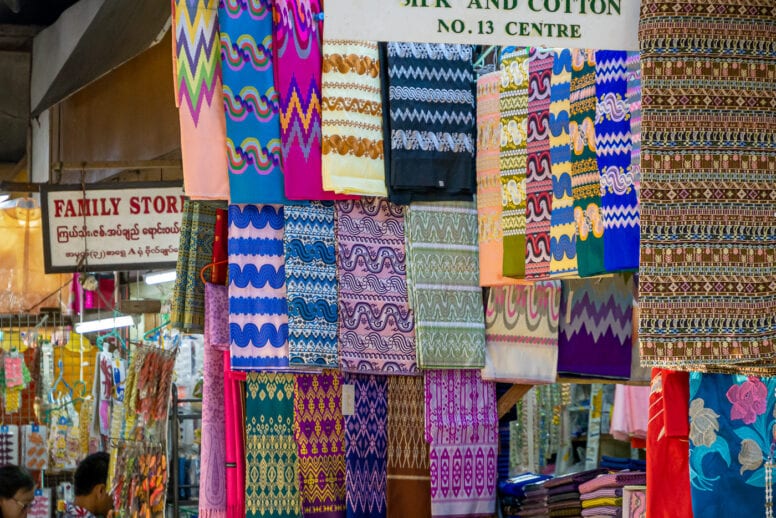 Handmade goods, jewelry, and food are only some of a long list of products available in this place.
A trip to Bogyoke Market is recommended even if you're not planning to buy anything.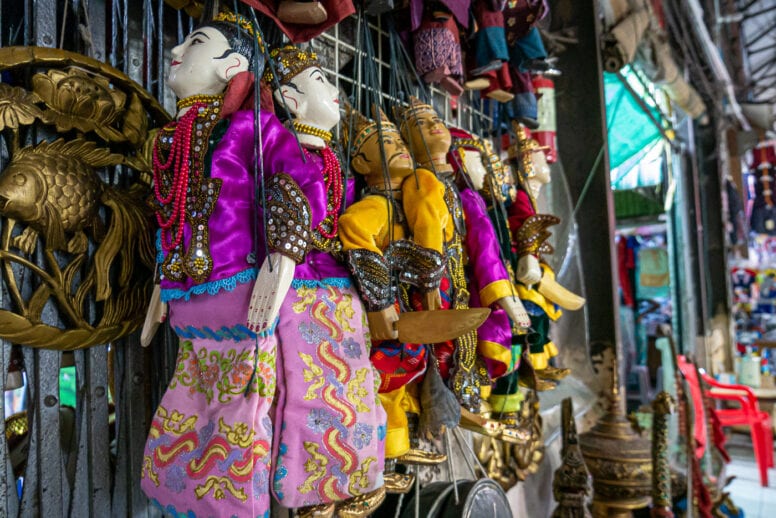 Even simply walking around and getting lost in the tiny alleys is a great experience that you'll remember for a long time.
Address: Bo Gyoke Rd, Pabedan
Opening Hours: 9 am to 5.30 pm
Chaukhtatgyi Buddha Temple
Chaukhtatgyi Buddha Temple is home to a stunning reclining Buddha statue and it attracts a large number of worshipers and tourists every day.
The reclining Buddha is so incredibly beautiful with its hypnotizing eyes, red lips and imprinted feet.
You could easily spend hours and hours admiring all of the amazing and unique details.
The atmosphere inside this temple is peaceful and relaxing which makes the whole experience even more special.
If you've seen the reclining Buddha in Bangkok and liked it you'll definitely enjoy your time at the Chaukhtatgyi Buddha Temple too.
Address: Shwegondine Road, Tamwe
Opening Hours: 6 am to 8 pm
Yangon Central railway station
One of the most interesting buildings to see in Yangon is the Yangon Central railway station.
Even if you're not planning to catch a train, it's still worth it to put this location on your sightseeing itinerary.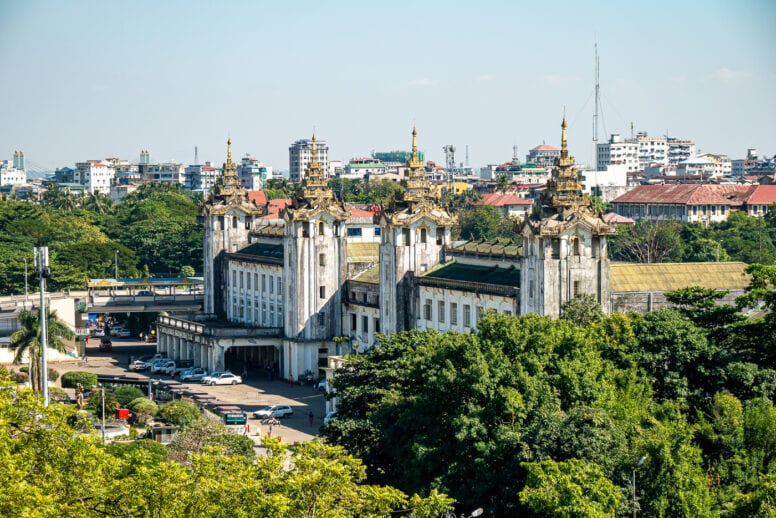 The Yangon Central Railway Station dates back to the 19th century but underwent a major renovation after the destruction of WWII.
Nowadays, although the property is a bit run down and in need of a refurbishment, it still has a pleasant and historic ambiance.
Address: Kun Chan Road
Kandawgyi Lake
If you're spending some time in Yangon you should definitely take a stroll around the beautiful Kandawgyi Lake.
Situated in Bogyoke Park, this artificial lake offers wonderful scenery for a relaxing morning or afternoon outside.
A trip to the Kandawgyi Lake means that you'll also get to see the famous "Karaweik" barge which nowadays hosts a restaurant.
And guess what? Kandawgyi Lake comes with a view of the stunning Shwedagon Pagoda as well which means you'll get endless photo opportunities.
Address: Nat Mauk Street
Opening Hours: 8 am to 10 pm
Botataung Pagoda
The last pagoda to see on our list of things to do in Yangon is the beautiful Botataung Pagoda.
Its history started over 2500 years ago but the pagoda was sadly destroyed by the British during World War II.
Botataung Pagoda was later rebuilt and we can admire the final result to this day.
Unlike other pagodas, you can actually go inside the Botataung Pagoda where you get to admire stunning thousand years old Buddha images.
Because of that, Botataung Pagoda is a one-of-kind location and a place that will leave you with great memories.
Address: Strand Road
Opening Hours: 6 am to 8 pm
Ticket Price: US$ 2
Shop at Junction City Shopping Mall
If you're one of those people who love to discover new shopping malls around the world, worry not!
In fact, apart from the traditional markets such as Bogyoke Aung San Market we mentioned before Yangon is home to a selection of modern shopping malls as well.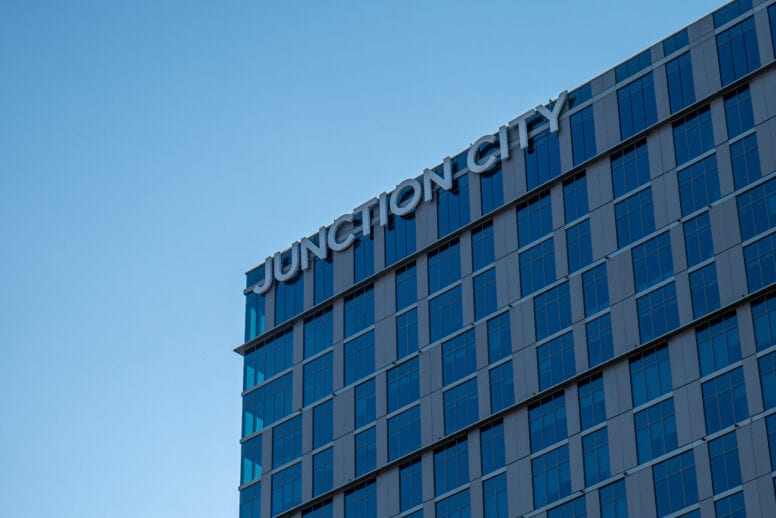 The newest and already the most famous addition to Yangon's shopping scene is Junction City.
The biggest shopping mall in Myanmar is filled with stores, restaurants and entertainment options for both children and adults.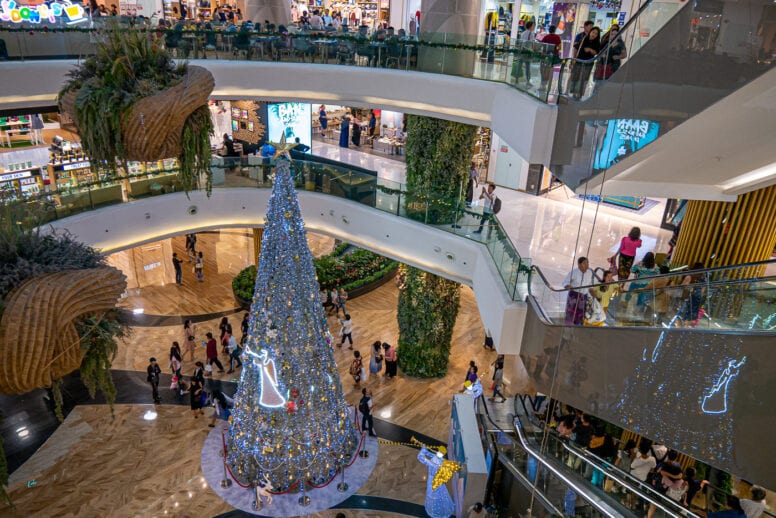 Junction City is also home to a modern cinema where you can enjoy the latest movies.
Inya Lake
Kandawgyi Lake isn't the only lake you'll find in Yangon. In fact, another beautiful place in the middle of nature you wouldn't want to miss is the Inya Lake.
Inya Lake comes with a stunning park of the same name which is one of the best locations in Yangon for jogging, meeting up and relaxing.
After all, having a pleasant oasis in the middle of such a busy city is always welcomed and appreciated.
If you bring your camera along you can also take some amazing photos of Yangon's pagodas and buildings from afar.
And if you get hungry, don't worry! The area adjacent to the lake is filled with little shops selling drinks and local street food.
National Museum of Myanmar
One of the best places to learn more about the history and culture of Myanmar is the National Museum of Myanmar in Yangon.
Founded in 1952, this four-store museum is packed full of ornaments, murals, statues and other objects of historical value.
If this is your first time in Myanmar you will learn so much about the country's past, traditions and way of life.
The exhibits range from millions of years old to contemporary and will provide you with a valuable history lesson.
There are parts of the museum entirely dedicated to the country's rural life, music or paintings and you could spend a whole day exploring and soaking all of it in.
Address: 66 Pyay Road
Opening Hours: 9:30 am to 4:30 pm (closed on Monday)
Ticket price: K 5.000
Chinatown Yangon
One of the most vibrant and exciting districts of Yangon is certainly Chinatown.
Simply walking around Chinatown's busy streets, breathing in the food scents and blending into the crowd is already an experience in itself.
If you want to engage in a crazy shopping spree in Yangon look no further than Chinatown.
Especially the famous 19th Street is filled to the brim with stores and shopping stalls selling all kinds of goods and products.
Chinatown is also the most popular destination in Yangon among foodie travelers. In fact, this is where some of the best restaurants and eateries are located.
If you want to try some of the best local street food available in the city, head to Chinatown and enjoy a culinary adventure like nowhere else.
Best Hotels in Yangon
Hotel G Yangon
One of the best hotels available in Yangon is certainly the centrally located Hotel G.
This hotel comes in a modern style and features well-furnished and comfortable rooms.
The rooms are relatively small (the smallest rooms are 16 m² while the biggest 30 m²) but have all of the necessary equipment for a pleasant stay.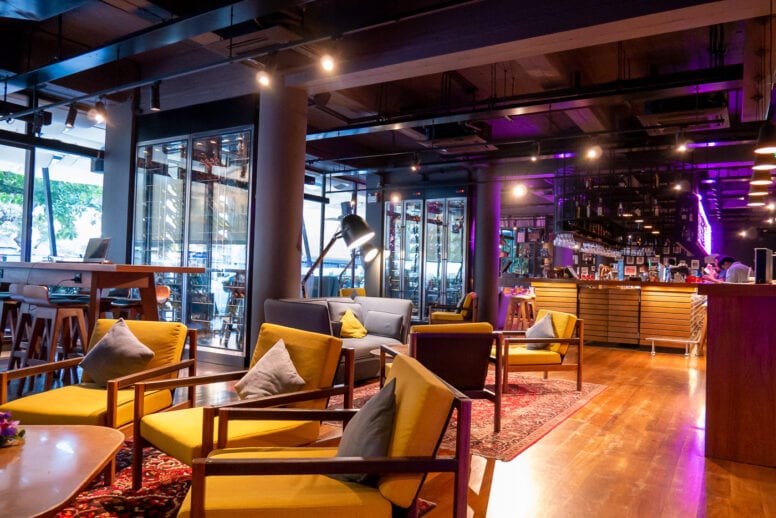 Room facilities include tea/coffee maker, flat-screen TV, air conditioning, safety deposit box, ironing facilities, and alarm clock.
There is also a fitness center available and a practical business center as well.
When it comes to places to eat, Hotel G is home to the Babett Eatery & Bar – a popular expats hub in Yangon with good food and great ambiance.
Pan Pacific Yangon
A 5-star hotel, Pan Pacific, is a wonderful option for anyone looking for luxury accommodation in Yangon.
Pan Pacific Hotel comes with a fantastic outdoor pool where you can enjoy a pleasant swim and a breathtaking view of the city at the same time.
Depending on your needs you can choose between different room types, from the entry deluxe room to the junior and premier suite.
If you want to enjoy an unforgettable stay in Yangon, the premier suite might be what you're looking for.
This spacious (68m²) solution comes with a beautifully furnished bedroom, a sitting area, and a big bathroom.
There are a few dining options, a fitness center and a wellness center available as well.
Wyndham Grand Yangon
Wyndham Grand Yangon is another great 5-star hotel in Yangon.
Located by the Kandawgyi Lake, this hotel offers luxury accommodation with a one-of-a-kind scenery outside of your window.
The rooms here are spacious and equipped with all the facilities necessary for a comfortable stay.
We especially loved the bathrooms, with spacious showers or bathtubs and with amazing marble floors.
When it comes to dining there is an on-site restaurant and a coffee house available and we also recommend trying the buffet breakfast which is simply delicious.
Parkroyal Yangon
Another interesting option to consider when looking for accommodation in Yangon is Parkroyal.
This 5-star hotel in central Yangon features elegant rooms with a flat-screen TV, a safety deposit box, a coffee/tea maker and a minibar.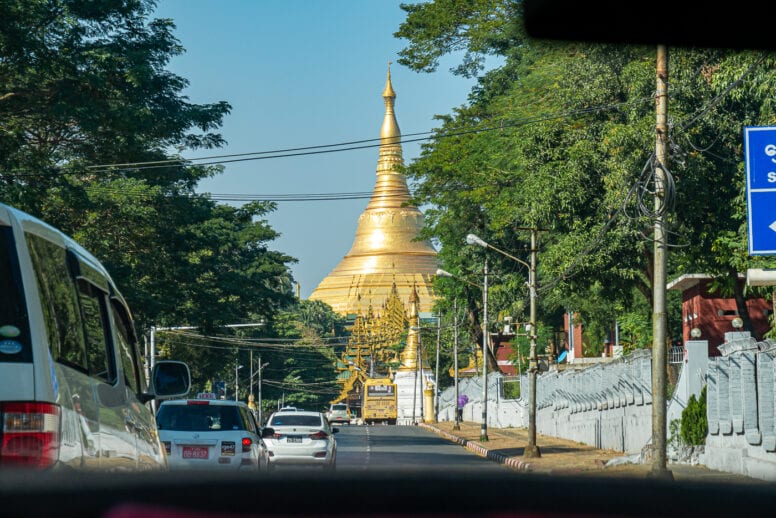 Parkroyal Hotel is an excellent option for those of you who plan to do a lot of sightseeing since it is located in the vicinity of many important points of interest.
After a long day of walking and discovering the city, the guests can relax at the hotel's swimming pool or at the spa and wellness center.
There are also three on-site restaurants where you can enjoy local and international specialties.