Ngapali Beach in Myanmar is one of the most beautiful beaches in the world and you wouldn't want to miss it, especially if you're traveling through the Southeast Asia region.
Ngapali Beach is a true paradise with lovely white sand and warm transparent water.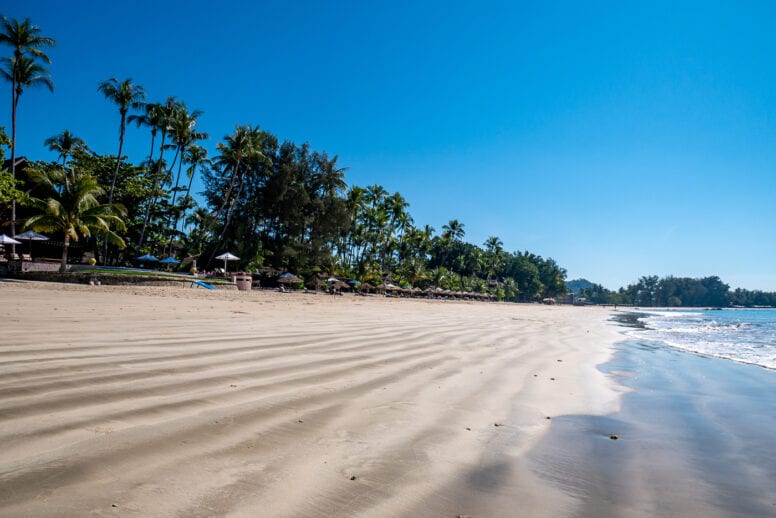 Those of you looking for an amazing location ideal for a relaxing vacation should definitely take Ngapali Beach into consideration.
Check out our guide to learn everything you need to know about this unique place.
How long is Ngapali Beach?
Ngapali Beach is around 7 km long.
How do I get to Ngapali Beach in Myanmar?
The best and fastest way to reach Ngapali Beach is by airplane and the nearest airport is Thandwe Airport in the Rakhine State of Myanmar.
How do I get from Yangon to Ngapali Beach?
If you're traveling from Yangon – the former capital city of Myanmar there are some other options to consider apart from flying.
The most affordable solutions are certainly buses and night buses and it normally takes more than 12 hours to reach Ngapali this way.
If you choose this option, we recommend selecting modern buses with air conditioning and other comforts because you don't want to spend so many hours cramped in a hot and uncomfortable old bus.
Don't forget to read our post about the things to do in Yangon where we've listed all the best attractions and points of interest.
How far is Ngapali Beach from Yangon?
The distance between Yangon and Ngapali Beach is between 400-500 km, depending on what route you choose.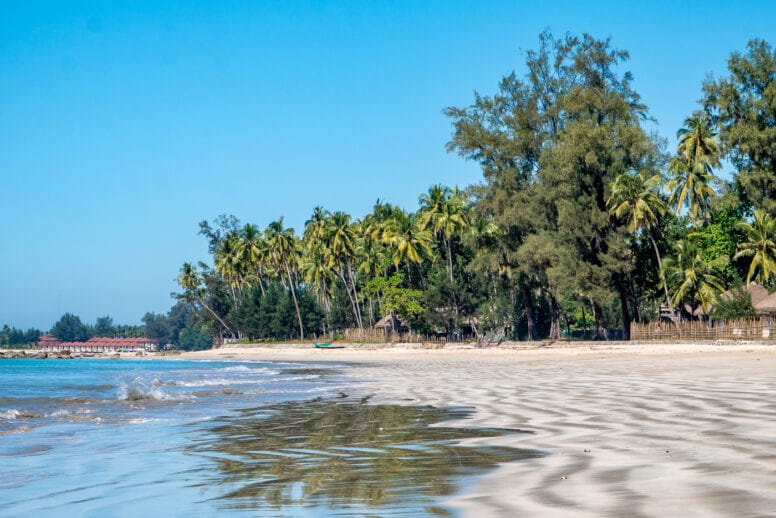 Ngapali Beach Airport
Thandwe Airport is one of the smallest airports I've ever seen with just one room for all of the travelers.
At the arrival, there is no modern baggage carousel but simply a small reclaim area where you pick up your suitcase.
When you leave, the check-in process is very simple and all done without computers or other technological tools.
In fact, there are no information screens, baggage carousels, multiple gates or duty-free shops.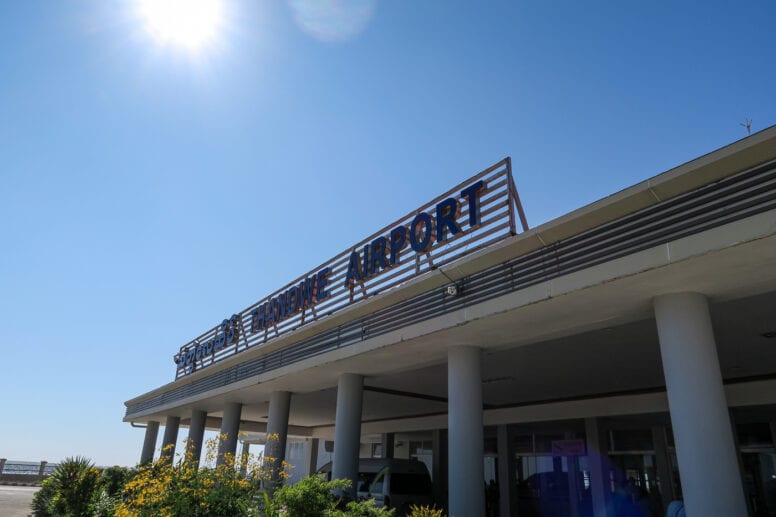 The boarding pass is usually handwritten and depending on the airline there might be no seat allocation. You'll also get a sticker with a logo of the airline you're flying with.
After quick security control, there is a waiting area with a couple of small souvenir shops.
Again, don't expect announcements, information about delays or final calls here.
The domestic airlines operating between Ngapali and other main cities in Myanmar are Myanmar National Airlines, Air KBZ, Mann Yadanarpon Airlines, and Golden Myanmar Airlines.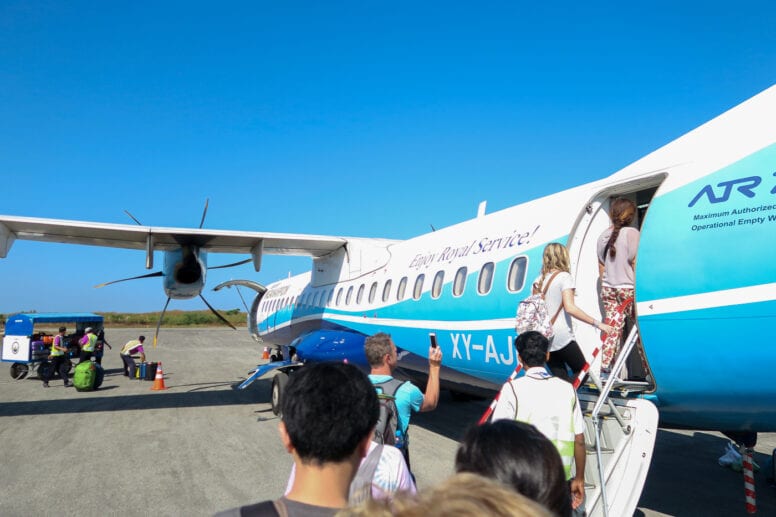 I traveled throughout Myanmar with Mann Yadanarpon Airlines and I always had a positive experience with them.
The aircrafts are small and have propellers but the flights were always on time and the staff was friendly and professional.
TIP: if you're traveling through Myanmar make sure to also read our guide about the best things to do in Bagan – an ancient city and a UNESCO World Heritage Site.
Ngapali Beach Hotels and Resorts
One of the best hotels available in Ngapali Beach is Hilton Resort and Spa.
This luxury resort comes with an incredible outdoor pool and beautiful modern rooms.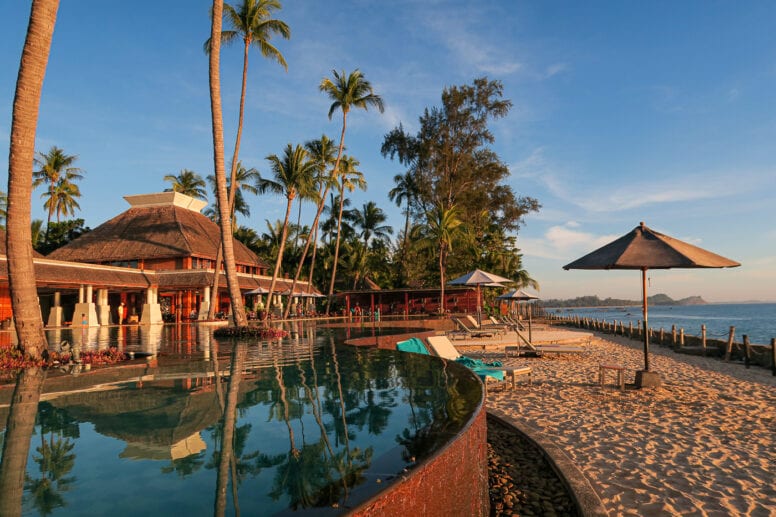 All the room types are very spacious and can accommodate up to three people.
If you really want to spoil yourself make sure to check out the stunning ocean view villa with a private pool, amazing bathroom and a wonderful sitting area.
The guests can also enjoy the on-site restaurant, a fitness center, and a wellness center.
Hilton Ngapali Resort and Spa is a great choice for anyone who looks for a luxury structure with top facilities and amazing service.
A 4-star Thandwe Beach Hotel is an interesting option on our list of the best hotels in Ngapali Beach.
This beachfront structure features a swimming pool, a restaurant and a Spa center as well.
The rooms are well-furnished and come with a safety deposit box, a desk, a sitting area, a kettle, and a TV.
The perfect location, right by the beach means that you can enjoy swimming and sunbathing any time you want.
There is also an on-site bar where you can sip colorful drinks while soaking in the stunning views.
Jade Marina Resort and Spa is a wonderful place for a relaxing holiday in Myanmar.
They offer a few accommodation options, from spacious standard rooms to stunning garden villas and beachfront villas.
All of the rooms are nicely furnished and well-equipped with all the necessary facilities.
When you are not taking advantage of the resort's two swimming pools and a beach you can enjoy a relaxing massage at the on-site spa and wellness center.
Jade Marina Resort also comes with its own restaurant which means you can have delicious meals without ever leaving the place.
Another wonderful hotel located in the heart of Ngapali Beach is Amazing Ngapali Resort.
Unlike the Hilton hotel, I've mentioned before, this resort comes with its own beautiful beach with private sun loungers and sun umbrellas.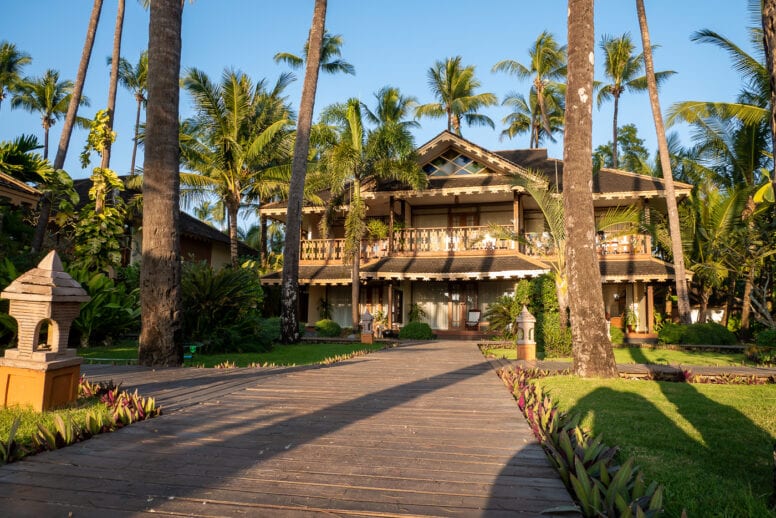 Amazing Ngapali Resort features traditional bungalows with wide verandas or balconies where you can sit and admire the view of the sea of the stunning sunsets.
The structure is surrounded by tall palm trees and the ambiance feels tranquil and relaxing.
All the rooms available here are sea view and are well-equipped and air-conditioned.
There is one on-site restaurant that serves delicious meals right by the beach.
You can also use bicycles to explore the area and they are free of charge for the resort's guests.
Last but not least, the staff members, from housekeeping and front desk to the waiters/waitresses at the restaurant are very friendly, helpful and professional at the same time.
One of the most affordable hotels on our selection of hotels and resorts in Ngapali Beach is the Blue Oceanic Bay.
This 3-star structure offers cozy rooms in traditional style, a lovely outdoor swimming pool and a beautiful private beach right in front.
You can choose between garden view and sea view rooms which all come with a private bathroom and a terrace.
One of the places to see in Ngapali, the Golden Stupa on the Rock is located only a short walk away from the Blue Oceanic Bay Hotel.
Things to do in Ngapali Beach
Shop at Thandwe Market
One of the biggest attractions near Ngapali Beach in Myanmar is without a doubt the vibrant Thandwe Market.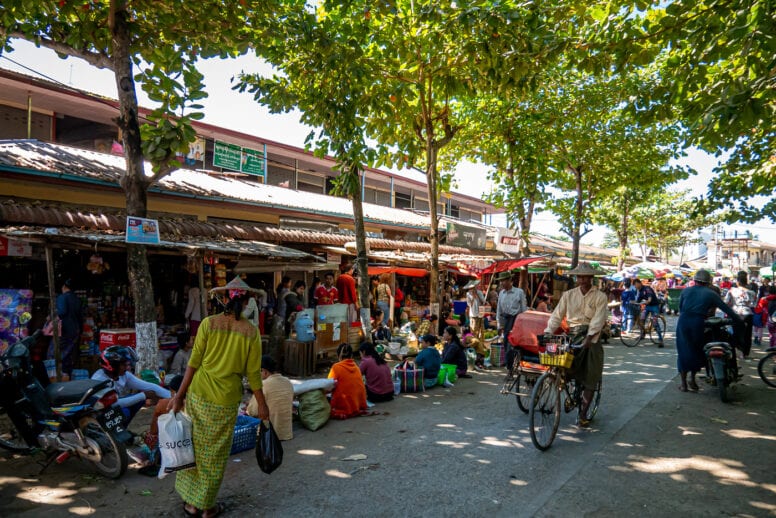 Located about 15 km from Ngapali, Thandwe Market is a bustling place filled with people and with a never-ending selection of goods and products.
Given the relatively small amount of tourists, Thandwe Market is still very much authentic and locally-oriented.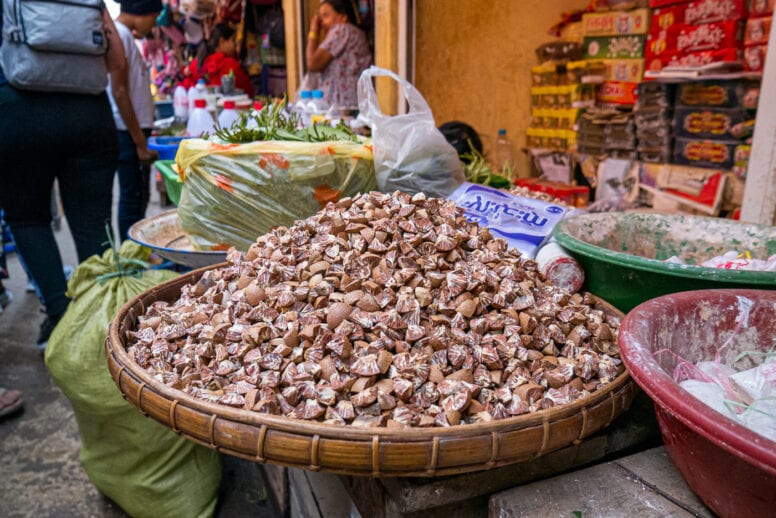 The local vendors sell fruits and vegetables but also hand-made goods, clothes, beauty products and much more.
If you're looking for souvenirs to bring back home, Thandwe Market won't disappoint.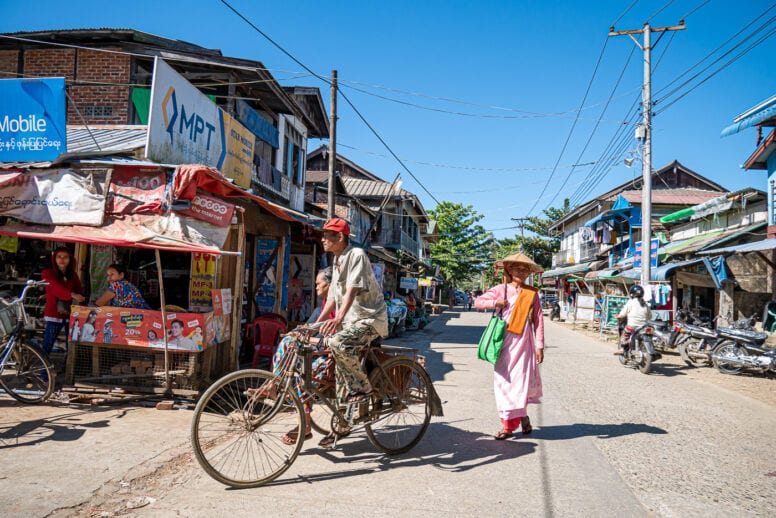 A couple of hours is just enough time there to do some shopping, see everything there is to see and soak in the unique atmosphere of the place.
Take a morning trip to the Fisherman's Village
If you're interested in seeing a traditional and authentic Fisherman's Village that's actually still in use and not a usual tourist trap then you should absolutely visit this place.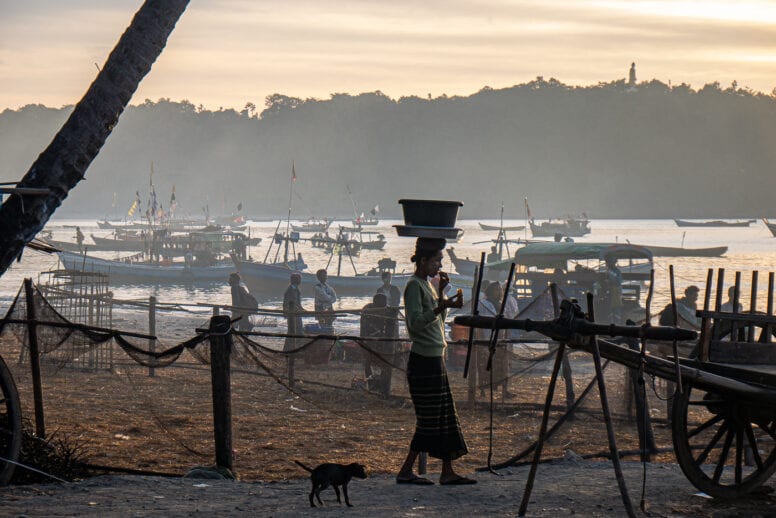 Get there as early as possible (best between 6.00 am – 6.30 am) and you'll be able to admire fishermen coming back from the sea with their catches.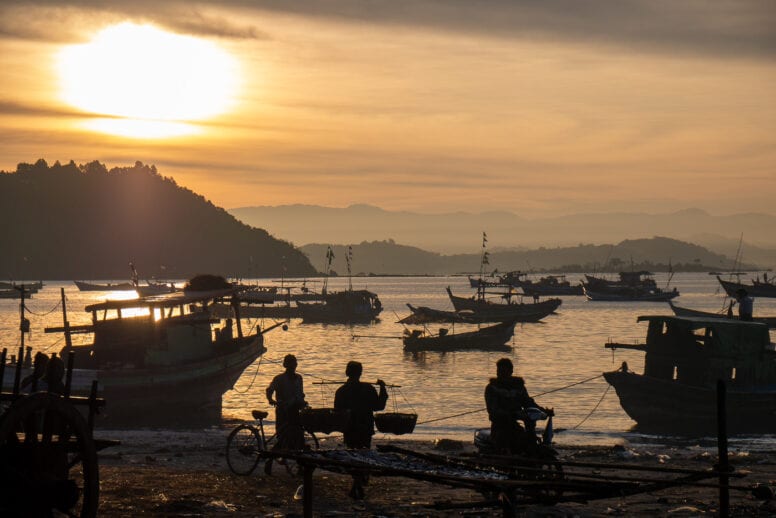 If you stay a bit longer, you'll see the local people working on the fish, preparing it for selling and drying it for preservation.
In fact, as you can see in the pictures below, at some point the beach and the surroundings get filled with a huge amount of fish ready to get dry.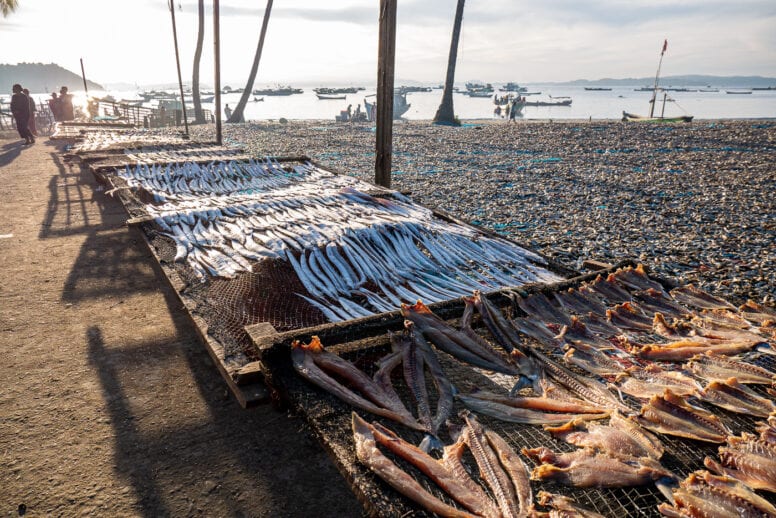 Fisherman's Village is a unique place where you can catch a glimpse of the local population's real life.
Explore Ngapali Beach on a Bicycle
One of the best ways to explore Ngapali Beach is by bicycle. Most hotels and resorts provide bikes free of charge for their guests.
Spending an afternoon riding a bike around Ngapali will give you a chance to see what life is really like for the local people, outside of the 5-star resorts.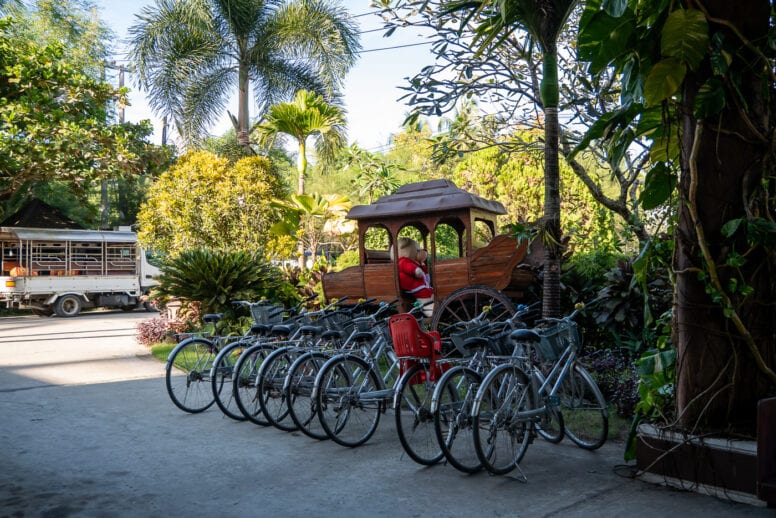 You'll get to see their houses, shops and restaurants that are often very simple and modest.
If you have a chance to talk to the local people you'll quickly discover how friendly, kind and welcoming they are.
It's amazing how in Myanmar even a simple bike ride around the neighborhood can become an incredible cultural experience.
Take a Boat Trip to Pearl Island
A short distance from Ngapali Beach lies the small but stunning Pearl Island.
It takes less than an hour to reach the island by boat and you can ask at your hotel to arrange the transfer.
Pearl Island is a quiet little corner of paradise of earth. The white soft sand and transparent water make it a perfect destination for a relaxing day trip.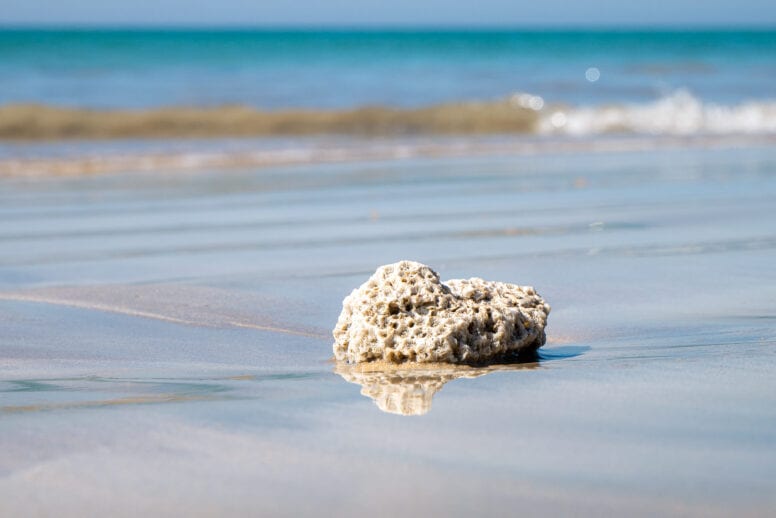 There are some sun loungers and umbrellas available and also a small eatery but
apart from swimming and sunbathing there isn't much to do there. That's why it's so amazing!
Oh, and don't forget to bring your snorkeling mask – Pearl Island is a great location to admire marine life.
Enjoy Snorkeling
Snorkeling is a fun activity in Ngapali Beach for both kids and adults so packing your snorkeling equipment is highly recommended.
You'll have so much fun admiring the colorful fish and exploring the mesmerizing underwater world.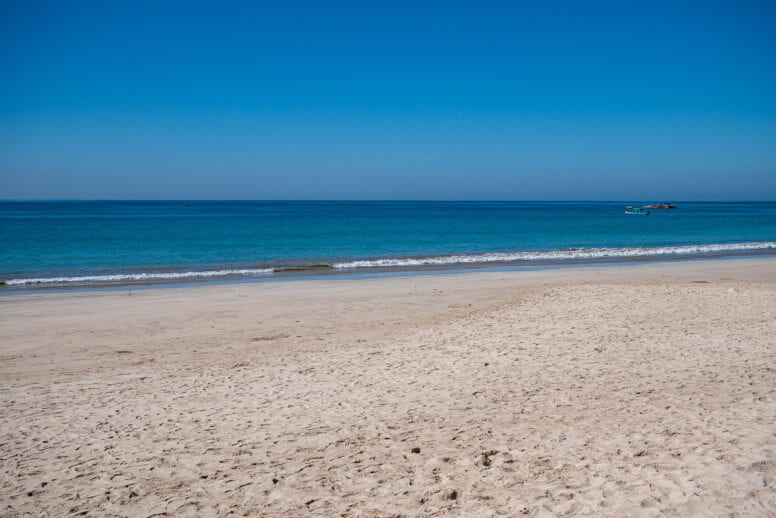 As mentioned above, one of the best locations for snorkeling near Ngapali Beach is the beautiful Pearl Island.
Make sure to put it on your travel itinerary if you want to come face to face with some stunning and unique fish.
Indulge in the local cuisine
A holiday in Ngapali Beach in Myanmar is a fantastic opportunity to try the local Burmese cuisine.
Prepare your senses for an incredible culinary adventure and get ready to taste new flavors and spices.
There will be plenty of rice, noodles, salads and of course fish. You'll certainly come across a fish paste called ngapi which is a key element of the Burmese cuisine.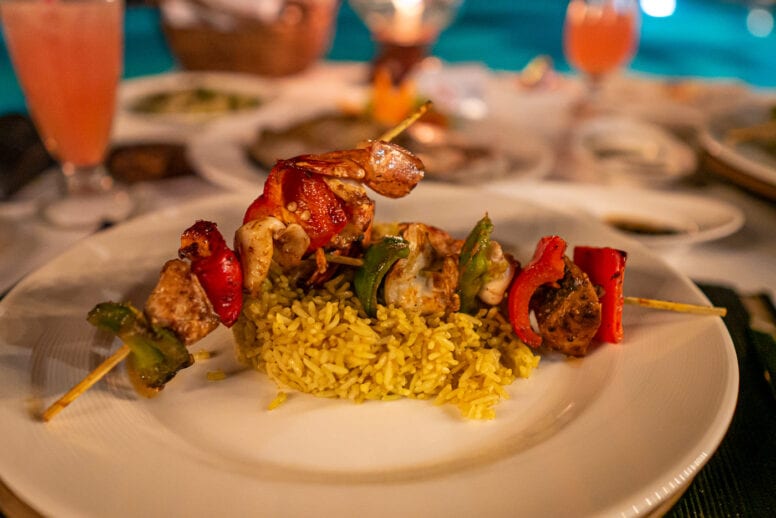 Try the unique lahpet thoke – a salad made of fermented or pickled tea.
When it comes to desserts, make sure to try the famous shwe yin aye which is a sticky rice-based dessert.
If you ever tried mango sticky rice in Thailand and liked it, there is a big chance you'll enjoy this one as well.
Of course, this is only a fraction of amazing dishes you'll find in Myanmar. Try as many as possible and share your thoughts in the comment section when you're back.
Visit the beautiful Pagodas
So now that you've done snorkeling, relaxed on the beach, enjoyed shopping and had some delicious food you might want to do a bit of sightseeing too.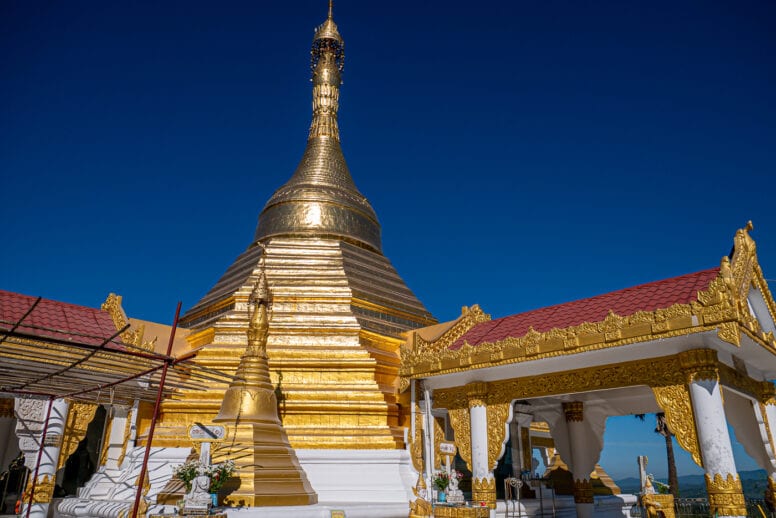 Luckily, the Ngapali Beach in Myanmar is home to some stunning pagodas of immense cultural and historical value.
Some of the most significant pagodas that you wouldn't want to miss are:
The Nan Daw Pagoda (Sacred Rib Relic Pagoda), San Daw Pagoda (Sacred Hair Relic Pagoda) and Ann Daw Pagoda (Sacred Tooth Relic Pagoda).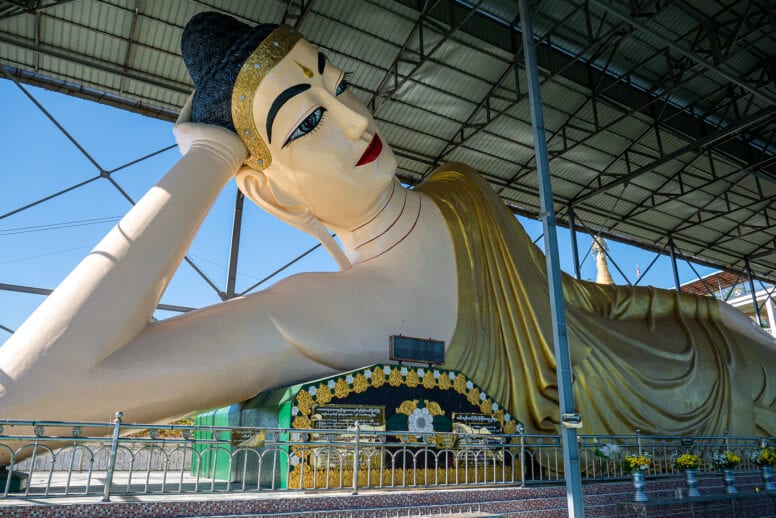 Shwe Nan Daw Pagoda Hill is home to a reclining Buddha and offers an amazing view of Thandwe from above.
Admire the breathtaking sunset on Ngapali Beach
The sunsets on Ngapali Beach, Myanmar are just incredible! They are so intense and rich in color and quickly become everyone's favorite moment of the day.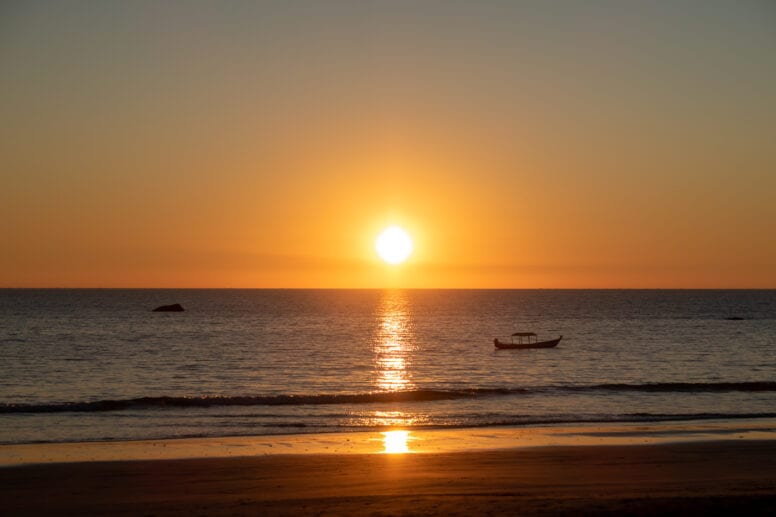 Those of you who are into photography will be particularly pleased since you'll be presented with endless stunning photos opportunities.
There are even sunset tours available in Ngapali Beach where you'll get to enjoy the sunset from a boat.
Enjoying a sunset is a highlight of any holiday in Ngapali Beach and a perfect way to end a long day on the beach.
Buy Local Products
If you're planning to buy anything during your holiday in Ngapali Beach we suggest focusing on the local products made with love by the local people.
Ngapali Beach still isn't a very popular tourist destination (which is part of its charm), especially if compared to other locations in the South-East Asian countries.
Many jobs are seasonal which means that local people working in a travel industry need our support.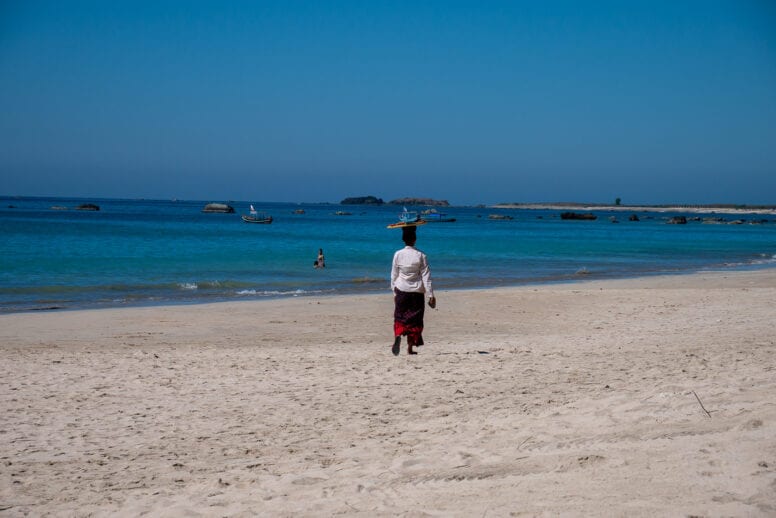 You'll certainly come across men and women selling fruits or handmade goods such as bracelets or necklaces while lounging on the beach.
This a great opportunity to get a fresh snack, a souvenir or some little gifts for your loved ones.
It's also a perfect occasion to meet people, learn about their lives and stories.
The sellers are usually very nice, polite and not nagging at all while the prices are super convenient.