After a busy year, I decided to treat myself with a trip to one of the most famous European capital cities: Prague.
I booked a 4-night stay at the 5-star Sheraton Prague Charles Square Hotel so I feel like I really got a chance to "get to know" both the city and the hotel very well.
And while I can honestly say that I loved the city and all the magical beautiful places it offers, keep reading to discover my thoughts on the Sheraton Hotel.
Sheraton Prague Charles Square Hotel Location
The Sheraton Prague Charles Square Hotel is located in the New Town zone of the city and the nearest metro station is Karlovo Namesti.
The hotel is quite near to the main tourist attractions but you can, however, use the practical metro service I mentioned before or take a 15 min walk to the Old Town if the weather is nice.
I actually opted for walking most of the time and was happy to discover charming alleys and enjoy the gorgeous views.
Airport Transportation
A few days before the trip we contacted the hotel and arranged transport from the Vaclav Havel Airport to the hotel.
The cost of this service was 950 CZK and there was a driver holding a sign with my name waiting for us at the setup time, the trip to the hotel was quick (around 30 min) and smooth and overall we were satisfied with this option.
We entered in the spacious and modern lobby and started the check-in formalities which went quite smoothly.
The staff at the front desk was polite and organized, the only thing that surprised us was the fact that there was no help with the luggage and no one came upstairs with us.
This is not a huge issue but in all the other 5-star hotels we stayed this was a standard.
Sheraton Prague Charles Square Hotel Room Review
The room was very cozy and had all the necessary facilities such as a big deposit box, ironing facilities and electric kettle.
There was also a small but practical working area with a nice desk and a chair while the king size bed was large and very comfortable.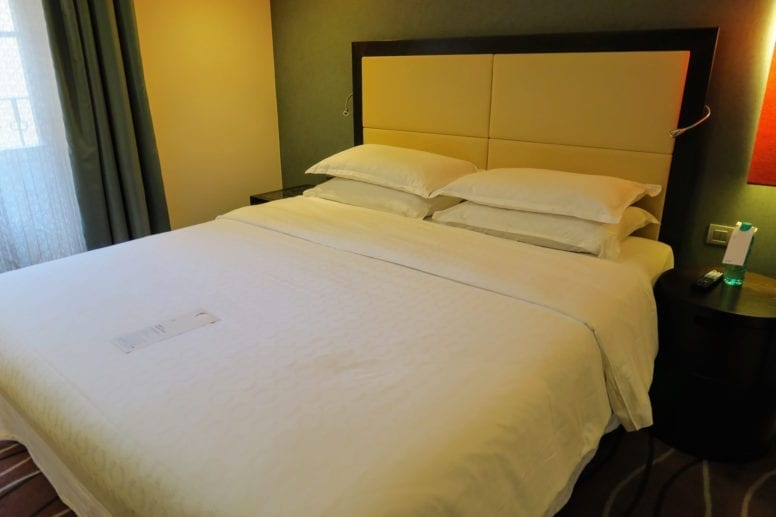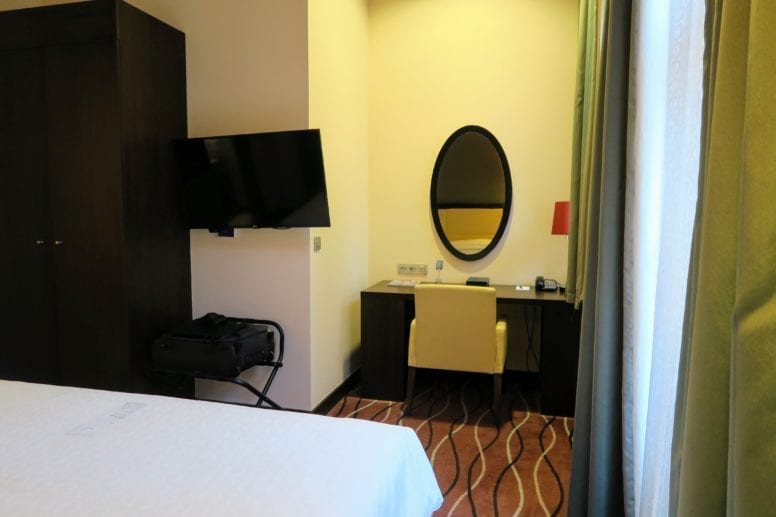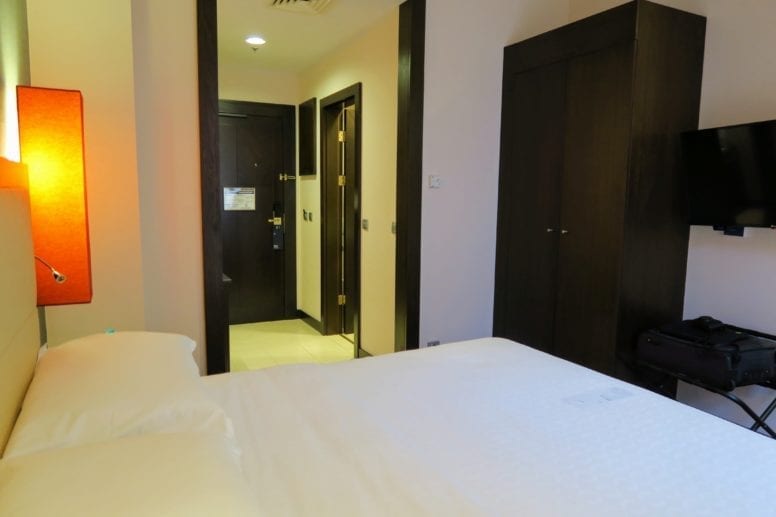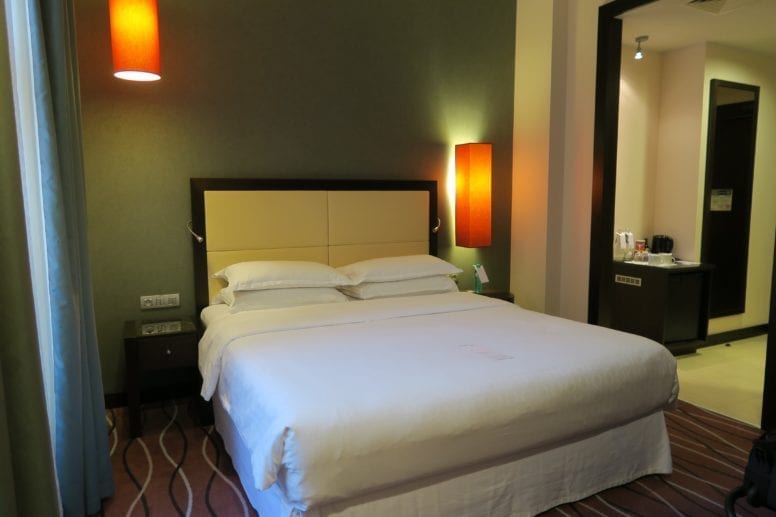 I also loved the bathroom  – it was modern, spacious and spotlessly clean and I have to say the housekeeping in the hotel was very good during our entire stay.
All the bathroom amenities were included together with a hairdryer, slippers and a bathrobe.
I really liked the huge mirror above the sink and the lovely bathtub – ideal to relax after a long day of walking and sightseeing around Prague.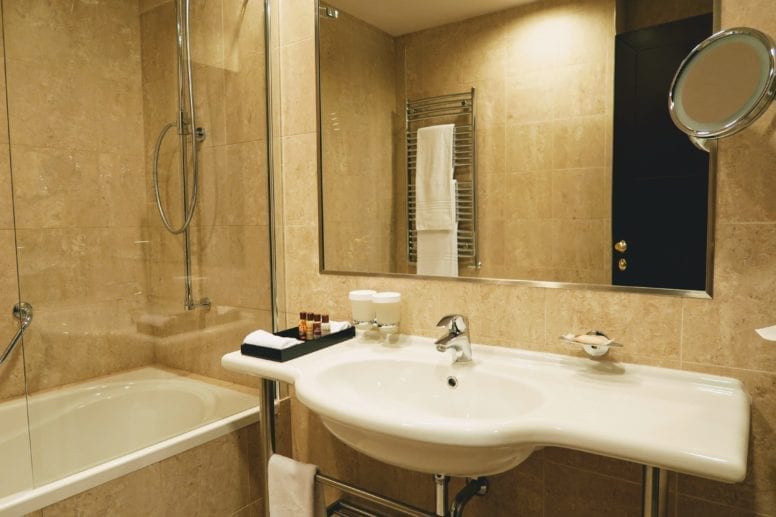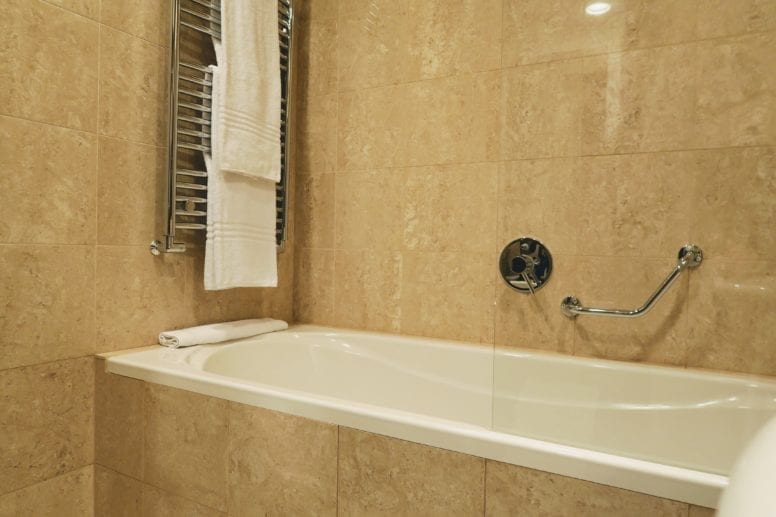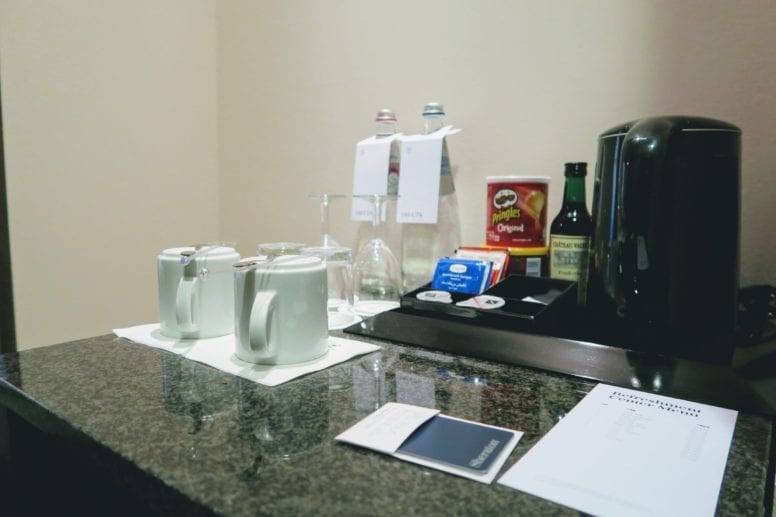 Sheraton Prague Charles Square Hotel Breakfast
The breakfast buffet was very good and there was quite a wide choice of different foods to choose from.
I especially enjoyed the English breakfast, the selection of tea and of bread available as well as some fresh fruit.
The breakfast restaurant was very nice and, most importantly, cleaned and with the staff always available.
Sheraton Prague Charles Square Hotel Fitness and Spa
There is a gym available at the Sheraton Hotel and I loved that it was open 24 hours a day, 7 days a week.
The fitness center isn't very big but it has all the necessary equipment and it never got too crowded during my workout sessions.
There are also built-in LCD screens and a choice of TV, video and music available to make the experience even more enjoyable.
When it comes to relaxing, the hotel provides a Spa which is open from Monday to Sunday from 9 a.m. until 11 p.m.
You can enjoy a lovely sauna and a relaxation lounge – both free of charge and a massage or a private sauna and jacuzzi for a fee.
Below you can find a list of all the services available with relative prices
Relax massage (55 min)  1300 CZK
Relax massage (30 min)   850 CZK
Relax massage whole body (85 min)  2000 CZK
Lava stones massage (85 min) 2200 CZK
Hawaii massage (55 min) 1550 CZK
Reflex foot massage (30 min)  850 CZK
Original Thai massage (55 min) 2200 CZK
Oil Thai massage (55 min)  2300 CZK
Aroma Thai Massage (55 min)  2300 CZK
SPA Packages
2 relaxing massages (55 min)
Private jacuzzi for 2 (50 min) 2900 CZK
Private sauna for 2 (80 min) 2900 CZK
Private jacuzzi for 2 (50 min)
Jacuzzi
Private jacuzzi for 2 (50 min)  900 CZK
Private jacuzzi for 3-5 (50 min) 1150 CZK
Private sauna
Private sauna for 2 (80 min)  1000 CZK
Sheraton Prague In-Room Dining
There is the in-room dining available and you can also have your breakfast directly in the room.
It is available from 6:30 a.m. – 11:30 p.m. and you need to place your order by 2:00 a.m.
These are the available options
Continental Breakfast 450 CZK
American Style Breakfast 675 CZK
Fitness Breakfast 700 CZK
All day dining
Available 11.30 a.m. – 11.00 p.m. and room charge of 100 CZK is is applicable to all orders.
Starters
Beef carpaccio with basil pesto, arugula and Parmigiano  310 CZK
Beef tartare with a toasted French baguette and arugula salad  330 CZK
Grilled octopus with avocado and mesclun salad with fennel  390 CZK
Tomatoes bruschetta with fresh basil  280 CZK
Soups
Potato soup with wild mushrooms and marjoram  190 CZK
French onion soup with toast and French cheese  190 CZK
Sandwiches and Salads
Sheraton club sandwich  400 CZK
Sandwich with ham and cheese 290 CZK
Tramezzino with smoked salmon, salad leaves and creme fraiche  390 CZK
Caesar salad, romaine lettuce, bacon, croutons with chicken breast  330 CZK
Salad Nicoise, grilled fresh tuna, green beans, potatoes, tomatoes and olives   310 CZK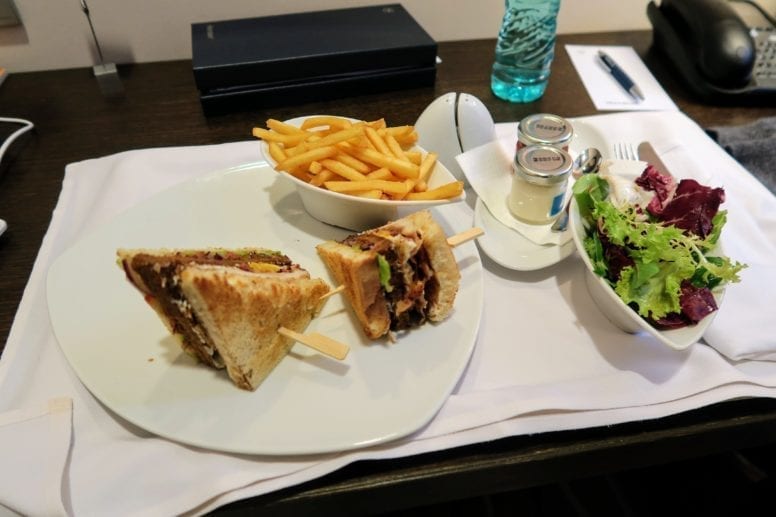 Barilla Pasta
You can choose between spaghetti, fusilli, penne rigate and farfalle
Sauces available
Bolognese  390 CZK
Pomodoro  390 CZK
Alla puttanesca  390 CZK
Carbonara 390 CZK
Main Courses
Filet mignon, green beans, pancetta and mashed potatoes  690 CZK
Rib-eye steak, vermouth cream sauce and fries  650 CZK
Sheraton Cheese Burger  450 CZK
Corn fed chicken supreme, ratatouille  390 CZK
Grilled Scottish salmon, red quinoa, basil aioli  450 CZK
Risotto with zucchini, broccoli, peppers, peas and cherry tomatoes  360 CZK
Cheeses and Desserts
Selection of cheeses with fruit bread and orange-apricot chutney  290 CZK
Orange fondant with orange sauce and blackberry ice cream  240 CZK
Sacher cake with vanilla ice cream  250 CZK
Bourbon vanilla creme brulee  250 CZK
Selection of ice creams and sorbets – 1 scoop 70 CZK
There is also a kid's menu with many interesting and healthy options such as sandwiches and pasta.
You can also order something to eat from 11:00 p.m. to 6:30 a.m. and the light snacks available include pizza, pasta, sandwiches, soup and also some desserts.
Sheraton Prague Restaurants
If you don't feel like going out for dinner there are some lovely restaurants right at the hotel to enjoy as well.
Brasserie Dèlice – open every day for breakfast, lunch and dinner.
It is a great restaurant and offers a rich a la carte menu which includes a sophisticated selection of soup, pasta, fish, meat and much more.
Diamond's Bar – open Monday to Sunday 10 a.m. to 1 a.m. – perfect for a delicious drink after dinner.
Summing up the Sheraton Prague Charles Square Hotel is a very good hotel and I would recommend it to anyone looking for a nice place to stay at while visiting Prague.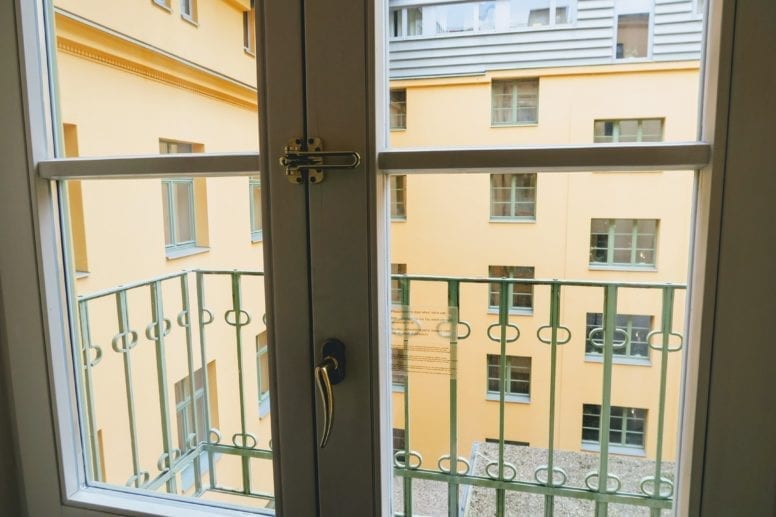 If you want more information about this historical European capital, don't miss my guide on Why Visit Prague and, even more, the Top 5 Things To See in Prague.