"All you hear is time stand still in travel and feel such peace and absolute" – this quote from the R.E.M's song came to my mind the moment I put my feet on San Giulio Island in Italy.
The time does indeed seem to stand still in San Giulio Island as if the clocks stopped sometime in the 5th century and all that you are surrounded by is peace, spirituality, and architecture that are hard to find in today's world.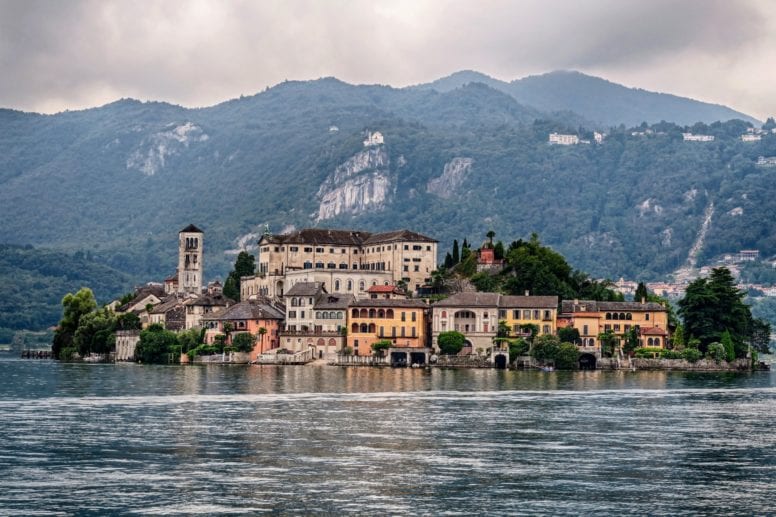 When I saw it for the first time, from a lakeshore of one of the nearby little towns, it looked like a masterpiece painting of an Italian artist, a perfect marriage between nature's natural resources and men's work and imagination.
Isola San Giulio: Location
The Island of San Giulio is located within Lake Orta in northwestern Italy in the region of Piedmont (Piemonte in Italian).
It is surrounded by lovely small towns such as Omegna, Pella, and Pettenasco which are also definitely worth visiting.
Lake Orta is a magical place considered one of the most romantic locations in Italy and in my opinion one of the most relaxing and peaceful as well.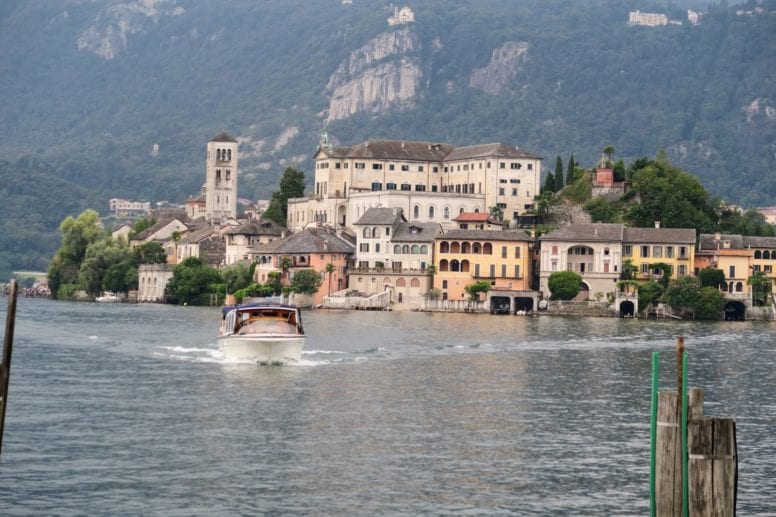 Brief History of Isola San Giulio
There is a legend which says that the Island was haunted and dominated by terrible dragons and snakes until it was finally rescued by San Giulio (Julius of Novara).
He then built the first church there and the Island was named after him since at least the 8th century.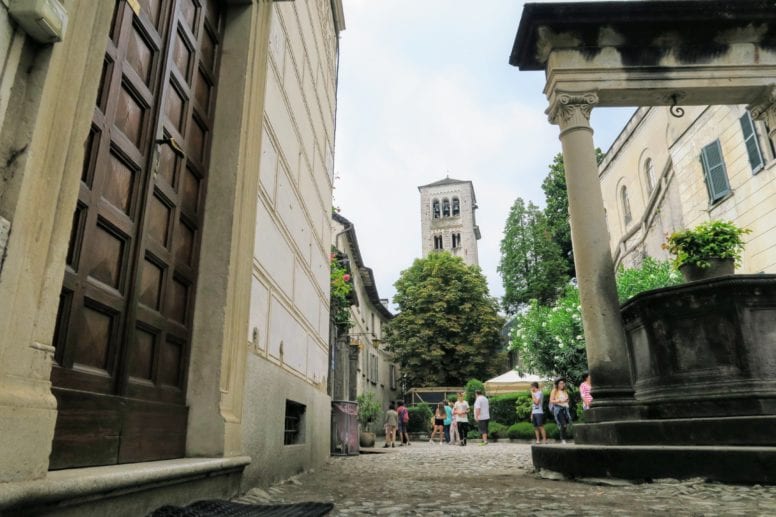 In the Dark Ages, the strategic position of the Island made it an important defensive center, while in the Lombard times it was fortified and it is believed the Duke Mimulfo – a very famous Italian noble – lived there.
The bishops of Novara assumed full sovereignty over the Island in 1219 while the economic activities gradually moved to the nearby village of Orta.
The medieval castle was torn down in 1841 and replaced by the new Episcopal Seminary.
A Benedictine Monastery was founded on the Island in 1973, the cloistered nuns who live there permanently (and are in fact the only residents of the Island) devote their time to prayers, studying, restoration of antique and precious vestments and the preparation of the famous "bread of St. Giulio".
How To Get To Isola San Giulio
There are a few ways to reach the island, the main one is by car from Milan and Malpensa Airport.
So, coming from Milan, you can take the A8 highway in direction Como/Varese, continuing towards Gravellona Toce and exiting at Arona. Then simply follow the signs for Omegna/Lago D'Orta. Once you approach the lake I recommend going in the direction of Pella since there you can find multiple free parking spots.
Once you're in Pella you can get a ferry boat from there – it is a short and pleasant trip.
Departures start at 9 AM till 2:15 PM.
There is a day ticket pass available (it costs € 8.90) and it allows you to use the ferry as many times as you want with stops in Orta San Giulio, Isola di San Giulio, Pella, and Omegna.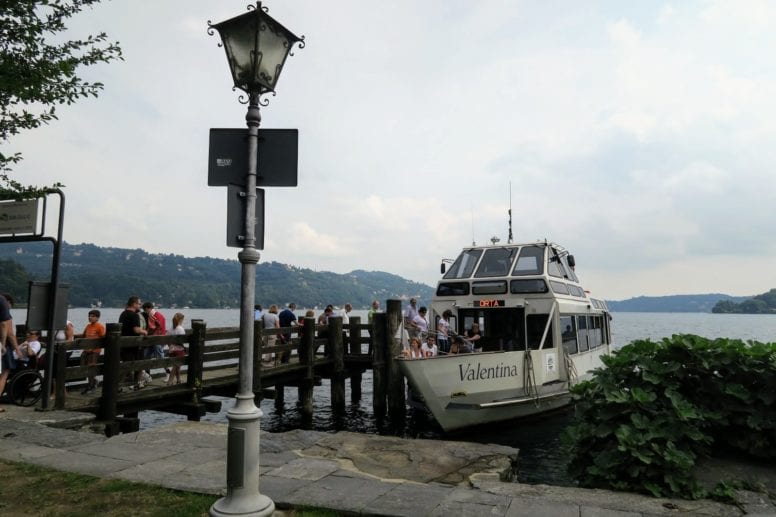 There is free parking available in Pella – very convenient and practical if you come by car and most importantly just a few steps from the pier.
Top Attractions on the Island of San Giulio
The main attraction of the Island is the Basilica of San Giulio – the Romanesque church which according to the legend was built by San Giulio in 390 A.D.
Already on the outside, it is an incredibly beautiful church but when you go inside it will take your breath away!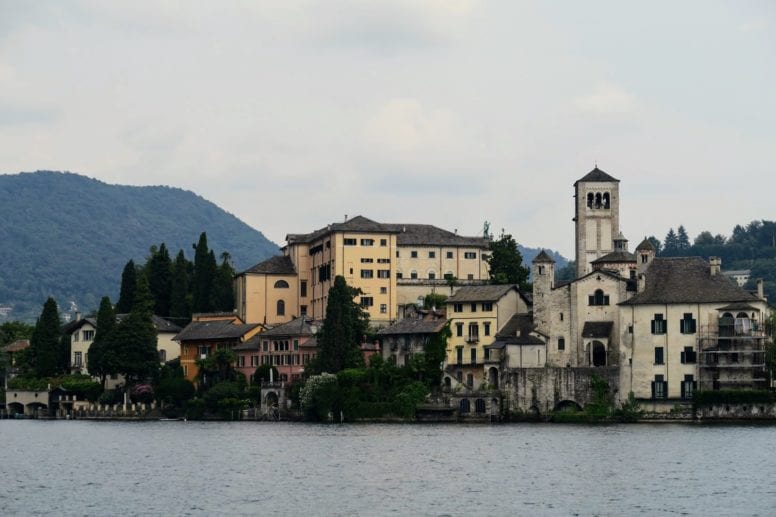 The richly frescoed interior is one of the most splendid I have seen in my life. It is not allowed to take photos inside the Basilica but if you ever have a chance to visit you will remember my words.
TIP: Also pay attention to the floor, if you look carefully you will notice few remaining pieces of the original Romanesque mosaic floor.
After you visit the Basilica, follow a pedestrian street which runs along the entire Island and admire all the unique and picturesque spots you will meet along the way.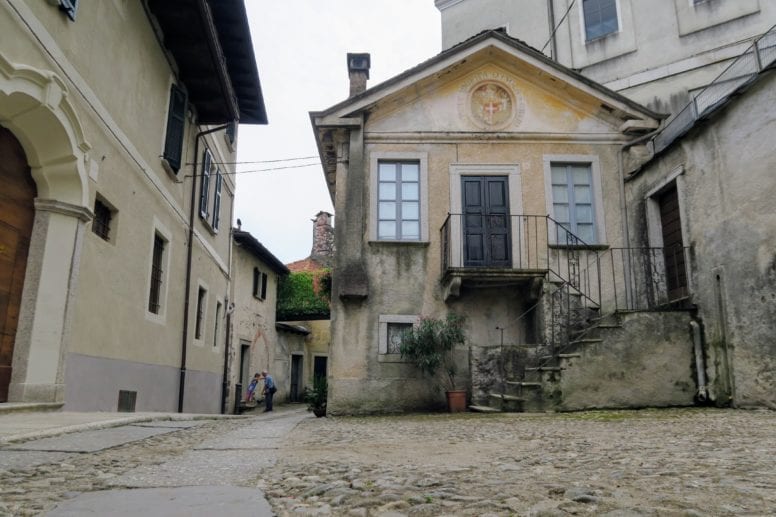 There is the famous Benedictine Monastery but also many ancient houses, villas and incredibly romantic narrow alleys that beg for a quick kiss on your loved one's lips.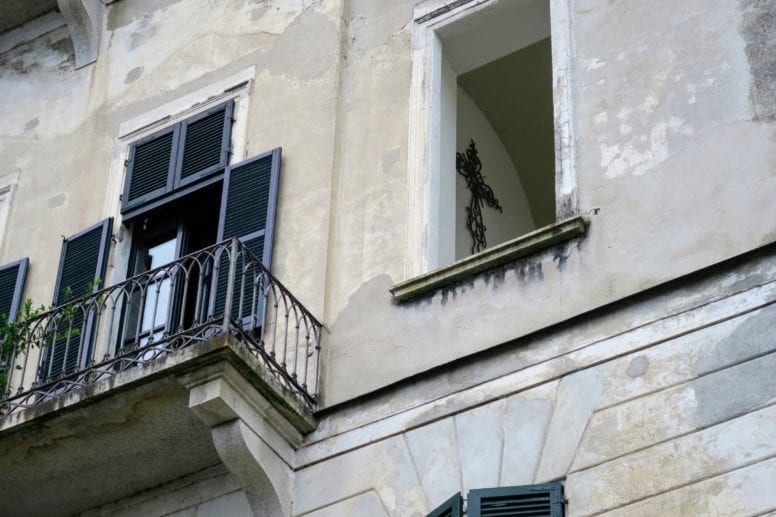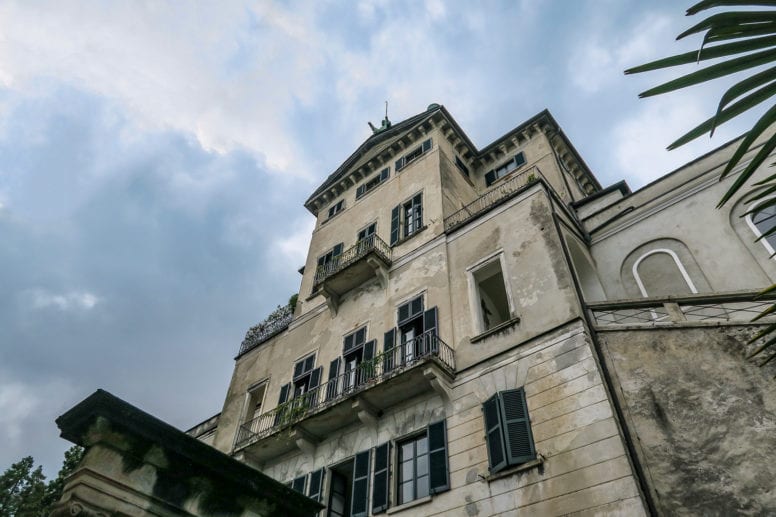 When your visit at the Island is over you can either take a ferry back to Pella or to another lovely nearby town called Orta San Giulio.
I enjoyed a delicious Italian ice cream there and a view of picturesque narrow streets, ancient buildings and of Orta Lake of course.
A pleasant walk around this small town will leave you with sweet memories and certainly with plenty of photos of the Isola San Giulio which can be perfectly seen from the banks of Lake Orta.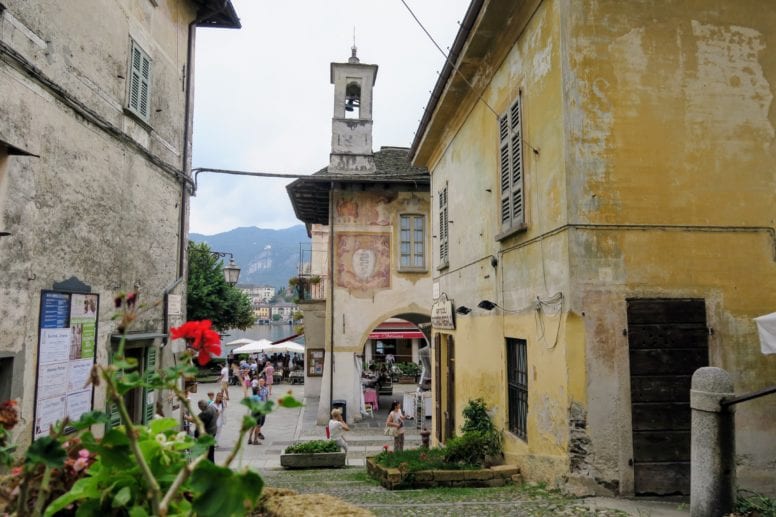 Isola San Giulio Orta Hotels – Booking Tips and The Best Places to Stay
---
---
---
Isola San Giulio Photos
Photo credits: all images inside this article can be used by linking to this page following the Creative Commons Attribution – ShareAlike 4.0 International License.