From villas, churches, and museums to relaxing on the beach and admiring the stunning views, the list of the best things to do in Lake Como is long and fascinating.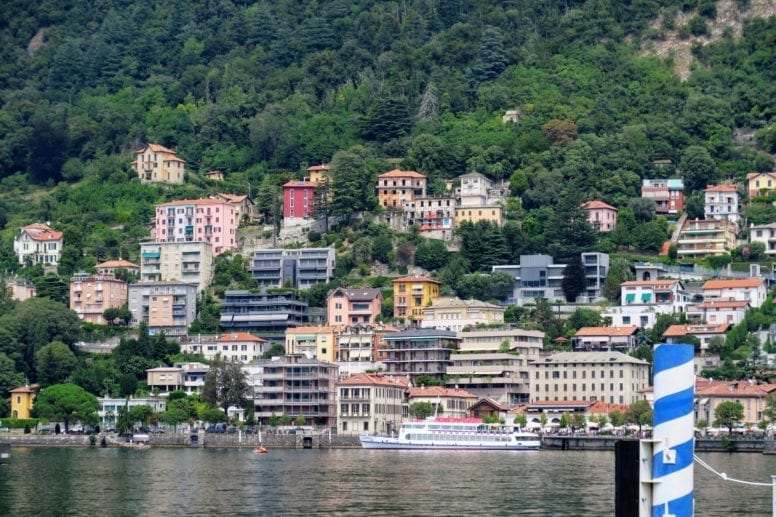 Being the third largest Italian lake, Lake Como is more than just pretty towns on the water – it's one of the most popular destinations in Italy for a reason.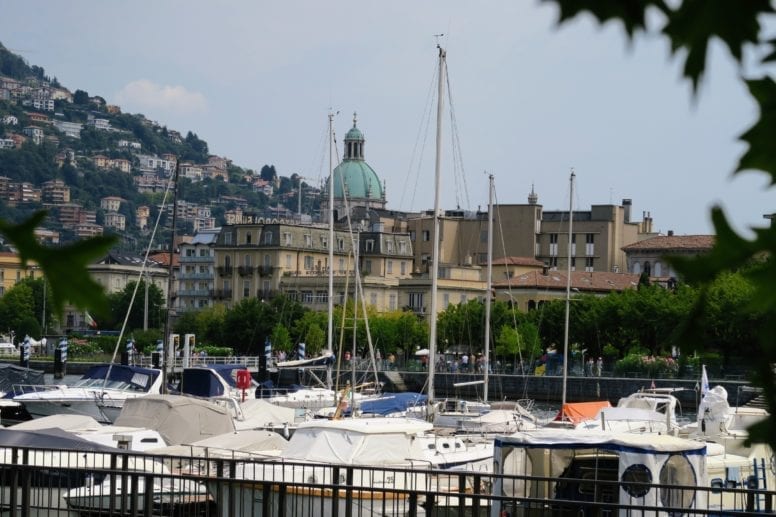 Breathtakingly beautiful, Lake Como is so irresistible because it's equal part looks and mystery. From its unique historic architecture to its unbelievably picturesque gardens – and not to mention the shopping and restaurants – Lake Como has a lot of little something to offer everyone.
And, even though it's hot and crowded in the summer, don't let that deter you from making the trip. The local fauna puts on a show (think wisteria, rhododendrons and bougainvillea) every summer that would be regrettable to miss.
Here is our choice of spectacular things to do in Lake Como that you absolutely cannot miss.
Best Things To Do in Lake Como
Villa Carlotta
One of the most beautiful places to visit in Lake Como, Villa Carlotta offers 70,000 square meters extensive botanic gardens and a charming art museum to explore.
Built at the end of the 17th century by a Milanese marquis, the villa sits in between the lake and mountains with a stunning view of Grigna (spectacular dolomite) and Bellagio (another place on your list of must-sees).
During your visit, you'll get a chance to admire the stunning sculptures, fountains and of course a myriad of colorful flowers and plants.
And, when you've had enough of the heat, cool off inside the museum, searching for some of the world's most famous pieces of art, including Romeo and Juliet's last kiss and other masterpieces by artists like Canova and Thorvaldsen.
Address: Via Regina, 2, 22019 Tremezzina, Italy
Villa del Balbianello
Another villa well worth your time, Villa del Balbianello features elaborate gardens and dramatic architecture.
Located on Lenno, the villa was originally built in the 18th century for Angelo Maria Durini, a powerful cardinal.
Today the villa is open to the public and often used for events, like seriously gorgeous weddings, and in movies (Casino Royale and Star Wars Episode II to name a few).
Overlooking Lake Como, you can take in views of its terraced gardens and the famed lake from the same spot.
Address: Via Guido Monzino, 1, 22016 Tremezzo, Italy
Bellagio
Yes, it's a casino in Las Vegas. No, Bellagio in Lake Como is nothing like it (unless you love the Bellagio in Vegas, then it's even better.)
If you're familiar with the way Lake Como is laid out on a map, then you'll understand Bellagio to be in the triangular part of the inverted "Y".
If that doesn't make sense, it's good to know that Lake Como is shaped just like that, an inverted Y, and you'll hear people (both locals and tourists) referring to the region as such.
Bellagio, which is in the triangular center, has an incredible selection of elegant shopping and fine restaurants.
A bit pricey, yes, Bellagio is an experience – and one that shouldn't be missed. Definitely the most famous town in Lake Como, you'll find loads of visitors enjoying it come summer, but there's plenty of room for everyone.
And, if you can't indulge in a shopping spree, indulge in the beautiful flowers that line the streets – or a drink on the patio of one of the harbor-facing restaurants or cafes.
Villa Melzi
When in Bellagio make sure to visit one of its most important attractions – the historical Villa Melzi.
The structure, which is a wonderful example of Neoclassical architecture is privately owned but open to the public during the spring and summer months.
Other points of interest, that are part of Villa Melzi are a chapel, a museum and also stunning gardens with a fascinating botanical path.
The gardens, designed by the architect Luigi Canonica are a highlight of this picturesque location. As one of the most beautiful gardens in Italy, this place is filled with a wide selection of rare and exotic plants.
Address: Lungo Lario Manzoni, 22021 Bellagio, Italy
Isola Comacina
With a history rooted in the time of the Romans to the early Middle Ages, Isola Comacina was eventually inherited by the King of Belgium in the 1900s.
In 1919, however, he donated it back to the Italian government, at which point the Brera Academy was selected to protect the archaeology and natural landscape of the island.
In 1939, the island was revitalized in order to become a working colony for artists.
During that time, the architect Pietro Lingeri built unique houses for artists. Famous for his rationalistic style, these houses are what draw many of the tourists who visit Isola Comacina today.
When visiting, you can opt to take guided tours that highlight the architecture, as well as the UNESCO Heritage site The Holy Mount of Ossuccio.
If you are traveling with your family, guided family tours of the island are also available.
Castello di Vezio
A charming castle in Lake Como, Castello di Vezio is another amazing attraction to add to our list of things to do in Lake Como.
The castle itself, however, isn't what draws the majority of people who come to visit.
A steep somewhat strenuous walk takes you to one of the most coveted views in the entire region, giving you a spectacular look at all of Lake Como.
For many visitors, this view is the highlight of their entire trip to the lake region.
Address: Via Del Castellano, 23828 Perledo, Italy
Como-Brunate Funicular
The very first funicular ride in Lake Como was in 1894, which means that for over a century locals and visitors have been enjoying it as a fun way to escape the city.
Every thirty minutes, like clockwork, the train leaves the city of Como, taking riders to a panoramic vista less than ten minutes away.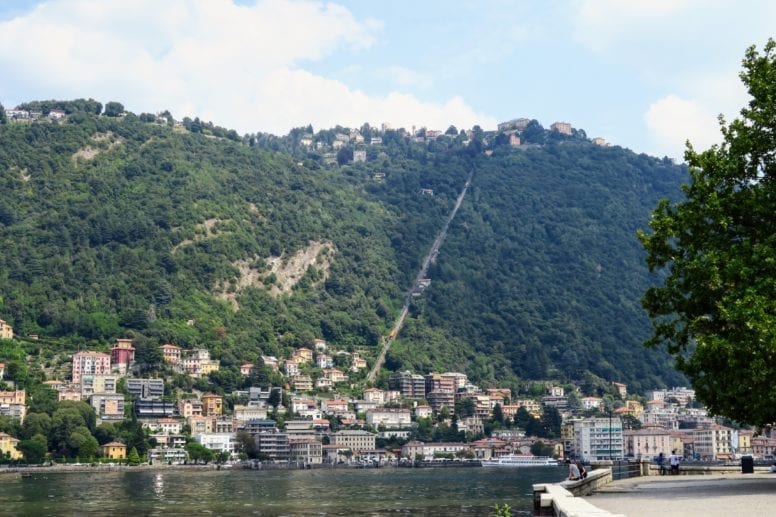 A short albeit steep ride, the funicular is just part of the "fun" in Brunate and an excellent opportunity to take some pretty unique photos.
One of the most visited spots for both locals and tourists, the town of Brunate comes with a wide choice of interesting places to see and explore.
Faro Voltiano Lighthouse
If you take the funicular you'll get a chance to spend some time in Brunate and one of the main points of interest there is the famous lighthouse – Faro Voltiano.
It is dedicated to Alessandro Volta who was an Italian scientist and inventor of an electrical battery born in Como.
Faro Voltiano which is 29 meters high was built in 1927- exactly 100 years after Volta's death.
Inside the building, there is a spiral staircase with 143 steps that allows you to reach the top and admire stunning panorama of the Lake Como.
Address: Via Giacomo Scalini, 22034 Brunate, Italy
Villa Monastero
Our list of things to in Lake Como couldn't be complete without the stunning Villa Monastero located in the charming town of Varenna.
Overlooking the lake, Villa Monastero features a beautiful botanical garden and is one of the most romantic spots in the area.
After you've finished exploring the wonderful exteriors, make sure to go inside and spend some time in the Villa's museum as well.
If you're looking for some breathtaking panoramic views of Lake Como then you should definitely put Villa Monastero on your travel itinerary.
Address: Viale Giovanni Polvani, 4, 23829 Varenna, Italy
Moto Guzzi Museum
If you love motorcycles or simply want to spend an interesting few hours you should visit the Moto Guzzi Museum.
Moto Guzzi is an iconic Italian motorcycle manufacturer and you can learn all about its history at this fun museum.
In fact, it is home to 80 motorcycles among which the first model ever created by one of the founders, Carlo Guzzi – the vintage motorcycle from 1919.
At Moto Guzzi Museum you'll get a chance to see models that are difficult to find anywhere else in the world and visiting it is a real treat for all the motorcycles enthusiasts.
Address: Via Emanuele Vittorio Parodi, 63/67, 23826 Mandello del Lario, Italy
Villa Olmo
There is no shortage of beautiful villas around Lake Como and one of them is certainly the stunning neoclassical Villa Olmo.
Situated in the picturesque town of Como, this villa dates back to the 18th century and is an important historical and cultural point of interest.
Just like all the other famous villas in the area, Villa Olmo is home to a beautiful historical park where you can take a long walk and relax in the middle of nature.
Since 1924 it belongs to the Municipality of Como and hosts numerous congresses, shows, and art exhibitions.
Address: Via Simone Cantoni, 1, 22100 Como, Italy
Orrido di Bellano
Who knew you can actually find a waterfall somewhere around Lake Como? But yes, this area of Italy is full of surprises and this is one of them.
Orrido di Bellano is a charming waterfall which can be visited thanks to the walkway anchored to the rocky walls.
If you want to spend some time surrounded by nature you should definitely put Orrido di Bellano on your list of things to do in Lake Como.
This waterfall is pretty easy to reach from all the towns around the lake and you can get there by car or by train.
The entire visit at Orrido di Bellano takes around 15-20 minutes and it includes a pleasant walk that lets you admire the waterfall from above.
Address: Piazza S. Giorgio, 23822 Bellano, Italy
Madonna del Ghisallo Church
Not too far from Lake Como lies one of the most charming churches of the area – Madonna del Ghisallo Church.
This small church is a real hidden gem and is visited especially by bikers because the Madonna del Ghisallo is actually the official patron saint of Italian cyclists.
Apart from the sanctuary, this location also offers a wonderful view of the mountains and there is also a museum situated nearby.
The museum revolves around cycling as well and it features a wide choice of exhibits related to this sport.
Address: Via Gino Bartali, 22030 Magreglio, Italy
Como Cathedral
One of the most interesting things to do in Lake Como is visiting the Como Cathedral.
This first brick of this majestic structure was laid in the 14th century and it has been the crucial point of the town ever since.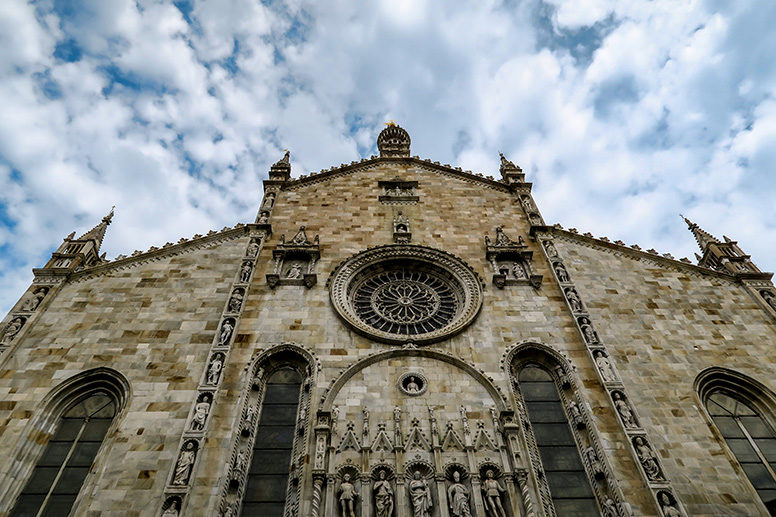 It took over three centuries to complete the cathedral which means it includes many different architectural styles but the final result couldn't be more perfect.
The interiors are as fascinating as the exteriors and feature many valuable sculptures, painting, sarcophaguses and stone altars.
Pay attention to the beautiful stained glass windows and to the amazing organs which date back to the 17th century.
Address: Piazza del Duomo, 22100 Como, Italy
Cernobbio
One of the most charming towns located on Lake Como is without a doubt Cernobbio.
Home to the famous Villa d'Este and Villa Erba, Cernobbio is a romantic location with stunning views and a picturesque historic center.
A few hours could be enough to visit this place but if you've got more time available with recommend dedicating an entire day to Cernobbio.
Take a long walk through its ancient alleys, admire the breathtaking view of mountains meeting the water and of course stop by for a delicious Italian meal at one of the local restaurants.
Make sure to also visit il Giardino Della Valle – a beautiful botanical garden where you can take a break from the heat in the middle of lush greenery.
From your first meal to your final villa, Lake Como is filled with beautiful surprises just over every hill.
A spectacular place to spend several days or more of an Italian getaway, Lake Como is one of the few places in the world where its charm outdoes its hype.
---
Travel tip: Lake Como is located nearby many wonderful Italian cities and towns filled with culture and history.
If you get a chance to spend more time in this beautiful country you should definitely add other locations to your travel itinerary.
A short distance away from Lake Como lies
Milan
– a fashionable city with a long list of attractions and activities.
There are also many fun
day trips from Milan
available that will give you an opportunity to see some breathtaking places.
Other beautiful locations you shouldn't miss during your holiday in Italy is certainly
Verona
and
Pavia
while
Lake Carezza
comes highly recommended for those of you who want to spend some time out in nature.
---
Lake Como Hotels
Hotel Asnigo
Located in the picturesque town of Cernobbio, Hotel Asnigo is one of the options to consider when looking for accommodation in Lake Como.
The highlight of this hotel is certainly the Terrace Restaurant which, apart from delicious food, offers a stunning view of the lake as well.
The rooms come in an elegant style and other on-site facilities include a swimming pool, a bar, and a restaurant.
Many important points of interest are located within a walking distance from Hotel Asnigo.
The Villa Olmo, the Volta Temple, and the famous funicular are just a few of them.
Grand Hotel Villa Serbelloni
One of the most wonderful hotels in Lake Como is the 5-star Grand Hotel Villa Serbelloni.
Situated right by the lake, it offers incredible views and world-class accommodations and facilities.
When you're not exploring the area, you can spend your time sunbathing by the swimming pool, relaxing at the Spa, working out at the gym or taking advantage of the hotel's restaurants.
Talking about high-level cuisine, the Mistral Restaurant inside the Grand Hotel Villa Serbelloni was awarded in 2005 with a prestigious Michelin star.
The rooms are elegant and come with all the necessary facilities for a comfortable and pleasant stay.
Grand Hotel Villa Serbelloni is located in Bellagio which means you'll be able to explore one of the most charming towns around the lake anytime you want to.
Hotel Lenno
Hotel Lenno is a 4-star location situated only a short walk away from the famous Villa del Balbianello.
Most of the elegant rooms offer a breathtaking view of Lake Como while the family rooms come with a view of a swimming pool.
If you stay at Hotel Lenno you can take advantage of the hotel's bar, restaurant and of a lovely pool ideal to cool off on hot summer days.
Make sure to have your breakfast at the hotel as well – it offers a wide choice of delicious options and helps you start the day off on the right foot.
Elegant Central Gravedona Lake Como
If you're looking for an apartment where you can feel like at home you should check out the Elegant Central Gravedona Lake Como.
Each apartment comes with a well-equipped kitchen, a fridge and a dining area which means you can prepare your own meals anytime you want.
There is also a grill which can be used by the guests. This waterfront hotel is situated in a pretty peaceful location but there are still some shops and cute restaurants available in the vicinity.
There are also affordable ferries available that let you explore the entire lake and visit other picturesque towns nearby.
Villa d'Este
One of the most unique and expensive hotels you'll come across in Lake Como is certainly Villa d'Este.
Located in the picturesque town of Cernobbio, Villa d'Este dates all the way back to the 16th century.
What started as a female convent has later become a luxury hotel that to this day attracts a huge amount of affluent visitors from all over the world.
If you stay at Villa d'Este you can expect a world-class experience, a timeless style and a whole lot of privacy.
One of the best parts of this hotel is certainly the stunning garden that surrounds the property and the breathtaking view of the Lake Como.
Staying at Villa d'Este is a unique experience that will leave you with incredible memories.
Lake Como Restaurants
Il Comacino
When it comes to food, Il Comacino is one of the best places you'll find on Lake Como so it has to be on the top of our list of recommended restaurants.
Located in the heart of Como, inside the Avenue Hotel, Il Comancino is easy to reach and is loved by tourists and locals alike.
The menu includes a choice of sophisticated and delicious dishes that will guarantee a unique culinary experience.
Of course, there is also a wine list available which has some of the best Italian wines.
Because of the central location of this restaurant, make sure to take a walk around the historical center of Como after dinner – you'll burn those extra calories while admiring the beautiful landmarks.
Trattoria La Costa
Dating back to the beginning of the 20th century, Trattoria La Costa is one of those restaurants you shouldn't miss during your holiday in Lake Como.
The interiors are unpretentious, cozy and easy-going so the minute you walk inside you almost feel as if you were having dinner at your Italian relative's house.
The owners and the staff are all very friendly and sweet and add a special touch to the whole experience.
The menu includes many Italian specialties such as ravioli, pasta, gnocchi, polenta and much more.
At Trattoria La Costa there is a wonderful wine cellar when you can also buy some of your favorite wines and bring them back home with you.
Osteria al Vecchio Bacucco
Another lovely restaurant in Lake Como is Osteria al Vecchio Bacucco located in Gravedona.
Situated in a picturesque spot, this place comes with a beautiful view of the lake which makes the whole experience even more special and unique.
Osteria al Vecchio Bacucco serves delicious local dishes such as risotto, gnocchi or fish fillets just to name a few.
Make sure to complete the dinner with one of their homemade desserts or with a refreshing sorbet.
L'ora Della Pasta
If you're looking for an easy going place for a quick but at the same time delicious meal you should check out L'ora Della Pasta.
This small eatery offers a wide choice of pasta, gnocchi, and ravioli at affordable prices.
The great thing about this place is that they're very flexible and you can choose the type of pasta you like and then add your favorite sauce on top.
Depending on how hungry you are you can also select between a regular size meal and a bigger portion.
If you want to try the traditional homemade Italian pasta while exploring the town of Como, you should give this small place a go.
Lake Como – How to get there?
The nearest airport to Lake Como
If you're traveling by plane, the nearest airport is Milan Malpensa Airport which lies around 30 miles south-west of Lake Como.
Depending on when you're coming from other available options is Linate Airport located in central Milan and Orio al Serio International Airport in Bergamo.
Both airports are well connected with main European and Italian cities.
How to Reach Lake Como by Train
If you're already in Italy and especially in the Northern region the best way to reach Lake Como is by train.
The entire area of the lake is very well connected to many Italian towns and bigger cities.
It's best to take a train to Como, Varenna or to Lecco and depending on your travel itinerary stop there or continue your journey to other towns around the lake.
Cernobbio, Tremezzo, Bellagio, Laglio or Menaggio can all be reached from there by bus, ferry or in the case of Brunate by funicular.
For those of you coming from Milan, there are multiple trains departing from the city (mostly from Milan Cadorna and Stazione Centrale) and the journey will last between 30 and 60 minutes depending on the number of stops.
Also, keep in mind that taking a train in Italy is pretty affordable so it comes highly recommended especially for anyone traveling on a budget.
Other Recommended Destinations in Italy