If you're looking for the best places to visit in Jaipur, you're in the right spot! Enjoy our guide with the top 11 things to do and points of interest.
Jaipur, the capital of the state of Rajasthan is the perfect place to enjoy the culture and color of India.
Often called The Pink City, Jaipur is chaotic like any Indian capital, but its history and joyful way of life set it apart, making it a must-visit stop during any tour of India.
Trying to see everything in less than 48 hours is impossible. And, once you arrive, you'll quickly realize that, yes, you want to see it all. Give Jaipur plenty of time to explore and you'll thank yourself in the end. After all, you never know what type of treasure you might discover around the corner.
Let's see together the best places to visit in Jaipur!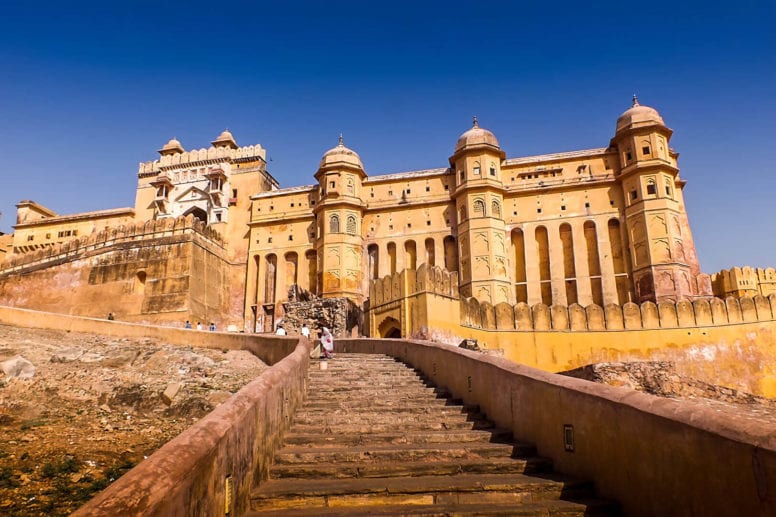 Best Places To Visit In Jaipur
Hawa Mahal
Impossible to miss, the Hawa Mahal is the unapologetically pink landmark that is often portrayed in photographs of Jaipur.
The structure was built in 1799 so that royal women could take in the sights and sounds of the capital, without ever needing to venture in on their own.
If you visit Hawa Mahal after sunset you'll get a chance to admire the structure all lit up and take some amazing photos of it.
During the day, on the other hand, it's best to head to the top story where you can take in the incredible views of the whole city.
Hawa Mahal is a centerpiece in Jaipur culture and putting it on your list of things to see comes highly recommended.
Address: Hawa Mahal Road, Badi Choupad, J.D.A. Market, Jaipur, India
Opening Hours: Daily from 9.00 am to 5.00 pm
Amber Fort
A short drive from Hawa Mahal, Amber Fort is the place to see while in Jaipur.
Amber Fort (or Amber Palace as you'll often hear it referred to) was built in 1592 by Raja Man Singh and was a longtime home for the royal family.
It was later replaced by the City Palace although that doesn't take anything away from the splendor of the site.
Amber Palace which was declared an official UNESCO World Heritage Site, is filled with mystery and intrigue.
One of the most fascinating rooms in the palace is the Sheesh Mahal, or the "Hall of Mirrors". The Sheesh Mahal is a brilliant display of innovation and was constructed for the queen, who was keen on watching the stars
Another location you don't want to miss there is the beautiful Diwan-i-Khaas which served as a room of private audiences.
Just like Hawa Mahal, Amber Fort lits up at night and is a wonderful place to visit while in Jaipur.
Address:Devisinghpura, Amer, Jaipur, India
Opening Hours: from 8.00 am to 5.30 pm and from 6.30pm to 9.15 pm
City Palace
Another important spot to add to our list of places to visit in Jaipur is without a doubt the City Palace.
Dating back to the 18th century, the City Palace played an important political and cultural role in Jaipur's past.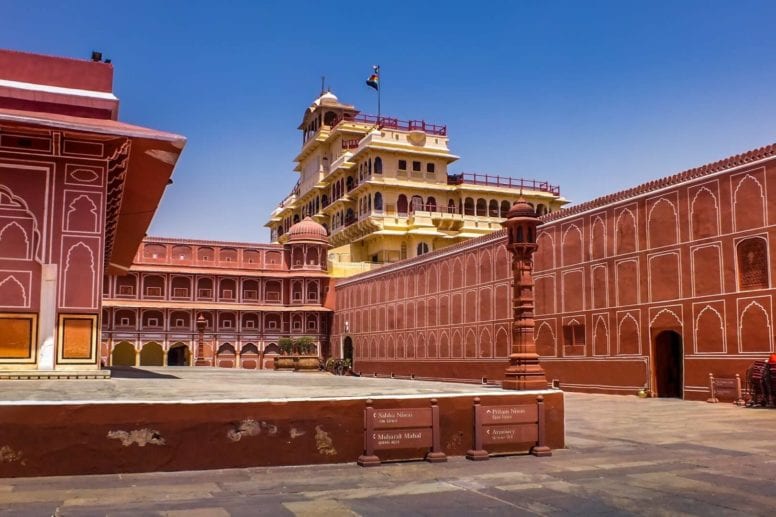 Today, the place is a fascinating tourist attraction and you could spend days exploring the whole complex.
Among the buildings you should definitely take note of within the palace, you'll find the Mubarak Mahal, which served for receiving foreign guests.
Another building of note is the Sileh Khana which features an impressive collection of traditional weapons and also the seven-story Chandra Mahal filled with beautiful decorations.
The art galleries are also impressive, you don't want to miss the mesmerizing Sabha Niwas, the Textile Gallery and also the Painting and Photography Gallery.
Address: Tulsi Marg, Gangori Bazaar, J.D.A. Market, Jaipur, India
Opening Hours: Daily from 9.30 am to 5.00 pm
Ticket Price: between 500 and 900 Rs.
Jantar Mantar
Jantar Mantar is an astronomical observatory which looks a lot like abstract art from the street.
Completed in 1734, Jantar Mantar is made up of nineteen instruments that will impress everyone – even those who are not huge astronomy enthusiasts.
Restored in 1901, in 2010 the Jantar Mantar was declared a UNESCO World Heritage Site.
Jantar Mantar is one of the most unique places to visit in Jaipur and a great opportunity to learn more about stars, planets, and galaxies.
Address: Gangori Bazaar, J.D.A. Market, Jaipur, India
Opening Hours: Daily from 9.00 am to 4.30 pm
Jal Mahal
Literally translated to mean "Water Palace", the Jal Mahal is exactly what you might imagine: a palace sitting in the middle of a body of water.
You'll find the Jai Mahal in the center of Man Sagar Lake, an incredible sight from any angle.
Renovated during the 18th century by Jai Singh II, the Water Palace is a stunning example of architectural prowess and attention to detail.
Featuring a classic Rajput style design, the Jal Mahal was built in red sandstone and only the top story (there are five in total) is visible when the lake is full.
Address: Amer Road, Jaipur, India
Opening Hours: Daily from 6.00 am to 6.00 pm
Nahargarh Fort
Visiting the Nahargarh Fort offers tremendous views of the city of Jaipur. To reach it you can either opt for the steep hike to the top or drive there by car.
Once you're finished with admiring the stunning panorama and with taking photos you may want to stop by the Jaipur Wax Museum situated nearby.
This original museum features a collection of waxworks of famous Indian figures and is a fun place to visit.
Address: Krishna Nagar, Brahampuri, Jaipur, India
Opening Hours: Daily from 10.00 am to 6.00 pm
Albert Hall Museum
One of the most interesting things to do in Jaipur is visiting the Albert Hall Museum. Dating back to 1876, this museum is a real treat for anyone who wants to learn more about Jaipur's art and history.
Albert Hall Museum is home to a wide choice of collections that include sculptures, pottery, musical instruments, coins and much more.
One of the exhibits that attract a huge number of visitors from both India and abroad is without a doubt the famous 2300-year-old Egyptian mummy.
If you book your tickets online you can get a composite ticket and get to see many points of interest at a more convenient price.
Address: Museum Road, Ram Niwas Garden, Kailash Puri, Adarsh Nagar, Jaipur, India
Opening Hours: from 9.00 am to 5.30 pm and from 7.00 pm to 10.00 pm
Travel Tip: India is one of the most beautiful countries in the world and offers an endless number of amazing places to explore. Once your visit to Jaipur is complete and you want to continue your adventures across India there is a wide choice of cities to include on your travel itinerary.
There is the rapidly growing
Bangalore
, the spiritual Pondicherry, the relaxing Coorg or India's "monsoon capital" –
Pune
.
If you're planning to see India's smallest state check out our guide to the
best places to visit in Goa
.
Don't miss our article regarding
Kolkata points of interest
as well – there are so many wonderful locations to explore there!
Taj Rambagh Palace
Now a 5-star hotel, Taj Rambagh Palace used to serve as a home to the great ruler of Jaipur.
Staying at this hotel is a unique and unforgettable experience as it offers a perfect combination of history and luxury.
The delightful gardens, royal interiors, and excellent service make Taj Rambagh Palace one of the best hotels available not only in Jaipur but in the whole country as well.
The hotel offers a variety of rooms and suites so you can choose what's best for you based on the size, comfort, and views you're looking for.
After a long day of sightseeing in Jaipur, you can relax at the amazing pool or at the hotel's Spa.
Make sure to also dine at one of the restaurants available at Taj Rambagh Palace – you'll get to enjoy delicious dishes in a unique setting.
Address: Bhawani Singh Road, Jaipur, India
Jaigarh Fort
No far from Jaipur lies the Jaigarh Fort – an essential stop on our list of things to do in Jaipur.
Dating back to the beginning of the 18th-century, the Jaigarh Fort offers stunning views of the city and surrounding areas and endless photo opportunities.
The fort is a fascinating place to explore because it combines many interesting historical, architectural and cultural aspects.
Jaigarh Fort is also famous for being home to the world's largest cannon on wheels – the 18th-century Jaivana cannon.
A couple of hours should be enough time to see all there is to see there, soak in the special atmosphere and admire the breathtaking vista.
Address: Jaigarh Fort, Amer, Jaipur, India
Opening Hours: 9.00 am to 4.30 pm
Sisodiya Rani Bagh Garden and Palace
One of the most beautiful gardens you'll find in Jaipur area is certainly the Sisodiya Rani Bagh Garden.
A short drive from the city, Sisodiya Rani Bagh is a pleasant oasis perfect for relaxing and spending some time surrounded by gorgeous trees and plants.
If you get tired of the hustle and bustle of Jaipur, you should definitely put this location on your travel itinerary as it is usually very quiet and peaceful.
You can also go inside the Palace, explore its beautiful interiors and admire the stunning art pieces.
Address: Ghat Ki Guni, Agra Road, Jaipur, India
Opening Hours: Daily from 8.00 am to 8.00 pm
Thikana Mandir Shri Govind Dev Ji Maharaj
No trip to Jaipur can be considered complete without paying a visit to one of its most important Hindu temples – Thikana Mandir Shri Govind Dev Ji Maharaj.
Dedicated to Lord Krishna, this temple is one of the most important points of interest in Jaipur and attracts a huge number of visitors from all over the world.
Thikana Mandir Shri Govind Dev Ji Maharaj is a large temple which can accommodate hundreds of people at the same time so expect it to be pretty crowded.
The atmosphere inside is very joyful and often there is music and people dancing and playing instruments while worshiping the deity.
Visiting Thikana Mandir Shri Govind Dev Ji Maharaj is an unforgettable cultural experience and is an investment in memories for a lifetime.
Address: Jalebi Chowk, Jai Niwas Garden, Jaipur, India
Opening Hours: Daily 4.30 am – 11.45 am and 5:00 pm – 8:45 pm
Ticket Price: free of charge