If you're looking for the best places to visit in Jaipur, you're in the right spot! Enjoy our guide with the top 10 things to do and points of interest.
The capital of the state of Rajasthan, Jaipur is the perfect place to enjoy the culture and color of India.
Often called The Pink City, Jaipur is chaotic like any Indian capital, but its history and joyful way of life set it apart, making it a must-visit stop during any tour of India.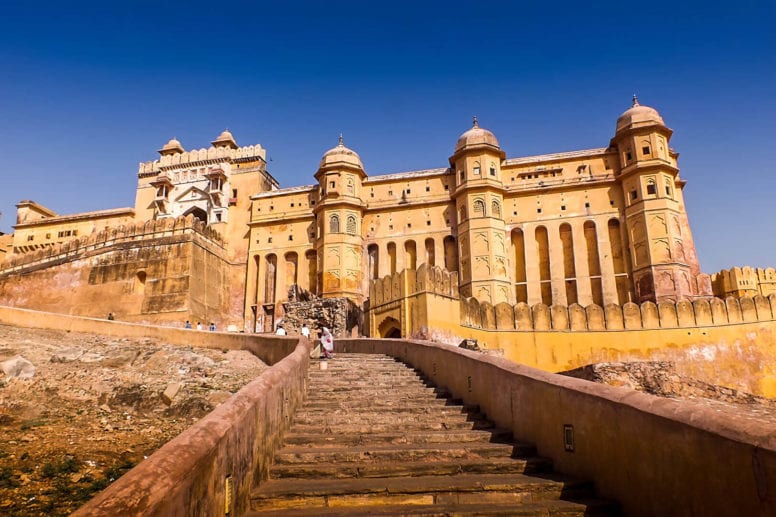 Sitting on a corner in Jaipur, you can take in the buzz of motorbikes, the meandering camels, the swerving buses, and the infamous auto-rickshaws all at once.
Trying to see everything in less than 48 hours is impossible. And, once you arrive, you'll quickly realize that, yes, you want to see it all.
Give Jaipur plenty of time to explore and you'll thank yourself in the end. After all, you never know what type of treasure you might discover around the corner.
Best Places To Visit In Jaipur
Hawa Mahal
Impossible to miss, the Hawa Mahal is the unapologetically pink landmark that is often portrayed in photographs of Jaipur.
Five stories high, the building, which features a honeycomb-esque design, was built in 1799 by Maharaja Sawai so that royal women could take in the sights and sounds of the capital, without ever needing to venture in on their own.
With incredible views from the top story, the Hawa Mahal is a centerpiece in Jaipur culture. To learn more, stop in the small museum on-site to see artifacts like miniature paintings and ceremonial armor.
Although the corridors are narrow, joining the crowds in order to see this beautiful building is well worth it.
Address: Hawa Mahal Road, Badi Choupad, J.D.A. Market, Jaipur, India
Opening Hours: Daily from 9.00 am to 5.00 pm
Amber Palace
A short drive from Hawa Mahal (about half an hour), Amber Palace is the place to see while in Jaipur.
An official UNESCO World Heritage Site since 2013, Amber Palace (or Amber Fort as you'll often hear it referred to) was built in 1592 by Raja Man Singh.
The longtime home for the royal family, it was later replaced by the City Palace although that doesn't take anything away from the splendor of the site.
Connected to the Jaigarh Fort via a below-ground path, Amber Palace is filled with mystery and intrigue. One of the most fascinating rooms in the palace is the Sheesh Mahal, or the "Hall of Mirrors".
Because ancient royal women were forbidden to sleep outdoors, the Sheesh Mahal was constructed for the queen, who was keen on watching the stars.
A brilliant display of innovation, this room features angular mirrors arranged in an intricate design, providing an opportunity for indoor stargazing when candles are lit (mimicking thousands of stars across the night sky).
Address:Devisinghpura, Amer, Jaipur, India
Opening Hours: from 8.00 am to 5.30 pm and from 6.30pm to 9.15 pm
City Palace
At the heart of Jaipur's Old City, the City Palace features architectural design from a variety of different eras, the earliest being at the turn of the 20th century.
Strolling through the courtyards, gardens, and different buildings is a great opportunity to see details of Rajasthani and Mughal architecture all in the same place.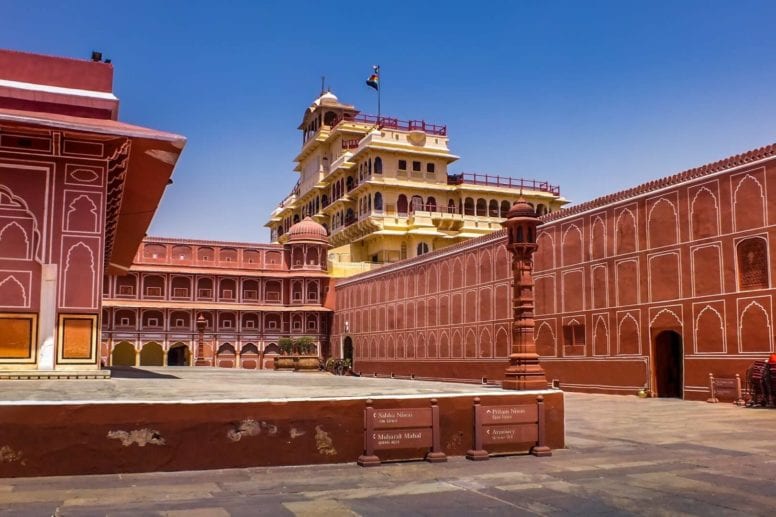 Among the buildings you should definitely take note of within the palace, you'll find the Mubarak Mahal, which served as a reception area for visiting dignitaries, accounting for the eclectic blend of design.
Another building of note is the Armoury, which features an impressive collection of traditional weapons, likely one of the best (if not the best) displays in all of India.
The art galleries are also impressive, with the Diwan-i-Am Gallery featuring a mesmerizing copy of the Bhagavad Gita, which was all handwritten in tiny font.
Address: Tulsi Marg, Gangori Bazaar, J.D.A. Market, Jaipur, India
Opening Hours: Daily from 9.30 am to 5.00 pm
Ticket Price: between 500 and 900 Rs.
Jantar Mantar
Right next to the City Palace, the observatory Jantar Mantar was built in 1728 by Jai Singh II and is one of the most important points of interest in Jaipur.
One of the five observatories built by Jai Singh (and the largest), the Jantar Mantar looks like abstract art from the street.
The idea behind the building, however, was to "measure the heavens", which is how the building got its name (in Sanskrit, yanta mantr means "instrument of calculation").
For inspiration and guidance, Jai Singh sent a team abroad before the building's construction, showing just how serious he was about getting it right.
Restored in 1901, in 2010 the Jantar Mantar was added to UNESCO's World Heritage Sites. With so much to see and learn, it's a great idea to opt for a guided tour here, especially if you want to learn about the inner workings of the variety of instruments you'll see inside.
Address: Gangori Bazaar, J.D.A. Market, Jaipur, India
Opening Hours: Daily from 9.00 am to 4.30 pm
Jal Mahal
Literally translated to mean "Water Palace", the Jal Mahal is exactly what you might imagine: a palace sitting in the middle of a body of water.
You'll find the Jai Mahal in the center of Sagar Lake, an incredible sight from any angle. Renovated during the 18th century by Jai Singh II, the Water Palace is a stunning example of architectural prowess and attention to detail.
Featuring a classic Rajput style design, the Jal Mahal was built in red sandstone and only the top story (there are five in total) is visible when the lake is full.
Address: Amer Road, Jaipur, India
Opening Hours: Daily from 6.00 am to 6.00 pm
Nahargarh Fort
Constructed in 1734, the Nahargarh Fort is filled with classic Indian mystery. Its name, for example, was given when, according to legend, the deceased prince, Nahar Singh, showed up during construction, disrupting efforts and causing trouble.
Reports at the time stated that whatever work was done the prior day would all be crumbled and destroyed come morning because of the prince's restless spirit.
To appease him, the fort was named in his honor – the only thing capable of allowing construction to be complete.
Today, visiting the Nahargarh Fort offers tremendous views. And, if you opt for the steep hike to the top, nothing is better than enjoying a cold drink at the on-site restaurant.
For those who'd rather drive, there is a detour you can take when you're in the Amber area.
Address: Krishna Nagar, Brahampuri, Jaipur, India
Opening Hours: Daily from 10.00 am to 6.00 pm
Albert Hall Museum
One of the most interesting things to do in Jaipur is visiting the Albert Hall Museum. Dating back to 1876, this museum is a real treat for anyone who wants to learn more about Jaipur's art and history.
Albert Hall Museum is home to a wide choice of collections that include sculptures, pottery, musical instruments, coins and much more.
One of the exhibits that attract a huge number of visitors from both India and abroad is without a doubt the famous 2300-year-old Egyptian mummy.
If you book your tickets online you can get a composite ticket and get to see many points of interest at a more convenient price.
Address: Museum Road, Ram Niwas Garden, Kailash Puri, Adarsh Nagar, Jaipur, India
Opening Hours: from 9.00 am to 5.30 pm and from 7.00 pm to 10.00 pm
Travel Tip: India is one of the most beautiful countries in the world and offers an endless number of amazing places to explore. Once your visit to Jaipur is complete and you want to continue your adventures across India there is a wide choice of cities to include on your travel itinerary.
There is the rapidly growing
Bangalore
, the spiritual Pondicherry, the relaxing Coorg or India's "monsoon capital" –
Pune
.
If you're planning to see India's smallest state check out our guide to the
best places to visit in Goa
.
Don't miss our article regarding
Kolkata points of interest
as well – there are so many wonderful locations to explore there!
Taj Rambagh Palace
Now a 5-star hotel, Taj Rambagh Palace used to serve as a home to the great ruler of Jaipur.
Staying at this hotel is a unique and unforgettable experience as it offers a perfect combination of history and luxury.
The delightful gardens, royal interiors, and excellent service make Taj Rambagh Palace one of the best hotels available not only in Jaipur but in the whole country as well.
The hotel offers a variety of rooms and suites so you can choose what's best for you based on the size, comfort, and views you're looking for.
After a long day of sightseeing in Jaipur, you can relax at the amazing pool or at the hotel's Spa.
Make sure to also dine at one of the restaurants available at Taj Rambagh Palace – you'll get to enjoy delicious dishes in a unique setting.
Address: Bhawani Singh Road, Jaipur, India
Jaigarh Fort
No far from Jaipur lies the Jaigarh Fort – an essential stop on our list of things to do in Jaipur.
Dating back to the beginning of the 18th-century, the Jaigarh Fort offers stunning views of the city and surrounding areas and endless photo opportunities.
The fort is a fascinating place to explore because it combines many interesting historical, architectural and cultural aspects.
Jaigarh Fort is also famous for being home to the world's largest cannon on wheels – the 18th-century Jaivana cannon.
A couple of hours should be enough time to see all there is to see there, soak in the special atmosphere and admire the breathtaking vista.
Address: Jaigarh Fort, Amer, Jaipur, India
Opening Hours: 9.00 am to 4.30 pm
Sisodiya Rani Bagh Garden and Palace
One of the most beautiful gardens you'll find in Jaipur area is certainly the Sisodiya Rani Bagh Garden.
A short drive from the city, Sisodiya Rani Bagh is a pleasant oasis perfect for relaxing and spending some time surrounded by gorgeous trees and plants.
If you get tired of the hustle and bustle of Jaipur, you should definitely put this location on your travel itinerary as it is usually very quiet and peaceful.
You can also go inside the Palace, explore its beautiful interiors and admire the stunning art pieces.
Address: Ghat Ki Guni, Agra Road, Jaipur, India
Opening Hours: Daily from 8.00 am to 8.00 pm
Thikana Mandir Shri Govind Dev Ji Maharaj
No trip to Jaipur can be considered complete without paying a visit to one of its most important Hindu temples – Thikana Mandir Shri Govind Dev Ji Maharaj.
Dedicated to Lord Krishna, this temple is one of the most important points of interest in Jaipur and attracts a huge number of visitors from all over the world.
Thikana Mandir Shri Govind Dev Ji Maharaj is a large temple which can accommodate hundreds of people at the same time so expect it to be pretty crowded.
The atmosphere inside is very joyful and often there is music and people dancing and playing instruments while worshiping the deity.
Visiting Thikana Mandir Shri Govind Dev Ji Maharaj is an unforgettable cultural experience and is an investment in memories for a lifetime.
Address: Jalebi Chowk, Jai Niwas Garden, Jaipur, India
Opening Hours: Daily 4.30 am - 11.45 am and 5:00 pm - 8:45 pm
Ticket Price: free of charge