Bangalore, which also goes by the name of Bengaluru, is one of the most magical places to visit in India.
And, considering how enchanting the country is, that's saying something.
Officially the capital of Karnataka, one of many Indian States, Bangalore is often referred to as the Garden City.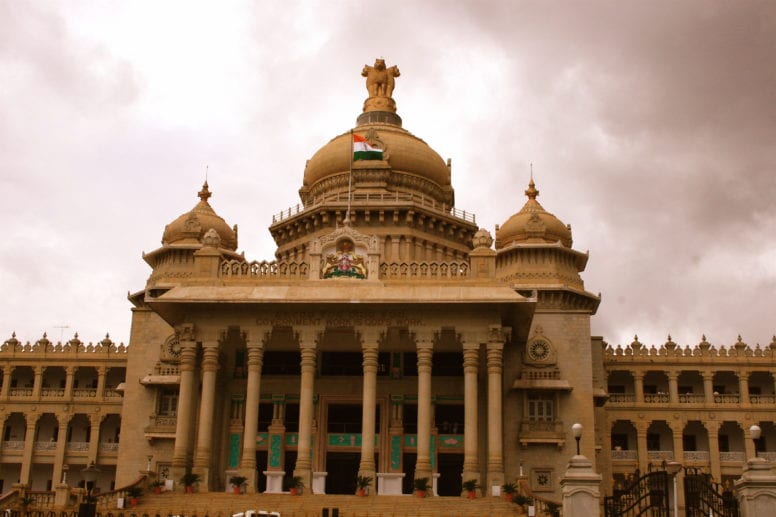 The third most populated city in India, Bangalore is located in the southeastern part of Karnataka and is home to a growing number of expats from around the world.
When planning your trip, be sure to use the list of things to do in Bangalore, India below to make sure you don't miss out on some of the city's most iconic sites. (After all, in a busy city like this, it's easy to get sidetracked!
Best Places to Visit in Bangalore, India
Lalbagh Botanical Garden
Royal in origin, the Lalbagh Botanical Garden was once a 40-acre private garden created by one of the most famous 18th-century rulers of Mysore, Hyder Ali.
While Ali envisioned the expansive gardens in Mughal style, his son, Tipu Sultan, had a different take on the landscape.
When he came into power, Tipu Sultan added to the gardens, recruiting British and Indian horticulture experts to bring in a variety of new plant species, many of which are still present in the gardens today.
Internationally regarded as one of the top horticulture havens, Lalbagh Botanical Gardens is acclaimed for its unique layout, pristine maintenance, scientific treasures, and truly scenic beauty.
Address: Mavalli, Bangalore, Karnataka, India
Opening hours: Daily from 06.00 am to 06.00 pm
Ticket Price: Rs. 50
Sri Chamarajendra Park
Also known as Cubbon Park, Sri Chamarajendra Park is located in the heart of the administrative sector of Bangalore.
From the park, you can take in the sights of many of the State's legislative buildings, including the Vidhana Soudha and the High Court Buildings.
Filled with history, the park was designed for the public, offering more than 100 acres of greenery.
While cars can make their way through the park on authorized roads, there are plenty of walking and running paths to enjoy.
The park serves two many purposes for the people of Bangalore – protecting the environment and natural greenery, while also acting as a "major lung" for an increasingly concrete city.
Go to study plants, enjoy an early morning walk or for some enlightening people watching.
Address: Kasturba Road, Behind High Court of Karnataka Ambedkar Veedhi, Sampangi Rama Nagara, Bangalore, Karnataka, India
Opening Hours: Daily from 06.00 am to 07.00 pm
Ticket Price: No Entry Fee
Bangalore Palace
One of the city's older landmarks, Bangalore Palace is a Tudor-inspired estate that exudes "classic royal charm".
Built in the late 1800s by King Chamaraja Wadiyar, the palace is open to the public, providing visitors with a lavish experience and a glimpse into one of southern India's most enduring dynasties.
While touring the palace, be sure to notice the fortified towers and turreted parapets in the two-story granite structure, both trademark features of Tudor-style buildings.
You'll also find classic Roman arches as you enter. So unique from many of the other architectural landmarks in Bangalore, its vine-covered walls can quickly make you feel like you've been transported straight to the English countryside.
Address: Vasanth Nagar, Bangalore, Karnataka, India
Opening Hours: Daily from 10.00 am to 05.30 pm
Ticket Price: Rs. 230 for citizens and 460 for foreign tourists
Travel tip: If you're planning to continue your travels around India, check out our articles about the best
places to visit in Kolkata
, about the 
things to do in Jaipur
 and about Chennai as well!
If you're looking for a postcard-like tropical location read our post regarding the best places to visit in Goa.
Other interesting places to visit in India include Pune, Pondicherry, and Coorg and you wouldn't want to miss the attractions filled Mumbai and Delhi.


On the other hand, if you're going to visit neighboring Sri Lanka, discover all the best

things to do in Kandy

.
Bannerghatta Biological Park
Often referred to as BBP, the Bannerghatta Biological Park is part of the Bannerghatta National Park.
Established as an independent entity in 2002, the park provides a much-needed space for Bangalore residents and tourists to enjoy eco-recreation and eco-tourism.
Dedicated to conserving the natural environment, the BBP is just a 15-minute drive south of Bangalore, making it one of the few places in the world where natural wildlife is preserved so close to such a bustling city.
Once you arrive at the BBP, you'll be able to enjoy the zoo, go on a safari, take in the Butterfly Park, and tour the Rescue Center, where workers fight to conserve and restore endangered or threatened species.
Address: Bannerghatta Road, Bannerghatta, Bangalore, Karnataka, India
Opening Hours: Daily from 09.00 am to 4.30 pm, closed on Tuesday
Ticket Price: Check the official website for ticket prices
Tipu Sultan's Summer Palace
Taking over the throne for his deceased father in 1782, Tipu Sultan is regularly regarded as one of the fiercest rulers in the Mysore Kingdom.
His summer palace, which is in Bangalore, is officially part of the "Bangalore Fort".
Located across the street from the city market, the summer palace was constructed by Tipu Sultan, although the original "fort" was constructed in the early 1500s.
Tipu Sultan's two-story summer palace is magnificently crafted completely from teak and features decorations and carvings so intricate you'll find yourself doing double takes around every corner.
Address: Tipu Sultan Palace Rd, Chamrajpet, Bangalore, Karnataka, India
Opening Hours: Daily from 08.30 am to 05.30 pm
Ticket Price: Rs. 5 for citizens and Rs. 100 for foreign tourists
Vidhana Soudha
Located around the Sri Chamarajendra Park, the Vidhana Soudha is the official home to Bangalore's High Court Buildings, including the State Legislature and the Secretariat of Karnataka.
Beautifully built in the 1950s with a nod to Dravidian architecture, this impressive structure takes up more than 60 acres of land, making it the largest legislative building in all of India.
Sri Kengal Hanumanthaiah was the Chief Minister of Mysore who oversaw the construction and completion of the Vidhana Soudha.
Address: Ambedkar Veedhi, Sampangi Rama Nagara, Bangalore, Karnataka, India
Opening Hours: Monday to Friday from 09.00 am to 05.00 pm
ISKCON Temple Bangalore
Another top attraction to include on our list of the best things to do in Bangalore is without a doubt ISKCON Temple Bangalore.
Those of you who are familiar with the Hare Krishna movement have probably already heard about this important temple.
ISKCON Temple Bangalore known also as Sri Radha Krishna Temple has been around since 1997 and is situated on the Hare Krishna Hill.
The temple is one of the most significant locations for the members of the International Society for Krishna Consciousness.
From the touristic point of view, this spot is certainly an interesting sight to see. You'll get a chance to explore the beautiful shrines and do some shopping in the picturesque markets located nearby.
ISKCON Temple Bangalore is also home to various festivals which attract a huge number of people from all over the world.
Address: Hare Krishna Hill, Chord Rd, Rajajinagar, Bangalore, Karnataka, India
Visvesvaraya Industrial & Technological Museum
Paying a visit to the Visvesvaraya Industrial and Technological Museum comes highly recommended on our list of things to do in Bangalore.
If you're into science, communication, and technology then there is no better place in the entire city to visit than this one.
Visvesvaraya Industrial & Technological Museum is home to a number of exhibition galleries where you can learn how engines work, discover basic principles of electricity and deepen your knowledge regarding math and optics.
There is also a dedicated space for the youngest visitors where they get introduced to the world of science in a fun and interesting way.
Conclude your time at the museum with a visit to the Dinosaur Alive exhibit where you can see an animated Spinosaurus – something to enjoy for both, children and adults.
Address: Near Chinna Swamy Stadium, Kasturba Rd, Ambedkar Veedhi, Bangalore, Karnataka, India
Opening Hours: Daily from 09.30 am to 06.00 pm
Ticket Price: Rs. 40
Nandi Temple
One of the most important places to visit in Bangalore is Nandi Temple and its official name is Dodda Basavana Gudi.
It is often called Bull Temple as well and in fact, it is dedicated to the sacred Hindu bull.
Dating back to the 16th century, Nandi Temple is home to a stone Nandi statue and attracts many worshipers every day.
When your visit to this important temple is over make sure to spend some time in the beautiful Bugle Rock Garden.
Located just behind the Nandi Temple, this garden is an ideal location for a pleasant walk and for taking a break from the heat and crowds of the city.
Address: Bull Temple Rd, Basavanagudi, Bangalore, Karnataka, India
Bheemeshwari
Around 100 km from Bangalore lies Bheemeshwari – a wonderful area filled with natural landscapes and many adventure opportunities.
If you love spending time outdoors and being surrounded by nature you should definitely include this place on your travel itinerary in Bangalore.
Bheemeshwari is home to a large variety of wildlife and an ideal location to immerse yourself in the natural world.
If you're into adventure sports you'll get a chance to enjoy kayaking, rafting, and rock climbing just to name a few.
You can also take it easy and simply enjoy a relaxing picnic in wonderful surroundings.
Whatever you do, we're sure you're going to have an amazing time in Bheemeshwari.
Dodda Alada Mara
Adding Dodda Alada Mara to your list of things to do in Bangalore is a must – after all, it's not every day you get a chance to admire a 400-year-old banyan tree.
Located outside the city, Dodda Alada Mara makes a perfect day trip destination and is a fun place to explore.
If you're lucky you may also spot some monkeys running around so keep watching for them.
Visiting Dodda Alada Mara is a fun experience that gives you an opportunity to soak in the beauty of Mother Nature.
Address: Tavarekere Hobli, Bengaluru, Karnataka, India
Gavi Gangadhareshwara Temple
Another important location to visit in Bangalore is Gavi Gangadhareshwara Temple.
Dating back to the 16th century, this temple is an intriguing spot with many interesting aspects.
The most fascinating thing about Gavi Gangadhareshwara Temple is the fact that the sun falls on the statue of Shivalingam only once a year and only for one hour.
This unique event occurs on the 14th of January and attracts a large number of people who want to witness it with their own eyes.
If you manage to see the Gavi Gangadhareshwara Temple exactly on this day you'll have a chance to be a part of this extraordinary phenomenon yourself.
Address: Gavipura, Kempegowda Nagar, Bangalore, Karnataka, India
HAL Heritage Centre and Aerospace Museum
Those of you who are passionate about aviation should visit HAL Heritage Centre and Aerospace Museum in Bangalore.
There is no better place in the city than this one to learn more about the history, aircraft, and construction of Indian aviation.
HAL Heritage Centre and Aerospace Museum is home to some historical aircraft and helicopters and also to a flight simulator where you can enjoy being a "pilot" for a few minutes.
If you're traveling with children this is certainly an interesting place to visit because it is fun and educational at the same time.
Address: HAL Old Airport Road, Near HAL Police Station, Sector 3, Marathahalli, Bangalore, Karnataka, India
Opening Hours: Daily from 09.00 am to 06.30 pm
Ticket Price: Rs. 30
Lumbini Gardens
It's no secret that the weather in Bangalore can get sultry and also incredibly hot very often.
This is when places like Lumbini Gardens come in extremely handy.
Lumbini Gardens are home to a lake, a park and also to a water park which is loved especially by the children.
If you want to take a break from the hustle and bustle of the city and escape its stifling heat, you should definitely consider this location.
You can take a relaxing walk, rent a paddling boat, take a dip in the pool and end your day there with a meal at the local restaurant.
Address: Ring Road, Nagawara Lake, Hebbal, Bangalore, India
Opening Hours: Daily from 11.00 am to 07.00 pm
Ticket Price: Rs. 50
Government Museum, Bangalore
Another interesting point of interest to add to our list of things to do in Bangalore is the Government Museum.
It was founded in the 19th century and has been hosting fascinating collections ever since.
Being one of the oldest museums in India, the Government Museum features many rare archeological exhibits and artifacts.
You could spend a whole day exploring this museum but if you have limited time make sure to see the famous Halmidi inscription which dates back to the end of the fifth century.
Visiting the Government Museum comes highly recommended for anyone who is passionate about art and history and wants to learn more about Bangalore's and India's past.
Address: Kasturba Road, Ambedkar Veedhi, Sampangi Rama Nagar, Bangalore, Karnataka, India
Opening Hours: From Tuesday to Sunday from 10.00 am to 05.00 pm
Ticket Price: Rs. 10