Goa might be the smallest Indian state but it certainly doesn't lack of exciting adventure opportunities.
No matter if you want to explore the wild nature, visit the ancient churches and temples or simply lounge on the beach, Goa has it all!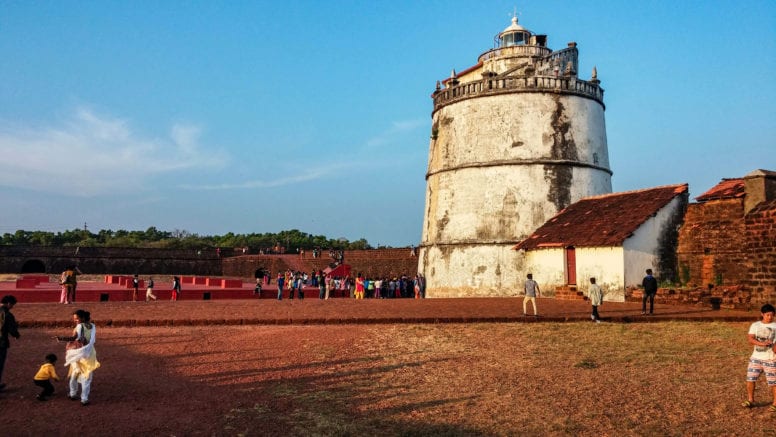 To help you make the most of your trip, we've prepared a list of the best places to visit in Goa, India. We hope you're going to have an amazing time at this fantastic location.
Best Places to Visit in Goa, India
Dudhsagar Falls
One of the most beautiful places to visit in Goa is without a doubt the majestic four-step Dudhsagar Falls.
Situated on the border of Goa and Karnataka, this location offers spectacular views in a one-of-a-kind scenery.
After all, it's not every day you get to see a waterfall this high (1017 feet)!
To make the most of Dudhsagar Falls, it is recommended to plan your visit during the monsoon season when you can admire it in all its glory.
There is a fantastic natural pool available as well and if you bring a swimsuit you can enjoy a refreshing swim right at the foot of the falls.
The easiest way to reach the Dudhsagar Falls is by train or by bus and you can also use one of the many organized tours available.
Some trekking is required to reach the final destination so comfy shoes and lightweight outfit come highly recommended.
Travel Tip: To learn more about other amazing locations in India don't forget to check out our posts about the best
places to visit in Bangalore
, in
Jaipur
, and in
Kolkata
 located in the eastern part of the country.
Other places worth adding to your India travel bucket list include the charming cities of
Pune
, Chennai, Pondicherry and of course the two important metropolis, Mumbai and Delhi.
If, on the other hand, you're planning to visit Sri Lanka we recommend our guide to the best
things to do in Kandy
.
Aguada Fort
Goa is an ex Portuguese colony which means you can still spot many examples of the Portuguese architecture scattered around the state.
One of these is certainly the Fort Aguada – the 17th-century structure located on the beautiful Sinquerim beach.
Fort Aguada played an important role in Goa's past, initially holding a defensive function and serving as a water supplier later on.
When you visit the fort you'll also have a chance to see the lighthouse which was added to the location around 200 years later, in the 19th century.
A short walk away from the Fort Aguada lies a small but very charming Church of St. Lawrence which is an interesting spot to add to your list of places to visit in Goa.
And once your tour of the fort is completed you can spend the rest of your day relaxing, sunbathing and swimming at the Sinquerim beach.
Basilica of Bom Jesus
Goa is home to a number of World Heritage Sites and one of them is the beautiful Basilica of Bom Jesus.
This ancient church that dates back to the beginning of the 17th century is a great example of baroque architecture.
Built by the Portuguese, the Basilica has always been an important place for the Christian community and also one of the most interesting spots to see in Goa.
Basilica of Bom Jesus is home to the relics of Saint Francis Xavier (a Portuguese missionary), to some paintings related to the Saint's life and to an art gallery.
Calangute Beach
No holiday in Goa can be considered complete without spending some time at the epic beaches available there.
One of these is without a doubt the famous Calangute Beach which is loved by both locals and international tourists.
Calangute Beach is a busy place filled with people and with a myriad of entertainment opportunities as well as with a wide choice of seaside bars and restaurants.
If you're into watersports some of the activities you can enjoy here are banana boat riding, jet skiing, kayaking or parasailing just to name a few.
On the other hand, those of you who want to sit back and relax can enjoy a pleasant massage or a body treatment in one of the centers located by the beach.
And don't get surprised if you spot a cow or other animal leisure casually on Calangute Beach – there are considered sacred in this part of the world and are an integral part of the Indian culture.
Chapora Fort
Another interesting spot on our list of things to do in Goa is the Chapora Fort situated above the Chapora River.
The fort dates back to the 18th century and is one of the most important historical locations in Goa.
In the past Chapora Fort held mainly a defensive function while today it is open to the public and is a fascinating tourist attraction.
One of the best spots to admire Chapora Fort from afar is from the Vagator Beach which is also a perfect location for taking beautiful photos.
Old Goa
Old Goa is one of the most fascinating and charming parts of the state of Goa.
Declared a UNESCO World Heritage Site, "Velha Goa" is an ideal place to learn more about Goa's colonial past.
The city which was once the capital of Portuguese India is filled with churches, chapels, and convents, some of which date back as far as the 15th century.
Visiting Old Goa means taking a trip back in time and seeing ancient buildings of incredible historical and cultural value.
One of the most important places you'll come across there is the 17th century Se Cathedral which also goes by the name of Sé Catedral de Santa Catarina.
Church of St. Francis of Assisi, Chapel of Saint Cathrine and Basilica of Bom Jesus we mentioned before are also located in that area.
You could easily spend a whole day in Old Goa, walking its centuries-old streets and soaking in the unique atmosphere.
Sinquerim Beach
Another fantastic place to visit during your trip to Goa is certainly the Sinquerim Beach.
This long and sandy beach offers an idyllic setting for relaxing and for recharging on the much needed Vitamin Sea.
You can spend an entire day laying under the sun, take a long walk or enjoy one of the exciting water sports available.
You can also stop by for a typical Indian meal at one of the local restaurants situated nearby.
And if you stay until the evening you'll get a chance to admire a beautiful sunset as well!
Arpora Saturday Night Market
There is no better way to breathe an authentic atmosphere of a city or a state than to visit its local market.
When you travel to Goa, Arpora Saturday Night Market is definitely a "must-see".
Every Saturday a crowd of people heads to the small village of Arpora looking to practice their bargaining skills while shopping for clothes, souvenirs, and handmade goods.
Many tourists come to the market just to walk around, make friends with the local sellers and enjoy the unique and joyful atmosphere of the place.
Arpora Saturday Night Market is also a perfect location to enjoy dinner as there is a number of food stalls available selling delicious snacks and dishes.
In fact, apart from the mouthwatering local specialties, there is a wide choice of international cuisines available as well.
Salim Ali Bird Sanctuary
Another great spot to add to our list of places to visit in Goa is the Salim Ali Bird Sanctuary.
You don't have to be a professional bird watcher to truly appreciate the beauty of this incredible site.
Situated in the village of Chorao, by the Mandovi River, the Sanctuary offers an interesting nature trail where you get a chance to observe not only birds but many other forms of wildlife as well.
To make the most of the experience and see as much as possible it's best to opt for a guided boat trip.
A trip to Salim Ali Bird Sanctuary is a wonderful opportunity to spend some time in nature, navigate around stunning mangroves and soak in the unique sounds of birds around you.
Ashvem Beach
A holiday in Goa means that some of the most beautiful beaches in the world are located only a short drive or even walk away from you.
One of the postcard-like places you simply can't miss is certainly the stunning palm-fringed Ashwem Beach.
Especially if you're staying in Northern Goa you should definitely add this spot to your travel itinerary.
Compared to other beaches in Goa this one is much more tranquil and less crowded.
Ashvem Beach is an ideal spot for sunbathing on the warm sand, swimming in the clear water and relaxing after days of sightseeing.
There are also some small bars/restaurants available by the beach where you can enjoy a refreshing drink or something to eat.
Cabo De Rama Fort
If you want to see the ruins of the 18th-century Portuguese Fort head to the Cabo De Rama in the south of Goa.
This historical location comes with a breathtaking view of the beach below and also with St Anthony's Church which is an interesting spot to add to your list of places to visit in Goa.
Many photography enthusiasts love this spot because it offers amazing and one-of-a-kind photo opportunities.
Not far from the fort there is the Cabo de Rama beach as well which is a beautiful small palm-fringed bay with soft sand and crystal-clear water.
Our Lady of the Immaculate Conception Church, Goa
One of the oldest churches you'll come across in Goa is Our Lady of the Immaculate Conception Church from the 16th-century.
Part of the Portuguese heritage, this church comes in a Baroque style and is one of the most emblematic points of interest in Goa.
What started as a modest chapel over five centuries ago has now become one of the most featured churches in the Bollywood movies.
If you visit after sunset, you'll find the white facade of the building beautifully illuminated creating a unique and romantic atmosphere.
Goa Science Centre and Planetarium
If you're traveling with kids one of the best places to visit in Goa is the local Science Centre and Planetarium.
In this museum learning about science becomes a fun experience for both adults and little ones.
The highlight of this place is without a doubt the Planetarium where you can discover the wonders of astronomy and learn new facts about stars and planets.
3D Fantasy Shows and Science Shows are available as well so visitors can see and take part in live science experiments.
Blue Whale Water Park
Another fun location for families with young children is the Blue Whale Water Park. Those of you who want to spend some time swimming and splashing around should definitely give it a go.
Although not large in size, this water park comes with a choice of slides, swimming pools, and kids friendly amenities.
If you feel like taking a break from the seaside and want to keep your children entertained at the same time Blue Whale Water Park may be a good spot to add to your list of places to visit in Goa.