If you're a frequent flyer like myself and take a plane multiple times a year, you will at some point or another experience biorhythmic confusion popularly known as jet lag.
Jet lag – medically termed Desynchronosisis happens when your body clock is out of its zone.
The body becomes confused, de-organized, stressed and worn-out.
No matter how healthy you are, it is almost impossible to be immune to this biorhythmic confusion but surely there are some things you can do to make it a bit less stressful.
These few tips I prepared might help you to beat jet lag or at least to minimize the symptoms.
How To Beat Jet Lag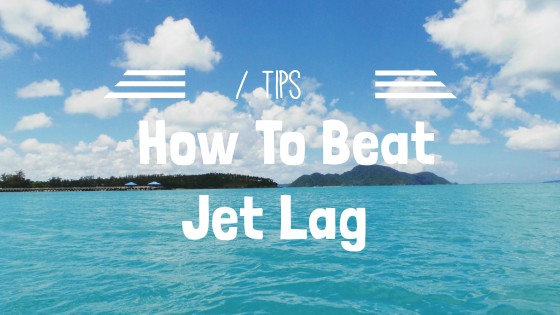 Rest very well before leaving home
Flying for long hours is never an easy scenario. If you are a bit stressed and did not have enough sleep the night before your flight, it is very likely your journey will not be a nice and pleasant one.
So what can you do? First of all plan your schedule very carefully. Set aside 48 hours, that is 2 days before your flight for maximum rest.
It is very important to prepare yourself both physically and mentally. By physically, you are fit to fly, and mentally, your mind is all set and ready to fly. The panic is gone and your body and soul are at peace.
Rest and nap
This is one of the best things to do on the plane.
If you rest well during your flight, you will feel much more relaxed.
Neck pillows, ear plugs, eye mask – you will need all of them. These will keep you warm, reduce noise, and in general make you feel more comfortable.
If you keep remembering what time it is back home, you are very likely prolonging your jet lag.
If you are in Sydney be in Sydney, if you are in Europe, set your mind to Europe, trust me this will help a great deal.
If it is night time, ensure you sleep and flow with the time and the zone you find yourself.
Meal selection
The food served on the plane is awesome. It comes in fancy wrappers and boxes. But then, is it really good for you?
Unfortunately, most of the times meals served on the planes are overly processed, have too much of additives such as salt and sugar and contain the bad cholesterol.
This kind of food is not going to make you feel great and avoiding it will help you manage and curb jet lag. Caffeine is also not advisable while drinking lots of water will help a lot.
After your arrival, you can settle for a sumptuous healthy meal and have a cup of coffee or even better of green tea.
Try to stay awake until it is bed time
Jet lag hates exercise, daylight, and cool breeze. Upon your arrival, let's say you arrive at 3:30 pm, this is still much too early for bedtime. Stay awake till it is bedtime of the country you are in. If you fall asleep in the early hours of the day and wake up at midnight, you will only hurt yourself.
Instead of staying indoor, try to walk around the city you're visiting or go to the gym, even a quick 20-minute workout can make a huge difference.
Even if your body wants that sleep, don't give in. You mustn't fall asleep and do all you can to adjust your body to the new time zone.
Try some treatments
At times if everything else fails, you might want to consider taking jet lag medication.
This is obviously something I would only use occasionally and always consult a doctor before.
Melatonin is great
Many people had testified the effectiveness of melatonin when it comes to beating jet lag.
This is the hormone that tells the brain that it's time to pack things up and get set to sleep.
Taking about 3 to 5 milligrams of melatonin will absolutely hasten your body clock.
Technology
Even the technology is on your side when it comes to beating jet lag.
Some technological solution which might help are the following:
SeatGuru App: it allows you to avoid bumpier seats on the plane.
Neuron: this is a sleep mask and the first of its kind. Using neuron will help you beat jet lag.
British Airways Digital Pills: this is still under development. It is a digital pill that is said to help beat jet lag to a great extent. It is coming soon.
GloToSleep Mask: this uses small dimming light to help you fall asleep faster.
All in all, being jet lagged is definitely not a pleasant feeling but luckily there are many ways to make it less frustrating.
As long as you board the plane healthy and rested, eat well, drink plenty of water and stay outside as much as possible when you arrive you should be able to beat jet lag in a matter of hours.