Milan in Italy ranks high on the list of Europe's coolest cities and is a beautiful and exciting place to visit.
Rich in history, culture and iconic Italian food, Milan makes an ideal holiday destination and should be visited at least once in a lifetime.
One of the world's largest cathedrals, da Vinci's masterpiece, luxury boutiques and charming neighborhoods are only some of the long series of attractions you're going to find in this vibrant city.
If you're planning a trip to one of the world's fashion capitals check out this article where I'm sharing my top 10 things to do in Milan – put your designer sunglasses on and get ready for an adventure.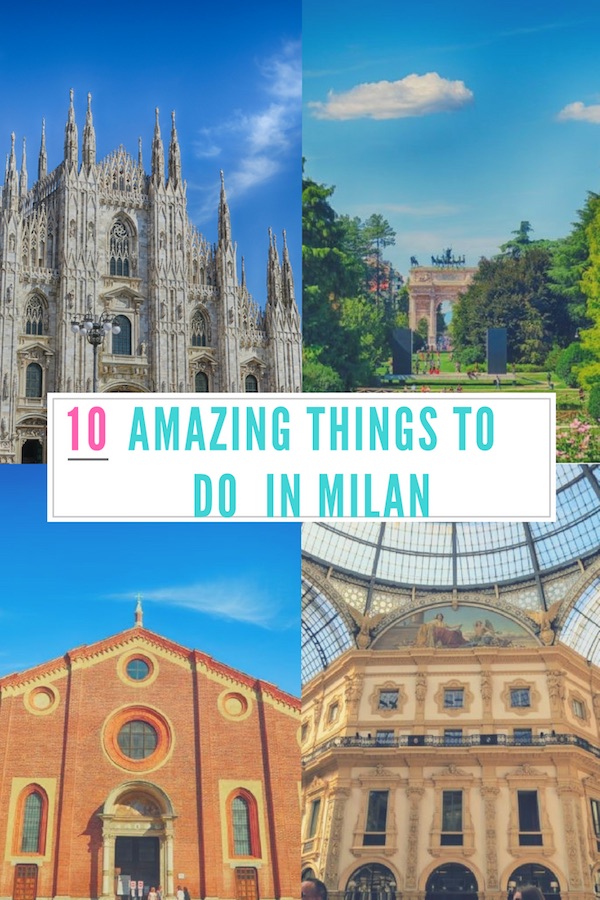 #1 Top Things to do in Milan: Visiting Duomo Cathedral
You wouldn't come to Milan without paying a visit to its most iconic and impressive landmark – Duomo Cathedral.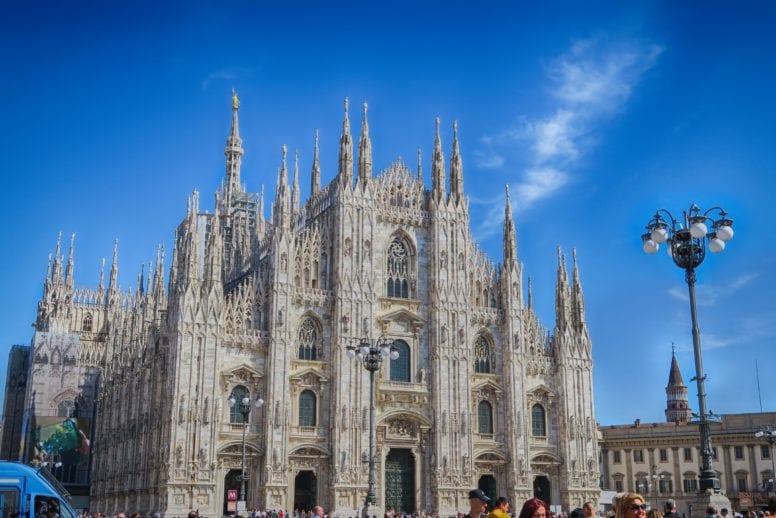 It's hard not to get caught up in the beauty of this architectural marvel in a Gothic style that's been around for the last 600 years.
Take some time to discover the magnificent interior but make sure to go all the way up to the roof terrace from where you'll get to admire the whole city from a bird's eye view.
That's also where the golden statue of the Madonnina from 1774 is located – a symbol and a protector of Milan and its citizens.
Insider Tip: Do you want to "bring" a REALLY unique souvenir back home? You can actually "adopt" one of the 135 spires and, by donating the money, you'll support its restoration and maintenance.
While, if you love Italian architecture, you must visit Pavia – a beautiful town located only 30 minutes from Milan. It's definitely off the beaten track and you can experience a day in the life of the typical Italian University student. I wrote a guide with the top things to see in Pavia. Check it out!
#2 Top Things to do in Milan: Walking around the Galleria Vittorio Emanuele II
Right next to the Milan Cathedral there is another recognizable landmark of the city – the Galleria Vittorio Emanuele II.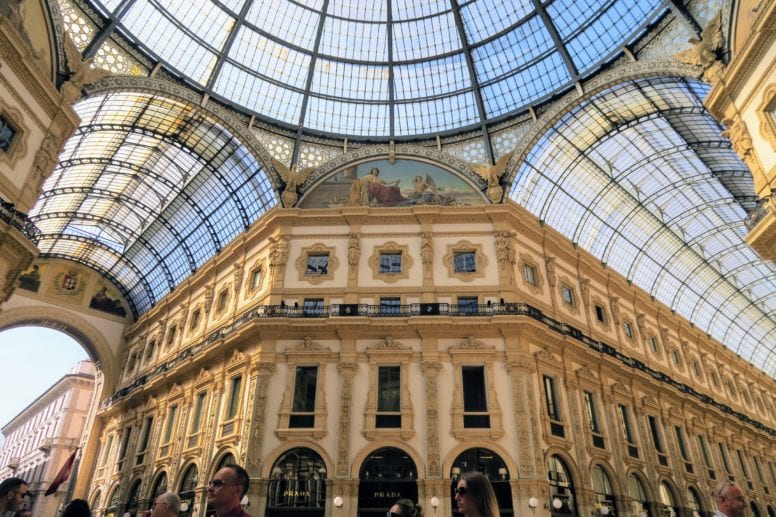 The building dates back to the 19th century but it underwent a major restoration after a bombing raid during the II World War turned it into a rubble.
The Galleria Vittorio Emanuele II is filled with high-end stores, stylish cafes and renowned and costly restaurants that will transport you into a world of luxury and opulence.
If you take a walk around the Galleria you'll very likely notice a crowd of people twisting in the bull portrait mosaic on the floor.
Legend has it that repeating the process three times on your right foot brings years of luck and prosperity – there's nothing to lose by trying.
#3 Top Things to do in Milan: Enjoying a Performance at Teatro alla Scala
Teatro alla Scala or La Scala as Italians call it is a world-renowned opera house that should be on the top of your list of things to do in Milan.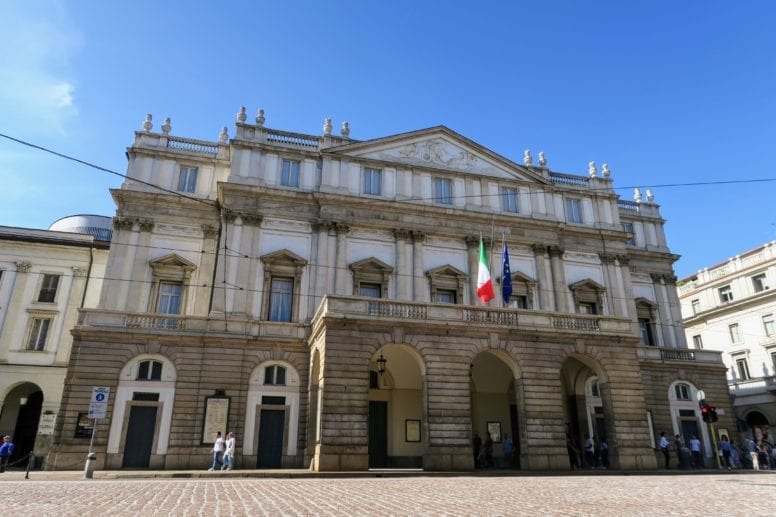 It dates back to the 1778 and its stages have welcomed the greatest international and Italian artists ever since.
If you're staying in Milan for a few days I suggest booking a ticket to one of the concerts – you'll have to plan well in advance because the tickets sell out really quickly but it's an unforgettable experience definitely worth the trouble.
You don't have to be an expert in classical music to truly appreciate and enjoy this great Opera House.
#4 Top Things to do in Milan: Admiring The Last Supper by Leonardo da Vinci
Not many cities in the world give you a chance to admire a 15th-century masterpiece of one of the most important artists of the Renaissance – Leonardo da Vinci.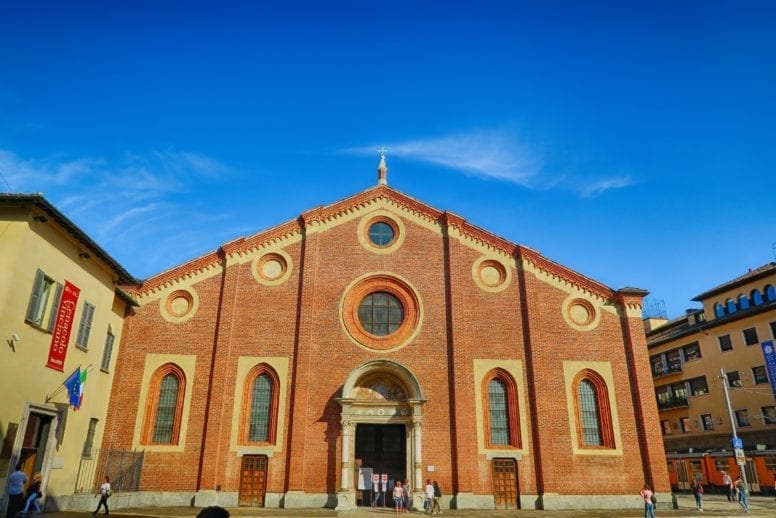 The Last Supper which is located in the Convent of Santa Maria delle Grazie church is undoubtedly one of the main attractions in Milan.
You have to book the tickets weeks or even months in advance as this is a very popular tourist destination and it's basically impossible to get in without a reservation.
Every corner in Milan is full of history and as soon as you exit the refectory where the mural is, you'll have another UNESCO World Heritage Site right in front of your eyes – the Santa Maria delle Grazie church.
This Gothic building is filled with mosaics and chapels and it has a unique and peaceful atmosphere.
Of course, make sure to dress appropriately and respect the liturgical services.
#5 Top Things to do in Milan: Shopping in Corso Buenos Aires
If you love to shop there's no better place in Milan than Corso Buenos Aires, with around 350 shops, stores and boutiques waiting for you.
This long shopping street is visited by hundreds of thousands of people every day and is comparable to the 5th Avenue in New York City.
You will find all of the high-street fashion stores in Corso Buenos Aires but it's still possible to spot some authentic/family-run Italian shops that sell handmade goods bags and shoes.
Our list of best things to do in Milan wouldn't be complete without a good shopping session in the Italian fashion capital.
#6 Top Things to do in Milan: Filling up on authentic Italian pizza at Spontini
Diet and Italy don't go well together so just forget about counting calories for the time of your stay in Milan and indulge in the mouthwatering cuisine of this boot-shaped country.
One of the most iconic places in Milan serving pizza by the slice since 1953 is Spontini – a casual location with delicious food.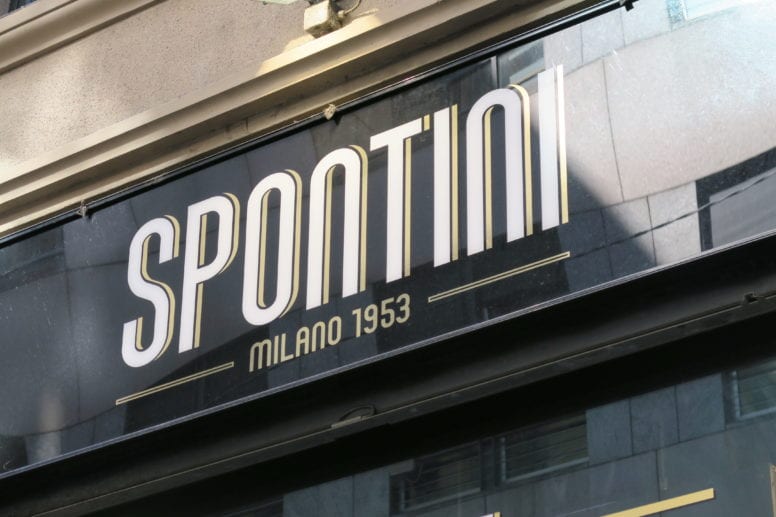 They use a wood-fired-oven to prepare the pizza which combined with a secret formula make a perfect lunch or snack for all the busy locals working nearby.
You can sit at the table or enjoy your slice of pizza while standing at the counter – either way it's simply exquisite.
#7 Top Things to do in Milan: Taking a tour around the Sforza Castle
No visit to Milan would be complete without a stroll around the Sforza Castle – an amazing construction from the 15th century.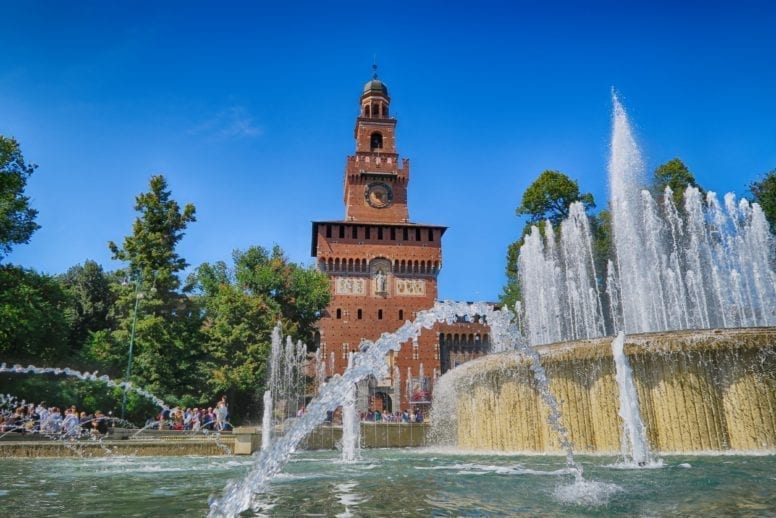 When it comes to things to do in Milan this landmark holds a huge amount of absorbing attractions and you could easily spend an entire there.
In fact, starting from art and culture, there is a wide array of museums available and I think it's a very good idea to visit at least one or two of them.
Depending on your interest you can choose between the Museum of Ancient Art, the Picture Gallery, the Egyptian Museum, the Museum of Decorative Arts and my personal favorite – the Museum of Musical Instruments with a wide collection of instruments from centuries ago.
Some of the most important libraries of the city are also located there.
In the evening the Castle becomes brightly lit which makes it even more beautiful and romantic.
#8 Top Things to do in Milan: Enjoying Milan's Nightlife
No matter if you're traveling with your other half or with a group of friends, Milan is a fantastic city for late night partying.
The typical night out in Milan usually starts with a happy hour at around 6 PM.
If you're a first-time visitor I highly recommend heading to Navigli district for the ultimate experience – this area is filled with countless watering-holes to choose from.
When it comes to the nightclubs some of the most famous Milanese locations include Hollywood, Tocqueville 13, Shocking, Pulp Club and Loolapaloosa just to name a few – all of these are located in the Corso Garibaldi/Corso Como area.
Other fun places to take into the consideration are Old Fashion, Magazzini Generali and Gattopardo Cafè.
The nightlife scene in Milan is undoubtedly very impressive and you will enjoy the variety of options available.
#9 Top Things to do in Milan: Relaxing in Parco Sempione
After crossing out most of the amazing things to do in Milan you might feel a bit tired and overwhelmed and feel the need to kick your feet up and relax a little bit.
Parco Sempione – Milan's most famous park is a favorite spot among nature loving locals and a perfect place to just sit back and do nothing.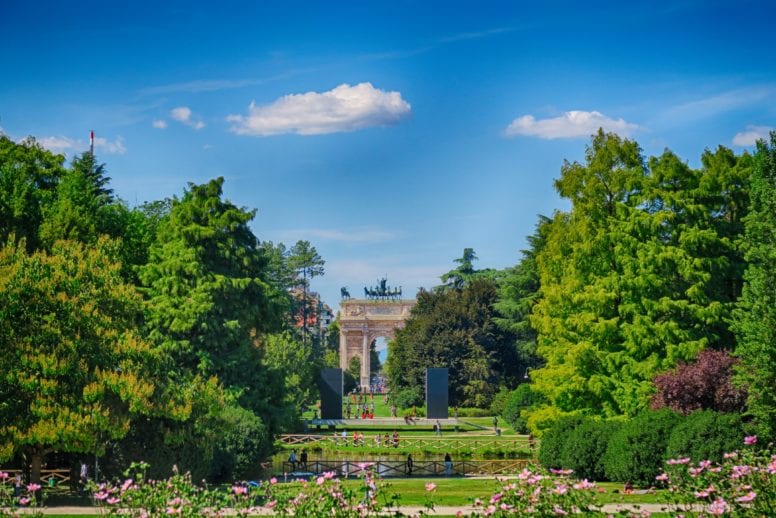 In summer months, when the heat wave is in full swing, Parco Sempione gets filled with people looking for a pleasant shade of the trees.
The Park has a playground for the kids available, a few small eateries, an aquarium and a library.
#10 Top Things to do in Milan: Soaking up the unique atmosphere of Brera Neighborhood
Brera is the most "artistic" neighborhood in Milan, an elegant district filled with amazing art, culture and architecture.
The famous art gallery – Pinacoteca di Brera is located there and so is the Brera Academy of Fine Arts.
There are many art-related events, shows and exhibitions going on in Brera every day, how many of them you'll attend will depend mainly on your time and interest.
Also, every third Sunday of the month, except August, via Brera and via Fiori Chiari come alive with antique stalls filled with jewels, worked glass and other fantastic objects that will make a wonderful and meaningful souvenir.
This local market is irresistibly atmospheric and will give a glimpse of the authentic Italian lifestyle.
It's easy to fall in love with the romantic alleys of this neighborhood where each and every corner seems to have a story to tell.
Make sure to end your day in Brera with a classic Italian "aperitivo" in one of the local bars, soak in the amazing atmosphere and enjoy people watching while sipping on a glass of fine Italian wine.