Aix-en-Provence is one of the most beautiful cities in the French Provence and also a home town of the famous painter Paul Cézanne.
Walking along its ancient streets you will quickly learn that every little corner, fountain or a house you see has an incredible history and you will discover many interesting facts.
If you love art this place is a must-see as you will be able to walk in the steps of Cézanne,  visit his house, favorite café and a place where he worked on his masterpieces.
If you're planning to travel to Aix-en-Provence in France in a near future here are the top things you simply can't miss.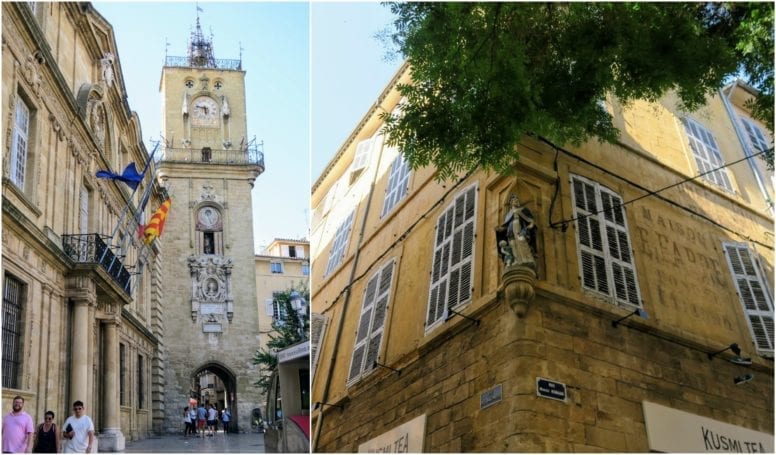 THE BEST THINGS TO DO IN AIX-EN-PROVENCE
A PICTURE BY THE FONTAINE DE LA ROTONDE
As soon as I got to Aix-en-Provence I was welcomed by a beautiful sight of the historical Fontaine de la Rotonde.
It dates back to 1840 and is surrounded by amazing sculptures (lions being my personal favorite).
Of course, I couldn't resist and took a dozen of pictures of this gorgeous landmark.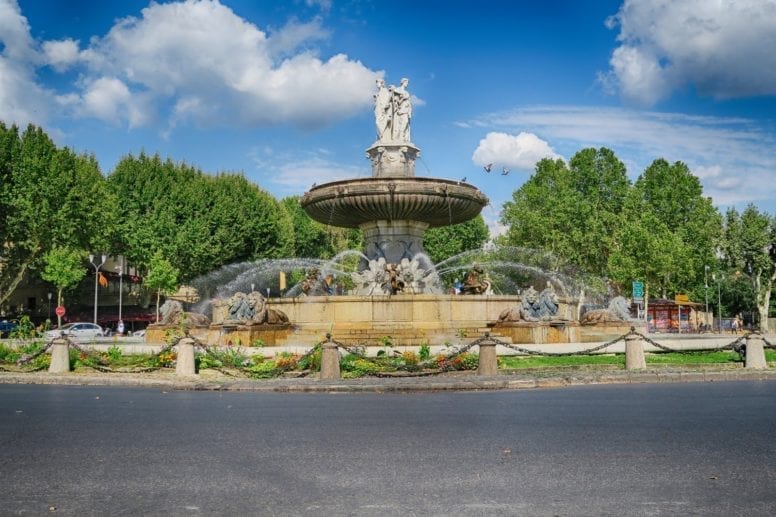 ADMIRING AIX CATHEDRAL
Aix Cathedral of Saint Sauveur is one of the most important points in the city and a crucial religious landmark.
This cathedral is a real architectural masterpiece and I could have spent hours admiring all the wonderful details of this place.
I was especially impressed with a facade which features four statues by Jean Mone but also with the works of art inside the cathedral.
The respectful silence combined with sun rays passing through beautiful stained glass windows make this place even more unique and magical.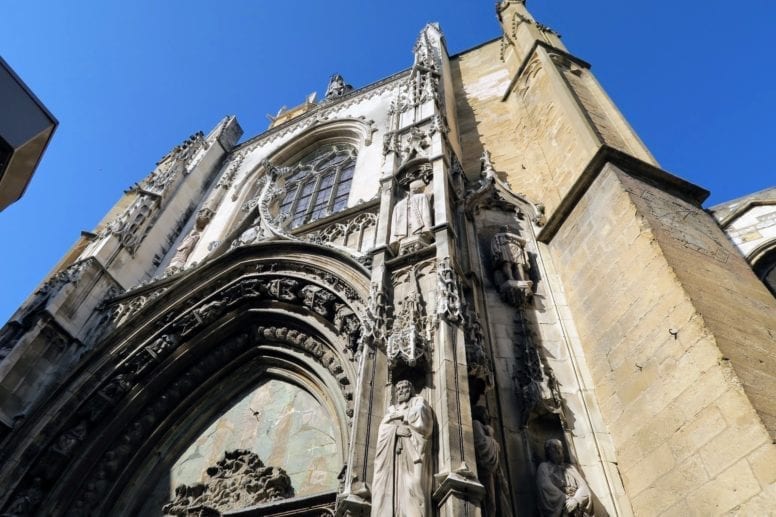 VISITING TOWN HALL SQUARE (HOTEL DE VILLE)
Town Hall Square which is located in the city center and dates back to the 14th century is one of my favorite spots of Aix-en-Provence.
I am especially in love with the extraordinary clock tower but the entire square including the Hotel de Ville is simply charming.
In the center of the square, there is a fountain designed by Jean-Pancrace Chastel and built in 1755.
This fountain was classified as a historical monument in 1905.
All in all the Town Hall Square is a perfect place to soak in the authentic Provence atmosphere.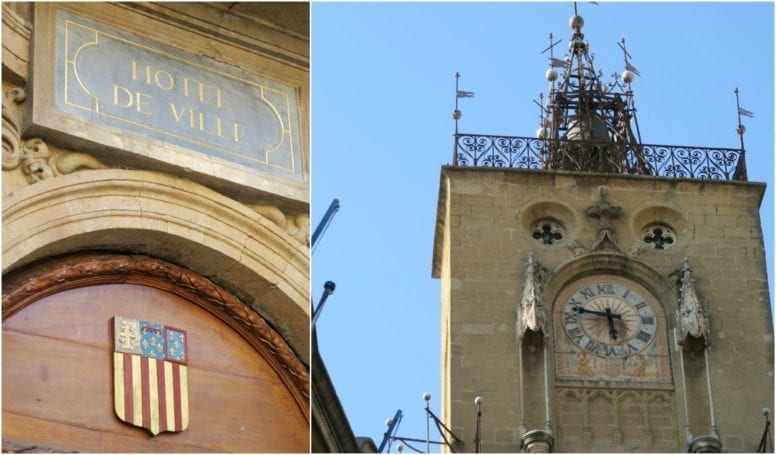 WALK IN THE STEPS OF CEZANNE
Of course, a trip to Aix-en-Provence can't be considered complete without seeing where he lived, created and spend some of his time.
I started from discovering Cézanne's studio (l'atelier) and it was perfect since I could really feel the presence of this famous artist everywhere there.
To see with my own eyes all of the things he used to create some of the most famous art pieces in the world was an incredible experience and one I'm going to cherish.
If you are planning to visit Cézanne's studio I suggest you book in advance as only 18 people can be inside at the same time.
Les Carrières de Bibémus is another location in Aix-en-Provence you can't miss.
It is located in the middle of nature and a place where Cézanne created many of his wonderful paintings.
The rocks in such a particular color inspired greatly the French artist and were incredibly important to the development of cubist style.
I next moved on to Terrain des Peintres (The land of Painters) on La Marguerite footpath with a view of Sainte-Victoire Mountain – another place where Cézanne worked and created.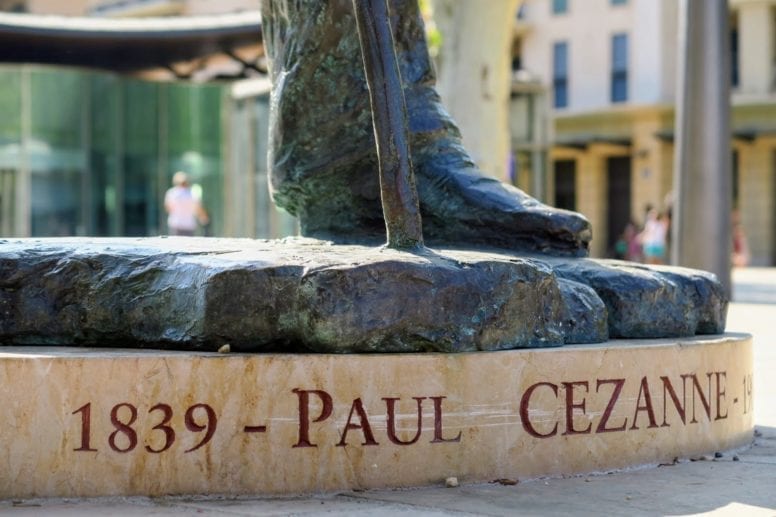 FONTAINE DU ROI RENE
Fontaine du Roi René was inaugurated in 1819 and was designed by Pierre Révoil while the statue is the work of David d'Angers.
At the feet of the statue, there is a pile of books as a reminder that King René was a protector of the Arts, Sciences, and Literature.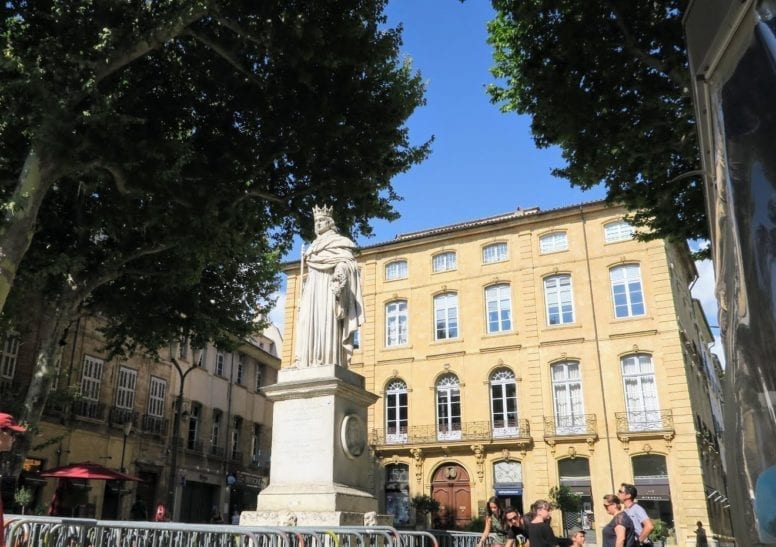 HOW TO GET TO AIX-EN-PROVENCE?
By Plane – Marseille Provence Airport is located only 32 km from Aix-en-Provence

By Train – the city is well connected with other places in France, check out the Aix-en-Provence Central Train Station and Aix-en-Provence TGV Train Station

By Car – you will find practical underground parking

By Bus – there is a city center bus station available as well
AIX-EN-PROVENCE HOTELS
There are some really interesting hotels in Aix-en-Provence and here are some of my favorite options
Le Pigonnet – Esprit de France – this is a very elegant 5-star option with a beautiful swimming pool and friendly staff

Villa Gallici Hotel & Spa – a luxury hotel with incredible design and an outdoor pool

Intercontinental Marseille – this hotel is located in Marseille around 26 km from Aix-en-Provence and makes a great place to stay if you are traveling in the Provence area. The building which dates back to the 18th century is breathtaking and the view simply stunning.
All in all, Aix-en-Provence is a lovely city definitely worth visiting.
The beautiful weather, young college students who fill up the streets and art and history everywhere make it a dreamy destination.
If you love France as much as I do read my posts about other jewels of this country: Avignon and Port Grimaud.