Nestled along the stunning French Riviera is the historic town of Saint-Tropez, France.
As much as Saint-Tropez is known for its beautiful beaches, it's also known for its history as a military stronghold and fishing village.
The streets of the city are lined with colorful buildings, old armored forts, and bustling local shops and restaurants.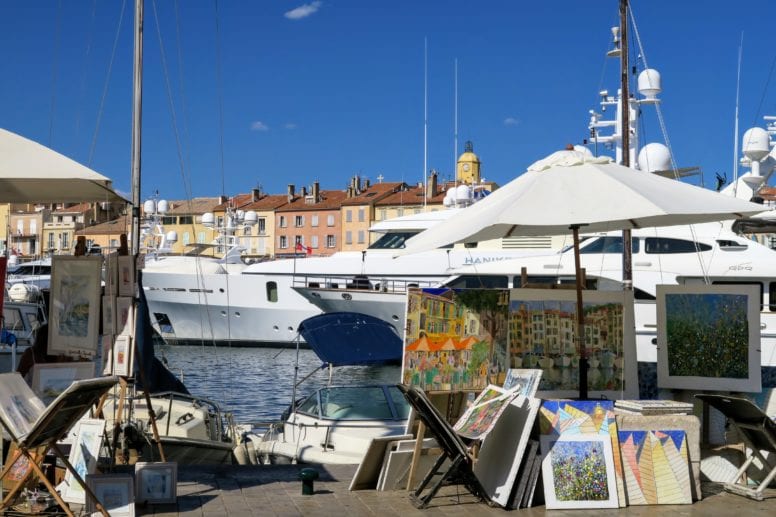 If you are planning to visit Saint-Tropez, France in the near future, you might just brush shoulders with a Hollywood star or prominent European socialite as it is the vacation location of choice for many.
But, in addition to watching out for stars, there are plenty of other things to do in Saint-Tropez, France you want to add to your list.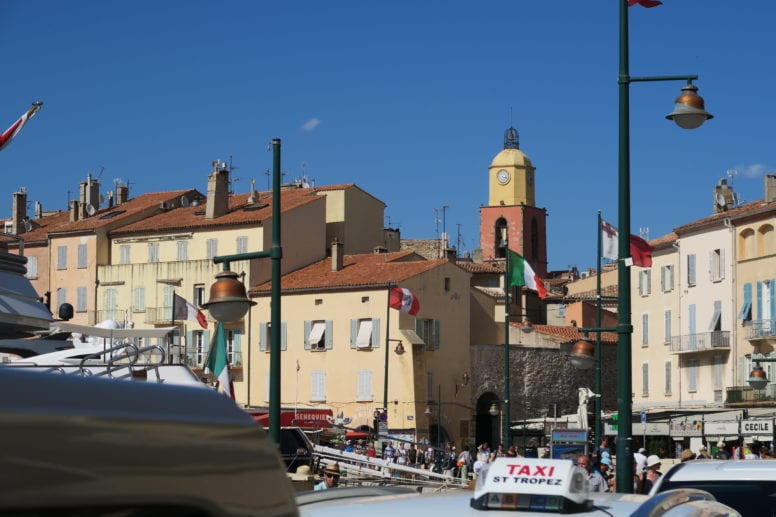 Check out our list of the best things to do in Saint-Tropez, France.
Musée de l'Annonciade
The Musee de l'Annonciade is a quaint chapel from the 1500s that has been converted into a modern-day museum for great European Art. Multiple collections from the 1890s to 1950s of art are on display at the museum daily.
Some of the most notable artists featured at the gallery are Matisse, Signac, Seurat, Bernard, and Gauguin. In addition to the famous artist on display, the simple architecture of the old chapel is worth your time as well.
A visit to the Annonciade Museum in Saint-Tropez is open every day from 10am-6pm except for Mondays. If you plan to add the museum to your itinerary, you should schedule at least a half a day to take everything in.
Address: 2 Place Georges Grammont, Saint-Tropez, France
Opening Hours: Tuesday to Sunday from 10 am to 6 pm
Citadel of Saint-Tropez Maritime History Museum
Although today much of the evidence from Saint-Tropez's time as a military hotspot has been overshone by tourist attractions and local shops, there is still a lot to learn about the village's rich maritime history.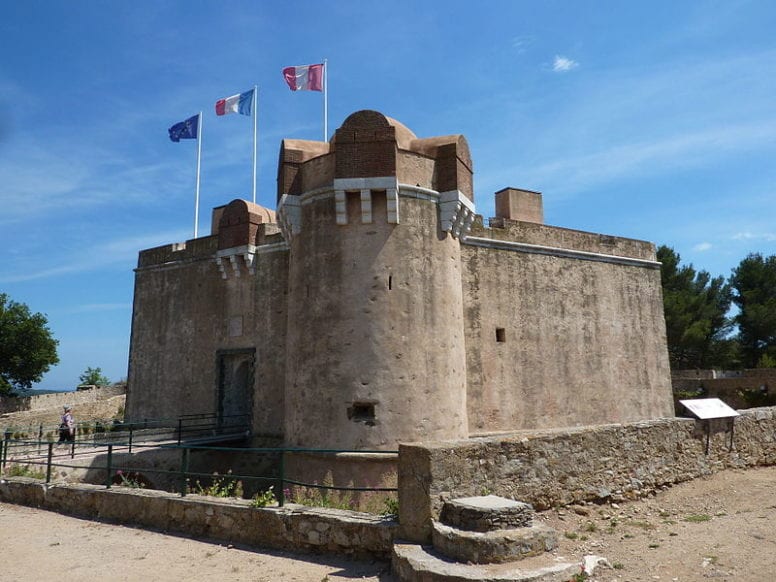 And, if you want to learn a little bit about the city and those who have walked its streets in the past you should take the time to visit the Citadel of Saint Tropez Maritime History Museum.
Inside the stone-clad walls of the museum are displays of old ships, memorabilia from sailors, and artifacts from a time when whaling was the primary way to make a living for many locals.
A single morning or afternoon is enough time to stop by the museum, tour the grounds, and take in a history lesson.
But, if you want to really dive into everything there is to learn about Saint-Tropez, the museum can quickly consume an entire day.
Address: 1 Montée de la Citadelle, Saint-Tropez, France
Opening Hours: Monday to Sunday from 10 am to 5.30 pm
Port of Saint-Tropez
A central port of call in the Mediterranean, the Port of Saint-Tropez is a bustling hustling site to see.
The port has an enormous capacity for ships and boats with over 700 moorings lining the shore. There are also many ships that anchor just off the moorings in the harbor every day or night.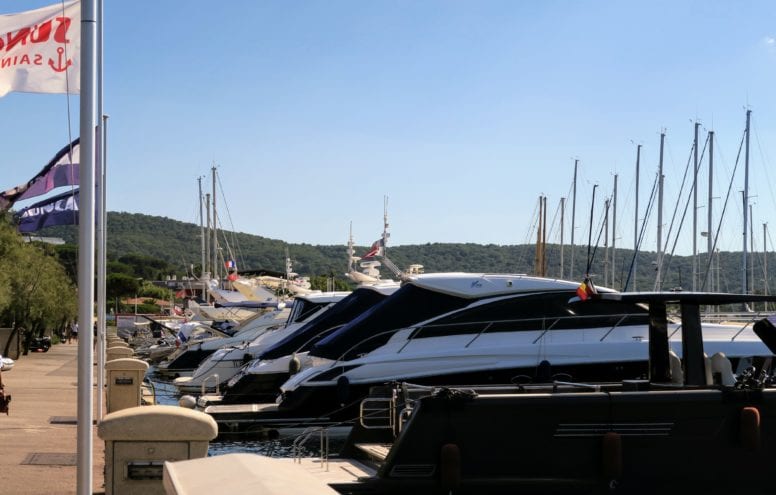 As you plan your visit to the Port, keep in mind that a ride on a luxurious yacht or small sailing boat is the perfect way to experience the waters of Saint-Tropez.
If ships aren't your thing, however, there are plenty of other activities along the port to keep you busy. Shops line every street leading up to the pier as well and boast some of the best dining options and nightlife venues the city has to offer.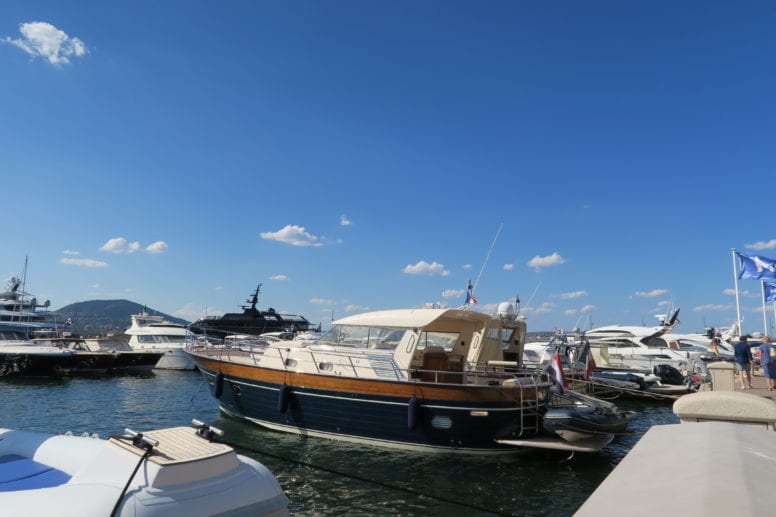 An entire day and evening could easily be spent enjoying everything there is to do at the Port of Saint-Tropez.
Gendarmerie Nationale
The Gendarmerie Nationale is one of the oldest military/police forces in all of France. And, right in Saint-Tropez, there is a museum in the building that used to house the force.
Centuries of history are packed into four floors of the old building that tell the story of how the police force made an impact on the life of the village of Saint Tropez and the entire country.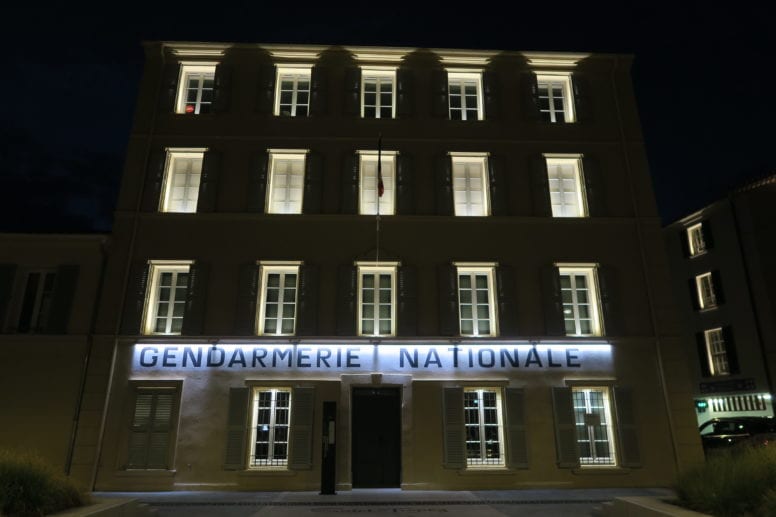 The museum also showcases memorabilia from many classic films that feature the prominent police force.
When you put the Gendarmerie Nationale on your list of things to do in Saint-Tropez, France you will want to allow an hour or two for the tour and history lesson.
Whatever time you have to spare, however, is worth the small price of the admission ticket to learn about such an essential part of history.
Address: 2 Place Blanqui, Saint-Tropez, France
Opening Hours: Monday to Sunday from 10 am to 6 pm
Pampelonne Beach
Clear waters, white sand, beautiful people – Pampelonne Beach is the reason many people visit Saint-Tropez and keep coming back for more.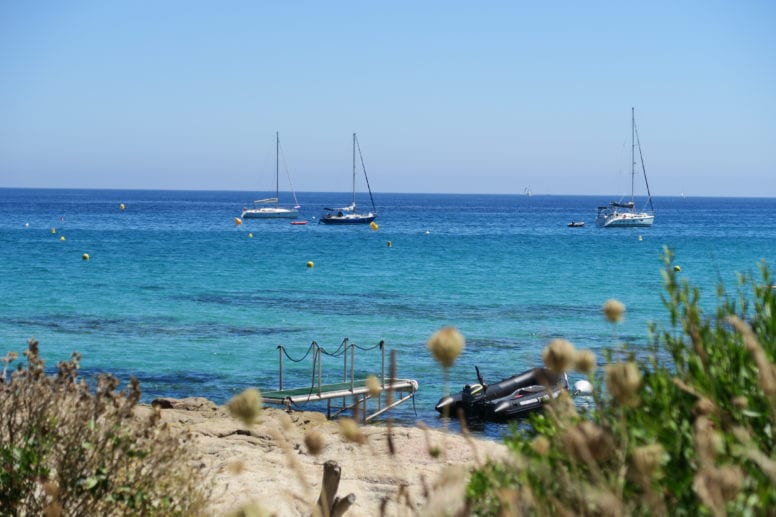 Throughout the summer months, people from every walk of life can be seen enjoying the sandy shores. There are also luxurious beach clubs, fancy yachts, and trendy bars and restaurants for as far as the eye can see.
Depending on how much time you have on your trip, Pampelonne Beach could easily take up 1-3 days of your time if you really want to enjoy it.
Likewise, the beach is a great location to find lodging so you can enjoy it in the morning and evening before you head out to visit other sites in town throughout the day.
Place des Lices
During your holiday in Saint-Tropez, you can't miss its most famous square – Place des Lices.
Place des Lices is a lively and picturesque location where residents meet to play bowls, drink coffee or simply sit on a bench and enjoy shadow provided by the large trees.
Twice a week (Tuesday and Saturday morning) the square transforms into an open-air market which is the best place to buy local products.
You'll spend a wonderful morning while strolling through markets stalls filled with flowers, fruits, books, handmade goods, clothes but also with a wide choice of food.
In fact, there is an entire food section where you can try free samples of authentic French cheese, olives and of other local specialties.
Beat the crowd and get there as early as possible in order to truly enjoy the experience and soak in the unique atmosphere.
Chapelle Sainte-Anne
One of the most interesting things to do in Saint-Tropez is visiting the charming Chapelle Sainte-Anne.
All the Rolling Stones fans reading this will be thrilled to discover that this is actually where Mick Jagger and Bianca Jagger got married back in 1971.
When you go to see this magical 17th-century chapel you'll also get a chance to admire the breathtaking panorama of Saint-Tropez and of the Mediterranean Sea.
Make sure to bring your camera, because this location offers many exciting photo opportunities.
If you want to spend some time in a tranquil setting and far away from all the hustle and bustle, you should definitely include Chapelle Sainte-Anne on your list of things to do in St Tropez.
Address: Chemin de Sainte-Anne, Saint-Tropez, France
Tahiti Beach – Plage de Tahiti
Tahiti beach, located only a short car drive from the center is one of the most iconic beaches in Saint-Tropez and is a part of Pampelonne beach.
All the sun worshipers who come to French Riviera looking for sandy beaches, warm transparent water, and bustling atmosphere will fall in love with this location.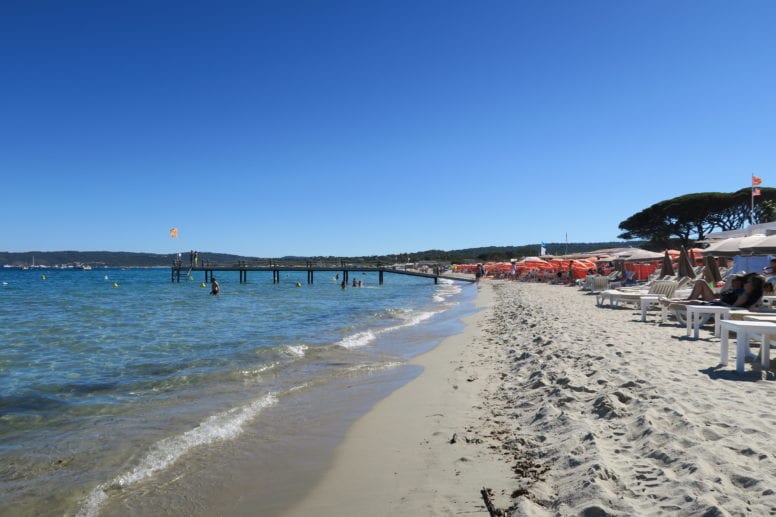 In the high season, this beach is crowded with tourists and locals alike, the music is playing and it's pretty easy to have an amazing and fun time there.
Tahiti beach is well-equipped, there are showers and toilets available and you can rent sunbeds and beach umbrellas as well.
There are also two bars and two restaurants where you can have lunch or enjoy a refreshing drink and make friends with the locals.
If you want to make the most of Tahiti beach you may spend your entire holiday there – just book a room in its luxury hotel.
The high-end accommodation, amazing food, and excellent service will all contribute to making your stay simply unforgettable.
Address: Quartier du Pinet, Ramatuelle, Saint-Tropez, France
Nightlife in Saint-Tropez
While the daytime is filled with beaches, shopping and museums, the nightlife in St Tropez is all about the champagne-drenched partying.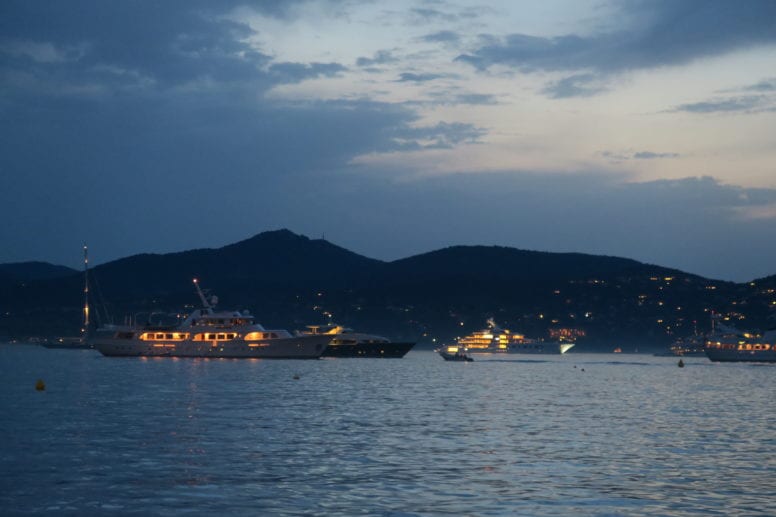 Nights in Saint-Tropez are magical so put on your dancing shoes and prepare to have fun.
An unmissable stop in the town's night scene is Les Caves du Roy – the historic nightclub, that's been attracting a huge amount of people for the last 50 years.
Another trendy location to hit the dance floor is the VIP Room – one of the most exclusive clubs in the French Riviera loved by celebrities.
Other interesting clubs are Chez Maggy and La Bodega de Papagayo that is especially popular with younger people.
Shopping in Saint-Tropez
Saint-Tropez is a real mecca for anyone who loves designer fashion as it is packed full of elegant boutiques and luxury stores.
The charming narrow streets of this town feature some of the most famous brands in the world.
Hermes, Chanel, Alberto Moretti and Louis Vuitton are only some of the long list of places you'll find while walking around Saint-Tropez.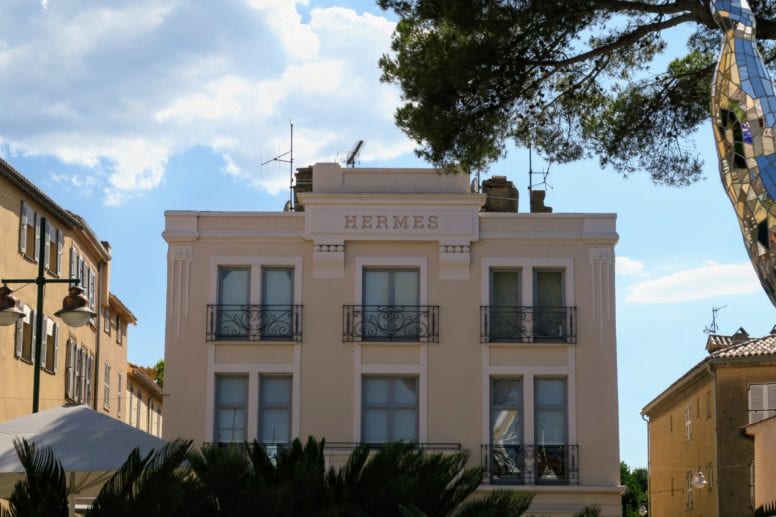 No matter if you're planning to spend a small fortune or simply enjoy window shopping, Saint-Tropez won't disappoint.
And watch out! You might actually meet a Hollywood star or a celebrity casually shopping in the same store you do!
No matter the reason you decide to visit this beautiful French Riviera town you will certainly enjoy your time there. And, if you use this list of things to do in St. Tropez as your guide to seeing the city, you will not miss any major attractions.
From the sandy beaches to the stately military buildings, everything there is to see in Saint-Tropez is breathtaking.
Your holiday may also include a day trip to one of the charming towns located nearby such as
Port Grimaud
,
Saint-Paul-de-Vence
or
Avignon
. If you're into art, you should definitely visit the charming town of
Aix-en-Provence
– while, if you're looking for sandy beaches and crystal clear waters, make sure to put the
Porquerolles Island
on your travel itinerary.
So, get planning, get on your plane, and get going to one of the hottest locations along the French Riviera!
Saint-Tropez Hotels – Where To Stay in Saint-Tropez
The Best Places to Stay in St Tropez – Booking Tips
---
---
---
Best Hotel for Couples in St Tropez (mini-resort with 2 heated pools): Kube Saint Tropez
Hôtel de Paris Saint-Tropez
One of the best hotels available in Saint-Tropez is without a doubt the Hôtel de Paris.
Located in the heart of this beautiful town, Hotel de Paris offers wonderful, luxury accommodation with high-quality service and all the comforts.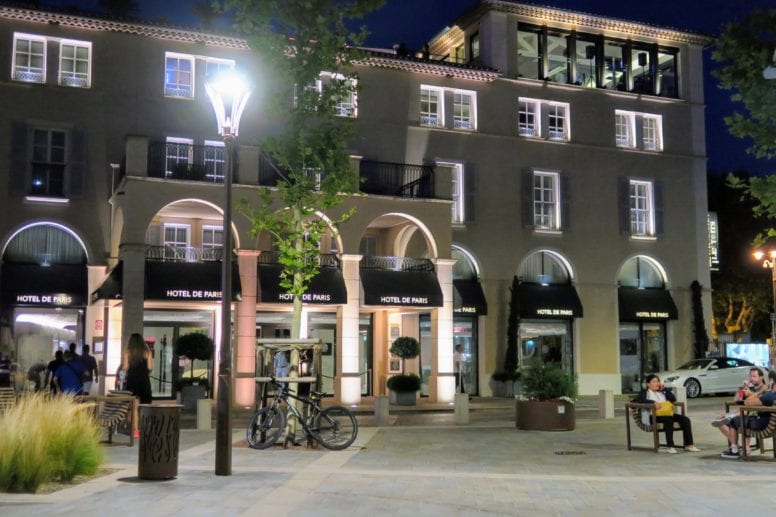 Situated right on the Place de la Gendarmerie and very near to all the main attractions, this hotel will be perfect for anyone who wants to explore the city and enjoy all it has to offer.
You will be able to choose between a wide range of elegant rooms, from the classic ones to suites.
If you want to spend some time relaxing at the hotel, you can take advantage of the beautiful rooftop pool or get a treatment at the spa.
You can also stay fit and active during your holiday in Saint-Tropez thanks to the well-equipped fitness center.
When it comes to dining options, there is the rooftop restaurant and lounge-bar Les Toits Lounge and Le Pationata restaurant with a lovely terrace – both places serve delicious food in a sophisticated setting.
Cheval Blanc St-Tropez (La Résidence de la Pinède)
Another fantastic hotel you should consider is Cheval Blanc St-Tropez that used to go under the name of La Résidence de la Pinède.
This beautiful hotel comes not only with an amazing infinity pool but with a private beach as well – you couldn't ask for more!
The rooms are modern and elegant and most of them feature lovely terraces facing the courtyard or the sea.
If you're looking for an ultra-luxury experience then make sure to check out their suites that will ensure an unforgettable holiday.
Cheval Blanc St-Tropez offers some wonderful dining options as well where they'll take you on a sophisticated an one of a kind culinary journey.
One of the most famous restaurants in the town – La Vague d'Or is located right here so make sure to book a table and enjoy the amazing food.
Pan Dei Palais
Pan Dei Palais is a wonderful hotel in an exotic style located in the heart of Saint-Tropez.
The luxury rooms come with beautiful furniture and with all the equipment necessary for a perfect stay.
If you want to relax and clear your mind and body of stress you should get pampered at the hotel's spa.
The guests can also take advantage of a fitness center and of a hammam available at the hotel.
The beach is located a short distance away but there is also a wonderful outdoor pool and comfy loungers if you prefer.
When it comes to luxury hotels in Saint-Tropez, Pan Dei Palais won't disappoint as it is one of the best options available in this charming town.
Maison D Orange
If you're looking for a nice apartment in central Saint-Tropez you should check out Maison D Orange.
It offers all the comforts of an actual home which means you'll have a kitchen and a living room at your disposal.
If you're coming to Saint-Tropez by car, there's parking available as well (make sure to contact the structure in advance to make all the arrangements).
Maison D Orange also provides free bicycles so that you can explore the town and nearby areas.
Many beautiful beaches and most of the attractions are located only a short distance away from this hotel.
Hotel Villa Cosy
Hotel Villa Cosy, located near the heart of Saint-Tropez features modern and elegant rooms in peaceful and green surroundings.
No matter if you're traveling as a couple or with a bigger group of people there are many options available for you to choose between.
For example, there is a two-bedroom villa that can accommodate up to six people or a triple room for three.
Guests can also enjoy a fantastic heated pool, an on-site bar, and a fitness center.
Hotel Villa Cosy is a wonderful solution for those of you who look for high-quality accommodation in central Saint-Tropez.
Saint-Tropez Restaurants – Where To Eat in Saint-Tropez
Les Moulins de Ramatuelle
Les Moulins de Ramatuelle is a charming restaurant that serves the typical Provencal cuisine.
It is located only a few kilometers away from the heart of Saint-Tropez and is a wonderful place to spend a nice evening while enjoying delicious local food.
Les Moulins de Ramatuelle offers a choice of mouthwatering dishes, from fish and meat to pasta and vegetarian options.
You'll be able to enjoy them on a wonderful terrace which becomes very romantic after the sun goes down and they turn the atmospheric lanterns on.
Outside, there is a beautiful garden where you can have a glass of wine before or after dinner and also an area dedicated to playing pétanque (a sport similar to bowls).
Auberge des Maures
Auberge des Maures is one of the most charming restaurants in Saint-Tropez and it comes in a perfect Provencal style.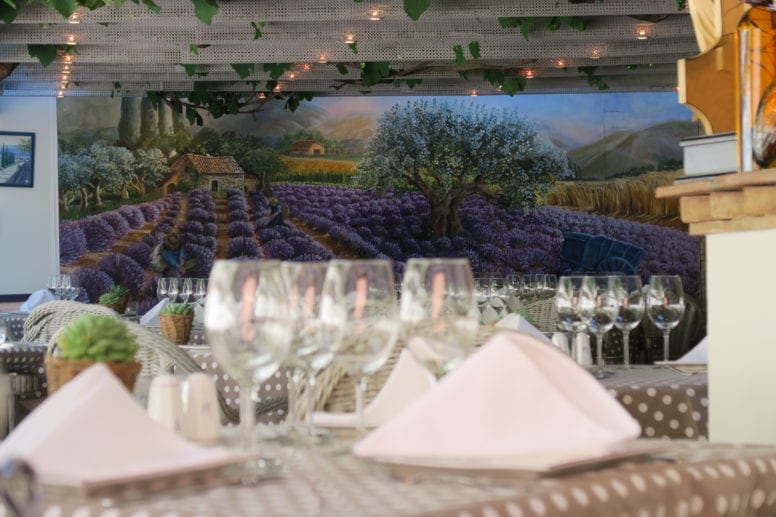 Since 1931 – the year of its foundation, this restaurant has been constantly attracting a huge number of people, celebrities included.
The interiors that come with an abundance of colors, floral patterns, and wooden elements combine excellently with the Provencal menu.
You will be able to choose from a selection of fish and meat dishes and enjoy a glass of high-quality local wine as well.
The friendly staff at Auberge des Maures contributes greatly to making the entire experience as pleasant and as unique as possible.
If you're looking for a special restaurant in Saint-Tropez, this place comes highly recommended but because it is so popular, remember to make a reservation well in advance.
My Thai
If you want to add an oriental touch to your holiday in Saint-Tropez then head to My Thai restaurant.
This small place, located in the central part of the village serves authentic Thai cuisine in a peaceful setting.
Typical Thai dishes such as pad thai, green curry or tom yum soup are part of the menu together with other elaborated and beautifully served options.
This restaurant is rather small, with a few tables inside and some outside as well which means it's best to make a reservation in advance.
Clandestino Saint Tropez
Another interesting restaurant you should take into consideration is Clandestino Saint Tropez.
The menu includes mainly Italian cuisine so you can expect a wide choice of pasta, risotto, tortellini, and frutti di mare.
There is also a selection of delicious Italian starters and mouth-watering desserts.
The atmosphere inside is relaxing and casual while the staff is easy-going and friendly.
When it comes to Italian food, Clandestino is one of the best restaurants available in Saint-Tropez – make sure to put it on your culinary bucket list.
Other French Riviera recommended destinations