In the heart of the French Riviera lies Antibes – a charming town and a perfect holiday destination for many.
Amazing beaches, interesting museums, and romantic restaurants are only some of the attractions you'll find in this lovely location.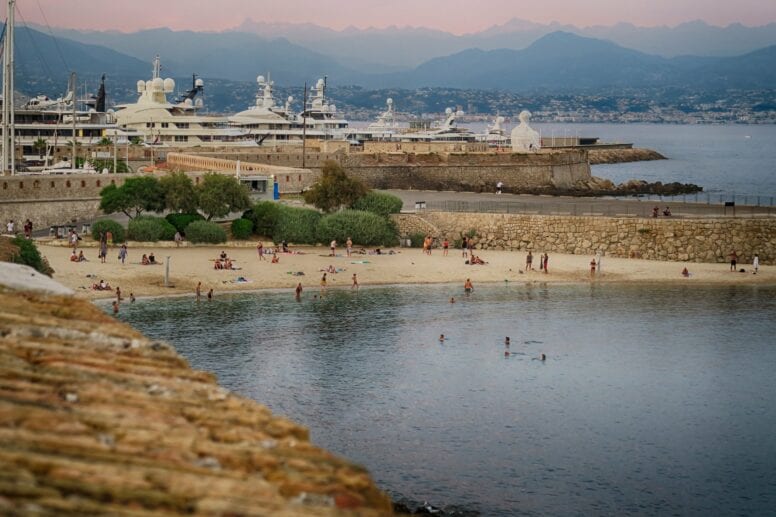 Discover all of this and much more with our guide to the best things to do in Antibes!
Things To Do in Antibes
Enter the world of art at the Musée Picasso
Musée Picasso named after the famous Spanish artist is an essential stop during your holiday in Antibes.
An ancient castle once owned by the prominent Grimaldi family has become one of the most important museums of the region around four centuries later.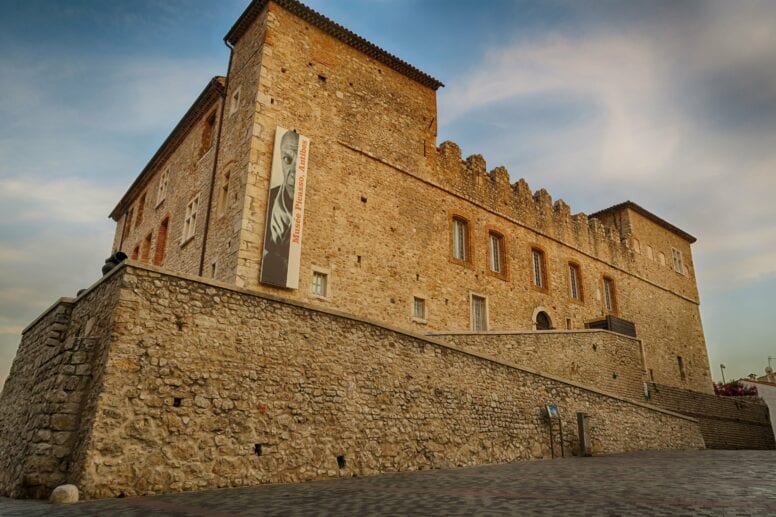 Picasso, who at some point actually lived in the building, has contributed greatly to the museum's collection.
In fact, nowadays it houses a number of Picasso's paintings and drawings along with some works of other artists.
Before leaving Museum Picasso, make sure to go all the way up to the terrace where you'll find some stunning sculptures and you'll get to enjoy a wonderful view of the Mediterranean sea.
Explore the beauty of Cap d'Antibes
Between the towns of Antibes and Juan-les-Pins lies Cap d'Antibes – a beautiful area that begs to be explored and photographed.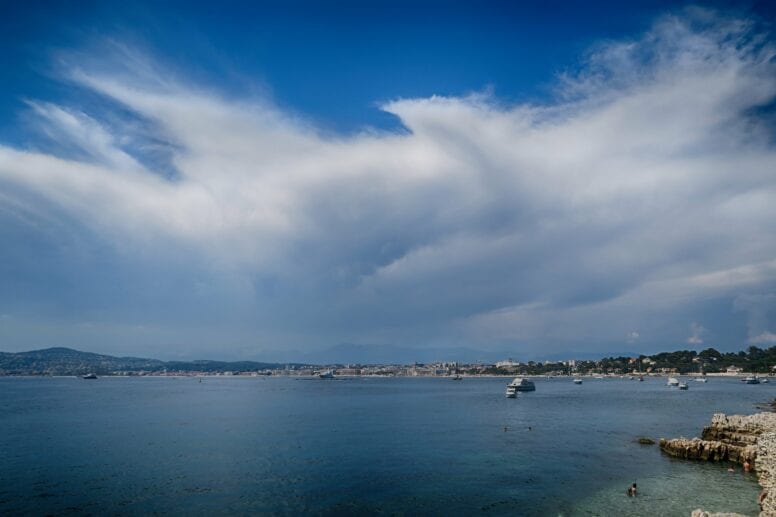 Travelers from all over the globe come to Cap d'Antibes not only to lie on its postcard-like beaches but also to admire the luxury Provencal villas and world-class hotels present there.
You wouldn't want to miss the Villa Eilenroc that showcases incredible rose gardens, Villa Thuret which is home to a beautiful botanical garden and Villa l'Olivette located by the l'Abri port.
It's hard not to notice the luxury and majestic Hotel du Cap-Eden-Roc – the 5-star property loved by the rich and famous.
Finding a heavenly beach in Cap d'Antibes is easy since everywhere you look there seems to be a long sandy beach or a small bay where you can stretch your legs and embrace the beauty of the sea.
One of the most renowned locations for swimming in Cap d'Antibes is the Billionaire's Bay – a rocky beach with calm, turquoise and crystal clear water.
The best way to end your day at Cap d' Antibes is with a lovely dinner at one of the romantic restaurants located in the vicinity.
Relax at the Plage de la Garoupe
Another amazing beach located in Cap d'Antibes and a "must-see" on our list of things to do in Antibes is the Plage de la Garoupe.
Clean waters, immaculate sand, and stunning views make this location absolutely perfect for all of the paradise-seeking beachgoers out there.
Some parts of Plage de la Garoupe are public while other private so depending on your preferences you can either rent a sunbed or bring your own essentials.
There are quite a few interesting dining options as well where you can have a great meal right by the sea.
Plage de Garoupe is a good location for yacht spotting as well with some of the most expensive superyachts situated only a short swim away from you.
Learn about History of Antibes at the Fort Carré
One of the most historically significant sites in Antibes is the 16th-century Fort Carré.
During the guided tour of the Fort, you'll learn many interesting and fascinating facts about it.
One of them is that Napoleon Bonaparte himself was imprisoned in the Fort for a short period of time at the end of the 18th century.
The 30-minute walk around Fort Carré is not only a fun history lesson but also a perfect opportunity to take in the breathtaking panoramic view of the surrounding area.
Enjoy Shopping at the Provencal Market
In the historic district of Antibes, there is the Provencal Market – a small but bustling place filled with local specialties, spices, and hand-made goods.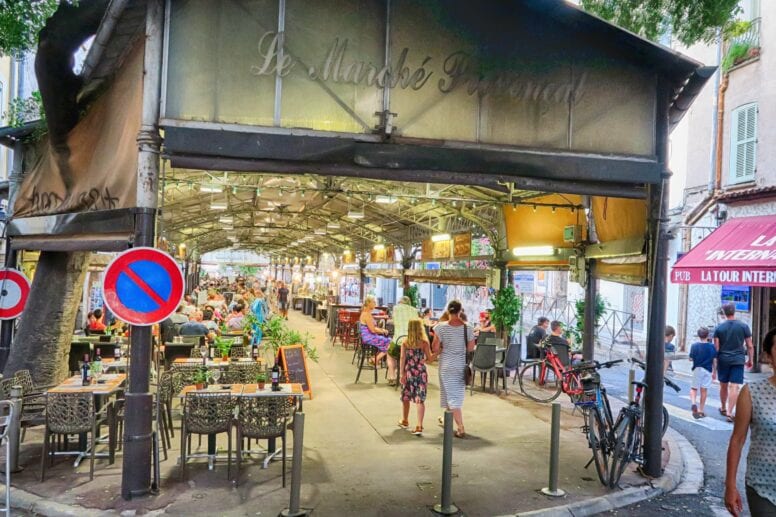 Fresh fruits and vegetables, French cheese and home-made fruit preserves are only some of a long list of mouth-watering options you'll find here.
There are also some small eateries inside the market where you can stop for a quick snack or a meal before continuing your adventures across the Old Town.
Visit Juan Le Pins
Less than two miles from Antibes lies a charming town of Juan Le Pins.
This small seaside town is a great location for beaches, restaurants and even for gambling as it features its very own casino.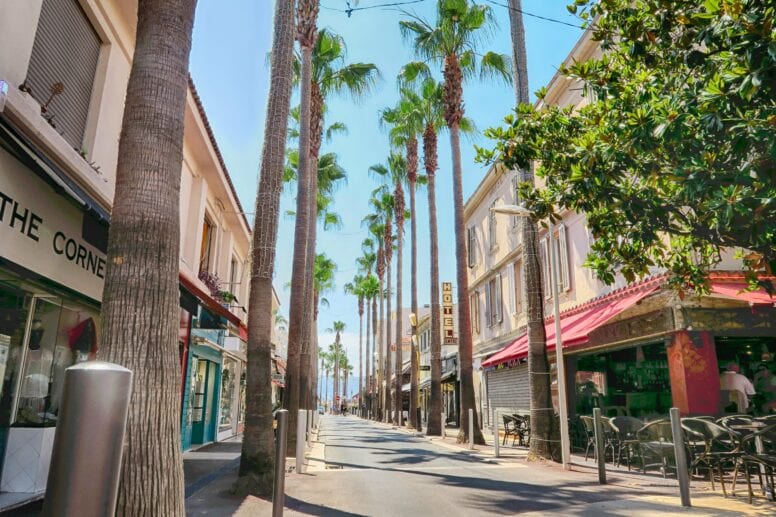 If you're staying in Antibes you can easily visit Juan Le Pins for a nice lunch or for a relaxing shopping session.
When it comes to nightlife, Juan Le Pins has more options available than Antibes with a choice of bars with live music and entertainment.
Soak up the sun and cool off in the clear waters at Salis Beach
Another wonderful beach in Antibes worth adding to your travel itinerary is without a doubt the Salis Beach.
Plage de Salis is free to the public beach which offers the perfect environment for swimming and sunbathing.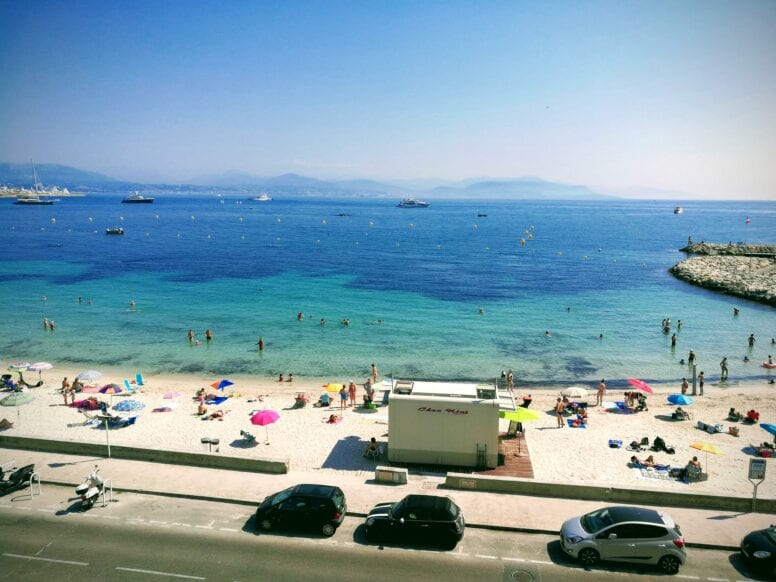 There are a few food kiosks available in the area so you can get refreshing drinks, ice-cream and snacks anytime you want.
Another great fact regarding Plage de Salis? It comes with an amazing view of the Antibes Old Town!
In the high season and especially during the weekends this beach gets pretty busy so make sure to come early in the morning in order to get the "front-row seat" (and a parking spot if you're coming by car).
Indulge in the delicious Ice Cream at Gelateria del Porto
Summer holiday means you can finally indulge in those yummy ice cream you've been dreaming about for the whole year.
Gelateria del Porto is one of the best places in Antibes to enjoy a wide selection of homemade ice cream made from natural and high-quality ingredients.
Located in the historic district of Antibes, near the Provencal Market, Gelateria del Porto is a perfect spot for a refreshing dessert after dinner or for a quick mid-afternoon snack.
Furthermore, the young people working at this place are nice, friendly and also English-speaking which is an added value.
Take a Day Trip from Antibes to Cannes
A holiday in Antibes means that Cannes – one of the most famous French cities – is located only a short car drive away.
Renowned around the world for its International Film Festival, Cannes is a beautiful place filled with fun attractions and places to see.
A walk along the famous Promenade de la Croisette is a must. This long street comes with a lovely view of the sea and with many great shopping opportunities.
Depending on your preferences, there is also a wide choice of villas and museums to discover.
Those of you who are looking for total relaxation can simply spend the whole day at Cannes beach, sip a cocktail and enjoy the warm Mediterranean sea.
Enjoy the sandy beach at Plage De La Gravette
Plage De La Gravette is one of those beaches you wouldn't want to miss during your holiday in Antibes.
This beach is easy to reach as it is located near the Old Town and in the vicinity of other important points of interest.
Pretty small in size, this beach is a charming little corner of paradise with soft sand and clear water.
Of course, because it is so small it gets crowded quickly so it is best to get there as early as possible.
Best Hotels in Antibes
Best Western Plus Antibes Riviera
One of the best hotels available in Antibes is the Best Western Plus Antibes Riviera.
This 4-star solution offers modern accommodation in the heart of the town, only a walking distance away from many attractions.
In fact, the Provencal Market we mentioned before can be reached in about 20 minutes.
They have classic double rooms available as well as a triple and family rooms which are great if you're traveling with children.
Best Western Plus Antibes Riviera is a fantastic hotel that lets you explore Antibes on foot and make the most of this unique town.
Royal Antibes – Luxury Hotel, Résidence, Beach & Spa
Another fantastic option to consider when looking for a hotel in Antibes is certainly the Royal Antibes – Luxury Hotel, Résidence, Beach & Spa.
This hotel comes with many accommodation options, from classic rooms to apartments and suites.
Certain rooms have a sea view, while other city or courtyard views.
Make sure to check out the luxury Royal Suite that comes with a fully equipped kitchen, a stunning terrace with a hot tub and an amazing view of the sea.
If you look for total relaxation you should use the hotel's Spa and take advantage of treatments and massages available there.
La Place Hotel
La Place is a 3-star hotel in central Antibes, situated only a short distance away from the Picasso Museum and from Salis Beach and Gravette Beach.
This structure comes with modern and well-furnished rooms with free wi-fi.
Each room has a private well-equipped bathroom with all the necessary amenities.
It is possible to enjoy breakfast on-site or head to one of the bars located in the vicinity.
Galice Appartement Clim
For those of you looking for apartments style solution we suggest checking out the Galice Appartement Clim.
This structure features contemporary and fully furnished apartments with all the comforts.
They all come with a large kitchen, a living room, a bedroom, a bathroom and a lovely spacious terrace.
The apartments can fit up to four guests so they'll be perfect for a family or for a group of friends.