Porquerolles Island is the largest and the most western one of the three Islands of îles d'Hyères in Provence, France.

It is the second biggest Mediterranean Island in France after Corsica.
After visiting Avignon and Aix-en-Provence I was really looking forward to discovering this famous holiday destination I have heard so much about.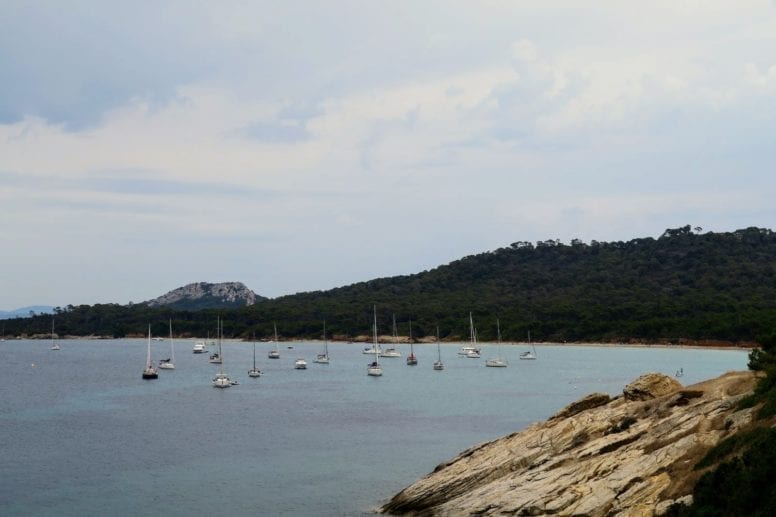 Its history is very romantic and starts in 1911 with Francois Joseph Fournier and his wife who chose the place as one of their honeymoon destination.

The fall in love with the place so much that they actually decide to buy it and start a family there.
The couple dedicated its time to improve the life on the Island, created water system networks, guaranteed free access to healthcare and planted local and exotic species.

Fournier's wife – Sylvia was a pioneer of tourism and opened first hotels and restaurants on the Porquerolles Island.
Nowadays Porquerolles is the most touristic and well-known among the three Islands and attracts visitors from all over the world.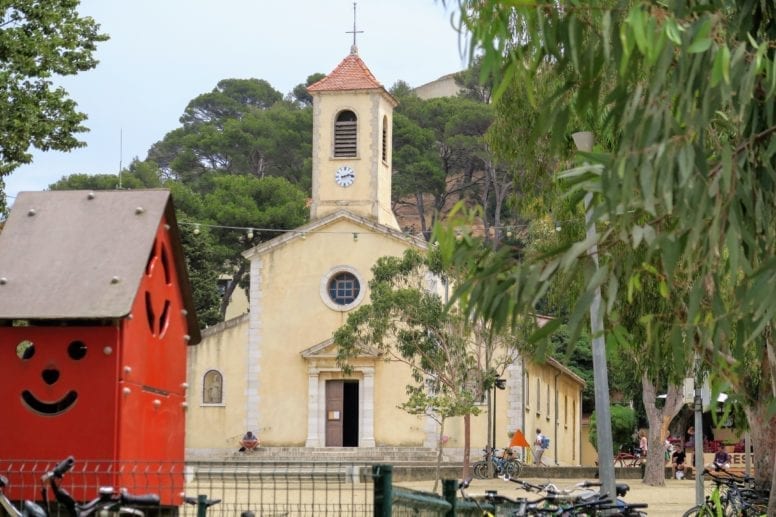 The beautiful beaches and nature are very well preserved and pristine here thanks to the strict rules that forbid the cars, smoking, and loud noises.
In fact, the only noises you can hear are the birds singing and the waves hitting the beach.
Other rules include no camping, no dogs on the beach, no picking flowers, no bonfires and leaving rubbish around.
The best way to get around the Island is to rent a bike in one of the many stands available and it costs around 15 Euro for a day.
You can, however, discover the Island by foot as well, it will just take more time and make sure to wear appropriate footwear if you are planning longer hikes.
HOW TO GET TO PORQUEROLLES ISLAND?
Ferry from the port of Giens
To get to Porquerolles you will need to take a ferry from the port of Giens.
Between 3/07 – 3/09 the first ferry leaves at 7 am, then at 8 am and every half an hour between 9 am and 7.30 pm.
The trip takes around 15-20 minutes and here are the prices of the tickets
Return ticket for Adults – 19.50€
Return tickets discounted – 16.80€ (for people between 4-26 years old and over 65)
One Way Ticket – 12.50€
Kids under 4 years old – free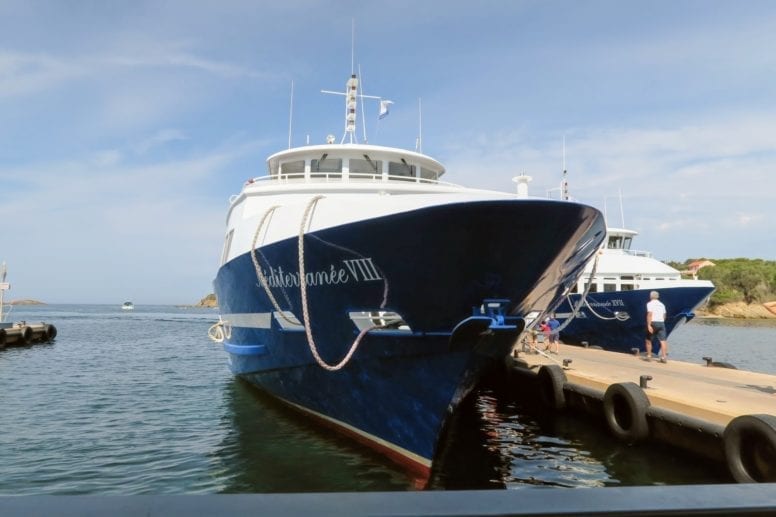 PORQUEROLLES ISLAND BEACHES
Porquerolles Island has five main beaches where you can enjoy soft sand and crystal clear Mediterranean water.
Keep in mind these are all public beaches and haven't got much tourist amenities.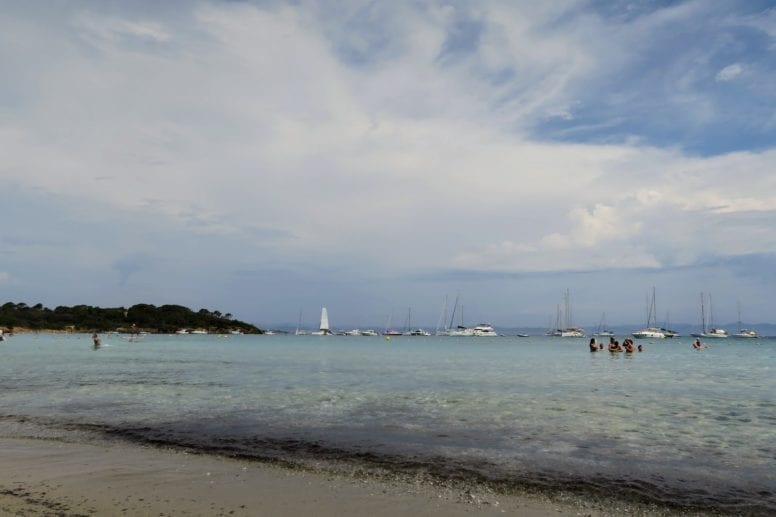 PLAGE NOTRE-DAME
It takes about 30 min by walk to get to the Notre-Dame beach from the town or alternatively 25 min by bike.
It is located on the northeast side of Porquerolles Island and will captivate you with its fine sand and breathtaking views.
Certainly a must-see point and a perfect place for relaxing and getting tanned.
PLAGE DE LA COURTADE
Courtade beach is located near the town center, it only takes a 5 min bike ride or a 15 walk to get there.
Crystal clear water and convenient position attract many people so expect it to be quite crowded especially in high season.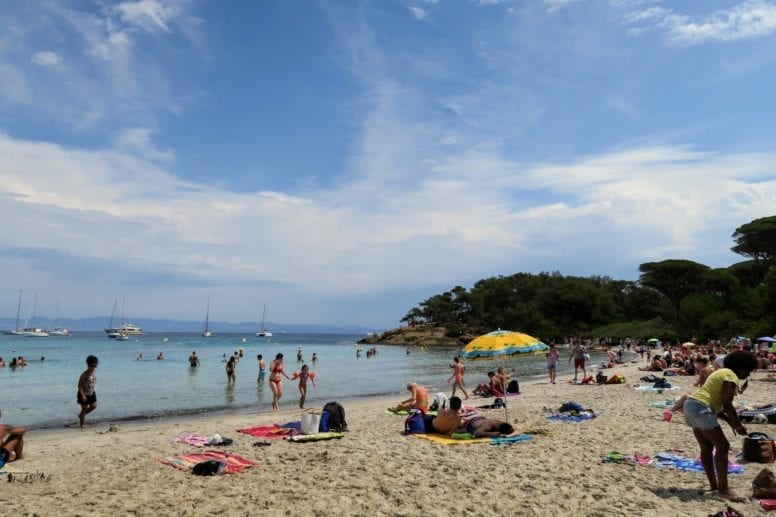 PLAGE D'ARGENT
Plage d'Argent is located on the northwest side of the Island and about 1.5 km from the town.
This beach which takes its name from the white quartz present in the sand is a great solution for families and has a lovely clean water and a fine white sand.
PLAGE DU GRAND LANGOUSTIER and PLAGE NOIRE DU LANGOUSTIER
These two beaches are situated in the western part of Porquerolles Island, 4.5 km from the center.
The northern beach has a white sand while the southern is characterized by black sand.
It takes 45 min to get there by bike, it's quite a trip so make sure to wear appropriate outfit and footwear.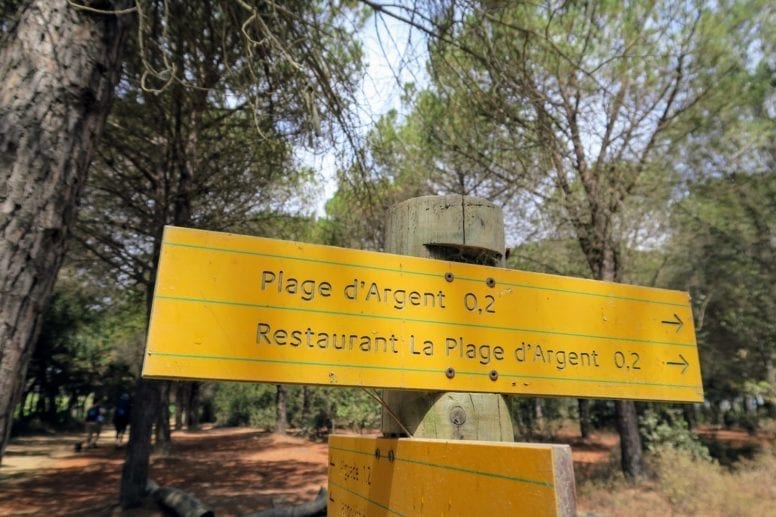 THINGS TO DO ON PORQUEROLLES ISLAND
FORT SAINTE-AGATHE
Fort Sainte-Agathe dates back to the 16th century and was built by Francis I of France in order to protect the Island from the barbarian invasions.
It was restructured over the years and now hosts an exhibition about the history of the Island.
THE MILL
Le Moulin du Bonheur is located in the heart of the village only 200 m from the Fort of Sainte-Agathe.
LA MAISON DU PARC AND LE JARDIN EMMANUEL LOPEZ
La Maison du Parc located at the exit of the village, toward the lighthouse has a role as an information office on the Port-Cros National Park and on Porquerolles.
The gardens adjacent to the Maison du Parc combine typical Mediterranean plants such as olive trees, laurels and a great diversity of palm trees.
You will also find some incredible plants from all over the world.
PORQUEROLLES ISLAND ACCOMMODATION AND HOTELS
There is a possibility to stay overnight at Porquerolles Island as there are some accommodation options available.

Hotels present on the Island include:
Hotel Residence Les Medes – located near the beach with incredible views

Villa Sainte Anne – with a garden and a restaurant

Le Mas du Langoustier – situated in the western part of the Island not far from the beaches

L'Arche de Porquerolles – a lovely hotel with many useful facilities

L'Oustaou de Porquerolles – located near the fort this hotel offers a restaurant and cozy rooms